Main | The Blog: The Writing of a History of Disbelief »
December 7, 2005
The Author: Mitchell Stephens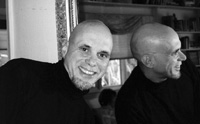 Mitchell Stephens, a professor of journalism at New York University, is the author of a number of books: A History of News, an extended history of journalism, has been translated into four languages and was a New York Times "Notable Book of the Year." the rise of the image the fall of the word, a historical analysis of our current communications revolution, was published by Oxford University Press. Prof. Stephens is also one of five editors of Covering Catastrophe: Broadcast Journalists Report September 11. He has published two textbooks: Broadcast News, long the most widely used radio and television news textbook, and (with Gerald Lanson) Writing and Reporting the News. In recent years, Prof. Stephens has written numerous articles on media issues and aspects of contemporary thought for publications such as The New York Times, The Los Angeles Times, The Washington Post and the Columbia Journalism Review.
In 2001 Prof. Stephens completed a trip around the world, during which he reported on globalization for the public radio program "Marketplace" and the webzine Feed and wrote essays on travel for LonelyPlanet.com. His commentaries have aired on NPR's "On the Media." Prof. Stephens has been history consultant to the Newseum.
He is currently writing a history of disbelief for Carroll and Graf.
Posted by Mitchell Stephens at December 7, 2005 10:54 AM
Comments
Posted by: rougelamer at May 31, 2006 4:57 AM
thanks for the leads on Onfray.

Posted by: mitch at June 1, 2006 10:02 PM
Mitchell,
I understand your need to affirm the atheist worldview that you ascribe to.
I only wonder, IF you were to discover a reasonable evidence for faith that there is / was a god now or at any time, how would that change your present goals?
Do you in any way at all make room for that possibility? Or would you count your worldview as dogmatic and not subject to change?
Posted by: Bonnie Kim at June 17, 2006 3:28 PM
Mitch,
I wonder if you woke up tomorrow and Jesus was in bed with you and made you 21 again, would that be enough to rid you of your preoccupation (actually occupation) with heretics?
Knowing your old dogmatic self, I suspect you would role over and go back to sleep.

Posted by: Jay Saul at June 17, 2006 4:54 PM
It may be of interest to some here to know that Mitch and I are old friends, recently reconnected.
I was just out of Vietnam in 1970 when I met Mitch and his buddy Tom in Isla Vista, CA. They had just dropped out of school after their Jr. year (I think because they had high draft numbers), worked as taxi drivers in NYC to earn enough money to be bums in CA for a while, then headed way west to play. We all lived in the same apt complex and had a little band that Mitch played drums in.
He is still the same quiet, deep thinker with only kind words ever coming out of his mouth.

Posted by: Jay Saul at June 22, 2006 11:55 AM
People seem to mold their gods, religions, and philosophies, thus the above comment where the writer observed theists for abortions and deists against it. A mere study of Christianity reveals inconsistencies, doctrines held "then" opposed to "now". The point is, are we without principles when discarding religion(s). Absolutely not. Reason, logic, offers good principles to maintain civility in society and personal tranquility. Yet, even philosophy can run amuck when the acid test of "consistency" is ignored, otherwise, principles are convenient and transistional, leaving survival as the ultimate, potentially justfying the most horrid act. My apologies, I am rambling.
Posted by: Quillan Stone at December 11, 2006 12:01 PM
Post a comment