« The Voyager Macbeth: An Expanded Critical Edition | Main | The Textbook Behind the Textbook: Western Civilization Course Portfolio »
September 21, 2005
Writing about Literature in the Media Age

Publishers are addressing the need for multiple media in the textbook marketplace by placing additional assets on CD-Rom and/or password-protected companion websites, and packaging them inside printed textbooks. This ubiquitous trio of resources reflects the inevitable (if glacial) move away from exclusive dependence on print media.
Daniel Anderson's "Writing about Literature in the Media Age," published by Pearson Longman, pushes the print/media genre forward a bit. Mr. Anderson's project weaves a network of connections that draw the separate elements together, and attempt to close the unavoidable gap between print and multimedia resources.
Most interesting of the media trio is the CD Rom, which provides students with extensive media assets for study and introduces strategies for close scrutiny of multimedia resources. The CD is divided into five sections: media, e-readings, video tutorials, extended inquiry, and resources.
The media section includes audio, video and images that correspond with readings in the print textbook. Below is a screen-grab of a page that offers audio samples of Harlem Renaissance poets and musicians. Asking a student to consider poetry and music side by side creates a unique opportunity for understanding how artists communicate across disciplines. It also allows them to survey the aural landscape of a literary work, and to consider how sound and rhythm are employed by skillful writers.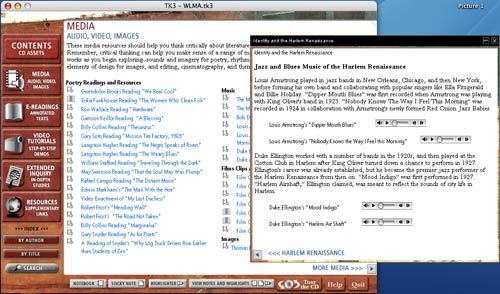 Most unique and useful are the video tutorials. Brief, but through mini-lessons on topics like: "Annotating a Text," "Giving Feedback Electronically," and "Using Images in Your Writing" (pictured below). The "Using Images" tutorial provides a clear example of how an image can enhance a written argument. It also gives the student instructions about how to place an image in a Word document, how to size the image and how to crop the image to focus the reader on a specific detail.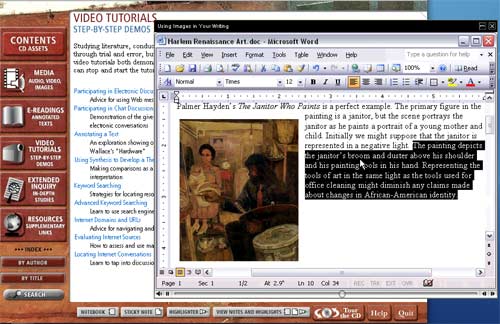 The "Extended Inquiry" section features five in-depth studies including, "The Political and the Personal In Hamlet." The print book has a corresponding section that includes the full text of Shakespeare's "Hamlet," along with a small sample of works created in response to the play. Among them, Margaret Atwood's short story, "Gertrude Talks Back"; Frederick Seidel's poem, "Hamlet"; and a black and white reproduction of John Everett Millais' "Ophelia." These responses to Hamlet introduce the lesson of artistic influence that the unit aims to teach. According to the book:
The works of Shakespeare have an incredible reach. Not only are quotations from his plays thrown around in our daily discourse, the larger messages of his works have become ingrained in the consciousness of contemporary society. Numerous artists have responded with paintings that represent scenes from Shakespeare's plays. Writers have composed adaptations and works that take up the key questions raised by the plays. Theatre companies have produced version of works like Hamlet continually for 400 years, and filmmakers regularly adapt Shakespeare's plays for the cinema.
The CD extends this argument with a color reproduction of John Everett Millais' "Ophelia," a reading of Hamlet's "to be or not to be" soliloquy, and video clips of scholars interpreting Hamlet. The Writing About Literature website extends the Hamlet inquiry even further with links to regularly updated online material.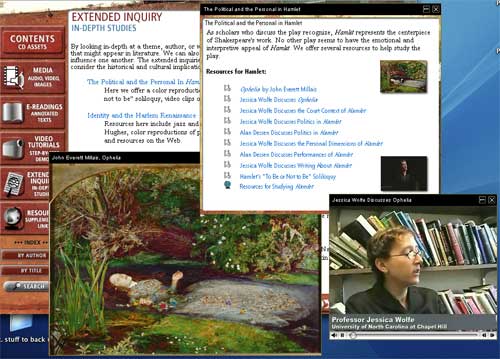 Including these media items gives a graphic representation of the "incredible reach" that the work has. It shows the diversity and complexity of artistic influence and it draws the student closer to an understanding of what literary scholars do as they attempt to consider the work from all relevant angles. Additionally, the concept of "extended inquiry" (central to all scholarly work) is illuminated by the interweaving of book, CD, and web resources.
Posted by kim white at September 21, 2005 11:25 AM