March 15, 2005
Games you can play
The Gates celebrate repetition. Each gate alone was an unremarkable object. Put 7,500 of them together, and they effect a radical change in perception.
The Gates Memory Project is also about repetition, of photographs instead of physical objects. Each collected image has unique traits - time, place, photographer, subject, light - that can be abstracted and appreciated for their membership in a set. When I look at the 2,000 images that have been submitted so far, I'm amazed by the formal games you can play. Photos of the same place, or photos at the same time. Iconic viewing angles. Single gate against blue sky. Saffron fabric against sunshine. Rows of gates receding to a vanishing point. Rows of gates crisscrossing the frame. Gates framing people. Gates framing other gates. Gates photos in a pile ("gatesmemory" at Felix Turners' postcard browser), gates browsable by tag.
How about Gates on a map? Collective memory stimulated by shared activity and a collaborative effort to annotate gatesmemory images by location. I hope that project participants would willing to lend a hand with a widespread spatial annotation project. All it would take would be few interface modifications to Mappr and participants familiar with the park.
I am in the strange position of having never seen Central Park without its saffron makeover, but the reactions of visitors made it clear that it was a changed environment. Our host in New York made a point of leading us through parts that remained ungated, to provide a brief view of the bare park in winter.
Posted by michal migurski at 6:08 AM | Comments (2)
March 14, 2005
hacking with permission - experimental color picker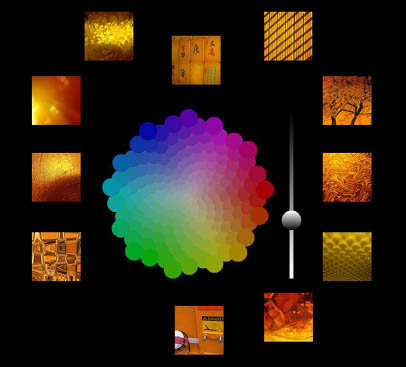 Flickr's philosophy of sharing runs through and through. Not only does it apply to the thousands of photos people have uploaded there, but also to the fundamental building blocks of its unique platform (the API, or the code describing what happens in Flickr and how). Flickr is very open to development, and maintains a sort of approved hack policy - an interesting model for what could be described as semi open source. Take a look at their services page to learn about some of the wonderful Flickr applications people have made simply by shooting a quick proposal to the exceedingly friendly powers that be. One of the best-known examples is Jim Bumgardner's Color Pickr, which resembles a painter's palette, with circular dabs of color in a multitude of shades spinning through the ROYGBIV spectrum. Click a color area, or adjust brightness with a slide bar to the side, and a dozen or so photos right in that sweet spot will arrange themselves around the wheel. The photos are drawn from the color fields photo pool, a page on Flickr assembled by devotees of the project.
As we build this dynamic archive of the Gates, we should survey not only existing visualizations but also the tools we have at our disposal. Color Pickr is an inspiring example of what can be done with the Flickr architecture.
Posted by ben vershbow at 12:52 PM | Comments (0)
March 10, 2005
visualizing the archive
To begin discussing in earnest how we might visualize/organize the archive we are compiling, it seems like a good idea to do a quick survey of existing examples. I mention a few below, but to get this going, please point us to other examples, and comment on what we've mentioned here.
The most stunning visualization we've seen so far is the New York Times interactive feature, The Gates: Christo's New York Moment, designed by Ty Amhad-Taylor. In addition to a four-minute audio review by Times chief art critic Michael Kimmelman, the piece provides a fantastic map of the park with three possible views: a basic scheme with dotted lines tracing the path of the Gates, and two aerial photographs, before the Gates and after. Designed as a user's guide for the 16 days when the Gates actually stood, the map includes a legend and corresponding markers for "recommended views," information booths, food, and "warming stations." In a sidebar to the right can be found the entire map in miniature, with a drag-able zoom window. Certain parts of the map contain links to panoramic views. Click these and the screen bisects into a lovely two-panel stack, with an interactive panoramic photo scrolling above the map section. The screenshot I've posted here shows a panoramic image from the Harlem Meer.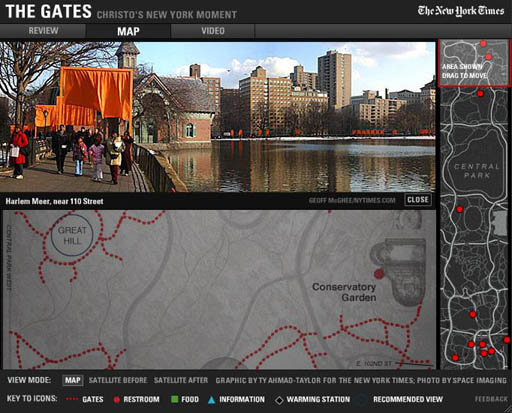 The Central Park Conservancy, which manages the park, has a "virtual tour" of the Gates up on their site - essentially a boring old slideshow, whose one redeeming feature is that it notes very specific geographical locations for each photograph. This suggests the possibility of mapping the archive (Mappr folks, we're hoping you can weigh in on this..).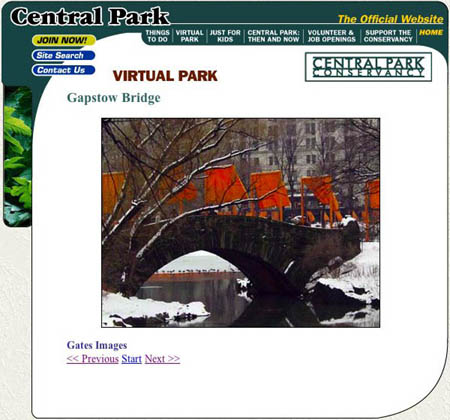 The last example I'll mention is simply a fun montage program we came across. Plug in "christo" and "gates" and you get something like this. It's worth mentioning because we should keep our eyes open for existing visualizations that could be applied to, or adapted for, our project.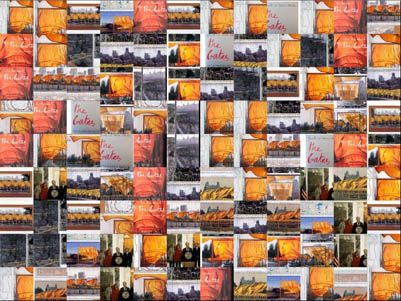 Check out also this post on the Flickr blog about parodies of the Gates. And also this interesting analysis posted on the Flickr Central forum on "the emerging 'genres' when it comes to 'shooting the gates.'"
Again, please comment and refer us to other examples..
Posted by ben vershbow at 4:04 PM | Comments (3)