April 29, 2005
Gates summer share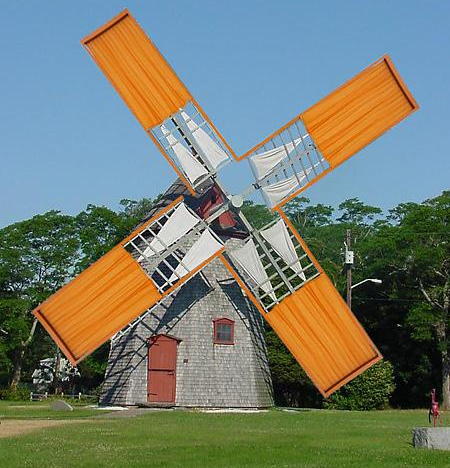 Cape Cod News published some great parodies of the Gates. The Eastham Gates were my favorite (pictured above).
Posted by kim white at 2:28 PM | Comments (0)
April 4, 2005
the gates at wesleyan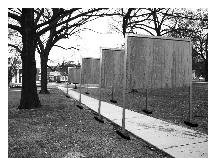 The collegiate Gates parodies continue to roll. Latest iteration: an april fool's piece in the Argus, the student paper at Wesleyan. Anyone know if they actually put it up, or was it just in the article?
Posted by ben vershbow at 2:32 PM | Comments (0)
April 1, 2005
faking places: the grates

Abigail points to a great a April fooling by the Project for Public Spaces, also known as the Project for Phony Spaces, supposedly "a nonprofit organization dedicated to creating and sustaining public places that build communities." Paging through their site, you're not quite sure if what you're looking at is serious. At one moment they talk about "placemaking," a kind of enlightened urban planning technique, all under the Public Spaces banner. Turn the page and suddenly they're talking glibly about "placefaking," under the phony banner. It's a genuine fake.
Their April 1st newsletter announces plans for the next project from Christo-Bloomberg productions, the Grates - a series of turquoise banners installed over the city's sewer grates.
Thanks, Abigail!
Posted by ben vershbow at 10:50 AM | Comments (0)
March 31, 2005
more from the Lerner Gates underground
lernergates5
Originally uploaded by GatesMemoryProject.
I just had a brief email exchange with the mysterious authors of the Lerner Hall jape. I asked them how they got the idea. Like the prank itself, it was quite simple:
"We just sat around, and one of us (who had not left campus in a while and lamented the fact that they had not seen the gates) had the idea of doing it for the senior prank. Other than that, we got some orange tarps, some dowels, and some shower hooks, along with some structural planning and design, and that was it. Fin."


Posted by ben vershbow at 12:16 AM | Comments (1)
March 29, 2005
invisible columbia pranksters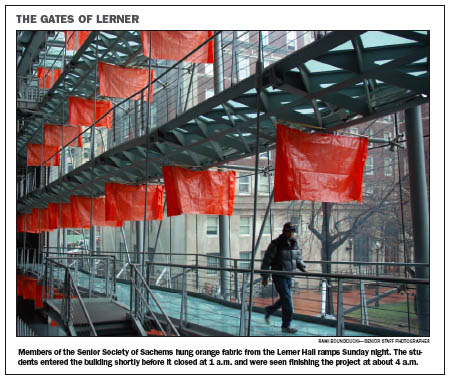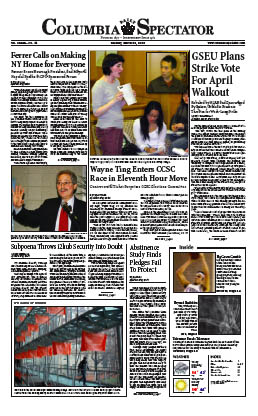 An image of the fantastic Gates prank in Alfred Lerner Hall appeared today in the Columbia Spectator with a brief caption attributing the stunt to an underground group of seniors. It appears they snuck in yesterday at 1am, just as Lerner was closing, and quietly installed the banners. They finished at 4am and snuck back out. Above are the image and caption from the Spectator. I've also created a small photo set of my shots on Flickr.
Posted by ben vershbow at 12:32 PM | Comments (0)
March 28, 2005
the gates at columbia
Columbia's class of '05 has executed a great prank at Alfred Lerner Hall, the main student center on campus. In spite of truly foul weather, I managed to get some pics (captions link to Flickr).

Lerner Gates 1

Lerner Gates 2

Lerner Gates 3
Posted by ben vershbow at 5:24 PM | Comments (0)
The Fun of Making Fun
The Gates had an unmistakable joie de vivre; they were about fun, and parodies of the Gates attest to that. Their puzzling non-art/art status, their exuberant orange, their rhythmic repetition, their grand scale and defiantly ephemeral nature inspired a crop of brilliant parodies that entertained supporters and detractors alike.
The John Stewart show's hilarious commentary on the gates can be viewed On Lisa Rein's Radar.
Artist and photographer, khang kijarro nguyen is responsible for the toothpick gates executed february 2005 in central park, a site specific art installation coinciding with another site specific art installation of strikingly similar appearance in the back ground.
The miniature, Sommerville gates or Hargo's gates, as they were called, were perhaps the most widely-known. The website for the installation, which traces the pathways of creator Geoff Hargadon's cat through his Sommerville apartment, got 5.5 million hits in one week and Hargadon received about 3,000 e-mails from fans and academics.
In an equally hilarious tongue-in-cheek associated press article published on MSNBC's website Hargadon said that his project wasn't intended to mock the Central Park installation, which Hargadon visited last week and enjoyed. His target is the monumental hype…one review, which called "The Gates" the first great public art creation of the 21st century, pushed Hargadon over the edge. Soon he was at The Home Depot buying materials for his own project.
The article went on to say that Hargadon has no plans to make money from his gates. However, he does plans to auction one gate to benefit the Massachusetts College of Art.
"From what I can tell, it's majorly important for him to keep it pure," said friend and co-worker, Bart Smith.
The Sommerville Gates provoked discussion on dozens of blogs including, The Conversation Café and Brian Bernard's blog. Brian is a big fan of the Sommerville Gates and is assembling an archives of all the photos he can find, a sort of sister project to our Gates Memory archives.
I also love the simple parodies that focus on the orange color and the repeated motif such as the snack crackers parody.
Many visitors took pleasure in finding themselves or others costumed in similar saffron hues, as many of the photos uploaded to Flickr including Rochelle Ratner's shot of a man with orange scarf and pamplet attest. Some took it a step further, celebrating the Gates by participating in an orange-hued conga line. One Gates fan even created her own line of "Gates Viewing Attire."
Posted by kim white at 1:22 PM | Comments (0)
March 14, 2005
the gates and the human figure

At its best, parody can uncover the essential truth. These funny send-ups challenge the oft-trumpeted complaint that the Gates were meaningless, insisting on a basic affinity with the human figure (just as classical columns evoke so many Atlases raising the roof). It would be interesting to see this explored in a more serious way.
The photos are:
The Gates as interpreted by one man. Originally uploaded by tokyofortwo.
the_gates Originally uploaded by brooklyngirl.

Posted by ben vershbow at 5:26 PM | Comments (2)
March 11, 2005
great Gates parody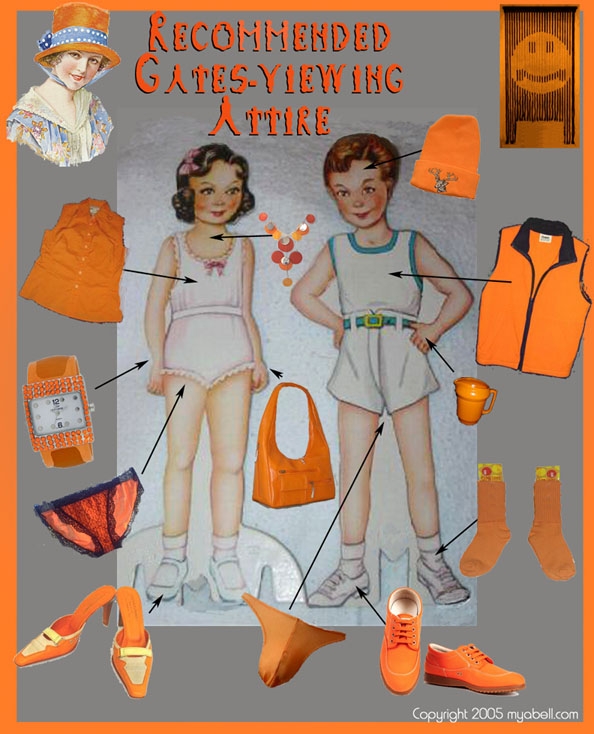 by Mya Bell (click image to go to site)
Posted by ben vershbow at 6:13 PM | Comments (0)