« March 2005 | Main | June 2005 »
April 29, 2005
Gates summer share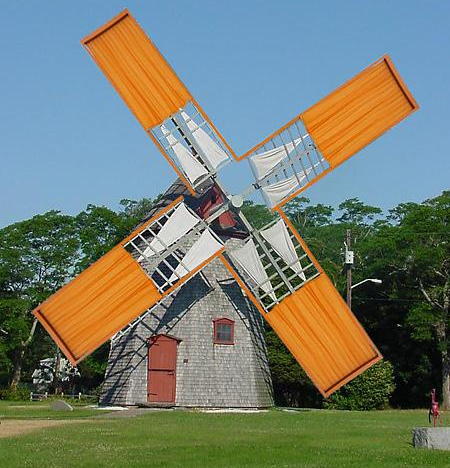 Cape Cod News published some great parodies of the Gates. The Eastham Gates were my favorite (pictured above).
Posted by kim white at 2:28 PM | Comments (0)
April 27, 2005
a del.icio.us anthology
The Gates Memory Project now has a del.icio.us bookmark page. We are using it to compile a list of online stories and other ephemera about the Gates project. It will serve as a companion to our Flickr photo archive. To be included, post a comment below with your url, or add the tag "gatesmemory" to your del.icio.us account.
Posted by kim white at 11:35 AM | Comments (0)
April 25, 2005
built by community
GatesInstallerTeam2.2
Originally uploaded by Amelia 11211.
The Gates were a quintessentially public work of art built by the public for the public. The following articles give a brief glimpse into the life and experience of Gatesworkers.
Hello all from the Gates Project by
Maja Klüver
A Day in the Life of Gate 8430
By ADAM NICHOLS, Daily News Staff Writer
We meet the people passing through one portal
Central Park Makeover: Reality Show, in a Way
By CAROL VOGEL, New York Times, Feb. 10, 2005
The paid volunteers installing Christo's "Gates" in Central Park share a common bond: a resolve to be a part of the city's biggest public-art happening ever.
Art Project Pilgrims Prepare to Install 'The Gates'
By CAROL VOGEL New York Times, Feb. 5, 2005
Hundreds of workers put their lives on hold to install "The Gates."
Posted by kim white at 12:06 PM | Comments (0)
April 15, 2005
Kid's-eye view of the Gates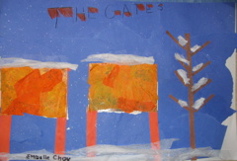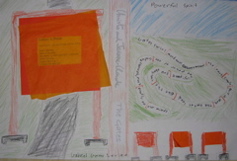 Fourth grade students at Dalton have created their own Gates memory project. After learning about Christo and Jeanne-Claude's work, and visiting the Gates through different stages of their installation, students created journal entries, poems, and artworks. These reflections were synthesized in a "culminating project," a work of art that interpretated the Gates experience. The projects are marvelous. Above, left is a picture by Isabelle. Above right is Gabriel's collage which incorporates a poem.
Posted by kim white at 9:52 AM | Comments (0)
summit
Posted by ben vershbow at 8:00 AM | Comments (0)
April 14, 2005
where do we go from here?
Ben and I have been talking at length about the next step for the gates memory project. We came up with three ideas briefly outlined below. We decided to open up our internal conversation to our readers. Please let us know what you think.
FIRST IDEA
Unless we actively engage them, memories fade.
We've now collected over 3,000 photographs of the Gates in Flickr. Let's try to imagine an interface that captures the perishability of memory and at the same time gives a compelling reason to interact - i.e. if you don't, it will all disappear.
This could work in many ways. Here are two:
1. Rating
Visitors could watch a random slideshow of the archive. Next to each picture there would be sliding meter between "remember" and "forget." If you love the photo you will slide it to the top. If you hate the photo, you will slide it all the way down to forget. Most will choose somewhere in the middle. These actions will be registered on some sort of visualization of the entire archive - a grid, say, with every photo arranged as a small tile. Depending on visitors' actions during the slideshow, some tiles will be brighter than others. Some will have paled slightly, some will be very faded out, and some will have disappeared altogether. The more people visit, the more nuanced this memory map will become, and photos will fluctuate in and out of memory. You can either let it go on indefinitely, or eventually freeze it and voila: your lasting, definitive document.
2. Half Life
This is about imbuing the archive with a sense of decay and steady erosion. The archive is fading away and can only be held onto if people interact with it. It's not so much about rating individual components as keeping contact with the collective. Like a bit torrent, as soon as people abandon it, it dies.
SECOND IDEA
Archives as landscape: this interface allows visitors to "play" with the images to build a collective work of art that reconstructs the Gates photo archives as virtual pathways.
We would turn each of the 3,000+ Gates photos into a tile which can be dragged and dropped onto a surface/screen that is scrollable horizontally and vertically. The object of the game is to layout a string of photos that connect to each other like dominos. Orange bleeding off the side of a photo = a possible connection. Visitors look for images that begin where the last one left off. These progressions can proceed vertically, horizontally or diagonally, growing and spreading as visitors search the archives, finding new connections and adding new tiles. We could also allow users to "edit" the collage, replacing existing photos with better photos.
The Result: threads that build and ribbon across the space will form a kind of virtual memory of movement through the Gates. The landscape of our collage can be examined close up or far away, using a zoom function. Zooming out gives you an aerial view of the Gates, zooming in allows you to see it on the ground level.
GUEST EDITOR PROJECT
We would like to ask guest editors to review the photo archives and select pictures that exemplify a single, specific idea about the Gates. Each editor will have something different to say. Our hope is that a multifaceted understanding of the Gates project will emerge when the various viewpoints are seen/read together.
For the guest editor project, Ben feels strongly, and I agree that this should take place on on our existing blog rather than on a new one. The guest editor project could be a distinct thread on the Gates blog, or it could take over the entire blog (I lean towards the latter). To get the project going, guest editors should send an email to Ben or to me with the contents of their blog post (text and links to the photos they want posted) and we will post it for them. If the project mushrooms and we get several submissions a day, we should talk to Kalina about building a form field for submissions.

Another way to go is to utilize Flickr's "my favorites" function, which allows users to create a page with their favorite photos. We could ask Gates visitors to make a page of favorites and we could create a gallery space on our website to display clickable thumbnails of these pages. The only problem with this option is that the favorites function does not have a space to write commentary, so this would be a strictly visual commentary.
Bob's thoughts
i love the Rating concept -- especially if we could make it work like the baby name site

half-life is interesting, but not clear to me why the archive should die if no one looks at it for awhile -- a key rationale of an archive is to counter ephemerality
the game is OK, but seems forced and a bit trivial as it only draws on the geometry of the photos; i.e. an interesting exercise but not clear what importance it elucidates re:The Gates as a work of art.
agree that if we do the guest photo editor -- which i still think we should because that can be started immediately, while we develop other ideas such as the Rating meter -- that it should be on the existing gates memory blog.
Dan says:
2. Half Life
I like the idea of this. But how do you make something like information-death tangible on the Internet? The internet's made information cheap: we feel like even if one website dies, someone will have a copy somewhere. (This isn't always true, of course - despite the efforts of archive.org, a lot of the internet did prove ephemeral.) How would we do this with Flickr images if a) the images don't belong (a loaded word) to us, and b) they're on Flickr already?
SECOND IDEA: Archives as landscape:
This wouldn't be hard to do - there are a lot of slide puzzles done in Java or JavaScript & we could pull the code apart until it suited our purposes. Is this, though, the sort of project that might be done best by a computer program, then edited by hand? Or maybe have a computer program that does it algorithmically side by side with a human-edited version: the two could be aesthetically compared.
GUEST EDITOR PROJECT
What if we combined a link to Flickr's "my favorites" with a blog post? The editor could write a paragraph or so about what they liked, then there could be a link. Or a thumbnail of the page could be a link if they didn't want to write commentary.
Posted by kim white at 8:42 AM | Comments (0)
April 13, 2005
jump
"The horse looks as if it is irritated by all the saffron, it jumps a gate."



Posted by ben vershbow at 6:00 PM | Comments (0)
Chuck's Gates--Cost: $25
Posted by ben vershbow at 1:05 PM | Comments (0)
April 12, 2005
tape drawing + the baby gates
R.bean
's strange tape structure with
baby gates
is a great contribution to the collective memory.
Posted by ben vershbow at 2:58 PM | Comments (0)
The Collective Collects
The Gates Memory project is working in collaboration with Flickr to collect and archive photos of the Gates. We are also relying on the internet community to help us connect to stories, conversations, blog posts and articles that have emerged in response to the Gates installation. Sites like Furl, del.icio.us, and technorati do for blog posts what Flickr does for photos. Technorati, for example, has 59 posts from 23 blogs tagged with "the Gates."
Several blogs have taken up the task of archiving (by copying and pasting) all the articles they can find about the Gates. nyc.architecture.com, 1 Central Park Forum, and wired new york.com just to list a few.
Most interesting are the blogs that really try to understand all of these points of view. Ann Althouse's February 13, 2005 blog post "Is anyone saying anything interesting about "The Gates"? tries to find conversations and critiques that look "beyond the basic facts (Christo and Jeanne-Claude spent $21 million of their own money and accepted no grants), the obvious starter question "Is it art," and the snap judgments (from "I love it" to "Get this out of my park").
Posted by kim white at 11:49 AM | Comments (0)
April 11, 2005
beautiful photos by Enigmanote
Posted by ben vershbow at 8:06 AM | Comments (0)
April 7, 2005
Meer Reflections
Posted by ben vershbow at 11:27 AM | Comments (0)
April 5, 2005
The Process
In an article in
Art a Go Go, Kathleen Lang writes about the length of time it takes Christo and Jeanne-Claude to realize their art works. "Sometimes it can take years for the artists to obtain the required permits to carry out their plans. The permit process often requires extensive environmental studies, costing millions of dollars. Avoiding words like "red tape" or "bureaucracy," Christo and Jeanne-Claude simply call their quest to get a project approved as "process."
Interesting to note that this is exactly how we are proceeding with the documentation of the Gates. We are interested in the process as much as the end-result. How will the experience of the Gates be unpacked, discussed, and re-assembled by a large and diverse group of observers? To follow are a few examples.
A film documentary by Antonio Ferrera and Albert Maysles is currently in production. The filmmakers have been following the Gates project throughout its 25-year life-span. Both Leslie Camhi and Kathryn Shattuck, mention the Maysles documentary in their respective articles on February 8th.
During their brief stay, Justin Ferate, an award winning tour guide offered historical background to go with the direct experience in his walking tour of Central Park and the Gates described as follows on his website: discover the interrelationships between the billowing saffron-colored Gates and Vaux and Olmsted's magnificent Central Park. Learn of Christo's career and of his artworks around the world. Experience the tremendous transformations of Central Park and the most recent visions for its future.
There are a wealth of creative approaches to understanding the artistic value the Gates. The New Criterion published a quiz-style art review that compared Christo and Thomas Kinkade. This article was followed up by post on the blog StepNewz Christo vs. Thomas Kinkade: Reloaded
A blog called "the Sheila Variations," offers this hilarious collaborative art review, poking fun at the cliches of art criticism.
Several other blogs stage rich discussions/debates over the artistic value of the Gates. Two good examples are: The Charlie Rose Show's: Tell us what you think discussion board A river the color of saffron IS art and Republican Professor's glowing review of the Gates with contentious discussion to follow.
Posted by kim white at 10:55 AM | Comments (0)
April 4, 2005
the gates at wesleyan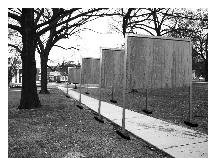 The collegiate Gates parodies continue to roll. Latest iteration: an april fool's piece in the Argus, the student paper at Wesleyan. Anyone know if they actually put it up, or was it just in the article?
Posted by ben vershbow at 2:32 PM | Comments (0)
verticals
1) Vertical Shine - originally uploaded by rfwomon
2) VERTIGATES - originally uploaded by Red Hawk
Posted by ben vershbow at 1:14 PM | Comments (0)
April 1, 2005
faking places: the grates

Abigail points to a great a April fooling by the Project for Public Spaces, also known as the Project for Phony Spaces, supposedly "a nonprofit organization dedicated to creating and sustaining public places that build communities." Paging through their site, you're not quite sure if what you're looking at is serious. At one moment they talk about "placemaking," a kind of enlightened urban planning technique, all under the Public Spaces banner. Turn the page and suddenly they're talking glibly about "placefaking," under the phony banner. It's a genuine fake.
Their April 1st newsletter announces plans for the next project from Christo-Bloomberg productions, the Grates - a series of turquoise banners installed over the city's sewer grates.
Thanks, Abigail!
Posted by ben vershbow at 10:50 AM | Comments (0)