Listing entries tagged with The Ideal Device?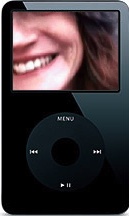 Looks like it's hardware day at if:book. Just got a video iPod. Hmmm. this looks like another niche where Apple has handily beat Sony. the image is crisper and larger than i expected; the case is slimmer and lighter.
it's remarkably easy to convert video files to MP4 and load them onto the iPod. the experience is intimate . i'm experimenting with different genres, poetry, animation, family home video, short films. everything works. the iPod got handed around from ben to dan to ray to jesse. we came up with a bunch of ideas for projects we want to try. stay tuned.
Posted by bob stein at 06:52 PM | Comments (1)
tags: The Ideal Device? , apple , gadget , ipod , movies , video , vpod
this is a late addition to this post. i just realized that whatever the strengths and weaknesses of the Sony ebook reader, i think that most of the people writing about it, including me, have missed perhaps the most important aspect — the device has Sony's name on it. correct me if i'm wrong, but this is the first time a major consumer electronics company has seen fit to put their name on a ebook reader in the US market. it's been a long time coming.
Reuters posted this image by Rick Wilking. every post i've seen so far is pessimistic about sony's chances. i'm doubtful myself, but will wait to see what kind of digital rights management they've installed. if it's easy to take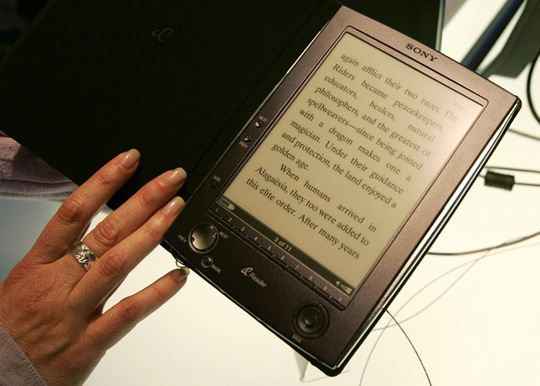 things off my desktop to read later, including pdfs and web pages, and if the MP3 player feature is any good they might be able to carve out a niche which they can expand over time if they keep developing the concept. i do wish it were a bit more stylish . . .
here's a link to ben's excellent post ipod for text.
Posted by bob stein at 07:17 AM | Comments (17)
tags: The Ideal Device? , digital_book , e-ink , ebook , gadget , librie , sony
A Dec 6th article in New Scientist notes that patents filed by Disney last April reveal plans to drip-feed entertainment into the handheld video players of children eating in McDonalds. The patent suggests that instead of giving out toys with Happy Meals, McDonalds might provide installments of a Disney tale: the child would only get the full story by coming back to the restaurant a number of times to collect all the installments. Here's some text from the patent:
...the downloading of small sections or parts of content can be spread out over a long period of time, e.g., 5 days. Each time a different part of the content, such as a movie, is downloaded, until the entire movie is accumulated. Thus, as a promotional program with a venue, such as McDonald's.RTM. restaurant, a video, video game, new character for a game, etc., can be sent to the portable media player through a wireless internet connection... as an alternative to giving out toys with Happy Meals or some other promotion. The foregoing may be accomplished each time the player is within range of a Wi Fi or other wireless access point. The reward for eating at a restaurant, for example, could be the automatic downloading of a segment of a movie or the like...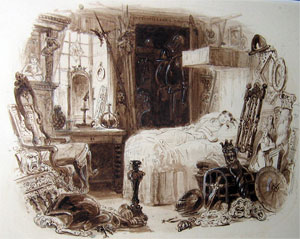 Hmm. Some small issues to be worked through here — like identifying that elusive target market of parents willing to hand their child a video ipod while he or she is eating a cheeseburger and fries. But if this is a real direction for the future, what might it portend? Will Disney tales distributed on the installment plan capture the interest of children as much as small plastic figurines representing the main characters of their latest Disney experience? And what's ultimately better for the development of a young imagination, a small plastic Shrek or five minutes from a mini-Shrek video (the choice of "neither" is not an option here)? Can we imagine such a distribution method returning us to the nineteenth-century serialization manial prompted by Dicken's chapter-by-chapter account of the death of Little Nell?
image: the death of little nell from Dicken's The Old Curiosity Shop, 1840
Posted by lisa lynch at 02:14 PM | Comments (3)
tags: The Ideal Device? , disney , ipods , serialization , videos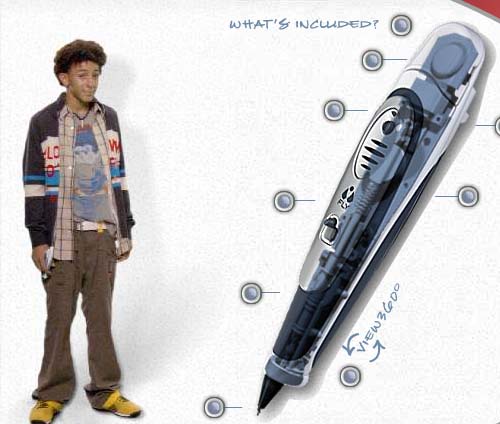 Two products that will most likely never be owned by the same teenager: The hundred dollar Laptop from MIT and the hundred dollar "pentop" computerized pen called the Fly. While the hundred dollar laptop (as we've said a few times on this site already) is promoted as a device to bring children of underdeveloped countries into the silicon era, the Fly is a device that will help technology-saturated 8 to 14 year olds keep track of soccer practice, learn to read, and solve arithmetic equations. Equipped with a microphone and OCR software, the Fly will read aloud what you write: if you use the special paper that comes with the product, you can draw a calculator and the calculator becomes functional. It's all very Harold and the Purple Crayon .
In his review of the Fly's capabilities in todays New York Times, David Pogue is largely enthusiastic about the device, finding it both practical and appealing (if a tad buggy in its original version). Most of all, he seems to think the Fly's too-cool-for-school additional features are necessary innovation in a market that he says has begun to dry up — digital educational products for children. According to Pogue:
When it comes to children's technology, a sort of post-educational age has dawned. Last year, Americans bought only one-third as much educational software as they did in 2000. Once highflying children's software companies have dwindled or disappeared. The magazine once called Children's Software Review is now named Children's Technology Review, and over half of its coverage now is dedicated to entertainment titles (for Game Boy, PlayStation and the like) that have no educational component.
If Pogue is right, and educational software is on its way out, does this mean that everything has moved over to the web? And what implication does this downturn have for the hundred dollar laptop project?
Posted by lisa lynch at 11:55 AM | Comments (1)
tags: Fly , OCR , The Ideal Device? , digital , educational , pen , pentop , software
Discussions about the future of newspapers often allude to a moment in the Steven Spielberg film "Minority Report," set in the year 2054, in which a commuter on the train is reading something that looks like a paper copy of USA Today, but which seems to be automatically updating and rearranging its contents like a web page. This is a comforting vision for the newspaper business: reassigning the un-bottled genie of the internet to the familiar commodity of the broadsheet. But as with most science fiction, the fallacy lies in the projection of our contemporary selves into an imagined future, when in fact people and the way they read may have very much changed by the year 2054.
Being a newspaper is no fun these days. The demand for news is undiminished, but online readers (most of us now) feel entitled to a free supply. Print circulation numbers continue to plummet, while the cost of newsprint steadily rises -- it hovers right now at about $625 per metric ton (according to The Washington Post, a national U.S. paper can go through around 200,000 tons in a year).
Staffs are being cut, hiring freezes put into effect. Some newspapers (The Guardian in Britain and soon the Wall Street Journal) are changing the look and reducing the size of their print product to lure readers and cut costs. But given the rather grim forecast, some papers are beginning to ponder how other technologies might help them survive.
Last week, David Carr wrote in the Times about "an ipod for text" as a possible savior -- a popular, portable device that would reinforce the idea of the newspaper as something you have in your hand, that you take with you, thereby rationalizing a new kind of subscription delivery. This weekend, the Washington Post hinted at what that device might actually be: a flexible, paper-like screen using "e-ink" technology.
An e-ink display is essentially a laminated sheet containing a thin layer of fluid sandwiched between positive and negative electrodes. Tiny capsules of black and white pigment float in between and arrange themselves into images and text through variance in the charge (the black are negatively charged and the white positively charged). Since the display is not light-based (like the electronic screens we use today), it has an appearance closer to paper. It can be read in bright sunlight, and requires virtually no power to maintain an image.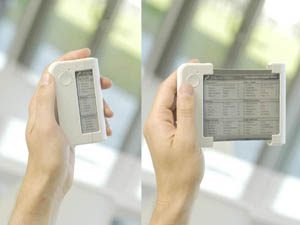 Frank Ahrens, who wrote the Post piece, held a public online chat with Russ Wilcox, the chief exec of E Ink Corp. Wilcox predicts that large e-ink screens will be available within a year or two, opening the door for newspapers to develop an electronic product that combines web and broadsheet. Even offering the screens to subscribers for free, he calculates, would be more cost-efficient than the current paper delivery system.
A number of major newspaper conglomerates -- including The Hearst Corporation, Gannett Co. (publisher of USA Today), TOPPAN Printing Company of Japan, and France's Vivendi Universal Publishing -- are interested enough in the potential of e-ink that they have become investors.
But maybe it won't be the storied old broadsheet that people crave. A little over a month ago at a trade show in Berlin, Philips Polymer Vision presented a prototype of its new "Readius" -- a device about the size of a mobile phone with a roll-out e-ink screen. This, too, could be available soon. Like it or not, it might make more sense to watch what's developing with cell phones to get a hint of the future.
But even if electronic paper catches on -- and it seems likely that it, or something similar, will -- I wouldn't count on it to solve the problems of the print news industry. It's often tempting to think of new technologies that fundamentally change the way we operate as simply a matter of pouring old wine into new bottles. But electronic paper will be a technology for delivering the web, or even internet television -- not individual newspapers. So then how do we preserve (or transfer) all that is good about print media, about institutions like the Times and the Post, assuming that their prospects continue to worsen? The answer to that, at least for now, is written in invisible ink.
Posted by ben vershbow at 08:47 AM | Comments (2)
tags: Online , Publishing, Broadcast, and the Press , The Ideal Device? , book , books , computer , e-ink , ebook , eink , gadget , gadgets , interactive , internet , ipod , journalism , media , media_consumption , newspaper , paper , print , publishing , reading , readius , spielberg , technology , web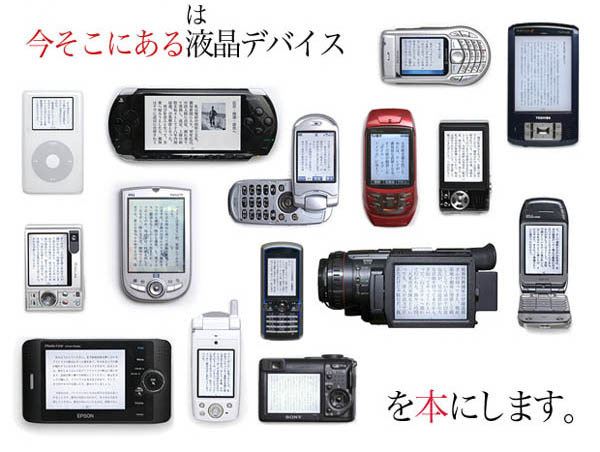 When I ride the subway, I see a mix of paper and plastic. Invariably several passengers are lost in their ipods (there must be a higher ipod-per-square-meter concentration in New York than anywhere else). One or two are playing a video game of some kind. Many just sit quietly with their thoughts. A few are conversing. More than a few are reading. The subway is enormously literate. A book, a magazine, The Times, The Post, The Daily News, AM New York, Metro, or just the ads that blanket the car interior. I may spend a lot of time online at home or at work, but on the subway, out in the city, paper is going strong.
Before long, they'll be watching television on the subway too, seeing as the latest ipod now plays video. But rewind to Monday, when David Carr wrote in the NY Times about another kind of ipod -- one that would totally change the way people read newspapers. He suggests that to bounce back from these troubled times (sagging print circulation, no reliable business model for their websites), newspapers need a new gadget to appear on the market: a light-weight, highly portable device, easy on the eyes, easy on the batteries, that uploads articles from the web so you can read them anywhere. An ipod for text.
This raises an important question: is it all just a matter of the reading device? Once there are sufficient advances in display technology, and a hot new gadget to incorporate them, will we see a rapid, decisive shift away from paper toward portable electronic text, just as we have witnessed a widespread migration to digital music and digital photography? Carr points to a recent study that found that in every age bracket below 65, a majority of reading is already now done online. This is mostly desktop reading, stationary reading. But if the greater part of the population is already sold on web-based reading, perhaps it's not too techno-deterministic to suppose that an ipod-like device would in fact bring sweeping change for portable reading, at least periodicals.
But the thing is, online reading is quite different from print reading. There's a lot of hopping around, a lot of digression. Any new hardware that would seek to tempt people to convert from paper would have to be able to surf the web. With mobile web, and wireless networks spreading, people would expect nothing less (even the new Sony PSP portable gaming device has a web browser). But is there a good way to read online text when you're offline? Should we be concerned with this? Until wi-fi is ubiquitous and we're online all the time (a frightening thought), the answer is yes.
We're talking about a device that you plug into your computer that automatically pulls articles from pre-selected sources, presumably via RSS feeds. This is more or less how podcasting works. But for this to have an appeal with text, it will have to go further. What if in addition to uploading new articles in your feed list, it also pulled every document that those articles linked to, so you could click through to referenced sites just as you would if you were online?
It would be a bounded hypertext system. You could do all the hopping around you like within the cosmos of that day's feeds, and not beyond -- you would have the feeling of the network without actually being hooked in. Text does not take up a lot of hard drive space, and with the way flash memory is advancing, building a device with this capacity would not be hard to achieve. Of course, uploading link upon link could lead down an infinite paper trail. So a limit could be imposed, say, a 15-step cap -- a limit that few are likely to brush up against.
So where does the money come in? If you want an ipod for text, you're going to need an itunes for text. The "portable, bounded hypertext RSS reader" (they'd have to come up with a catchier name --the tpod, or some such techno-cuteness) would be keyed in to a subscription service. It would not be publication-specific, because then you'd have to tediously sign up with dozens of sites, and no reasonable person would do this.
So newspapers, magazines, blogs, whoever, will sign licensing agreements with the tpod folks and get their corresponding slice of the profits based on the success of their feeds. There's a site called KeepMedia that is experimenting with such a model on the web, though not with any specific device in mind (and it only includes mainstream media, no blogs). That would be the next step. Premium papers like the Times or The Washington Post might become the HBOs and Showtimes of this text-ripping scheme -- pay a little extra and you get the entire electronic edition uploaded daily to your tpod.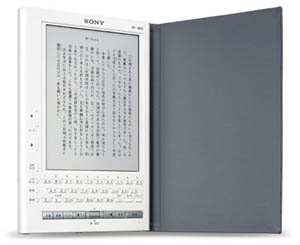 As for the device, well, the Sony Librie has had reasonable success in Japan and will soon be released in the States. The Librie is incredibly light and uses an "e-ink" display that is reflective like paper (i.e. it can be read in bright sunlight), and can run through 10,000 page views on four triple-A batteries.
The disadvantages: it's only black-and-white and has no internet connectivity. It also doesn't seem to be geared for pulling syndicated text. Bob brought one back from Japan. It's nice and light, and the e-ink screen is surprisingly sharp. But all in all, it's not quite there yet.
There's always the do-it-yourself approach. The Voyager Company in Japan has developed a program called T-Time (the image at the top is from their site) that helps you drag and drop text from the web into an elegant ebook format configureable for a wide range of mobile devices: phones, PDAs, ipods, handheld video games, camcorders, you name it. This demo (in Japanese, but you'll get the idea) demonstrates how it works.
Presumably, you would also read novels on your text pod. I personally would be loathe to give up paper here, unless it was a novel that had to be read electronically because it was multimedia, or networked, or something like that. But for syndicated text -- periodicals, serials, essays -- I can definitely see the appeal of this theoretical device. I think it's something people would use.
Posted by ben vershbow at 09:26 AM | Comments (2)
tags: Online , Publishing, Broadcast, and the Press , RSS , The Ideal Device? , apple , book , books , e-ink , e_ink , ebook , ebooks , gadget , internet , ipod , japan , journalism , librie , media , news , newspaper , paper , paperless , podcast , podcasting , print , publishing , reader , reading , sony , syndication , technology , web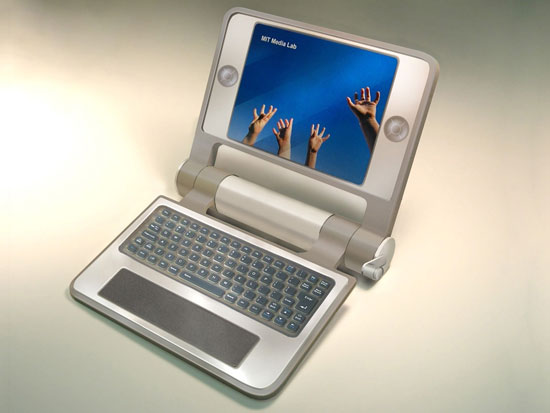 MIT has released some new images of its $100 laptop prototype, of which it hopes to have 5 to 15 million test units within the year. The laptops are much more durable than your average commercial machine, can be used as writing tablets or rotated 90 degrees as ebooks, and run on Linux - 100% free software. The idea is for the machines to provide a platform for an open source education movement throughout the South - a major hack of the current global order.
I love the hand cranks on the side, a backup charging option for remote or poorly provided areas where there is little or no electricity.
("The $100 laptop moves closer to reality" in CNET)
Posted by ben vershbow at 01:03 PM | Comments (6)
tags: $100laptop , Education , MIT , Negroponte , The Ideal Device? , africa , asia , classroom , computer , gadget , google , justice , laptop , linux , notebook , opensource , poor , poverty , redhat , revolution , south , southamerica , tablet , technology
Heads are spinning in response to Samsung's planned release of a 16 gigabyte flash drive - a string of eight 2GB flash memory cards. Flash memory is solid state data storage, as opposed to the conventional hard drive, which contains spinning mechanical parts. The implication is that the price of memory for computers will soon drop dramatically, as will the amount of energy used to power them. Moreover, you will be able to carry millions upon millions of pages on something the size of a keychain (people will probably start using smaller ones as business cards before too long). There's definitely something reassuring about the solidity - to rely entirely on a single, rickety hard drive, or a network, to store documents is incredibly risky and unreliable. Plus, these cards are far more tolerant of shocks, bad weather and all around abuse.
Chosun Ilbo describes the remarks of Hwang Chang-gyu, Samsung's chief executive, who said:
...the development signaled the opening of the "digital paper age." "In the same way that civilization rapidly progressed after paper was invented 2,000 years ago, flash memory will serve as the 'digital paper' to store all kind of information from documents to photos and videos in the future. Mobile storage devices like CDs and hard disks will gradually disappear over the next two or three years, and flash memory will dominate the information age."
Posted by ben vershbow at 03:47 PM | Comments (3)
tags: The Ideal Device? , computer , data , datastorage , flash , flashmemory , gadgets , gigabyte , harddrive , korea , memory , paper , paperless , samsung , technology


The Motorola ROKR, a new iTunes-compatible cellphone developed for Apple, hits the stores today for Cingular subscribers. The phone will run for $249.99 and can load up to 100 songs from a computer through a USB wire. Sounds like a rip-off to me, but indicative of things to come. It also comes equipped with a camera. The cellphone is steadily swallowing up all personal media.
Apple also unveiled its newest iPod, the "nano," which uses solid flash memory (like in little USB memory sticks) rather than a hard drive with moving parts. It's roughly the size of a half dozen business cards stacked together, and can hold up to 1,000 songs.
Posted by ben vershbow at 08:10 AM | Comments (1)
tags: The Ideal Device? , The Performing Book , apple , cameraphone , cellphone , gadgets , ipod , itunes , media , mobile , motorola , music , nano , phone , podcast , rokr , technology
Wired profiles Amp'd Mobile, a new service launching this fall that will offer subscribers a wide array of "mobile entertainment" options on a specialized handheld device. Amp'd has marshalled a vast amount of venture capital to bring the cellphone to its full potential as a catch-all media device - video console, gaming handset, ebook reader, web browser, and, if your brain hasn't been totally fricasseed by that point, still a good old-fashioned telephone.
Amp'd targets consumers in their mid-20s to mid-30s - the bracket that is the most gadget-crazed, the most entertainment-hungry, as well as the most mobile, or so the reasoning goes. At the very least, Amp'd might serve as a catalyst for Verizon, Sprint and the other big mobile service providers to move into this sweet spot of media convergence. It certainly seems that things are going that way.
Posted by ben vershbow at 02:11 PM | Comments (0) | TrackBack
tags: The Ideal Device?
The new updated Sony PSP portable gaming device will include a web browser. That gives it games, film, photo and web - the most comprehensive pocket instrument out there. But for the time being, it's read-only. Without a stylus, or virtual keyboard, many of the web's more interactive elements will be unavailable.
Posted by ben vershbow at 04:12 PM | Comments (3) | TrackBack
tags: Games , The Ideal Device?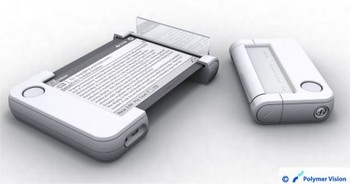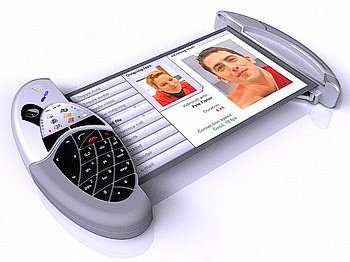 Some future fantasy fare from Polymer Vision, a subset of Philips. These screens are paper-thin and use e-ink to produce a reflective display that consumes little power and can be read in sunlight. Read a book and then roll it back up into your phone. This stuff is only a few years off.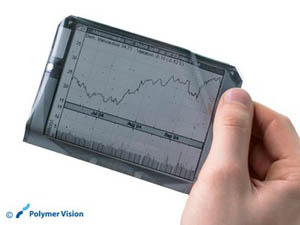 More info from Philips.
Posted by ben vershbow at 02:02 PM | Comments (0) | TrackBack
tags: The Ideal Device?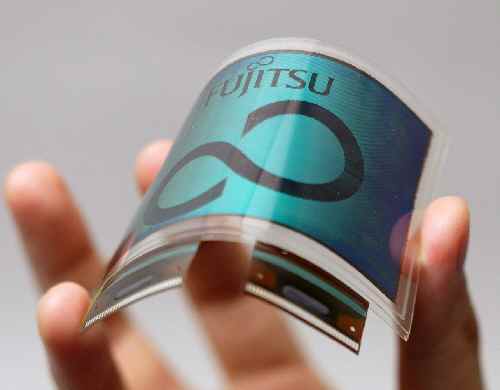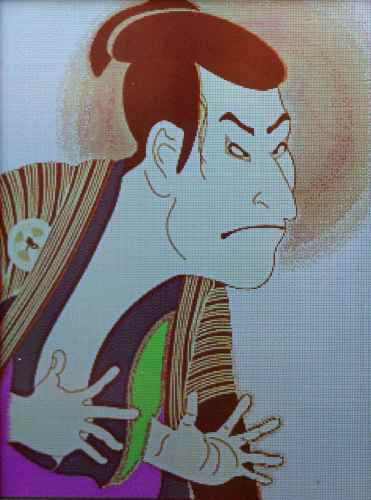 Fujitsu has developed a flexible, light-weight electronic display capable of retaining stable, full-color images even when bent. About as thick as a plastic transparency (like an x-ray), the paper consists of three substrate layers (red, green and blue) and requires "only one one-hundredth to one ten-thousandth the energy of conventional display technologies." The paper's memory system enables continuous image display with zero energy required, while changing images consumes only a negligible amount of power. And because displays won't require continuous updates, Fujitsu boasts, the screen will not flicker. The paper should be available to consumers by Spring, 2006. It will be pushed for use in the office, home and for signs and advertisements in public spaces. It's not clear, however, if it will be able to handle film or sophisticated animation (I would guess not very well). If anyone reading this happens to be in Tokyo today or tomorrow, the prototype is currently being exhibited at the Fujitsu Forum.
Posted by ben vershbow at 11:07 AM | Comments (0) | TrackBack
tags: The Ideal Device?
Came across this Flickr photoset of Japanese comics on a Librie - Sony's electric ink ebook reader. Even in a photo, the reflective, print-like quality of the screen is striking. People have generally raved about the Librie's display, but are outraged by its senseless DRM policies: books self-destruct after 60 days. (discussed here and here)
Once E ink enters the mainstream, people might flock to electronic books as rapidly and enthusiastically as they did to digital photography. Screen display technology will undoubtedly advance. The DRM problem is trickier.
(Incidentally, I found this image while browsing recent blog posts under the "ebook" tag on Technorati. Flickr images tagged with "ebook" are placed alongside. An example of how these social tagging systems are becoming interconnected.)
Posted by ben vershbow at 12:57 PM | Comments (0) | TrackBack
tags: Copyright and Copyleft , The Ideal Device? , digital_literature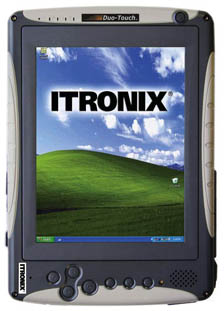 This expensive new tablet PC is built to withstand "rain, snow, wind, dust, vibration, shock, chemical exposure, and temperature extremes, from minus 4 to 140 degrees" (see article).
Posted by ben vershbow at 08:20 AM | Comments (0)
tags: The Ideal Device?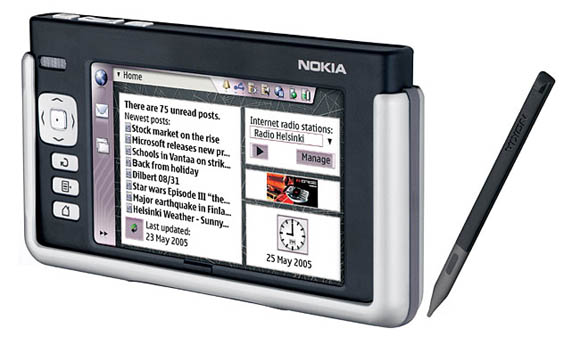 Nokia is preparing to release the Internet Tablet, a handheld, Linux-based device with wireless web browsing capability and a variety of multimedia options (video, audio, internet radio). $350 is the asking price. Problems seem to be that it doesn't come with a lot of memory, and that it doesn't support Microsoft media formats. But it edges a little closer to the "can I take it into bed with me?" criterion. We'll see if any interesting e-reading formats are developed for it. Most likely just a footnote on the way to something better.
Mentioned here in Wired. Here with the Linux angle. Pros and cons laid out here.
Posted by ben vershbow at 04:44 PM | Comments (1) | TrackBack
tags: The Ideal Device?
The World Wide Web Consortium (W3C), the main standards-setting body for the networked world we live and breathe, recently launched the Mobile Web Initiative. From the press release:
"Many of today's mobile devices already feature Web browsers and the demand for mobile devices continues to grow. Despite these trends, browsing the Web from a mobile device -- for example, to find product information, consult timetables, check email, transfer money -- has not become as convenient as expected. Users often find that their favorite Web sites are not accessible or not as easy to use on their mobile phone as on their desktop computer. Content providers have difficulties building Web sites that work well on all types and configurations of mobile phones offering Web access."
The web is moving further and further from being exclusively a desktop system. What began essentially as a set of interlinked brochures, to be read sitting down, has evolved into a dynamic, social multimedia space, increasingly connected to the world around us. I often think of the history of industrialization as a story of estrangement from the physical world. Cities swell, smog billows and the haze of electric light washes out the stars. Mass media forms naturally emerge from the concentration of industry - economies of scale that favor homogeneity, the sweeping gesture. At first, the new media seem to take this estrangement further, confining us to "virtual" spaces. But quite to the contrary, the web is taking us back into the world, not out of it. Even something as simple as Google Maps suggests this return. But to become fully unmoored from our desks, standards have to be set in place to ensure that the web is readable in smaller formats, and that we have faster, more reliable access when we're on the move. Plus, the devices need to emerge that offer the convenience of a cell phone with the power of a notebook computer. The future of personal computing lies more with cell phones (see the new Sidekick II), iPods and Play Station Portable than with the latest desktop from Dell or Apple.
Posted by ben vershbow at 05:13 PM | Comments (0) | TrackBack
tags: Microlit , The Ideal Device?
David Bell, a history professor at Johns Hopkins, has written a smart, well-reasoned article for The New Republic entitled "The Bookless Future," in which he ponders the changing nature of reading, writing and research in a digital world. Professor Bell and The New Republic have kindly allowed us to reproduce the article in TK3, an e-document reader. Our hope is that it will serve as a springboard for wider discussion, both of the article, and of what is needed to create the optimal electronic reading environment. The downloads are below, followed by some initial thoughts on Bell's piece. We would love to hear people's reactions..
First Download and Install the TK3 Reader

Then Download "The Bookless Future"

(when you've unzipped the book, you should be able to open it by double-clicking on its icon)
In Bell's view, the big gains so far have been in the realm of research. "Today, a scholar in South Dakota, or Shanghai, or Albania--anywhere on earth with an Internet connection--has a research library at her fingertips." A democratization has taken place, comparable only to the change unleashed by the printing press. The ease and speed of searching, comparing, and collating digital documents is similarly a great boon to scholars and students. The benefits afforded by new reading modes far outnumber the losses that opponents of the electronic book frequently lament - the tactile pleasures, the smell of musty bindings, the social environment of bookstores, the art of typography.
This will remain controversial territory for quite some time, but Bell manages to strike the right balance:
What really matters, particularly at this early stage, is not to damn or to praise the eclipse of the paper book or the digital complication of its future, but to ensure that it happens in the right way, and to minimize the risks.
Bell is also thinking what this means for writing. He recognizes the possibilities for new kinds of expression and argumentation that are only possible in the multimedia, not-exclusively-linear, environment of the computer. He cites a few examples in the Gutenberg-e series. But Bell's enthusiasm is mixed with concern for how we are being affected as readers. First there is the way we absorb content, which has been entirely transformed by hypertext and search - the "browsing" ethos. Bell warns:
Reading in this strategic, targeted manner can feel empowering. Instead of surrendering to the organizing logic of the book you are reading, you can approach it with your own questions and glean precisely what you want from it. You are the master, not some dead author. And this is precisely where the greatest dangers lie, because when reading, you should not be the master. Information is not knowledge; searching is not reading; and surrendering to the organizing logic of a book is, after all, the way one learns.
Questions of form are no less important. Bell reminds us that the digital revolution, unlike the print revolution, is not just about the book. Moveable type may have transformed the means of production for books. But in form, they remained basically the same, and were no less "readable" than their hand-copied forebears. This is not the case with digital books. Until personal computers, and later, the web, it was never assumed that we would do any serious reading on screens. But as technology advanced, we learned that computers were more than just computational tools. A big lesson of the digital revolution is that since all media can be equalized as ones and zeros, then it follows that all media can converge and dance together in a single space. The digital revolution is about this convergence. Text is just one part of it, and so far computers have proven themselves better at handling rich media like graphics, film and sound than at providing satisfactory conditions for sustained reading. This boils down to a few, very simple reasons:
1. Screen display technology is poor - it hurts the eyes, requires large amounts of energy, and cannot be read in sunlight or other such ambient light settings. Progress is being made with the development of electronic ink and cholesteric displays, and Bell hopes that these improvements will deliver us from the headache of liquid crystal displays.
2. Most electronic documents are read in vertical scrolling fields. This is probably descended from the first computer terminal reading which consisted of long batches of code, best read in a scroll, or spit out on long rolls of paper. Horizontal paging keeps words and lines in a fixed position and makes for much easier reading. But you rarely find this today. A good example is the website of the International Herald Tribune. It seems like a no-brainer that screen-based documents should be laid out in this way.
3. And finally, the device is too awkward - heavy, fragile, expensive, and overheated.
Bell recognizes these points, but overemphasizes the need for a device that is tailored exclusively for screen-reading (though he does acknowledge that it would require web-browsing capabilities). One of the reasons book reading devices have consistently failed to catch on is that they are too specialized. In digital space, media can dance together, and there is no reason to corral them off into distinct zones. People are already reading books and other documents on their PDAs, and even their cell phones (check out thread, "the ideal device"). This is not because they offer an ideal reading environment, but because they are indispensable - gadgets that you always have with you. As a consequence, people feel compelled to cram in as many uses as possible. By this logic, the cell phone and the laptop seemed destined to combine. It may end up being something roughly the size of a trade paperback - hold it vertically to read a text, or flip it on its side to watch a widescreen film or play a video game. As with media, it seems inevitable that devices, too, will eventually converge.
Posted by ben vershbow at 01:58 PM | Comments (5) | TrackBack
tags: The Ideal Device? , Transliteracies , digital_literature , the_form_of_the_book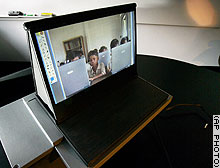 if:book will be spending the day at the Open eBook Forum's eBooks in Education Conference at the McGraw-Hill Auditorium in New York.
In the spirit of the conference, here's an AP article from last week that gives a good overview of Nicholas Negroponte's $100 laptop project for developing countries.
"Details are still being worked out, but here's the MIT team's current recipe: Put the laptop on a software diet; use the freely distributed Linux operating system; design a battery capable of being recharged with a hand crank; and use newly developed 'electronic ink' or a novel rear-projected image display with a 12-inch screen. Then, give it Wi-Fi access, and add USB ports to hook up peripheral devices. Most importantly, take profits, sales costs and marketing expenses out of the picture."
Posted by ben vershbow at 08:10 AM | Comments (0)
tags: Education , The Ideal Device? , conferences_and_excursions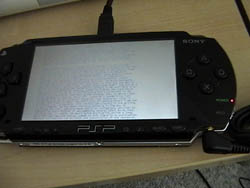 Not surprisingly, folks have already figured out how to read books on the new Sony PSP (PlayStation Portable). The hack is pretty basic - you just turn pages into jpeg images and dump them into the picture folder. The snapshots stack up as a book. Packet Switched Press has even published a short story - a sci-fi piece called "Moving Pictures" - formatted specially for the device (you're supposed to rotate it 90 degrees to view vertically) (thanks, Boing Boing).
The PSP marks another step toward an ideal portable media device (see the ideal pod), the ebook hack being only one of many tricks to cram in more content options (Wired article for more). The Packet Switch Press story suggests that on the tiny screen, 90 degrees can be all that separates a widescreen movie from an electronic paperback - there's no "this side up." The big problem with the PSP is its proprietary file format, laughably named Universal Media Disc (UMD). To watch a movie on your PSP, you have to buy the UMD-formatted edition, even if you already own the DVD. This will ultimately inhibit the development of interesting new works for the tiny screen, clever hacks notwithstanding.
Posted by ben vershbow at 02:46 PM | Comments (2)
tags: Games , Microlit , The Ideal Device?
Yesterday, Boing Boing linked to five enticing design fantasies of future Apple products by design firm Pentagram: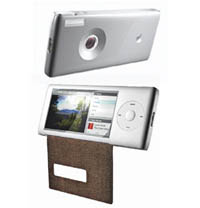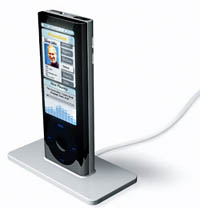 Podwatch, a digital wristwatch wirelessly beaming music to earbuds or headphones with Bluetooth

Wireless iPod, a sleeker version of the current iPod, fitted with wireless internet to enable roving music downloads and direct podcasting

vPod, a video/photo managing console and camera rolled into one, with the famous scrollwheel and Wi-Fi to connect with media applications on your main computer

iHome, a Wi-Fi media hub for the house

iPhone, basically wireless iPod and mobile phone combined, with scroll wheel and pull-out keypad.

If Apple is to stay at the head of the pack, then the answer is to combine the wireless iPod, the vPod, and the iPhone into one ideal pod. In addition to having access to all your music, video and photos, you can surf the web, take movies and pictures, play video games, talk on the phone, watch films in letterbox format, and read various kinds of books - anything from novels, to newspapers, to websites, to manga or comics. IPod's signature scroll wheel would work wonderfully with text, paging through horizontally and preserving some semblance of a coherent page or panel, like the International Herald Tribune does on its elegant website. It could have a little stylus tucked away like tweezers in a Swiss Army knife, and a virtual keyboard that projects on surfaces. A month ago, I wrote about the need for a "paperback ebook" - a pan-media everything-pod, something that does for portable media what paperbacks did for books. Perhaps Apple will be the first to venture such a device.

Laptops are on a collision course with cell phones. Eventually they will converge in a single ideal device. Specialized devices like snapshot digital cameras, iPods, Game Boys, and ebook readers are exciting while they are relatively new, but they are ultimately impractical. Nobody wants a device that just does one thing. Everyday, you have to pack your pockets with various gadgets - you begin to feel like a slave to the so-called convenience of these things. Phones and computers, on the other hand, are indispensable, and can theoretically encompass all of these specialized devices. So it seems like just a matter of time until everything is packed into one ideal pod.

Posted by ben vershbow at 05:42 PM | Comments (1)
tags: Microlit , The Ideal Device?

Booktopia, a Korean ebook developer, is introducing a 29-title series for mobile users based on popular movie scenarios (article), including the recent Cannes hit Old Boy (thanks, textually.org). The books act as supplements to the films, with omitted material and glimpses behind-the-scenes, sort of like special features on a DVD (though it appears that they will be text-only). They also seem to riff on that weird tie-in genre of books adapted from the screen (I've always wondered who reads those books..).
So are phones the electronic book in embryo? If you are looking for innovation in form, what's happening on cell phones and mobile devices is far more interesting than what you'll find in the area of conventional "ebooks," which generally are the kind of pdf nightmare Dan decribes in his post yesterday. But so far, these kinds of mobile books, or mbooks, are to literature what ring tones are to music. The cell phone has become a kind of cud for the distracted brain to chew - I can't count how many people I see on the subway or waiting in lines simply fiddling with their phone settings. What seems to be developing on cell phones is a new kind of ephemera descended from the pamphlet, flyer, or broadsheet, which will be tightly interwoven with advertising (these Korean movie tie-ins do leg work for the actual films, just as the new 24 spinoff offered on Verizon plugs the Fox television series). But what about actual books? Serious reading to counterbalance all the fluff. Portable devices like phones and palm pilots lend themselves to the serial model. Their diminutive size makes them better suited to smaller chunks of material, and their access to networks allows them to constantly grab new chunks. But I don't see why quality has to be sacrificed. Perhaps, with time, the tradition of serialized narrative will be reinvented in meaningful ways. Many of Dickens's novels were published and written serially, and he was able to modulate the course of his writing according to reader response and sales. Digital content delivery over cell phones and the web could employ the same fluidity, delivering the book as it is becoming, and creating whole communities of readers on the web (see earlier post elegant map hack). An interesting prospect for writers as well as readers.
These literary experiments on the tiny screen are probably not trivial, even though the content may be. They seem to be saying "hurry up" to our more sophisticated but unwieldy reading devices like laptops and tablets. We need a kind of paperback ebook, in between a laptop and a smartphone - cheap and easy to tote. If I can comfortably read on this device in a crowded subway, then we might finally have something as handy as a paper book, conducive to any kind of content, with all the affordances of computers and the web. And ideally... I can write on it with a stylus, or on a keyboard that it projects on a tabletop, and I can dock it at a more powerful workstation in my office. I can plug in headphones or speakers and explore my music library, or surf satellite radio. I can watch a film that I made, or one that I downloaded, or I can flip through my photo album. If I'm lost, I can get a map with pictures of the place I'm trying to find. And at night, I can curl up with it in bed, reading by the light of its built-in candle. I may even have glasses I can plug in and read the book without hands, or look at images in 3-D like on a stereopticon. (Kim, I think I may have my fantasy ebook) Nothing could ever truly replace paper books for me, but a pan-media tablet - an everything device - might just become my everyday companion.
Posted by ben vershbow at 09:51 AM | Comments (2)
tags: Microlit , The Ideal Device? , the_form_of_the_book
Late last week, Random House announced it was making the microlit plunge, acquiring a "significant minority stake" in wireless applications developer VOCEL (AP wire story).
Says Random House Ventures president Richard Sarnoff: "You have a whole generation of consumers, perhaps more than a generation, who are never more than 10 feet from their cell phones, including when they shower. Increasingly, cell phones are becoming an appliance for entertainment and education."
But, despite the success of cell phone novels and serials in Japan, South Korea and Germany, Sarnoff insists that tiny screens have a potential for information, but not for narrative. "The screens are inappropriate for that kind of sustained reading. That's a `maybe, someday' discussion. We'll keep an eye on that area, and if something happens ... we'll certainly respond."
So for the time being, Random House will be testing mobile phones for language instruction, test prep, and other informational services.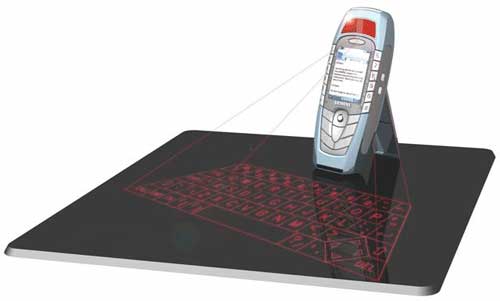 In a related vein, textually.org, an invaluable resource for the microlit observer, recently posted about Radio Shack's plans to sell stand-alone virtual keyboard units the size of a "small fist." Virtual keyboards project a regular-sized typing area on a flat surface, registering keystrokes via Bluetooth onto a smartphone or personal digital assistant (PDA). VKB, the developer of the technology, recently announced its goal of making the virtual keyboard an embedded feature in mobile devices by next year. Further suggestion that cell phones and laptops are evolving into one another.
Posted by ben vershbow at 01:33 PM | Comments (0)
tags: Microlit , The Ideal Device? , the_form_of_the_book
MIT Media Lab founder Nicholas Negroponte is developing a line of laptop computers that will sell for less than $100 a piece. The textbook of the future?....
Posted by ben vershbow at 04:16 PM | Comments (3)
tags: Education , The Ideal Device?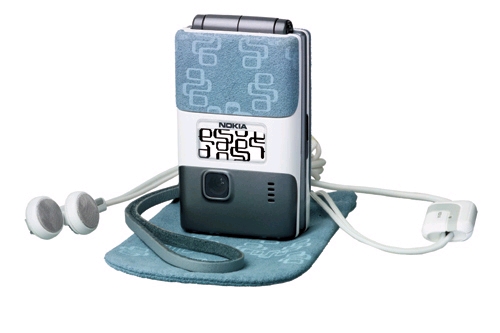 A couple morsels today on textually.org lending credence to our theory that cellphones/PDAs are the incubation niche for the eventual widespread adoption of ebooks. One on fashionable new casings Nokia is bringing out for mobile devices (re Kim's leather-bound fantasy ebook). Another on plans by Chinese tech giant Lenovo to embed "mobile book software technology" into phones, allowing users to read fully illustrated books, as well as watch movies, listen to audio, play video games, and browse periodicals. Mobile phones are emerging, at least in China, as the ultimate mass-consumer media processor - affordable and eminently portable. And each year, notebook computers become lighter, sleeker, and easier to tote around. Are they just shrinking into palm pilots? How much serious work can you get done on a palm pilot?
Posted by ben vershbow at 06:05 PM | Comments (3)
tags: Microlit , The Ideal Device?
I'm still thinking about Steven Pemberton's estimation of when and why the shift from paper book to ebook will occur. Perhaps we, the book loving public, are waiting for something more than just a perfect screen. The question is, what, exactly, are we waiting for? What would it take to make the ebook absolutely irresistible? To follow is my attempt to imagine the perfect ebook.
First, I want to read ebooks on a beautiful portable device. Smaller than my laptop, larger than my palm pilot (about the size and weight of an actual book). The cover should be soft leather that, when folded back, reveals a flawless screen with jewel-like resolution. I want to be able to store all the books I own in this "book" so that when I go on vacation, or when I go to work, or when I go to an artist colony, I can read whatever I'm in the mood for. If I happen to be driving my car, or cooking, or gardening, or if I happen to be blind, I want to be able to tell my book to read to me.
If I am taking a class on a particular book, or teaching a class on a particular book, I want to be able to access all the scholarly work that applies to that book. Furthermore, I want to be able to search all notations made on the passages I am interested in. And I want to be able to search the book itself: to copy and paste quotations into my paper (instead of having to retype them). I also want to be able to add my scholarly work to the corpus that is building around the book I am studying.
If I am looking for a new book to read, I want to be able to look at reviews and excerpts. I want to be able to access recommended reading lists that have been posted online by people whose taste I respect.
If I suddenly decide I want to read a book that is not part of my collection, I want to be able to download it from the internet through this device any time of day or night because I don't feel like going to the bookstore.
Also, I need this device because I want to read all the newfangled multimedia ebooks that are coming out which combine text, image, video, and sound. I want to be able to "read" books that were written by visual artists in collaboration with writers and musicians. I want to be able to watch music videos that are starting to look like movies, movies that are beginning to read like books, and books that are morphing into songs.
If I really love a certain book, I want to be able to go to a blog where other people who love this book are talking about it. If there is a movie based on the book, I want to be able to download the movie and watch it on my leather bound electronic "book." Also, my book should have a keyboard that slides out on the side, or it should have a touchscreen that I can write on, because I might want to make notes in the margins.
And I guess my book should have addresses, phone numbers, a calendar, and pictures of my son. It should allow me to surf the internet, send emails, listen to music, and type papers, because I don't feel like carrying a bunch of other devices around.
Posted by Kim White at 10:51 AM | Comments (12)
tags: The Ideal Device?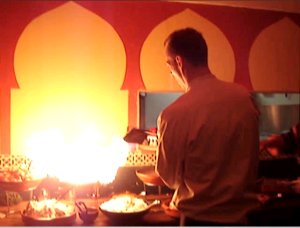 "The book is doomed." That was Steven Pemberton's definitive answer to my musings about the future of the book in the digital age. It was the end of the first day of an international conference on web design, we were at the Friday night conference dinner, eating a crème brulee that had been set ablaze just minutes before, and I don't mean the little blue acetylene flame that puffs out after a few seconds. The chef blasted our crème brulee for several minutes with a torch that looked like something a forest ranger would use to execute a controlled burn.
So, I'm eating my crème brulee, trying to understand this pronouncement; when someone like Steven Pemberton says that the book, in the digital age, is doomed, you have to take it seriously. He cites The Innovator's Dilemma, by Clayton M. Christensen. The thesis, Pemberton explains, has to do with the process of innovation and adoption. A new invention has to find a niche market that will allow it to improve and develop. Once the new invention advances enough to allow it to compete with the entrenched technology it is quickly adopted. This often radically changes an industry. Pemberton gives computer printers as an example. Anyone remember the old dot matrix printers? They had gears on the side that fit into corresponding holes in the paper. Remember how slow they were and how poor the quality was? The introduction of the laser printer made vast improvements in printer quality and as soon as printer technology improved, a revolution in desktop publishing was made possible.
The book, Pemberton contends, will experience a similar sea-change the moment screen technology improves enough to compete with the printed page.
Posted by Kim White at 12:04 PM | Comments (8)
tags: The Ideal Device? , conferences_and_excursions




Bob wrote a couple of days ago about the new French Cybook - a sleek, but heavy, new ebook reader. Everyone interested in serious electronic books is waiting for the ideal device to come along, so that screen-based reading will be as comfortable paper-based. The benchmark for most is: "can I take it into bed with me?"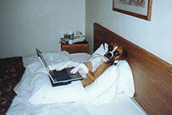 This is a very serious question (people who sleep with their laptops notwithstanding). But my hunch is that these successive generations of reading devices are missing the point. Who wants a device that is just for reading books? I don't have a bag devoted exclusively to toting paper books. I carry many things together - books, pens, magazines, cds, maps, pictures, food etc. People are already using their cell phones for just about everything.
I think what we're waiting for will be descended from laptops. They will likely resemble tablets, or even scrolls. It's hard to predict. But take a look at this nice post at Word Munger from last year. I think this is on the right track.
Would love to hear some ideas....
Posted by ben vershbow at 10:00 AM | Comments (4) | TrackBack
tags: The Ideal Device?

a french company has released a new ebook, the Cybook, which seems to have a decent size-screen (10" diagonal) and runs most of the e-book software formats.
but . . . it's very heavy (2.2 pounds), has a relatively low resolution (72 dpi running at 800x600), won't be visible outside; doesn't come standard with wireless connectivity etc.
contrast to the Sony LIbrie which has similar dimensions but is only 1/4" thick and weighs only 8oz., and uses an e-ink substrate rather than an LED so it is visible even in sunlight. of course the Librie is black and white, doesn't support video, doesn't connect to the net etc.
my guess is we're still a couple of years away from a reading device that people can really get excited about.
Posted by bob stein at 04:05 PM | Comments (0)
tags: The Ideal Device?