Listing entries tagged with the_form_of_the_book

"The cover of the book was rubbed with a patina made from lamp black, Yakskin glue, and brains. It was burnished to a gloss and inscribed with an ink made from crushed pearls and silver." That is a description of the one of the Tibetan monastic manuscripts, or pothi, that Jim Canary discussed in his recent presentation, "The Tibetan Book: From Pothi to Pixels and Back Again," at The Changing Book Conference (University of Iowa). Pothi were originally made of palm leaves. They are up to four feet in length and thin in shape; consisting of loose leaves in cloth covers pressed between wooden boards. They are sometimes housed in wooden boxes that resemble child-sized coffins. The Tibetan pothi are stored in long, narrow pigeon holes built into the walls surrounding the chanting area of the temple. Jim showed us a picture of these impressive libraries, with ceilings so high, the walls, and their overstuffed catacombs, disappear into darkness.
Jim Canary has over sixty of hours of video, taken during his trips to Tibet, documenting the monastic printing process. He plans to edit and publish the video as a CD Rom in tandem with a print book. He showed us some selections, which I do not have, so I will do my best to describe them. Video #1: a man sits on the stone steps outside the temple. There are two tall stacks of paper next to him and a bowl of water in front of him. He is preparing the paper for printing, taking one sheet from the top of the pile, passing it through a pan of water and placing it on top of the other pile. He has hundreds of sheets to dampen, so he is working in a brisk rhythmic manner. When he's finished, the stack will be pressed between two wooden blocks. Video #2: printing takes place in a building across from the temple. The printing is done in teams of two. One man holds the hand-carved wooden block and prepares it with ink. His partner places each damp sheet on the wooden block for burnishing, then removes it and sets it aside to dry. The men work quickly in tandem, surrounded by the music of monks chanting in the temple next door. The tone and rhythm of the chant matches the rhythm of their work. It is designed to correspond with the heart beat, and it works to knit all participants together into a single, metaphorical "body" which is, in turn, joined to all humanity through the meditation. The result of all this unity is a book, shaped like a body, which will be housed, along with hundreds of others, in the temple walls.
Mr. Canary's presentation was also about the future of these mystical books, which are being cataloged, preserved, reproduced and distributed using digital technology. Some monks are now working on laptops, transcribing text and burning DVDs. Here is an excerpt from a poem written by one of the monks in praise of digital materials, which, in his eyes, are as exquiste as a patina made from lamp black, Yakskin glue, and brains, burnished to a gloss and inscribed with an ink made from crushed pearls and silver are to me.
…The light of the disk is endless
like the light of the disks in the sky, sun and moon.

With a single push of our finger on a button
We pull up the shining gems of text…

–Gelek Rinpoche
Posted by Kim White at 09:26 AM | Comments (1) | TrackBack
tags: conferences_and_excursions , the_form_of_the_book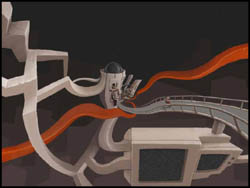 Dan came across another nice example of a zooming interface, which we believe suggests a new spacial conception of the page. The "Zoom Quilt" is a playful piece, apparently the fruit of a collaborative art project. I can imagine this working wonderfully for a children's book. I wish, though, that the path could fork.
For more on zoom:
"infinite canvas comics"

"the page as a spandrel (or not)"
Posted by ben vershbow at 05:23 PM | Comments (1)
tags: the_form_of_the_book
A while back, I posted on this demo (Flash, 8.4Mb) of Jef Raskin's proposed zooming interface for his Archy system. There's more than an echo of that work in these infinite canvas comics made using the Tarquin Engine, a template for Macromedia Flash that lets authors easily create scrolling, zoomable comics. While I can't say I'm enthralled by the content of any of the comics on display, there's something exciting about the possibilities of the form. I do wish the format was free & open, enabling more dabbling by amateurs: there are clearly any number of directions that this could take.
Posted by dan visel at 01:44 PM | Comments (0)
tags: the_form_of_the_book
After several decades of near-unbroken consolidation of radio broadcasters, the spoken word is enjoying a much needed renaissance driven by satellite radio and podcasting. Audio books too - the much-maligned little nephew of book publishing - have undergone an unprecedented boom, driven by faster internet connections, online retailers devoted exclusively to audio (most notably Audible), and the ubiquity of portable mp3 players that can hold hundreds, even thousands, of hours of audio. For a society of multitaskers, this is undoubtedly a good thing, but the debate rages as to whether listening to a book can in any way compare to reading it with one's eyes. The NY Times ran a story yesterday about the new craze in auditory reading, and about the stigma that is frequently attached to audio books:
Some critics are dismayed at the migration to audio books. The virtue of reading, they say, lies in the communion between writer and reader, the ability to pause, to reread a sentence, and yes, read it out loud - to yourself. Listeners are opting for convenience, they say, at the expense of engaging the mind and imagination as only real reading can.
Or, as Harold Bloom (quoted in the Times piece) puts it:
Deep reading really demands the inner ear as well as the outer ear. You need the whole cognitive process, that part of you which is open to wisdom. You need the text in front of you.
Scott Esposito over at Conversational Reading agrees. He insists that listening does not equal reading, end of story.
But I would not be so quick to dismiss audio books. They are admittedly a different kind of reading - a subset of visual reading - but important and potentially enriching nonetheless.
For many - the blind, the visually impaired, the learning disabled - people for whom visual reading is either impossible or an agonizing trial - this subset of reading is reading. Dolphin, a British software developer, makes EaseReader, an ebook reader for PCs that "combines electronic text with pre-recorded audio." As you listen, it pages through the book, highlighting the text that is being spoken, and allowing you to jump around, pinpointing passages - re-listening - with incredible precision. For the millions with reading disabilities, this could provide the accessibility of audio without sacrficing close reading of the visual page. Pearson, the biggest educational publisher in America, just announced a strategic partnership with Audible to produce downloadable audio study guides, and perhaps eventually, entire textbooks. In a recent press release, they maintain that:
There is compelling research that identifies 30% of our population as auditory learners. By coupling this research with the growing popularity of downloadable audio, we believe these study guides can make a significant difference in student performance by accommodating diverse learning and life styles. Students today want the option to be untethered from traditional modes of learning. This product line fills a much-needed gap in learning content for a mobile and multitasking generation.
And what about these multitaskers? - the principal target of derision by literary purists.. Few would argue that you can fully engage with a book while simultaneously scooping out a gutter or paying bills. But there are plenty of activities that, while requiring the full involvement of the body, otherwise leave the mind to drift. I read most of my books in the traditional way - with hands and eyes - and for me, this is undoubtedly the fullest, richest kind of engagement. But with audio books, I'm able to read at other, less sedentary, times. When I was little, I listened to books on tape while building Lego cities or Brio trains. I listened over and over to the unabridged "Secret Garden," "Three Children and It" and the Paddington Bear stories. I also read print books - tons of them - but these trance-like experiences of slowly absorbing the story while moving one's hands - this was tremendously valuable. And since I listened to them repeatedly, I would argue that I knew those stories better than if I had read them once with my eyes and then shelved the book. You could say that books on tape helped me make the transition from being read to by my parents and becoming a fully independent reader.
Nowadays, I like to run, and for me, the thing that makes running hardest is not the demands it makes on my legs or respiratory system, but rather the way that it fails to occupy my brain. The mind revolts - the customary patter of thoughts, large and small, becomes a kind of torture. Unless you can slow your mind down, it's impossible to stop thinking: "when is this going to end?" "has it only been eight minutes?!" "why didn't I just watch TV?"... Sometimes, you can get your mind to behave and sort of synch up with the steadiness of the breathing. It helps to run in a beautiful place. But this isn't always possible, especially when you live in a big city and a treadmill in a gym is your only option. Lately I've been listening to books on an iPod. Not only has it made exercise feel less like a chore, it's allowing me to absorb "The Devil in the White City" by Erik Larson - a charming popular history of the 1893 Columbian Exposition in Chicago that I never would have had time to read otherwise. While running, I'm a totally captive audience, and the rhythm of the body and the breath actually turns off the rotating critical knives that so frequently hijack my visual reading experience. As I move, the White City is slowly erected in my mind's eye. If I miss a bit, I simply reread, er, rewind.
Audio books can also be a boon to people who spend a lot of time cooped up in cars. My grandmother is constantly zigzagging all over the northeast United States in her Subaru, and with audio books she's able to use this time productively. Over the past year, she's absorbed half a dozen books on the founding period of the American republic. Now I can't get her to stop talking about Alexander Hamilton and Dolly Madison. For a natural lifelong learner like my grandmother, audio books have yielded great rewards.
Posted by ben vershbow at 05:03 PM | Comments (2)
tags: the_form_of_the_book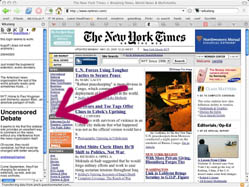 About a week ago, I attended a fascinating workshop at USC on Social Software in the Academy - a gathering of some of the most interesting thinkers, teachers and innovators at the intersection of technology and education. I learned a great deal, much of which I'm still processing and will be posting about this week. I also found out about some exciting new tools. One of them is Wikalong, a plugin for the Firefox browser. Wikalong makes it possible to write notes in the margin of a web page (something we take for granted in paper books). Reviews, rebuttals, conversations, subversive commentary, a "roving weblog," or just plain old notes - all of these are possible in the little sidebar wiki notebook that Wikalong places to the left of any web page you go to. Online reading enhanced.
A great part of history is written in the marginalia, and I suspect that networked marginalia is territory worth exploring. Wikalong might be just a literal-minded stepping stone to more interesting forms, but the profundity of the margin (which lies in its spacial relationship to the primary text) shouldn't be underestimated.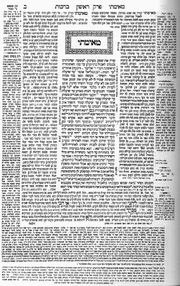 Sparks fly between juxtaposed texts. While hyperlinks enable the reader to leap between textual worlds, they suck you down a wormhole to a distant place. Sometimes it's better to be in both spaces at the same time (like keeping two browser windows open at once). Think of the Talmud, the great Jewish compendium of law and exegesis. On each page, commentaries are arrayed around a core text. Wikalong may seem insignificant next to this ancient hypertext system, but it points to a related sort of spatial intertextuality that should theoretically be possible in the new medium. If a flat page can be so multi-dimensional, think of how far we might be able to go in a virtual space.
Another handy tool is PurpleSlurple, which provides granular addressability for any existing web page. In other words, it inserts links for paragraphs and headers, allowing you to reference specific sections of text on a given page. Each "slurped" page gets its own URL, as does each individual element that has been anchored with a reference number. It's primitive, but could come in extremely handy. For bloggers, this provides another way to reference a particular passage in a long web document. Just slurp the page, then link to the specific section.

Nils Peterson, of Washington State University, presented these tools, along with del.icio.us and a visualization application from Tufts called VUE, as a "juxtaposition of technologies" - a toolkit enabling a web reader or writer to more effectively annotate, reference and quote within the web.
Posted by ben vershbow at 07:09 AM | Comments (2)
tags: Transliteracies , conferences_and_excursions , the_form_of_the_book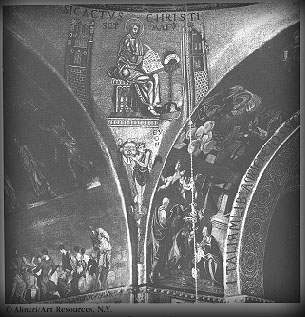 One of the great conceptual jumps of the late evolutionary biologist Stephen Jay Gould (with the equally brilliant, if lesser known, Richard Lewontin) was the idea of the spandrel. In "The Spandrels of San Marco and the Panglossian Paradigm", they wondered about how the spandrels - in architecture, the roughly triangular area between two perpendicular arches - in the cathedral of San Marco in Venice came to be. Looking at how the spandrels are decorated now, they reasoned, you might imagine that they had been designed to feature prominently in the architecture. But this is not necessarily so from an architectural standpoint: if you want to have perpendicular arches, you have to have spandrels between them. Nobody ever wants spandrels by themselves; they're a side product. Once you have them, of course, you can decorate them as much as you like.
Analogously, Gould and Lewontin reasoned, you could explain many biological features in the same way: a feature may continue to exist in an organism simply because there's no reason to take it away. One shouldn't expect features to have functions: they can simply do things (or not) because they're there. Male nipples are the canonical example of this: there's no reason for males to have them, but there's no compelling reason not to have them. So they're there.
I've been thinking for a while about the problem of pages on the screen. We have pages in a book because they make sense there: pages are the easiest way to divide up a long text into hand-sized chunks. Pages on the screen (as they exist in a PDF, say) seem to me to be something of a spandrel: there's no physical reason that we need to divide text up into hand-sized chunks on a screen. We don't always: look at the way a webpage scrolls. But what's worried me is the paucity of the metaphors being used - note the verb "scroll" - against the tabula rasa that computers present.
Looking at a Flash demonstration (8Mb, but very much worth clicking or downloading) of the late Jef Raskin's Archy system suggests a way out of the problem. Here we have a two-dimensional space filling the frame of the browser. But this isn't a two-dimensional space like that of a sheet of paper. The possibility of zooming in to create an infinite plane takes advantage of the virtual environment in a way that a piece of paper cannot. What if you had a novel in a space like this?
This is exciting to me because it's active design - trying to change the metaphor - instead of being a side effect of trying to re-implement old ideas in a new context.
Posted by dan visel at 05:50 PM | Comments (2)
tags: the_form_of_the_book
Facing slipping circulation and massive migration to the web by younger news consumers, a number of top tier newspapers are switching from the traditional broadsheet format to the more handy tabloid, including the European and Asian editions of the Wall Street Journal.
But is this enough? One British advertiser remarks: "We want newspapers to come up with a solution to the threat of marginalization in a digitalized world. But they have to do more than just play around with the size of paper they're printed on."
The International Herald Tribune ran this story yesterday. I've plugged it before, but the IHT is noteworthy as one of the few online newspapers to eschew vertical scrolling for the layout of articles. Instead, they have simple, attractive (and I would argue, much more readable) horizontal scrolling across fixed, three-column plates. With its long vertical fields, you might say that web news, too, is stuck in the broadsheet model. The problem is that, unlike a print newspaper, a computer screen can't be folded to improve readability, or to isolate a desired area of the page.
Posted by ben vershbow at 05:42 PM | Comments (0) | TrackBack
tags: Publishing, Broadcast, and the Press , the_form_of_the_book
David Bell, a history professor at Johns Hopkins, has written a smart, well-reasoned article for The New Republic entitled "The Bookless Future," in which he ponders the changing nature of reading, writing and research in a digital world. Professor Bell and The New Republic have kindly allowed us to reproduce the article in TK3, an e-document reader. Our hope is that it will serve as a springboard for wider discussion, both of the article, and of what is needed to create the optimal electronic reading environment. The downloads are below, followed by some initial thoughts on Bell's piece. We would love to hear people's reactions..
First Download and Install the TK3 Reader

Then Download "The Bookless Future"

(when you've unzipped the book, you should be able to open it by double-clicking on its icon)
In Bell's view, the big gains so far have been in the realm of research. "Today, a scholar in South Dakota, or Shanghai, or Albania--anywhere on earth with an Internet connection--has a research library at her fingertips." A democratization has taken place, comparable only to the change unleashed by the printing press. The ease and speed of searching, comparing, and collating digital documents is similarly a great boon to scholars and students. The benefits afforded by new reading modes far outnumber the losses that opponents of the electronic book frequently lament - the tactile pleasures, the smell of musty bindings, the social environment of bookstores, the art of typography.
This will remain controversial territory for quite some time, but Bell manages to strike the right balance:
What really matters, particularly at this early stage, is not to damn or to praise the eclipse of the paper book or the digital complication of its future, but to ensure that it happens in the right way, and to minimize the risks.
Bell is also thinking what this means for writing. He recognizes the possibilities for new kinds of expression and argumentation that are only possible in the multimedia, not-exclusively-linear, environment of the computer. He cites a few examples in the Gutenberg-e series. But Bell's enthusiasm is mixed with concern for how we are being affected as readers. First there is the way we absorb content, which has been entirely transformed by hypertext and search - the "browsing" ethos. Bell warns:
Reading in this strategic, targeted manner can feel empowering. Instead of surrendering to the organizing logic of the book you are reading, you can approach it with your own questions and glean precisely what you want from it. You are the master, not some dead author. And this is precisely where the greatest dangers lie, because when reading, you should not be the master. Information is not knowledge; searching is not reading; and surrendering to the organizing logic of a book is, after all, the way one learns.
Questions of form are no less important. Bell reminds us that the digital revolution, unlike the print revolution, is not just about the book. Moveable type may have transformed the means of production for books. But in form, they remained basically the same, and were no less "readable" than their hand-copied forebears. This is not the case with digital books. Until personal computers, and later, the web, it was never assumed that we would do any serious reading on screens. But as technology advanced, we learned that computers were more than just computational tools. A big lesson of the digital revolution is that since all media can be equalized as ones and zeros, then it follows that all media can converge and dance together in a single space. The digital revolution is about this convergence. Text is just one part of it, and so far computers have proven themselves better at handling rich media like graphics, film and sound than at providing satisfactory conditions for sustained reading. This boils down to a few, very simple reasons:
1. Screen display technology is poor - it hurts the eyes, requires large amounts of energy, and cannot be read in sunlight or other such ambient light settings. Progress is being made with the development of electronic ink and cholesteric displays, and Bell hopes that these improvements will deliver us from the headache of liquid crystal displays.
2. Most electronic documents are read in vertical scrolling fields. This is probably descended from the first computer terminal reading which consisted of long batches of code, best read in a scroll, or spit out on long rolls of paper. Horizontal paging keeps words and lines in a fixed position and makes for much easier reading. But you rarely find this today. A good example is the website of the International Herald Tribune. It seems like a no-brainer that screen-based documents should be laid out in this way.
3. And finally, the device is too awkward - heavy, fragile, expensive, and overheated.
Bell recognizes these points, but overemphasizes the need for a device that is tailored exclusively for screen-reading (though he does acknowledge that it would require web-browsing capabilities). One of the reasons book reading devices have consistently failed to catch on is that they are too specialized. In digital space, media can dance together, and there is no reason to corral them off into distinct zones. People are already reading books and other documents on their PDAs, and even their cell phones (check out thread, "the ideal device"). This is not because they offer an ideal reading environment, but because they are indispensable - gadgets that you always have with you. As a consequence, people feel compelled to cram in as many uses as possible. By this logic, the cell phone and the laptop seemed destined to combine. It may end up being something roughly the size of a trade paperback - hold it vertically to read a text, or flip it on its side to watch a widescreen film or play a video game. As with media, it seems inevitable that devices, too, will eventually converge.
Posted by ben vershbow at 01:58 PM | Comments (5) | TrackBack
tags: The Ideal Device? , Transliteracies , digital_literature , the_form_of_the_book
Flickr has a wonderful annotation feature that allows you to attach notes to boxes drawn around sections of an image. Someone had the great idea of using Google satellite images of their hometown, or other significant locales in their life history, to make "memory maps."
We've been thinking a lot about using film or music as a time-based "spine" for an electronic book. This experiment suggests the narrative possibilities of maps and images - not simply as reference points or illustrations on a page, but as dynamic agents. The folks at Grand Text Auto appear to be thinking along similar lines.
This also relates to the institute's current Born Digital Competition, which deals with reinventing the page illustration in digital space. Memory mappers take notice!
Posted by ben vershbow at 03:07 PM | Comments (0)
tags: the_form_of_the_book
I've always been fascinated by medical illustration. My undergraduate degree was in studio art—figurative sculpture and painting—so I marveled at the technical skill required to make the drawings themselves. But I also appreciated the text. In order to sculpt the human figure, I needed to know precisely what was happening under the skin. I memorized all the muscles and how they moved, every bone in the skeletal system and where it stuck out. I absorbed books like "Gray's Anatomy," and Frank Netter's "Atlas of Human Anatomy." I thought of them as illuminated manuscripts. The text alone would have been less than useful to me and the illustration without the text would not been enough either. I thought it would be interesting to look at some of these illuminations, think about the intermingling of text and image, and examine their "born digital" equivalents.
Below are two Persian illuminations that I find particularly compelling. The first details the human muscle system. I like its primative feel, the squatting pose and the way the notations look like tribal tattoo, ritual scarification patterns, or the sinews of the muscle itself. The second drawing has the opposite effect, an exaggerated gentility, the patient sits, fully conscious, politely allowing the surgeon to slice open his cranium. Captions for the drawings were taken from an article entitled, "Arab Roots of European Medicine" by David W. Tschanz, MSPH, PhD.
The Anatomy of the Human Body. Persian notations detail the human muscle system in Mansur ibn Ilyas's late-14th century Tashrih-I Badan-I Insan.
An illustration in The Surgeon's Tract, an Ottoman text written by Sharaf al-Din in about 1465, indicates where on the scalp incisions should be made.

Above left: A Dead or Moribund Man in Bust Length; a Detail of the Jaw and Neck; the Muscular and Vascular Systems of the Shoulder and Arm (recto). Leonardo da Vinci (Vinci, 1452–Cloux, 1519).
Above right: Detail Section of the Mouth and Throat; the Muscular System of the Shoulder and Arm (verso). Leonardo da Vinci (Vinci, 1452–Cloux, 1519).
Renaissance European artist Leonardo da Vinci, created sublime illuminations, heavily annotated with notations made during dissections. The effect of the notations reminds us that these drawings were "studies" of the human body and its mysteries. For me, these drawings are as compelling as Da Vinci's more "finished" works. When I was seven months pregnant, I waited in line for four hourse to see the Met exhibition: Leonardo da Vinci, Master Draftsman which included the drawings above. It was worth it.
I should also mention one of his contemporaries, Andreas Vesalius, (1514–1564) who was the author of an extremely influential atlas of anatomy.
The modern-day equivalent of Vesalius, might be Frank H. Netter, M.D., whose brillantly illustrated "Atlas of Human Anatomy," is required reading for many first-year medical students.


Flix Productions'3D animation of the beating heart (click on image) could be considered a born digital update on Netter's style of medical illustration. No text on this one (so it doesn't really belong here) but I wanted to indicate how 2D drawings are being "improved" by digital technolgy. This animation gives a 360 view of the heart and shows it in motion. I imagine the text might be read by a narrator or included on the screen on in a pop-out window.

We can't overlook, "Gray's Anatomy of the Human Body," I found this (above left) image in the Bartleby.com edition which is available online. The drawing also seems to be a rather eerie premonition of the sonogram (above right). I like to think of sonograms as machine-generated born digital illuminations. I've cropped the text off the one above to protect privacy, but it would normally have useful information about the mother and fetus printed in the margins.
Another iteration of the born digital illumination, this 3D animation of a normal birth created by Nucleus Medical Art. It looks so painless in the movies.
Posted by Kim White at 12:33 PM | Comments (2)
tags: the_form_of_the_book
Brad Paley, creator of Text Arc and many other gorgeous data visualizations popular here at if:book, has put together a fascinating lecture series running March through July in New York. The series starts next Thursday in Chelsea with renowned typographer Robert Bringhurst. From Brad:
"I'm excited to have put together something that seems tailor-made for the interests of Institute for the Future of the Book participants and on-lookers."
Information Esthetics: Lecture Series One starts March 31 in Chelsea
People who value clarity and engagement is visual displays, whether as fine art or on Wall Street, are invited to seven evenings with some of the field's deepest thinkers and finest practitioners. The series opens with distinguished typographer Robert Bringhurst at 6:00 pm, March 31 at the Chelsea Art Museum. Fine spirits and snacks will be served. It's free with the $3 discounted museum admission.
A little more about Information Esthetics..
Making data meaningful—this phrase could describe what dozens of professions strive for: Wall Street systems designers, fine artists, advertising creatives, computer interface researchers, and many others. Occasionally something important happens in these practices: a data representation is created that reveals the subject's nature with such clarity and grace that it both informs and moves the viewer. We both understand and care. This is the focus of Information Esthetics.
Information Esthetics, a recently formed not-for-profit organization, has organized a lecture series dedicated to helping this happen more often.
For the full program, visit InformationEsthetics.org. Thanks, Brad! We'll definitely be there.
Posted by ben vershbow at 02:46 PM | Comments (0)
tags: conferences_and_excursions , the_form_of_the_book
The institute is hosting a competition called Born Digital 1: Illumination, which asks artists, writers, programmers, and designers to address the conceptual underpinnings of illuminated manuscripts in the context of the born digital artifact. We are playing somewhat loose with the term "illuminated manuscript." Our "Born Digital" contest asks for a single page rather than an entire book and is not necessarily interested in a literal reinvention of the form (unless you've come up with a particularly great one). We are intrigued by the fact that illuminated manuscripts do not separate text and image into different disciplines requiring separate platforms for display and critical discourse. We find that, in the workshop of the digital medium, disciplinary amalgams are once again emerging, and we would like to examine this shift.
Without attempting to give a history of the evolution of this form, I will, over the next several days, point out a few contemporary models that pay tribute to medieval illumination. The graphic novel comes immediately to mind. Chris Ware's, "Jimmy Corrigan the Smartest Kid on Earth, Art Spiegelman's, "Maus," and David B's, "This Sweet Sickness," have shown us the power of image and text working in tandem to deliver a profound aesthetic, emotional, and intellectual experience.
Early digital versions of the graphic novel include Pyramids of Mars, which was published in 1997 by Richard Douglas and Geoffrey Holmes, and claims to be the first downloadable digital graphic novel. And Scott Frazier's TRANSCENDENCE which the author describes as: partially animated, partially illustrated and partially text. It will, hopefully, stretch the bounds of multimedia and become something new, more than a mere fusion of comic and animation.

And thanks to friend Douglas Wolk, the absolute authority on graphic novels (and one of the smartest and nicest guys I know) for the following recommendations: "Patrick Farley's, "The Spiders," is wonderful and uses the medium nicely. Dylan Meconis's, "Bite Me" is pretty much just scanned images, but she serialized the whole thing online, and she's like 19 years old and super-fun."
I hope this serves as a useful beginning for discussion on graphic novel as illuminated manuscript. I'm relying on readers to help me flesh the idea out.
Posted by Kim White at 02:51 PM | Comments (1)
tags: the_form_of_the_book
So . . . .about two weeks ago I had a dream, (actually more of a nightmare) in which I was asked to judge a contest to choose "the best photograph of the Gates" from among three million orange photos. Over the next few days, however, the more I thought about it,I became intrigued by the idea of seeing people's different creative solutions to photographing the gates.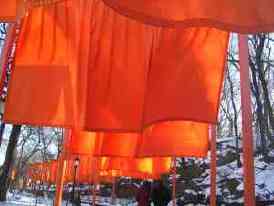 [Note: I loved the Gates. Ashton (partner-in-crime) and I were in the park almost every day we were in the city, we even gave a party for 150 friends who came from all over the world to walk through the park at dawn (see nifty video by alex itin, orange you glad).
On the last day Ashton and I walked through the park for seven straight hours with Rebeca Mendez and Adam Euwens — talking almost the whole time about the phenomenon of the Gates — as an art work that requires significant effort on the part of its audience; like all of Christo and Jeanne-Claude's work, it requires you to be at a certain latitude and longitude at a specific moment in time; you need to see it from different vantage points at different times of the day; as Ashton said, "there are as many views of the Gates as footsteps in the park."
And of course you talk endlessly to the people you meet along the way.
Early that last day, high up on the Harlem Meer, we came upon a big man with red orange hair who was quickly slipping a big coat over his obviously naked body. His friend had just as obviously been taking pictures. Ashton and Rebeca immediately realized that they were taking pictures of his orange pubic hair against the backdrop of the Gates. Impulsively I mentioned that I was planning to sponsor a contest for the best amateur photograph of the Gates. Surprisingly they wrote down a URL for the competition I made up on the spot. A few other times during the day I mentioned this to people who seemed to be taking interesting photos. Without any prompting, they also wrote down the URL.
So the next day, Monday, while sitting around the table with Kim, Dan, and Ben, my colleagues at the Institute for the Future of the Book, I mentioned the whole Gates photo idea and to my delight everyone thought it would fit in perfectly with our experiments in the area of open-ended networked "books."
Voila — the beginning of the Gates Memory Project which we are launching today at gatesmemory.org. It's quite a bit more ambitious than the original (and impossible) idea of choosing "the best photo." Now we are aiming to to harness the creativity and insight of thousands to build a kind of collective memory machine — one that is designed not just for the moment, but as a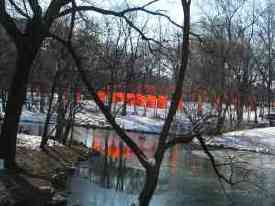 lasting and definitive document of the Gates and our experience of them. As Ben Vershbow says in the press release announcing the project, "The photographs are a jumping off point for further exploration. Ultimately, we are interested in collecting anything that can be shared over the web – film, audio, text – parodies and remixes."
While the photos and stories are being collected, the institute will encourage discussion and debate on how best to present the archives in hopes of finding new, unexpected ways to view and bring meaning to the content. The institute also welcomes the possibility of collaboration with designers, developers and web curators. This project is the beginning of a long-term exploration for us. Through this work, we are asking: how do we use social software to create works that are in the spirit of the web - i.e. free-form, ad hoc, always evolving, and driven by people's enthusiasm to share - but are also edited and shaped into something of lasting value? It is that tension – between frozen and fluid works – that we aim to explore. We are excited to see the ideas people will bring to the table.
See the complete call for the project HERE.
Posted by bob stein at 06:31 AM | Comments (0)
tags: the_form_of_the_book
There's increasingly a give-and-take between print and screen text design. A prime example of this: David Foster Wallace's cover story about talk radio in the April issue of The Atlantic Monthly. It's unfortunate this article is only online for subscribers. However, clicking on the thumbnail at right will give you an idea of how the pages work, and there are a couple of working hyperlinks in The Atlantic's HTML preview of the article.
Wallace is well-known for his copious use of footnotes & endnotes, and this article is no exception. However, either Wallace or The Atlantic's art director have decided to treat his digressions differently in this case: words or phrases in the main text that signal a jumping-off point have lightly colored boxes drawn around them, rather than a superscripted numeral after them. In the print edition, boxes in the margins - one immediately thinks of windows - with notes in them appear, color-coded to match the set-off phrases. Some of the notes have notes; they get more boxes of their own.
It's subtle and well thought out, and considerably more inviting to read over 23 pages than footnotes or endnotes would be. Most interesting is how the aesthetic draws inspiration from the web: the boxed notes suggest pop-up windows (or the electronic - not so much the paper - version of Post-It notes), especially when they're layered. And the boxed phrases suggest nothing so much as the underlining that the Web has taught us signifies a hyperlink. The HTML version on their website follows this exactly, presenting the notes as pop-up windows (some of which pop up their own windows).
There's also a PDF version available to subscribers. Unlike the Kembrew McLeod PDF I posted about a few weeks back, some thought has clearly gone into making this article screen-friendly. What you get is just the article: there aren't any crop marks or ads or any of the detritus which crowd an article when it appears in a magazine. Nor, interestingly, are there page numbers, which aren't quite as necessary in a PDF environment: Adobe Reader tells you what page you're on. To complain: it does, however, still replicate the print environment in ways which make on-screen reading suffer. Like the magazine and unlike computer screens, the page is vertically oriented, rather than horizontally. The Bodoni type - which looks fantastic on the glossy paper that The Atlantic uses - loses its narrow horizontal strokes on screen except when zoomed in to a very high resolution. To be fair to The Atlantic, these concessions to the print design are understandable: the typeface does form a good part of the magazine's image, and it would be a fair amount of work to rework such a carefully designed article to appear in a horizontal, rather than a vertical, format.
Posted by dan visel at 04:46 PM | Comments (3) | TrackBack
tags: design_curmudgeonry , the_form_of_the_book
Yahoo's recently released commemorative microsite, "Yahoo Netrospective: 10 years, 100 moments," is a selection of one hundred significant moments in the history of the web (1995–2005). The format for the site was inspired by the work of information architect Jonathan Harris. Harris created 10 x 10, a piece visually identical to, but considerably more interesting than the Yahoo birthday card, (whose content leans quite heavily toward self-promotion, i.e. there are 20 mentions of Yahoo products and no mention at all of Google.) By contrast, Harris' 10 x 10 builds its fascinating content from RSS feeds. The piece selects the most frequently used words from the major news networks to assemble an hourly "portrait" of our world. "What interests me is trying to find descriptions of humanity in very large data sets, creating programs that tell us something about ourselves," Harris told Wired News. "We set them free and they come back and tell us what we are like."
What makes Harris' work interesting is the self-discipline he exercises in designing these objective systems. By withholding the urge to edit (except, perhaps, when Yahoo is involved) he allows an authentic "picture" of current events, of human behavior online, of the fluid exchange of words and images. His linguistic self-portrait WordCount™, harvests data from the British National Corpus®. WordCount displays the 86,800 most commonly used words in the English language in order of their commonness. Harris alleges that "observing closely ranked words tells us a great deal about our culture. For instance, "God" is one word from "began", two words from "start", and six words from "war". I tried WordCount and was instantly addicted. To read WordCount or 10 x 10, you have to interact with it and bring meaning to it. Or put another way, you have to be willing to bring meaning to it. This is quite different from the way we experience traditional narratives, whose structure and meaning are crafted by the writer and handed down to the reader. I am eagerly anticipating his next project which, he told Wired, "involves looking at human feelings on a large scale from the web."
Posted by Kim White at 11:14 AM | Comments (0)
tags: the_form_of_the_book , the_networked_book
Dr. Douglas C. Engelbart, who invented the computer mouse and is also credited with pioneering online computing and e-mail, advocates networked books as tools for building what he calls a "dynamic knowledge repository. This would be a place," Engelbart said, in a recent interview with K. Oanh Ha at Mercury News, "where you can put all different thoughts together that represents the best human understanding of a situation. It would be a well-formed argument. You can see the structure of the argument, people's assertions on both sides and their proof. This would all be knit together. You could use it for any number of problems. Wikipedia is something similar to it."
How to conceptualize, organize, build, and use a "book" of that scale, is the project of Engelbart's Bootstrap Institute. In the "Reasons for Action" section of their website, Engelbart gives his perception of why we need such a book. It reads as follows:
• Our world is a complex place with urgent problems of a global scale.
• The rate, scale, and complex nature of change is unprecedented and beyond the capability of any one person, organization, or even nation to comprehend and respond to.
• Challenges of an exponential scale require an evolutionary coping strategy of a commensurate scale at a cooperative cross-disciplinary, international, cross-cultural level.
• We need a new, co-evolutionary environment capable of handling simultaneous complex social, technical, and economic changes at an appropriate rate and scale.
• The grand challenge is to boost the collective IQ* of organizations and of society. A successful effort brings about an improved capacity for addressing any other grand challenge.
• The improvements gained and applied in their own pursuit will accelerate the improvement of collective IQ. This is a bootstrapping strategy.
• Those organizations, communities, institutions, and nations that successfully bootstrap their collective IQ will achieve the highest levels of performance and success.
"Towards High-Performance Organizations: A Strategic Role for Groupware," a paper written by Dr. Engelbart in 1992, outlines practical ideas for the architecture of this vast and comprehensive networked book.
All of this is meaty food for thought with regards to our ongoing thread "the networked book." I am wondering what blog readers think about this? Assuming it becomes possible to collect, map, and analyze the thoughts and opinions of a large community, will it really be to our advantage? Will it necessarily lead to solving the complex problems that Dr. Engelbart speaks of, or will the grand group-think lead to certain dystopian outcomes which may, perhaps, cancel out its IQ-raising value?
Posted by Kim White at 10:10 PM | Comments (0)
tags: the_form_of_the_book , the_networked_book

Booktopia, a Korean ebook developer, is introducing a 29-title series for mobile users based on popular movie scenarios (article), including the recent Cannes hit Old Boy (thanks, textually.org). The books act as supplements to the films, with omitted material and glimpses behind-the-scenes, sort of like special features on a DVD (though it appears that they will be text-only). They also seem to riff on that weird tie-in genre of books adapted from the screen (I've always wondered who reads those books..).
So are phones the electronic book in embryo? If you are looking for innovation in form, what's happening on cell phones and mobile devices is far more interesting than what you'll find in the area of conventional "ebooks," which generally are the kind of pdf nightmare Dan decribes in his post yesterday. But so far, these kinds of mobile books, or mbooks, are to literature what ring tones are to music. The cell phone has become a kind of cud for the distracted brain to chew - I can't count how many people I see on the subway or waiting in lines simply fiddling with their phone settings. What seems to be developing on cell phones is a new kind of ephemera descended from the pamphlet, flyer, or broadsheet, which will be tightly interwoven with advertising (these Korean movie tie-ins do leg work for the actual films, just as the new 24 spinoff offered on Verizon plugs the Fox television series). But what about actual books? Serious reading to counterbalance all the fluff. Portable devices like phones and palm pilots lend themselves to the serial model. Their diminutive size makes them better suited to smaller chunks of material, and their access to networks allows them to constantly grab new chunks. But I don't see why quality has to be sacrificed. Perhaps, with time, the tradition of serialized narrative will be reinvented in meaningful ways. Many of Dickens's novels were published and written serially, and he was able to modulate the course of his writing according to reader response and sales. Digital content delivery over cell phones and the web could employ the same fluidity, delivering the book as it is becoming, and creating whole communities of readers on the web (see earlier post elegant map hack). An interesting prospect for writers as well as readers.
These literary experiments on the tiny screen are probably not trivial, even though the content may be. They seem to be saying "hurry up" to our more sophisticated but unwieldy reading devices like laptops and tablets. We need a kind of paperback ebook, in between a laptop and a smartphone - cheap and easy to tote. If I can comfortably read on this device in a crowded subway, then we might finally have something as handy as a paper book, conducive to any kind of content, with all the affordances of computers and the web. And ideally... I can write on it with a stylus, or on a keyboard that it projects on a tabletop, and I can dock it at a more powerful workstation in my office. I can plug in headphones or speakers and explore my music library, or surf satellite radio. I can watch a film that I made, or one that I downloaded, or I can flip through my photo album. If I'm lost, I can get a map with pictures of the place I'm trying to find. And at night, I can curl up with it in bed, reading by the light of its built-in candle. I may even have glasses I can plug in and read the book without hands, or look at images in 3-D like on a stereopticon. (Kim, I think I may have my fantasy ebook) Nothing could ever truly replace paper books for me, but a pan-media tablet - an everything device - might just become my everyday companion.
Posted by ben vershbow at 09:51 AM | Comments (2)
tags: Microlit , The Ideal Device? , the_form_of_the_book
Boing Boing points out that professor/prankster Kembrew McLeod has released an electronic version of his new book on copyright Freedom of Expression on his website. The electronic version is released with a Creative Commons license. McLeod's book has not a little to do with what we're working on at the Institute, so I quite happily downloaded the book - you can too! - and found myself with a 384-page PDF of the book. It's indeed the whole book, almost exactly as Doubleday printed it, with the addition of a Creative Commons link on the first page. If you happen to know a book printer and some extra cash, you could send them this file and get a book back in a couple weeks. If you don't have access to a print shop and extra cash but you do have 384 sheets of 8.5'' x 11'' paper & a fast laser printer, you could print it out yourself and have your own telephone-book sized stack of Freedom of Expression.
Of course you could fire up your PDF viewer and read it on the screen of your computer, which is probably what you were expecting to do. But that's where the trouble starts.
While it's certainly poor form to complain about what's being given away for free, it's a remarkably painful experience to try and read this book on your computer. In large part, this is because it's not meant to be read on a screen. This PDF is the same file that Doubleday's production staff sent to the printer - with crop marks and the QuarkXPress filename at the top of every page. Because there's padding around the text so that it can be safely printed, you need to blow up the magnification to actually be able to read the text. There's a great deal of wasted space you need to page through (click on the thumbnail at right for an example of how this looked in full-screen Adobe Acrobat on my computer). Because Doubleday's making books in Quark with no thought to reusing or repurposing content, this file doesn't have any of the niceties that a PDF could have - an interactive table of contents, for example, is useful in a three-hundred page book. Worse: while one of the great benefits of the Creative Commons license is that it allows users to quote and create derivative works from licensed material. It's not as simple as you'd like to copy text out of a PDF.
From a design perspective, this is a disaster, and one for which I'll blame the publishing company - this has absolutely nothing to do with the content of the book, merely the form. While it's a decent-looking book in print, the printed page doesn't work in the same way as the screen, and there's been no accounting for this at all. We take for granted the physical book as an object, although it really is a quietly brilliant design, a perfect synthesis of form and function. When electronic books are presented to the public devoid of both, it's little wonder they haven't taken off. Nobody's going to want to read a book on a screen unless it looks good on the screen. One might be forgiven for imagining that this is a publisher's scheme to encourage people to buy the actual book.
Posted by dan visel at 07:00 PM | Comments (1)
tags: design_curmudgeonry , the_form_of_the_book
Late last week, Random House announced it was making the microlit plunge, acquiring a "significant minority stake" in wireless applications developer VOCEL (AP wire story).
Says Random House Ventures president Richard Sarnoff: "You have a whole generation of consumers, perhaps more than a generation, who are never more than 10 feet from their cell phones, including when they shower. Increasingly, cell phones are becoming an appliance for entertainment and education."
But, despite the success of cell phone novels and serials in Japan, South Korea and Germany, Sarnoff insists that tiny screens have a potential for information, but not for narrative. "The screens are inappropriate for that kind of sustained reading. That's a `maybe, someday' discussion. We'll keep an eye on that area, and if something happens ... we'll certainly respond."
So for the time being, Random House will be testing mobile phones for language instruction, test prep, and other informational services.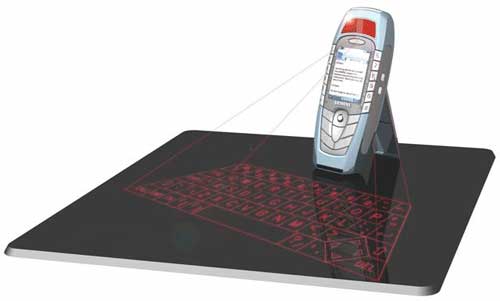 In a related vein, textually.org, an invaluable resource for the microlit observer, recently posted about Radio Shack's plans to sell stand-alone virtual keyboard units the size of a "small fist." Virtual keyboards project a regular-sized typing area on a flat surface, registering keystrokes via Bluetooth onto a smartphone or personal digital assistant (PDA). VKB, the developer of the technology, recently announced its goal of making the virtual keyboard an embedded feature in mobile devices by next year. Further suggestion that cell phones and laptops are evolving into one another.
Posted by ben vershbow at 01:33 PM | Comments (0)
tags: Microlit , The Ideal Device? , the_form_of_the_book

Last month, I had the good fortune to speak briefly with Peter Lunenfeld at the Scholarship in the Digital Age conference at USC. I was surprised to learn that this famous digital media theorist is currently obsessed with a print-based initiative. His new Mediaworks Pamphlets are "theoretical fetish objects for the 21st century" - elegantly produced collaborations between designer and writer, intended to break serious media theory out of "the hermetically sealed spheres of academia and the techno-culture" and into the public discourse, much like the famous collaboration between Marshall McLuhan and Quentin Fiore, "The Medium is the Massage." By shifting reading, writing and design practices to the screen, Lunenfeld argues, digital media have effectively "taken the weight off" of the print codex, enabling its tactile qualities to flower anew.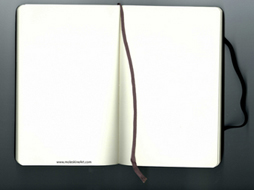 There is room now to play and invent in the realm of paper, and a resulting emphasis on the pursuit of pleasure and grace in the experience of book objects. As evidence of the resurgent fetish book, Lunenfeld points to the immaculate productions of McSweeney's, which has made its mark by coupling serious literary output with elegant design at relatively low cost to the reader.
Another sign of this resurgence is the Moleskine phenomenon - those indelible oilskin-bound notebooks reissued in 1998 from the classic French design, famously employed by Chatwin in his travels, and, if the packaging is to be believed, by Hemingway, Van Gogh and Picasso as well.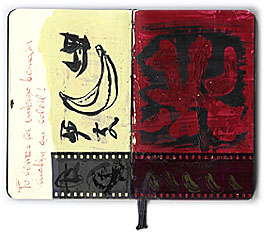 Nowadays, Moleskines are favored by aesthetes and design sophisticates with a propensity for jotting things down, and is especially beloved by the blogging and techie communities, further evidence that this renewed fetish interest is intimately linked to the experience of networked, digital culture. In fact, Moleskine culture is a flourishing niche on the web, with blogs, art sites, and a full Wikipedia entry devoted solely to the flights of invention (Moleskine hacks etc.) and cult of personal record-keeping arising from this little black book.
Returning to Lunenfeld's fetish theory with McSweeney's as exemplar, it's almost too perfect that McSweeney's founder Dave Eggers' new book of short stories, How We Are Hungry, should be bound exactly like a Moleskine, complete with elastic fastening band. But whereas my notebooks have held up admirably through miles of travel and years of abuse, the elastic strap of my copy of the Eggers book broke after a single day's jostling in my bag. Take note, McSweeney's...
Posted by ben vershbow at 05:09 PM | Comments (0)
tags: the_form_of_the_book
Bob talks about the book as metaphor. It is the thing that does the heavy lifting, a technology that allows us to convey our thoughts through a concrete vehicle. This site looks at how that vehicle is changing as a new electronic means of conveying written information begins to come of age.
When asked to imagine a metaphor for "the book," we come up with something more organic, a lumbering behemoth with a hundred arms, waving anemone-like through the air to catch out particles of human discourse. The creature has some kind of hair or fur entangled with innumerable flotsam and jetsam. It is buzzing with attendant parasitical organisms, and encrusted with barnacles. To ask if the behemoth has a future is not the right question because the book, as we are picturing it in this analogy, is an immortal. The electronic incarnation of the book does not kill the old behemoth, but rather becomes part of it.
In his afterword to "the Future of the Book," Umberto Eco noted that:
"In the history of culture it has never happened that something has killed something else, something has profoundly changed something else." We are interested in the nature of this change as it relates to the book and its evolution.
To examine this heavy lifting device, to define and to understand this aggregate behemoth is the project of our "future of the book" blog. To begin, we have initiated a few thought experiments and put forth several questions that we hope will engender productive discourse. We welcome ideas and suggestions for future experiments.
Go to Thought Experiment #1: Three Books That Influenced Your Worldview
Posted by Kim White at 10:33 AM | Comments (0)
tags: Blogosphere , General , Thought Experiments , blogs , book , books , ebook , ebooks , history_of_the_book , the_form_of_the_book , the_networked_book