Listing entries tagged with text

New York University's Interactive Telecommunications Program recently had its Winter 2005 show. As always, the show was packed with numerous projects and visitors. Some of the work touched upon ideas we think about at the institute.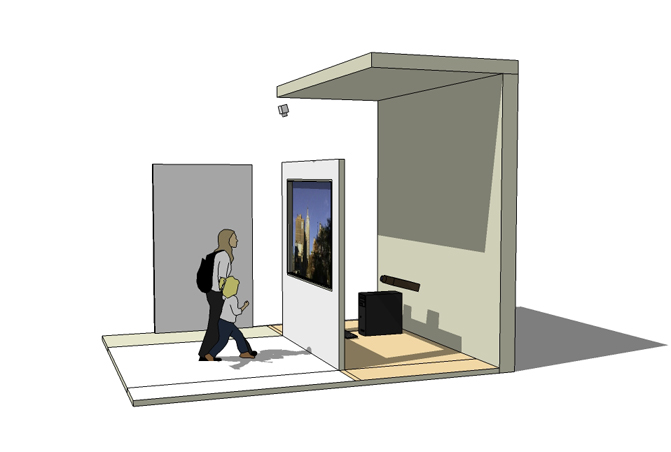 A few projects explored new ways to mediate New York. Leif Mangelsen and Jung Oh, in Time Scanned, created static panoramic images by stitching together slivers of digital video to document New York over time and space. Moving beyond the traditional guide book and map, the augmented reality project, DataCity looked at how we navigate New York. In this case, Shagun Singh, Jon Kirchherr and Saranont Limpananont proposed to layer contextual information on an interactive display system to enhance the experience of traveling through the city.
Saiyanthan Sriskandarajah created, The Wasteland, a digital representation of T.S. Eliot's poem. Each letter is encoded into a binary format and then printed with a large format printer. The end result is an abstracted digital representation of a literary work.
Joshua Knowles, Adam Asarnow, Charles Pratt, and Rocio Barcia created Itp.licio.us which was a new twist to the facebook, and explored folksonomy, privacy, and social networks by asking fellow first year students to tag each other. The successful end result (students received an average of 29.4 tags) also addressed issues of internet mediated social interaction and making public the personal information of what classmates think of others.
Although, the twice a year itp shows can be a bit of an overwhelming experience, they offer a glimpse (albeit scaled down) of emerging applications of technology which are often just around the corner for mainstream use.
Posted by ray cha at 11:48 AM | Comments (0)
tags: 2005 , abstraction , folksonomy , itp , mediated , new_york , privacy , social_networking , text , video_capture , wasteland , winter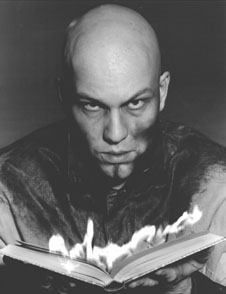 Last week, there was a heated discussion on the 1600-member Yahoo Groups videoblogging list about the idea of a videobloggers launching a "war on text" — not necessarily calling for book burning, but at least promoting the use of threaded video conversations as a way of replacing text-based communication online. It began with a post to the list by Steve Watkins and led to responses such as this enthusiastic embrace of the end of using text to communicate ideas:
Audio and video are a more natural medium than text for most humans. The only reason why net content is mainly text is that it's easier for programs to work with -- audio and video are opaque as far as programs are concerned. On top of that, it's a lot easier to treat text as hypertext, and hypertext has a viral quality.
As a text-based attack on the printed work, the "war on text" debate had a Phaedrus aura about it, especially since the vloggers seemed to be gravitating towards the idea of secondary orality originally proposed by Walter Ong in Orality and Literacy — a form of communication which is involved at least the representation of an oral exchange, but which also draws on a world defined by textual literacy. The vlogger's debt to the written word was more explicitly acknowledged some posts, such as one by Steve Garfield that declared his work to be a "marriage of text and video."
Over several days, the discussion veered to cover topics such as film editing, the over-mediation of existence, and the transition from analog to digital. The sophistication and passion of the discussion gave a sense of the way at least some in the video blogging community are thinking, both about the relationship between their work and text-based blogging and about the larger relationship between the written word and other forms of digitally mediated communication.
Perhaps the most radical suggestion in the entire exchange was the prediction that video itself would soon seem to be an outmoded form of communication:
in my opinion, before video will replace text, something will replace video...new technologies have already been developed that are more likely to play a large role in communications over this century... how about the one that can directly interface to the brain (new scientist reports on electroencephalography with quadriplegics able to make a wheelchair move forward, left or right)... considering the full implications of devices like this, it's not hard to see where the real revolutions will occur in communications.
This comment implies that debates such as the "war on text" are missing the point — other forms of mediation are on the horizon that will radically change our understanding of what "communication" entails, and make the distinction between orality and literacy seem relatively miniscule. It's an apocalyptic idea (like the idea that the internet will explode), but perhaps one worth talking about.
Posted by lisa lynch at 03:23 PM | Comments (2)
tags: Mediated Existence , blogging , internet , printed , text , video , vs , word
A few weeks ago, Ben posted about The Bible Society of Australia's new "transl8tion" of the Bible into SMS--a shorthand system used primarily for sending text messages through mobile phones. Interesting to note that an organization like the Australian Bible Society, which believes the text of the Bible to be the very word of God, does not seem have a problem with the fact that the SMS version changes the voice of god from that of a wizened poet to that of a text-messaging teenager. Here's an example:
4 god so luvd da world
I'm all for reading on cellphones and other portable devices, and I understand using a shorthand language for keying in messages, but why does the published book need to look like an electronic stenographer's notepad? I realize that the form of the electronic "page" is changing the way we write, but I'll be more than a little disappointed if this is the direction we are going—toward a cutesy-looking shorthand that compromises the integrity of the text for the sake of expediency. The aesthetic beauty of words is no small thing. Great writers understand this. They know how to choose words that weave visual and aural subtext into their work. Consider, for a moment, whether those subtleties translate into SMS. Imagine a text messagable Gettysburg address: 4 scor & 7 yr.z ago... Or a shrunk-to-fit Dickens: it wz d best of tImz, it wz d worst of tImz.
Are you with me when I say that they jst dun hav d powR of d orignL txt.
Posted by Kim White at 05:59 AM | Comments (5)
tags: SMS , bible , cellphone , mobile , text , text_messaging , texting , txt
Momus – a.k.a. Nick Currie, electronic folk musician, Wired columnist, and inveterate blogger – has posted an interesting short video on his blog, Click Opera. He's teaching a class on electronic music composition & narrative for Benneton's Fabrica in Venice. His video encourages students to listen for the environmental sounds that they can make with electronic instruments: not the sounds that they're designed to make, but the incidental noises that they make – the clicking of keys on a Powerbook, for example – that we usually ignore as being just that, incidental. We ignore the fact that these noises are made directly by people, without the machine's intercession.
Momus's remarks put me in mind of something said by Jerome McGann at the Transliteracies conference in Santa Barbara last June – maybe the most important thing that was said at the conference, even if it didn't warrant much attention at the time. What we tend to forget when talking about reading, he said, was that books – even regular old print books – are full of metadata. (Everybody was talking about metadata in June, like they were talking about XML a couple of years ago – it was the buzzword that everyone knew they needed to have an opinion about. If not, they swung the word about feverishly in the hopes of hitting something.) McGann qualified his remarks by referring to Ezra Pound's idea of melopoeia, phanopoeia, and logopoeia – specific qualities in language that make it evocative:
. . . you can still charge words with meaning mainly in three ways, called phanopoeia, melopoeia, logopoeia. You can use a word to throw a visual image on to the reader's imagination, or you charge it by sound, or you use groups of words to do this.
(The ABC of Reading, p.37) In other words, words aren't always just words: when used well, they refer beyond themselves. This process of referring, McGann was claiming, is a sort of metadata, even if technologists don't think about it this way: the way in which words are used provides the attuned reader with information about their composition beyond the meaning of the words themselves.
But thinking about McGann's comments in terms of book design might suggest wider implications for the future of the book. Let's take a quick excursion to the past of the book. Once it was true that you couldn't judge a book by its cover. Fifty years ago, master book designer Jan Tschichold opined about book jackets:
A jacket is not an actual part of the book. The essential portion is the inner book, the block of pages . . . [U]nless he is a collector of book jackets as samples of graphic art, the genuine reader discards it before he begins.
("Jacket and Wrapper," in The Form of the Book: Essays on the Morality of Good Design) Tschichold's statement seems bizarre today: nobody throws away book jackets, especially not collectors. Why? Because today we take it for granted that we judge books by their covers. The cover has been subsumed into our idea of the book: it's a signifying part of the book. By looking at a cover, you, the prospective book-buyer, can immediately tell if a recently-published piece of fiction is meant to be capital-L Literature, Nora Roberts-style fluff, or somewhere in between. Contextual details like the cover are increasingly important.
Where does the electronic book fit into this, if at all? Apologists for the electronic book are constantly about the need for an ideal device as the be-all and end-all: when we have e-Ink or e-Paper and a well-designed device which can be unrolled like a scroll, electronic books will suddenly take off. This isn't true, and I think it has something to do with the way people read books, something that hasn't been taken into account by soi-disant futurists, and something like what Jerome McGann was gesturing at. A book is not a text. It's more than a text. It's a text and a collection of information around that text, some of which we consciously recognize and some of which we don't.
A few days ago, I excoriated Project Gutenberg's version of Tristram Shandy. This is why: a library of texts is not the same thing as a library of books. A quick example: download, if you wish, the plain text or HTML version of Tristram Shandy, which you can get here. Look at the opening pages of the HTML version. Recognizing that this particular book needs to be more than plain old seven-bit ASCII, they've included scans of the engravings that appear in the book (some by William Hogarth, like this; a nice explication of this quality of the book can be found here). What's interesting to me about these illustrations that Project Gutenberg is how poorly done these are. These are – let's not beat around the bush – bad scans. The contrast is off; things that should be square look rectangular. The Greek on the title page is illegible.
Let's go back to Momus listening to the unintentional noises made by humans using machines: what we have here is the debris of another noisy computer, the noise of a key that we weren't supposed to notice. Something about the way these scans is dated in a very particular way – half of the internet looked like this in 1997, before everyone learned to use Photoshop properly. Which is when, in fact, this particular document was constructed. In this ugliness we have, unintentionally, humanity. John Ruskin (not a name often conjured with when talking about the future) declared that one of the hallmarks of the Gothic as an architectural style was a perceived "savageness": it was not smoothed off like his Victorian contemporaries would have liked. But "savageness", for him, was no reproach: instead, it was a trace of the labor that went into it, a trace of the work's humanity. Perfection, for him, was inhumane: humanity
. . . was not intended to work with the accuracy of tools, to be precise and perfect in all their actions. If you will have that precision out of them, and make their fingers measure degrees like cog-wheels, and their arms strike curves like compasses, you must unhumanize them . .
(The Stones of Venice) What we have here is, I think, something similar. While Project Gutenberg is probably ashamed of the quality of these graphics, there's something to be appreciated here. This is a text on its way to becoming a book; it unintentionally reveals its human origins, the labor of the anonymous worker who scanned in the illustrations. It's a step in the right direction, but there's a great distance still to go.
Posted by dan visel at 06:13 PM | Comments (1)
tags: Transliteracies , book , design_curmudgeonry , digital_literature , ezrapound , gutenberg , jeromemcgann , johnruskin , logopoeia , mcgann , melopoeia , momus , phanopoeia , ruskin , text , tschichold
New Orleans DoubleQuotes by Charles Cameron plays with juxtaposition, cleverly pairing bits of text in ways that illuminate Katrina and all that flows from it:
Think of these paired quotes as twin thoughts dropped into the mind-pond -- not so much for their own sakes as for the sake of the ripples and resonances between them. I invite you to read these DoubleQuotes one pair at a time, slowly, slowly, so that the multiples ironies and quiet nuances that have come together in the weaving of this tragedy have room to breathe.
(thanks, Bryan Alexander of Infocult)
Posted by ben vershbow at 11:18 AM | Comments (0)
tags: Games , hurricanekatrina , interesting , intertextual , intertextuality , juxtaposition , katrina , louisiana , neworleans , quotes , text , txt
treasuremytext is a free British service that allows you to save text messages from your phone to the web on an anonymous, communal log, or "slog." Recent messages appear in a column on the main site where they can be read by all and sundry, subscribed to by feed, and even loaded onto an iPod as plain text files. jill/txt has a transcript from about two weeks back:
trying to convince myself that there was nothing there but i still find myself thinking about you
night nimet . . . . i miss you
How about sorting that taxi out for next week? For real?
Ok smart arse when you are there then! And then i will fix your issues for you, all of them!
U have beautifull eyes
Dont ring ill b down bout halfpast babes
Me to hes just arrived txt u l8r baby
Nite nite xxx
Nite nite fat sexy bum.Txt u tomoz nite nite xxxx
Not exactly prize-winning stuff, but has a nice dreamy flow of chatter plucked out of the air. Reminds me a bit of a game I played in elementary school where you go around a circle and improvise a story in broken-off pieces. Reading the site today, the entries seem to have taken on a smuttier tone. And a good number aren't in English. But an intriguing experiment nonetheless.
But it would be more interesting if the logs had some focus. Something like the City Chromosomes project, which is building a networked chronicle of the city of Antwerp, all by SMS.
Posted by ben vershbow at 02:58 PM | Comments (0)
tags: SMS , cellphone , collaborative , collective , ebook , mobile , phone , reading , text , txt , wireless