Listing entries tagged with SMS

A few weeks ago, Ben posted about The Bible Society of Australia's new "transl8tion" of the Bible into SMS--a shorthand system used primarily for sending text messages through mobile phones. Interesting to note that an organization like the Australian Bible Society, which believes the text of the Bible to be the very word of God, does not seem have a problem with the fact that the SMS version changes the voice of god from that of a wizened poet to that of a text-messaging teenager. Here's an example:
4 god so luvd da world
I'm all for reading on cellphones and other portable devices, and I understand using a shorthand language for keying in messages, but why does the published book need to look like an electronic stenographer's notepad? I realize that the form of the electronic "page" is changing the way we write, but I'll be more than a little disappointed if this is the direction we are going—toward a cutesy-looking shorthand that compromises the integrity of the text for the sake of expediency. The aesthetic beauty of words is no small thing. Great writers understand this. They know how to choose words that weave visual and aural subtext into their work. Consider, for a moment, whether those subtleties translate into SMS. Imagine a text messagable Gettysburg address: 4 scor & 7 yr.z ago... Or a shrunk-to-fit Dickens: it wz d best of tImz, it wz d worst of tImz.
Are you with me when I say that they jst dun hav d powR of d orignL txt.
Posted by Kim White at 05:59 AM | Comments (5)
tags: SMS , bible , cellphone , mobile , text , text_messaging , texting , txt
Luther translated the Bible into German so that revelation could be received in the language of the common folk. A similar spirit seems to have moved the Bible Society of Australia, which just translated all 31,173 verses of the of the new and old testaments (Contemporary English Version) into SMS-style english -- the abbreviated patois of mobile phone text messaging. The idea is to enable parents, parishioners and everyday people to send each other bite-sized inspirational verses by phone.
A taste:
In da Bginnin God cre8d da heavens & da earth. Da earth waz barren, wit no 4m of life; it waz unda a roaring ocean cuvred wit dRkness. (Genesis, chapter 1, verses 1-2)

Wrk hard at wateva u do. U will soon go 2 da wrld of da dead, where no 1 wrks or thinks or reasons or knws NEting. (Ecclesiastes, chapter nine, verse 10)
Read more in the Sydney Morning Herald (via textually).
Posted by ben vershbow at 07:40 AM | Comments (0)
tags: Microlit , SMS , australia , bible , cell , cellular , christian , christianity , ebook , eliterature , gadget , luther , mobile , mobile_phone , phone , phoning , religion , revelation , sydney , testament , text_messaging , textmessage , txt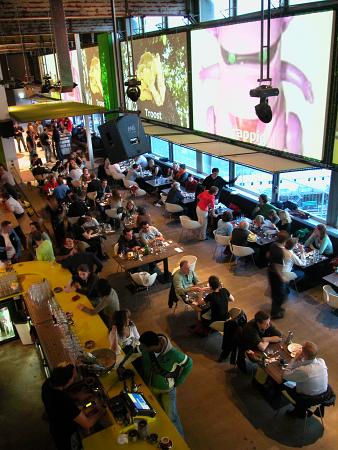 A wonderful hack of public space in Amsterdam. And on the top floor of the PostCS building no less, with breathtaking panoramic views of the city. Kim and I had the pleasure of spending two days there this past January at "A Decade of Web Design."
The diners in bar/restaurant/club 11 will be subjected to the wrath of fellow visitors SMSing whatever keyword they want to the installation that pulls photos from the online community flickr and projects them onto Restaurant 11's huge panoramic screens.
(via Smart Mobs)
Posted by ben vershbow at 01:41 PM | Comments (0)
tags: Games , SMS , amsterdam , cellphone , flickr , hack , keyword , mobile , photo , photography , postcs , publicart , socialsoftware , tagging , tags
treasuremytext is a free British service that allows you to save text messages from your phone to the web on an anonymous, communal log, or "slog." Recent messages appear in a column on the main site where they can be read by all and sundry, subscribed to by feed, and even loaded onto an iPod as plain text files. jill/txt has a transcript from about two weeks back:
trying to convince myself that there was nothing there but i still find myself thinking about you
night nimet . . . . i miss you
How about sorting that taxi out for next week? For real?
Ok smart arse when you are there then! And then i will fix your issues for you, all of them!
U have beautifull eyes
Dont ring ill b down bout halfpast babes
Me to hes just arrived txt u l8r baby
Nite nite xxx
Nite nite fat sexy bum.Txt u tomoz nite nite xxxx
Not exactly prize-winning stuff, but has a nice dreamy flow of chatter plucked out of the air. Reminds me a bit of a game I played in elementary school where you go around a circle and improvise a story in broken-off pieces. Reading the site today, the entries seem to have taken on a smuttier tone. And a good number aren't in English. But an intriguing experiment nonetheless.
But it would be more interesting if the logs had some focus. Something like the City Chromosomes project, which is building a networked chronicle of the city of Antwerp, all by SMS.
Posted by ben vershbow at 02:58 PM | Comments (0)
tags: SMS , cellphone , collaborative , collective , ebook , mobile , phone , reading , text , txt , wireless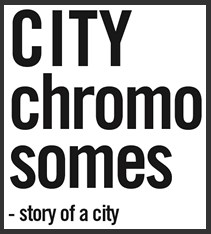 Found this on textually.org. The City Chromosomes project is a sort of scrapbook of the city of Antwerp made entirely from text messages beamed in from mobile phones. Further evidence of the new genres emerging from this technology. An english version has just been published under a Creative Commons license.
Also take a look at this sister project, CityPoems, from Leeds. Posts from the Leeds project are interspersed through the english version of "Chromosomes."
From the introduction to "City Chromosomes":
"The city of Antwerp is full of writers. And many of these writers describe their city, often in splendid stories, novels and poems that gain a wide readership. In this way, they determine a large part of our image of the city. But what about the people who only readers, or even those who do not care for reading, what do they think of the city? And would it not be possible to persuade them to write this down?
"This was the point of departure for the City Chromosomes project. We got the idea of gathering sms messages. Nearly everybody has a mobile phone. Everybody has a moment to spare to type in a message. This was the ideal way to make the project accessible to everybody. The people of Antwerp, and anyone else with something to say about city, could submit their impressions anonymously. We established 25 text sites across the city, and the contributors could indicate with a simple code to which part of the city their message applied. By means of posters, flyers and ads, we asked people for their impressions. The only restriction: the messages should not be longer than 160 characters."
Posted by ben vershbow at 01:29 PM | Comments (0)
tags: Microlit , SMS , Social Software , antwerp , cellphone , experiment , locative , mobile , text_messaging , the_networked_book , txt , ubiquitous_computing



We've been hearing more and more about the phenomenon of books downloaded to a cell phone screen, so much so that even the mainstream press has been talking about a resurgence of e-books - a topic they almost entirely dropped after the efforts of Microsoft and Gemstar failed to take off a couple years back. And people are doing more than simply reading books on their phones - they can surf the web, watch soap operas and, of course, play video games as they throttle through the subway or break for lunch.
Perhaps most interesting is that while many cell phone readers are downloading conventional print texts - novels, popular nonfiction etc. - there are many more, especially in Asia, who are downloading literature that is being written exclusively for this new medium, particularly serialized novels. These stories are intended for bite-sized consumption, peppered throughout the day, week or month. And they often employ the new technology as literary device - SMS romances, mysteries spun from a single errant text message. Once again, the medium proves to be the message..
It's hard to tell where this is going, but it's certainly more interesting than the prefab model promoted in the first generation of e-books. There is something totally original, totally native, about this new wave of digital reading.
Take a look at this piece from yesterday's New York Times...
Posted by ben vershbow at 08:28 AM | Comments (1)
tags: Microlit , SMS , cellphone , e-publishing , ebook , ebooks , keitai , publishing , reading , social_software , technology