Listing entries tagged with Remix

There are several reasons that Yahoo! released some of their core UI code for free. A callous read of this would suggest that they did it to steal back some goodwill from Google (still riding the successful Goolge API release from 2002). A more charitable soul could suggest that Yahoo! is interested in making the web a better place, not just in their market-share. Two things suggest this—the code is available under an open BSD license, and their release of design patterns. The code is for playing with; the design patterns for learning from.
The code is squarely aimed at folks like me who would struggle mightily to put together a default library to handle complex interactions in Javascript using AJAX (all the rage now) while dealing with the intricacies of modern and legacy browsers. Sure, I could pull together the code from different sources, test it, tweak it, break it, tweak it some more, etc. Unsurprisingly, I've never gotten around to it. The Yahoo! code release will literally save me at least a hundred hours. Now I can get right down to designing the interaction, rather than dealing with technology.
The design patterns library is a collection of best practice instructions for dealing with common web UI problems, providing both a solution and a rationale, with a detailed explanation of the interaction/interface feedback. This is something that is more familiar to me, but still stands as a valuable resource. It is a well-documented alternate viewpoint and reminder from a site that serves more users in one day than I'm likely to serve in a year.
Of course Yahoo! is hoping to reclaim some mind-space from Google with developer community goodwill. But since the code is general release, and not brandable in any particular way (it's all under-the-hood kind of stuff), it's a little difficult to see the release as a directly marketable item. It really just seems like a gift to the network, and hopefully one that will bear lovely fruit. It's always heartening to see large corporations opening their products to the public as a way to grease the wheels of innovation.
Posted by jesse wilbur at 07:08 PM | Comments (3)
tags: BSD , Libraries, Search and the Web , Remix , design , design_pattern , gift_economy , innovation , interaction , javascript , license , user_interface , y! , yahoo!
Over the next few days I'll be sifting through notes, links, and assorted epiphanies crumpled up in my pocket from two packed, and at times profound, days at the Economics of Open Content symposium, hosted in Cambridge, MA by Intelligent Television and MIT Open CourseWare. For now, here are some initial impressions -- things I heard, both spoken in the room and ricocheting inside my head during and since. An oral history of the conference? Not exactly. More an attempt to jog the memory. Hopefully, though, something coherent will come across. I'll pick up some of these threads in greater detail over the next few days. I should add that this post owes a substantial debt in form to Eliot Weinberger's "What I Heard in Iraq" series (here and here).

Naturally, I heard a lot about "open content."
I heard that there are two kinds of "open." Open as in open access -- to knowledge, archives, medical information etc. (like Public Library of Science or Project Gutenberg). And open as in open process -- work that is out in the open, open to input, even open-ended (like Linux, Wikipedia or our experiment with MItch Stephens, Without Gods).
I heard that "content" is actually a demeaning term, treating works of authorship as filler for slots -- a commodity as opposed to a public good.
I heard that open content is not necessarily the same as free content. Both can be part of a business model, but the defining difference is control -- open content is often still controlled content.
I heard that for "open" to win real user investment that will feedback innovation and even result in profit, it has to be really open, not sort of open. Otherwise "open" will always be a burden.
I heard that if you build the open-access resources and demonstrate their value, the money will come later.
I heard that content should be given away for free and that the money is to be made talking about the content.
I heard that reputation and an audience are the most valuable currency anyway.
I heard that the academy's core mission -- education, research and public service -- makes it a moral imperative to have all scholarly knowledge fully accessible to the public.
I heard that if knowledge is not made widely available and usable then its status as knowledge is in question.
I heard that libraries may become the digital publishing centers of tomorrow through simple, open-access platforms, overhauling the print journal system and redefining how scholarship is disseminated throughout the world.

And I heard a lot about copyright...
I heard that probably about 50% of the production budget of an average documentary film goes toward rights clearances.
I heard that many of those clearances are for "underlying" rights to third-party materials appearing in the background or reproduced within reproduced footage. I heard that these are often things like incidental images, video or sound; or corporate logos or facades of buildings that happen to be caught on film.
I heard that there is basically no "fair use" space carved out for visual and aural media.
I heard that this all but paralyzes our ability as a culture to fully examine ourselves in terms of the media that surround us.
I heard that the various alternative copyright movements are not necessarily all pulling in the same direction.
I heard that there is an "inter-operability" problem between alternative licensing schemes -- that, for instance, Wikipedia's GNU Free Documentation License is not inter-operable with any Creative Commons licenses.
I heard that since the mass market content industries have such tremendous influence on policy, that a significant extension of existing copyright laws (in the United States, at least) is likely in the near future.
I heard one person go so far as to call this a "totalitarian" intellectual property regime -- a police state for content.
I heard that one possible benefit of this extension would be a general improvement of internet content distribution, and possibly greater freedom for creators to independently sell their work since they would have greater control over the flow of digital copies and be less reliant on infrastructure that today only big companies can provide.
I heard that another possible benefit of such control would be price discrimination -- i.e. a graduated pricing scale for content varying according to the means of individual consumers, which could result in fairer prices. Basically, a graduated cultural consumption tax imposed by media conglomerates
I heard, however, that such a system would be possible only through a substantial invasion of users' privacy: tracking users' consumption patterns in other markets (right down to their local grocery store), pinpointing of users' geographical location and analysis of their socioeconomic status.
I heard that this degree of control could be achieved only through persistent surveillance of the flow of content through codes and controls embedded in files, software and hardware.
I heard that such a wholesale compromise on privacy is all but inevitable -- is in fact already happening.
I heard that in an "information economy," user data is a major asset of companies -- an asset that, like financial or physical property assets, can be liquidated, traded or sold to other companies in the event of bankruptcy, merger or acquisition.
I heard that within such an over-extended (and personally intrusive) copyright system, there would still exist the possibility of less restrictive alternatives -- e.g. a peer-to-peer content cooperative where, for a single low fee, one can exchange and consume content without restriction; money is then distributed to content creators in proportion to the demand for and use of their content.
I heard that such an alternative could theoretically be implemented on the state level, with every citizen paying a single low tax (less than $10 per year) giving them unfettered access to all published media, and easily maintaining the profit margins of media industries.
I heard that, while such a scheme is highly unlikely to be implemented in the United States, a similar proposal is in early stages of debate in the French parliament.

And I heard a lot about peer-to-peer...
I heard that p2p is not just a way to exchange files or information, it is a paradigm shift that is totally changing the way societies communicate, trade, and build.
I heard that between 1840 and 1850 the first newspapers appeared in America that could be said to have mass circulation. I heard that as a result -- in the space of that single decade -- the cost of starting a print daily rose approximately %250.
I heard that modern democracies have basically always existed within a mass media system, a system that goes hand in hand with a centralized, mass-market capital structure.
I heard that we are now moving into a radically decentralized capital structure based on social modes of production in a peer-to-peer information commons, in what is essentially a new chapter for democratic societies.
I heard that the public sphere will never be the same again.
I heard that emerging practices of "remix culture" are in an apprentice stage focused on popular entertainment, but will soon begin manifesting in higher stakes arenas (as suggested by politically charged works like "The French Democracy" or this latest Black Lantern video about the Stanley Williams execution in California).
I heard that in a networked information commons the potential for political critique, free inquiry, and citizen action will be greatly increased.
I heard that whether we will live up to our potential is far from clear.
I heard that there is a battle over pipes, the outcome of which could have huge consequences for the health and wealth of p2p.
I heard that since the telecomm monopolies have such tremendous influence on policy, a radical deregulation of physical network infrastructure is likely in the near future.
I heard that this will entrench those monopolies, shifting the balance of the internet to consumption rather than production.
I heard this is because pre-p2p business models see one-way distribution with maximum control over individual copies, downloads and streams as the most profitable way to move content.
I heard also that policing works most effectively through top-down control over broadband.
I heard that the Chinese can attest to this.
I heard that what we need is an open spectrum commons, where connections to the network are as distributed, decentralized, and collaboratively load-sharing as the network itself.
I heard that there is nothing sacred about a business model -- that it is totally dependent on capital structures, which are constantly changing throughout history.
I heard that history is shifting in a big way.
I heard it is shifting to p2p.
I heard this is the most powerful mechanism for distributing material and intellectual wealth the world has ever seen.
I heard, however, that old business models will be radically clung to, as though they are sacred.
I heard that this will be painful.
Posted by ben vershbow at 09:47 AM | Comments (5)
tags: Copyright and Copyleft , Education , Network_Freedom , Publishing, Broadcast, and the Press , Remix , academia , academy , broadband , conferences_and_excursions , copyleft , copyright , creative_commons , cyberlaw , democracy , economics , economics_of_open_content , film , freedom , internet , media , monopoly , music , network , open_content , open_spectrum , p2p , politics , publishing , scholarship , technology , wikipedia
This is a bilingual (English/Spanish) post. Spanish version can be found lower down.
Santofile, uses "meme" to allude to creative freedom in the digital world. Meme is mimesis and is self-generating. It refers to mediation in the sense of remix and appropriation, to the mixing of works that circulate in the Internet in order to produce an original piece. Among Santofile's projects is X_Reloaded, an interpretation of the first chapter of Don Quixote, compiled from disparate works inspired by the fourth centennial of its publication.
They put together such diverse creators as William Burroughs and Adbusters, whose common context is precisely the idea of busting. Busting decontextualizes a piece (work of art, advertisement, text) causing it to lose its character as a static icon by giving it a new life inside a new context.
To choose Don Quixote as the text for X_Reloaded, is an allusion to the concept of remix per excellence. Cervantes appropriated chivalry novels with the intention to subvert the genre, and his final remix, decontextualized, is a unique and original work. Printing itself in Cervantes' times required a highly legible copy, which wasn't necessarily the original manuscript. Thus, the "original" was a copy made by one or more amanuenses. And from this "original" corrected by the author, a sort of predecessor of proofreading, the book was put together by the typesetter, with its consequent errata. It is interesting to note that the Spanish Royal Academy's edition of Don Quixote, that celebrates its fourth centennial, claims to be based on about a hundred editions, old and new. If this is not remix, what is?
Cervantes himself is absolutely aware of what he is doing, and of the subversive character of his action. When Don Quixote reads, we don't know who is the madman, him or the one who wrote this:
The reason of the unreason with which my reason is afflicted so weakens my reason that with reason I murmur at your beauty.
Don Quixote changed forever the way novels were written, and three centuries later, Borges' "Pierre Menard, author of Don Quixote" would change forever the way one reads. Pierre Menard writes Don Quixote without ceasing to be Pierre Menard, demonstrating how it is possible to transform a text without altering a single word. Decontextualization was inaugurated.
Following that tradition, X_Loaded presents us jodi's map, images like, Olia Lialina's, the conceptual text of Jennny Holzer, or Rosa Llop's windmills.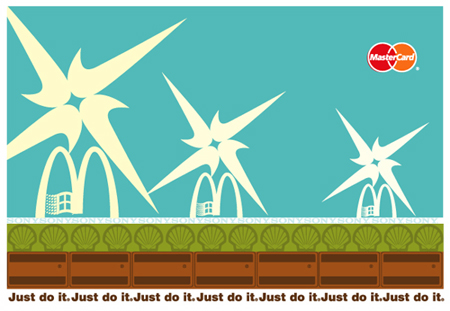 With her windmills we have to say with Don Quixote, they are indeed giants.
Santofile, usa el concepto de meme para aludir a libertad de creación en el mundo digital. Meme es mimesis y es autogenerador. Se refiere a mediación, en el sentido de remix, de mezclar apropiándose de trabajos de otros, generalmente trabajo digital que circula por la red, para a la vez producir una nueva obra original. Entre sus proyectos está X_Reloaded una interpretación del capítulo primero de El Quijote, que recoge obras dispares inspiradas por el cuarto centenario de su publicación.,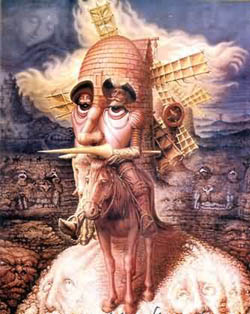 Se reúnen creadores tan disímiles como William Burroughs y Adbusters, cuyo contexto común sería precisamente la idea de romper, de volver trizas, que está en el seno mismo del verbo "to bust". Al descontextualizar lo que se quiere romper, se le roba permanencia como ícono estático y se le confiere nueva vida dentro de un nuevo contexto.
El escoger precisamente El Quijote como texto para X_Reloaded, es aludir al remix por excelencia. Cervantes se apropia de las novelas de caballería para subvertir el génro, y su remix final, al descontextualizarlas, es una obra única y original. La impresión misma del texto en tiempos de Cervantes, requería de una copia altamente legible, lo que no necesariamente era el manuscrito original. De ahí que el "original" eran una copia hecha por uno o más amanuenses. Y de ese "original"corregido por el autor, salía el libro, armado por el cajista, con sus consiguientes errores. Es interesante notar que la edición de la Real Academia Española, con motivo del cuarto centenario de El Quijote, es un "texto crítico de la obra constituido sobre la consulta de cerca de un centenar de ediciones antiguas y modernas". Si esto no es remix, ¿qué es?
Cervantes mismo es absolutamente consciente de lo que está haciendo, y del carácter subversivo de su acción. Cuando Don Qujiote lee no sabemos si es él el loco, o el que escribió esto:
La razón de la sinrazón que a mi razón se hace, de tal manera mi razón enflaquece, que con razón me quejo de la vuestra fermosura
El Quijote va a cambiar para siempre la manera como se escribe y tres siglos más tarde, "Pierre Menard autor del Quijote" de Borges, va a cambiar la manera como se lee. Pierre Menard escribe El Quijote sin dejar de ser Pierre Menard, demostrando cómo se transforma un texto sin cambiarlo, inaugurando la descontextualización.
Siguiendo esta tradición, X_Loaded nos presenta el mapa de jodi, imágenes como la de, Olia Lialina', el texto conceptual de Jennny Holzer, o los molinos de viento de Rosa Llop'. Y con ellos, tenemos que decir con Don Quijote, los molinos son en verdad gigantes. Rosa Llop. Y con ellos, tenemos que decir con Don Quijote, los molinos son en verdad gigantes.
Posted by sol gaitan at 04:43 PM | Comments (1)
tags: Remix , art , bilingual , books , cervantes , decontextualization , don_quixote , literature , logo , net_art , spanish , windmill
boing boing
posted about it a few weeks ago, the
New York Times
ran an article about it today. A rap song by
The Legendary K.O.
, samples Kanye West's "George Bush doesn't care about black people" comment on NBC. K.O.'s song (free for download) was, in turn, sampled by
Marquise Lee
who used it as a soundtrack for his
video remix
of the Katrina disaster. After watching Lee's video (which is truly amazing) read the
Washington Post
's transcript of Kanye West live on network TV.
The song and video have been downloaded by hundreds of thousands of "readers" who heard about the work through internet and other media channels. What does this mean for the future of the book? The New York Times sums it up nicely with this quote:
"A. J. Liebling famously commented that freedom of the press belongs to those who own one," said Mike Godwin, legal director of Public Knowledge, a First Amendment group. "Well, we all own one now."
Posted by Kim White at 10:02 PM | Comments (0)
tags: Remix , copyleft , hurricanekatrina , kanye_west , legendaryko , marquiselee , sampling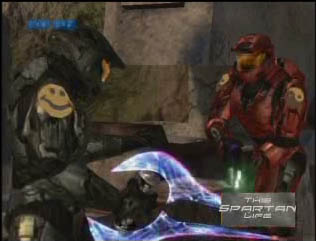 A couple of months ago, Bob did a rather unusual interview for This Spartan Life, a new online talk show set in the world of Halo video game series. I just received word that the first episode is now up. The show is hosted by Damian Lacedaemion, a hulking, bionic warrior sporting a thousand pounds of body armor, a visored helmet, and what looks like an enormous, ion-charged hair clip. Ordinarily, this character would be blazing his way through an interplanetary battle zone, but here, he's chatting it up with Bob (also represented by a fearsome armor-plated commando) about the future of books. The effect is truly bizarre.
The show was taped in a studio, with Bob and Damian (played by director Chris Burke), controllers in hand, seated in front of an Xbox console. Totally abandoning the story line of the game, the two avatars move through the surreal landscape - part derelict Soviet steel mill, part remote desert island - as though simply going for a stroll in the park. All their meanderings are recorded through a video feed and edited later on. Periodically, the conversation is interrupted by unfriendly fire from other online gamers unaware that a more civil interaction is taking place in the forbidding combat terrain. Damian has to deal with these intrusions, casually lobbing a grenade mid-sentence, or swooping across several hundred yards of game space to decapitate an assailant, swooping back to catch the end of Bob's remark. It's quite entertaining: the incongruousness of the conversation within the alien landscape of the game, the sudden bursts of violence. It reminds me a bit of Space Ghost Coast to Coast, which turned an old Hanna Barbera cartoon character into a talk show host with real celebrity guests. In the case of Spartan Life, there's something weirdly logical about placing a conceptual conversation about the future in the future. A nice expressionistic touch.
The show fits into a recently emerged genre of films set in video game environments, known as "Machinima." Most of the Machinima films I've seen are best described as surreal sitcoms - short episodes commenting on the inherent strangeness of video game worlds. The characters are often in the midst of existential crisis, asking "what am I doing here?" Like certain other genres (say, musicals), video games can appear comically absurd by adding just a small dose of reality. So far, Machinima has played in this territory, floating banal chit chat into the hyper-violent game worlds, finding humor in juxtaposition. Other games, like the Sims, offer their own possibilities for comical remixing. It'll be interesting to see if the genre matures beyond this. By conducting real interviews, often with people unfamiliar with the game environment, This Spartan Life introduces a nice element of surprise.
It's hard for us more traditional readers to grapple with the significance of video games. During the interview, Bob muses about what it will be like to walk around inside a book. What if other readers are interrupting or joining in the story you are reading? I grew up playing linear 2-D games like Super Mario Bros. and Castlevania. By the time the next generation of game systems was hitting the market with their new immersive 3-D narratives, my gaming habit had tapered off. But increasingly, kids are growing up with the expectation that narrative worlds (like books) will be interactive, multidirectional, and almost hallucinogenically real. There is the familiar complaint that younger generations have short attention spans, but the evidence offered by gaming suggests the opposite. While many kids may indeed have short attention spans for traditional media like books and certain kinds of films, they are perfectly capable of spending long stretches of time in complex game environments that combine stories with problem and puzzle solving, and that allow them to engage with peers within the game space. This is territory explored by Steven Johnson's new book, which I have yet to pick up. But I'll end with an amusing quote from his blog that I posted back in April when the book was coming out. It imagines what might have been society's response if video games were in fact the older invention and books the dangerous new toy.
Reading books chronically under-stimulates the senses. Unlike the longstanding tradition of gameplaying—which engages the child in a vivid, three-dimensional world filled with moving images and musical soundscapes, navigated and controlled with complex muscular movements—books are simply a barren string of words on the page. Only a small portion of the brain devoted to processing written language is activated during reading, while games engage the full range of the sensory and motor cortices.

Books are also tragically isolating. While games have for many years engaged the young in complex social relationships with their peers, building and exploring worlds together, books force the child to sequester him or herself in a quiet space, shut off from interaction with other children. These new 'libraries' that have arisen in recent years to facilitate reading activities are a frightening sight: dozens of young children, normally so vivacious and socially interactive, sitting alone in cubicles, reading silently, oblivious to their peers.

Many children enjoy reading books, of course, and no doubt some of the flights of fancy conveyed by reading have their escapist merits. But for a sizable percentage of the population, books are downright discriminatory. The reading craze of recent years cruelly taunts the 10 million Americans who suffer from dyslexia—a condition didn't even exist as a condition until printed text came along to stigmatize its sufferers.

But perhaps the most dangerous property of these books is the fact that they follow a fixed linear path. You can't control their narratives in any fashion—you simply sit back and have the story dictated to you. For those of us raised on interactive narratives, this property may seem astonishing. Why would anyone want to embark on an adventure utterly choreographed by another person? But today's generation embarks on such adventures millions of times a day. This risks instilling a general passivity in our children, making them feel as though they're powerless to change their circumstances. Reading is not an active, participatory process; it's a submissive one. The book readers of the younger generation are learning to 'follow the plot' instead of learning to lead.
Posted by ben vershbow at 11:19 AM | Comments (2) | TrackBack
tags: Games , Remix
The Supreme Court's MGM v. Grokster ruling came and went without comment from if:book (we miss you Ben). When I heard about the decision, I told myself: Kim, you should write a post about that. But my only thought on the subject was, So what? The ruling can't stop the change that is underway. Then I ran across this marvelous William Gibson quote: "We legislate after the fact, in a perpetual game of catch-up, as best we can, while our new technologies redefine us." That's from a recent article in Wired entitled "God's Little Toys: Confessions of a cut & paste artist" He also had this to say about the record industry:

Today, an endless, recombinant, and fundamentally social process generates countless hours of creative product (another antique term?). To say that this poses a threat to the record industry is simply comic. The record industry, though it may not know it yet, has gone the way of the record. Instead, the recombinant (the bootleg, the remix, the mash-up) has become the characteristic pivot at the turn of our two centuries.
My sentiments exactly.
Posted by Kim White at 04:57 PM | Comments (0)
tags: Remix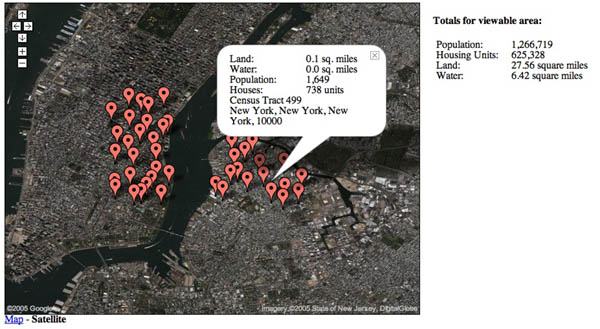 Another great hack: gCensus.com. The thing I like about this is the fluidity of the data changing across scale and location. As you zoom in and out, or drag across the map, the statistical markers re-cluster, while to the right, "totals for viewable area" (population, housing units, land/water area) shift smoothly. You feel as though you are using a highly sensitive instrument.
Hack I'd like to see: real-time birth/death map (using hospital data).
Posted by ben vershbow at 06:31 PM | Comments (0)
tags: Remix
First there was the DJ, then the VJ, now Penguin audio books is sponsoring "penguin remixed" a contest that might spawn a whole new genre--are you ready for the BJ ?
According to the website, "thirty of the best spoken word samples from some of the greatest books of all time and the finest actors around." are available for remix. "Download the samples, use them in your music, submit your tracks. The ten top tracks, as voted by you, will be turned into a Penguin digital audiobook, which will be available through the Audible.co.uk store and via iTunes UK."
Just to get your creative juices flowing, here is one of the samples available for remix. It's from Lewis Carroll's, "Alice in Wonderland," read by Susan Jameson.
Posted by Kim White at 02:57 PM | Comments (0)
tags: Remix
There's been an explosion of creative tinkering since the BBC opened up its API (applications programming interface) last month. An API is a window into a site's code and content allowing techie types to build new applications with BBC material. It's really worth going over to the BBC Backstage blog to take a look at the first batch of prototypes and demos. The majority are clever splicings of BBC data - news, traffic reports, images etc. - with Google Maps (everyone's favorite lately), not unlike chicagocrime.org. Other notable examples: an RSS feed of BBC complaints; a feature that allows you to tag articles and read tags left by other readers; and a nice "tag soup" visualization of financial news.
Correction: A reader kindly pointed out that BBC Backstage hasn't actually released APIs yet (though they intend to soon). The projects I've referenced use BBC feeds, or have scraped content directly from the BBC site. APIs are to follow soon (more info here). When they do, the scaping process will become much cleaner. For now, the BBC welcomes projects that "use our stuff to build your stuff" the rough-and-tumble way, and is happy to showcase them on the Backstage site.
The API is becoming a powerful tool for creative reinvention of the web. Back in April, I wrote about Dan Gillmor's piece on "Web 3.0".. Web 1.0 was the early web, a place you went to read - a series of interconnected brochures. Web 2.0 is the "read-write" web - it's a place you go to interact. Web 3.0 is where we start weaving the disparate pieces into new forms. APIs let you do this. You take one application and design a new front end that shows your point of view. Or you take two applications and mix them together, creating something new and illuminating. Right now, Web 2.0 is pretty well in place. The tools for self-expression and interaction are pretty accessible - email, chat, blogs, etc. But the weaving tools required for 3.0 are available only to advanced users. We'll see if that changes.
Here are grabs from four of the map prototypes at BBC Backstage: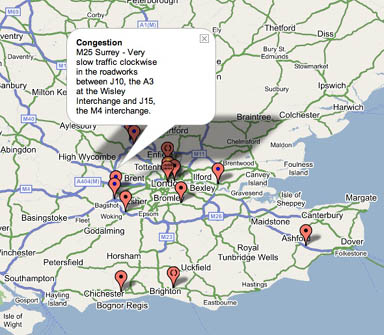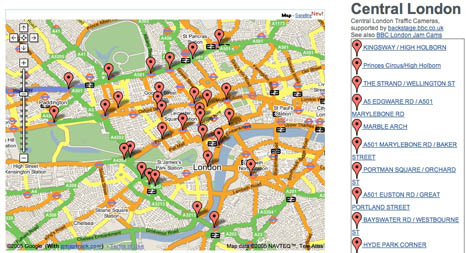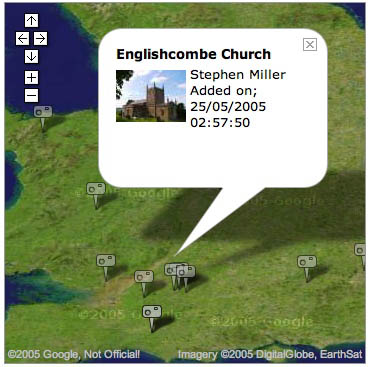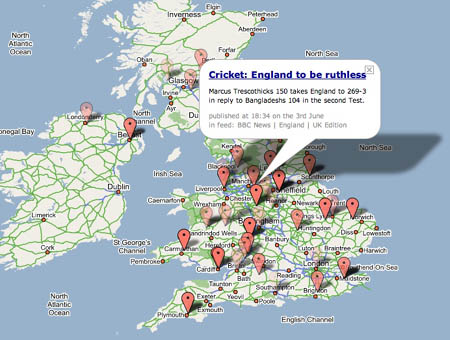 For more analysis, check out this article on O'Reilly Radar.
Posted by ben vershbow at 05:07 PM | Comments (1) | TrackBack
tags: Publishing, Broadcast, and the Press , Remix
Etymology: Latin rhapsodia, from Greek rhapsoidia recitation of selections from epic poetry, rhapsody, from rhapsoidos rhapsodist, from rhaptein to sew, stitch together - Merriam-Webster OnLine
The BBC is moving into web services, allowing the public to build applications that repurpose BBC content.
See also:
"your news, your pictures"
"find it rip it mix it share it"
Posted by ben vershbow at 03:40 PM | Comments (0)
tags: Remix , the_networked_book
Boing Boing links to a fun new toy called Web of Letters - a kind of automatic ransom note generator, pulling letters from Yahoo's image search to compose the word(s) of your choice. Also take a look at this Flickr version (simply replace the "omegg" part of the URL with your desired word).

I tried both versions with "omEGG" - the title of a work in progress by the institute's artist-in-residence Alex Itin. I found it resonated nicely with Alex's work, which pulls on image fragments and cultural detritus, remixing and juxtaposing in fascinating ways. Both versions work quite well, but I found that on Web of Letters (first image) I had to click through several searches to find a mix that was pleasantly legible and didn't use repeat sources. The Flickr hack (below) is nice in that you can change individual letters until you get it just the way you want it.

It's a fun game that suggests how the web can be mined to illuminate content in playful ways (and to write ransom notes in a hurry).
Posted by ben vershbow at 06:29 PM | Comments (2)
tags: Remix
Just back from the wonderful Decade of Web Design conference in Amsterdam - more to come on that soon. Catching up now on reading and turned up two interesting links on Boing Boing... First is a mystery novel that you read in email installments over a 3-week period. It's not free - costs $7.49 - but I figured I'd give it a try. I should receive the first part tomorrow.
The other thing is an exciting collaborative writing project in Reading, UK. From their site:
"Remix Reading is an artistic project based in Reading, UK. It's aim is to get artists (working with music, video, images and text) to come together and share their work, be inspired by each others' work, and ultimately to create "remixes". All material on the web site is released under a Creative Commons license, which allows you to customise your copyright so others can use, copy, and share your work as you choose."
Posted by ben vershbow at 09:01 PM | Comments (0)
tags: Microlit , Remix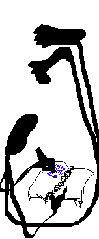 Sci fi writer Benjamin Rosenbaum announced today that he has placed his short story Start the Clock under a Creative Commons Attribution-Noncommercial-Sharealike license, inviting readers and writers not only to share and reproduce (non-commercially) his work, but also to alter, rewrite, or remix it as they like.
This is not the first story Rosenbaum has made available under a CC license, but it is the first time he has explicitly welcomed derivative works and alteration of his material. Start the Clock began as part of Frank Wu's Exquisite Corpuscule project, a riff on the classic parlor game the Exquisite Corpse, in which phrases, even stories, are woven from the free associations of the players. Supposedly, the first phrase ever yielded by this method was "the exquisite corpse will drink the young wine," hence the name. So "unfreezing" this story is, in a way, only the most recent step in an ongoing experiment.
It is also marks the latest stage of a writer's hard but fruitful struggle with the notions of sharing, permission, and piracy in a digital world. Writing on his blog last July, he ruminated on the evolvution of his ideas vis a vis copyright:
"So I kept intending to write the piratical bloggers nice letters, full of appreciation, expressing how honored I was, while gently educating them on copyright law. And then magnanimously assigning them noncommercial reprint rights ex post facto, in return for a link to my site.
"It was never that inspiring a project though, and I never did it. Something felt weird about it. Like I was greeting a spontaneous expression of love with rules-lawyering. It would be a different matter if I firmly believed pirates were a scourge of artists, like Madonna and Harlan Ellison do. But I don't. I think there will be some ugly growing pains as antiquated business and revenue models adjust to cheap pervasive networking power and digitalization, but that ultimately freeloaders are useful. So it was like I'd be sending these letters on some kind of pedantic principle."
Posted by ben vershbow at 06:03 PM | Comments (0)
tags: Copyright and Copyleft , Remix
Closing the USC conference "Scholarship in the Digital Age," Lessig spoke on "free culture" and the current legal/cultural crisis that in the next few years will define the constraints on creative production for decades to come. Due to obsessive fixation by a handful of powerful media industries on the issue of piracy, the massive potential of networked digital culture that has briefly flowered in the past decade could be destroyed by draconian laws and code controls embedded in new technologies. In Lessig's words: "never in our past have fewer exercised more legal control."
Lessig elegantly picked up one of the conference's many threads, multimedia literacy, referring to the bundle of new forms of cultural and scholarly production – remixing, reusing, networking peer-to-peer, working across multiple media – as simply "writing." This is an important step to take in thinking about these new modes of production, and is actually a matter of considerable urgency, considering the legal changes currently underway. The ultimate question to ask is (and this is how Lessig concluded his talk): are we producing a legal culture in which writing is not allowed?
Posted by ben vershbow at 06:17 PM | Comments (0)
tags: Copyright and Copyleft , Education , Remix , USC , conference , copyleft , copyright , free_culture , free_thought , intellectual_property , lessig , p2p , writing