Listing entries tagged with Online

The New York Times reports that a company in China is hiring people to play Massively Multiplayer Online Games (MMOG), like World of Warcraft or EverQuest. Employees develop avatars (or characters) and earn resources. Then, the company sells these efforts to affluent online gamers who do not have the time or inclination to play the early stages of the games themselves.
Finding hacks or ways to get around the intended game play is nothing new. I will confess that I have used cheat codes and hacks in playing video games. One of the first ones I've ever used, was in Super Mario Brothers on the original Nintendo Entertainment System. The Multiple 1-Ups: World 3-1 was a big favorite.
The article also briefly mentions something that I've been fascinated by: selling the results of your game play on auctions site, such as ebay. These services have turned game play into commodities, and we can actually determine valuations and costs of game play.
It made me to think about the character Hiro Protagonist in Neal Stephenson's Snowcrash, a pizza delivery guy in the real world and lethal warrior in the "Metaverse." He was an exception to the norm and socio-economic status usually carried over into the virtual reality because more realistic avatars were expensive. To actually see that happen in the game spaces of MMOGs by the purchasing of advanced players is quite amazing.
Why do I find that these gamers are cheating? In the era of non-linear information, I select and read only the parts of a text I deem to be relevant. I've skipped over parts of movies and watched another part again and again. Isn't this the same thing? The troubling aspect of this phenomenon is that it is bringing class differentiation into game space. Although gaming itself is a leisure activity, the idea that you can spend your way into succeeding at a MMOG, removes my perceived innocence of that game space.
Posted by ray cha at 03:20 PM | Comments (1)
tags: Games , MMOG , Massively , Multiplayer , Neil , Online , Snowcrash , Stephenson , Warcraft , World , cheat , everquest , gaming , narrative , novel , of
Open Source, the excellent public radio program (not to be confused with "Open Source Media") that taps into the blogosphere to generate its shows, has been chatting with me about putting together an hour on the Google library project. Open Source is a unique hybrid, drawing on the best qualities of the blogosphere -- community, transparency, collective wisdom -- to produce an otherwise traditional program of smart talk radio. As host Christopher Lydon puts it, the show is "fused at the brain stem with the world wide web." Or better, it "uses the internet to be a show about the world."
The Google show is set to air live this evening at 7pm (ET) (they also podcast). It's been fun working with them behind the scenes, trying to figure out the right guests and questions for the ideal discussion on Google and its bookish ambitions. My exchange has been with Brendan Greeley, the Radio Open Source "blogger-in-chief" (he's kindly linked to us today on their site). We agreed that the show should avoid getting mired in the usual copyright-focused news peg -- publishers vs. Google etc. -- and focus instead on the bigger questions. At my suggestion, they've invited Siva Vaidhyanathan, who wrote the wonderful piece in the Chronicle of Higher Ed. that I talked about yesterday (see bigger questions). I've also recommended our favorite blogger-librarian, Karen Schneider (who has appeared on the show before), science historian George Dyson, who recently wrote a fascinating essay on Google and artificial intelligence, and a bunch of cybertext studies people: Matthew G. Kirschenbaum, N. Katherine Hayles, Jerome McGann and Johanna Drucker. If all goes well, this could end up being a very interesting hour of discussion. Stay tuned.
UPDATE: Open Source just got a hold of Nicholas Kristof to do an hour this evening on Genocide in Sudan, so the Google piece will be pushed to next week.
Posted by ben vershbow at 08:07 AM | Comments (0)
tags: Libraries, Search and the Web , Online , copyright , google , google_book_search , google_print , library , open_source , podcast , publishing , radio , radio_open_source , search , web
explosion 11.22.2005, 2:10 PM

A Nov. 18 post on Adam Green's Darwinian Web makes the claim that the web will "explode" (does he mean implode?) over the next year. According to Green, RSS feeds will render many websites obsolete:
The explosion I am talking about is the shifting of a website's content from internal to external. Instead of a website being a "place" where data "is" and other sites "point" to, a website will be a source of data that is in many external databases, including Google. Why "go" to a website when all of its content has already been absorbed and remixed into the collective datastream.
Does anyone agree with Green? Will feeds bring about the restructuring of "the way content is distributed, valued and consumed?" More on this here.
Posted by lisa lynch at 02:10 PM | Comments (5)
tags: Libraries, Search and the Web , Online , Publishing, Broadcast, and the Press , RSS , blogging , blogs , darwin , darwinism , google , internet , singularity , syndication , web , xml
Google Base is live and ready for our stuff.
In AP: "New Project Will Expand Google's Reach"
Posted by ben vershbow at 07:04 AM | Comments (0)
tags: Online , advertising , classifieds , craigslist , ebay , etail , google , google_base , search , web
Knight Ridder Inc., the second largest newspaper conglomerate in the U.S., is under intense pressure from its more powerful investors to start selling off papers. The New York Times reports that the company is now contemplating "strategic alternatives." Consider the following in terms of what Bob is saying one post down about time. With the rise of the 24-hour news cycle and the internet, news is adopting a different time signature.
It is unclear who may want to buy Knight Ridder. Newspaper companies, though still immensely profitable, have a murky future that is clouded by a shrinking readership and weak advertising revenue, both of which are being leeched away by the Internet.

...In the six moths that ended in September, newspaper circulation nationally fell 2.6 percent daily and 3.1 percent on Sundays, the biggest decline in any comparable period since 1991, according to the Audit Bureau of Circulations. All in all, 45.2 million people subscribed to 1,457 reporting papers, down from a peak of 63.3 million people and 1,688 newspapers in 1984.

By comparison, 47 million people visited newspaper Web sites, about a third of United States Internet users, according to the circulation bureau.
The time it takes to read the newspaper in print -- a massive quilt, chopped up and parceled (I believe Gary Frost said something about this) -- you might say it leads to a different sort of understanding of the world around you. It seems to me that the newspapers that will last longest in print are the Sunday editions, aimed at a leisurely audience, taking stock of the week that has just ended and preparing for the one about to commence. On Sundays, the world spreads out before you in print, and perhaps you make a point of taking some time away from the computer (at least, this might be the case for hybrid monkeys like me who are more or less at home with both print and digital). The briskness of discourse on the web and in popular culture does not afford the time to engage with big ideas. Bob talks, not without irony, about "tithing to the church of big ideas." Set aside the time to engage with world-changing ideas, willfully turn away from the screen.
The persistence of the Sunday print edition, if it comes to pass, might in some way reflect this kind of tithing, this intentional slowing down.
Posted by ben vershbow at 04:18 PM | Comments (1)
tags: Mediated Existence , Online , Publishing, Broadcast, and the Press , Transliteracies , internet , journalism , knight_ridder , media , news , newspaper , sunday , web
Yesterday on Talking Points Memo, Josh Marshall drew back momentarily from the relentless news cycle to air a few meta thoughts on blogs and blogging, fleshing out some of the ideas behind his TPM Cafe venture (a multi-blog hub on politics and society) and his recent hiring notice for a "reporter-blogger" to cover Capitol Hill.
Marshall's ruminations tie in nicely with a meeting the institute is holding tomorrow (I'm running to the airport shortly) at our institutional digs at the University of Southern California in Los Angeles to discuss possible futures of the blogging medium, particularly in regard to the academy and the role of public intellectual. Gathering around the table for a full day of discussion will be a number of blogger-professors and doctoral students, several journalists and journalism profs, and a few interesting miscellaneous spoons to help stir the pot. We've set up a blog (very much resembling this one) as a planning stage for the meeting. Feel free to take a look and comment on the agenda and the list of participants.
The meeting is a sort of brainstorm session for a project the institute is hatching that aims to encourage academics with expert knowledge and a distinctive voice to use blogs and other internet-based vehicles to step beyond the boundaries of the academy to reach out to a broader public audience. Issues/questions/problems we hope to address include the individual voice in conflict with (or in complement to) mainstream media. How the individual voice establishes and maintains integrity on the web. How several voices could be aggregated in a way that expands both the audience and the interaction with readers without sacrificing the independence of the individual voices. Blogging as a bridge medium between the academy and the world at large. Blogging as a bridge medium between disciplines in the academy in a way that sheds holistic light on issues of importance to a larger public. And strengths and weaknesses of the blog form itself.
This last point has been on our minds a lot lately and I hope it will get amply discussed at the meeting. A year or two ago, the word "blog" didn't mean anything to most people. Now it is all but fully embraced as the medium of the web. But exciting as the change has been, it shouldn't be assumed that blogs are the ideal tool for all kinds of discourse. In fact, what's interesting about blogs right now, especially the more intellectually ambitious ones, is how much they are doing in so limiting a form. With its ruthlessly temporal structure and swift burial of anything more than 48 hours old, blogs work great for sites like TPM whose raison d'être is to comment on the news cycle, or sites like Boing Boing, Gawker, or Fark.com serving up oddities, gossip and boredom cures for the daily grind. But if, god forbid, you want ideas and discussion to unfold over time, and for writing to enjoy a more ample window of relevance, blogs are frustratingly limited.
Even Josh Marshall, a politics blogger who is served well by the form, wishes it could go deeper:
...the stories that interest me right now are a) the interconnected web of corruption scandals bubbling up out the reining Washington political machine and b) the upcoming mid-term elections.

I cover a little of both. And I've particularly tried to give some overview of the Abramoff story. But I'm never able to dig deeply enough into the stories or for a sustained enough period of time or to keep track of how all the different ones fit together. That's a site I'd like to read every day -- one that pieced together these different threads of public corruption for me, showed me how the different ones fit together (Abramoff with DeLay with Rove with the shenanigans at PBS and crony-fied bureaucracies like the one Michael Brown was overseeing at FEMA) and kept tabs on how they're all playing in different congressional elections around the country.

That's a site I'd like to read because I'm never able to keep up with all of it myself. So we're going to try to create it.
I'm excited to hear from folks at tomorrow's meeting where they'd like blogging to go. I'd like to think that we're groping toward a new web genre, perhaps an extension of blogs, that is less temporal and more thematic -- where ideas, not time, are the primary organizing factor. This question of form goes hand in hand with the content question that our meeting will hopefully address: how do we get more people with big ideas and expertise to start engaging the world in a serious way through these burgeoning forms? I could say more, but I've got a plane to catch.
Posted by ben vershbow at 06:01 AM | Comments (0)
tags: Online , academy , blogging , blogs , internet , journalism , social_software , web
ebr is back after a several month hiatus during which time it was overhauled. The site, published by AltX was among the first places where the "technorati meets the literati" and I always found it attractive for its emphasis on sustained analysis of digital artifacts and the occasional pop culture reference. The latest project, first person series, seems to answer a lot of what bob finds attractive in the blogs of juan cole and others. And although I've heard ebr called "too linear" (as compared to Vectors, USC's e-journal) the interface goes a long way toward solving the problem of the scrolling feature of many sites/blogs which privilege what's new. The interweaving threads with search capabilities seem quite hearty.
Posted by virginia kuhn at 12:49 AM | Comments (0)
tags: Online , books , digital , e-literature , ebook , ebr , literati , literature , theory , web
There's an interesting discussion going on right now under Kim's Wikibooks post about how an open source model might be made to work for the creation of authoritative knowledge -- textbooks, encyclopedias etc. A couple of weeks ago there was some dicussion here about an article that, among other things, took some rather cheap shots at Wikipedia, quoting (very selectively) a couple of shoddy passages. Clearly, the wide-open model of Wikipedia presents some problems, but considering the advantages it presents (at least in potential) -- never out of date, interconnected, universally accessible, bringing in voices from the margins -- critics are wrong to dismiss it out of hand. Holding up specific passages for critique is like shooting fish in a barrel. Even Wikipedia's directors admit that most of the content right now is of middling quality, some of it downright awful. It doesn't then follow to say that the whole project is bunk. That's a bit like expelling an entire kindergarten for poor spelling. Wikipedia is at an early stage of development. Things take time.
Instead we should be talking about possible directions in which it might go, and how it might be improved. Dan for one, is concerned about the market (excerpted from comments):
What I worry about...is that we're tearing down the old hierarchies and leaving a vacuum in their wake.... The problem with this sort of vacuum, I think, is that capitalism tends to swoop in, simply because there are more resources on that side....

...I'm not entirely sure if the world of knowledge functions analogously, but Wikipedia does presume the same sort of tabula rasa. The world's not flat: it tilts precariously if you've got the cash. There's something in the back of my mind that suspects that Wikipedia's not protected against this – it's kind of in the state right now that the Web as a whole was in 1995 before the corporate world had discovered it. If Wikipedia follows the model of the web, capitalism will be sweeping in shortly.
Unless... the experts swoop in first. Wikipedia is part of a foundation, so it's not exactly just bobbing in the open seas waiting to be swept away. If enough academics and librarians started knocking on the door saying, hey, we'd like to participate, then perhaps Wikipedia (and Wikibooks) would kick up to the next level. Inevitably, these newcomers would insist on setting up some new vetting mechanisms and a few useful hierarchies that would help ensure quality. What would these be? That's exactly the kind of thing we should be discussing.
The Guardian ran a nice piece earlier this week in which they asked several "experts" to evaluate a Wikipedia article on their particular subject. They all more or less agreed that, while what's up there is not insubstantial, there's still a long way to go. The biggest challenge then, it seems to me, is to get these sorts of folks to give Wikipedia more than just a passing glance. To actually get them involved.
For this to really work, however, another group needs to get involved: the users. That might sound strange, since millions of people write, edit and use Wikipedia, but I would venture that most are not willing to rely on it as a bedrock source. No doubt, it's incredibly useful to get a basic sense of a subject. Bloggers (including this one) link to it all the time -- it's like the conversational equivalent of a reference work. And for certain subjects, like computer technology and pop culture, it's actually pretty solid. But that hits on the problem right there. Wikipedia, even at its best, has not gained the confidence of the general reader. And though the Wikimaniacs would be loathe to admit it, this probably has something to do with its core philosophy.
Karen G. Schneider, a librarian who has done a lot of thinking about these questions, puts it nicely:
Wikipedia has a tagline on its main page: "the free-content encyclopedia that anyone can edit." That's an intriguing revelation. What are the selling points of Wikipedia? It's free (free is good, whether you mean no-cost or freely-accessible). That's an idea librarians can connect with; in this country alone we've spent over a century connecting people with ideas.

However, the rest of the tagline demonstrates a problem with Wikipedia. Marketing this tool as a resource "anyone can edit" is a pitch oriented at its creators and maintainers, not the broader world of users. It's the opposite of Ranganathan's First Law, "books are for use." Ranganathan wasn't writing in the abstract; he was referring to a tendency in some people to fetishize the information source itself and lose sight that ultimately, information does not exist to please and amuse its creators or curators; as a common good, information can only be assessed in context of the needs of its users.
I think we are all in need of a good Wikipedia, since in the long run it might be all we've got. And I'm in now way opposed to its spirit of openness and transparency (I think the preservation of version histories is a fascinating element and one which should be explored further -- perhaps the encyclopedia of the future can encompass multiple versions of the "the truth"). But that exhilarating throwing open of the doors should be tempered with caution and with an embrace of the parts of the old system that work. Not everything need be thrown away in our rush to explore the new. Some people know more than other people. Some editors have better judgement than others. There is such a thing as a good kind of gatekeeping.
If these two impulses could be brought into constructive dialogue then we might get somewhere. This is exactly the kind of conversation the Wikimedia Foundation should be trying to foster.
Posted by ben vershbow at 01:04 PM | Comments (8)
tags: Education , Libraries, Search and the Web , Online , authority , encyclopedia , library , open_source , web , wiki , wikibooks , wikimedia , wikipedia
This week Google will be paying a visit to the Frankfurt Book Fair to talk with European publishers and chief librarians (including arch nemesis Jean-Nöel Jeanneney) about eight new local incarnations of Google Print. (more)
Posted by ben vershbow at 08:56 AM | Comments (0)
tags: Libraries, Search and the Web , Online , books , copyright , ebook , europe , frankfurt , google , internet , library , publishing , search , web
Discussions about the future of newspapers often allude to a moment in the Steven Spielberg film "Minority Report," set in the year 2054, in which a commuter on the train is reading something that looks like a paper copy of USA Today, but which seems to be automatically updating and rearranging its contents like a web page. This is a comforting vision for the newspaper business: reassigning the un-bottled genie of the internet to the familiar commodity of the broadsheet. But as with most science fiction, the fallacy lies in the projection of our contemporary selves into an imagined future, when in fact people and the way they read may have very much changed by the year 2054.
Being a newspaper is no fun these days. The demand for news is undiminished, but online readers (most of us now) feel entitled to a free supply. Print circulation numbers continue to plummet, while the cost of newsprint steadily rises -- it hovers right now at about $625 per metric ton (according to The Washington Post, a national U.S. paper can go through around 200,000 tons in a year).
Staffs are being cut, hiring freezes put into effect. Some newspapers (The Guardian in Britain and soon the Wall Street Journal) are changing the look and reducing the size of their print product to lure readers and cut costs. But given the rather grim forecast, some papers are beginning to ponder how other technologies might help them survive.
Last week, David Carr wrote in the Times about "an ipod for text" as a possible savior -- a popular, portable device that would reinforce the idea of the newspaper as something you have in your hand, that you take with you, thereby rationalizing a new kind of subscription delivery. This weekend, the Washington Post hinted at what that device might actually be: a flexible, paper-like screen using "e-ink" technology.
An e-ink display is essentially a laminated sheet containing a thin layer of fluid sandwiched between positive and negative electrodes. Tiny capsules of black and white pigment float in between and arrange themselves into images and text through variance in the charge (the black are negatively charged and the white positively charged). Since the display is not light-based (like the electronic screens we use today), it has an appearance closer to paper. It can be read in bright sunlight, and requires virtually no power to maintain an image.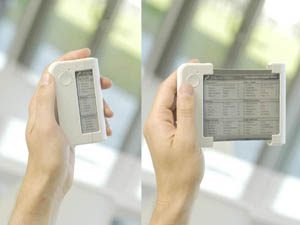 Frank Ahrens, who wrote the Post piece, held a public online chat with Russ Wilcox, the chief exec of E Ink Corp. Wilcox predicts that large e-ink screens will be available within a year or two, opening the door for newspapers to develop an electronic product that combines web and broadsheet. Even offering the screens to subscribers for free, he calculates, would be more cost-efficient than the current paper delivery system.
A number of major newspaper conglomerates -- including The Hearst Corporation, Gannett Co. (publisher of USA Today), TOPPAN Printing Company of Japan, and France's Vivendi Universal Publishing -- are interested enough in the potential of e-ink that they have become investors.
But maybe it won't be the storied old broadsheet that people crave. A little over a month ago at a trade show in Berlin, Philips Polymer Vision presented a prototype of its new "Readius" -- a device about the size of a mobile phone with a roll-out e-ink screen. This, too, could be available soon. Like it or not, it might make more sense to watch what's developing with cell phones to get a hint of the future.
But even if electronic paper catches on -- and it seems likely that it, or something similar, will -- I wouldn't count on it to solve the problems of the print news industry. It's often tempting to think of new technologies that fundamentally change the way we operate as simply a matter of pouring old wine into new bottles. But electronic paper will be a technology for delivering the web, or even internet television -- not individual newspapers. So then how do we preserve (or transfer) all that is good about print media, about institutions like the Times and the Post, assuming that their prospects continue to worsen? The answer to that, at least for now, is written in invisible ink.
Posted by ben vershbow at 08:47 AM | Comments (2)
tags: Online , Publishing, Broadcast, and the Press , The Ideal Device? , book , books , computer , e-ink , ebook , eink , gadget , gadgets , interactive , internet , ipod , journalism , media , media_consumption , newspaper , paper , print , publishing , reading , readius , spielberg , technology , web
Nicholas Carr, who writes about business and technology and formerly was an editor of the Harvard Business Review, has published an interesting though problematic piece on "the amorality of web 2.0". I was drawn to the piece because it seemed to be questioning the giddy optimism surrounding "web 2.0", specifically Kevin Kelly's rapturous late-summer retrospective on ten years of the world wide web, from Netscape IPO to now. While he does poke some much-needed holes in the carnival floats, Carr fails to adequately address the new media practices on their own terms and ends up bashing Wikipedia with some highly selective quotes.
Carr is skeptical that the collectivist paradigms of the web can lead to the creation of high-quality, authoritative work (encyclopedias, journalism etc.). Forced to choose, he'd take the professionals over the amateurs. But put this way it's a Hobson's choice. Flawed as it is, Wikipedia is in its infancy and is probably not going away. Whereas the future of Britannica is less sure. And it's not just amateurs that are participating in new forms of discourse (take as an example the new law faculty blog at U. Chicago). Anyway, here's Carr:
The Internet is changing the economics of creative work - or, to put it more broadly, the economics of culture - and it's doing it in a way that may well restrict rather than expand our choices. Wikipedia might be a pale shadow of the Britannica, but because it's created by amateurs rather than professionals, it's free. And free trumps quality all the time. So what happens to those poor saps who write encyclopedias for a living? They wither and die. The same thing happens when blogs and other free on-line content go up against old-fashioned newspapers and magazines. Of course the mainstream media sees the blogosphere as a competitor. It is a competitor. And, given the economics of the competition, it may well turn out to be a superior competitor. The layoffs we've recently seen at major newspapers may just be the beginning, and those layoffs should be cause not for self-satisfied snickering but for despair. Implicit in the ecstatic visions of Web 2.0 is the hegemony of the amateur. I for one can't imagine anything more frightening.
He then has a nice follow-up in which he republishes a letter from an administrator at Wikipedia, which responds to the above.
Encyclopedia Britannica is an amazing work. It's of consistent high quality, it's one of the great books in the English language and it's doomed. Brilliant but pricey has difficulty competing economically with free and apparently adequate....

...So if we want a good encyclopedia in ten years, it's going to have to be a good Wikipedia. So those who care about getting a good encyclopedia are going to have to work out how to make Wikipedia better, or there won't be anything.
Let's discuss.
Posted by ben vershbow at 09:00 AM | Comments (5)
tags: Libraries, Search and the Web , OS , Online , Publishing, Broadcast, and the Press , Social Software , Web2.0 , amateur , blog , blogging , blogs , book , books , britannica , collective , encyclopedia , encyclopedia_britannica , internet , journalism , mainstream_media , media , msm , open_content , open_source , publishing , web , web_2.0 , wiki , wikipedia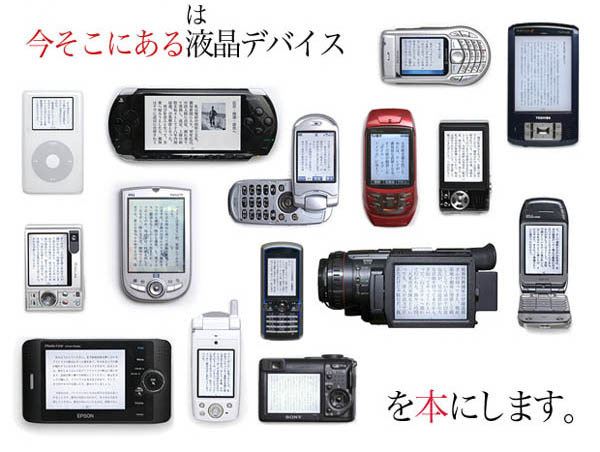 When I ride the subway, I see a mix of paper and plastic. Invariably several passengers are lost in their ipods (there must be a higher ipod-per-square-meter concentration in New York than anywhere else). One or two are playing a video game of some kind. Many just sit quietly with their thoughts. A few are conversing. More than a few are reading. The subway is enormously literate. A book, a magazine, The Times, The Post, The Daily News, AM New York, Metro, or just the ads that blanket the car interior. I may spend a lot of time online at home or at work, but on the subway, out in the city, paper is going strong.
Before long, they'll be watching television on the subway too, seeing as the latest ipod now plays video. But rewind to Monday, when David Carr wrote in the NY Times about another kind of ipod -- one that would totally change the way people read newspapers. He suggests that to bounce back from these troubled times (sagging print circulation, no reliable business model for their websites), newspapers need a new gadget to appear on the market: a light-weight, highly portable device, easy on the eyes, easy on the batteries, that uploads articles from the web so you can read them anywhere. An ipod for text.
This raises an important question: is it all just a matter of the reading device? Once there are sufficient advances in display technology, and a hot new gadget to incorporate them, will we see a rapid, decisive shift away from paper toward portable electronic text, just as we have witnessed a widespread migration to digital music and digital photography? Carr points to a recent study that found that in every age bracket below 65, a majority of reading is already now done online. This is mostly desktop reading, stationary reading. But if the greater part of the population is already sold on web-based reading, perhaps it's not too techno-deterministic to suppose that an ipod-like device would in fact bring sweeping change for portable reading, at least periodicals.
But the thing is, online reading is quite different from print reading. There's a lot of hopping around, a lot of digression. Any new hardware that would seek to tempt people to convert from paper would have to be able to surf the web. With mobile web, and wireless networks spreading, people would expect nothing less (even the new Sony PSP portable gaming device has a web browser). But is there a good way to read online text when you're offline? Should we be concerned with this? Until wi-fi is ubiquitous and we're online all the time (a frightening thought), the answer is yes.
We're talking about a device that you plug into your computer that automatically pulls articles from pre-selected sources, presumably via RSS feeds. This is more or less how podcasting works. But for this to have an appeal with text, it will have to go further. What if in addition to uploading new articles in your feed list, it also pulled every document that those articles linked to, so you could click through to referenced sites just as you would if you were online?
It would be a bounded hypertext system. You could do all the hopping around you like within the cosmos of that day's feeds, and not beyond -- you would have the feeling of the network without actually being hooked in. Text does not take up a lot of hard drive space, and with the way flash memory is advancing, building a device with this capacity would not be hard to achieve. Of course, uploading link upon link could lead down an infinite paper trail. So a limit could be imposed, say, a 15-step cap -- a limit that few are likely to brush up against.
So where does the money come in? If you want an ipod for text, you're going to need an itunes for text. The "portable, bounded hypertext RSS reader" (they'd have to come up with a catchier name --the tpod, or some such techno-cuteness) would be keyed in to a subscription service. It would not be publication-specific, because then you'd have to tediously sign up with dozens of sites, and no reasonable person would do this.
So newspapers, magazines, blogs, whoever, will sign licensing agreements with the tpod folks and get their corresponding slice of the profits based on the success of their feeds. There's a site called KeepMedia that is experimenting with such a model on the web, though not with any specific device in mind (and it only includes mainstream media, no blogs). That would be the next step. Premium papers like the Times or The Washington Post might become the HBOs and Showtimes of this text-ripping scheme -- pay a little extra and you get the entire electronic edition uploaded daily to your tpod.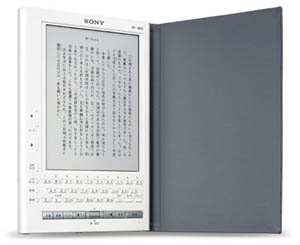 As for the device, well, the Sony Librie has had reasonable success in Japan and will soon be released in the States. The Librie is incredibly light and uses an "e-ink" display that is reflective like paper (i.e. it can be read in bright sunlight), and can run through 10,000 page views on four triple-A batteries.
The disadvantages: it's only black-and-white and has no internet connectivity. It also doesn't seem to be geared for pulling syndicated text. Bob brought one back from Japan. It's nice and light, and the e-ink screen is surprisingly sharp. But all in all, it's not quite there yet.
There's always the do-it-yourself approach. The Voyager Company in Japan has developed a program called T-Time (the image at the top is from their site) that helps you drag and drop text from the web into an elegant ebook format configureable for a wide range of mobile devices: phones, PDAs, ipods, handheld video games, camcorders, you name it. This demo (in Japanese, but you'll get the idea) demonstrates how it works.
Presumably, you would also read novels on your text pod. I personally would be loathe to give up paper here, unless it was a novel that had to be read electronically because it was multimedia, or networked, or something like that. But for syndicated text -- periodicals, serials, essays -- I can definitely see the appeal of this theoretical device. I think it's something people would use.
Posted by ben vershbow at 09:26 AM | Comments (2)
tags: Online , Publishing, Broadcast, and the Press , RSS , The Ideal Device? , apple , book , books , e-ink , e_ink , ebook , ebooks , gadget , internet , ipod , japan , journalism , librie , media , news , newspaper , paper , paperless , podcast , podcasting , print , publishing , reader , reading , sony , syndication , technology , web
We've officially and permanently shut off the trackback function on if:book. We're sad to do it. The idea of trackback is such a good one -- a way to send signals (pings) to other blogs alerting them that one of their posts is being discussed on your site. It ties the blogosphere together, fosters conversations across the web. It was a beautiful dream, but spammers killed it.
Tom Coates pronounced trackback dead back in April, but if:book was only a few months old at the time, still green and optimistic. We were also less known, so spam was only coming in a light sprinkle. Now it's been a month since our last legitimate ping, and the daily dose of spam has grown so large (and so filthy) that it hardly seems worth it to keep the door open. Fewer bloggers are tracking back now anyway since most have accepted that it is a dying practice, or perhaps haven't even heard of it at all.
So trackback is done. I just want to say a few goodbyes...
Goodbye, diet pills.
Goodbye, discount sneakers.
Goodbye, ringtones.
Goodbye, hentai comics.
Goodbye, cheap loans (spelled lones).
Goodbye, online pharmacy.
Goodbye, online casino.
Goodbye, texas holdem.
Goodbye, arbitrage sports betting.
Goodbye, free nude black jack.
Goodbye, rape fantasies.
Goodbye, incest stories.
Goodbye, shemale porn.
Goodbye, animal sex.
Goodbye, gay erotica.
Goodbye, tranny surprise.
Goodbye, sex grannies.
A big middle finger to all of you.
Posted by ben vershbow at 01:20 AM | Comments (0)
tags: Online , blog , blogging , blogs , elegy , internet , movable_type , ping , social_software , socialsoftware , spam , spammer , spamming , trackback , trust , web
Google as big brother -- the paranoia certainly seems to be creeping into the mainstream. "Op-Art" by Randy Siegel from today's NY Times: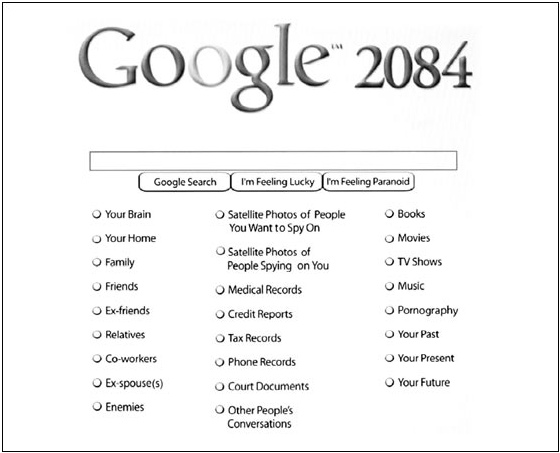 Posted by ben vershbow at 10:06 AM | Comments (0)
tags: 1984 , 2084 , Libraries, Search and the Web , NYTimes , Online , algorithm , art , cartoon , dystopia , editorial , google , information , internet , newspaper , orwell , paranoia , privacy , satire , search , technology , web
It's nice to see that UbuWeb, the great public web library of the avant garde, is back online after "a long summer of rebuilding." At times when the web feels depressingly shallow, Ubu can be the perfect medecine. Among the many masterworks you will find is Samuel Beckett's "Film" (1965), starring a very old Buster Keaton. It's wonderful that anyone can watch this online (I've just spent half an hour in its thrall).


Also worth checking out are /ubu Editions - handsomely designed electronic texts ranging across an interesting selection of poetry, prose and theatre, including Ron Silliman's "The Chinese Notebook," which Dan blogged about a couple weeks back. These, like everything else on Ubu, are free.
Posted by ben vershbow at 01:21 AM | Comments (1)
tags: Libraries, Search and the Web , Online , avant_garde , avantgarde , beckett , buster_keaton , curated , ebook , experimental , fiction , film , gallery , internet , keaton , library , media , museum , music , poetry , samuel_beckett , silliman , theatre , ubu , ubuweb , web
We were talking yesterday (and Bob earlier) about how to better organize content on if:book - how to highlight active discussion threads, or draw attention to our various categories. Something more dynamic than a list of links on the sidebar, or a bunch of hot threads advertised at the top. A significant problem with blogs is the tyranny of the vertical column, where new entries call out for attention on a stack of rapidly forgotten material, much of which might still be worth reading even though it was posted back in the dark ages (i.e. three days ago). Some of the posts that get buried still have active discussions stemming from them. Just today, "ways of seeing, ways of writing" - posted nearly two weeks ago - received another comment. The conversation is still going. (See also Dan's "blog reading: what's left behind".)
This points to another thorny problem, still unsolved nearly 15 years into the world wide web, and several years into the blogging craze: how to visualize asynchronous conversations - that is, conversations in which time lapses between remarks. If the conversation is between only two people, a simple chronological column works fine - it's a basic back-and-forth. But consider the place where some of the most dynamic multi-person asynchronous conversations are going on: in the comment streams of blog entries. Here you have multiple forking paths, hopping back and forth between earlier and later remarks, people sticking close to the thread, people dropping in and out. But again, you have the tyranny of the vertical column.
We're using an open source platform called Drupal for our Next\Text project, which has a blog as its central element but can be expanded with modular units to do much more than we're able to do here. The way Drupal handles comments is nice. You have the usual column arranged chronologically, with comments streaming downward, but readers have the option of replying to specific comments, not just to the parent post. Replies to specific comments are indented slightly, creating a sort of sub-stream, and the the fork can keep on going indefinitely, indenting rightward.
This handles forks and leaps fairly well, but offers at best only a partial solution. We're still working with a print paradigm: the outline. Headers, sub-headers, bullet points. These distinguish areas in a linear stream, but they don't handle the non-linear character of complex conversations. There is always the linear element of time, but this is extremely limiting as an organizing principle. Interesting conversations make loops. They tangle. They soar. They sag. They connect to other conversations.
But the web has so far been dominated by time as an organizing principle, new at the top and old at the bottom (or vice versa), and this is one the most-repeated complaints people have about it. The web favors the new, the hot, the immediate. But we're dealing with a medium than can also handle space, or at least the perception of space. We need not be bound to lists and outlines, we need not plod along in chronological order. We could be looking at conversations as terrains, as topographies.
The electronic word finds itself in an increasingly social context. We need to design a better way to capture this - something that gives the sense of the whole (the big picture), but allows one to dive directly into the details. This would be a great challenge to drop into a design class. Warren Sack developed a "conversation map" for news groups in the late 90s. From what I can tell, it's a little overwhelming. I'm talking about something that draws people right in and gets them talking. Let's look around.
Posted by ben vershbow at 02:09 PM | Comments (4)
tags: Online , blog , blogging , blogs , comment , comments , content , conversation , design , design_curmudgeonry , dialogue , display , drupal , flow , graphical , graphics , infoviz , internet , layout , metadata , movable_type , platform , publishing , software , space , time , visualization , viz , web
Though a substantial portion of our reading now takes place online, we still chafe against the electronic page, in part because today's screens are hostile to the eye, but also, I think, because we are waiting for something new - something beyond a shallow mimicry of print. Occasionally, however, you come across something that suggests a new possibility for what a page, or series of pages, can be when words move to the screen.
I came across such a thing today on CNET's new site, which has a feature called "The Big Picture," a dynamic graphical display that places articles at the center of a constellation, drawing connections to related pieces, themes, and company profiles.
Click on another document in the cluster and the items re-arrange around a new center, and so on - ontologies are traced. But CNET's feature does not go terribly far in illuminating the connections, or rather the different kinds of connections, between articles and ideas. They should consider degrees of relevance, proximity in time, or overlaps in classification. Combined with a tagging system, this could get interesting. As it stands, it doesn't do much that a simple bullet list of related articles can't already do admirably, albeit with fewer bells and whistles.
But this is pushing in an interesting direction, testing ways in which a web publication can organize and weave together content, shedding certain holdovers from print that are no longer useful in digital space. CNET should keep playing with this idea of an article ontology viewer - it could be refined into a legitimately useful tool.
Posted by ben vershbow at 07:26 PM | Comments (1)
tags: CNET , Online , browser , cluster , constellation , design , folksonomy , infoviz , internet , layout , magazine , news , newspaper , ontology , page , print , publishing , tagging , tags , visualization , viz , web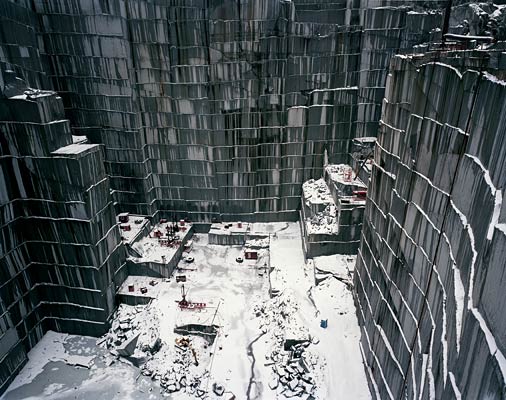 Slate is trying something new with its art criticism: a new "gallery" feature where each month an important artist will be discussed alongside a rich media presentation of their work.
...we're hoping to emphasize exciting new video and digital art—the kind of art that is hard to reproduce in print magazines.
For their first subject, they don't push the print envelope terribly far (just a simple slideshow), but they do draw attention to some stunning work by Canadian photographer Edward Burtynsky, who (happily for us New Yorkers) has shows coming this week to the Brooklyn Museum and the Charles Cowles Gallery in Manhattan. Burtynsky documents landscapes bearing the mark of extreme human exploitation - the infernal streams flowing from nickel mines, junked ocean liners rusting in chunks on the beach, abandoned quarries ripe with algae in their cubic trenches, and an arresting series from recent travels through China's industrial belt.
These photographs carry startling information through the image-surplussed web. But Burtynsky disappoints in one vital, perhaps deciding, respect:
...his position on the moral and political implications of his work is studiously neutral. He doesn't point fingers or call for change; instead, he accepts industry's exploitation of the land as the inevitable result of modern progress. "We have extracted from the land from the moment we stood on two feet," he said in an interview in the exhibition catalog. "The entire 20th century has been a revving up of this large consumptive engine. It's not a question of whether we are going to stop consuming. It's not going to happen…"
As someone who believes that struggling to prevent (or at least mitigate) global ecological disaster should be the transcending narrative of our times, I find Burtynsky's detachment deeply depressing and self-defeating. His images glory in the sick beauty of these ravaged scenes, and the cultural consumers that will no doubt pay large sums for these photographs at his upcoming Chelsea show only compound the cynicism.
Posted by ben vershbow at 07:19 AM | Comments (1)
tags: Burtynsky , Online , art , beautiful , brooklyn , china , crit , criticism , environment , exhibit , gallery , images , internet , journalism , magazine , museum , new_york , nickel , photo , photography , quarry , slate , web
Whatever one's hesitations concerning the accuracy and reliability of Wikipedia, one has to admire their panache. Wikipedia applies the de-bugging ethic of programming to the production of knowledge, and this page is a wonderful cultural document - biting the collective thumb at print snobbism.

(CNET blogs)
Posted by ben vershbow at 11:12 AM | Comments (0)
tags: Online , britannica , bugs , coding , collaborative , debugging , encylopedia , internet , programming , web , wiki , wikipedia
lately i've been thinking about how the institute for the future of the book should be experimental in form as well as content - an organization whose work, when appropriate, is carried out in real time in a relatively public forum. one of the key themes of our first year has been the way a network adds value to an enterprise, whether that be a thought experiment, an attempt to create a collective memory, a curated archive of best practices, or a blog that gathers and processes the world around it. i sense we are feeling our way to new methods of organizing work and distributing the results, and i want to figure out ways to make that aspect of our effort more transparent, more available to the world. this probably calls for a reevaluation of (or a re-acquaintance with) our idea of what an institute actually is, or should be.
the university-based institute arose in the age of print. scholars gathering together to make headway in a particular area of inquiry wrote papers, edited journals, held symposia and printed books of the proceedings. if books are what humans have used to move big ideas around, institutes arose to focus attention on particular big ideas and to distribute the result of that attention, mostly via print. now, as the medium shifts from printed page to networked screen, the organization and methods of "institutes" will change as well.
how they will change is what we hope to find out, and in some small way, influence. so over the next year or so we'll be trying out a variety of different approaches to presenting our work, and new ways of facilitating debate and discussion. hopefully, we'll draw some of you in along the way.
here's a first try. we've decided (see thinking out loud) to initiate a weekly discussion at the institute where we read a book (or article or....) and then have a no-holds discussion about it -- hoping to at least begin to understand some of the first order questions about what we are doing and how it fits into our perspectives on society. mostly we're hoping to get to a place where we are regularly asking these questions in our work (whether designing software, studying the web, holding a symposium, or encouraging new publishing projects), measuring technological developments against a sense of what kind of society we'd like to live in and how a particular technology might help or hinder our getting there.
the first discussion is focused on neil postman's "Building a Bridge to the 18th Century." following is the audio we recorded broken into annotated chapters. we would be interested in getting people's feedback on both form and content. (jump to the discussion)
Posted by bob stein at 05:36 PM | Comments (1)
tags: Online , Thought Experiments , book , books , culture , digital , ebook , future , ideas , institute , literature , politics , publishing , reading , society , technology , web
"Times Company Announces 500 Job Cuts"
"Philly Newspapers Announce 100 Job Cuts"
From an internal email sent by Bill Keller (NY Times Executive Editor) breaking the bad news (leaked to Gawker):
I won't pretend that it will be painless. Between the buyouts earlier this summer and the demands placed on us by the IHT and the Website ­- not to mention the heroic commitment we've made to covering the aftermath of Katrina ­ we don't have a lot of slack. Like the rest of you, I found the recent spate of retirement parties more saddening than celebratory, both for the obvious personal reasons and because they represented a sapping of our collective wisdom and experience. Throughout these lean years you have worked your hearts out to perform our daily miracle, and I wish I could tell you relief was in sight.
Bob Cauthorn comments on Rebuilding Media about newspapers on the precipice:
The pro-industry spin will talk about combining web-site and print readers, which is disingenuous in exactly 1,465 ways. For example, does someone from Islamabad dipping in for one story on your web site have equal value as a seven-day-a- week local print subscriber?...

...The notion of platform shift -- people moving from print to web just, you know, because -- is a comfort to the media establishment as it suggests people still really, really, really love their product, they're just selecting a different distribution mechanism.

Nonsense. The platform shift doctrine is a dangerous -- and for some media companies, ultimately fatal -- illusion that blinds the industry to necessary changes in the core product. Platform shift is the argument for the status quo: We don't have to do anything different.
Speaking of not doing anything different, the Wall Street Journal ran this story about magazines experimenting with "digital editions": "electronic versions of their publications that replicate every page of the print edition down to the table of contents and the ads."
Cauthorn goes on about possibly breathing new life into print:
If newspapers fix their print products circulation will grow -- change format, revive local coverage, alter the hierarchical approach to the news, open the ears of the newsrooms and get reporters back on the street where they belong. If you want to get really daring, re-imagine print newspapers as a three-day a week product rather than as a seven-day a week product.

As a practical matter, print newspapers only make money three days a week anyway. Imagine the interplay between a seven day a week digital product and a densely focused (and wildly profitable) three-day a week print product. Each doing different things. Each serving readers and advertisers in different ways.
The Guardian has just totally revamped its print identity, abandoning the broadsheet for the more petite Berliner format and adopting a slicker style. It'll be worth watching whether this catches on. New packaging might make newspapers cuter, but not necessarily better.
Posted by ben vershbow at 04:32 PM | Comments (0)
tags: NYTimes , Online , Publishing, Broadcast, and the Press , billkeller , digital , interent , journalism , knightridder , magazine , media , news , newspaper , newyorktimes , paperless , philadelphia , press , print , publishing , web
Interesting edition of Open Source last week on "Google Sociology" with David Weinberger and John Battelle, author of the just-published "The Search: How Google and Its Rivals Rewrote the Rules of Business and Transformed Our Culture". Listen here.
Weinberger has some interesting things to say about Google (and the other search engines) as "publishers." I have some thoughts on that too. More to come later.
Battelle has done a great deal of thinking on search from a variety of angles: the technology of search, the economics of search, and the more esoteric dimensions of a "search" culture. He touches briefly on this last point, laying out a construct that is probably treated more extensively in his book: the "database of intentions." By this he means the archive, or "artifact," of the world's search queries. A picture of the collective consciousness formed by the questions everyone is asking. Even now, when logged in to Google, a history of all your search query strings is kept - your own database of intentions. The potential value of this database is still being determined, but obvious uses are targeted advertising, and more relevant search results based on analysis of search histories.
As regards the collective database of intentions, Battelle speculates that future advances in artificial intelligence will likely draw on this enormous crop of information about how humans think and seek.
Posted by ben vershbow at 11:16 AM | Comments (0)
tags: Libraries, Search and the Web , Online , algorithm , audio , battelle , database , google , internet , listen , opensource , podcast , radio , radioopensource , search , searchengine , web , weinberger
uh oh 09.12.2005, 6:13 PM
It's really happening. Next Monday, The New York Times will inaugurate its "Times Select" subscription service. NYTimes.com will remain free, with much of the usual content still available (including multimedia), but op-eds and columnists will be pay-only. Oh well, the Washington Post opinion page is better anyway. The 100-article-per-month archive access is slightly tempting though.
The Times is betting that significant numbers of readers will shell out, just like they do for a premium channel on cable. Can the Times be the HBO of web news? Casual reader poll: who's thinking of paying?
(link: Letter From the Editor explaining the new service to readers)
Posted by ben vershbow at 06:13 PM | Comments (2)
tags: HBO , NYTimes , Online , Publishing, Broadcast, and the Press , internet , journalism , media , news , newspaper , newyork , newyorktimes , subscription , times , timesselect , web
Yahoo! has enlisted tele-journalist and blogger Kevin Sites to produce a one-year web program chronicling the world's conflict zones in multimedia format.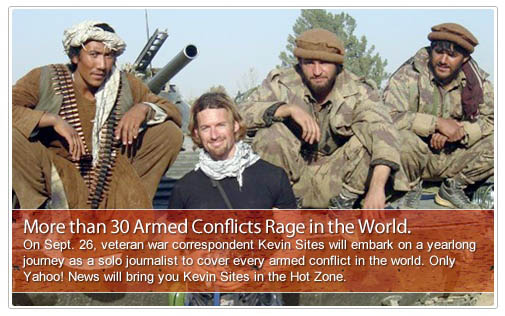 Sites has become known for his jaunts as a "solo journalist," trundling from hot spot to hot spot with a backpack full of gadgetry, beaming reports from his one-man broadcast station. It's a formula that is tailor-made for the web. Clearly, Yahoo! was paying attention. The NY Times reports on "Kevin Sites In the Hot Zone":
As he travels to these places, Mr. Sites will write a 600- to 800-word dispatch each day and produce a slide show of 5 to 10 digital photographs. He will also narrate audio travelogues. There will be several forms of video - relatively unedited footage posted several times a week, and once a week, a more traditional video report, edited in the style of a network news broadcast.

Mr. Sites will also be the host of regular online chats with Yahoo users who will be able to post comments on message boards. And he will post quick text messages on the site updating his activities throughout the day.
Counting on war and carnage as a surefire crowd draw, Yahoo! makes a rather tawdry entrance into independent journalism. But this is a very significant move nonetheless, evidence that Yahoo! is evolving into a full-fledged media company, and suggesting that the one-man-band approach to journalism and webcast might become a regular thing. If the Sites show finds an audience, they should try out serious investigative reporting or medium-length documentary.
Posted by ben vershbow at 10:36 AM | Comments (0)
tags: Online , Publishing, Broadcast, and the Press , blogger , blogging , broadcast , conflict , hotzone , internet , journalism , kevinsites , media , news , reporter , search , sites , war , web , yahoo , yahoo!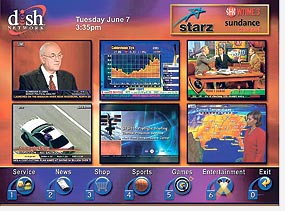 Several new "interactive television" services are soon to arrive that offer "mosaic" views of multiple channels, drawing TV ever nearer to full adoption of the browser, windows, and aggregator paradigms of the web (more in WSJ). It seems that once television is sufficiently like the web, it will simply be the web, or one province thereof.
Posted by ben vershbow at 02:20 PM | Comments (0)
tags: Online , Publishing, Broadcast, and the Press , TV , Transliteracies , aggregator , broadcast , browser , cable , interactive , media , network , ondemand , technology , television , video , web , windows