Listing entries tagged with newspaper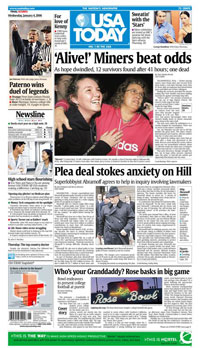 I picked up The New York Times from outside my door this morning knowing that the lead headline was going to be wrong. I still read the print paper every morning – I do read the electronic version, but I find that my reading there tends to be more self-selecting than I'd like it to be – but lately I find myself checking the Web before settling down to the paper and a cup of coffee. On the Web, I'd already seen the predictable gloating and hand-wringing in evidence there. Because of some communication mixup, the papers went to press with the information that the trapped West Virginia coal miners were mostly alive; a few hours later it turned out that they were, in fact, mostly dead. A scrutiny of the front pages of the New York dailies at the bodega this morning revealed that just about all had the wrong news – only Hoy, a Spanish-language daily didn't have the story, presumably because it went to press a bit earlier. At right is the front page of today's USA Today, the nation's most popular newspaper; click on the thumbnail for a more legible version. See also the gallery at their "newseum". (Note that this link won't show today's papers tomorrow – my apologies, readers of the future, there doesn't seem to be anything that can be done for you, copyright and all that.)
At left is another front page of a newspaper, The New York Times from April 20, 1950 (again, click to see a legible version). I found it last night at the start of Marshall McLuhan's The Mechanical Bride: Folklore of Industrial Man. Published in 1951, The Mechanical Bride is one of McLuhan's earliest works; in it, he primarily looks at the then-current world of print advertising, starting with the front page shown here. To my jaundiced eye, most of the book hasn't stood up that well; while it was undoubtedly very interesting at the time – being one of the first attempts to seriously deal with how people interact with advertisements from a critical perspective – fifty years, and billions and billions of advertisements later, it doesn't stand up as well as, say, Judith Williamson's Decoding Advertisements manages to. But bits of it are still interesting: McLuhan presents this front page to talk about how Stephane Mallarmé and the Symbolists found the newspaper to be the modern symbol of their day, with the different stories all jostling each other for prominence on the page.
But you don't – at least, I don't – immediately see that when you look at the front page that McLuhan exhibits. This was presumably an extremely ordinary front page when he was exhibiting it, just as the USA Today up top might be representative today. Looked at today, though, it's something else entirely, especially when you what newspapers look like now. You can notice this even in my thumbnails: when both papers are normalized to 200 pixels wide, you can't read anything in the old one, besides that it says "The New York Times" as the top, whereas you can make out the headlines to four stories in the USA Today. Newspapers have changed, not just from black & white to color, but in the way the present text and images. In the old paper there are only two photos, headshots of white men in the news – one a politician who's just given a speech, the other a doctor who's had his license revoked. The USA Today has perhaps an analogue to that photo in Jack Abramoff's perp walk; it also has five other photos, one of the miners' deluded family members (along with Abramoff, the only news photos), two sports-related photos – one of which seems to be stock footage of the Rose Bowl sign, a photo advertising television coverage inside, and a photo of two students for a human interest story. This being the USA Today, there's also a silly graph in the bottom left; the green strip across the bottom is an ad. Photos and graphics take up more than a third of the front page of today's paper.
What's overwhelming to me about the old Times cover is how much text there is. This was not a newspaper that was meant to be read at a glance – as you can do with the thumbnail of the USA Today. If you look at the Times more closely it looks like everything on the front page is serious news. You could make an argument here about the decline of journalism, but I'm not that interested in that. More interesting is how visual print culture has become. Technology has enabled this – a reasonably intelligent high-schooler could, I think, create a layout like the USA Today. But having this possibility available would also seem to have had an impact on the content – and whether McLuhan would have predicted that, I can't say.
Posted by dan visel at 11:21 AM | Comments (0)
tags: Publishing, Broadcast, and the Press , culture , design , design_curmudgeonry , layout , mcluhan , news , newspaper
Online news is now fair game for all fourteen journalism categories of the Pulitzer Prize (previously only the Public Service category accepted online entries). However, online portions of prize submissions must be text-based, and the only web-exclusive content accepted will be in the breaking news reporting and breaking news photography categories.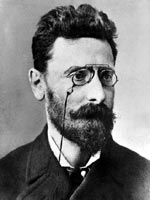 But this presumably opens the door to some Katrina-related Pulitzers this April. I would put my bets on nola.com, the New Orleans Times-Picayune site that kept reports flying online throughout the hurricane.
Of course, the significance of this is mainly symbolic. When the super-prestigious Pulitzer (that's him to the right) starts to re-align its operations, you know there are bigger plate tectonics at work. This would seem to herald an eventual embrace of blogs, most obviously in the areas of commentary, beat reporting, community service, and explanatory reporting (though investigative reporting may not be far off). The committee would do well to consider adding a "news analysis" category for all the fantastic websites, many of them blogs, that help readers make sense of the news and act as a collective watchdog for the press.
Also, while the Pulitzer changes evince a clear preference for the written word, it seems inevitable that inter-media journalism will continue to gain in both quality and legitimacy. We'll probably look back on all the Katrina coverage as the watershed moment. Newspapers (some of them anyway) will figure out that to stay relevant, and distinctive enough not to be pulled apart by aggregators like Google or Yahoo news search, they will have to weave a richer tapestry of traditional reporting, commentary, features, and rich multimedia: a unique window to the world.
Nola.com didn't just provide good, constant coverage, it saved lives. It was an indispensible, unique portal that could not be matched by any aggregator (though harnessing the power of aggregation is part of what made it successful). The crisis of the hurricane put in relief what could be a more everyday strategy for newspapers. The NY Times currently is experimenting with this, developing a range of multimedia features and cordoning off premium content behind its Select pay wall. While I don't think they've yet figured out the right combination of premium content to attract large numbers of paying web subscribers, their efforts shouldn't necessarily be dismissed.
Discussions on the future of the news industry usually center around business models and the problem of solvency with a web-based model. These questions are by no means trivial, but what they tend to leave out is how the evolving forms of journalism might affect what readers consider valuable. And value is, after all, what you can charge for. It's fatalistic to assume that the web's entropic power will just continue to wear down news institutions until they vanish. The tendency on the web toward fragmentation is indeed strong, but I wouldn't underestimate the attraction of a quality product.
A couple of years ago, file sharing seemed to spell doom for the music industry, but today online music retailers are outselling most physical stores. Perhaps there is a way for news as well, but the news will have to change. Dan Gillmor is someone who has understood this for quite some time, and I quote from a rather prescient opinion piece he wrote back in 1997 when the Pulitzers were just beginning to wonder what to do about all this new media (this came up today on the Poynter Online-News list):
When we take journalism into the digital realm, media distinctions lose their meaning. My newspaper is creating multimedia journalism, including video reports, for our Web site. We strongly believe that the online component of our work augments what we sometimes call the "dead-tree" edition, the newspaper itself. Meanwhile, CNN is running text articles on its Web site, adding context to video reports.

So you have to ask a simple question or two: Online, what's a newspaper? What's a broadcaster?

Suppose CNN posts a particularly fine video report on its Web site, augmented by old-fashioned text and graphics. If the Pulitzer Prizes are o pen to online content, the CNN report should be just as valid an entry as, say, a newspaper series posted online and augmented with video.

And what about the occasionally exceptional journalism we're seeing from Web sites (or on CD-ROMs) produced by magazines, newsletters, online-only companies or even self-appointed gadflies? Corporate propaganda obviously will fail the Pulitzer test, but is a Microsoft-sponsored expose of venality by a competitor automatically invalid when it's posted on the Microsoft Network news site or MSNBC? Drawing these lines will take serious wisdom, unless the Pulitzer people decide simply to ignore trends and keep the prizes the way they are, in which case the awards will become quaint - or worse, irrelevant.
I'm also intrigued by another change made by the Pulitzer committee (from the A.P.):
In a separate change, the upcoming Pulitzer guidelines for the feature writing category will give ''prime consideration to quality of writing, originality and concision.'' The previous guidelines gave ''prime consideration to high literary quality and originality.''
Drop the "literary" and add "concision." A move to brevity and a more colloquial character are already greatly in evidence in the blogosphere and it's beginning to feed back into the establishment press. Employing once again the trusty old Pulitzer as barometer, this suggests that that most basic of journalistic forms -- "the story" -- is changing.
Posted by ben vershbow at 04:45 PM | Comments (0)
tags: Publishing, Broadcast, and the Press , aggregation , journalism , katrina , media , multimedia , news , newspaper , pulitzer
Knight Ridder Inc., the second largest newspaper conglomerate in the U.S., is under intense pressure from its more powerful investors to start selling off papers. The New York Times reports that the company is now contemplating "strategic alternatives." Consider the following in terms of what Bob is saying one post down about time. With the rise of the 24-hour news cycle and the internet, news is adopting a different time signature.
It is unclear who may want to buy Knight Ridder. Newspaper companies, though still immensely profitable, have a murky future that is clouded by a shrinking readership and weak advertising revenue, both of which are being leeched away by the Internet.

...In the six moths that ended in September, newspaper circulation nationally fell 2.6 percent daily and 3.1 percent on Sundays, the biggest decline in any comparable period since 1991, according to the Audit Bureau of Circulations. All in all, 45.2 million people subscribed to 1,457 reporting papers, down from a peak of 63.3 million people and 1,688 newspapers in 1984.

By comparison, 47 million people visited newspaper Web sites, about a third of United States Internet users, according to the circulation bureau.
The time it takes to read the newspaper in print -- a massive quilt, chopped up and parceled (I believe Gary Frost said something about this) -- you might say it leads to a different sort of understanding of the world around you. It seems to me that the newspapers that will last longest in print are the Sunday editions, aimed at a leisurely audience, taking stock of the week that has just ended and preparing for the one about to commence. On Sundays, the world spreads out before you in print, and perhaps you make a point of taking some time away from the computer (at least, this might be the case for hybrid monkeys like me who are more or less at home with both print and digital). The briskness of discourse on the web and in popular culture does not afford the time to engage with big ideas. Bob talks, not without irony, about "tithing to the church of big ideas." Set aside the time to engage with world-changing ideas, willfully turn away from the screen.
The persistence of the Sunday print edition, if it comes to pass, might in some way reflect this kind of tithing, this intentional slowing down.
Posted by ben vershbow at 04:18 PM | Comments (1)
tags: Mediated Existence , Online , Publishing, Broadcast, and the Press , Transliteracies , internet , journalism , knight_ridder , media , news , newspaper , sunday , web
These figures (scroll down) aren't pretty, but keep in mind that they convey more than a simple flight of readership. Part of it is a conscious decision by newspapers to cut out costly promotional efforts and to re-focus on core circulation. But the overall trend, and the fact that the core is likely to shrink as it grows older, can't be denied.
Things could change very suddenly if investors in the big newspaper conglomerates start demanding the sale or outright dismantling of print operations. The Los Angeles Times reported yesterday of pressure building at Knight Ridder Inc., where the more powerful shareholders, dismayed with the continued tumbling of stock values, seem to be urging things toward a reckoning, some even welcoming the idea of a hostile takeover. The Times: "...if shareholders force the sale or the dismantling of Knight Ridder, few in the newspaper industry expect the revolt to stop there."
The pre-Baby Boom generation typically subscribed to several newspapers, something that changed when the Boomers came of age. While competition with the web may be a major factor in recent upheavals, there are generational tectonics at work as well, habits formed long ago that are only now expressing themselves in the marketplace. Even if newspapers start to phase out print and focus entirely on the web, the erosion is likely to continue. It's not just the distribution model that changes, but the whole conceptual framework.
Ray, who just joined us here at the institute, was talking today about how online social networks are totally changing the way the younger generation gets its news. It's much more about the network of friends, the circulation of news from diverse sources through the collective filter, and not about your trusted daily paper. So the whole idea of a centralized news organization is shifting and perhaps dissolving.
From the L.A. Times:
Average weekday circulation of the nation's 20 biggest newspapers for the six-month period ended Sept. 30 and percentage change from a year earlier:
1. USA Today, 2,296,335, down 0.59%
2. Wall Street Journal, 2,083,660, down 1.1%
3. New York Times, 1,126,190, up 0.46%
4. Los Angeles Times, 843,432, down 3.79%
5. New York Daily News, 688,584, down 3.7%
6. Washington Post, 678,779, down 4.09%
7. New York Post, 662,681, down 1.74%
8. Chicago Tribune, 586,122, down 2.47%
9. Houston Chronicle, 521,419, down 6.01%*
10. Boston Globe, 414,225, down 8.25%
11. Arizona Republic, 411,043, down 0.54%*
12. Star-Ledger of Newark, N.J., 400,092, up 0.01%
13. San Francisco Chronicle, 391,681, down 16.4%*
14. Star Tribune of Minneapolis-St. Paul, 374,528, down 0.26%
15. Atlanta Journal-Constitution, 362,426, down 8.73%
16. Philadelphia Inquirer, 357,679, down 3.16%
17. Detroit Free Press, 341,248, down 2.18%
18. Plain Dealer, Cleveland, 339,055, down 4.46%
19. Oregonian, Portland, 333,515, down 1.24%
20. San Diego Union-Tribune, 314,279, down 6.24%
Posted by ben vershbow at 03:32 PM | Comments (1)
tags: Publishing, Broadcast, and the Press , Transliteracies , journalism , knight_ridder , media , news , newspaper , print
Discussions about the future of newspapers often allude to a moment in the Steven Spielberg film "Minority Report," set in the year 2054, in which a commuter on the train is reading something that looks like a paper copy of USA Today, but which seems to be automatically updating and rearranging its contents like a web page. This is a comforting vision for the newspaper business: reassigning the un-bottled genie of the internet to the familiar commodity of the broadsheet. But as with most science fiction, the fallacy lies in the projection of our contemporary selves into an imagined future, when in fact people and the way they read may have very much changed by the year 2054.
Being a newspaper is no fun these days. The demand for news is undiminished, but online readers (most of us now) feel entitled to a free supply. Print circulation numbers continue to plummet, while the cost of newsprint steadily rises -- it hovers right now at about $625 per metric ton (according to The Washington Post, a national U.S. paper can go through around 200,000 tons in a year).
Staffs are being cut, hiring freezes put into effect. Some newspapers (The Guardian in Britain and soon the Wall Street Journal) are changing the look and reducing the size of their print product to lure readers and cut costs. But given the rather grim forecast, some papers are beginning to ponder how other technologies might help them survive.
Last week, David Carr wrote in the Times about "an ipod for text" as a possible savior -- a popular, portable device that would reinforce the idea of the newspaper as something you have in your hand, that you take with you, thereby rationalizing a new kind of subscription delivery. This weekend, the Washington Post hinted at what that device might actually be: a flexible, paper-like screen using "e-ink" technology.
An e-ink display is essentially a laminated sheet containing a thin layer of fluid sandwiched between positive and negative electrodes. Tiny capsules of black and white pigment float in between and arrange themselves into images and text through variance in the charge (the black are negatively charged and the white positively charged). Since the display is not light-based (like the electronic screens we use today), it has an appearance closer to paper. It can be read in bright sunlight, and requires virtually no power to maintain an image.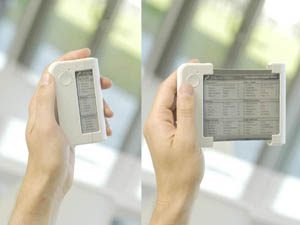 Frank Ahrens, who wrote the Post piece, held a public online chat with Russ Wilcox, the chief exec of E Ink Corp. Wilcox predicts that large e-ink screens will be available within a year or two, opening the door for newspapers to develop an electronic product that combines web and broadsheet. Even offering the screens to subscribers for free, he calculates, would be more cost-efficient than the current paper delivery system.
A number of major newspaper conglomerates -- including The Hearst Corporation, Gannett Co. (publisher of USA Today), TOPPAN Printing Company of Japan, and France's Vivendi Universal Publishing -- are interested enough in the potential of e-ink that they have become investors.
But maybe it won't be the storied old broadsheet that people crave. A little over a month ago at a trade show in Berlin, Philips Polymer Vision presented a prototype of its new "Readius" -- a device about the size of a mobile phone with a roll-out e-ink screen. This, too, could be available soon. Like it or not, it might make more sense to watch what's developing with cell phones to get a hint of the future.
But even if electronic paper catches on -- and it seems likely that it, or something similar, will -- I wouldn't count on it to solve the problems of the print news industry. It's often tempting to think of new technologies that fundamentally change the way we operate as simply a matter of pouring old wine into new bottles. But electronic paper will be a technology for delivering the web, or even internet television -- not individual newspapers. So then how do we preserve (or transfer) all that is good about print media, about institutions like the Times and the Post, assuming that their prospects continue to worsen? The answer to that, at least for now, is written in invisible ink.
Posted by ben vershbow at 08:47 AM | Comments (2)
tags: Online , Publishing, Broadcast, and the Press , The Ideal Device? , book , books , computer , e-ink , ebook , eink , gadget , gadgets , interactive , internet , ipod , journalism , media , media_consumption , newspaper , paper , print , publishing , reading , readius , spielberg , technology , web
it looks like one hundred years from now history may record that 2005 was the year that big (news) media gave way to the individual voice. the intersection of the ny times/judy miller debacle with the increasing influence of the blogosphere has made us conscious of the major change taking place -- RIGHT NOW.
congressman john conyers wrote today that "I find I learn more reading Arianna, Murray Waas and Lawrence O'Donnell than the New York Times or Washington Post."
wow!
Posted by bob stein at 06:50 PM | Comments (1)
tags: 2005 , Blogosphere , NYTimes , Publishing, Broadcast, and the Press , blog , blogging , blogs , huffington , huffington_post , journalism , judith_miller , media , msm , new_york_times , news , newspaper , social_software
these thoughts came immediately after reading the NY Times' sad attempt to explain how the "newspaper of record" managed to lose its integrity.
1. looks to me as if the media (ny times) has become the news and the blogging community are functioning as the real journalists. can anyone reading this blog, who has been following the judith miller situation say they didn't go to the blogosphere today to get a decent handle on how to parse what the Times just did to "cover the Judith Miller" story.
2. i want a juan cole equivalent for the judy miller story; someone who specializes in the working of behind-the-scenes washington and who knows enough about law and history to put each day's events in perpective. at the very least i want someone to present me with the ten most useful accounts on the web so that i can triangulate the problem.
3. perhaps it would be a good thought experiment to try to come up with interesting ideas of how to organize references on the web to the judith miller situation. how would you present an overview of the references?
Posted by bob stein at 09:23 PM | Comments (3)
tags: Blogosphere , NYTimes , Publishing, Broadcast, and the Press , blog , blogging , blogs , bush , journalism , judith_miller , judithmiller , leak , media , new_york_times , newspaper , newyorktimes , plame , rove , valerie_plame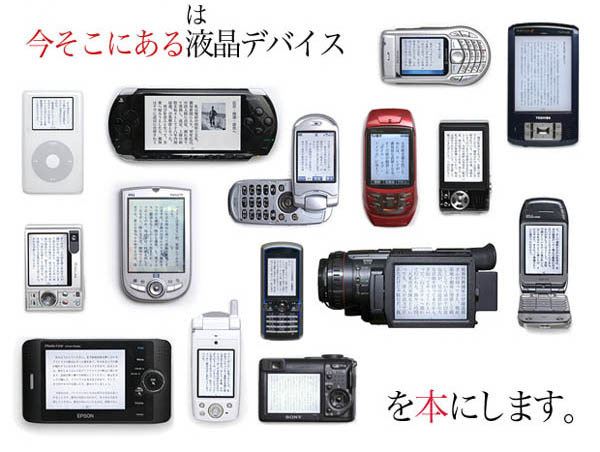 When I ride the subway, I see a mix of paper and plastic. Invariably several passengers are lost in their ipods (there must be a higher ipod-per-square-meter concentration in New York than anywhere else). One or two are playing a video game of some kind. Many just sit quietly with their thoughts. A few are conversing. More than a few are reading. The subway is enormously literate. A book, a magazine, The Times, The Post, The Daily News, AM New York, Metro, or just the ads that blanket the car interior. I may spend a lot of time online at home or at work, but on the subway, out in the city, paper is going strong.
Before long, they'll be watching television on the subway too, seeing as the latest ipod now plays video. But rewind to Monday, when David Carr wrote in the NY Times about another kind of ipod -- one that would totally change the way people read newspapers. He suggests that to bounce back from these troubled times (sagging print circulation, no reliable business model for their websites), newspapers need a new gadget to appear on the market: a light-weight, highly portable device, easy on the eyes, easy on the batteries, that uploads articles from the web so you can read them anywhere. An ipod for text.
This raises an important question: is it all just a matter of the reading device? Once there are sufficient advances in display technology, and a hot new gadget to incorporate them, will we see a rapid, decisive shift away from paper toward portable electronic text, just as we have witnessed a widespread migration to digital music and digital photography? Carr points to a recent study that found that in every age bracket below 65, a majority of reading is already now done online. This is mostly desktop reading, stationary reading. But if the greater part of the population is already sold on web-based reading, perhaps it's not too techno-deterministic to suppose that an ipod-like device would in fact bring sweeping change for portable reading, at least periodicals.
But the thing is, online reading is quite different from print reading. There's a lot of hopping around, a lot of digression. Any new hardware that would seek to tempt people to convert from paper would have to be able to surf the web. With mobile web, and wireless networks spreading, people would expect nothing less (even the new Sony PSP portable gaming device has a web browser). But is there a good way to read online text when you're offline? Should we be concerned with this? Until wi-fi is ubiquitous and we're online all the time (a frightening thought), the answer is yes.
We're talking about a device that you plug into your computer that automatically pulls articles from pre-selected sources, presumably via RSS feeds. This is more or less how podcasting works. But for this to have an appeal with text, it will have to go further. What if in addition to uploading new articles in your feed list, it also pulled every document that those articles linked to, so you could click through to referenced sites just as you would if you were online?
It would be a bounded hypertext system. You could do all the hopping around you like within the cosmos of that day's feeds, and not beyond -- you would have the feeling of the network without actually being hooked in. Text does not take up a lot of hard drive space, and with the way flash memory is advancing, building a device with this capacity would not be hard to achieve. Of course, uploading link upon link could lead down an infinite paper trail. So a limit could be imposed, say, a 15-step cap -- a limit that few are likely to brush up against.
So where does the money come in? If you want an ipod for text, you're going to need an itunes for text. The "portable, bounded hypertext RSS reader" (they'd have to come up with a catchier name --the tpod, or some such techno-cuteness) would be keyed in to a subscription service. It would not be publication-specific, because then you'd have to tediously sign up with dozens of sites, and no reasonable person would do this.
So newspapers, magazines, blogs, whoever, will sign licensing agreements with the tpod folks and get their corresponding slice of the profits based on the success of their feeds. There's a site called KeepMedia that is experimenting with such a model on the web, though not with any specific device in mind (and it only includes mainstream media, no blogs). That would be the next step. Premium papers like the Times or The Washington Post might become the HBOs and Showtimes of this text-ripping scheme -- pay a little extra and you get the entire electronic edition uploaded daily to your tpod.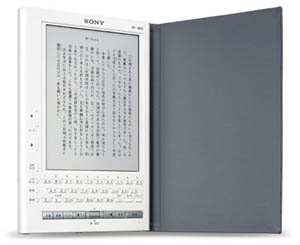 As for the device, well, the Sony Librie has had reasonable success in Japan and will soon be released in the States. The Librie is incredibly light and uses an "e-ink" display that is reflective like paper (i.e. it can be read in bright sunlight), and can run through 10,000 page views on four triple-A batteries.
The disadvantages: it's only black-and-white and has no internet connectivity. It also doesn't seem to be geared for pulling syndicated text. Bob brought one back from Japan. It's nice and light, and the e-ink screen is surprisingly sharp. But all in all, it's not quite there yet.
There's always the do-it-yourself approach. The Voyager Company in Japan has developed a program called T-Time (the image at the top is from their site) that helps you drag and drop text from the web into an elegant ebook format configureable for a wide range of mobile devices: phones, PDAs, ipods, handheld video games, camcorders, you name it. This demo (in Japanese, but you'll get the idea) demonstrates how it works.
Presumably, you would also read novels on your text pod. I personally would be loathe to give up paper here, unless it was a novel that had to be read electronically because it was multimedia, or networked, or something like that. But for syndicated text -- periodicals, serials, essays -- I can definitely see the appeal of this theoretical device. I think it's something people would use.
Posted by ben vershbow at 09:26 AM | Comments (2)
tags: Online , Publishing, Broadcast, and the Press , RSS , The Ideal Device? , apple , book , books , e-ink , e_ink , ebook , ebooks , gadget , internet , ipod , japan , journalism , librie , media , news , newspaper , paper , paperless , podcast , podcasting , print , publishing , reader , reading , sony , syndication , technology , web
Yahoo's revamped news search will present news and blogs side by side on the same page. In addition, the site will feature related images from Flickr, the social photo-sharing site that Yahoo purchased earlier this year, as well as user-contributed links from My Web (a feature that allows you to save and store web pages, and share them with others).
As before, the front news page will promote only stories from mainstream media sources, while the blog-news combo appears on a second-tier page that you arrive at when you conduct a specific search, or click for more details or more stories. No doubt, this was done, at least in part, to mollify angry news outlets who will likely call foul for making hard news share space with blogs. Still, the webscape has changed. All but the most cursory glance at the headlines will yield a richly confusing array of mainstream and grassroots sources.
(thoughtful analysis from Tim Porter)
Posted by ben vershbow at 10:19 AM | Comments (1)
tags: Publishing, Broadcast, and the Press , RSS , aggregation , blog , blogging , blogs , citizen_journalism , journalism , media , msm , news , newspaper , portal , search , syndication , yahoo , yahoo!
Google as big brother -- the paranoia certainly seems to be creeping into the mainstream. "Op-Art" by Randy Siegel from today's NY Times: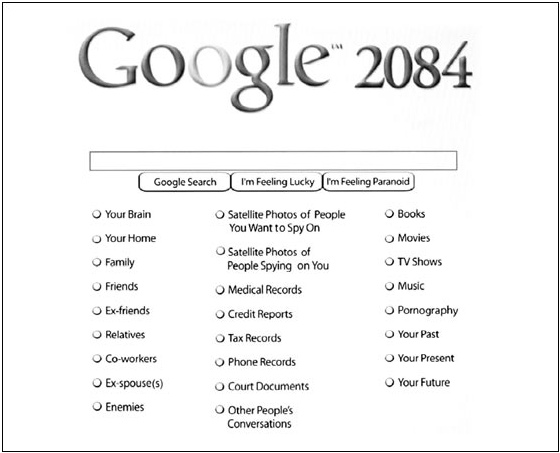 Posted by ben vershbow at 10:06 AM | Comments (0)
tags: 1984 , 2084 , Libraries, Search and the Web , NYTimes , Online , algorithm , art , cartoon , dystopia , editorial , google , information , internet , newspaper , orwell , paranoia , privacy , satire , search , technology , web
Though a substantial portion of our reading now takes place online, we still chafe against the electronic page, in part because today's screens are hostile to the eye, but also, I think, because we are waiting for something new - something beyond a shallow mimicry of print. Occasionally, however, you come across something that suggests a new possibility for what a page, or series of pages, can be when words move to the screen.
I came across such a thing today on CNET's new site, which has a feature called "The Big Picture," a dynamic graphical display that places articles at the center of a constellation, drawing connections to related pieces, themes, and company profiles.
Click on another document in the cluster and the items re-arrange around a new center, and so on - ontologies are traced. But CNET's feature does not go terribly far in illuminating the connections, or rather the different kinds of connections, between articles and ideas. They should consider degrees of relevance, proximity in time, or overlaps in classification. Combined with a tagging system, this could get interesting. As it stands, it doesn't do much that a simple bullet list of related articles can't already do admirably, albeit with fewer bells and whistles.
But this is pushing in an interesting direction, testing ways in which a web publication can organize and weave together content, shedding certain holdovers from print that are no longer useful in digital space. CNET should keep playing with this idea of an article ontology viewer - it could be refined into a legitimately useful tool.
Posted by ben vershbow at 07:26 PM | Comments (1)
tags: CNET , Online , browser , cluster , constellation , design , folksonomy , infoviz , internet , layout , magazine , news , newspaper , ontology , page , print , publishing , tagging , tags , visualization , viz , web
I just came across Common Times, a new community-generated news aggregation page, part of something called the Common Media Network, that takes the social bookmarking concept of del.icio.us and applies it specifically to news gathering. Anyone can add a story from any source to a series of sections (which seem pre-set and non-editable) arranged on a newspaper-style "front page." You add links through a bookmarklet on the links bar on your browser. Whenever you come across an article you'd like to submit, you just click the button and a page comes up where you can enter the metadata like tags and comments. Each user has a "channel" - basically a stripped-down blog - where all their links are displayed chronologically with an RSS feed, giving individuals a venue to show their chops as news curators and annotators. You can set it up so links are posted simultaneously to a del.icio.us account (there's also a Firefox extension that allows you to post stories directly from Bloglines).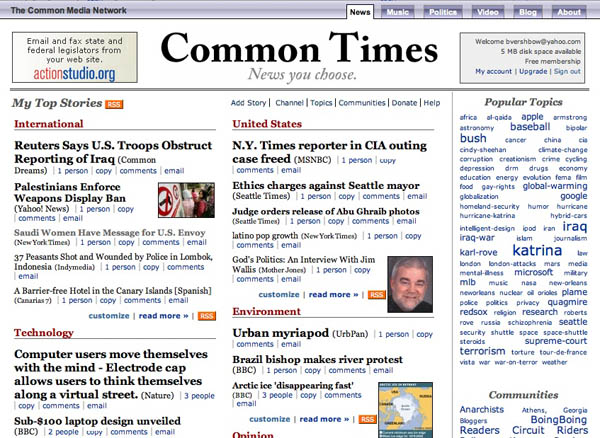 Human aggregation is often more interesting than what the Google News algorithm can turn up, but it can easily mould to the biases of the community. Of course, search algorithms are developed by people, and source lists don't just manufacture themselves (Google is notoriously tight-lipped about its list of news sources). In the case of something like Common Times, a slick new web application hyped on Boing Boing and other digital culture sites, the communities can be rather self-selecting. Still, this is a very interesting experiment in multi-player annotation. When I first arrived at the front page, not yet knowing how it all worked, I was impressed by the fairly broad spread of stories. And the tag cloud to the right is an interesting little snapshot of the zeitgeist.
(via Infocult)
Posted by ben vershbow at 03:40 PM | Comments (0)
tags: Publishing, Broadcast, and the Press , aggregator , algorithm , bibliography , blog , blogging , bookmarking , del.icio.us , delicious , folksonomy , google , journalism , media , news , newspaper , search , socialsoftware , tag , tagging , tags
Following Kevin Sites in the Hot Zone, Yahoo! takes another step in its transformation into original content provider (see Wall Street Journal - free). Though they say they have no intention of becoming a full-fledged news service.
Yahoo's move suggests increased specialization and atomization of news media on the web, as full-fledged news services find it increasingly hard to stay afloat (as the recent wave of staff cuts at major papers suggests). As newspapers agonize over how to make more money from their websites (e.g. Times Select), companies with diverse revenue bases (like the big search portals) will find it a lot easier to deliver the news. But it will be a stripped down service, heavy on features. Can the news media as public trust survive this process of atomization? Or was the idea of a public trust always a fairy tale?
Posted by ben vershbow at 11:45 AM | Comments (0)
tags: Publishing, Broadcast, and the Press , finance , financial , journalism , media , news , newspaper , portal , search , syndication , trust , writing , yahoo , yahoo!
You can't fault the Times for trying to find a new business model for the web, but they seem to be doing themselves more harm than good with Times Select. Jay Rosen has a terrific post on Press Think running through various reactions to the NY Times' new subscription service that charges $49.99 per year for access to columnists, archives, and exclusive interactive features. Rosen rightly notes that the Times has gotten the idea of exclusivity all wrong:
The phrase "exclusive online accesss" advertises two different goods. The first good is the work of the Times columnists themselves. The proposition that some will pay for that is hard to prove until you try, but it's simple to understand. The second good being advertised is exclusivity. You, the lucky TimesSelect subscriber, have access to these voices. Others do not. The value proposition there is muddled. If we prize up-to-date information about petroleum markets, we might value it more—and pay a premium—if the news is exclusively available to paying customers; but do we value Nicholas D. Kristof's column more if he's an "exclusive?"

We don't. In fact, it's probably the reverse. If everyone is reading a columnist, that makes the columnist more of a must have. If "everyone" isn't, less of a must. "Exclusive online access" attacks the perception of ubiquity that is part and parcel of a great columnist's power. In his prime Walter Lippmann was called "the name that opened every door." Nick Kristof's brand of human rights journalism, which depends on the mobilization of outrage, is simply less potent if it can't reach widely around the world, and pass by every door.
The Wall Street Journal is an exclusive paper, so offering it over the web as a pay subscription service actually increases its cachet. The Times is a different sort of paper - it has a general audience and is read the world over. Its ubiquity, its availability over the web, is part of its identity.
Moroever, the Times is seriously overvaluing its columnists, or worse, de-valuing them by placing them behind a pay wall. If I were Tierney, or Kristof or Dowd, I would be furious. It makes them look like preened show dogs when everyone else is duking it out in the commons for all to read. Seems like a one-way ticket to irrelevance. Plus, soon they're going to have to take part in all sorts of online chats and seminars with Select subscribers - I bet they'll really start to chafe then.
The archive access is certainly tempting, though over-priced. Still, that seems a better starting point for a paperless subscription model, though it's hard to imagine archives alone finding a mass paying audience.
Posted by ben vershbow at 05:49 PM | Comments (0)
tags: NYTimes , Publishing, Broadcast, and the Press , journalism , media , newspaper , newyorktimes , opinion , press , times_select , timesselect
"Mercury News plans to shrink newsroom by 52 jobs":
The newspaper whose newsroom topped 400 people at the height of the dot-com economic boom in Silicon Valley could not avoid downsizing to reflect a local economy that never recovered. But the larger problem...is that the stock market offers no slack to news organizations in less profitable years....

...Two weeks ago, the publicly traded Knight Ridder, the nation's second-largest newspaper chain, announced that earnings per share would fall 20%, which it attributed to higher paper costs and health insurance premiums.
Joseph A. Schumpeter, Capitalism, Socialism and Democracy:
The opening up of new markets, foreign or domestic, and the organizational development from the craft shop and factory to such concerns as U.S. Steel illustrate the same process of industrial mutation–if I may use that biological term–that incessantly revolutionizes the economic structure from within, incessantly destroying the old one, incessantly creating a new one. This process of Creative Destruction is the essential fact about capitalism. It is what capitalism consists in and what every capitalist concern has got to live in....

Every piece of business strategy acquires its true significance only against the background of that process and within the situation created by it. It must be seen in its role in the perennial gale of creative destruction; it cannot be understood irrespective of it or, in fact, on the hypothesis that there is a perennial lull....
Posted by ben vershbow at 11:34 AM | Comments (0)
tags: Publishing, Broadcast, and the Press , california , capitalism , culture , economy , journalism , journalist , knightridder , media , mercurynews , news , newspaper , newsroom , press , sanjose
"Times Company Announces 500 Job Cuts"
"Philly Newspapers Announce 100 Job Cuts"
From an internal email sent by Bill Keller (NY Times Executive Editor) breaking the bad news (leaked to Gawker):
I won't pretend that it will be painless. Between the buyouts earlier this summer and the demands placed on us by the IHT and the Website ­- not to mention the heroic commitment we've made to covering the aftermath of Katrina ­ we don't have a lot of slack. Like the rest of you, I found the recent spate of retirement parties more saddening than celebratory, both for the obvious personal reasons and because they represented a sapping of our collective wisdom and experience. Throughout these lean years you have worked your hearts out to perform our daily miracle, and I wish I could tell you relief was in sight.
Bob Cauthorn comments on Rebuilding Media about newspapers on the precipice:
The pro-industry spin will talk about combining web-site and print readers, which is disingenuous in exactly 1,465 ways. For example, does someone from Islamabad dipping in for one story on your web site have equal value as a seven-day-a- week local print subscriber?...

...The notion of platform shift -- people moving from print to web just, you know, because -- is a comfort to the media establishment as it suggests people still really, really, really love their product, they're just selecting a different distribution mechanism.

Nonsense. The platform shift doctrine is a dangerous -- and for some media companies, ultimately fatal -- illusion that blinds the industry to necessary changes in the core product. Platform shift is the argument for the status quo: We don't have to do anything different.
Speaking of not doing anything different, the Wall Street Journal ran this story about magazines experimenting with "digital editions": "electronic versions of their publications that replicate every page of the print edition down to the table of contents and the ads."
Cauthorn goes on about possibly breathing new life into print:
If newspapers fix their print products circulation will grow -- change format, revive local coverage, alter the hierarchical approach to the news, open the ears of the newsrooms and get reporters back on the street where they belong. If you want to get really daring, re-imagine print newspapers as a three-day a week product rather than as a seven-day a week product.

As a practical matter, print newspapers only make money three days a week anyway. Imagine the interplay between a seven day a week digital product and a densely focused (and wildly profitable) three-day a week print product. Each doing different things. Each serving readers and advertisers in different ways.
The Guardian has just totally revamped its print identity, abandoning the broadsheet for the more petite Berliner format and adopting a slicker style. It'll be worth watching whether this catches on. New packaging might make newspapers cuter, but not necessarily better.
Posted by ben vershbow at 04:32 PM | Comments (0)
tags: NYTimes , Online , Publishing, Broadcast, and the Press , billkeller , digital , interent , journalism , knightridder , magazine , media , news , newspaper , newyorktimes , paperless , philadelphia , press , print , publishing , web
uh oh 09.12.2005, 6:13 PM
It's really happening. Next Monday, The New York Times will inaugurate its "Times Select" subscription service. NYTimes.com will remain free, with much of the usual content still available (including multimedia), but op-eds and columnists will be pay-only. Oh well, the Washington Post opinion page is better anyway. The 100-article-per-month archive access is slightly tempting though.
The Times is betting that significant numbers of readers will shell out, just like they do for a premium channel on cable. Can the Times be the HBO of web news? Casual reader poll: who's thinking of paying?
(link: Letter From the Editor explaining the new service to readers)
Posted by ben vershbow at 06:13 PM | Comments (2)
tags: HBO , NYTimes , Online , Publishing, Broadcast, and the Press , internet , journalism , media , news , newspaper , newyork , newyorktimes , subscription , times , timesselect , web
Katrina blew through the news business just as furiously as it tore through the Gulf Coast. For a good discussion of this, I highly recommend last night's podcast of Open Source, a great new program on public radio that is of, by and through the web, generating story ideas and discussion on its blog. The show operates in an exciting border zone, dealing with general interest stories while always keeping an eye on the changing communication practices that are affecting/chanelling them. Last night's show - "Craigslist and Nola.com: Information as News" - deals with citizen coverage of Katrina and the big changes underfoot for professional journalism.
Host Christopher Lydon speaks, with the breathless excitement of a man watching his profession change before his eyes, about "changing terms of authority in the news business" after Hurricane Katrina. He has on as guests Craig Newmark of craigslist (New Orleans site), nola.com editor Jon Donley, and media critic/blogger/citizen journalism guru Jeff Jarvis. From the intro:
The best reporting in the world — no hyperbole, the best reporting in the world — this week came from the web division of the New Orleans Times Picayune, nola.com. Information — missing person reports, safe and alive person reports — became news. And it became a source, even, for rescue teams, more accurate than anything else they had to go on.

Craigslist, after Katrina, became a forum for finding the missing and housing the saved, and what you find on Craigslist are stories as compelling as anything on CNN. Maybe what communities want in a time of crisis is good information, and maybe detailed, accurate information makes the best story. Craig and Jeff helped invent two new ways of collecting and distributing information; Jon is perfecting it right now in the Crescent City.
Posted by ben vershbow at 05:57 PM | Comments (0) | TrackBack
tags: Publishing, Broadcast, and the Press , citizenjournalism , craigslist , hurricanekatrina , jarvis , jeffjarvis , joedonley , journalism , katrina , lydon , media , new , newmark , news , newspaper , nola , nola.com , opensource , orleans , podcast , publicradio , radio , radioopensource
An excellent essay in last month's Common-Place, "Blogging in the Early Republic" by W. Caleb McDaniel, examines the historical antecedents of the present blogging craze, looking not to the usual suspects - world shakers like Martin Luther and Thomas Paine - but to an obscure 19th century abolitionist named Henry Clarke Wright. Wright was a prolific writer and tireless lecturer on a variety of liberal causes. He was also "an inveterate journal keeper," filling over a hundred diaries through the course of his life. And on top of that, he was an avid reader, the diaries serving as a record of his voluminous consumption. McDaniel writes: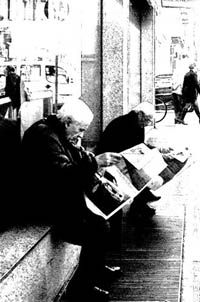 While private, the journals were also public. Wright mailed pages and even whole volumes to his friends or read them excerpts from the diaries, and many pages were later published in his numerous books. Thus, as his biographer Lewis Perry notes, in the case of Wright, "distinctions between private and public, between diaries and published writings, meant little."
Wright's journaling habit is interesting not for any noticeable impact it had on the politics or public discourse of his day; nor (at least for our purposes) for anything particularly memorable he may have written. Nor is it interesting for the fact that he was an active journal-keeper, since the practice was widespread in his time. Wright's case is worth revisiting because it is typical -- typical not just of his time, but of ours. It tells a strikingly familiar story: the story of a reader awash in a flood of information.
Wright, in his lifetime, experienced an incredible proliferation of printed materials, especially newspapers. The print revolution begun in Germany 400 years before had suddenly gone into overdrive.
The growth of the empire of newspapers had two related effects on the practices of American readers. First, the new surplus of print meant that there was more to read. Whereas readers in the colonial period had been intensive readers of selected texts like the Bible and devotional literature, by 1850 they were extensive readers, who could browse and choose from a staggering array of reading choices. Second, the shift from deference to democratization encouraged individual readers to indulge their own preferences for particular kinds of reading, preferences that were exploited and targeted by antebellum publishers. In short, readers had more printed materials to choose from, more freedom to choose, and more printed materials that were tailored to their choices.
Wright's journaling was his way of metabolizing this deluge of print, and his story draws attention to a key aspect of blogging that is often overshadowed by the more popular narrative - that of the latter-day pamphleteer, the lone political blogger chipping away at mainstream media hegemony. The fact is that most blogs are not political. The star pundits that have risen to prominence in recent years are by no means representative of the world's roughly 15 million bloggers. Yet there is one crucial characteristic that is shared by all of them - by the knitting bloggers, the dog bloggers, the macrobiotic cooking bloggers, along with the Instapundits and Daily Koses: they are all records of reading.
The blog provides a means of processing and selecting from an overwhelming abundance of written matter, and of publishing that record, with commentary, for anyone who cares to read it. In some cases, these "readings" become influential in themselves, and multiple readers engage in conversations across blogs. But treating blogging first as a reading practice, and second as its own genre of writing, political or otherwise, is useful in forming a more complete picture of this new/old phenomenon. To be sure, today's abundance makes the surge in 18th century printing look like a light sprinkle. But the fundamental problem for readers is no different. Fortunately, blogs provide us with that much more power to record and annotate our readings in a way that can be shared with others. We return to Bob's observation that something profound is happening to our media consumption patterns.
As McDaniel puts it:
...readers, in a culture of abundant reading material, regularly seek out other readers, either by becoming writers themselves or by sharing their records of reading with others. That process, of course, requires cultural conditions that value democratic rather than deferential ideals of authority. But to explain how new habits of reading and writing develop, those cultural conditions matter as much—perhaps more—than economic or technological innovations. As Tocqueville knew, the explosion of newspapers in America was not just a result of their cheapness or their means of production, any more than the explosion of blogging is just a result of the fact that free and user-friendly software like Blogger is available. Perhaps, instead, blogging is the literate person's new outlet for an old need. In Wright's words, it is the need "to see more of what is going on around me." And in print cultures where there is more to see, it takes reading, writing, and association in order to see more.
(image: "old men reading" by nobody, via Flickr)
Posted by ben vershbow at 02:11 PM | Comments (1)
tags: Publishing, Broadcast, and the Press , Transliteracies , article , blog , blogging , blogs , book , books , diary , ebook , essay , journal , journalism , media , newspaper , pamphleteer , paperless , print , reading , thomas_paine