Luther translated the Bible into German so that revelation could be received in the language of the common folk. A similar spirit seems to have moved the Bible Society of Australia, which just translated all 31,173 verses of the of the new and old testaments (Contemporary English Version) into SMS-style english -- the abbreviated patois of mobile phone text messaging. The idea is to enable parents, parishioners and everyday people to send each other bite-sized inspirational verses by phone.
A taste:
In da Bginnin God cre8d da heavens & da earth. Da earth waz barren, wit no 4m of life; it waz unda a roaring ocean cuvred wit dRkness. (Genesis, chapter 1, verses 1-2)

Wrk hard at wateva u do. U will soon go 2 da wrld of da dead, where no 1 wrks or thinks or reasons or knws NEting. (Ecclesiastes, chapter nine, verse 10)
Read more in the Sydney Morning Herald (via textually).
Posted by ben vershbow at 07:40 AM | Comments (0)
tags: Microlit , SMS , australia , bible , cell , cellular , christian , christianity , ebook , eliterature , gadget , luther , mobile , mobile_phone , phone , phoning , religion , revelation , sydney , testament , text_messaging , textmessage , txt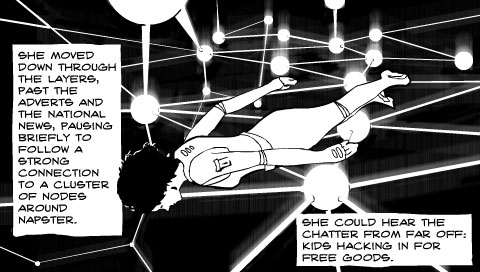 NYC2123 is a graphic novel conceived for the 480 by 272-pixel screen of the Play Station Portable video game device. It's a post-apocalyptic tale set in a future, tsunami-ravaged New York in which the city's wealthy have walled off the island of Manhattan against a violent river society of junkies, thieves and outlaw barges.
There are several sequences that read like a flip book, taking advantage of the single-frame interface and the fact that the reader has literally got his finger on the button. Quickly flipping through the panels creates a filmic effect, as here: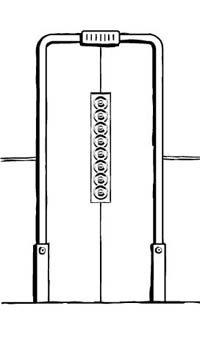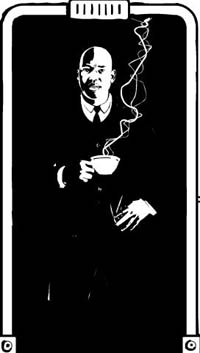 (Once again via Infocult - thanks Bryan)
Update: Someone has just developed a .pdf reader for the PSP.
Posted by ben vershbow at 05:05 PM | Comments (0)
tags: Games , Microlit , comic , comics , digital_literature , ebook , gaming , graphicnovel , manhattan , microcontent , newyork , nyc2123 , psp , reading
Harper Collins Australia's new MobileReader service beams information about new titles and authors, and even book excerpts, to a cellphone. They're beginning with promotions of Dean Koontz, Paul Coelho and others.
(via textually)
Posted by ben vershbow at 05:25 PM | Comments (0)
tags: Microlit , Publishing, Broadcast, and the Press , advertising , book , books , cellphone , culture , ebook , gadget , harpercollins , literature , marketing , media , mobile , mobilecomputing , phone , publishing , reading , smartmobs , wireless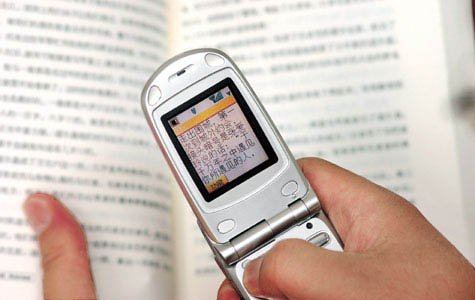 Shanghai Daily reports on a Chinese "mini novel" contest where writers submit bite-sized narratives (350 words or less) by text message.
Commenting on the contest, well-known writer Yu Hua says: "To hold the competition is like bringing 'karaoke' to literature. Before the invention of karaoke, there were only few people who could or would sing in public. Thanks to karaoke, anyone and everyone can sing in public whenever they feel like it. Now, thanks to the mobile phone, the same is true with writing.
The karaoke analogy is apt, and a bit scary.
(via textually)
Posted by ben vershbow at 03:47 PM | Comments (0)
tags: Microlit , book , books , cellphone , china , chinese , karaoke , lit , literature , mini , mobile , mobilelit , novel , phone , writing
Another mobile lit item. Sony is increasing its mobile comics publishing service, offering around 300 popular "manga" titles to Japanese subscribers in the coming year.
From USA Today (via Smart Mobs):
Cell-phone comics use a technology called Comic Surfing, developed by Tokyo-based venture firm Celsys, which takes viewers through manga stories at a carefully calculated speed and sequence.

The manga frames are specially formatted to fit on tiny mobile phone screens. Pop-up frames and vibration during action scenes add to the drama. Cell-phone comics with preprogrammed sound effects are also coming soon...
Related:
"How Mobile Phones Conquered Japan" in Wired - discussing the new book "Personal, Portable, Pedestrian: Mobile Phones in Japanese Life"
and
"novels on your phone" in if:book - about Japanese cell phone fiction
Posted by ben vershbow at 03:53 PM | Comments (0)
tags: Microlit , digital_literature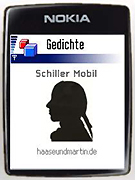 This year, Germany celebrates the bicentennial of the death of Freidrich Schiller. As part of the commemoration, you can download a java application to your mobile phone containing 20 of his best known poems. (via textually)
Posted by ben vershbow at 03:27 PM | Comments (1)
tags: Microlit
An article in yesterday's Christian Science Monitor looks at two research projects currently underway in Palo Alto, California - one at Xerox PARC, the other at Stanford. Both are building tools and devising methods to improve online reading, albeit by different approaches. The PARC project is developing ScentHighlights, an "enhanced skimming" function based on keywords and the associative processes of the human brain. On paper, we highlight important passages, or attach sticky notes, to make them more readily retrievable later on when we're re-reading, studying, or compiling notes. The PARC researchers are taking this a few steps further, exploiting the unique properties (and addressing the unique challenges) of the online reading environment. With ScentHighlights, the computer observes what the reader is highlighting and selects other passages that it thinks might be relevant or useful:
We perform the conceptual highlighting by computing what conceptual keywords are related to each other via word co-occurrence and spreading activation. Spreading activation is a cognitive model developed in psychology to simulate how memory chunks and conceptual items are retrieved in our brain.
While the PARC team is focused on deepening the often fractured experience of reading online, where the amount of text is overwhelming, the Stanford project is experimenting with a method for sustained reading in an environment that can barely handle text at all: the tiny screens of cell phones and mobile devices. Using a technique called RSVP (Rapid Serial Visual Presentation), BuddyBuzz flashes words on the screen one at a time. It takes some getting used to, but apparently, readers can absorb up to 1,000 words per minute. Speed is adjustable, and the program is already set to make the tiny, natural pauses that come at commas and periods. The initial release of BuddyBuzz will syndicate stories from Reuters, CNET and a handful of popular blogs.
Posted by ben vershbow at 02:17 PM | Comments (1)
tags: Microlit , Transliteracies

Missed this item from last month.. This fall, Harlequin, the leading publisher of "women's fiction," will release a series of titles for cell phones through distributor Vocel (who signed a deal with Random House earlier this year).
Harlequin will develop various applications, including daily-serialized novels by bestselling authors, romance-writing seminars and interactive pursuits such as helping to choose male cover models for upcoming novels or even using their camera phones to submit pictures of their own boyfriends as possible cover models.
Posted by ben vershbow at 01:40 PM | Comments (0) | TrackBack
tags: Microlit
Submit 1-minute low bandwidth narrative films to the 60 Second Story Competition, adminstered and judged by an interesting gathering of electronic writers, bloggers and publishers (including some of the folks at Grand Text Auto and Spineless Books). Stories must be submitted under a Creative Commons Attribution-ShareAlike 2.0 License. It's also worth mentioning that the contest is itself an entrant in another contest: the Contagious Media Showdown. The most contagious site (i.e. the one with the most hits in a three week period) wins. As of this writing, 60 Second Stories ranks 18th.
"Many digital cameras and webcams allow you to take one minute of video and audio at resolutions suitable for the web. With all the mindless fluff, commercial hoohah, and charlatanism on the web, we deserve a few minutes of story, do we not? Why haven't you done this already? Tell us a story."
Could prove to be a pretty contagious little concept - stories small enough to sneeze. I hereby infect you with it..
Also, read how Mozilla is getting its fans to spread the word about Firefox through viral video.
Posted by ben vershbow at 01:06 AM | Comments (2)
tags: Microlit
Cellphedia, a thesis project at the Interactive Telecommunications Program at NYU, is a user-generated encyclopedia composed of text message Q&A from cell phones - a kind of mobile, hyper-abbreviated Wikipedia. But unlike Wikipedia, Cellphedia entries are not open to editing by the community, at least not yet. Inspired by Dodgeball, a popular friend-tracking service, Cellphedia suggests something more along the lines of a massive, multi-user trivia game than a serious knowledge resource. It's the kind of street research that is becoming more common. Answers on impulse. The web overlayed on the physical world.
Posted by ben vershbow at 11:36 AM | Comments (0)
tags: Microlit , the_networked_book
The World Wide Web Consortium (W3C), the main standards-setting body for the networked world we live and breathe, recently launched the Mobile Web Initiative. From the press release:
"Many of today's mobile devices already feature Web browsers and the demand for mobile devices continues to grow. Despite these trends, browsing the Web from a mobile device -- for example, to find product information, consult timetables, check email, transfer money -- has not become as convenient as expected. Users often find that their favorite Web sites are not accessible or not as easy to use on their mobile phone as on their desktop computer. Content providers have difficulties building Web sites that work well on all types and configurations of mobile phones offering Web access."
The web is moving further and further from being exclusively a desktop system. What began essentially as a set of interlinked brochures, to be read sitting down, has evolved into a dynamic, social multimedia space, increasingly connected to the world around us. I often think of the history of industrialization as a story of estrangement from the physical world. Cities swell, smog billows and the haze of electric light washes out the stars. Mass media forms naturally emerge from the concentration of industry - economies of scale that favor homogeneity, the sweeping gesture. At first, the new media seem to take this estrangement further, confining us to "virtual" spaces. But quite to the contrary, the web is taking us back into the world, not out of it. Even something as simple as Google Maps suggests this return. But to become fully unmoored from our desks, standards have to be set in place to ensure that the web is readable in smaller formats, and that we have faster, more reliable access when we're on the move. Plus, the devices need to emerge that offer the convenience of a cell phone with the power of a notebook computer. The future of personal computing lies more with cell phones (see the new Sidekick II), iPods and Play Station Portable than with the latest desktop from Dell or Apple.
Posted by ben vershbow at 05:13 PM | Comments (0) | TrackBack
tags: Microlit , The Ideal Device?
Kids in Denmark may soon be reading Hans Christian Anderson on their cell phones. To celebrate the writer's bicentennial, a Danish company is releasing an interactive comic book series designed specially for the tiny screen.
(via textually.org)
Posted by ben vershbow at 08:03 AM | Comments (0) | TrackBack
tags: Microlit
Faced with declining coverage of books in newspapers and magazines, writers are constantly looking for new ways to promote their work on the web. Literary blogs have done a lot to fill in the gaps left by print, covering lesser-known authors and titles translated from foreign languages, and even revisiting older works. And since many lit bloggers are writers themselves, the blogs serve as a virtual salon where writers and intellectuals come to spar about literature, recommend books, and share their own work. Cory Doctorow offers free, cc-licensed downloads of his novels, attracting readers, generating buzz, and bolstering sales of his books in print. Others are sneakier, deploying anonymous 5-star reviews under their own titles to boost sales on Amazon.
The latest, and probably most expensive, trick is video lit, or book shorts - brief little films (like movie trailers or music videos, but for books) designed to be spread virally through email, blog shout outs, and links, just like the digital tidbits - video clips, images, sites, articles - we stumble upon and circulate daily among friends and family. If people like what they see, they can buy the book (a convenient link to Amazon or Barnes & Noble is provided).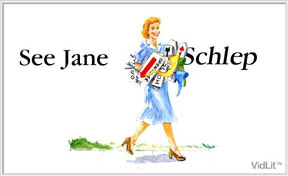 It sounds a bit cock-eyed to advertise books as though they were movies, but proponents of the form say it can get results. There's a piece in Wired that profiles some of the writers who have experimented with the form, and the little production houses that help them do it. The most frequently cited example is a Flash-animated encapsulation of "Yiddish With Dick and Jane," a borscht-belt-infused pastiche of the iconic 1950s children's reading primers. Not too long ago, the 2:45-minute film, produced by a company called Vidlit, was getting passed around incessantly on the web, while at the same time, the physical book flew like hot cakes off the shelves, going on to sell over 150,000 copies. Whether the two are related is hard to say. The book was pretty heavily promoted in stores as a no-brain-required gift item. But Vidlit touts this as a coup of viral advertising.
BookShorts, a Canadian company, produces full live action films for its titles. I watched the book short for Susan Swan's novel "What Casanova Told Me" and was not terribly impressed. It comes off like a preview for a TV movie adaption of a trashy book. But the Dick and Jane example, silly as it is, suggests how clever design and a quick one-two punch can get you a lot of mileage on the web. If people like the idea (and clearly they did), and if the film possesses a kind of must-see quality (the visual equivalent of a good one-liner, a zinger), then people might feel compelled to shuffle it voluntarily through the web. I could see this perhaps working for a political tract or manifesto, or for a religious text - something that is compulsive and seems to contain the seeds of larger truths or revelations. Imagine if this piece were connected to a book (click "Knife Party," then again in new window, then watch "What Barry Says" by hitting "click here" at the bottom). Breathtaking visuals and a compelling political premise combine to whet the appetite for further reading.
Posted by ben vershbow at 11:05 AM | Comments (4) | TrackBack
tags: Microlit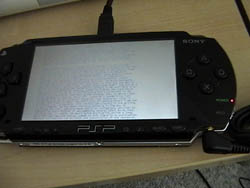 Not surprisingly, folks have already figured out how to read books on the new Sony PSP (PlayStation Portable). The hack is pretty basic - you just turn pages into jpeg images and dump them into the picture folder. The snapshots stack up as a book. Packet Switched Press has even published a short story - a sci-fi piece called "Moving Pictures" - formatted specially for the device (you're supposed to rotate it 90 degrees to view vertically) (thanks, Boing Boing).
The PSP marks another step toward an ideal portable media device (see the ideal pod), the ebook hack being only one of many tricks to cram in more content options (Wired article for more). The Packet Switch Press story suggests that on the tiny screen, 90 degrees can be all that separates a widescreen movie from an electronic paperback - there's no "this side up." The big problem with the PSP is its proprietary file format, laughably named Universal Media Disc (UMD). To watch a movie on your PSP, you have to buy the UMD-formatted edition, even if you already own the DVD. This will ultimately inhibit the development of interesting new works for the tiny screen, clever hacks notwithstanding.
Posted by ben vershbow at 02:46 PM | Comments (2)
tags: Games , Microlit , The Ideal Device?
Yesterday, Boing Boing linked to five enticing design fantasies of future Apple products by design firm Pentagram: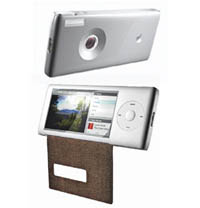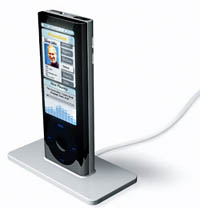 Podwatch, a digital wristwatch wirelessly beaming music to earbuds or headphones with Bluetooth

Wireless iPod, a sleeker version of the current iPod, fitted with wireless internet to enable roving music downloads and direct podcasting

vPod, a video/photo managing console and camera rolled into one, with the famous scrollwheel and Wi-Fi to connect with media applications on your main computer

iHome, a Wi-Fi media hub for the house

iPhone, basically wireless iPod and mobile phone combined, with scroll wheel and pull-out keypad.

If Apple is to stay at the head of the pack, then the answer is to combine the wireless iPod, the vPod, and the iPhone into one ideal pod. In addition to having access to all your music, video and photos, you can surf the web, take movies and pictures, play video games, talk on the phone, watch films in letterbox format, and read various kinds of books - anything from novels, to newspapers, to websites, to manga or comics. IPod's signature scroll wheel would work wonderfully with text, paging through horizontally and preserving some semblance of a coherent page or panel, like the International Herald Tribune does on its elegant website. It could have a little stylus tucked away like tweezers in a Swiss Army knife, and a virtual keyboard that projects on surfaces. A month ago, I wrote about the need for a "paperback ebook" - a pan-media everything-pod, something that does for portable media what paperbacks did for books. Perhaps Apple will be the first to venture such a device.

Laptops are on a collision course with cell phones. Eventually they will converge in a single ideal device. Specialized devices like snapshot digital cameras, iPods, Game Boys, and ebook readers are exciting while they are relatively new, but they are ultimately impractical. Nobody wants a device that just does one thing. Everyday, you have to pack your pockets with various gadgets - you begin to feel like a slave to the so-called convenience of these things. Phones and computers, on the other hand, are indispensable, and can theoretically encompass all of these specialized devices. So it seems like just a matter of time until everything is packed into one ideal pod.

Posted by ben vershbow at 05:42 PM | Comments (1)
tags: Microlit , The Ideal Device?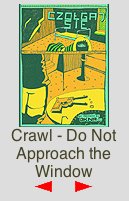 The Digital Museum of Modern Art, a virtual exhibition space, is featuring "Czolgaj Sie" ("Crawl"), verses by Polish poet Marcin Swietlicki, illustrated by fellow countryman Cezary Ostrowski. The poem is exhibited on the museum's website, and has also been optimized for reading on a mobile phone.
I'm not crazy about the poem, but it's an intriguing experiment. Is there a Flash plugin for phones so one can view dynamic text (like this)?
(via textually)
Posted by ben vershbow at 02:27 PM | Comments (0)
tags: Microlit
There was a great AP article yesterday on the recent boom in cell phone novels and serials in Japan. The top and bottom images here are pulled from "Bunko Yomihodai," or "All You Can Read Paperbacks" - a popular microlit site with over 50,000 subscribers, offering 150 titles written or adapted specially for reading on phones.
"In the latest versions, cell-phone novels are downloaded in short installments and run on handsets as Java-based applications. You're free to browse as though you're in a bookstore, whether you're at home, in your office or on a commuter train. A whole library can be tucked away in your cell phone — a gadget you carry around anyway."
True. Right now, the cell phone is the ultimate indispensable gadget. It's with us practically all the time. No wonder it's the first place that electronic books are gaining a foothold.
And the content is varied...
"Surprisingly, people are using cell-phone books to catch up on classics they never finished reading. And people are perusing sex manuals and other books they're too embarrassed to be caught reading or buying. More common is keeping an electronic dictionary in your phone in case a need arises."
Microlit hasn't really taken off here in the States, though there are a few signs that suggest a gradual movement in this direction. There was a bit of buzz about a month ago when Random House acquired a significant minority stake in wireless applications developer VOCEL. And more people seem to be using their phones and PDAs for reading - everything from websurfing, to RSS feeds, to downloaded books (or even raw text files of public domain literature - I tried this on my iPod with this fun hack). But we have yet to see any kind of full-blown lit phenomenon.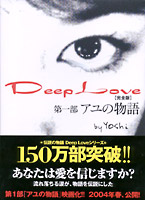 The breakthrough work in Japan was a serial called "Deep Love," the story of a teenage prostitute in Tokyo. It became so popular that it was published as an actual book, and spun off into a TV series, a manga (comics), and a movie. Now the author, named simply Yoshi, is trying his hand at thrillers. From the article:
"Another work by Yoshi, a horror mystery, has a cell-phone Web link that readers click. One pulls up a video clip of a bleeding face; another shows a letter that tells people to go on living.
"Yoshi, a former prep-school instructor who sees his readers as "a community," reads the dozens of e-mail messages teenage fans send him daily and uses their material for story ideas.
"He also knows immediately when readers are getting bored and changes the plot when access tallies start dipping for his stories.
"'It's like playing live music at a club,'" he said. 'You know right away if the audience isn't responding, and you can change what you're doing right then and there.'"
Remember that Dickens often wrote in this way. Perhaps we are witnessing the return of serialized novels.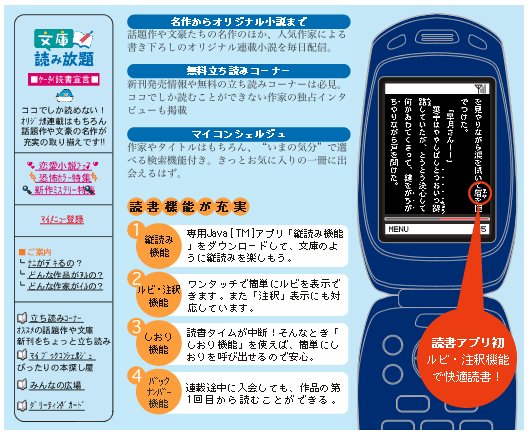 Posted by ben vershbow at 08:31 AM | Comments (2) | TrackBack
tags: Microlit
Boing Boing points to a library in Long Island that has recently started lending mp3 audio books on iPod shuffles, even throwing in casette adapters and FM transmitters for listening in the car. The library claims that they are saving a lot of money in the long run, since mp3 audio books cost significantly less than books on cd.
Posted by ben vershbow at 05:01 PM | Comments (0)
tags: Libraries, Search and the Web , Microlit

Booktopia, a Korean ebook developer, is introducing a 29-title series for mobile users based on popular movie scenarios (article), including the recent Cannes hit Old Boy (thanks, textually.org). The books act as supplements to the films, with omitted material and glimpses behind-the-scenes, sort of like special features on a DVD (though it appears that they will be text-only). They also seem to riff on that weird tie-in genre of books adapted from the screen (I've always wondered who reads those books..).
So are phones the electronic book in embryo? If you are looking for innovation in form, what's happening on cell phones and mobile devices is far more interesting than what you'll find in the area of conventional "ebooks," which generally are the kind of pdf nightmare Dan decribes in his post yesterday. But so far, these kinds of mobile books, or mbooks, are to literature what ring tones are to music. The cell phone has become a kind of cud for the distracted brain to chew - I can't count how many people I see on the subway or waiting in lines simply fiddling with their phone settings. What seems to be developing on cell phones is a new kind of ephemera descended from the pamphlet, flyer, or broadsheet, which will be tightly interwoven with advertising (these Korean movie tie-ins do leg work for the actual films, just as the new 24 spinoff offered on Verizon plugs the Fox television series). But what about actual books? Serious reading to counterbalance all the fluff. Portable devices like phones and palm pilots lend themselves to the serial model. Their diminutive size makes them better suited to smaller chunks of material, and their access to networks allows them to constantly grab new chunks. But I don't see why quality has to be sacrificed. Perhaps, with time, the tradition of serialized narrative will be reinvented in meaningful ways. Many of Dickens's novels were published and written serially, and he was able to modulate the course of his writing according to reader response and sales. Digital content delivery over cell phones and the web could employ the same fluidity, delivering the book as it is becoming, and creating whole communities of readers on the web (see earlier post elegant map hack). An interesting prospect for writers as well as readers.
These literary experiments on the tiny screen are probably not trivial, even though the content may be. They seem to be saying "hurry up" to our more sophisticated but unwieldy reading devices like laptops and tablets. We need a kind of paperback ebook, in between a laptop and a smartphone - cheap and easy to tote. If I can comfortably read on this device in a crowded subway, then we might finally have something as handy as a paper book, conducive to any kind of content, with all the affordances of computers and the web. And ideally... I can write on it with a stylus, or on a keyboard that it projects on a tabletop, and I can dock it at a more powerful workstation in my office. I can plug in headphones or speakers and explore my music library, or surf satellite radio. I can watch a film that I made, or one that I downloaded, or I can flip through my photo album. If I'm lost, I can get a map with pictures of the place I'm trying to find. And at night, I can curl up with it in bed, reading by the light of its built-in candle. I may even have glasses I can plug in and read the book without hands, or look at images in 3-D like on a stereopticon. (Kim, I think I may have my fantasy ebook) Nothing could ever truly replace paper books for me, but a pan-media tablet - an everything device - might just become my everyday companion.
Posted by ben vershbow at 09:51 AM | Comments (2)
tags: Microlit , The Ideal Device? , the_form_of_the_book
Late last week, Random House announced it was making the microlit plunge, acquiring a "significant minority stake" in wireless applications developer VOCEL (AP wire story).
Says Random House Ventures president Richard Sarnoff: "You have a whole generation of consumers, perhaps more than a generation, who are never more than 10 feet from their cell phones, including when they shower. Increasingly, cell phones are becoming an appliance for entertainment and education."
But, despite the success of cell phone novels and serials in Japan, South Korea and Germany, Sarnoff insists that tiny screens have a potential for information, but not for narrative. "The screens are inappropriate for that kind of sustained reading. That's a `maybe, someday' discussion. We'll keep an eye on that area, and if something happens ... we'll certainly respond."
So for the time being, Random House will be testing mobile phones for language instruction, test prep, and other informational services.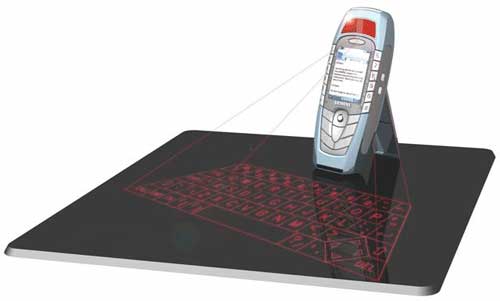 In a related vein, textually.org, an invaluable resource for the microlit observer, recently posted about Radio Shack's plans to sell stand-alone virtual keyboard units the size of a "small fist." Virtual keyboards project a regular-sized typing area on a flat surface, registering keystrokes via Bluetooth onto a smartphone or personal digital assistant (PDA). VKB, the developer of the technology, recently announced its goal of making the virtual keyboard an embedded feature in mobile devices by next year. Further suggestion that cell phones and laptops are evolving into one another.
Posted by ben vershbow at 01:33 PM | Comments (0)
tags: Microlit , The Ideal Device? , the_form_of_the_book

Teaming up with Verizon V Cast, a new spinoff of the popular Fox series 24 is beginning a high profile push into the fledgeling market of serialized mobile video. The show, 24 Conspiracy, will be available to subscribers in 24 sixty-second "mobisodes." This means the entire program is 24 minutes long - not much more than an extended commercial for Fox, and a gimmick for selling more expensive phones. But perhaps this could open the floodgates for longer, more varied programming for mobile users. If HBO wants to stay on the cutting edge, they should probably open up a mobile programming division. How long before John Grisham or Dan Brown writes the first big serial blockbuster for cell phones?
Also, story in today's NY Times..
Posted by ben vershbow at 07:30 PM | Comments (0)
tags: Microlit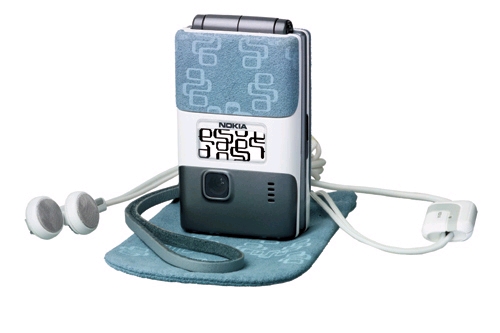 A couple morsels today on textually.org lending credence to our theory that cellphones/PDAs are the incubation niche for the eventual widespread adoption of ebooks. One on fashionable new casings Nokia is bringing out for mobile devices (re Kim's leather-bound fantasy ebook). Another on plans by Chinese tech giant Lenovo to embed "mobile book software technology" into phones, allowing users to read fully illustrated books, as well as watch movies, listen to audio, play video games, and browse periodicals. Mobile phones are emerging, at least in China, as the ultimate mass-consumer media processor - affordable and eminently portable. And each year, notebook computers become lighter, sleeker, and easier to tote around. Are they just shrinking into palm pilots? How much serious work can you get done on a palm pilot?
Posted by ben vershbow at 06:05 PM | Comments (3)
tags: Microlit , The Ideal Device?
Just back from the wonderful Decade of Web Design conference in Amsterdam - more to come on that soon. Catching up now on reading and turned up two interesting links on Boing Boing... First is a mystery novel that you read in email installments over a 3-week period. It's not free - costs $7.49 - but I figured I'd give it a try. I should receive the first part tomorrow.
The other thing is an exciting collaborative writing project in Reading, UK. From their site:
"Remix Reading is an artistic project based in Reading, UK. It's aim is to get artists (working with music, video, images and text) to come together and share their work, be inspired by each others' work, and ultimately to create "remixes". All material on the web site is released under a Creative Commons license, which allows you to customise your copyright so others can use, copy, and share your work as you choose."
Posted by ben vershbow at 09:01 PM | Comments (0)
tags: Microlit , Remix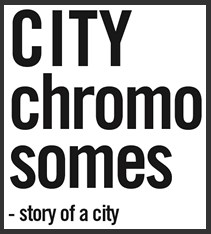 Found this on textually.org. The City Chromosomes project is a sort of scrapbook of the city of Antwerp made entirely from text messages beamed in from mobile phones. Further evidence of the new genres emerging from this technology. An english version has just been published under a Creative Commons license.
Also take a look at this sister project, CityPoems, from Leeds. Posts from the Leeds project are interspersed through the english version of "Chromosomes."
From the introduction to "City Chromosomes":
"The city of Antwerp is full of writers. And many of these writers describe their city, often in splendid stories, novels and poems that gain a wide readership. In this way, they determine a large part of our image of the city. But what about the people who only readers, or even those who do not care for reading, what do they think of the city? And would it not be possible to persuade them to write this down?
"This was the point of departure for the City Chromosomes project. We got the idea of gathering sms messages. Nearly everybody has a mobile phone. Everybody has a moment to spare to type in a message. This was the ideal way to make the project accessible to everybody. The people of Antwerp, and anyone else with something to say about city, could submit their impressions anonymously. We established 25 text sites across the city, and the contributors could indicate with a simple code to which part of the city their message applied. By means of posters, flyers and ads, we asked people for their impressions. The only restriction: the messages should not be longer than 160 characters."
Posted by ben vershbow at 01:29 PM | Comments (0)
tags: Microlit , SMS , Social Software , antwerp , cellphone , experiment , locative , mobile , text_messaging , the_networked_book , txt , ubiquitous_computing



We've been hearing more and more about the phenomenon of books downloaded to a cell phone screen, so much so that even the mainstream press has been talking about a resurgence of e-books - a topic they almost entirely dropped after the efforts of Microsoft and Gemstar failed to take off a couple years back. And people are doing more than simply reading books on their phones - they can surf the web, watch soap operas and, of course, play video games as they throttle through the subway or break for lunch.
Perhaps most interesting is that while many cell phone readers are downloading conventional print texts - novels, popular nonfiction etc. - there are many more, especially in Asia, who are downloading literature that is being written exclusively for this new medium, particularly serialized novels. These stories are intended for bite-sized consumption, peppered throughout the day, week or month. And they often employ the new technology as literary device - SMS romances, mysteries spun from a single errant text message. Once again, the medium proves to be the message..
It's hard to tell where this is going, but it's certainly more interesting than the prefab model promoted in the first generation of e-books. There is something totally original, totally native, about this new wave of digital reading.
Take a look at this piece from yesterday's New York Times...
Posted by ben vershbow at 08:28 AM | Comments (1)
tags: Microlit , SMS , cellphone , e-publishing , ebook , ebooks , keitai , publishing , reading , social_software , technology