The following post comes from my friend Sally Northmore, a writer and designer based in New York who lately has been interested in things like animation, video game theory, and (right up our alley) the materiality of books and their transition to a virtual environment. A couple of weeks ago we were talking about the British Library's rare manuscript digitization project, "Turning the Pages" -- something I'd been meaning to discuss here but never gotten around to doing. It turns out Sally had some interesting thoughts about this so I persuaded her to do a brief write-up of the project for if:book. Which is what follows below. Come to think of it, this is especially interesting when juxtaposed with Bob's post earlier this week on Jefferson Han's amazing gestural interface design. Here's Sally... - Ben
The British Library's collaboration with multimedia impresarios at Armadillo Systems has led to an impressive publishing enterprise, making available electronic 3-D facsimiles of their rare manuscript collection.
"Turning the Pages", available in CD-ROM, online, and kiosk format, presents the digital incarnation of these treasured texts, allowing the reader to virtually "turn" the pages with a touch and drag function, "pore over" texts with a magnification function, and in some cases, access extras such as supplementary notes, textual secrets, and audio accompaniment.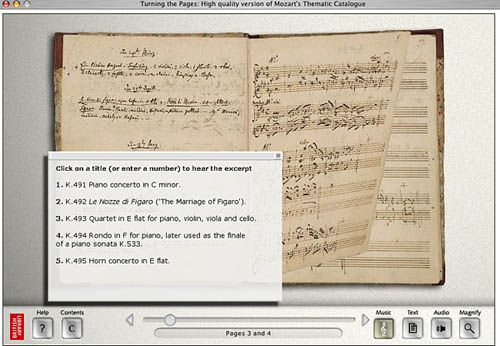 Pages from Mozart's thematic catalogue -- a composition notebook from the last seven years of his life. Allows the reader to listen to works being discussed.
The designers ambitiously mimicked various characteristics of each work in their 3-D computer models. For instance, the shape of a page of velum turning differs from the shape of a page of paper. It falls at a unique speed according to its weight; it casts a unique shadow. The simulation even allows for a discrepancy in how a page would turn depending on what corner of the page you decide to peel from.
Online visitors can download a library of manuscripts in Shockwave although these versions are a bit clunkier and don't provide the flashier thrills of the enormous touch screen kiosks the British Library now houses.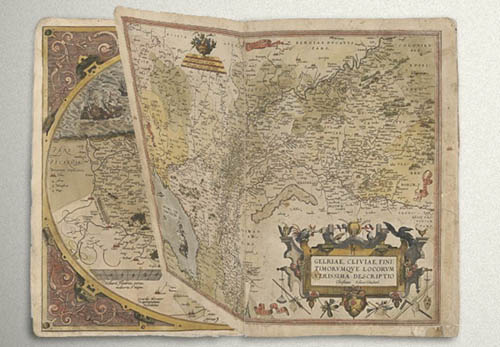 Mercator's first atlas of Europe - 1570s
Online, the "Turning the Pages" application forces you to adapt to the nature of its embodiment—to physically re-learn how to use a book. A hand cursor invites the reader to turn each page with a click-and-drag maneuver of the mouse. Sounds simple enough, but I struggled to get the momentum of the drag just right so that the page actually turned. In a few failed attempts, the page lifted just so... only to fall back into place again. Apparently, if you can master the Carpal Tunnel-inducing rhythm, you can learn to manipulate the page-turning function even further, grabbing multiple of pages at once for a faster, abridged read.
The value of providing high resolution scans of rare editions of texts for the general public to experience, a public that otherwise wouldn't necessarily ever "touch" say, the Lindisfarne Gospels, doesn't go without kudos. Hey, democratic right? Armadillo Systems provides a list of compelling raisons d'être on their site to this effect. But the content of these texts is already available in reprintable (democratic!) form. Is the virtual page-turning function really necessary for greater understanding of these works, or a game of academic scratch-n-sniff?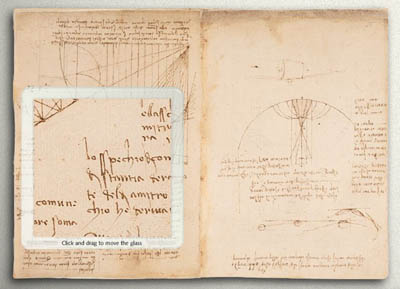 The "enlarge" function even allows readers to reverse the famous mirror writing in Leonardo da Vinci's notebooks
At the MLA conference in D.C. this past December, where the British Library had set up a demonstration of "Turning the Pages", this was the question most frequently asked of the BL's representative. Who really needs to turn the pages? I learned from the rep's response that, well, nobody does! Scholars are typically more interested studying the page, and the turning function hasn't proven to enhance or revive scholarly exploration. And surely, the Library enjoyed plenty of biblio-clout and tourist traffic before this program?
But the lure of new, sexy technology can't be underestimated. From what I understood, the techno-factor is an excellent beacon for attracting investors and funding in multimedia technology. Armadillo's web site provides an interesting sales pitch:
By converting your manuscripts to "Turning the Pages" applications you can attract visitors, increase website traffic and add a revenue stream - at the same time as broadening access to your collection and informing and entertaining your audience.
The program reveals itself to be a peculiar exercise, tangled in its insistence on fetishizing aspects of the material body of the text—the weight of velum, the karat of gold used to illuminate, the shape of the binding. Such detail and love for each material manuscript went into this project to recreate, as best possible, the "feel" of handling these manuscripts.
Under ideal circumstances, what would the minds behind "Turning the Pages" prefer to create? The original form of the text—the "alpha" manuscript—or the virtual incarnation? Does technological advancement seduce us into valuing the near-perfect simulation over the original? Are we more impressed by the clone, the "Dolly" of hoary manuscripts? And, would one argue that "Turning the Pages" is the best proxy for the real thing, or, another "thing" entirely?
Posted by sally northmore at 06:16 PM | Comments (5)
tags: Libraries, Search and the Web , book_craft , books , design , design_curmudgeonry , digitization , interface , library , manuscript , museum , preservation , reading , turning_the_pages , user_interface
A recent BBC article draws attention to widespread concerns among UK librarians (concerns I know are shared by librarians and educators on this side of the Atlantic) regarding the potentially disastrous impact of digital rights management on the long-term viability of electronic collections. At present, when downloads represent only a tiny fraction of most libraries' circulation, DRM is more of a nuisance than a threat. At the New York Public library, for instance, only one "copy" of each downloadable ebook or audio book title can be "checked out" at a time -- a frustrating policy that all but cancels out the value of its modest digital collection. But the implications further down the road, when an increasing portion of library holdings will be non-physical, are far more grave.
What these restrictions in effect do is place locks on books, journals and other publications -- locks for which there are generally no keys. What happens, for example, when a work passes into the public domain but its code restrictions remain intact? Or when materials must be converted to newer formats but can't be extracted from their original files? The question we must ask is: how can librarians, now or in the future, be expected to effectively manage, preserve and update their collections in such straightjacketed conditions?
This is another example of how the prevailing copyright fundamentalism threatens to constrict the flow and preservation of knowledge for future generations. I say "fundamentalism" because the current copyright regime in this country is radical and unprecedented in its scope, yet traces its roots back to the initially sound concept of limited intellectual property rights as an incentive to production, which, in turn, stemmed from the Enlightenment idea of an author's natural rights. What was originally granted (hesitantly) as a temporary, statutory limitation on the public domain has spun out of control into a full-blown culture of intellectual control that chokes the flow of ideas through society -- the very thing copyright was supposed to promote in the first place.
If we don't come to our senses, we seem destined for a new dark age where every utterance must be sanctioned by some rights holder or licensing agent. Free thought isn't possible, after all, when every thought is taxed. In his "An Answer to the Question: What is Enlightenment?" Kant condemns as criminal any contract that compromises the potential of future generations to advance their knowledge. He's talking about the church, but this can just as easily be applied to the information monopolists of our times and their new tool, DRM, which, in its insidious way, is a kind of contract (though one that is by definition non-negotiable since enforced by a machine):
But would a society of pastors, perhaps a church assembly or venerable presbytery (as those among the Dutch call themselves), not be justified in binding itself by oath to a certain unalterable symbol in order to secure a constant guardianship over each of its members and through them over the people, and this for all time: I say that this is wholly impossible. Such a contract, whose intention is to preclude forever all further enlightenment of the human race, is absolutely null and void, even if it should be ratified by the supreme power, by parliaments, and by the most solemn peace treaties. One age cannot bind itself, and thus conspire, to place a succeeding one in a condition whereby it would be impossible for the later age to expand its knowledge (particularly where it is so very important), to rid itself of errors, and generally to increase its enlightenment. That would be a crime against human nature, whose essential destiny lies precisely in such progress; subsequent generations are thus completely justified in dismissing such agreements as unauthorized and criminal.
We can only hope that subsequent generations prove more enlightened than those presently in charge.
Posted by ben vershbow at 07:51 AM | Comments (4)
tags: Copyright and Copyleft , DRM , IP , Libraries, Search and the Web , books , copyright , digital , digitization , ebooks , enlightenment , fundamentalism , intellectual_property , kant , libraries , library , philosophy , public_domain , scholarship
For the next two days, Ray and I are attending what hopes to be a fascinating conference in Cambridge, MA -- The Economics of Open Content -- co-hosted by Intelligent Television and MIT Open CourseWare.
This project is a systematic study of why and how it makes sense for commercial companies and noncommercial institutions active in culture, education, and media to make certain materials widely available for free—and also how free services are morphing into commercial companies while retaining their peer-to-peer quality.
They've assembled an excellent cross-section of people from the emerging open access movement, business, law, the academy, the tech sector and from virtually every media industry to address one of the most important (and counter-intuitive) questions of our age: how do you make money by giving things away for free?
Rather than continue, in an age of information abundance, to embrace economic models predicated on information scarcity, we need to look ahead to new models for sustainability and creative production. I look forward to hearing from some of the visionaries gathered in this room.
More to come...
Posted by ben vershbow at 09:31 AM | Comments (0)
tags: Copyright and Copyleft , Education , Libraries, Search and the Web , academia , conferences_and_excursions , copyleft , copyright , free_software , gift_economy , library , open_access , open_content , publishing , scholarship
The database: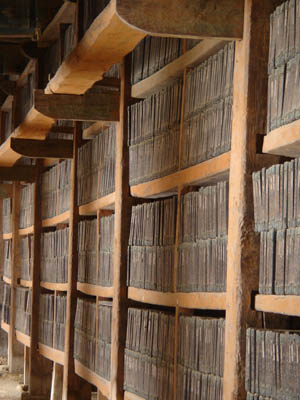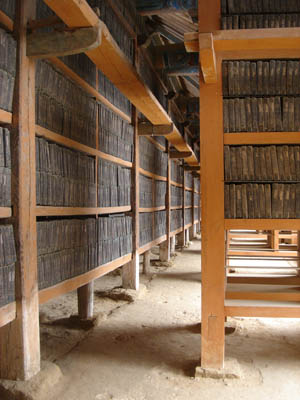 Nestled in the Gaya mountain range in southern Korea, the Haeinsa monastery houses the Tripitaka Koreana, the largest, most complete set of Buddhist scriptures in existence -- over 80,000 wooden tablets (enough to print all of Buddhism's sacred texts) kept in open-air storage for the past six centuries. The tablets were carved between 1237 and 1251 in anticipation of the impending Mongol invasion, both as a spiritual effort to ward off the attack, and as an insurance policy. They replaced an earlier set of blocks that had been destroyed in the last Mongol incursion in 1231.

From Korea's national heritage site description of the tablets:
The printing blocks are some 70cm wide 24cm long and 2.8cm thick on the average. Each block has 23 lines of text, each with 14 characters, on each side. Each block thus has a total of 644 characters on both sides. Some 30 men carved the total 52,382,960 characters in the clean and simple style of Song Chinese master calligrapher Ou-yang Hsun, which was widely favored by the aristocratic elites of Goryeo. The carvers worked with incredible dedication and precision without making a single error. They are said to have knelt down and bowed after carving each character. The script is so uniform from beginning to end that the woodblocks look like the work of one person.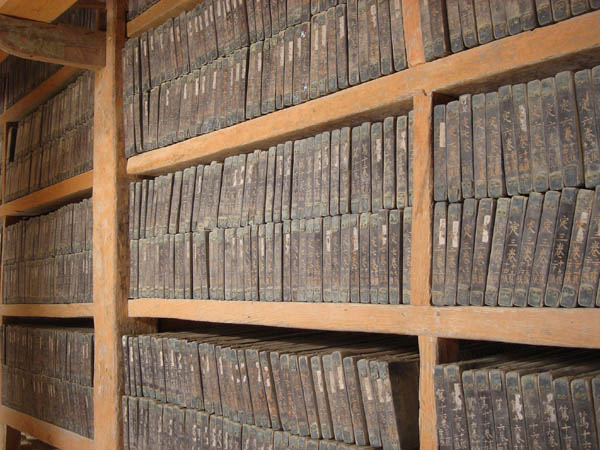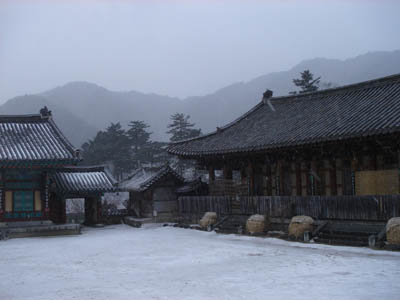 I stayed at the Haeinsa temple last Friday night on a sleeping mat in bare room with a heated floor, alongside a number of noisy Koreans (including the rather sardonic temple webmaster -- Haiensa is a Unesco World Heritage site and so keeps a high profile). At three in the morning, at the call to the day's first service, I tramped around the snowy courtyards under crisp, chill stars and watched as the monks pounded a massive barrel-shaped drum hanging inside a pagoda. This was for the benefit of those praying inside the temple (where it sounds like distant thunder). Shivering to the side, I continued to watch as they rang a bell the size of a Volkswagen with a polished log swung on ropes like a wrecking ball. Next to it, another monk ripped out a loud, clattering drum roll inside the wooden ribs of a dragon-like fish, also suspended from the pagoda's roof. It was freezing cold with a biting wind -- not pleasant to be outside, and at such an hour. But the stars were absolutely vivid. I'm no good at picking out constellations, but Orion was poised unmistakeably above the mountains as though stalking an elk on the other side of the ridge.
It's a magical, somewhat harsh place, Haiensa. The Changgyeonggak, the two storage halls that house the Tripitaka, were built ingeniously to preserve the tablets by blocking wind, facilitating ventilation and distributing moisture. You see the monks busying themselves with devotions and chores, practicing an ancient way of life founded upon those tablets. The whole monastery a kind of computer, the monks running routines to and from the database. The mountains, Orion, the drum all part of the program. It seemed almost more hi-tech than cutting edge Seoul.
More on that later.
Posted by ben vershbow at 11:35 AM | Comments (5)
tags: bible , books , buddha , buddhism , conferences_and_excursions , korea , korean , library , monastery , monastic , printing , scripture , temple , tripitaka
Last week U.K. Poet Laureate Andrew Motion and recording producer Richard Carrington rolled out The Poetry Archive, a free (sort of) web library that aims to be "the world's premier online collection of recordings of poets reading their work" -- "to help make poetry accessible, relevant and enjoyable to a wide audience."

The archive naturally focuses on British poets, but offers a significant selection of english-language writers from the U.S. and the British Commonwealth countries. Seamus Heaney is serving as president of the archive.
For each poet, a few streamable mp3s are available, including some rare historic recordings dating back to the earliest days of sound capture, from Robert Browning to Langston Hughes. The archive also curates a modest collection of children's poetry, and invites teachers to use these and other recordings in the classroom, also providing tips for contacting poets so schools, booksellers and community organizations (again, this is focused on Great Britain) can arrange readings and workshops. While some of this advice seems useful, but it reads more like a public relations/ecudation services page on a publisher's website. Is this a public archive or a poets' guild?
The Poetry Archive is a nice resource as both historic repository and contemporary showcase, but the mission seems a bit muddled. They say they're an archive, but it feels more like a CD store.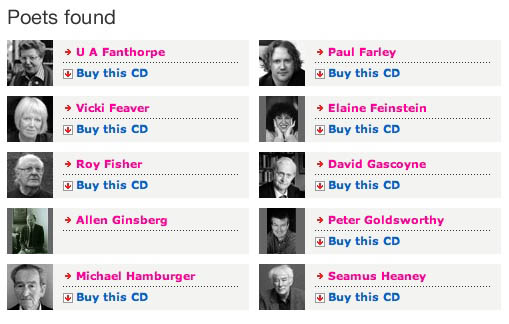 Throughout, the archive seems an odd mix of public service and professional leverage for contemporary poets. That's all well and good, but it could stand a bit more of the former. Beyond the free audio offerings (which are quite skimpy), CDs are available for purchase that include a much larger selection of recordings. The archive is non-profit, and they seem to be counting in significant part on these sales to maintain operations. Still, I would add more free audio, and focus on selling individual recordings and playlists as downloads -- the iTunes model. Having streaming teasers and for-sale CDs as the only distribution models seems wrong-headed, and a bit disingenuous if they are to call themselves an archive. It would also be smart to sell subscriptions to the entire archive, with institutional rates for schools. Podcasting would also be a good idea -- a poem a day to take with you on your iPod, weaving poetry into daily life.
There's a growing demand on the web for the spoken word, from audiobooks, podcasts, to performed poetry. The archive would probably do a lot better if they made more of their collection free, and at the same time provided a greater variety of ways to purchase recordings.
Posted by ben vershbow at 11:40 AM | Comments (2)
tags: Libraries, Search and the Web , archive , audio , audiobooks , library , literature , mp3 , poetry , sound
An article by Eileen Gifford Fenton and Roger C. Schonfeld in this morning's Inside Higher Ed claims that over the past year, libraries have accelerated the transition towards purchasing only electronic journals, leaving many publishers of print journals scrambling to make the transition to an online format:
Faced with resource constraints, librarians have been required to make hard choices, electing not to purchase the print version but only to license electronic access to many journals — a step more easily made in light of growing faculty acceptance of the electronic format. Consequently, especially in the sciences, but increasingly even in the humanities, library demand for print has begun to fall. As demand for print journals continues to decline and economies of scale of print collections are lost, there is likely to be a tipping point at which continued collecting of print no longer makes sense and libraries begin to rely only upon journals that are available electronically.
According to Fenton and Schonfeld, this imminent "tipping point" will be a good thing for larger publishing houses which have already begun to embrace an electronic-only format, but smaller nonprofit publishers might "suffer dramatically" if they don't have the means to convert to an electronic format in time. If they fail, and no one is positioned to help them, "the alternative may be the replacement of many of these journals with blogs, repositories, or other less formal distribution models."
Fenton and Schonfeld's point that electronic distribution might substantially change the format of some smaller journals echoes other expressions of concern about the rise of "informal" academic journals and repositories, mainly voiced by scientists who worry about the decline of peer review. Most notably, the Royal Society of London issued a statement on Nov. 24 warning that peer-reviewed scientific journals were threatened by the rise of "open access journals, archives and repositories."
According to the Royal Society, the main problem in the sciences is that government and nonprofit funding organizations are pressing researchers to publish in open-access journals, in order to "stop commercial publishers from making profits from the publication of research that has been funded from the public purse." While this is a noble principle, the Society argued, it undermines the foundations of peer review and compels scientists to publish in formats that might be unsustainable:
The worst-case scenario is that funders could force a rapid change in practice, which encourages the introduction of new journals, archives and repositories that cannot be sustained in the long term, but which simultaneously forces the closure of existing peer-reviewed journals that have a long-track record for gradually evolving in response to the needs of the research community over the past 340 years. That would be disastrous for the research community.
There's more than a whiff of resistance to change in the Royal Society's citing of 340 years of precedent; more to the point however, their position statement downplays the depth of the fundamental opposition between the open access movement in science and traditional journals. As Roger Chartier notes in a recent issue of Critical Inquiry, "Two different logics are at issue here: the logic of free communication, which is associated with the ideal of the Enlightenment that upheld at the sharing of knowledge, and the logic of publishing based on the notion of author's rights and commercial gain."
As we've discussed previously on if:book. the fate of peer review in electronic age is an open question: as long as peer review is tied to the logic of publishing, its fate will be determined at least as much by the still evolving market for electronic distribution as by the needs of the various research communities which have traditionally valued it as a method of assessment.
Posted by lisa lynch at 07:36 AM | Comments (0)
tags: Education , Libraries, Search and the Web , library , peer_review , publishing , royal_society_of_london
In case you missed Open Source's Monday hour on Google Book Search... Listen here. Podcast RSS here. Show summary here.
Posted by ben vershbow at 11:33 AM | Comments (1)
tags: Libraries, Search and the Web , ebook , google , google_book_search , google_print , library , podcast , publishing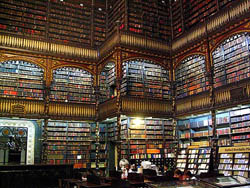 Open Source's hour on the Googlization of libraries was refreshingly light on the copyright issue and heavier on questions about research, reading, the value of libraries, and the public interest. With its book-scanning project, Google is a private company taking on the responsibilities of a public utility, and Siva Vaidhyanathan came down hard on one of the company's chief legal reps for the mystery shrouding their operations (scanning technology, algorithms and ranking system are all kept secret). The rep reasonably replied that Google is not the only digitization project in town and that none of its library partnerships are exclusive. But most of his points were pretty obvious PR boilerplate about Google's altruism and gosh darn love of books. Hearing the counsel's slick defense, your gut tells you it's right to be suspicious of Google and to keep demanding more transparency, clearer privacy standards and so on. If we're going to let this much information come into the hands of one corporation, we need to be very active watchdogs.
Our friend Karen Schneider then joined the fray and as usual brought her sage librarian's perspective. She's thrilled by the possibilities of Google Book Search, seeing as it solves the fundamental problem of library science: that you can only search the metadata, not the texts themselves. But her enthusiasm is tempered by concerns about privatization similar to Siva's and a conviction that a research service like Google can never replace good librarianship and good physical libraries. She also took issue with the fact that Book Search doesn't link to other library-related search services like Open Worldcat. She has her own wrap-up of the show on her blog.
Rounding out the discussion was Matthew G. Kirschenbaum, a cybertext studies blogger and professor of english at the University of Maryland. Kirschenbaum addressed the question of how Google, and the web in general, might be changing, possibly eroding, our reading practices. He nicely put the question in perspective, suggesting that scattershot, inter-textual, "snippety" reading is in fact the older kind of reading, and that the idea of sustained, deeply immersed involvement with a single text is largely a romantic notion tied to the rise of the novel in the 18th century.
A satisfying hour, all in all, of the sort we should be having more often. It was fun brainstorming with Brendan Greeley, the Open Source on "blogger-in-chief," on how to put the show together. Their whole bit about reaching out to the blogosphere for ideas and inspiration isn't just talk. They put their money where their mouth is. I'll link to the podcast when it becomes available.
image: Real Gabinete Português de Literatura, Rio de Janeiro - Claudio Lara via Flickr
Posted by ben vershbow at 12:34 AM | Comments (2)
tags: Libraries, Search and the Web , copyright , digitization , ebook , google , google_book_search , google_print , library , literature , metadata , reading , search
While visiting the Experimental Television Center in upstate New York this past weekend, Lisa found a wonderful relic in a used book shop in Owego, NY -- a small, leatherbound volume from 1962 entitled "Computers," which IBM used to give out as a complimentary item. An introductory note on the opening page reads:
The machines do not think -- but they are one of the greatest aids to the men who do think ever invented! Calculations which would take men thousands of hours -- sometimes thousands of years -- to perform can be handled in moments, freeing scientists, technicians, engineers, businessmen, and strategists to think about using the results.
This echoes Vannevar Bush's seminal 1945 essay on computing and networked knowledge, "As We May Think", which more or less prefigured the internet, web search, and now, the migration of print libraries to the world wide web. Google Book Search opens up fantastic possibilities for research and accessibility, enabling readers to find in seconds what before might have taken them hours, days or weeks. Yet it also promises to transform the very way we conceive of books and libraries, shaking the foundations of major institutions. Will making books searchable online give us more time to think about the results of our research, or will it change the entire way we think? By putting whole books online do we begin the steady process of disintegrating the idea of the book as a bounded whole and not just a sequence of text in a massive database?
The debate thus far has focused too much on the legal ramifications -- helped in part by a couple of high-profile lawsuits from authors and publishers -- failing to take into consideration the larger cognitive, cultural and institutional questions. Those questions will hopefully be given ample air time tonight on Radio Open Source.
Tune in at 7pm ET on local public radio or stream live over the web. The show will also be available later in the week as a podcast.
Posted by ben vershbow at 04:58 PM | Comments (0)
tags: Libraries, Search and the Web , books , copyright , ebook , google , google_book_search , google_print , library , literature , radio , research , university
Open Source, the excellent public radio program (not to be confused with "Open Source Media") that taps into the blogosphere to generate its shows, has been chatting with me about putting together an hour on the Google library project. Open Source is a unique hybrid, drawing on the best qualities of the blogosphere -- community, transparency, collective wisdom -- to produce an otherwise traditional program of smart talk radio. As host Christopher Lydon puts it, the show is "fused at the brain stem with the world wide web." Or better, it "uses the internet to be a show about the world."
The Google show is set to air live this evening at 7pm (ET) (they also podcast). It's been fun working with them behind the scenes, trying to figure out the right guests and questions for the ideal discussion on Google and its bookish ambitions. My exchange has been with Brendan Greeley, the Radio Open Source "blogger-in-chief" (he's kindly linked to us today on their site). We agreed that the show should avoid getting mired in the usual copyright-focused news peg -- publishers vs. Google etc. -- and focus instead on the bigger questions. At my suggestion, they've invited Siva Vaidhyanathan, who wrote the wonderful piece in the Chronicle of Higher Ed. that I talked about yesterday (see bigger questions). I've also recommended our favorite blogger-librarian, Karen Schneider (who has appeared on the show before), science historian George Dyson, who recently wrote a fascinating essay on Google and artificial intelligence, and a bunch of cybertext studies people: Matthew G. Kirschenbaum, N. Katherine Hayles, Jerome McGann and Johanna Drucker. If all goes well, this could end up being a very interesting hour of discussion. Stay tuned.
UPDATE: Open Source just got a hold of Nicholas Kristof to do an hour this evening on Genocide in Sudan, so the Google piece will be pushed to next week.
Posted by ben vershbow at 08:07 AM | Comments (0)
tags: Libraries, Search and the Web , Online , copyright , google , google_book_search , google_print , library , open_source , podcast , publishing , radio , radio_open_source , search , web
Siva Vaidhyanathan has written an excellent essay for the Chronicle of Higher Education on the "risky gamble" of Google's book-scanning project -- some of the most measured, carefully considered comments I've yet seen on the issue. His concerns are not so much for the authors and publishers that have filed suit (on the contrary, he believes they are likely to benefit from Google's service), but for the general public and the future of libraries. Outsourcing to a private company the vital task of digitizing collections may prove to have been a grave mistake on the part of Google's partner libraries. Siva:
The long-term risk of privatization is simple: Companies change and fail. Libraries and universities last.....Libraries should not be relinquishing their core duties to private corporations for the sake of expediency. Whichever side wins in court, we as a culture have lost sight of the ways that human beings, archives, indexes, and institutions interact to generate, preserve, revise, and distribute knowledge. We have become obsessed with seeing everything in the universe as "information" to be linked and ranked. We have focused on quantity and convenience at the expense of the richness and serendipity of the full library experience. We are making a tremendous mistake.
This essay contains in abundance what has largely been missing from the Google books debate: intellectual courage. Vaidhyanathan, an intellectual property scholar and "avowed open-source, open-access advocate," easily could have gone the predictable route of scolding the copyright conservatives and spreading the Google gospel. But he manages to see the big picture beyond the intellectual property concerns. This is not just about economics, it's about knowledge and the public interest.
What irks me about the usual debate is that it forces you into a position of either resisting Google or being its apologist. But this fails to get at the real bind we all are in: the fact that Google provides invaluable services and yet is amassing too much power; that a private company is creating a monopoly on public information services. Sooner or later, there is bound to be a conflict of interest. That is where we, the Google-addicted public, are caught. It's more complicated than hip versus square, or good versus evil.
Here's another good piece on Google. On Monday, The New York Times ran an editorial by Adam Cohen that nicely lays out the privacy concerns:
Google says it needs the data it keeps to improve its technology, but it is doubtful it needs so much personally identifiable information. Of course, this sort of data is enormously valuable for marketing. The whole idea of "Don't be evil," though, is resisting lucrative business opportunities when they are wrong. Google should develop an overarching privacy theory that is as bold as its mission to make the world's information accessible - one that can become a model for the online world. Google is not necessarily worse than other Internet companies when it comes to privacy. But it should be doing better.
Two graduate students in Stanford in the mid-90s recognized that search engines would the most important tools for dealing with the incredible flood of information that was then beginning to swell, so they started indexing web pages and working on algorithms. But as the company has grown, Google's admirable-sounding mission statement -- "to organize the world's information and make it universally accessible and useful" -- has become its manifest destiny, and "information" can now encompass the most private of territories.
At one point it simply meant search results -- the answers to our questions. But now it's the questions as well. Google is keeping a meticulous record of our clickstreams, piecing together an enormous database of queries, refining its search algorithms and, some say, even building a massive artificial brain (more on that later). What else might they do with all this personal information? To date, all of Google's services are free, but there may be a hidden cost.
"Don't be evil" may be the company motto, but with its IPO earlier this year, Google adopted a new ideology: they are now a public corporation. If web advertising (their sole source of revenue) levels off, then investors currently high on $400+ shares will start clamoring for Google to maintain profits. "Don't be evil to us!" they will cry. And what will Google do then?
images: New York Public Library reading room by Kalloosh via Flickr; archive of the original Google page
Posted by ben vershbow at 08:18 AM | Comments (7)
tags: Copyright and Copyleft , Libraries, Search and the Web , books , copyright , ethics , google , google_book_search , google_print , intellectual_property , libraries , library , literature , privacy , publishing , university
The Library of Congress has announced plans for the creation of a World Digital Library, "a shared global undertaking" that will make a major chunk of its collection freely available online, along with contributions from other national libraries around the world. From The Washington Post:
...[the] goal is to bring together materials from the United States and Europe with precious items from Islamic nations stretching from Indonesia through Central and West Africa, as well as important materials from collections in East and South Asia.
Google has stepped forward as the first corporate donor, pledging $3 million to help get operations underway. At this point, there doesn't appear to be any direct connection to Google's Book Search program, though Google has been working with LOC to test and refine its book-scanning technology.
Posted by ben vershbow at 07:41 AM | Comments (0)
tags: Libraries, Search and the Web , books , digital , google , library , library_of_congress , literature , preservation , scanning
The NY Times reports on new web-based services at university libraries that are incorporating features such as personalized recommendations, browsing histories, and email alerts, the sort of thing developed by online retailers like Amazon and Netflix to recreate some of the experience of browsing a physical store. Remember Ranganathan's fourth law of library science: "save the time of the reader." The reader and the customer are perhaps becoming one in the same.
It would be interesting if a social software system were emerging for libraries that allowed students and researchers to work alongside librarians in organizing the stacks. Automated recommendations are just the beginning. I'm talking more about value added by the readers themselves (Amazon has does this with reader reviews, Listmania, and So You'd Like To...). A social card catalogue with a tagging system and other reader-supplied metadata where readers could leave comments and bread crumb trails between books. Each card catalogue entry with its own blog and wiki to create a context for the book. Books are not just surrounded by other volumes on the shelves, they are surrounded by people, other points of view, affinities -- the kinds of thing that up to this point were too vaporous to collect. This goes back to David Weinberger's comment on metadata and Google Book Search.
Posted by ben vershbow at 12:07 PM | Comments (3)
tags: Libraries, Search and the Web , Social Software , books , folksonomy , librarian , library , metadata , reading , social_software , tagging , taxonomy
In this weekend's Boston Globe, David Weinberger delivers the metadata angle on Google Print:
...despite the present focus on who owns the digitized content of books, the more critical battle for readers will be over how we manage the information about that content-information that's known technically as metadata.

...we're going to need massive collections of metadata about each book. Some of this metadata will come from the publishers. But much of it will come from users who write reviews, add comments and annotations to the digital text, and draw connections between, for example, chapters in two different books.

As the digital revolution continues, and as we generate more and more ways of organizing and linking books-integrating information from publishers, libraries and, most radically, other readers-all this metadata will not only let us find books, it will provide the context within which we read them.
The book in the network is a barnacled spirit, carrying with it the sum of its various accretions. Each book is also its own library by virtue not only of what it links to itself, but of what its readers are linking to, of what its readers are reading. Each book is also a milk crate of earlier drafts. It carries its versions with it. A lot of weight for something physically weightless.
Posted by ben vershbow at 06:42 PM | Comments (0)
tags: ISBN , Libraries, Search and the Web , books , ebook , electronic_literature , folksonomy , google , google_print , hypertext , library , literature , marginalia , metadata , social_software , tagging , weinberger
...I realize I was over-hasty in dismissing the recent additions made since book scanning resumed earlier this month. True, many of the fine wines in the cellar are there only for the tasting, but the vintage stuff can be drunk freely, and there are already some wonderful 19th century titles, at this point mostly from Harvard. The surest way to find them is to search by date, or by title and date. Specify a date range in advanced search or simply enter, for example, "date: 1890" and a wealth of fully accessible texts comes up, any of which can be linked to from a syllabus. An astonishing resource for teachers and students.
The conclusion: Google Print really is shaping up to be a library, that is, of the world pre-1923 -- the current line of demarcation between copyright and the public domain. It's a stark reminder of how over-extended copyright is. Here's an 1899 english printing of The Mahabharata: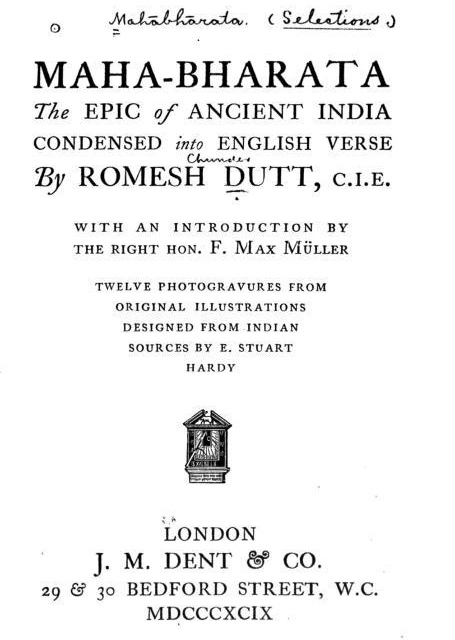 A charming detail found on the following page is this old Harvard library stamp that got scanned along with the rest: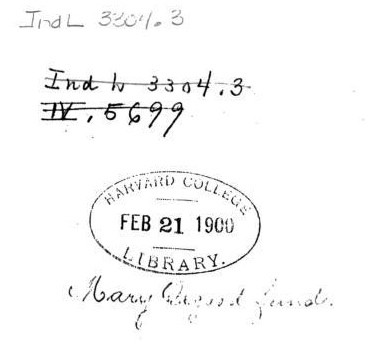 Posted by ben vershbow at 04:53 AM | Comments (0)
tags: Copyright and Copyleft , Libraries, Search and the Web , OCR , copyright , ebook , fair_use , google , google_print , library , mahabharata , scan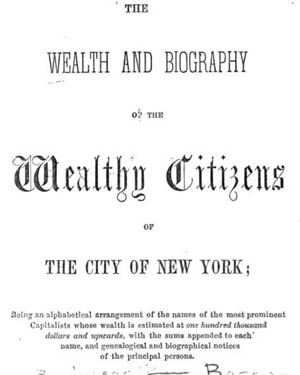 Google's first batch of public domain book scans is now online, representing a smattering of classics and curiosities from the collections of libraries participating in Google Print. Essentially snapshots of books, they're not particularly comfortable to read, but they are keyword-searchable and, since no copyright applies, fully accessible.
The problem is, there really isn't all that much there. Google's gotten a lot of bad press for its supposedly cavalier attitude toward copyright, but spend a few minutes browsing Google Print and you'll see just how publisher-centric the whole affair is. The idea of a text being in the public domain really doesn't amount to much if you're only talking about antique manuscripts, and these are the only books that they've made fully accessible. Daisy Miller's copyright expired long ago but, with the exception of Harvard's illustrated 1892 copy, all the available scanned editions are owned by modern publishers and are therefore only snippeted. This is not an online library, it's a marketing program. Google Print will undeniably have its uses, but we shouldn't confuse it with a library.
(An interesting offering from the stacks of the New York Public Library is this mid-19th century biographic registry of the wealthy burghers of New York: "Capitalists whose wealth is estimated at one hundred thousand dollars and upwards...")
Posted by ben vershbow at 04:16 PM | Comments (0)
tags: Copyright and Copyleft , Libraries, Search and the Web , OCR , books , copyright , ebook , google , google_print , library , literature , public_domain , scan
There's an interesting discussion going on right now under Kim's Wikibooks post about how an open source model might be made to work for the creation of authoritative knowledge -- textbooks, encyclopedias etc. A couple of weeks ago there was some dicussion here about an article that, among other things, took some rather cheap shots at Wikipedia, quoting (very selectively) a couple of shoddy passages. Clearly, the wide-open model of Wikipedia presents some problems, but considering the advantages it presents (at least in potential) -- never out of date, interconnected, universally accessible, bringing in voices from the margins -- critics are wrong to dismiss it out of hand. Holding up specific passages for critique is like shooting fish in a barrel. Even Wikipedia's directors admit that most of the content right now is of middling quality, some of it downright awful. It doesn't then follow to say that the whole project is bunk. That's a bit like expelling an entire kindergarten for poor spelling. Wikipedia is at an early stage of development. Things take time.
Instead we should be talking about possible directions in which it might go, and how it might be improved. Dan for one, is concerned about the market (excerpted from comments):
What I worry about...is that we're tearing down the old hierarchies and leaving a vacuum in their wake.... The problem with this sort of vacuum, I think, is that capitalism tends to swoop in, simply because there are more resources on that side....

...I'm not entirely sure if the world of knowledge functions analogously, but Wikipedia does presume the same sort of tabula rasa. The world's not flat: it tilts precariously if you've got the cash. There's something in the back of my mind that suspects that Wikipedia's not protected against this – it's kind of in the state right now that the Web as a whole was in 1995 before the corporate world had discovered it. If Wikipedia follows the model of the web, capitalism will be sweeping in shortly.
Unless... the experts swoop in first. Wikipedia is part of a foundation, so it's not exactly just bobbing in the open seas waiting to be swept away. If enough academics and librarians started knocking on the door saying, hey, we'd like to participate, then perhaps Wikipedia (and Wikibooks) would kick up to the next level. Inevitably, these newcomers would insist on setting up some new vetting mechanisms and a few useful hierarchies that would help ensure quality. What would these be? That's exactly the kind of thing we should be discussing.
The Guardian ran a nice piece earlier this week in which they asked several "experts" to evaluate a Wikipedia article on their particular subject. They all more or less agreed that, while what's up there is not insubstantial, there's still a long way to go. The biggest challenge then, it seems to me, is to get these sorts of folks to give Wikipedia more than just a passing glance. To actually get them involved.
For this to really work, however, another group needs to get involved: the users. That might sound strange, since millions of people write, edit and use Wikipedia, but I would venture that most are not willing to rely on it as a bedrock source. No doubt, it's incredibly useful to get a basic sense of a subject. Bloggers (including this one) link to it all the time -- it's like the conversational equivalent of a reference work. And for certain subjects, like computer technology and pop culture, it's actually pretty solid. But that hits on the problem right there. Wikipedia, even at its best, has not gained the confidence of the general reader. And though the Wikimaniacs would be loathe to admit it, this probably has something to do with its core philosophy.
Karen G. Schneider, a librarian who has done a lot of thinking about these questions, puts it nicely:
Wikipedia has a tagline on its main page: "the free-content encyclopedia that anyone can edit." That's an intriguing revelation. What are the selling points of Wikipedia? It's free (free is good, whether you mean no-cost or freely-accessible). That's an idea librarians can connect with; in this country alone we've spent over a century connecting people with ideas.

However, the rest of the tagline demonstrates a problem with Wikipedia. Marketing this tool as a resource "anyone can edit" is a pitch oriented at its creators and maintainers, not the broader world of users. It's the opposite of Ranganathan's First Law, "books are for use." Ranganathan wasn't writing in the abstract; he was referring to a tendency in some people to fetishize the information source itself and lose sight that ultimately, information does not exist to please and amuse its creators or curators; as a common good, information can only be assessed in context of the needs of its users.
I think we are all in need of a good Wikipedia, since in the long run it might be all we've got. And I'm in now way opposed to its spirit of openness and transparency (I think the preservation of version histories is a fascinating element and one which should be explored further -- perhaps the encyclopedia of the future can encompass multiple versions of the "the truth"). But that exhilarating throwing open of the doors should be tempered with caution and with an embrace of the parts of the old system that work. Not everything need be thrown away in our rush to explore the new. Some people know more than other people. Some editors have better judgement than others. There is such a thing as a good kind of gatekeeping.
If these two impulses could be brought into constructive dialogue then we might get somewhere. This is exactly the kind of conversation the Wikimedia Foundation should be trying to foster.
Posted by ben vershbow at 01:04 PM | Comments (8)
tags: Education , Libraries, Search and the Web , Online , authority , encyclopedia , library , open_source , web , wiki , wikibooks , wikimedia , wikipedia
Microsoft's forthcoming "MSN Book Search" is the latest entity to join the Open Content Alliance, the non-controversial rival to Google Print. ZDNet says: "Microsoft has committed to paying for the digitization of 150,000 books in the first year, which will be about $5 million, assuming costs of about 10 cents a page and 300 pages, on average, per book..."
Apparently having learned from Google's mistakes, OCA operates under a strict "opt-in" policy for publishers vis-a-vis copyrighted works (whereas with Google, publishers have until November 1 to opt out). Judging by the growing roster of participants, including Yahoo, the National Archives of Britain, the University of California, Columbia University, and Rice University, not to mention the Internet Archive, it would seem that less hubris equals more results, or at least lower legal fees. Supposedly there is some communication between Google and OCA about potential cooperation.
Also story in NY Times.
Posted by ben vershbow at 09:06 AM | Comments (2)
tags: Libraries, Search and the Web , Microsoft , OCA , books , brewster_kahle , copyright , google , google_print , library , open_content_alliance , search , web , yahoo
This week Google will be paying a visit to the Frankfurt Book Fair to talk with European publishers and chief librarians (including arch nemesis Jean-Nöel Jeanneney) about eight new local incarnations of Google Print. (more)
Posted by ben vershbow at 08:56 AM | Comments (0)
tags: Libraries, Search and the Web , Online , books , copyright , ebook , europe , frankfurt , google , internet , library , publishing , search , web
The following was posted by Gary Frost as a comment to our post on Neil Postman's "Building a Bridge to the 18th Century." Gary recently returned from the Mississippi coast where he was part of a team helping to assess library and museum damage after Katrina.
The mystic advise that we walk into the darkness. Postman's only qualification is that we do futurism with the right gear. But we cannot wander off into the future with enough AA batteries. An archeologist at the storm damaged Jefferson Davis presidential library greeted me saying; "Welcome to the19th century." He was not kidding. No water, no electricity, no gas, no groceries. He was digging up the same artifacts for the second time in the immense debris fields left by Katrina.
We were driven to a manuscript era and we were invigorated to do our best. Strangely the cell phones worked and we talked to Washington from the 19th century. We asked if the Nation was still interested in the culture of the deep south. Not really, Transformers were at work and in our mobile society the evacuees had left for good. The army trucks were building new roads over the unmarked gravesites of 3000 Confederate veterans, who in their old age, came to Jeff Davis' home to die.
We were left hanging about the future and technologies were a sidebar. It wasn't really important that the 19th century had invented instantaneous communication, digital encoding or photographic representation or that the 21st century was taking the credit for its exploitation of these accomplishments. The gist was that the future deserved to be informed and not deluded. The gist was that the future would be fulfilled as a measure of its use of the accomplishments of a much longer past.
Posted by ben vershbow at 12:30 AM | Comments (1)
tags: Libraries, Search and the Web , archive , book , books , confederacy , confederate , digital , gulf , gulf_coast , history , hurricane , hurricane_katrina , jefferson_davis , katrina , library , literature , mississippi , paper , preservation , progress , reading , rescue , south , technology
It's nice to see that UbuWeb, the great public web library of the avant garde, is back online after "a long summer of rebuilding." At times when the web feels depressingly shallow, Ubu can be the perfect medecine. Among the many masterworks you will find is Samuel Beckett's "Film" (1965), starring a very old Buster Keaton. It's wonderful that anyone can watch this online (I've just spent half an hour in its thrall).


Also worth checking out are /ubu Editions - handsomely designed electronic texts ranging across an interesting selection of poetry, prose and theatre, including Ron Silliman's "The Chinese Notebook," which Dan blogged about a couple weeks back. These, like everything else on Ubu, are free.
Posted by ben vershbow at 01:21 AM | Comments (1)
tags: Libraries, Search and the Web , Online , avant_garde , avantgarde , beckett , buster_keaton , curated , ebook , experimental , fiction , film , gallery , internet , keaton , library , media , museum , music , poetry , samuel_beckett , silliman , theatre , ubu , ubuweb , web
Yahoo, in collaboration with The Internet Archive, Adobe, O'Reilly Media, Hewlett Packard Labs, the University of California, the University of Toronto, The National Archives of England, and others, will be participating in The Open Content Alliance, a book and media archiving project that will greatly enlarge the body of knowledge available online. At first glance, it appears the program will focus primarily on public domain works, and in the case of copyrighted books, will seek to leverage the Creative Commons.
Google Print, on the other hand, is more self-consciously a marketing program for publishers and authors (although large portions of the public domain will be represented as well). Google aims to make money off its indexing of books through keyword advertising and click-throughs to book vendors. Yahoo throwing its weight behind the "open content" movement seems on the surface to be more of a philanthropic move, but clearly expresses a concern over being outmaneuvered in the search wars. But having this stuff available online is clearly a win for the world at large.
The Alliance was conceived in large part by Brewster Kahle of the Internet Archive. He announced the project on Yahoo's blog:
To kick this off, Internet Archive will host the material and sometimes helps with digitization, Yahoo will index the content and is also funding the digitization of an initial corpus of American literature collection that the University of California system is selecting, Adobe and HP are helping with the processing software, University of Toronto and O'Reilly are adding books, Prelinger Archives and the National Archives of the UK are adding movies, etc. We hope to add more institutions and fine tune the principles of working together.

Initial digitized material will be available by the end of the year.
More in:
NY Times
Chronicle of Higher Ed.
Posted by ben vershbow at 02:00 PM | Comments (0)
tags: Libraries, Search and the Web , archive , book , books , brewster_kahle , digital , digitize , ebook , google , google_print , googleprint , internet_archive , kahle , library , literature , reading , scanning , yahoo , yahoo!
A nice companion piece to the "database of intentions" is George Legrady's new installation, "Making Visible the Invisible," at the Rem Koolhaas-designed Seattle Central Library. Six large LED display panels suspended above the "mixing chamber" on the library's fifth floor display a series of visualizations depicting the circulation of library books and other media across time and classification area, providing "a real-time living picture of what the community is thinking."
KeyWord Map Attack


Legrady described the project at the Transliteracies conference this past June in Santa Barbara. At that time, Bob blogged:
the pinpoint accuracy of computer-searches, leaves those of us lucky enough to have spent time in library stacks, nostalgic for the unexpected discovery of something we didn't know we were looking for but which just happened, serendipitously, to be on a nearby shelf. George Legrady, artist and prof at UC Santa Barbara, just showed a project he is working on for the new public library in Seattle that gave the first glimpse of serendipity in online library searching which lets you see all the books that have recently been checked out on a particular subject. Beautiful and Exciting.
Vital Statistics


Floating Titles

Dot Matrix Rain



Other observations:
"New piece for Central Library pushes art to the technical edge" in Seattle Post Intelligencer

Information Aesthetics profile
Posted by ben vershbow at 06:37 PM | Comments (0)
tags: Libraries, Search and the Web , architecture , art , book , books , circulation , datavisualization , georgelegrady , infovis , infoviz , installation , koolhaas , legrady , library , public , reading , remkoolhaas , sculpture , seattle , visualization
This past year, most of my reading (for better or for worse) has been done online. When I visit my local library it is to check out DVDs, or to take my son to story hour, or to use the library's free wireless. When I am there, I notice that many of the other patrons are there for the same reason. There's always a waiting list for the computers and a line of patrons with arms full of DVDs waiting to check out.
It's no surprise that libraries are looking for ways to extend these popular digital offerings in order to better serve their patrons and to stay relevant in the digital age. A recent article in Technology Review by Michael Hill reports that libraries have, "considered the needs of younger readers and those too busy to visit," and are beginning to offer downloadable digital audio books. "This is a way for us to have library access 24/7," says Barbara Nichols Randall, director of the Guilderland Public Library in suburban Albany. As an added bonus, you never have to worry about late fees. Here's how it works:

A patron with a valid library card visits a library Web site to borrow a title for, say, three weeks. When the audiobook is due, the patron must renew it or find it automatically "returned" in a virtual sense: The file still sits on the patron's computer, but encryption makes it unplayable beyond the borrowing period.

"The patron doesn't have to do anything after the lending period," said Steve Potash, chief executive of OverDrive. "The file expires. It checks itself back into the collection. There's no parts to lose. It's never damaged. It can never be late."
Posted by Kim White at 09:03 AM | Comments (0)
tags: Libraries, Search and the Web , OverDrive , audiobook , download , lending , library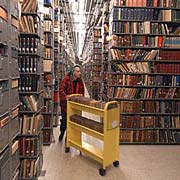 The recent buzz surrounding Google's library intitiative has everyone talking about the future of research, which inevitably raises the question: how will the digitization of library collections change the role of the librarian? I would guess that, far from becoming obsolete, their role will in fact be elevated in importance, if not necessarily in status. They could very well come to be our indispensible guides through the labyrinth - if perhaps invisible, engineering behind the digital walls.
It's also important to consider the question of visualization. When you run a search on Google you are given an enormous list. This is already deeply ingrained in the day-to-day business of finding information. But these lists are basically the electronic equivelant of scrolls, with the items algorithmically determined to be most relevant placed at the top. But sooner or later we have to admit that using scrolls for this kind of business is ludicrous. There has to be a better way of arraying these vast harvests of information in a way that allows the researcher to zoom across degrees of specificity and through associative chains of context and meaning. I see no reason why a search shouldn't take place in some kind of virtual library, emulating the physical architecture of research settings, and allowing for some of the associative or accidental echoes that so often enrich a paper trail blazed through a brick-and-mortar library. Or cannot knowledge resemble a tree, or an arterial matrix? Must we be bound to the scroll?
Returning to the question of the librarian's role, I recalled this passage from James J O'Donnell's 1996 paper The Pragmatics of the New: Trithemius, McLuhan, Cassiodorus:
"The librarians of the world have, moreover, already led the way, for academics at least, into the new information environment, not least because they are caught between rising demand from their customers (faculty and students) and rising supply and prices from their suppliers, and so have already been making reality-based decisions about ownership versus access, print versus electronics, and so on. In short, they are just now our leading pragmatists. Can we imagine a time in our universities when the librarians are the well-paid principals and the teachers their mere acolytes in a distribution chain? I do not think we can or should rule out that possibility for a moment"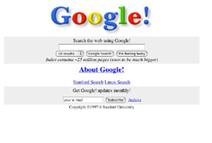 Related articles:
"Questions and Praise for Google Web Library" - NY Times
"Google's library plan 'a huge help'" - USA Today
"Making books readable on computer proves trying task" - USA Today
Also, I found this on Searchblog. For a trip down memory lane, check out the original Google in the Stanford archives (click on picture to right). Unfortunately, although it seems interactive, a search just brings up a bunch of stylesheets.
Posted by ben vershbow at 03:02 PM | Comments (0)
tags: Libraries, Search and the Web , google , google_print , information_architecture , infoviz , librarian , library , michigan , search
Can Google remain true to its promise to "do no evil," now that it has shareholders to worry about, advertisers to please, and an ever-increasing reach into the repositories of human knowledge? Google still gives you that warm and fuzzy feeling. It's got the goofy name, those cute seasonal tailorings of its masthead, the lava lamps. And this is not to mention the various amusing pastimes - the "Google Whack" game in which you try to find two words that cohabit only one of the search engine's eight billion web pages; or every writer's guilty pleasure, the Googling of the self, the "auto-Google," that delicious act of cyber-onanism.
But where might it lead? One day, when I open my fridge, might a sensor not read my searching eye and know that I am looking for milk? And knowing that I have run out, suggest an array of retailers who might be able to replenish my supply? Could Google come to mediate every exchange of information, no matter how inane, or how carnal?
Or could it come to resemble something like the Central Intelligence Corporation in Neal Stephenson's Snow Crash - a cross between the CIA, the Library of Congress, and DARPA's "Total Information Awareness" program?
MercuryNews.com | 12/14/2004 | Does Google move augur commercialization of libraries?
Posted by ben vershbow at 07:35 PM | Comments (0)
tags: Libraries, Search and the Web , evil , google , internet , library , library_of_congress , neal_stephenson , privacy , search , surveillance , web
How useful will this service be for in-depth research when copyrighted books (which will account for a huge percentage of searchable texts) cannot be fully accessed? In such cases, a person will be able to view only a selection of pages (depending on agreements with publishers), and will find themselves bombarded with a variety of retail options. On a positive note, the search will be able to refer the user to any local libraries where the desired book is available, but still, the focus here remains squarely on digital texts as simply a means of getting to print texts.
Absent a major paradigm shift with regard to the accessibility and inherent virtue of electronic texts, this ambitious project will never achieve its full potential. For someone searching outside the public domain, the Google library project may amount to nothing more than a guided tour through a prison of incarcerated texts. I've found this to be true so far with Google Scholar - it turned up a lot of interesting stuff, but much of it was password protected or required purchase.
article in Filter: Google -- 21st Century Dewey Decimal System (washingtonpost.com)
Posted by ben vershbow at 04:34 PM | Comments (0)
tags: Libraries, Search and the Web , books , copyright , digitization , ebooks , google , google_book_search , google_print , google_scholar , libraries , library
I just checked out two titles from the New York Public Library's ebook catalog, only to learn, to my great astonishment, that those books are now effectively "checked out," and cannot be downloaded again by anyone else until my copies time out.
It boggles the mind that NYPL would go to the trouble of establishing a collection of electronic titles, only to wipe out every advantage offered by digital texts. In fact, they do more than simply keep the ebooks on the level of print, they limit them further than that, since there are generally multiple copies of most print titles in the NYPL system.
The people responsible for this catalog have either entirely failed to grasp the concept of infinitely accessible, screen-based books, or they grasp it all too well and are trying to stunt it at its inception, perhaps out of fear of extinction of the print librarian. More likely, they are under heavy pressure by a paranoid copyright regime. Whatever the reason, the new ebook catalog shows a total lack of imagination and offers nearly no tangible benefit for the reader.
Beyond that, the books themselves are poorly designed and unpleasant to read. My downloaded copy of Conrad's Heart of Darkness (which, by the way, I found in the "Romance" section) evidences no more than ten minutes worth of design work, and appears to be simply a cut-and-pasted ASCII file from Gutenberg with a garish graphic slapped on the cover. My copy of Chain of Command by Seymour Hersh was a bit more respectable – more or less a pdf facsimile of the print edition.
On an amusing note, the "literary criticism" section is populated almost entirely by Cliff's Notes.
Posted by ben vershbow at 01:51 PM | Comments (0)
tags: DRM , Libraries, Search and the Web , books , copyright , design , e-publishing , ebook , ebooks , internet , libraries , library , manhattan , new_york , publishing
This is the third Times article this week on e-books. What's happening?
No Need to Click Here - we're just claiming our feed at Feedster
Posted by ben vershbow at 02:26 AM | Comments (0)
tags: Libraries, Search and the Web , books , ebook , ebooks , library , new_york