Listing entries tagged with everything_bad_is_good_for_you?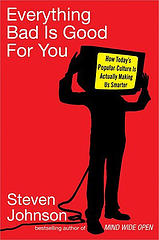 Hi Steven,
first up: I appreciate you coming over to defend yourself. The blogosphere is far too often self-reinforcing - the left (for example) reads left-leaning blogs and the right reads right-leaning blogs & there's not a lot of dialogue between people on opposite sides, to everyone's loss.
Here's something that's been nagging me for the past week or so: your book seems to effectively be conservative. Bear with me for a bit: I'm not saying that it's Bill O'Reilly-style invective. I do think, however, that it effectively reinforces the status quo. Would I be wrong in taking away as the message of the book the chain of logic that:
Our pop culture's making us smarter.
Therefore it must be good.
Therefore we don't need to change what we're doing.
I'll wager that you wouldn't sign off on (3) & would argue that your book isn't in the business of prescribing further action. I'm not accusing you of having malicious intentions, and we can't entirely blame a writer for the distortions we bring to their work as readers (hey Nietzsche!). But I think (3)'s implicitly in the book: this is certainly the message most reviewers, at least, seem to be taking away from the book. Certainly you offer caveats (if the kids are watching television, there's good television & there's bad television), but I think this is ultimately a Panglossian view of the world: everything is getting better and better, we just need to stand back and let pop culture work upon us. Granted, the title may be a joke, but can you really expect us, the attention-deficit-addled masses, to realize that?
Even to get to (2) in that chain of reasoning, you need to buy into (1), which I don't know that I do. Even before you can prove that rising intelligence is linked to the increased complexity of popular culture – which I'll agree is interesting & does invite scrunity – you need to make the argument that intelligence is something that can be measured in a meaningful way. Entirely coincidentally – really – I happened to re-read Stephen Jay Gould's Mismeasure of Man before starting in on EBIGFY; not, as I'm sure you know, a happy combination, but I think a relevant one. Not to reopen the internecine warfare of the Harvard evolutionary biology department in the 1990s, but I think the argument that Gould wrings out of the morass of intelligence/IQ studies still holds: if you know who your "smart" kids are, you can define "smartness" in their favor. There remain severe misgivings about the concept of g, which you skirt: I'm not an expert on the current state of thought on IQ, so I'll skirt this too. But I do think it's worth noting that while you're not coming to Murray & Herrnstein's racist conclusions, you're still making use of the same data & methodology they used for The Bell Curve, the same data & methodology that Gould persuasively argued was fundamentally flawed. Science, the history of intelligence testing sadly proves, doesn't exist outside of a political and economic context.
But even if smartness can be measured as an abstract quantity and if we are "smarter" than those of times past, to what end? This is the phrase I found myself writing over and over in the margin of your book. Is there a concrete result in this world of our being better at standardized tests? Sure, it's interesting that we seem to be smarter, but what does that mean for us? Maybe the weakest part of your book argues that we're now able to do a better job of picking political leaders. Are you living in the same country I'm living in? and watching the same elections? If we get any smarter, we'll all be done for.
I'll grant that you didn't have political intentions in writing this, but the ramifications are there, and need to be explored if we're going to seriously engage with your ideas. Technology – the application of science to the world in which we live – can't exist in an economic and political vacuum.
Posted by dan visel at 04:18 PM | Comments (9)
tags: culture , everything_bad_is_good_for_you? , gould , intelligence , iq , media , sociobiology , steven_johnson , technology
Folks, enjoying the discussion here. I had a couple of responses to several points that have been raised.
1. The title. I think some of you are taking it a little too seriously -- it's meant to be funny, not a strict statement of my thesis. Calling it hyperbolic or misleading is like criticizing Neil Postman for calling his book "Amusing Ourselves To Death" when no one actually *died* from watching too much television in the early eighties.
2. IQ. As I say in the book, we don't really know if the increased complexity of the culture is partially behind the Flynn Effect, though I suspect it is (and Flynn, for what it's worth, suspects it is as well.) But I'm not just interested in IQ as a measure of the increased intelligence of the gaming/net generation. I focused on that because it was the one area where there was actually some good data, in the sense that we definitely know that IQ scores are rising. But I suspect that there are many other -- potentially more important -- ways in which we're getting smarter as well, most of which we don't test for. Probably the most important is what we sometimes call system thinking: analyzing a complex system with multiple interacting variables changing over time. IQ scores don't track this skill at all, but it's precisely the sort of thing you get extremely good at if you play a lot of SimCity-like games. It is not a trivial form of intelligence at all -- it's precisely the *lack* of skill at this kind of thinking that makes it hard for people to intuitively understand things like ecosystems or complex social problems.
3. The focus of the book itself. People seem to have a hard time accepting the fact that I really do think the content/values discussion about pop culture has its merits. I just chose to write a book that would focus on another angle, since it was an angle that was chronically ignored in the discussion of pop culture (or chronically misunderstood.) Everything Bad is not a unified field theory of pop culture; it's an attempt to look at one specific facet of the culture from a fresh perspective. If Bob (and others) end up responding by saying that the culture is both making us smarter on a cognitive level, but less wise on a social/historical level (because of the materialism, etc) that's a perfectly reasonable position to take, one that doesn't contradict anything I'm saying in the book. I happen to think that -- despite that limited perspective -- the Sleeper Curve hypothesis was worthy of a book because 1) increased cognitive complexity is hardly a trivial development, and 2) everyone seemed to think that the exact opposite was happening, that the culture was dumbing us all down. In a way, I wrote the book to encourage people to spend their time worrying about real problems -- instead of holding congressional hearings to decide if videogames were damaging the youth of American, maybe they could focus on, you know, poverty or global warming or untangling the Iraq mess.
As far as the materialistic values question goes, I think it's worth pointing out that the most significant challenge to the capitalist/private property model to come along in generations has emerged precisely out of the gaming/geek community: open source software, gift economy sharing, wikipedia, peer-to-peer file sharing, etc. If you're looking for evidence of people using their minds to imagine alternatives to the dominant economic structures of their time, you'll find far more experiments in this direction coming out of today's pop culture than you would have in the pop culture of the late seventies or eighties. Thanks to their immersion this networked culture, the "kids today" are much more likely to embrace collective projects that operate outside the traditional channels of commercial ownership. They're also much more likely to think of themselves as producers of media, sharing things for the love of it, than the passive TV generation that Postman chronicled. There's still plenty of mindless materialism out there, of course, but I think the trend is a positive one.
Steven
Posted by steven johnson at 10:39 AM | Comments (2)
tags: Education , childhood , cognition , culture , everything_bad_is_good_for_you? , gaming , iq , neil_postman , video_games
Responding to Bob's "games provide much more than a cognitive workout"...
Growing up in the 80s, video games were much less sophisticated and probably less effective as a matrix for training consumption. TV performed that role. I remember watching on Nickelodeon competitions between children in a toy store in which each contestant had 60, or 120 seconds to fill a shopping cart with as many toys as they possibly could. The winner -- whoever had managed to grab the most -- got to keep the contents of their cart. The physical challenge of the game was obvious. You could even argue that it presented a cognitive challenge insofar as you had to strategize the most effective pattern through the aisles, balancing the desirability of toys with their geometric propensity to fly off the shelves quickly. But did that excuse the game ethically?
I've played a bit of Katamari lately and have enjoyed it. It's a world charged with static electricity, everything sticks. Each object has been lovingly rendered in its peculiarity and stubbornness. If your katamari picks up something long and narrow, say, a #2 pencil, and attaches to it in such a way that it sticks out far from the clump, it will impede your movement. Each time the pencil hits the ground, you have to kind of pole vault the entire ball. It's not hard to see how the game trains visual puzzle-solving skills, sensitivity to shape, spatial relationships (at least virtual ones), etc.
That being said, I agree with Bob and Rylish that there is an internal economy at work here that teaches children to be consumers. A deep acquisition anxiety runs through the game, bringing to mind another Japanese pop phenom: Pokémon. Pokémon (called "Pocket Monsters" in Japan) always struck me as particularly insidious, far more predatory than anything I grew up with, because its whole narrative universe is based on consumption. "Collect 'em all" is not just the marketing slogan for spinoff products, but the very essence of the game itself. The advertising is totally integrated with the story. Here's Wikipedia (not a bad source for things like this) on how it works:
"The Pokémon games are role-playing games with a strategy element which allow players to catch, collect, and train pets with various abilities, and battle them against each other to build their strength and evolve them into more powerful Pokémon. Pokémon battles are based on the non-lethal Eastern sport of fighting insects, but the Pokémon never bleed or die, only faint. The game's catchphrase used to be "Gotta catch 'em all!", although now it is no longer officially used."
Similarly, the Katamari backstory involves the lord of the universe getting drunk one night and shattering the solar system. Each level of the game is the reassembly of a star or planet. If you succeed, a heavenly body is restored to the firmament.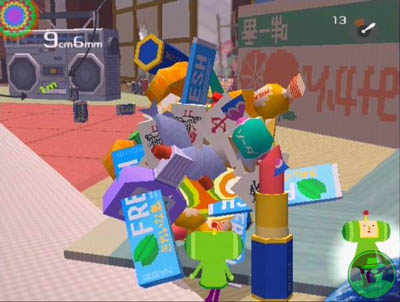 After an hour playing Katamari, having traversed a number of wildly imaginative landscapes (and having absorbed a soundtrack that can only be described as Japanese chipmunks on nitrous) I re-enter the actual world in a mildly fevered state. The cardinal rule in the game is that to succeed I must devour as much as possible. No time is afforded to savor the strange, psychedelic topography, to examine the wonderful array of objects (everything from thumbtacks to blue whales) scattered about in my path. Each stage is a terrain that must be gobbled up, emptied. A throbbing orb of light in the upper left corner of the screen, set within concentric rings representing target diameters, measures my progress toward the goal: a katamari "n" meters in size. The clock in the upper right corner pressures me to keep rolling.
Video games today may not be as blatant as the consumerist spectacle of the Nickelodeon game, and they may provide richly textured worlds posing greater problem-solving challenges than any electronic media that has preceded them. But it seems to me that many of them do not differ ideologically from that shopping cart contest.
Posted by ben vershbow at 08:02 AM | Comments (4)
tags: Education , Games , capitalism , children , cognitive , everything_bad_is_good_for_you? , japan , katamari , katamari_damacy , nickelodeon , pokemon , steven_johnson , video_games
games may be helping to raise raw IQ scores, but much more importantly they also also reinforce the dominant culture's norms of material rewards and consumerism and one of the most interesting games of the past year, katamari damacy, praised for being both witty and non-violent, basically rewards players for consuming as much material goods possible.
the following is slightly edited analysis of the game by rylish moeller, an english prof who is very active on the techrhet listserv.
katamari damacy is an extraordinarily interesting game. the game's lead designer had as one of his top goals to "make a game that would appeal to people who have become disillusioned with recent games and rekindle their passion." for more, read the game's postmortem in the december 2004 issue of gamedeveloper. my point is that most games support models of consumerism and monopoly capital through internal economies (collecting stuff, money, power-ups, etc.), gameplay (viewing objects and people as consumables as in katamari), and even at meta-levels such as this one where the lead developer wishes to rekindle lost passion for consuming (er, playing) games. while this doesn't really surprise me, i am surprised that when we discuss what we learn by playing games, we are not (often) discussing these very interesting, ideological issues that stem from the very social relationships and cultures of production that engender the games in the first place, those that we willingly subject ourselves to as we play.

but katamari is an interesting game to discuss since it calls issues like consumerism and environmentalism to the foreground in a very overt sort of way. in another revealing comment, the game's developer (keita takahashi) hopes that this game will motivate other developers to "create something new, without focusing on the bottom line for once." so, we cannot really discuss games and learning and literacy without spending some time grounding that conversation in the economic and cultural environments which drive game production. my worry is not that games are too complicated or too violent or too masculine or too racist but that they are these things in order to perpetuate consumerism.
note: the point of this is not to trash katamari damacy or games in general, but rather to point out that while IQ is possibly being raised, other perhaps more significant lessons are being learned as well.
Posted by bob stein at 03:46 PM | Comments (1)
tags: Games , consumerism , economics , everything_bad_is_good_for_you? , gaming , iq , japan , katamari_damacy , steven_johnson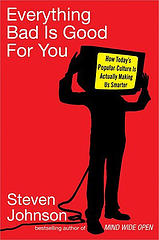 it's taken me awhile to write the second installment of this critique (part 1 here) because i've been wrestling with how to expand the terms of the discussion. i've been reading the various reviews and discussions and even listened to the recent MIT symposium on the book. all of the critical energy is spent asking whether the conclusion — that modern electronic media is raising IQ and certain problem-solving skills— is based on thorough or good science; if it's "true" or not.
whether people end up believing that Johnson is 10, 20, 30, 70 or 90 percent right about the effect of media on IQ and problem-solving skills, they mostly accept his boundaries of the subject. i seem to be coming at it from another direction. the problem for me isn't Johnson's conclusion which i think is "sorta correct' but rather that by defining the question of media's impact so narrowly the overall effect of his argument is to turn people away from much deeper questions about the role of media in shaping how we see the world and how we behave in it.
i believe that the shallowness of the debate around Johnson's book is an excellent example of ways in which the effect of popular media has indeed been "bad" for us, not good. whether our IQs have gone up or not, the failure of most television and games to deal with moral complexity and the increasing tendency of TV news to entertain rather than inform have had made other more significant changes in our behavior — most significantly we are increasingly unable or resistant to look deeply and all-sidedly into important questions.
more tomorrow.
Posted by bob stein at 08:44 AM | Comments (5)
tags: Games , culture , everything_bad_is_good_for_you? , intelligence , media , steven_johnson , technology
just finished the second book discussion at the institute. first was neil postman's building a bridge to the eighteenth century. second was steve johnson's everything bad is good for you in which johnson presents a contemporary refutation of postman.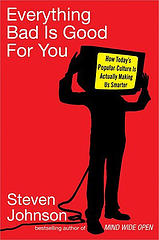 johnson's basic premise seems harmless enough. games and tv drama are getting more layered, more complex. the mental exercise is likely making our brains more nimble, might even be improving our problem-solving skills. OK...
but how can you define good and bad simply in terms of whether one's brain is better at multi-tasking and problem-solving. i'll grant that this shift in raw brain power might make us more effective worker bees for our techno-capitalist society, but it doesn't mean that the substance of our lives or the social fabric is improved.
we don't need cheerleaders telling us everything is fine — especially when in our gut we're pretty sure it isn't. we need to look long and hard at the kind of world we are building with all this technology.
johnson's book has been widely praised, making it all the more important to hold it up to careful scrutiny. over the next several days we're going to launch a serious critique of "everything bad is good for you." please feel encouraged to join in.
Posted by bob stein at 10:31 AM | Comments (4)
tags: Games , TV , book , books , culture , everything_bad_is_good_for_you? , film , future , gaming , iq , media , reading , steven_johnson , stevenjohnson , technology , television , video_games