After enduring a weeks-long PR pummeling for its dealings in China, Google is hard at work to improve its image in the world, racking up some points for good after slipping briefly into evil. Recently they launched Google.org: a website for the Google Foundation, the corporation's philanthropic arm and central office of evil mitigation. Paying a visit to the site, the disillusioned among us will be pleased to find that the foundation is already sponsoring a handful of worthy initiatives, along with a grants program that donates free web advertising to nonprofit organizations. And just in case we were concerned that Google might not apply its techno-capitalist wizardry to altruism as zealously as to making profit, they just announced today they've named a new director for the foundation by the name of -- no joke -- Dr. Brilliant. So it seems the world is in capable hands.
One project in particular caught my eye in light of recent discussions about screen-based reading and genre-blending visions of the book. Planet Read is an organization that promotes literacy in India through Same Language Subtitling -- a simple but apparently effective technique for building basic reading skills, taking popular visual entertainment like Bollywood movies and adding subtitles in English and Hindi along the bottom of the screen. A number of samples (sadly no Bollywood, just videos or photo montages set to Indian folk songs) can be found on Google Video. Here's one that I particularly liked:
Watching the video -- managing the interplay between moving text and moving pictures -- I began to wonder whether there are possibly some clues to be mined here about the future of reading. Yes, Planet Read is designed first and foremost to train basic alphabetic literacy, turning a captive audience into a captive classroom. But in doing so, might it not also be nurturing another kind of literacy?
The problem with contemporary discussions about the future of the book is that they are mired -- for cultural and economic reasons -- in a highly inflexible conception of what a book can be. People who grew up with print tend to assume that going digital is simply a matter of switching containers (with a few enhancements thrown in the mix), failing to consider how the actual content of books might change, or how the act of reading -- which increasingly takes place in a dyanamic visual context -- may eventually demand a more dynamic kind of text.
Blurring the lines between text and visual media naturally makes us uneasy because it points to a future that quite literally (for us dinosaurs at least) could be unreadable. But kids growing up today, in India or here in the States, are already highly accustomed to reading in screen-based environments, and so they probably have a somewhat different idea of what reading is. For them, text is likely just one ingredient in a complex combinatory medium.
Another example: Nochnoi Dozor (translated "Night Watch") is a film that has widely been credited as the first Russian blockbuster of the post-Soviet era -- an adrenaline-pumping, special effects-infused, sci-fi vampire epic made entirely by Russians, on Russian soil and on Russian themes (it's based on a popular trilogy of novels). When it was released about a year and a half ago it shattered domestic box office records previously held by Western hits like Titanic and Lord of the Rings. Just about a month ago, the sequel "Day Watch" shattered the records set by "Night Watch."
While highly derivative of western action movies, Nochnoi Dozor is moody, raucous and darkly gorgeous, giving a good, gritty feel of contemporary Moscow. Its plot grows rickety in places, and sometimes things are downright incomprehensible (even, I'm told, with fluent Russian), so I'm skeptical about its prospects on this side of the globe. But goshdarnit, Russians can't seem to get enough of it -- so in an effort to lure American audiences over to this uniquely Russian gothic thriller, start building a brand out of the projected trilogy (and presumably pave the way for the eventual crossover to Hollywood of director Timur Bekmambetov), Fox Searchlight just last week rolled the film out in the U.S. on a very limited release.
What could this possibly have to do with the future of reading? Well, naturally the film is subtitled, and we all know how subtitles are the kiss of death for a film in the U.S. market (Passion of the Christ notwithstanding). But the marketers at Fox are trying something new with Nochnoi Dozor. No, they weren't foolish enough to dub it, which would have robbed the film of the scratchy, smoke-scarred Moscow voices that give it so much of its texture. What they've done is played with the subtitles themselves, making them more active and responsive to the action in the film (sounds like some Flash programmer had a field day...). Here's a description from an article in the NY Times (unfortunately now behind pay wall):
...[the words] change color and position on the screen, simulate dripping blood, stutter in emulation of a fearful query, or dissolve into red vapor to emulate a character's gasping breaths.
And this from Anthony Lane's review in the latest New Yorker:
...the subtitles, for instance, are the best I have encountered. Far from palely loitering at the foot of the screen, they lurk in odd corners of the frame and, at one point, glow scarlet and then spool away, like blood in water. I trust that this will start a technical trend and that, from here on, no respectable French actress will dream of removing her clothes unless at least three lines of dialogue can be made to unwind across her midriff.
It might seem strange to think of subtitling of foreign films as a harbinger of future reading practices. But then, with the increasing popularity of Asian cinema, and continued cross-pollination between comics and film, it's not crazy to suspect that we'll be seeing more of this kind of textual-visual fusion in the future.
Most significant is the idea that the text can itself be an actor in a perfomance: a frontier that has only barely been explored -- though typography enthusiasts will likely pillory me for saying so.
Posted by ben vershbow at 06:57 PM | Comments (6) | TrackBack
tags: animation , books , cinema , digital_literature , ebooks , film , flash , google , google_video , india , language , literacy , reading , russia , subtitles , translation , typography , video
Bud Parr, author of the blog Chekhov's Mistress and commenter on if:book, recently posted on a speech given by Susan Sontag, entitled "Literature is Freedom."
Quoting, his favorite quote:
A writer, I think, is someone who pays attention to the world. That means trying to understand, take in, connect with, what wickedness human beings are capable of; and not be corrupted - made cynical, superficial - by this understanding.

Literature can tell us what the world is like.

Literature can give us standards and pass on deep knowledge, incarnated in language, in narrative.

Literature can train, and exercise, our ability to weep for those who are not us or ours.
At the institute, we often describe the "book" as both a vessel (technology) and text (information) especially as we work on revising our mission statement. Even so, and only speaking for myself, it is still very easy to get caught up in things like networks, copyright policy, and Web 2.0, which are, of course, all important topics. Sontag's quote is a good reminder of not just what resides in the vessel of the book, but why its contents are valuable.
Posted by ray cha at 03:23 PM | Comments (2)
tags: bud_parr , chekhovsmistress , digital_literature , literature , susan_sontag
LONGPLAYER 01.16.2006, 12:08 PM
when i was growing up they started issuing LP albums which played at 33 1/3 rpm, vastly increasing the amount of playing time on one side of a record. before the LP, audio was recorded and distributed on brittle discs made of shellac, running at 78rpm. 78s had a capacity of about 12 minutes; LPs upped that to about 30 minutes which made it possible for classical music fans to listen to an entire movement without changing discs and enabled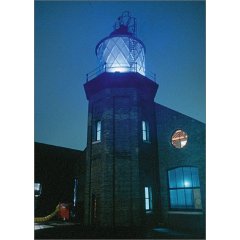 the development of the rock and roll album.
in 2,000 Jem Finer, a UK-based artist released Longplayer, a 1000-year musical composition that runs continuously and without repetition from its start on January 1, 2000 until its completion on December 31, 2999. Related conceptually to the Long Now project which seeks to build a ten-thousand year clock, Longplayer uses generative forms of music to make a piece that plays for ten to twelve human lifetimes. Longplayer challenges us to take a longer view which takes account of the generations that will come after us.
the longplayer also reminds me of an idea i've been intrigued by — the possiblity of (networked) books that never end because authors keep adding layers, tangents and new chapters.
Finer published a book about Longplayer which includes a vinyl disc (LP actually) with samples.
Posted by bob stein at 12:08 PM | Comments (2)
tags: LP , audio , digital_literature , generations , longplayer , mp3 , music , streaming , time
The Electronic Literature Organization seeks submissions for the first Electronic Literature Collection. We invite the submission of literary works that take advantage of the capabilities and contexts provided by the computer. Works will be accepted until January 31, 2006. Up to three works per author will be considered.
The Electronic Literature Collection will be an annual publication of current and older electronic literature in a form suitable for individual, public library, and classroom use. The publication will be made available both online, where it will be available for download for free, and as a packaged, cross-platform CD-ROM, in a case appropriate for library processing, marking, and distribution. The contents of the Collection will be offered under a Creative Commons license so that libraries and educational institutions will be allowed to duplicate and install works and individuals will be free to share the disc with others.
The editorial collective for the first volume of the Electronic Literature Collection, to be published in 2006, is:
N. Katherine Hayles
Nick Montfort
Scott Rettberg
Stephanie Strickland
Go here for full submission guidelines.
Posted by ben vershbow at 12:35 PM | Comments (0)
tags: art , digital_literature , e-literature , eliterature , fiction , hypertext , literature , multimedia , poetry , writing
For decades now, hypertext guru Ted Nelson has slipped in and out of public awareness, often left for dead or permanently exiled in Xanadu, only to re-emerge suddenly in a wonderful burst of curmudgeonly dissent. A recent Slashdot thread discusses his latest project, or more accurately, the latest stage in his ongoing quest: transliterature, "a humanist format for re-usable documents and media," or, an alternative to the constricting protocols of the world wide web. What exactly will this new format entail? It's hard to tell. But Nelson's plea is worth heeding:
The tekkies have hijacked literature- with the best intentions, of course!-) - but now the humanists have to get it back. Nearly every form of electronic document- Word, Acrobat, HTML, XML- represents some business or ideological agenda. Many believe Word and Acrobat are out to entrap users; HTML and XML enact a very limited kind of hypertext with great internal complexity. All imitate paper and (internally) hierarchy. I propose a different document agenda: I believe we need new electronic documents which are transparent, public, principled, and freed from the traditions of hierarchy and paper. In that case they can be far more powerful, with deep and rich new interconnections and properties- able to quote dynamically from other documents and buckle sideways to other documents, such as comments or successive versions; able to present third-party links; and much more. Most urgently: if we have different document structures we can build a new copyright realm, where everything can be freely and legally quoted and remixed in any amount without negotiation.
Nelson is always given a nod as the coiner of "hypertext", but his other concepts -- "transclusion", "virtual rearrangement", "clinks," for example -- are largely dismissed, or simply unknown to most people. But elements of his thinking can be observed far and wide in some of the emerging practices -- blogging, wikis, APIs -- of what people are calling "Web 2.0", or, the web as operating system. Over the past few years, the web has transformed from an interlinked series of brochures into a massive hypertext conversation, a platform in which we are increasingly able to weave, quote and track back to other documents. This is at least in the neighborhood of what Nelson is talking about.
Granted, the microeconomy of quotation (transclusion) that Nelson envisions has not yet materialized, but that may only be because he is thinking so far ahead of his time. Staying focused on the present, it's worth taking a look at what is developing with online advertising. Keyword ads, Google's "AdSense", Amazon's web services, and even voluntary donation models like PayPal tip jars -- couldn't you say these are the humble foundations of an online micropayment economy? The explosion of electronic self-publishing has not as yet produced an equivelant commercial rigging, but with blogging now accepted as an important medium, that could soon change.
The next generation of publishing software may include a more robust infrastructure that could support some kind of quotation or cross-referencing economy. Right now, the few blogs that make money do so by encrusting themselves with ads. Advertisers will buy space if the site can demonstrate impressive traffic stats. But doesn't this all sort of skirt around the edge of what makes blogging exciting and influential? What if talented bloggers could earn money when significant portions of their writing were quoted?
You can already quote images, video and sound in the way Nelson dreams of quoting text: by loading it remotely, i.e. from another location on the internet. Of course, there is no microtransaction infrastructure in place. It's much more roughshod than that. You simply pull html from the source site, or embed the file's address in a media player, and plug it in your page. That's how I've transcluded John Ashbery reading his poem "The Tennis Court Oath" (source - ubuweb):
There's still a long way to go, but the points of contact with Nelson's theories are many. For me, it's his humanist philosophy, more than the fuzzy mechanics of his proposed system, that is most inspiring. There's a generosity, an understanding of the interdependency of form and content, that is conspicuously absent in the prevailing tekkie culture. Perhaps the thinker closest of kin to Nelson was Jef Raskin, whose work on the humane interface is founded on many of the same convictions about usability and connectedness. I also find there's a kind of poetry in Nelson's dream of a literary hypertext economy, captured not only in his writings but in his frayed, manic illustrations (transquoted here):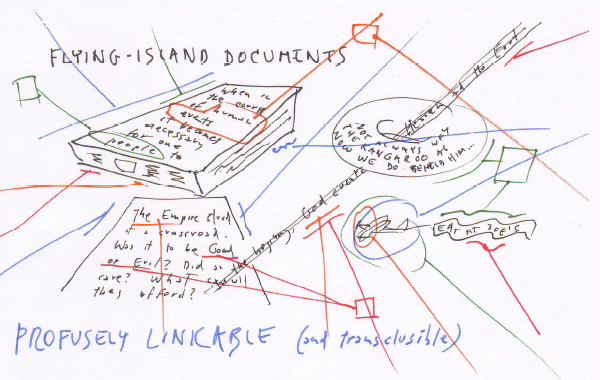 I think he's a kindred spirit of the institute too. Here's Nelson on electronic literature (sadly, not transquoted, just cut-and-paste):
What is literature? Literature is (among other things) the study and design of documents, their structure and connections. Therefore today's electronic documents are literature, electronic literature, and the question is what electronic literature people really need.

Electronic literature should belong to all the world, not just be hoarded by a priesthood, and it should do what people need in order to organize and present human ideas with the least difficulty in the richest possible form.

A document is not necessarily a simulation of paper. In the most general sense, a document is a package of ideas created by human minds and addressed to human minds, intended for the furtherance of those ideas and those minds. Human ideas manifest as text, connections, diagrams and more: thus how to store them and present them is a crucial issue for civilization.

The furtherance of the ideas, and the furtherance of the minds that present them and take them in, are the real objectives. And so what is important in documents is the expression, reception and re-use of ideas. Connections, annotations, and most especially re-use-- the traceable flow of content among documents and their versions-- must be our central objectives, not the simulation of paper.
Posted by ben vershbow at 03:03 PM | Comments (2)
tags: Transliteracies , design_curmudgeonry , digital_literature , ebooks , history_of_interactive_media , html , hypertext , internet , literature , ted_nelson , transclusion , transliterature , web , web_2.0 , xanadu
"I don't have a single early draft of any novel or story. I just 'saved' over the originals until I reached the final version. All there is is the books themselves." - Zadie Smith
This is a call (re-published from the Electronic Literature Organization) for writers to participate in a creative versioning project, hopefully to begin this winter:
Matthew Kirschenbaum is looking for poets and fiction writers willing to participate in a project to archive versions of texts in progress. An electronic document repository (known as a Concurrent Versions System, or CVS) will be used to track revisions and changes to original fiction and poetry contributed by participating writers who will work by checking their drafts in and out of the repository system. The goal is to provide access to a work at each and every state of its composition and conceptual evolution ­- thereby capturing the text as a living, dynamic object-in-the-making rather than a finished end-product. A reader will be able to watch the composition process unfold as though s/he were looking over the writer's shoulder.
For guidelines and contact info, visit ELO.
Posted by ben vershbow at 11:59 AM | Comments (2)
tags: CVS , ELO , book , books , concurrent_versioning_system , digital , digital_literature , ebook , editing , eliterature , lit , literature , novel , project , revision , revision_history , story , versioning , writing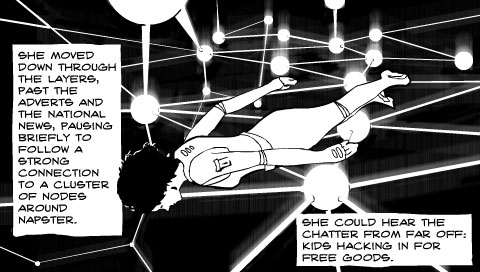 NYC2123 is a graphic novel conceived for the 480 by 272-pixel screen of the Play Station Portable video game device. It's a post-apocalyptic tale set in a future, tsunami-ravaged New York in which the city's wealthy have walled off the island of Manhattan against a violent river society of junkies, thieves and outlaw barges.
There are several sequences that read like a flip book, taking advantage of the single-frame interface and the fact that the reader has literally got his finger on the button. Quickly flipping through the panels creates a filmic effect, as here: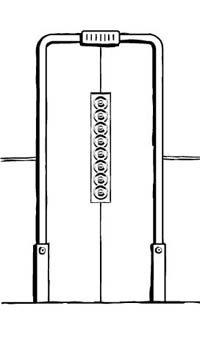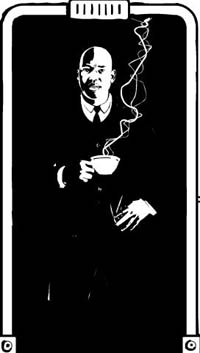 (Once again via Infocult - thanks Bryan)
Update: Someone has just developed a .pdf reader for the PSP.
Posted by ben vershbow at 05:05 PM | Comments (0)
tags: Games , Microlit , comic , comics , digital_literature , ebook , gaming , graphicnovel , manhattan , microcontent , newyork , nyc2123 , psp , reading
Momus – a.k.a. Nick Currie, electronic folk musician, Wired columnist, and inveterate blogger – has posted an interesting short video on his blog, Click Opera. He's teaching a class on electronic music composition & narrative for Benneton's Fabrica in Venice. His video encourages students to listen for the environmental sounds that they can make with electronic instruments: not the sounds that they're designed to make, but the incidental noises that they make – the clicking of keys on a Powerbook, for example – that we usually ignore as being just that, incidental. We ignore the fact that these noises are made directly by people, without the machine's intercession.
Momus's remarks put me in mind of something said by Jerome McGann at the Transliteracies conference in Santa Barbara last June – maybe the most important thing that was said at the conference, even if it didn't warrant much attention at the time. What we tend to forget when talking about reading, he said, was that books – even regular old print books – are full of metadata. (Everybody was talking about metadata in June, like they were talking about XML a couple of years ago – it was the buzzword that everyone knew they needed to have an opinion about. If not, they swung the word about feverishly in the hopes of hitting something.) McGann qualified his remarks by referring to Ezra Pound's idea of melopoeia, phanopoeia, and logopoeia – specific qualities in language that make it evocative:
. . . you can still charge words with meaning mainly in three ways, called phanopoeia, melopoeia, logopoeia. You can use a word to throw a visual image on to the reader's imagination, or you charge it by sound, or you use groups of words to do this.
(The ABC of Reading, p.37) In other words, words aren't always just words: when used well, they refer beyond themselves. This process of referring, McGann was claiming, is a sort of metadata, even if technologists don't think about it this way: the way in which words are used provides the attuned reader with information about their composition beyond the meaning of the words themselves.
But thinking about McGann's comments in terms of book design might suggest wider implications for the future of the book. Let's take a quick excursion to the past of the book. Once it was true that you couldn't judge a book by its cover. Fifty years ago, master book designer Jan Tschichold opined about book jackets:
A jacket is not an actual part of the book. The essential portion is the inner book, the block of pages . . . [U]nless he is a collector of book jackets as samples of graphic art, the genuine reader discards it before he begins.
("Jacket and Wrapper," in The Form of the Book: Essays on the Morality of Good Design) Tschichold's statement seems bizarre today: nobody throws away book jackets, especially not collectors. Why? Because today we take it for granted that we judge books by their covers. The cover has been subsumed into our idea of the book: it's a signifying part of the book. By looking at a cover, you, the prospective book-buyer, can immediately tell if a recently-published piece of fiction is meant to be capital-L Literature, Nora Roberts-style fluff, or somewhere in between. Contextual details like the cover are increasingly important.
Where does the electronic book fit into this, if at all? Apologists for the electronic book are constantly about the need for an ideal device as the be-all and end-all: when we have e-Ink or e-Paper and a well-designed device which can be unrolled like a scroll, electronic books will suddenly take off. This isn't true, and I think it has something to do with the way people read books, something that hasn't been taken into account by soi-disant futurists, and something like what Jerome McGann was gesturing at. A book is not a text. It's more than a text. It's a text and a collection of information around that text, some of which we consciously recognize and some of which we don't.
A few days ago, I excoriated Project Gutenberg's version of Tristram Shandy. This is why: a library of texts is not the same thing as a library of books. A quick example: download, if you wish, the plain text or HTML version of Tristram Shandy, which you can get here. Look at the opening pages of the HTML version. Recognizing that this particular book needs to be more than plain old seven-bit ASCII, they've included scans of the engravings that appear in the book (some by William Hogarth, like this; a nice explication of this quality of the book can be found here). What's interesting to me about these illustrations that Project Gutenberg is how poorly done these are. These are – let's not beat around the bush – bad scans. The contrast is off; things that should be square look rectangular. The Greek on the title page is illegible.
Let's go back to Momus listening to the unintentional noises made by humans using machines: what we have here is the debris of another noisy computer, the noise of a key that we weren't supposed to notice. Something about the way these scans is dated in a very particular way – half of the internet looked like this in 1997, before everyone learned to use Photoshop properly. Which is when, in fact, this particular document was constructed. In this ugliness we have, unintentionally, humanity. John Ruskin (not a name often conjured with when talking about the future) declared that one of the hallmarks of the Gothic as an architectural style was a perceived "savageness": it was not smoothed off like his Victorian contemporaries would have liked. But "savageness", for him, was no reproach: instead, it was a trace of the labor that went into it, a trace of the work's humanity. Perfection, for him, was inhumane: humanity
. . . was not intended to work with the accuracy of tools, to be precise and perfect in all their actions. If you will have that precision out of them, and make their fingers measure degrees like cog-wheels, and their arms strike curves like compasses, you must unhumanize them . .
(The Stones of Venice) What we have here is, I think, something similar. While Project Gutenberg is probably ashamed of the quality of these graphics, there's something to be appreciated here. This is a text on its way to becoming a book; it unintentionally reveals its human origins, the labor of the anonymous worker who scanned in the illustrations. It's a step in the right direction, but there's a great distance still to go.
Posted by dan visel at 06:13 PM | Comments (1)
tags: Transliteracies , book , design_curmudgeonry , digital_literature , ezrapound , gutenberg , jeromemcgann , johnruskin , logopoeia , mcgann , melopoeia , momus , phanopoeia , ruskin , text , tschichold
Kim's hypermedia poem cluster, "The Minotaur Project," is currently featured at the Electronic Literature Organization. Highly recommended.
Posted by ben vershbow at 11:33 AM | Comments (0)
tags: Kore , Persephone , book , books , digital , digital_literature , ebook , eliterature , hypermedia , hypertext , lit , literature , minotaur , myth , mythology , poem , poetry , reading
5. Language is, first of all, a political question.
Like the problem of hunger in the world, the problem with publishing in the United States isn't one of supply but one of distribution.
What's worried me lately: that I go to airport bookshops and always see the same books. Because I live in New York, I can go to any number of specialized bookshops & find just about anything I want. The same is not true in many other parts of the country; the same is certainly not true in many other parts of the world. What worries me about airport bookshops is how few books they carry: how narrow a range of ideas is presented. May God help you if you'd like to buy anything other than Dan Brown in the Minneapolis/St. Paul airport. This is an exaggeration, but not by much. James Patterson is also available, as are the collected works of J. K. Rowling, and, for a limited time, those of J. R. R. Tolkien.
Into this emptiness is paraded the miracle of electronic publishing. As pushed by Jason Epstein, amongst others, the idea of print-on-demand will solve the question of supply forever more – you could go to a bookstore, request a book, and Barnes & Noble would print it out for you. (Let's not think about copyright for the moment.) Jason Epstein believes these machines will be small enough to fit into an airport bookstore. This hasn't happened yet, and I'm doubtful that it will any time soon, if at all. Booksellers have the supply & distribution issue down cold for Brown & Patterson & J. K. Rowling – they have no incentive to invest in these machines. When was the last time you, member of the reading public, went to complain to Barnes & Noble about their selection?
Until this marvelous future creates itself out of publishers' good will towards humanity, people are presenting texts online, with varying degrees of success. If you have a laptop in the MSP airport (& a credit card to pay for wireless internet there), or, for that matter, any computer connected to the internet, you can go to ubu.com and browse their archive of documents of the avant-garde. Among the treasures are /ubu editions, an imprint that electronically reprints various texts as PDFs. They're free. I have a copy of Ron Silliman's The Chinese Notebook, a reprint of a 26-page poem which originally appeared in The Age of Huts. Ubu reprinted it (and the other two parts of The Age of Huts) with Silliman's permission.
6. I wrote this sentence with a ballpoint pen. If I had used another, would it be a different sentence?
/Ubu editions (edited by Brian Kim Stefans) aren't really electronic books, and don't conceive of themselves as such. Rather, they are a way of electronically distributing a book. This PDF is 8.5'' x 11''. While you can read it from a screen – I did – it's meant to be printed out at home & read on paper. That said, this isn't a quick and dirty presentation. Somebody (a mysterious "Goldsmith") has gone to the trouble of making it an attractive object. It has a title page with attractive, interesting, and appropriate art (an interactive study by Mel Bochner from Aspen issue 5–6; ubu.com graciously hosts this online as well). There's a copyright page that explains the previous. There's even a half title page – somebody clearly knows something about book design. (How useful a half title page is in a book that's meant to be printed out I'm not sure. It's a pretty half title page, but it's using another piece of your paper to print itself.) There's also a final page, rounding off the total to 30 pages; if you print this off double-sided, you'll have your very own beautiful stack of paper.
(Which is better than nothing.)
8. This is not speech. I wrote it.
Silliman's text is (as these quotes might suggest) a list of 223 numbered thoughts about poetry and writing that forms a (self-contained) poem in prose. It is explicitly concerned with the form of language.
Karl Marx anticipating Walter J. Ong: "Is the Iliad possible when the printing press, and even printing machines, exist? Is it not inevitable that with the emergence of the press, the singing and the telling and the muse cease; that is, that the conditions necessary for epic poetry disappear?" (The German Ideology, p. 150; quoted in Neil Postman's A Bridge to the 18th Century: How the Past Can Improve Our Future).
17. Everything here tends away from an aesthetic decision, which, in itself, is one.
Silliman's text is nicely set - not beautifully, but well enough, using Baskerville. Baskerville is a neoclassical typeface, cool and rational, a product of the 18th century. Did Silliman think about this? Was the designer thinking about this? Is this how his book looked in print? in the eponymous Chinese notebook in which he wrote it? I don't know, although my recognition of the connotations of the type inflects itself on my reading of Silliman's poem.
21. Poem in a notebook, manuscript, magazine, book, reprinted in an anthology. Scripts and contexts differ. How could it be the same poem?
Would Silliman's poem be the same poem if it were presented as, say, HTML? Could it be presented as HTML? This section of The Age of Huts is prose and could be without too many changes; other sections are more dependent on lines and spacing. Once a poem is in a PDF (or on a printed page), it is frozen, like a bug in amber; in HTML, type wiggles around at the viewer's convenience. (I speak of the horrors HTML can wreak on poetry from some experience: in the evenings, I set non-English poems (in print, for the most part) for Circumference.)
47. Have we come so very far since Sterne or Pope?
Neil Postman, in his book, wonders about the same thing, answers "no", and explains that in fact we've gone backwards. Disappointingly, there's little reference to Sterne in Postman's book, although he does point out that Oliver Goldsmith's The Vicar of Wakefield was more widely read in the eighteenth century: possibly the literary public has never cared for the challenging.
Project Gutenberg happily presents their version of Tristram Shandy online in a plain text version: at certain points, the reader sees "(two marble plates)" or "(two lines of Greek)" and is left to wonder how much the text has changed between the page and the screen. Sterne's novel, like Pope's poetry, is agreeably self-aware: how Sterne would have laughed at "(page numbering skips ten pages)" in an edition without page numbers. There are a few lapses in ubu.com's presentation of Silliman, but they're comparably minor: some of the entries in Silliman's list aren't separated by a blank space, leading one to suspect the pagination was thrown out of whack in Quark. When something's free . . .
53. Is the possibility of publishing this work automatically a part of the writing? Does it alter decisions in the work? Could I have written that if it did not?
A writer writes to communicate with a reader unknown. Publishers publish to make money. These statements are not always true – there's no shortage of craven writers if there's a sad dearth of virtuous publishers – but they can be taken as general rules of thumb. Where does electronic publishing fit into this set of equations? Certainly when Silliman was writing this twenty years ago he wasn't thinking seriously about distributing his work over the Internet.
(Silliman has, for what it's worth, an excellent blog, suggesting that had the possiblity been around twenty years ago, he would have been thinking about it.)
56. As economic conditions worsen, printing becomes prohibitive. Writers posit less emphasis on the page or book.
Why does ubu.com's reprinting of Ron Silliman's poetry seem more interesting to me than what Project Gutenberg is doing? Even the cheapest edition of Tristram Shandy that I can buy looks better than what they put out. (Ashamed of their text edition, one supposes, they've put out an HTML version of the book, which is an improvement, but not enough of one that I'd consider reading it for six hundred pages.) More to the point: it's not that hard to find a copy of Tristram Shandy. You can even find one in one of the better airport bookstores. It's out of copyright and any would-be publisher who wants to can print their own version of it without bothering with paying for rights.
I could not, alas, go to a bookstore and buy myself a copy of The Age of Huts because it's been out of print for years. Thanks a lot, publishing. Good work. I could go to Amazon.com and buy a "used/collectible" copy for $113.20 – but precisely none of that money would go to Ron Silliman. But I don't want a collectible copy: I'm interested in reading Silliman, not hoarding him. (Perhaps I start to contradict myself here.)
223. This is it.
But there are still questions. How do we ascribe value to a piece of art in a market economy? Are Plato's ideas less valuable than those of Malcolm Gladwell because you can easily pick up the collected works of the first for less than 10% of what the two books of the second would cost you? when you can download old English translations for free on the Internet?
How valuable is a free poem on the Internet? How much more valuable is an attractive edition of a free poem on the Internet? even if you have to print it out to read it?
Why aren't more people doing this?
Posted by dan visel at 05:32 PM | Comments (1)
tags: Publishing, Broadcast, and the Press , airports , design_curmudgeonry , digital_literature , l=a=n=g=u=a=g=e , marx , ong , pdf , postman , printondemand , publishing , silliman , ubu , ubueditions
Email killed the practice of letter-writing so suddenly that we haven't a chance to think about the consequences. The Times Book Review ran an essay this weekend on the problem this poses for literary historians, biographers and archivists, who long have relied on collected letters and papers to fill in the gaps between a writer's published work. In the same review, the Times covers a new biography of the legendary critic Edmund Wilson largely based on his correspondences, and last week covered a new collection of the letters of poet James Wright. Letters are often treated as literature in themselves.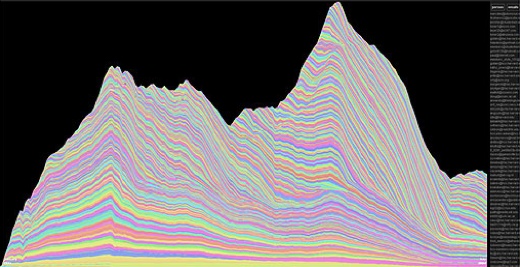 But a crop of writers is working now whose papers are not in order. The email is rotting away on the network, unorganized, not backed-up, and, to a great extent, simply being lost for good. I actually mused about this in a post last month about an email archive visualization tool by Fernanda Viégas at M.I.T.'s Sociable Media Group that shows years of electronic correspondence as sedimentary levels in a mountain-like mass. And a mountain it is. One novelist I know in Washington has her office stacked high with milk crates containing printouts of each and every email she sends and receives, no matter how trivial. There has to be a better way.

There isn't necessarily anything less rich about email correspondence. It excels at capturing a vibrant volley of words with great immediacy, whereas paper letters permit deeper communiques, fewer and father between. But in some cases, these characterizations do not hold up. With reliable postal service, letters can fly back and forth quite rapidly. And just because an email suddenly appears in your box does not mean that it will be immediately read, let alone replied to. Sometimes we write long email letters, expecting that the receiver is busy and will take time to reply. These differences, true and false, are worth evaluating.
But if collected emails are to become a literary tool, there is no question that we will need more reliable ways of archiving and preserving digital correspondence. We will also need new editorial approaches for collecting and publishing them. A printed volume, or series of volumes, might be insufficient for presenting a massive 4 gigabyte email archive by Dave Eggers (No one wants to read the phone book from cover to cover). And according to the Times piece, Eggers' agent Andrew Wylie is mulling over such a project. What would make more sense is an electronic edition that is essentially a selected or complete annotated Eggers Outbox, with folders and tags provided for categorization, a powerful search function, and the ability to organize according to your own interests. There would also be browsing and skimming tools that would allow a reader to move rapidly across vast tracts of correspondence and still find what they are looking for. And maybe, a way to email the author yourself and become a part of the living archive.
Posted by ben vershbow at 01:52 PM | Comments (0) | TrackBack
tags: archive , book , books , computers , correspondence , digital , digital_literature , ebook , eggers , email , epistle , inbox , letter , literary , literature , mail , reading , webmail
Another mobile lit item. Sony is increasing its mobile comics publishing service, offering around 300 popular "manga" titles to Japanese subscribers in the coming year.
From USA Today (via Smart Mobs):
Cell-phone comics use a technology called Comic Surfing, developed by Tokyo-based venture firm Celsys, which takes viewers through manga stories at a carefully calculated speed and sequence.

The manga frames are specially formatted to fit on tiny mobile phone screens. Pop-up frames and vibration during action scenes add to the drama. Cell-phone comics with preprogrammed sound effects are also coming soon...
Related:
"How Mobile Phones Conquered Japan" in Wired - discussing the new book "Personal, Portable, Pedestrian: Mobile Phones in Japanese Life"
and
"novels on your phone" in if:book - about Japanese cell phone fiction
Posted by ben vershbow at 03:53 PM | Comments (0)
tags: Microlit , digital_literature
"Print publishing has had a great 500 year run," says 77 year old novelist Warren Adler, "but the print book is morphing into the screen book." Mr. Adler, who has published 27 print novels including "War of the Roses," is publishing his 28th, "Death of A Washington Madame," electronically and e-mailing it for free to anyone who asks.
In an article in Sunday's New York Times, he tells reporter Claudia Deutsch that, "the big publishing houses just don't get it." So Mr. Adler has taken matters into his own hands. According to the official Warren Adler website, he has:
required the English language and foreign rights to his entire backlist of 25 novels and has made them available in ebook formats and Print-on-Demand formats in trade and hardcover. They are available on the web through all bookselling sites and can be ordered through chain and independent bookstores.
Posted by Kim White at 09:45 AM | Comments (0)
tags: digital_literature

in june i decided to explore the podcast phenomenon. i downloaded a number of different programs on to my ipod shuffle. the first batch included some favorite radio programs that i rarely listen to now that i hardly ever drive anywhere, a bunch of different audio blogs, some serious, some insane or inane . . . and the most interesting - Earthcore - billed as the first podcast only novel. written and performed by scott sigler, Earthcore is a science fiction page turner divided into tweny-one 40-50 minute installments. sigler has been releasing one installment per week. the last one just went up.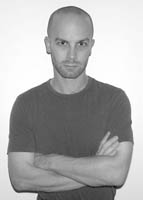 the plot is original and ingeniously woven and Sigler is one hell of a story teller. his palpable enthusiasm for his story, the Earthcore project and the new world of podcasting is infectious. just as in the best blogs, Earthcore seems to get an extra jolt from sigler's willingness to put himself and his ideas on the line. his personality comes shining through; getting to know him and liking his attitude becomes an important part of the experience. with over 10,000 listeners by now, you would think that more than one major publisher would have come begging to buy the rights to a book with a significant proven audience. however, as if more proof of the moribund nature of big publishing were needed, to date not one publisher has approached Sigler. he's on the verge of signing a deal with a small Canadian publisher, Dragon Moon Press. Congratulations to them for going with the opportunity.
Posted by bob stein at 04:42 PM | Comments (0)
tags: Publishing, Broadcast, and the Press , digital_literature
E-Poetry 2005, "an international digital poetry festival," will be held this fall, September 28 through October 1, in London:
E-Poetry 2005 is both a conference and festival, dedicated to showcasing the best talent in digital poetry and poetics from around the world. E-Poetry combines both a high-level academic conference and workshop, examining growing trends in this young and emergent art form, with a festival of the latest and most exciting work from both established and new practitioners.
(via Grand Text Auto)
Posted by ben vershbow at 01:45 PM | Comments (0)
tags: conferences_and_excursions , digital_literature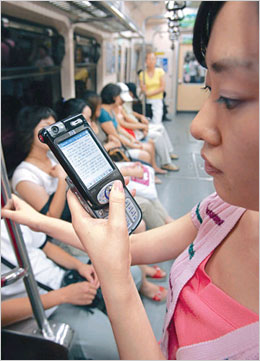 An article in Chosun Ilbo describes the increasing popularity of ebooks in Korea, a shift driven by readers on a tight budget who are drawn to the affordability of digital texts. It's estimated that about 100,000 electronic titles are currently available, a number that is expected to more than triple over the coming year as publishers ratchet up their digital publishing operations. But most interesting was this prediction of how the form of electronic books will change as they become more widely accepted:
For now, e-books remain at the level of taking printed books and converting them into digital files. But they will soon develop into multimedia books that combine text, sound and video.
(image from Chosun Ilbo)
Posted by ben vershbow at 07:57 AM | Comments (0) | TrackBack
tags: digital_literature
Spam Poem: For Paul Graham. William Poundstone's found poetry contructed from spam.
Audio Diary: A Rocky Freedom. Found poem constructed from sound bites; created during the "second" Iraq war.
Acronymphomania uses processes of random dynamic motion and text generation to suggest the continuing qualitive changes in the speed of our society
Posted by Kim White at 12:33 PM | Comments (0)
tags: digital_literature
Came across this Flickr photoset of Japanese comics on a Librie - Sony's electric ink ebook reader. Even in a photo, the reflective, print-like quality of the screen is striking. People have generally raved about the Librie's display, but are outraged by its senseless DRM policies: books self-destruct after 60 days. (discussed here and here)
Once E ink enters the mainstream, people might flock to electronic books as rapidly and enthusiastically as they did to digital photography. Screen display technology will undoubtedly advance. The DRM problem is trickier.
(Incidentally, I found this image while browsing recent blog posts under the "ebook" tag on Technorati. Flickr images tagged with "ebook" are placed alongside. An example of how these social tagging systems are becoming interconnected.)
Posted by ben vershbow at 12:57 PM | Comments (0) | TrackBack
tags: Copyright and Copyleft , The Ideal Device? , digital_literature

Novelist Micheline Aharonian Marcom has created a website that presents brief excerpts from her novel, Three Apples Fell From Heaven, as audio flash drawings that combine animated text, audio and illustration. The illustration, a red line that scribbles randomly on the screen, subtly alludes to the violence in the text, and the voice-overs add depth to an already intense story. Although this site was only intended as a promotional piece for Marcom's first two novels, the excerpts she chose and the impact of the sound and illustration makes them feel more like prose poems.



Posted by Kim White at 09:35 AM | Comments (0)
tags: digital_literature
David Bell, a history professor at Johns Hopkins, has written a smart, well-reasoned article for The New Republic entitled "The Bookless Future," in which he ponders the changing nature of reading, writing and research in a digital world. Professor Bell and The New Republic have kindly allowed us to reproduce the article in TK3, an e-document reader. Our hope is that it will serve as a springboard for wider discussion, both of the article, and of what is needed to create the optimal electronic reading environment. The downloads are below, followed by some initial thoughts on Bell's piece. We would love to hear people's reactions..
First Download and Install the TK3 Reader

Then Download "The Bookless Future"

(when you've unzipped the book, you should be able to open it by double-clicking on its icon)
In Bell's view, the big gains so far have been in the realm of research. "Today, a scholar in South Dakota, or Shanghai, or Albania--anywhere on earth with an Internet connection--has a research library at her fingertips." A democratization has taken place, comparable only to the change unleashed by the printing press. The ease and speed of searching, comparing, and collating digital documents is similarly a great boon to scholars and students. The benefits afforded by new reading modes far outnumber the losses that opponents of the electronic book frequently lament - the tactile pleasures, the smell of musty bindings, the social environment of bookstores, the art of typography.
This will remain controversial territory for quite some time, but Bell manages to strike the right balance:
What really matters, particularly at this early stage, is not to damn or to praise the eclipse of the paper book or the digital complication of its future, but to ensure that it happens in the right way, and to minimize the risks.
Bell is also thinking what this means for writing. He recognizes the possibilities for new kinds of expression and argumentation that are only possible in the multimedia, not-exclusively-linear, environment of the computer. He cites a few examples in the Gutenberg-e series. But Bell's enthusiasm is mixed with concern for how we are being affected as readers. First there is the way we absorb content, which has been entirely transformed by hypertext and search - the "browsing" ethos. Bell warns:
Reading in this strategic, targeted manner can feel empowering. Instead of surrendering to the organizing logic of the book you are reading, you can approach it with your own questions and glean precisely what you want from it. You are the master, not some dead author. And this is precisely where the greatest dangers lie, because when reading, you should not be the master. Information is not knowledge; searching is not reading; and surrendering to the organizing logic of a book is, after all, the way one learns.
Questions of form are no less important. Bell reminds us that the digital revolution, unlike the print revolution, is not just about the book. Moveable type may have transformed the means of production for books. But in form, they remained basically the same, and were no less "readable" than their hand-copied forebears. This is not the case with digital books. Until personal computers, and later, the web, it was never assumed that we would do any serious reading on screens. But as technology advanced, we learned that computers were more than just computational tools. A big lesson of the digital revolution is that since all media can be equalized as ones and zeros, then it follows that all media can converge and dance together in a single space. The digital revolution is about this convergence. Text is just one part of it, and so far computers have proven themselves better at handling rich media like graphics, film and sound than at providing satisfactory conditions for sustained reading. This boils down to a few, very simple reasons:
1. Screen display technology is poor - it hurts the eyes, requires large amounts of energy, and cannot be read in sunlight or other such ambient light settings. Progress is being made with the development of electronic ink and cholesteric displays, and Bell hopes that these improvements will deliver us from the headache of liquid crystal displays.
2. Most electronic documents are read in vertical scrolling fields. This is probably descended from the first computer terminal reading which consisted of long batches of code, best read in a scroll, or spit out on long rolls of paper. Horizontal paging keeps words and lines in a fixed position and makes for much easier reading. But you rarely find this today. A good example is the website of the International Herald Tribune. It seems like a no-brainer that screen-based documents should be laid out in this way.
3. And finally, the device is too awkward - heavy, fragile, expensive, and overheated.
Bell recognizes these points, but overemphasizes the need for a device that is tailored exclusively for screen-reading (though he does acknowledge that it would require web-browsing capabilities). One of the reasons book reading devices have consistently failed to catch on is that they are too specialized. In digital space, media can dance together, and there is no reason to corral them off into distinct zones. People are already reading books and other documents on their PDAs, and even their cell phones (check out thread, "the ideal device"). This is not because they offer an ideal reading environment, but because they are indispensable - gadgets that you always have with you. As a consequence, people feel compelled to cram in as many uses as possible. By this logic, the cell phone and the laptop seemed destined to combine. It may end up being something roughly the size of a trade paperback - hold it vertically to read a text, or flip it on its side to watch a widescreen film or play a video game. As with media, it seems inevitable that devices, too, will eventually converge.
Posted by ben vershbow at 01:58 PM | Comments (5) | TrackBack
tags: The Ideal Device? , Transliteracies , digital_literature , the_form_of_the_book