In Ben's recent post, he noted that Larry Lessig worries about the trend toward a read-only internet, the harbinger of which is iTunes. Apple's latest (academic) venture is iTunes U, a project begun at Duke and piloted by seven universities -- Stanford, it appears, has been most active.
Since they are looking for a large scale roll out of iTunes U for 2006-07, and since we have many podcasting faculty here at USC, a group of us met with Apple reps yesterday.
Initially I was very skeptical about Apple's further insinuation into the academy and yet, what iTunes U offers is a repository for instructors to store podcasts, with several components similar to courseware such as Blackboard. Apple stores the content on its servers but the university retains ownership. The service is fairly customizable—you can store audio, video with audio, slides with audio (aka enhanced podcasts) and text (but only in pdf). Then you populate the class via university course rosters, which are password protected.
There are also open access levels on which the university (or, say, the alumni association) can add podcasts of vodcasts of events. And it is free. At least for now -- the rep got a little cagey when asked about how long this would be the case.
The point is to allow students to capture lectures and such on their iPods (or MP3 players) for the purposes of study and review. The rationale is that students are already extremely familiar with the technology so there is less of a learning curve (well, at least privileged students such as those at my institution are familiar).
What seems particularly interesting is that students can then either speed up the talk of the lecture without changing pitch (and lord knows there are some whose speaking I would love to accelerate) or, say, in the case of an ESL student, slow it down for better comprehension. Finally, there is space for students to upload their own work —- podcasting has been assigned to some of our students already.
Part of me is concerned at further academic incorporation, but a lot more parts of me are thinking this is not only a chance to help less tech savvy profs employ the technology (the ease of collecting and distributing assets is germane here) while also really pushing the envelope in terms of copyright, educational use, fair use, etc. Apple wants to only use materials that are in the public domain or creative commons initially, but undoubtedly some of the more muddy digital use issues will arise and it would be nice to have academics involved in the process.
Posted by virginia kuhn at 08:02 AM | Comments (0)
tags: Copyright and Copyleft , Education , Publishing, Broadcast, and the Press , apple , copyright , elearning , fair_use , ipod , itunes , itunes_u , podcast , read/write_web , stanford , university
In an important speech to the Open Source Business Conference in San Francisco, Lawrence Lessig warned that decreased regulation of network infrastructure could fundamentally throw off the balance of the "read/write" internet, gearing the medium toward commercial consumption and away from creative production by everyday people. Interestingly, he cites Apple's iTunes music store, generally praised as the shining example of enlightened digital media commerce, as an example of what a "read-only" internet might look like: a site where you load up your plate and then go off to eat alone.
Lessig is drawing an important connection between the question of regulation and the question of copyright. Initially, copyright was conceived as a way to stimulate creative expression -- for the immediate benefit of the author, but for the overall benefit of society. But over the past few decades, copyright has been twisted by powerful interests to mean the protection of media industry business models, which are now treated like a sacred, inviolable trust. Lessig argues that it's time for a values check -- time to return to the original spirit of copyright:
It's never been the policy of the U.S. government to choose business models, but to protect the authors and artists... I'm sure there is a way for [new models to emerge] that will let artists succeed. I'm not sure we should care if the record companies survive. They care, but I don't think the government should.
Big media have always lobbied for more control over how people use culture, but until now, it's largely been through changes to the copyright statutes. The distribution apparatus -- record stores, booksellers, movie theaters etc. -- was not a concern since it was secure and pretty much by definition "read-only." But when we're dealing with digital media, the distribution apparatus becomes a central concern, and that's because the apparatus is the internet, which at present, no single entity controls.
Which is where the issue of regulation comes in. The cable and phone companies believe that since it's through their physical infrastructure that the culture flows, that they should be able to control how it flows. They want the right to shape the flow of culture to best fit their ideal architecture of revenue. You can see, then, how if they had it their way, the internet would come to look much more like an on-demand broadcast service than the vibrant two-way medium we have today: simply because it's easier to make money from read-only than from read/write -- from broadcast than from public access."
Control over culture goes hand in hand with control over bandwidth -- one monopoly supporting the other. And unless more moderates like Lessig start lobbying for the public interest, I'm afraid our government will be seduced by this fanatical philosophy of control, which when aired among business-minded people, does have a certain logic: "It's our content! Our pipes! Why should we be bled dry?" It's time to remind the media industries that their business models are not synonymous with culture. To remind the phone and cable companies that they are nothing more than utility companies and that they should behave accordingly. And to remind the government who copyright and regulation are really meant to serve: the actual creators -- and the public.
Posted by ben vershbow at 01:51 PM | Comments (6)
tags: Copyright and Copyleft , DRM , Network_Freedom , broadband , copyleft , copyright , internet , lessig , media , network_freedom , network_neutrality , policy , read/write_web
The following is a response to a comment made by Karen Schneider on my Monday post on libraries and DRM. I originally wrote this as just another comment, but as you can see, it's kind of taken on a life of its own. At any rate, it seemed to make sense to give it its own space, if for no other reason than that it temporarily sidelined something else I was writing for today. It also has a few good quotes that might be of interest. So, Karen said:
I would turn back to you and ask how authors and publishers can continue to be compensated for their work if a library that would buy ten copies of a book could now buy one. I'm not being reactive, just asking the question--as a librarian, and as a writer.
This is a big question, perhaps the biggest since economics will define the parameters of much that is being discussed here. How do we move from an old economy of knowledge based on the trafficking of intellectual commodities to a new economy where value is placed not on individual copies of things that, as a result of new technologies are effortlessly copiable, but rather on access to networks of content and the quality of those networks? The question is brought into particularly stark relief when we talk about libraries, which (correct me if I'm wrong) have always been more concerned with the pure pursuit and dissemination of knowledge than with the economics of publishing.
Consider, as an example, the photocopier -- in many ways a predecessor of the world wide web in that it is designed to deconstruct and multiply documents. Photocopiers have been unbundling books in libraries long before there was any such thing as Google Book Search, helping users break through the commodified shell to get at the fruit within.
I know there are some countries in Europe that funnel a share of proceeds from library photocopiers back to the publishers, and this seems to be a reasonably fair compromise. But the role of the photocopier in most libraries of the world is more subversive, gently repudiating, with its low hum, sweeping light, and clackety trays, the idea that there can really be such a thing as intellectual property.
That being said, few would dispute the right of an author to benefit economically from his or her intellectual labor; we just have to ask whether the current system is really serving in the authors' interest, let alone the public interest. New technologies have released intellectual works from the restraints of tangible property, making them easily accessible, eminently exchangable and never out of print. This should, in principle, elicit a hallelujah from authors, or at least the many who have written works that, while possessed of intrinsic value, have not succeeded in their role as commodities.
But utopian visions of an intellecutal gift economy will ultimately fail to nourish writers who must survive in the here and now of a commercial market. Though peer-to-peer gift economies might turn out in the long run to be financially lucrative, and in unexpected ways, we can't realistically expect everyone to hold their breath and wait for that to happen. So we find ourselves at a crossroads where we must soon choose as a society either to clamp down (to preserve existing business models), liberalize (to clear the field for new ones), or compromise.
In her essay "Books in Time," Berkeley historian Carla Hesse gives a wonderful overview of a similar debate over intellectual property that took place in 18th Century France, when liberal-minded philosophes -- most notably Condorcet -- railed against the state-sanctioned Paris printing monopolies, demanding universal access to knowledge for all humanity. To Condorcet, freedom of the press meant not only freedom from censorship but freedom from commerce, since ideas arise not from men but through men from nature (how can you sell something that is universally owned?). Things finally settled down in France after the revolution and the country (and the West) embarked on a historic compromise that laid the foundations for what Hesse calls "the modern literary system":
The modern "civilization of the book" that emerged from the democratic revolutions of the eighteenth century was in effect a regulatory compromise among competing social ideals: the notion of the right-bearing and accountable individual author, the value of democratic access to useful knowledge, and faith in free market competition as the most effective mechanism of public exchange.
Barriers to knowledge were lowered. A system of limited intellectual property rights was put in place that incentivized production and elevated the status of writers. And by and large, the world of ideas flourished within a commercial market. But the question remains: can we reach an equivalent compromise today? And if so, what would it look like?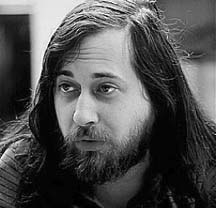 Creative Commons has begun to nibble around the edges of the problem, but love it as we may, it does not fundamentally alter the status quo, focusing as it does primarily on giving creators more options within the existing copyright system.
Which is why free software guru Richard Stallman announced in an interview the other day his unqualified opposition to the Creative Commons movement, explaining that while some of its licenses meet the standards of open source, others are overly conservative, rendering the project bunk as a whole. For Stallman, ever the iconoclast, it's all or nothing.
But returning to our theme of compromise, I'm struck again by this idea of a tax on photocopiers, which suggests a kind of micro-economy where payments are made automatically and seamlessly in proportion to a work's use. Someone who has done a great dealing of thinking about such a solution (though on a much more ambitious scale than library photocopiers) is Terry Fisher, an intellectual property scholar at Harvard who has written extensively on practicable alternative copyright models for the music and film industries (Ray and I first encountered Fisher's work when we heard him speak at the Economics of Open Content Symposium at MIT last month).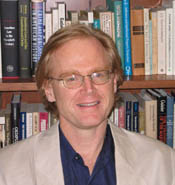 The following is an excerpt from Fisher's 2004 book, "Promises to Keep: Technology, Law, and the Future of Entertainment", that paints a relatively detailed picture of what one alternative copyright scheme might look like. It's a bit long, and as I mentioned, deals specifically with the recording and movie industries, but it's worth reading in light of this discussion since it seems it could just as easily apply to electronic books:
....we should consider a fundamental change in approach.... replace major portions of the copyright and encryption-reinforcement models with a variant of....a governmentally administered reward system. In brief, here's how such a system would work. A creator who wished to collect revenue when his or her song or film was heard or watched would register it with the Copyright Office. With registration would come a unique file name, which would be used to track transmissions of digital copies of the work. The government would raise, through taxes, sufficient money to compensate registrants for making their works available to the public. Using techniques pioneered by American and European performing rights organizations and television rating services, a government agency would estimate the frequency with which each song and film was heard or watched by consumers. Each registrant would then periodically be paid by the agency a share of the tax revenues proportional to the relative popularity of his or her creation. Once this system were in place, we would modify copyright law to eliminate most of the current prohibitions on unauthorized reproduction, distribution, adaptation, and performance of audio and video recordings. Music and films would thus be readily available, legally, for free.

Painting with a very broad brush...., here would be the advantages of such a system. Consumers would pay less for more entertainment. Artists would be fairly compensated. The set of artists who made their creations available to the world at large--and consequently the range of entertainment products available to consumers--would increase. Musicians would be less dependent on record companies, and filmmakers would be less dependent on studios, for the distribution of their creations. Both consumers and artists would enjoy greater freedom to modify and redistribute audio and video recordings. Although the prices of consumer electronic equipment and broadband access would increase somewhat, demand for them would rise, thus benefiting the suppliers of those goods and services. Finally, society at large would benefit from a sharp reduction in litigation and other transaction costs.
While I'm uncomfortable with the idea of any top-down, governmental solution, this certainly provides food for thought.
Posted by ben vershbow at 07:19 AM | Comments (8)
tags: Copyright and Copyleft , DRM , IP , Libraries, Search and the Web , Publishing, Broadcast, and the Press , condorcet , copyleft , copyright , creative_commons , enlightenment , france , free_software , intellectual_property , libraries , music , open_source , photocopy , printing , richar_stallman , xerox
A recent BBC article draws attention to widespread concerns among UK librarians (concerns I know are shared by librarians and educators on this side of the Atlantic) regarding the potentially disastrous impact of digital rights management on the long-term viability of electronic collections. At present, when downloads represent only a tiny fraction of most libraries' circulation, DRM is more of a nuisance than a threat. At the New York Public library, for instance, only one "copy" of each downloadable ebook or audio book title can be "checked out" at a time -- a frustrating policy that all but cancels out the value of its modest digital collection. But the implications further down the road, when an increasing portion of library holdings will be non-physical, are far more grave.
What these restrictions in effect do is place locks on books, journals and other publications -- locks for which there are generally no keys. What happens, for example, when a work passes into the public domain but its code restrictions remain intact? Or when materials must be converted to newer formats but can't be extracted from their original files? The question we must ask is: how can librarians, now or in the future, be expected to effectively manage, preserve and update their collections in such straightjacketed conditions?
This is another example of how the prevailing copyright fundamentalism threatens to constrict the flow and preservation of knowledge for future generations. I say "fundamentalism" because the current copyright regime in this country is radical and unprecedented in its scope, yet traces its roots back to the initially sound concept of limited intellectual property rights as an incentive to production, which, in turn, stemmed from the Enlightenment idea of an author's natural rights. What was originally granted (hesitantly) as a temporary, statutory limitation on the public domain has spun out of control into a full-blown culture of intellectual control that chokes the flow of ideas through society -- the very thing copyright was supposed to promote in the first place.
If we don't come to our senses, we seem destined for a new dark age where every utterance must be sanctioned by some rights holder or licensing agent. Free thought isn't possible, after all, when every thought is taxed. In his "An Answer to the Question: What is Enlightenment?" Kant condemns as criminal any contract that compromises the potential of future generations to advance their knowledge. He's talking about the church, but this can just as easily be applied to the information monopolists of our times and their new tool, DRM, which, in its insidious way, is a kind of contract (though one that is by definition non-negotiable since enforced by a machine):
But would a society of pastors, perhaps a church assembly or venerable presbytery (as those among the Dutch call themselves), not be justified in binding itself by oath to a certain unalterable symbol in order to secure a constant guardianship over each of its members and through them over the people, and this for all time: I say that this is wholly impossible. Such a contract, whose intention is to preclude forever all further enlightenment of the human race, is absolutely null and void, even if it should be ratified by the supreme power, by parliaments, and by the most solemn peace treaties. One age cannot bind itself, and thus conspire, to place a succeeding one in a condition whereby it would be impossible for the later age to expand its knowledge (particularly where it is so very important), to rid itself of errors, and generally to increase its enlightenment. That would be a crime against human nature, whose essential destiny lies precisely in such progress; subsequent generations are thus completely justified in dismissing such agreements as unauthorized and criminal.
We can only hope that subsequent generations prove more enlightened than those presently in charge.
Posted by ben vershbow at 07:51 AM | Comments (4)
tags: Copyright and Copyleft , DRM , IP , Libraries, Search and the Web , books , copyright , digital , digitization , ebooks , enlightenment , fundamentalism , intellectual_property , kant , libraries , library , philosophy , public_domain , scholarship

As Ben has reported, the Economics of Open Content conference spent a good deal of time discussing issues of copyright and fair use. During a presentation, David Pierce from Copyright Services noted that the major media companies are mainly concerned about protecting their most valuable assets. The obvious example is Disney's extreme vested interest in protecting the Mickey Mouse, now 78 years old, from entering the public domain. Further, Pierce mentioned that these media companies fight to extend the copyright protection of everything they own in order to protect their most valuable assets. Finally, he stated that only a small portions of their total film libraries are available to consumers. Many people in attendance were intrigued by these ideas, including myself and Paul Courant from the University of Michigan. Earlier in the conference, Courant explained that 90-95% of UM's library is out of print, and presumably much of that is under copyright protection.
If this situation is true, then, staggering amounts of media are being kept from the public domain or are closed from licensing for little or no reason. A little further thinking quickly leads to alternative structures of copyright that would move media into the public domain or at the least increase its availability, while appeasing the media conglomerates economic concerns.
Rules controlling the protection of assets is nothing new. For instance, in US professional sports, fairly elaborate structures are in place determine how players can be traded. Common sense dictates that teams cannot stockpile players from other teams. In the free agency era of the National Football League, teams have limited rights to control players from signing with other teams. Each NFL team can designate a single athlete as a "franchise" player, according to the current Collecting Bargaining Agreement with the player union. This designation gives them exclusive rights in retaining their player from competing offers. Similarly, in the National Basketball Association, when the league adds a new team, existing teams are allowed to protect eight players from being drafted and signed from the expansion team(s). What can we learn from these institutions? The examples show hoarding players is not good for sports, similarly hoarding assets is not in the best interest of the public good either.
The sports example has obviously limitations. In the NBA, team rosters are limited to fifteen players. On the other hand, a media company can hold an unlimited number of assets. In turn, applying this model would allow companies to seek extensions to only a portion of their copyright assets. Defining this proportion would certainly be difficult. For instance, it is still unclear to me how this might adapt to owners of one copyrighted property.
Another variant interpretation of this model would be to move the burden of responsibility back to the copyright holder. Here, copyright holders must show active economic use and value from these properties. This strategy would force media companies to make their archives available or put the media into the public domain. These copyright holders need to overcome their fears of flooding the markets and dated claims of limited shelf space, which are simply not relevant in the digital media / e-commerce age. Further, media companies would be encouraged to license their holdings for derivatives works, which would in fact lead to more profits. In that, these implementations would increase revenue by challenging the current shortsighted marketing decisions which fail to account for the long tail economic value of their holdings. Although these materials would not enter the public domain, they would be become accessible.
Would this block innovation? Creators of content will still be able to profit from their work for decades. When limited copyright did exist in its original implementation, creative innovation was certainly not hindered. Therefore, the argument that limiting protection of all of a media company's assets in perpetuity would slow innovation is baseless. By the end of the current time copyright period, holders have ample time to extract value from those assets. In fact, infinite copyright protection slows innovation by removing incentives to create new intellectual property.
Finally, few last comments are worth noting. These models are, at best, compromises. I present them because the current state of copyright protection and extensions seems headed towards former Motion Pictures Association of America President Jack Valenti's now infamous suggestion of extending copyright to "forever less a day." Although these media companies have a huge financial stake in controlling these copyrights, I cannot overemphasize our Constitutional right to place these materials in the public domain. Article I, Section 8, clause 8 of the United States Constitution states:
Congress has the power to promote the Progress of Science and useful Arts, by securing for limited Times to Authors and Inventors the exclusive Rights to their respective Writings and Discoveries.
Under these proposed schemes, fair use becomes even more cruical. Conceding that the extraordinary preciousness of intellectual property as Mickey Mouse and Bugs Bunny supersedes rights found in our Constitution implies a similarly extraordinary importance of these properties to our culture and society. Thus, democratic access to these properties for use in education and critical discourse must be equally imperative to the progress of culture and society. In the end, the choice, as a society, is ours. We do not need to concede anything.
Posted by ray cha at 01:10 AM | Comments (2)
tags: Copyright and Copyleft , copyright , fair_use , intellectual_property
Over the next few days I'll be sifting through notes, links, and assorted epiphanies crumpled up in my pocket from two packed, and at times profound, days at the Economics of Open Content symposium, hosted in Cambridge, MA by Intelligent Television and MIT Open CourseWare. For now, here are some initial impressions -- things I heard, both spoken in the room and ricocheting inside my head during and since. An oral history of the conference? Not exactly. More an attempt to jog the memory. Hopefully, though, something coherent will come across. I'll pick up some of these threads in greater detail over the next few days. I should add that this post owes a substantial debt in form to Eliot Weinberger's "What I Heard in Iraq" series (here and here).

Naturally, I heard a lot about "open content."
I heard that there are two kinds of "open." Open as in open access -- to knowledge, archives, medical information etc. (like Public Library of Science or Project Gutenberg). And open as in open process -- work that is out in the open, open to input, even open-ended (like Linux, Wikipedia or our experiment with MItch Stephens, Without Gods).
I heard that "content" is actually a demeaning term, treating works of authorship as filler for slots -- a commodity as opposed to a public good.
I heard that open content is not necessarily the same as free content. Both can be part of a business model, but the defining difference is control -- open content is often still controlled content.
I heard that for "open" to win real user investment that will feedback innovation and even result in profit, it has to be really open, not sort of open. Otherwise "open" will always be a burden.
I heard that if you build the open-access resources and demonstrate their value, the money will come later.
I heard that content should be given away for free and that the money is to be made talking about the content.
I heard that reputation and an audience are the most valuable currency anyway.
I heard that the academy's core mission -- education, research and public service -- makes it a moral imperative to have all scholarly knowledge fully accessible to the public.
I heard that if knowledge is not made widely available and usable then its status as knowledge is in question.
I heard that libraries may become the digital publishing centers of tomorrow through simple, open-access platforms, overhauling the print journal system and redefining how scholarship is disseminated throughout the world.

And I heard a lot about copyright...
I heard that probably about 50% of the production budget of an average documentary film goes toward rights clearances.
I heard that many of those clearances are for "underlying" rights to third-party materials appearing in the background or reproduced within reproduced footage. I heard that these are often things like incidental images, video or sound; or corporate logos or facades of buildings that happen to be caught on film.
I heard that there is basically no "fair use" space carved out for visual and aural media.
I heard that this all but paralyzes our ability as a culture to fully examine ourselves in terms of the media that surround us.
I heard that the various alternative copyright movements are not necessarily all pulling in the same direction.
I heard that there is an "inter-operability" problem between alternative licensing schemes -- that, for instance, Wikipedia's GNU Free Documentation License is not inter-operable with any Creative Commons licenses.
I heard that since the mass market content industries have such tremendous influence on policy, that a significant extension of existing copyright laws (in the United States, at least) is likely in the near future.
I heard one person go so far as to call this a "totalitarian" intellectual property regime -- a police state for content.
I heard that one possible benefit of this extension would be a general improvement of internet content distribution, and possibly greater freedom for creators to independently sell their work since they would have greater control over the flow of digital copies and be less reliant on infrastructure that today only big companies can provide.
I heard that another possible benefit of such control would be price discrimination -- i.e. a graduated pricing scale for content varying according to the means of individual consumers, which could result in fairer prices. Basically, a graduated cultural consumption tax imposed by media conglomerates
I heard, however, that such a system would be possible only through a substantial invasion of users' privacy: tracking users' consumption patterns in other markets (right down to their local grocery store), pinpointing of users' geographical location and analysis of their socioeconomic status.
I heard that this degree of control could be achieved only through persistent surveillance of the flow of content through codes and controls embedded in files, software and hardware.
I heard that such a wholesale compromise on privacy is all but inevitable -- is in fact already happening.
I heard that in an "information economy," user data is a major asset of companies -- an asset that, like financial or physical property assets, can be liquidated, traded or sold to other companies in the event of bankruptcy, merger or acquisition.
I heard that within such an over-extended (and personally intrusive) copyright system, there would still exist the possibility of less restrictive alternatives -- e.g. a peer-to-peer content cooperative where, for a single low fee, one can exchange and consume content without restriction; money is then distributed to content creators in proportion to the demand for and use of their content.
I heard that such an alternative could theoretically be implemented on the state level, with every citizen paying a single low tax (less than $10 per year) giving them unfettered access to all published media, and easily maintaining the profit margins of media industries.
I heard that, while such a scheme is highly unlikely to be implemented in the United States, a similar proposal is in early stages of debate in the French parliament.

And I heard a lot about peer-to-peer...
I heard that p2p is not just a way to exchange files or information, it is a paradigm shift that is totally changing the way societies communicate, trade, and build.
I heard that between 1840 and 1850 the first newspapers appeared in America that could be said to have mass circulation. I heard that as a result -- in the space of that single decade -- the cost of starting a print daily rose approximately %250.
I heard that modern democracies have basically always existed within a mass media system, a system that goes hand in hand with a centralized, mass-market capital structure.
I heard that we are now moving into a radically decentralized capital structure based on social modes of production in a peer-to-peer information commons, in what is essentially a new chapter for democratic societies.
I heard that the public sphere will never be the same again.
I heard that emerging practices of "remix culture" are in an apprentice stage focused on popular entertainment, but will soon begin manifesting in higher stakes arenas (as suggested by politically charged works like "The French Democracy" or this latest Black Lantern video about the Stanley Williams execution in California).
I heard that in a networked information commons the potential for political critique, free inquiry, and citizen action will be greatly increased.
I heard that whether we will live up to our potential is far from clear.
I heard that there is a battle over pipes, the outcome of which could have huge consequences for the health and wealth of p2p.
I heard that since the telecomm monopolies have such tremendous influence on policy, a radical deregulation of physical network infrastructure is likely in the near future.
I heard that this will entrench those monopolies, shifting the balance of the internet to consumption rather than production.
I heard this is because pre-p2p business models see one-way distribution with maximum control over individual copies, downloads and streams as the most profitable way to move content.
I heard also that policing works most effectively through top-down control over broadband.
I heard that the Chinese can attest to this.
I heard that what we need is an open spectrum commons, where connections to the network are as distributed, decentralized, and collaboratively load-sharing as the network itself.
I heard that there is nothing sacred about a business model -- that it is totally dependent on capital structures, which are constantly changing throughout history.
I heard that history is shifting in a big way.
I heard it is shifting to p2p.
I heard this is the most powerful mechanism for distributing material and intellectual wealth the world has ever seen.
I heard, however, that old business models will be radically clung to, as though they are sacred.
I heard that this will be painful.
Posted by ben vershbow at 09:47 AM | Comments (5)
tags: Copyright and Copyleft , Education , Network_Freedom , Publishing, Broadcast, and the Press , Remix , academia , academy , broadband , conferences_and_excursions , copyleft , copyright , creative_commons , cyberlaw , democracy , economics , economics_of_open_content , film , freedom , internet , media , monopoly , music , network , open_content , open_spectrum , p2p , politics , publishing , scholarship , technology , wikipedia
I just finished reading the Brennan Center for Justice's report on fair use. This public policy report was funded in part by the Free Expression Policy Project and describes, in frightening detail, the state of public knowledge regarding fair use today. The problem is that the legal definition of fair use is hard to pin down. Here are the four factors that the courts use to determine fair use:
the purpose and character of the use, including whether such use is of a commercial nature or is for nonprofit educational purposes;
the nature of the copyrighted work;
the amount and substantiality of the portion used in relation to the copyrighted work as a whole; and
the effect of the use upon the potential market for or value of the copyrighted work.
From
Dysfunctional Family Circus
, a parody of the Family Circus cartoons. Find more details at
illegal-art.org
Unfortunately, these criteria are open to interpretation at every turn, and have provided little with which to predict any judicial ruling on fair use. In a lawsuit, no one is sure of the outcome of their claim. This causes confusion and fear for individuals and publishers, academics and their institutions. In many cases where there is a clear fair use argument, the target of copyright infringement action (cease and desist, lawsuit) does not challenge the decision, usually for financial reasons. It's just as clear that copyright owners pursue the protection of copyright incorrectly, with plenty of misapprehension about what qualifies for fair use. The current copyright law, as it has been written and upheld, is fraught with opportunities for mistakes by both parties, which has led to an underutilization of cultural assets for critical, educational, or artistic purposes.
This restrictive atmosphere is even more prevalent in the film and music industries. The RIAA lawsuits are a well-known example of the industry protecting its assets via heavy-handed lawsuits. The culture of shared use in the movie industry is even more stifling. This combination of aggressive control by the studio and equally aggressive piracy is causing a legislative backlash that favors copyright holders at the expense of consumer value. The Brennan report points to several examples where the erosion of fair use has limited the ability of scholars and critics to comment on these audio/visual materials, even though they are part of the landscape of our culture.
That's why creative commons and open-access content is so important. It clearly states how and to what extent you can use copyrighted media. While fair use will always exist (because some corporations and individuals will maintain complete control over their creative assets), open-access licensing for media will simultaneously invigorate cultural discourse and reduce the incentive to infringe on copyright.
Posted by jesse wilbur at 03:29 PM | Comments (4)
tags: Copyright and Copyleft , brennan_center , copyright , creative_commons , fair_use , law , open_content
For the next two days, Ray and I are attending what hopes to be a fascinating conference in Cambridge, MA -- The Economics of Open Content -- co-hosted by Intelligent Television and MIT Open CourseWare.
This project is a systematic study of why and how it makes sense for commercial companies and noncommercial institutions active in culture, education, and media to make certain materials widely available for free—and also how free services are morphing into commercial companies while retaining their peer-to-peer quality.
They've assembled an excellent cross-section of people from the emerging open access movement, business, law, the academy, the tech sector and from virtually every media industry to address one of the most important (and counter-intuitive) questions of our age: how do you make money by giving things away for free?
Rather than continue, in an age of information abundance, to embrace economic models predicated on information scarcity, we need to look ahead to new models for sustainability and creative production. I look forward to hearing from some of the visionaries gathered in this room.
More to come...
Posted by ben vershbow at 09:31 AM | Comments (0)
tags: Copyright and Copyleft , Education , Libraries, Search and the Web , academia , conferences_and_excursions , copyleft , copyright , free_software , gift_economy , library , open_access , open_content , publishing , scholarship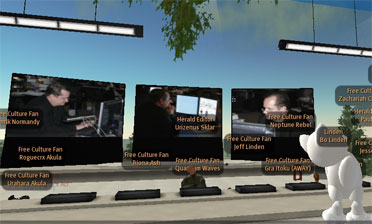 Wednesday evening, I attended an interview with Larry Lessig, which took place in the virtual world of Second Life. New World Notes announced the event and is posting coverage and transcripts of the interview. As it was my first experience in SL, I will post more on the experience of attending an interview/ lecture in a virtual space. For now, I am going to comment upon two quotes that Lessig covered as it relates to our work at the institute.
Lawrence Lessig: Because as life moves online we should have the SAME FREEDOMS (at least) that we had in real life. There's no doubt that in real life you could act out a movie or a different ending to a movie. There's no doubt that would have been "free" of copyright in real life. But as we move online things that were before were free now are regulated.
Yesterday, Bob made the point that our memories increasingly exist outside of ourselves. At the institute, we have discussed the mediated life, and a substantial part of that mediation occurs as we continue to digitize more parts of our lives, from photo albums to diaries. Things we once created in the physical world now reside on the network, which means that it is being published. Photo albums documenting our trips to Disneyland or the Space Needle (whose facade is trademarked and protected) that one rested within the home, are uploaded to flickr, potentially accessible to anyone browsing the Internet, a regulated space. This regulation has enormous influence on the creative outlets of everyone, not just professionals. Without trying to sound overly naive, my concern is not just that speech and discourse of all people are being compromised. As companies become more litigious towards copyright infringement (especially when their arguments are weak), the safe guards of the courts and legislation are not protecting its constituents.
Lawrence Lessig: Copyright is about creating incentives. Incentives are prospective. No matter what even the US Congress does, it will not give Elvis any more incentive to create in 1954. So whatever the length of copyright should be prospectively, we know it can make no sense of incentives to extend the term for work that is already created.
The increasing accessibility of digital technology allows people to become creators and distributors of content. Lessig notes that with each year, the increasing evidence from cases such as the Google Book Search controversy show the inadequacy of current copyright legislation. Further, he insightfully suggests to learn from the creations that young people produce such as anime music videos. Their completely different approach to intellectual property informs the cultural shift that is running counter to the legal status quo. Lessig suggest that these creative works have the potential to inform policy makers that these attitudes are moving toward the original intentions of copyright law. Then, policy makers hopefully may begin to question why these works are currently considered illegal.
The courts' failure to clearly define an interpretation of fair use puts at risk the discourse that a functioning democracy requires. The stringent attitudes towards using copyrighted material goes against the spirit of the original intentions of the law. Although, it may not be a role of the government and the courts to actively encourage creativity. It is sad that bipartisan government actions and courts rulings actively discourage innovation and creativity.
Posted by ray cha at 09:27 AM | Comments (0)
tags: Copyright and Copyleft , conferences_and_excursions , copyright , intellectual_property , lessig , publishing , second_life
Anyone who's ever seen a book has seen ISBNs, or International Standard Book Numbers -- that string of ten digits, right above the bar code, that uniquely identifies a given title. Now come ESBNs, or Electronic Standard Book Numbers, which you'd expect would be just like ISBNs, only for electronic books. And you'd be right, but only partly.

ESBNs, which just came into existence this year, uniquely identify not only an electronic title, but each individual copy, stream, or download of that title -- little tracking devices that publishers can embed in their content. And not just books, but music, video or any other discrete media form -- ESBNs are media-agnostic.
"It's all part of the attempt to impose the restrictions of the physical on the digital, enforcing scarcity where there is none," David Weinberger rightly observes. On the net, it's not so much a matter of who has the book, but who is reading the book -- who is at the book. It's not a copy, it's more like a place. But cyberspace blurs that distinction. As Alex Pang explains, cyberspace is still a place to which we must travel. Going there has become much easier and much faster, but we are still visitors, not natives. We begin and end in the physical world, at a concrete terminal.
When I snap shut my laptop, I disconnect. I am back in the world. And it is that instantaneous moment of travel, that light-speed jump, that has unleashed the reams and decibels of anguished debate over intellectual property in the digital era. A sort of conceptual jetlag. Culture shock. The travel metaphors begin to falter, but the point is that we are talking about things confused during travel from one world to another. Discombobulation.
This jetlag creates a schism in how we treat and consume media. When we're connected to the net, we're not concerned with copies we may or may not own. What matters is access to the material. The copy is immaterial. It's here, there, and everywhere, as the poet said. But when you're offline, physical possession of copies, digital or otherwise, becomes important again. If you don't have it in your hand, or a local copy on your desktop then you cannot experience it. It's as simple as that. ESBNs are a byproduct of this jetlag. They seek to carry the guarantees of the physical world like luggage into the virtual world of cyberspace.
But when that distinction is erased, when connection to the network becomes ubiquitous and constant (as is generally predicted), a pervasive layer over all private and public space, keeping pace with all our movements, then the idea of digital "copies" will be effectively dead. As will the idea of cyberspace. The virtual world and the actual world will be one.
For publishers and IP lawyers, this will simplify matters greatly. Take, for example, webmail. For the past few years, I have relied exclusively on webmail with no local client on my machine. This means that when I'm offline, I have no mail (unless I go to the trouble of making copies of individual messages or printouts). As a consequence, I've stopped thinking of my correspondence in terms of copies. I think of it in terms of being there, of being "on my email" -- or not. Soon that will be the way I think of most, if not all, digital media -- in terms of access and services, not copies.
But in terms of perception, the end of cyberspace is not so simple. When the last actual-to-virtual transport service officially shuts down -- when the line between worlds is completely erased -- we will still be left, as human beings, with a desire to travel to places beyond our immediate perception. As Sol Gaitan describes it in a brilliant comment to yesterday's "end of cyberspace" post:
In the West, the desire to blur the line, the need to access the "other side," took artists to try opium, absinth, kef, and peyote. The symbolists crossed the line and brought back dada, surrealism, and other manifestations of worlds that until then had been held at bay but that were all there. The virtual is part of the actual, "we, or objects acting on our behalf are online all the time." Never though of that in such terms, but it's true, and very exciting. It potentially enriches my reality. As with a book, contents become alive through the reader/user, otherwise the book is a dead, or dormant, object. So, my e-mail, the blogs I read, the Web, are online all the time, but it's through me that they become concrete, a perceived reality. Yes, we read differently because texts grow, move, and evolve, while we are away and "the object" is closed. But, we still need to read them. Esse rerum est percipi.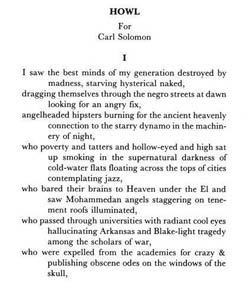 Just the other night I saw a fantastic performance of Allen Ginsberg's Howl that took the poem -- which I'd always found alluring but ultimately remote on the page -- and, through the conjury of five actors, made it concrete, a perceived reality. I dug Ginsburg's words. I downloaded them, as if across time. I was in cyberspace, but with sweat and pheremones. The Beats, too, sought sublimity -- transport to a virtual world. So, too, did the cyberpunks in the net's early days. So, too, did early Christian monastics, an analogy that Pang draws:
...cyberspace expresses a desire to transcend the world; Web 2.0 is about engaging with it. The early inhabitants of cyberspace were like the early Church monastics, who sought to serve God by going into the desert and escaping the temptations and distractions of the world and the flesh. The vision of Web 2.0, in contrast, is more Franciscan: one of engagement with and improvement of the world, not escape from it.
The end of cyberspace may mean the fusion of real and virtual worlds, another layer of a massively mediated existence. And this raises many questions about what is real and how, or if, that matters. But the end of cyberspace, despite all the sweeping gospel of Web 2.0, continuous computing, urban computing etc., also signals the beginning of something terribly mundane. Networks of fiber and digits are still human networks, prone to corruption and virtue alike. A virtual environment is still a natural environment. The extraordinary, in time, becomes ordinary. And undoubtedly we will still search for lines to cross.
Posted by ben vershbow at 07:31 AM | Comments (1)
tags: Copyright and Copyleft , DRM , ESBN , ISBN , Mediated Existence , Publishing, Broadcast, and the Press , Web2.0 , copyright , cyberspace , ebooks , ginsberg , media_consumption , poetry , publishing , reality
interesting question came up today in the office. there's a site, surferdiary.com, that reposts every entry on if:book. they do the same for several other sites, presumably as a way to generate traffic to their site and ultimately to gather clicks on their google supplied ads. if:book entries are posted with a creative commons license which allows reuse with proper attribution but forbids commercial use. surferdiary's use seems to be thoroughly commercial. some of my colleagues think we should go after them as a way of defending the creative commons concept. would love to know what people think?
Posted by bob stein at 03:47 PM | Comments (8)
tags: Copyright and Copyleft , blogging , copyleft , copyright , creative_commons , spam
For an alternative view of Lisa's earlier post ... i wonder if Gamma's submission of Adam Stacey's image with the "Adam Stacey/Gamma" attribution doesn't show the strength of the Creative Commons concept. As i see it, Stacey published his image without any restrictions beyond attribution. Gamma, a well-respected photo agency started distributing the image attributed to Stacey. Isn't this exactly what the CC license was supposed to enable — the free-flow of information on the net. perhaps Stacey chose the wrong license and he didn't mean for his work to be distributed by a for-profit company. If so, that is a reminder to all of us to be careful about which Creative Commons license we choose. One thing i'm not clear on is whether Gamma referenced the CC license. They are supposed to do that and if they didn't they should have.
Posted by bob stein at 12:42 PM | Comments (2)
tags: Copyright and Copyleft , citizen_journalism , copyright , creative_commons , internet , photography
Last night I attended a fascinating panel discussion at the American Bar Association on the legality of Google Book Search. In many ways, this was the debate made flesh. Making the case against Google were high-level representatives from the two entities that have brought suit, the Authors' Guild (Executive Director Paul Aiken) and the Association of American Publishers (VP for legal counsel Allan Adler). It would have been exciting if Google, in turn, had sent representatives to make their case, but instead we had two independent commentators, law professor and blogger Susan Crawford and Cameron Stracher, also a law professor and writer. The discussion was vigorous, at times heated -- in many ways a preview of arguments that could eventually be aired (albeit under a much stricter clock) in front of federal judges.
The lawsuits in question center around whether Google's scanning of books and presenting tiny snippet quotations online for keyword searches is, as they claim, fair use. As I understand it, the use in question is the initial scanning of full texts of copyrighted books held in the collections of partner libraries. The fair use defense hinges on this initial full scan being the necessary first step before the "transformative" use of the texts, namely unbundling the book into snippets generated on the fly in response to user search queries.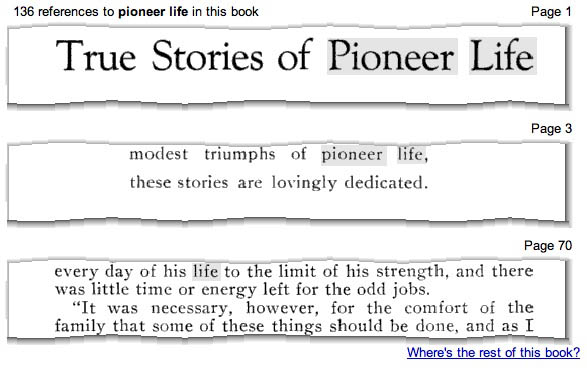 ...in case you were wondering what snippets look like
At first, the conversation remained focused on this question, and during that time it seemed that Google was winning the debate. The plaintiffs' arguments seemed weak and a little desperate. Aiken used carefully scripted language about not being against online book search, just wanting it to be licensed, quipping "we're just throwing a little gravel in the gearbox of progress." Adler was a little more strident, calling Google "the master of misdirection," using the promise of technological dazzlement to turn public opinion against the legitimate grievances of publishers (of course, this will be settled by judges, not by public opinion). He did score one good point, though, saying Google has betrayed the weakness of its fair use claim in the way it has continually revised its description of the program.
Almost exactly one year ago, Google unveiled its "library initiative" only to re-brand it several months later as a "publisher program" following a wave of negative press. This, however, did little to ease tensions and eventually Google decided to halt all book scanning (until this past November) while they tried to smooth things over with the publishers. Even so, lawsuits were filed, despite Google's offer of an "opt-out" option for publishers, allowing them to request that certain titles not be included in the search index. This more or less created an analog to the "implied consent" principle that legitimates search engines caching web pages with "spider" programs that crawl the net looking for new material.
In that case, there is a machine-to-machine communication taking place and web page owners are free to insert programs that instruct spiders not to cache, or can simply place certain content behind a firewall. By offering an "opt-out" option to publishers, Google enables essentially the same sort of communication. Adler's point (and this was echoed more succinctly by a smart question from the audience) was that if Google's fair use claim is so air-tight, then why offer this middle ground? Why all these efforts to mollify publishers without actually negotiating a license? (I am definitely concerned that Google's efforts to quell what probably should have been an anticipated negative reaction from the publishing industry will end up undercutting its legal position.)
Crawford came back with some nice points, most significantly that the publishers were trying to make a pretty egregious "double dip" into the value of their books. Google, by creating a searchable digital index of book texts -- "a card catalogue on steroids," as she put it -- and even generating revenue by placing ads alongside search results, is making a transformative use of the published material and should not have to seek permission. Google had a good idea. And it is an eminently fair use.
And it's not Google's idea alone, they just had it first and are using it to gain a competitive advantage over their search engine rivals, who in their turn, have tried to get in on the game with the Open Content Alliance (which, incidentally, has decided not to make a stand on fair use as Google has, and are doing all their scanning and indexing in the context of license agreements). Publishers, too, are welcome to build their own databases and to make them crawl-able by search engines. Earlier this week, Harper Collins announced it would be doing exactly that with about 20,000 of its titles. Aiken and Adler say that if anyone can scan books and make a search engine, then all hell will break loose and millions of digital copies will be leaked into the web. Crawford shot back that this lawsuit is not about net security issues, it is about fair use.
But once the security cat was let out of the bag, the room turned noticeably against Google (perhaps due to a preponderance of publishing lawyers in the audience). Aiken and Adler worked hard to stir up anxiety about rampant ebook piracy, even as Crawford repeatedly tried to keep the discussion on course. It was very interesting to hear, right from the horse's mouth, that the Authors' Guild and AAP both are convinced that the ebook market, tiny as it currently is, is within a few years of exploding, pending the release of some sort of ipod-like gadget for text. At that point, they say, Google will have gained a huge strategic advantage off the back of appropriated content.
Their argument hinges on the fourth determining factor in the fair use exception, which evaluates "the effect of the use upon the potential market for or value of the copyrighted work." So the publishers are suing because Google might be cornering a potential market!!! (Crawford goes further into this in her wrap-up) Of course, if Google wanted to go into the ebook business using the material in their database, there would have to be a licensing agreement, otherwise they really would be pirating. But the suits are not about a future market, they are about creating a search service, which should be ruled fair use. If publishers are so worried about the future ebook market, then they should start planning for business.
To echo Crawford, I sincerely hope these cases reach the court and are not settled beforehand. Larger concerns about Google's expansionist program aside, I think they have made a very brave stand on the principle of fair use, the essential breathing space carved out within our over-extended copyright laws. Crawford reminded the room that intellectual property is NOT like physical property, over which the owner has nearly unlimited rights. Copyright is a "temporary statutory monopoly" originally granted ("with hesitation," Crawford adds) in order to incentivize creative expression and the production of ideas. The internet scares the old-guard publishing industry because it poses so many threats to the security of their product. These threats are certainly significant, but they are not the subject of these lawsuits, nor are they Google's, or any search engine's, fault. The rise of the net should not become a pretext for limiting or abolishing fair use.
Posted by ben vershbow at 03:50 PM | Comments (2)
tags: Copyright and Copyleft , Libraries, Search and the Web , copyright , ebooks , fair_use , google , google_book_search , publishing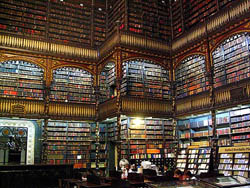 Open Source's hour on the Googlization of libraries was refreshingly light on the copyright issue and heavier on questions about research, reading, the value of libraries, and the public interest. With its book-scanning project, Google is a private company taking on the responsibilities of a public utility, and Siva Vaidhyanathan came down hard on one of the company's chief legal reps for the mystery shrouding their operations (scanning technology, algorithms and ranking system are all kept secret). The rep reasonably replied that Google is not the only digitization project in town and that none of its library partnerships are exclusive. But most of his points were pretty obvious PR boilerplate about Google's altruism and gosh darn love of books. Hearing the counsel's slick defense, your gut tells you it's right to be suspicious of Google and to keep demanding more transparency, clearer privacy standards and so on. If we're going to let this much information come into the hands of one corporation, we need to be very active watchdogs.
Our friend Karen Schneider then joined the fray and as usual brought her sage librarian's perspective. She's thrilled by the possibilities of Google Book Search, seeing as it solves the fundamental problem of library science: that you can only search the metadata, not the texts themselves. But her enthusiasm is tempered by concerns about privatization similar to Siva's and a conviction that a research service like Google can never replace good librarianship and good physical libraries. She also took issue with the fact that Book Search doesn't link to other library-related search services like Open Worldcat. She has her own wrap-up of the show on her blog.
Rounding out the discussion was Matthew G. Kirschenbaum, a cybertext studies blogger and professor of english at the University of Maryland. Kirschenbaum addressed the question of how Google, and the web in general, might be changing, possibly eroding, our reading practices. He nicely put the question in perspective, suggesting that scattershot, inter-textual, "snippety" reading is in fact the older kind of reading, and that the idea of sustained, deeply immersed involvement with a single text is largely a romantic notion tied to the rise of the novel in the 18th century.
A satisfying hour, all in all, of the sort we should be having more often. It was fun brainstorming with Brendan Greeley, the Open Source on "blogger-in-chief," on how to put the show together. Their whole bit about reaching out to the blogosphere for ideas and inspiration isn't just talk. They put their money where their mouth is. I'll link to the podcast when it becomes available.
image: Real Gabinete Português de Literatura, Rio de Janeiro - Claudio Lara via Flickr
Posted by ben vershbow at 12:34 AM | Comments (2)
tags: Libraries, Search and the Web , copyright , digitization , ebook , google , google_book_search , google_print , library , literature , metadata , reading , search
While visiting the Experimental Television Center in upstate New York this past weekend, Lisa found a wonderful relic in a used book shop in Owego, NY -- a small, leatherbound volume from 1962 entitled "Computers," which IBM used to give out as a complimentary item. An introductory note on the opening page reads:
The machines do not think -- but they are one of the greatest aids to the men who do think ever invented! Calculations which would take men thousands of hours -- sometimes thousands of years -- to perform can be handled in moments, freeing scientists, technicians, engineers, businessmen, and strategists to think about using the results.
This echoes Vannevar Bush's seminal 1945 essay on computing and networked knowledge, "As We May Think", which more or less prefigured the internet, web search, and now, the migration of print libraries to the world wide web. Google Book Search opens up fantastic possibilities for research and accessibility, enabling readers to find in seconds what before might have taken them hours, days or weeks. Yet it also promises to transform the very way we conceive of books and libraries, shaking the foundations of major institutions. Will making books searchable online give us more time to think about the results of our research, or will it change the entire way we think? By putting whole books online do we begin the steady process of disintegrating the idea of the book as a bounded whole and not just a sequence of text in a massive database?
The debate thus far has focused too much on the legal ramifications -- helped in part by a couple of high-profile lawsuits from authors and publishers -- failing to take into consideration the larger cognitive, cultural and institutional questions. Those questions will hopefully be given ample air time tonight on Radio Open Source.
Tune in at 7pm ET on local public radio or stream live over the web. The show will also be available later in the week as a podcast.
Posted by ben vershbow at 04:58 PM | Comments (0)
tags: Libraries, Search and the Web , books , copyright , ebook , google , google_book_search , google_print , library , literature , radio , research , university
Open Source, the excellent public radio program (not to be confused with "Open Source Media") that taps into the blogosphere to generate its shows, has been chatting with me about putting together an hour on the Google library project. Open Source is a unique hybrid, drawing on the best qualities of the blogosphere -- community, transparency, collective wisdom -- to produce an otherwise traditional program of smart talk radio. As host Christopher Lydon puts it, the show is "fused at the brain stem with the world wide web." Or better, it "uses the internet to be a show about the world."
The Google show is set to air live this evening at 7pm (ET) (they also podcast). It's been fun working with them behind the scenes, trying to figure out the right guests and questions for the ideal discussion on Google and its bookish ambitions. My exchange has been with Brendan Greeley, the Radio Open Source "blogger-in-chief" (he's kindly linked to us today on their site). We agreed that the show should avoid getting mired in the usual copyright-focused news peg -- publishers vs. Google etc. -- and focus instead on the bigger questions. At my suggestion, they've invited Siva Vaidhyanathan, who wrote the wonderful piece in the Chronicle of Higher Ed. that I talked about yesterday (see bigger questions). I've also recommended our favorite blogger-librarian, Karen Schneider (who has appeared on the show before), science historian George Dyson, who recently wrote a fascinating essay on Google and artificial intelligence, and a bunch of cybertext studies people: Matthew G. Kirschenbaum, N. Katherine Hayles, Jerome McGann and Johanna Drucker. If all goes well, this could end up being a very interesting hour of discussion. Stay tuned.
UPDATE: Open Source just got a hold of Nicholas Kristof to do an hour this evening on Genocide in Sudan, so the Google piece will be pushed to next week.
Posted by ben vershbow at 08:07 AM | Comments (0)
tags: Libraries, Search and the Web , Online , copyright , google , google_book_search , google_print , library , open_source , podcast , publishing , radio , radio_open_source , search , web
Siva Vaidhyanathan has written an excellent essay for the Chronicle of Higher Education on the "risky gamble" of Google's book-scanning project -- some of the most measured, carefully considered comments I've yet seen on the issue. His concerns are not so much for the authors and publishers that have filed suit (on the contrary, he believes they are likely to benefit from Google's service), but for the general public and the future of libraries. Outsourcing to a private company the vital task of digitizing collections may prove to have been a grave mistake on the part of Google's partner libraries. Siva:
The long-term risk of privatization is simple: Companies change and fail. Libraries and universities last.....Libraries should not be relinquishing their core duties to private corporations for the sake of expediency. Whichever side wins in court, we as a culture have lost sight of the ways that human beings, archives, indexes, and institutions interact to generate, preserve, revise, and distribute knowledge. We have become obsessed with seeing everything in the universe as "information" to be linked and ranked. We have focused on quantity and convenience at the expense of the richness and serendipity of the full library experience. We are making a tremendous mistake.
This essay contains in abundance what has largely been missing from the Google books debate: intellectual courage. Vaidhyanathan, an intellectual property scholar and "avowed open-source, open-access advocate," easily could have gone the predictable route of scolding the copyright conservatives and spreading the Google gospel. But he manages to see the big picture beyond the intellectual property concerns. This is not just about economics, it's about knowledge and the public interest.
What irks me about the usual debate is that it forces you into a position of either resisting Google or being its apologist. But this fails to get at the real bind we all are in: the fact that Google provides invaluable services and yet is amassing too much power; that a private company is creating a monopoly on public information services. Sooner or later, there is bound to be a conflict of interest. That is where we, the Google-addicted public, are caught. It's more complicated than hip versus square, or good versus evil.
Here's another good piece on Google. On Monday, The New York Times ran an editorial by Adam Cohen that nicely lays out the privacy concerns:
Google says it needs the data it keeps to improve its technology, but it is doubtful it needs so much personally identifiable information. Of course, this sort of data is enormously valuable for marketing. The whole idea of "Don't be evil," though, is resisting lucrative business opportunities when they are wrong. Google should develop an overarching privacy theory that is as bold as its mission to make the world's information accessible - one that can become a model for the online world. Google is not necessarily worse than other Internet companies when it comes to privacy. But it should be doing better.
Two graduate students in Stanford in the mid-90s recognized that search engines would the most important tools for dealing with the incredible flood of information that was then beginning to swell, so they started indexing web pages and working on algorithms. But as the company has grown, Google's admirable-sounding mission statement -- "to organize the world's information and make it universally accessible and useful" -- has become its manifest destiny, and "information" can now encompass the most private of territories.
At one point it simply meant search results -- the answers to our questions. But now it's the questions as well. Google is keeping a meticulous record of our clickstreams, piecing together an enormous database of queries, refining its search algorithms and, some say, even building a massive artificial brain (more on that later). What else might they do with all this personal information? To date, all of Google's services are free, but there may be a hidden cost.
"Don't be evil" may be the company motto, but with its IPO earlier this year, Google adopted a new ideology: they are now a public corporation. If web advertising (their sole source of revenue) levels off, then investors currently high on $400+ shares will start clamoring for Google to maintain profits. "Don't be evil to us!" they will cry. And what will Google do then?
images: New York Public Library reading room by Kalloosh via Flickr; archive of the original Google page
Posted by ben vershbow at 08:18 AM | Comments (7)
tags: Copyright and Copyleft , Libraries, Search and the Web , books , copyright , ethics , google , google_book_search , google_print , intellectual_property , libraries , library , literature , privacy , publishing , university
Not the program, of course, just the name. From now on it is to be known as Google Book Search. "Print" obviously struck a little too close to home with publishers and authors. On the company blog, they explain the shift in emphasis:
No, we don't think that this new name will change what some folks think about this program. But we do believe it will help a lot of people understand better what we're doing. We want to make all the world's books discoverable and searchable online, and we hope this new name will help keep everyone focused on that important goal.
Posted by ben vershbow at 08:06 AM | Comments (1)
tags: Libraries, Search and the Web , books , copyright , google , google_book_search , google_print , publishing , search
...I realize I was over-hasty in dismissing the recent additions made since book scanning resumed earlier this month. True, many of the fine wines in the cellar are there only for the tasting, but the vintage stuff can be drunk freely, and there are already some wonderful 19th century titles, at this point mostly from Harvard. The surest way to find them is to search by date, or by title and date. Specify a date range in advanced search or simply enter, for example, "date: 1890" and a wealth of fully accessible texts comes up, any of which can be linked to from a syllabus. An astonishing resource for teachers and students.
The conclusion: Google Print really is shaping up to be a library, that is, of the world pre-1923 -- the current line of demarcation between copyright and the public domain. It's a stark reminder of how over-extended copyright is. Here's an 1899 english printing of The Mahabharata: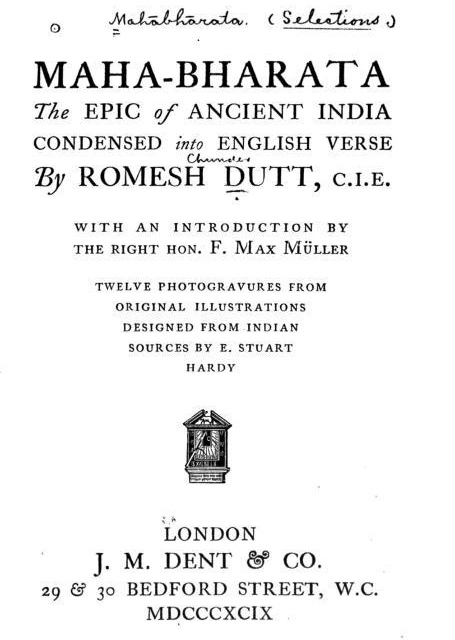 A charming detail found on the following page is this old Harvard library stamp that got scanned along with the rest: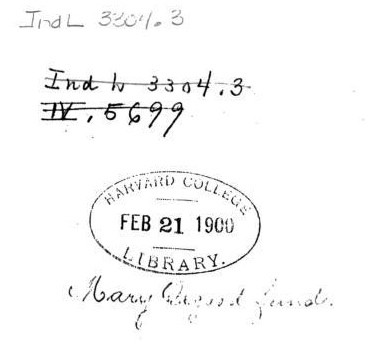 Posted by ben vershbow at 04:53 AM | Comments (0)
tags: Copyright and Copyleft , Libraries, Search and the Web , OCR , copyright , ebook , fair_use , google , google_print , library , mahabharata , scan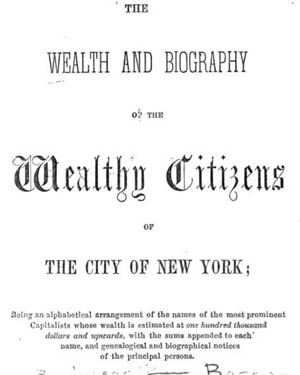 Google's first batch of public domain book scans is now online, representing a smattering of classics and curiosities from the collections of libraries participating in Google Print. Essentially snapshots of books, they're not particularly comfortable to read, but they are keyword-searchable and, since no copyright applies, fully accessible.
The problem is, there really isn't all that much there. Google's gotten a lot of bad press for its supposedly cavalier attitude toward copyright, but spend a few minutes browsing Google Print and you'll see just how publisher-centric the whole affair is. The idea of a text being in the public domain really doesn't amount to much if you're only talking about antique manuscripts, and these are the only books that they've made fully accessible. Daisy Miller's copyright expired long ago but, with the exception of Harvard's illustrated 1892 copy, all the available scanned editions are owned by modern publishers and are therefore only snippeted. This is not an online library, it's a marketing program. Google Print will undeniably have its uses, but we shouldn't confuse it with a library.
(An interesting offering from the stacks of the New York Public Library is this mid-19th century biographic registry of the wealthy burghers of New York: "Capitalists whose wealth is estimated at one hundred thousand dollars and upwards...")
Posted by ben vershbow at 04:16 PM | Comments (0)
tags: Copyright and Copyleft , Libraries, Search and the Web , OCR , books , copyright , ebook , google , google_print , library , literature , public_domain , scan
Meant to post about this last week but it got lost in the shuffle... In case anyone missed it, Tarleton Gillespie of Cornell has published a good piece in Inside Higher Ed about how sneaky settings in course management software are effectively eating away at fair use rights in the academy. Public debate tends to focus on the music and movie industries and the ever more fiendish anti-piracy restrictions they build into their products (the latest being the horrendous "analog hole"). But a similar thing is going on in education and it is decidely under-discussed.
Gillespie draws our attention to the "Copyright Permissions Building Block," a new add-on for the Blackboard course management platform that automatically obtains copyright clearances for any materials a teacher puts into the system. It's billed as a time-saver, a friendly chauffeur to guide you through the confounding back alleys of copyright.
But is it necessary? Gillespie, for one, is concerned that this streamlining mechanism encourages permission-seeking that isn't really required, that teachers should just invoke fair use. To be sure, a good many instructors never bother with permissions anyway, but if they stop to think about it, they probably feel that they are doing something wrong. Blackboard, by sneakily making permissions-seeking the default, plays to this misplaced guilt, lulling teachers away from awareness of their essential rights. It's a disturbing trend, since a right not sufficiently excercised is likely to wither away.
Fair use is what oxygenates the bloodstream of education, allowing ideas to be ideas, not commodities. Universities, and their primary fair use organs, libraries, shouldn't be subjected to the same extortionist policies of the mainstream copyright regime, which, like some corrupt local construction authority, requires dozens of permits to set up a simple grocery store. Fair use was written explicitly into law in 1976 to guarantee protection. But the market tends to find a way, and code is its latest, and most insidious, weapon.
Amazingly, few academics are speaking out. John Holbo, writing on The Valve, wonders:
Why aren't academics - in the humanities in particular - more exercised by recent developments in copyright law? Specifically, why aren't they outraged by the prospect of indefinite copyright extension?...

...It seems to me odd, not because overextended copyright is the most pressing issue in 2005 but because it seems like a social/cultural/political/economic issue that recommends itself as well suited to be taken up by academics - starting with the fact that it is right here on their professional doorstep...
Most obviously on the doorstep is Google, currently mired in legal unpleasantness for its book-scanning ambitions and the controversial interpretation of fair use that undergirds them. Why aren't the universities making a clearer statement about this? In defense? In concern? Soon, when search engines move in earnest into video and sound, the shit will really hit the fan. The academy should be preparing for this, staking out ground for the healthy development of multimedia scholarship and literature that necessitates quotation from other "texts" such as film, television and music, and for which these searchable archives will be an essential resource.
Fair use seems to be shrinking at just the moment it should be expanding, yet few are speaking out.
Posted by ben vershbow at 01:13 PM | Comments (4)
tags: Copyright and Copyleft , DRM , Education , academy , blackboard , copyright , fair_use , google , google_print
Microsoft's forthcoming "MSN Book Search" is the latest entity to join the Open Content Alliance, the non-controversial rival to Google Print. ZDNet says: "Microsoft has committed to paying for the digitization of 150,000 books in the first year, which will be about $5 million, assuming costs of about 10 cents a page and 300 pages, on average, per book..."
Apparently having learned from Google's mistakes, OCA operates under a strict "opt-in" policy for publishers vis-a-vis copyrighted works (whereas with Google, publishers have until November 1 to opt out). Judging by the growing roster of participants, including Yahoo, the National Archives of Britain, the University of California, Columbia University, and Rice University, not to mention the Internet Archive, it would seem that less hubris equals more results, or at least lower legal fees. Supposedly there is some communication between Google and OCA about potential cooperation.
Also story in NY Times.
Posted by ben vershbow at 09:06 AM | Comments (2)
tags: Libraries, Search and the Web , Microsoft , OCA , books , brewster_kahle , copyright , google , google_print , library , open_content_alliance , search , web , yahoo
Wired has a piece today about authors who are in favor of Google's plans to digitize millions of books and make them searchable online. Most seem to agree that obscurity is a writer's greatest enemy, and that the exposure afforded by Google's program far outweighs any intellectual property concerns. Sometimes to get more you have to give a little.
The article also mentions the institute.
Posted by ben vershbow at 09:25 AM | Comments (0)
tags: Libraries, Search and the Web , Publishing, Broadcast, and the Press , books , copyright , google , google_print , publishing , search , web , writing
The Washington Post has run a pair of op-eds, one from each side of the Google Print dispute. Neither says anything particularly new. Moreover, they enforce the perception that there can be only two positions on the subject -- an endemic problem in newspaper opinion pages with their addiction to binaries, where two cardboard boxers are allotted their space to throw a persuasive punch. So you're either for Google or against it? That's awfully close to you're either for technology -- for progress -- or against it. Unfortunately, like technology's impact, the Google book-scanning project is a little trickier to figure out, and a more nuanced conversation is probably in order.
The first piece, "Riches We Must Share...", is submitted in support of Google by University of Michigan President Sue Coleman (a partner in the Google library project). She argues that opening up the elitist vaults of the world's great (english) research libraries will constitute a democratic revolution. "We believe the result can be a widening of human conversation comparable to the emergence of mass literacy itself." She goes on to deliver some boilerplate about the "Net Generation" -- too impatient to look for books unless they're online etc. etc. (great to see a major university president being led by the students instead of leading herself).
Coleman then devotes a couple of paragraphs to the copyright question, failing to tackle any of its controversial elements:
Universities are no strangers to the responsible management of complex copyright, permission and security issues; we deal with them every day in our classrooms, libraries, laboratories and performance halls. We will continue to work within the current criteria for fair use as we move ahead with digitization.
The problem is, Google is stretching the current criteria of fair use, possibly to the breaking point. Coleman does not acknowledge or address this. She does, however, remind the plaintiffs that copyright is not only about the owners:
The protections of copyright are designed to balance the rights of the creator with the rights of the public. At its core is the most important principle of all: to facilitate the sharing of knowledge, not to stifle such exchange.
All in all a rather bland statement in support of open access. It fails to weigh in on the fair use question -- something about which the academy should have a few things to say -- and does not indicate any larger concern about what Google might do with its books database down the road.
The opposing view, "...But Not at Writers' Expense", comes from Nick Taylor, writer, and president of the Authors' Guild (which sued Google last month). Taylor asserts that mega-rich Google is tramping on the dignity of working writers. But a couple of paragraphs in, he gets a little mixed up about contemporary publishing:
Except for a few big-name authors, publishers roll the dice and hope that a book's sales will return their investment. Because of this, readers have a wealth of wonderful books to choose from.
A dubious assessment, since publishing conglomerates are not exactly enthusiastic dice rollers. I would counter that risk-averse corporate publishing has steadily shrunk the number of available titles, counting on a handful of blockbusters to drive the market. Taylor goes on to defend not just the publishing status quo, but the legal one:
Now that the Authors Guild has objected, in the form of a lawsuit, to Google's appropriation of our books, we're getting heat for standing in the way of progress, again for thoughtlessly wanting to be paid. It's been tradition in this country to believe in property rights. When did we decide that socialism was the way to run the Internet?
First of all, it's funny to think of the huge corporations that dominate the web as socialist. Second, this talk about being paid for appropriating books for a search database is revealing of the two totally different worldviews that are at odds in this struggle. The authors say that any use of their book requires a payment. Google sees including the books in the database as a kind of payment in itself. No one with a web page expects Google to pay them for indexing their site. They are grateful that they do! Otherwise, they are totally invisible. This is the unspoken compact that underpins web search. Google assumed the same would apply with books. Taylor says not so fast.
Here's Taylor on fair use:
Google contends that the portions of books it will make available to searchers amount to "fair use," the provision under copyright that allows limited use of protected works without seeking permission. That makes a private company, which is profiting from the access it provides, the arbiter of a legal concept it has no right to interpret. And they're scanning the entire books, with who knows what result in the future.
Actually, Google is not doing all the interpreting. There is a legal precedent for Google's reading of fair use established in the 2003 9th Circuit Court decision Kelly v. Arriba Soft. In the case, Kelly, a photographer, sued Arriba Soft, an online image search system, for indexing several of his photographs in their database. Kelly believed that his intellectual property had been stolen, but the court ruled that Arriba's indexing of thumbnail-sized copies of images (which always linked to their source sites) was fair use: "Arriba's use of the images serves a different function than Kelly's use – improving access to information on the internet versus artistic expression." Still, Taylor's "with who knows what result in the future" concern is valid.
So on the one hand we have many writers and most publishers trying to defend their architecture of revenue (or, as Taylor would have it, their dignity). But I can't imagine how Google Print would really be damaging that architecture, at least not in the foreseeable future. Rather it leverages it by placing it within the frame of another architecture: web search. The irony for the authors is that the current architecture doesn't seem to be serving them terribly well. With print-on-demand gaining in quality and legitimacy, online book search could totally re-define what is an acceptable risk to publishers, and maybe more non-blockbuster authors would get published.
On the other hand we have the universities and libraries participating in Google's program, delivering the good news of accessibility. But they are not sufficiently questioning what Google might do with its database down the road, or the implications of a private technology company becoming the principal gatekeeper of the world's corpus.
If only this debate could be framed in a subtler way, rather than the for-Google-or-against-it paradigm we have now. I'm cautiously optimistic about the effect of having books searchable on the web. And I tend to believe it will be beneficial to authors and publishers. But I have other, deep reservations about the direction in which Google is heading, and feel that a number of things could go wrong. We think the cencorship of the marketplace is bad now in the age of publishing conglomerates. What if one company has total control of everything? And is keeping track of every book, every page, that you read. And is reading you while you read, throwing ads into your peripheral vision. I'm curious to hear from readers what they feel could be the hazards of Google Print.
Posted by ben vershbow at 05:53 PM | Comments (4)
tags: Libraries, Search and the Web , Publishing, Broadcast, and the Press , academy , books , copyright , google , google_print , michigan , publishing , writing
This time by publishers. Penguin Group USA, McGraw-Hill, Pearson Education, Simon & Schuster and John Wiley & Sons. The gripe is the same as with the Authors' Guild, which filed suit last month alleging "massive copyright infringement." Publishers fear a dangerous precedent is set by Google's scanning of books to construct what amounts to a giant card catalogue on the web. Google claims "fair use" (see rationale), again pointing out that for copyrighted works only tiny "snippets" of text are displayed around keywords (though perhaps this is not yet fully in effect - I was searching around in this book and was able to look at quite a lot).
Google calls the publishers' suit "near-sighted." And it probably is. The benefit to readers and researchers will be tremendous, as will (Google is eager to point out) the exposure for authors and publishers. But Google Print is undoubtedly an earth-shaking program. Look at the reaction in Europe, where alarm bells rung by France warned of cultural imperialism, an english-drenched web. Heads of state and culture convened and initial plans for a European digital library have been drawn up.
What the transatlantic flap makes clear is that Google's book scanning touches a deep nerve, and the argument over intellectual property, signficant though it is, distracts from a more profound human anxiety -- an anxiety about the form of culture and the shape of thoughts. If we try to grope back through the millennia, we can find find an analogy in the invention of writing.
The shift from oral to written language froze speech into stable strings that could be transmitted and stored over distance and time. This change not only affected the modes of communication, it dramatically refigured the cognitive makeup of human beings (as McLuhan, Ong and others have described). We are currently going through another such shift. The digital takes the freezing medium of text and throws it back into fluidity. Like the melting of polar ice caps, it unsettles equilibriums, changes weather patterns. It is a lot to adjust to, and we wonder if our great-great-grandchildren will literally think differently from us.
But in spite of this disorienting new fluidity, we still have print, we still have the book. And actually, Google Print in many ways affirms this since its search returns will point to print retailers and brick-and-mortar libraries. Yet the fact remains that the canon is being scanned, with implications we can't fully perceive, and future uses we can't fully predict, and so it is understandable that many are unnerved. The ice is really beginning to melt.
In Phaedrus, Plato expresses a similar anxiety about the invention of writing. He tells the tale of Theuth, an Egyptian deity who goes around spreading the new technology, and one day encounters a skeptic in King Thamus:
...you who are the father of letters, from a paternal love of your own children have been led to attribute to them a power opposite to that which they in fact possess. For this discovery of yours will create forgetfulness in the minds of those who learn to use it; they will not exercise their memories, but, trusting in external, foreign marks, they will not bring things to remembrance from within themselves. You have discovered a remedy not for memory, but for reminding. You offer your students the appearance of wisdom, not true wisdom. They will be hearers of many things and will have learned nothing; they will appear to be omniscient and will generally know nothing; they will be tiresome company, having the show of wisdom without the reality.
As I type, I'm exhibiting wisdom without the reality. I've read Plato, but nowhere near exhaustively. Yet I can slash and weave texts on the web in seconds, throw together a blog entry and send it screeching into the commons. And with Google Print I can get the quote I need and let the rest of the book rot behind the security fence. This fluidity is dangerous because it makes connections so easy. Do we know what we are connecting?
Posted by ben vershbow at 08:08 AM | Comments (5)
tags: Copyright and Copyleft , Libraries, Search and the Web , Transliteracies , copyright , google , literacy , mcluhan , ong , plato , publishing , search , web
This week Google will be paying a visit to the Frankfurt Book Fair to talk with European publishers and chief librarians (including arch nemesis Jean-Nöel Jeanneney) about eight new local incarnations of Google Print. (more)
Posted by ben vershbow at 08:56 AM | Comments (0)
tags: Libraries, Search and the Web , Online , books , copyright , ebook , europe , frankfurt , google , internet , library , publishing , search , web
Or so is the case in Korea, where the custodians of intellectual property law ranked first (apparently for the sixth straight year) in a recent personal income survey. An interesting nugget blown down the pipeline from Korean newspaper Chosun Ilbo, in an article barely longer than its headline. Though I am only able to explore the English-language edition, it seems to be a newspaper with no end of information, but little in the way of analysis. One has the feeling of reading oil, a lubricant for the economic wheels that have delivered a war-torn and psychologically divided nation into material prosperity. Korea is now a major regional power of the so-called global information economy.
The Chosun trifle nicely animates the highly abstract, but fascinating "A Hacker Manifesto" by McKenzie Wark, which I recently began reading. The manifesto is a Marxist tract for the information age, redefining the eternal class struggle in terms of intellectual property - the post-capital form of property - which is controlled by a new ruling class, the "vectoralists." The vectoralists - Bill Gates, Rupert Murdoch, or the big pharmaceutical companies would be the most obvious examples - control the vectors, or channels, of communication, and seek to subjugate the "hackers," who Wark defines as a newly coherent class of idea makers - programmers, inventors, artists and philosophers. It's an important book, and convincingly argues why the intellectual property debate is central in the struggle for liberty.
That the vectoralist class has replaced capital as the dominant exploiting class can be seen in the form that the leading corporations take. These firms divest themselves of their productive capacity, as this is no longer a source of power. They rely on a competing mass of capitalist contractors for the manufacture of their products. Their power lies in monopolizing intellectual property -- patents, copyrights and trademarks -- and the means of reproducing their value -- the vectors of communication. The privatization of information becomes the dominant, rather than a subsidiary, aspect of commodified life.
He goes on to quote from Naomi Klein:
"There is a certain logic to this progression: first, a select group of manufacturers transcend their connection to earthbound products, then, with marketing elevated as the pinnacle of their business, they attempt to alter marketing's social status as a commercial interruption and replace it with seamless integration."
Posted by ben vershbow at 12:50 PM | Comments (1)
tags: Copyright and Copyleft , IT , capitalism , class , communism , copyleft , copyright , hacker , hacking , intellectualproperty , korea , law , lawyer , manifesto , marxism , naomiklein , patent , seoul , vector , vectoralist , wark
Lexis Nexis has installed new software for detecting plagiarism. As described on their site:
LexisNexis CopyGuard uses pattern-matching technology to identify suspect passages in submitted documents. An easy-to-read report underlines and color codes questionable sentences, with links to the original sources.
This could be an important tool for assuring integrity not only in professional journalism, but also in the emerging class of amateur reporters. But apply it to blogs and CopyGuard might overload and shut down. Bloggers are constantly recycling text, often without clear attribution, or obvious demarcation between quote and original commentary. The bounds of plagiarism seem a bit less clear when you consider that cutting and pasting is one of the main ways we converse online.
Posted by ben vershbow at 08:05 AM | Comments (1)
tags: DRM , archive , copyleft , copyright , journalism , lexisnexis , nexis , plagiarism , plagiarize , search
How useful will this service be for in-depth research when copyrighted books (which will account for a huge percentage of searchable texts) cannot be fully accessed? In such cases, a person will be able to view only a selection of pages (depending on agreements with publishers), and will find themselves bombarded with a variety of retail options. On a positive note, the search will be able to refer the user to any local libraries where the desired book is available, but still, the focus here remains squarely on digital texts as simply a means of getting to print texts.
Absent a major paradigm shift with regard to the accessibility and inherent virtue of electronic texts, this ambitious project will never achieve its full potential. For someone searching outside the public domain, the Google library project may amount to nothing more than a guided tour through a prison of incarcerated texts. I've found this to be true so far with Google Scholar - it turned up a lot of interesting stuff, but much of it was password protected or required purchase.
article in Filter: Google -- 21st Century Dewey Decimal System (washingtonpost.com)
Posted by ben vershbow at 04:34 PM | Comments (0)
tags: Libraries, Search and the Web , books , copyright , digitization , ebooks , google , google_book_search , google_print , google_scholar , libraries , library
Closing the USC conference "Scholarship in the Digital Age," Lessig spoke on "free culture" and the current legal/cultural crisis that in the next few years will define the constraints on creative production for decades to come. Due to obsessive fixation by a handful of powerful media industries on the issue of piracy, the massive potential of networked digital culture that has briefly flowered in the past decade could be destroyed by draconian laws and code controls embedded in new technologies. In Lessig's words: "never in our past have fewer exercised more legal control."
Lessig elegantly picked up one of the conference's many threads, multimedia literacy, referring to the bundle of new forms of cultural and scholarly production – remixing, reusing, networking peer-to-peer, working across multiple media – as simply "writing." This is an important step to take in thinking about these new modes of production, and is actually a matter of considerable urgency, considering the legal changes currently underway. The ultimate question to ask is (and this is how Lessig concluded his talk): are we producing a legal culture in which writing is not allowed?
Posted by ben vershbow at 06:17 PM | Comments (0)
tags: Copyright and Copyleft , Education , Remix , USC , conference , copyleft , copyright , free_culture , free_thought , intellectual_property , lessig , p2p , writing
I just checked out two titles from the New York Public Library's ebook catalog, only to learn, to my great astonishment, that those books are now effectively "checked out," and cannot be downloaded again by anyone else until my copies time out.
It boggles the mind that NYPL would go to the trouble of establishing a collection of electronic titles, only to wipe out every advantage offered by digital texts. In fact, they do more than simply keep the ebooks on the level of print, they limit them further than that, since there are generally multiple copies of most print titles in the NYPL system.
The people responsible for this catalog have either entirely failed to grasp the concept of infinitely accessible, screen-based books, or they grasp it all too well and are trying to stunt it at its inception, perhaps out of fear of extinction of the print librarian. More likely, they are under heavy pressure by a paranoid copyright regime. Whatever the reason, the new ebook catalog shows a total lack of imagination and offers nearly no tangible benefit for the reader.
Beyond that, the books themselves are poorly designed and unpleasant to read. My downloaded copy of Conrad's Heart of Darkness (which, by the way, I found in the "Romance" section) evidences no more than ten minutes worth of design work, and appears to be simply a cut-and-pasted ASCII file from Gutenberg with a garish graphic slapped on the cover. My copy of Chain of Command by Seymour Hersh was a bit more respectable – more or less a pdf facsimile of the print edition.
On an amusing note, the "literary criticism" section is populated almost entirely by Cliff's Notes.
Posted by ben vershbow at 01:51 PM | Comments (0)
tags: DRM , Libraries, Search and the Web , books , copyright , design , e-publishing , ebook , ebooks , internet , libraries , library , manhattan , new_york , publishing