It probably won't be until mid to late March that we finally roll out McKenzie Wark's GAM3R 7H30RY Version 10.1, but substantial progress is being made. Here's a snapshot:
After debating (part 1) our way to a final design concept (part 2), we're now focused (well, mainly Jesse at this point) on hammering the thing together. We're using all open source software and placing the book under a Creative Commons Attribution-NonCommercial-ShareAlike 2.0 license. Half the site will consist of a digital edition of the book in Word Press with a custom-built card shuffling interface. As mentioned earlier, Ken has given us an incredibly modular structure to work with (a designer's dream): nine chapters (so far), each consisting of 25 paragraphs. Each chapter will contain five five-paragraph stacks with comments popping up to the side for whichever card is on top. No scrolling is involved except in the comment field, and only then if there is a substantial number of replies.
The graphic above shows the color scale we're thinking of for the different chapters. As they progress, each five-card stack will move from light to dark within the color of its parent chapter. Floating below the color spectrum is the proud parent of the born-digital book: McKenzie Wark, Space Invader (an image that will appear in some fashion throughout the site). Right now he's a fairly mean-looking space invader -- on a bombing run or something. But we're thinking of shuffling a few pixels to give him a friendlier appearance.
You are also welcome to view an interactive mock-up of the card view (click on the image below):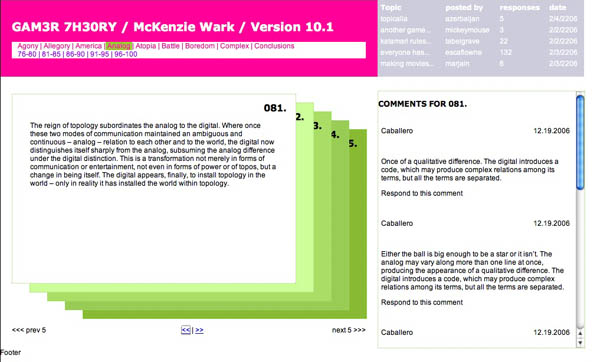 The other half of the site will be a discussion forum set up in PHP Bulletin Board. Actually, it'll be a collection of nine discussion forums: one for each chapter of the book, each focusing (except for the first, which is more of an introduction) on a specific video game. Here's how it breaks down:
* Allegory (on The Sims)
* America (on Civilization III)
* Analog (on Katamari Damarcy)
* Atopia (on Vice City)
* Battle (on Rez)
* Boredom (on State of Emergency)
* Complex (on Deus Ex)
* Conclusions (on SimEarth)
The gateway to each forum will be a two-dimensional topic graph where forum threads float in an x-y matrix. Their position in the graph will be determined by the time they were posted and the number of comments they've accumulated so far. Thus, hot topics will rise toward the top while simultaneously being dragged to the left (and eventually off the chart) by the progression of time. Something like this: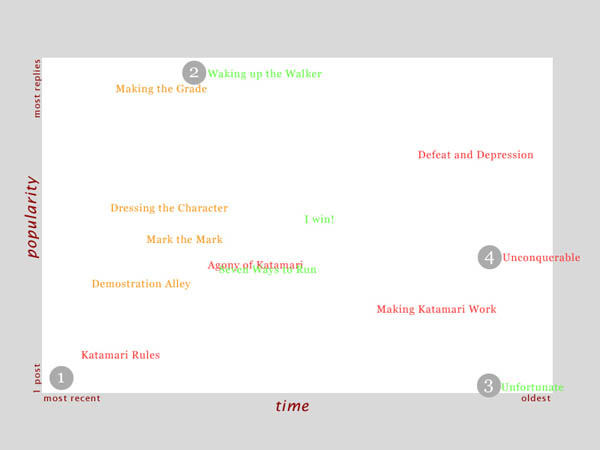 At this point there's no way of knowing for sure which part of the site will be more successful. The book view is designed to gather commentary, and Ken is sincerely interested in reader feedback as he writes and rewrites. There will also be the option of syndicating the book to be digested serially in an RSS reader. We're very curious to see how readers interact with the text and hope we've designed a compelling environment in which to do so.
Excited as we are about the book interface, our hunch is that the discussion forum component has the potential to become the more vital half of the endeavor. The forum will be quite different from the thousands of gaming sites already active on the web in that it will be less utilitarian and more meditative in its focus. This won't be a place for posting cheats and walk-throughs but rather a reflective space for talking about the experience of gaming and what players take games to mean. Our hope is that people will have quite a bit to say about this -- some of which may end up finding its way into the book.
Although there's still a ways to go, the process of developing this site has been incredibly illuminating in our thinking about the role of the book in the network. We're coming to understand how the book might be reinvented as social software while still retaining its cohesion and authorial vision. Stay tuned for further developments.
Posted by ben vershbow at 04:42 PM | Comments (0) | TrackBack
tags: Blogosphere , blogging , book-blog_experiments , creative_commons , design , ebook , gaming , phpbb , video_games , word_press
We had a highly productive face to face meeting with Ken this afternoon to review the prior designs and to try and develop, collaboratively, a solution based on the questions that arose from those designs. We were aiming for a solution that provides a compelling interface for Ken's book and also encourages open-ended discussion of the themes and specific games treated in the book.
What we came up with was a prototype of a blog/book page that presents the entire text of GAM3R 7H30RY, and a discussion board based around the games covered in the book, each corresponding with a specific chapter. These are:



Allegory (on The Sims)


America (on Civilization III)


Analog (on Katamari Damarcy)


Atopia (on Vice City)


Battle (on Rez)


Boredom (on State of Emergency)


Complex (on Deus Ex)


Conclusions (on SimEarth)


Unlike the thousand of gaming forums that already exist throughout the web, this discussion space will invite personal and social points of view, rather than just walkthroughs and leveling up cheats.
We also discussed the fact that discussion boards tend towards opacity as they grow, and ways to alleviate that situation. Growth is good; it reflects a rich back and forth between board participants. Opacity is bad; it makes it harder for new voices to join the discussion. To make it easier for people to join the discussion, Ken envisioned an innovative gateway into the boards based on a shifting graph of topics ranked by post date (x-axis) and number of responses (y-axis). This solution was inspired in part by "The Pool" -- "a collaborative online environment for creating art, code, and texts" developed by Jon Ippolito at the University of Maine -- in which ideas and project proposals float in different regions of a two-dimensional graph depending on quantity and tenor of feedback from the collective.
Returning to the book view, to push the boundaries of the blog form, we introduced a presentation format that uniquely fits around McKenzie's book form—twenty-five regularly sized paragraphs in nine different chapters. Yes, each chapter has exactly 25 paragraphs, making mathematically consistent presentation possible (as an information designer I am elated at this systematic neatness). We decided on showing a cascade of five paragraphs, with one paragraph visible at a time, letting you navigate through chapters and then sets of five paragraphs within a chapter.
As a delightful aside, we started prototyping with a sheet of paper and index cards, but by some sideways luck we pulled out a deck of Brian Eno and Peter Schmidt's Oblique Strategies cards, which suited our needs perfectly. The resulting paper prototype (photo w/ wireframe cues photoshop'd in):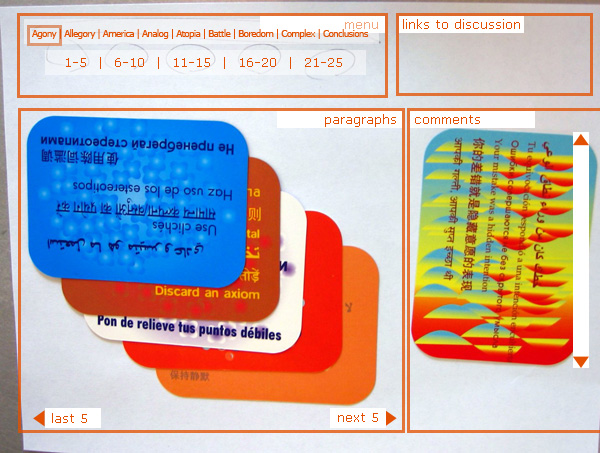 This project has already provided us with a rich discussion regarding authorship and feedback. As we develop the prototypes we will undoubtedly have more questions, but also, hopefully, more solutions that help us redefine the edges and forms of digital discourse.
Ben Vershbow contributed to this post.
Posted by jesse wilbur at 07:00 PM | Comments (7)
tags: GAM3R_7H30RY , Ken_Wark , authorship , blogs , book-blog_experiments , design , discussion_boards , feedback , gamer_theory , prototype , wireframe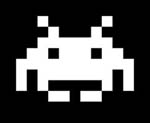 McKenzie Wark
I'm pleased to report that the institute is gearing up for another book-blog experiment to run alongside Mitchell Stephens' ongoing endeavor at Without Gods -- this one a collaboration with McKenzie Wark, professor of cultural and media studies at the New School and author most recently of A Hacker Manifesto. Ken's next book, Gamer Theory, is an examination of single-player video games that comes out of the analytic tradition of the Frankfurt School (among other influences). Unlike Mitch's project (a history of atheism), Ken's book is already written -- or a draft of it anyway -- so in putting together a public portal, we are faced with a very different set of challenges.
As with Hacker Manifesto, Ken has written Gamer Theory in numbered paragraphs, a modular structure that makes the text highly adaptable to different formats and distribution schemes -- be it RSS syndication, ebook, or print copy. We thought the obvious thing to do, then, would be to release the book serially, chunk by chunk, and to gather commentary and feedback from readers as it progressed. The trouble is that if you do only this -- that is, syndicate the book and gather feedback -- you forfeit the possibility of a more free-flowing discussion, which could end up being just as valuable (or more) as the direct critique of the book. After all, the point of this experiment is to expose the book to the collective knowledge, experience and multiple viewpoints of the network. If new ideas are to be brought to light, then there ought to be ways for readers to contribute, not just in direct response to material the author has put forth, but in their own terms (this returns us to the tricky proprietary nature of blogs that Dan discussed on Monday).
So for the past couple of weeks, we've been hashing out a fairly ambitious design for a web site -- a blog, but a little more complicated -- that attempts to solve (or at least begin to solve) some of the problems outlined above. Our first aim was to infuse the single-author book/blog with the democratic, free-fire discussion of list servers -- a feat, of course, that is far easier said than done. Another concern, simply from an interface standpoint, was to find ways of organizing the real estate of the screen that are more intuitive for reading.
Another thing we've lamented about blogs, and web sites in general, is their overwhelming verticality. Vertical scrolling fields -- an artifact of supercomputer terminals and the long spools of code they spit out -- are taken for granted as the standard way to read online. But nowhere was this ordained as the ideal interface -- in fact it is designed more for machines than for humans, yet humans are the users on the front end. Text does admittedly flow down, but we read left to right, and its easier to move your eye across a text that is fixed than one that is constantly moving. A site we've often admired is The International Herald Tribune, which arranges its articles in elegant, fixed plates that flip horizontally from one to the next. With these things in mind, we set it as a challenge for ourselves to try for some kind of horizontally oriented design for Ken's blog.
There's been a fairly rigorous back and forth on email over the past two weeks in which we've wrestled with these questions, and in the interest of working in the open, we've posted the exchange below (most of it anyway) with the thought that it might actually shed some light on what happens -- from design and conceptual standpoints -- when you try to mash up two inherently different forms, the blog and the book. Jesse has been the main creative force behind the design, and he's put together a lovely annotated page explaining the various mockups we've developed over the past week. If you read the emails (which are can be found directly below this paragraph) you will see that we are still very much in the midst of figuring this out. Feedback would be much appreciated. (See also GAM3R 7H30RY: part 2).
This exchange began after a week of sketching and discussion following an initial brainstorm session with Ken in mid-January...

Thu, Jan 26, 2006 at 3:45 PM
Ben Vershbow
To: Ken Wark
Cc: Bob Stein, Jesse Wilbur
Subject: a start
Hi Ken,
So here's the challenge as we see it.
We need to create a single site that:
- combines the best of blogs with the best of list-servers
- is structured to progressively reveal the draft of a book and gather commentary
I'm pleased to report that we've cooked up something that comes pretty close -- a Word Press blog re-jiggered to solve all the world's ills. You can view an html mock-up here:

(wide screenshot of the initial HTML mockup - eventually rejected)
Rather than explain how it works, why don't you just take a look and see how clearly things come across. Not quite everything is there yet, and obviously, it hasn't been tied in to Word Press yet, which will be a bit tricky. But we're pretty confident we can get it to work (when I say we, I mean Jesse, who is the one responsible for building this and who put together the lovely mock-up).
Keep in mind that this is only a sketch and that everything is negotiable. But I think this is a good start.
Let us know how this strikes you fire away with questions.
Best,
Ben et al.

Thu, Jan 26, 2006 at 3:51 PM
Ken Wark
To: Ben Vershbow
Cc: Jesse Wilbur, Bob Stein
Subject: Re: a start
a really impressive start. I kinda imagined it going left to right,
rather than right to left. I think it should also have a sort of free
fire zone where people can comment and discuss without it being tied to particular parts of the book.
In place of the proprietary Mario image, may be a space invader.
(hence: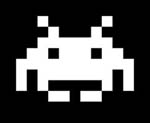 )
k

Thu, Jan 26, 2006 at 3:52 PM
Ken Wark
To: Ben Vershbow
Cc: Jesse Wilbur, Bob Stein
Subject: Re: a start
-- and if the columns could be a bit wider or the text a bit more
compressed (less leading, maybe) to try and get the whole paragraph on
the screen. The longest are 250 words (or if they're not, i'm cutting
them down).
... if i wanted to update the text, how could that work?

Thu, Jan 26, 2006 at 4:22 PM
Ben Vershbow
To: Ken Wark
Cc: Jesse Wilbur, Bob Stein
Subject: Re: a start
Ken said:
>I kinda imagined it going left to right, rather than right to left.
We debated the left-right right-left thing. The problem with left to right is that the more of the book you release, the further down (or over, I should say) the new paragraphs are. Our thought was that it's better to have the most recent first, as in a normal blog, in the interest of keeping the thing as a living exchange. You don't want readers to have to do tons of scrolling to get to the latest installment. It's reverse linear, I realize, but the book hieararchy to the side will allow readers to see an archive view of the book that goes 1-200 in the proper order. There are ways we could make that clearer, like inviting visitors to "read from the beginning" or something.
Ken said:
>I think it should also have a sort of free fire zone where people can comment and discuss without it being tied to particular parts of the book.
This is certainly something we should consider. You'll notice that the "binary thinking for humans" post was made by another user. This is our gesture toward the democracy of list-serves. We figure that there are three ways a user can interact with this site:
1. They simply read it (and later are moved to buy your book, or change the world)
2. They read it and sometimes post comments
3. They read it, sometimes post comments, and even sometimes post top-level threads (like the "binary thinking" one).
1 and 2 are obviously open and unrestricted (though we might need some moderation once the spammers find us). Number 3, however, would require a guest account, so we're working out a way to allow users to create logins. In the spirit of the game, they would be allowed to choose an icon from classic game culture (that's just something we're toying with, let us know what you think). Mario for you was a purely arbitrary choice. You can be a space invader, Metroid, Yoshi or whoever.
Anyway, this allows people to start threads of their own, though they are, as you point out, interspersed within the set structure of the book according to the time they were posted. If you want something that is freer of the book's structure, we would need something like a free fire zone.
Regarding your second comments:
>-- and if the columns could be a bit wider or the text a bit more
>compressed (less leading, maybe) to try and get the whole paragraph
>on the screen. The longest are 250 words (or if they're not, i'm
>cutting them down).
>
>... if i wanted to update the text, how could that work?
We can certainly tweak the formatting. Our goal is to have two full sections visible and a third cut off, giving the visual clue that there is more content to the side.
As for updating text, that's a very good question. Jesse, any ideas?
We could color code additions and deletions - like a track changes function. We could also work revised paragraphs into the main stream, though this could quickly get confusing. If you see 84, 83, some dude's post, 82, then 41 with all kinds of markings on it, then 81, it might be a little disorienting.
Anyway, let's keep talking this through. Remember to copy everyone so we're all part of the discussion.
- Ben

Thu, Jan 26, 2006 at 5:08 PM
Jesse Wilbur
To: Ben Vershbow
Cc: Ken Wark, Bob Stein
Subject: Re: a start
Ken,
I think coded additions and deletions are probably the best way to
handle, for the reasons that ben noted. Getting that info into the
stream of the posts does pose a little bit of a problem. My first
reaction is to have some area of the screen dedicated to the "latest
updates" which would be unrestricted to the flow of the chapters.
Possibly in the upper right corner, as a list of small text links.
To help get all of a paragraph on the screen, I can 1) reduce the
leading, 2) move the icon to the left hand side, return address style.
It will still serve the purpose of visually marking a post as belonging to a particular author, but reduce some of the stacking.
-jdw

Thu, Jan 26, 2006 at 5:28 PM
Ben Vershbow
To: Jesse Wilbur
Cc: Ken Wark, Bob Stein
Subject: Re: a start
The question of revisions is important and very tricky. Tracking changes would have to be done by hand, which could get burdensome. Ideally, each entry would have a revision history. But that's simply not something Word Press is built to do. We'll look into ways that we can mess with it, but we're pushing it nearly to breaking point as it is.
There's also the question of how soon we want to get this thing up. I say the sooner the better (initially I was thinking in the next two weeks), but if we want to get revisions right, it might take longer.
We're going to confer on this and weigh our options.
We'll be at a conference tomorrow so may have less time to work on this. But let's keep talking about anything and everything we want to add/remove/change on the current design.
- Ben

Thu, Jan 26, 2006 at 7:32 PM
Ken Wark
To: Ben Vershbow, Jesse Wilbur
Cc: Bob Stein
Subject: Re: a start
revisions need not be a big deal. It would be useful to be able to take a chunk of text out and put another one in. That the pars are numbered makes that easy.
k

We then hunkered down for the next few days and came up with some new mockups.

Wed, Feb 1, 2006 at 2:02 PM
Ben Vershbow
To: Ken Wark, Jesse Wilbur, Bob Stein
Subject: Site Draft(s) 2
Hi Ken,
So we've made a second stab at a design. Several stabs, actually, which leaves us a little more confused than before, but I think productively confused. I do believe we're getting somewhere.
Go to http://www.futureofthebook.org/mckenziewark and you will see a menu of three new mockups (just graphics, not interactive). Three and a half, to be precise (one of them has two views). These are rough, and are missing some important elements, but we wanted to keep you in on the discussion. So here they are, warts and all.
But before you look at these sketches, I'll briefly summarize how we got from what we had the other day to what we have today. So. The initial design had two major problems. One you pointed out, namely that the interspersing of visitor posts among book paragraphs (a bloggish gesture toward the democracy of list servers) did not meaningfully subtract from the primacy of the author in the flow of discussion. This was problem number one, and it led us to give up on trying to fully integrate free-fire discussion with the syndicated book. After all, this project is inescapably about the primacy of the author. Sure, we're poking at it, gently undermining it -- suggesting that a book is as much about process as product -- but it's still your book, your name. We decided that the design should embrace this fact, while also providing alternative venues for more equitable exchange.
The second problem was one we realized only after getting over the "oh, how cool this looks" stage of analysis, namely that horizontal scrolling, lovely as it is, runs into difficulties when you are working with such a large amount of content, much of it coming in at inpredictable intervals and in varying amounts (i.e. comments). It's a question of real estate. We have only so much space on the screen (keeping in mind the smallest standard browser window) and since we want comments to be visible in the main view, we've got an awful lot of material to get organized. If you look at the original mockup, you'll see how this necessitates a combination of vertical and horizontal scrolling. The result is that when you come to the page, instead of a clearly defined website, you see something that looks more like the upper-left corner of a map -- not well formatted for a browser. Seeing as the browser is the reading tool of choice, this won't do at all.
Having both horizontal and vertical scrolling emphasizes the disadvantages of both and the advantages of neither. The Herald Tribune site works nicely because it is dealing with set amounts of text that it can flow cleanly into successive horizontal plates. If we were dealing only with the book, sans comments or discussion, we could do something similarly elegant. But there are more variables in play here, and like it or not, a dynamic work such as this, given the tools currently available, strongly tends toward a vertical display.
Still, as you'll see in our first new mockup, we've still struggled to make the horizontal work. In this one, the paragraphs flow vertically, but the comments flow horizontally. In this case, the horizontal is more intuitive, since we naturally read left to right and the comments are ordered chronologically in the same way. But we still run into the real estate problem described earlier and the reader ends up having to scroll in multiple directions. You'll notice also a menu on the sidebar pointing to discussion topics in a free-fire forum. This is not at all the way this would look, it's just a crude marker. It would lead to a page of topics that anyone could post. We're also thinking of a way to allow readers to post a comment simultaneously under a paragraph and as its own forum thread.
The second mockup keeps the comments to the right, but arranges them vertically. This isn't so bad, except that when you have a lot of comments, and you open them up, it starts to seriously push the next post down, which looks awkward. But maybe this is not such a problem.
The third reflects our attempt to keep the free-fire discussion on the main page next to the book flow. The problem with this is that, though the two streams are clearly related, there is no mechanism provided with which to draw specific connection points. In other words, this design implicitly promises something it cannot deliver, and will come off seeming arbitrary and not well thought out.
The other big thing to throw into the mix, but which is not yet reflected in these sketches, is the question of versioning. We've figured out some reasonably simple ways to incorporate versioning into the design and feel that, given the goals of the project, this is one of the most important ingredients to include. The kind of versioning we're imagining would include a sort of "track changes" function and would automatically archive all past incarnations of a paragraph.
So to sum up, I think what we're moving toward is something that combines elements of all three sketches and throws in the element of versioning. We may have to let go of the idea of horizontal scrolling, but we're confident that we'll still be presenting comments in an interesting way. The free-fire discussion element will be there, but in a different space, yet we will advertise it prominently on the front page and try to find a simple but effective way to connect it to the book-centered comments.
And having said all that (sorry it was so long-winded), we'd like to hear from you which, among the elements we've laid out, you think are most important to include in the final design, and in what proportions. What works and what doesn't work? What are things we are obsessing about that need not be obsessed about? What are things we're still missing?
With a little more work, I think we can have something ready to go in the next week or two.
- Ben

Wed, Feb 1, 2006 at 2:19 PM
Ken Wark
To: Bob Stein, Ben Vershbow, Jesse Wilbur
Subject: Re: Site Draft(s) 2
wow, that's a lot to think about, but its an interesting set of
problems. I'll have a think about it, but maybe it would be best to meet
and kick it around. How's Friday?
k

Wed, Feb 1, 2006 at 2:48 PM

Ben Vershbow
To: Ken Wark, Jesse Wilbur, Bob Stein
Subject: Re: Site Draft(s) 2
Meeting face to face is a good idea and Friday works well.

Wed, Feb 1, 2006 at 3:26 PM
Subject: Re: Site Draft(s) 2
Ben Vershbow
To: Ken Wark
Cc: Jesse Wilbur, Bob Stein
Hey Ken,
One other thing...
Here at the institute we're generally trying to find ways we can do our work more in the open, and thinking about it, our email exchange about the site design have actually turned out to be pretty interesting, maybe even interesting enough for people to want to read them on our blog.
This project poses some big questions about the work of ideas in the network of ideas, and our little back-and-forth is turning into an intriguing little document at the intersection of theory and practice.
How would you feel about us posting it?
- Ben

Wed, Feb 1, 2006 at 4:16 PM
Ken Wark
To: Ben Vershbow
Cc: Jesse Wilbur, Bob Stein
Subject: Re: Site Draft(s) 2
sure, let's start a public thread on it
i'm starting to wonder if it ought not to feature the book too centrally at all. What if the front of the site was about the games that the book is about? (I've pasted in the contents below). The architecture for commenting on the book could be a layer, but in front of that could be a more conventional set of forums about particular games.
Allegory (on The Sims) 25
America (on Civilization III) 47
Analog (on Katamari Damarcy) 66
Atopia (on Vice City) 83
Battle (on Rez) 104
Boredom (on State of Emergency) 124
Complex (on Deus Ex) 147
Conclusions (on SimEarth) 162

see you fri
k

...which just about brings us up to the present moment. If you have any thoughts/questions/comments, we're all ears.
Posted by ben vershbow at 12:35 PM | Comments (5)
tags: Games , blogging , blogs , book-blog_experiments , books , design , frankfurt_school , gaming , hacker , interface , marx , mckenzie_wark , philosophy , reading , video_games , writing
It appears that Amazon is going to start hosting blogs for authors. Sort of. Amazon Connect, a new free service designed to boost sales and readership, will host what are essentially stripped-down blogs where registered authors can post announcements, news and general musings.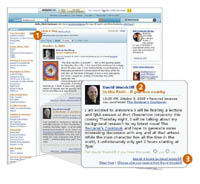 Eventually, customers can keep track of individual writers by subscribing to bulletins that collect in an aggregated "plog" stream on their Amazon home page. But comments and RSS feeds -- two of the most popular features of blogs -- will not be supported. Engagement with readers will be strictly one-way, and connection to the larger blogosphere basically nil. A missed opportunity if you ask me.
Then again, Amazon probably figured it would be a misapplication of resources to establish a whole new province of blogland. This is more like the special events department of a book store -- arranging readings, book singings and the like. There has on occasion, however, been some entertaining author-public interaction in Amazon's reader reviews, most famously Anne Rice's lashing out at readers for their chilly reception of her novel Blood Canticle (link - scroll down to first review). But evidently Connect blogs are not aimed at sparking this sort of exchange. Genuine literary commotion will have to occur in the nooks and crannies of Amazon's architecture.
It's interesting, though, to see this happening just as our own book-blog experiment, Without Gods, is getting underway. Over the past few weeks, Mitchell Stephens has been writing a blog (hosted by the institute) as a way of publicly stoking the fire of his latest book project, a narrative history of atheism to be published next year by Carroll and Graf. While Amazon's blogs are mainly for PR purposes, our project seeks to foster a more substantive relationship between Mitch and his readers (though, naturally, Mitch and his publisher hope it will have a favorable effect on sales as well). We announced Without Gods a little over two weeks ago and already it has collected well over 100 comments, a high percentage of which are thoughtful and useful.
We are curious to learn how blogging will impact the process of writing the book. By working partially in the open, Mitch in effect raises the stakes of his research -- assumptions will be challenged and theses tested. Our hunch isn't so much that this procedure would be ideal for all books or authors, but that for certain ones it might yield some tangible benefit, whether due to the nature or breadth of their subject, the stage they're at in their thinking, or simply a desire to try something new.
An example. This past week, Mitch posted a very thinking-out-loud sort of entry on "a positive idea of atheism" in which he wrestles with Nietzsche and the concepts of void and nothingness. This led to a brief exchange in the comment stream where a reader recommended that Mitch investigate the writings of Gora, a self-avowed atheist and figure in the Indian independence movement in the 30s. Apparently, Gora wrote what sounds like a very intriguing memoir of his meeting with Gandhi (whom he greatly admired) and his various struggles with the religious component of the great leader's philosophy. Mitch had not previously been acquainted with Gora or his writings, but thanks to the blog and the community that has begun to form around it, he now knows to take a look.
What's more, Mitch is currently traveling in India, so this could not have come at a more appropriate time. It's possible that the commenter had noted this from a previous post, which may have helped trigger the Gora association in his mind. Regardless, these are the sorts of the serendipitous discoveries one craves while writing book. I'm thrilled to see the blog making connections where none previously existed.
Posted by ben vershbow at 08:36 AM | Comments (3)
tags: Blogosphere , Publishing, Broadcast, and the Press , amazon , amazon_connect , atheism , blogging , blogs , book-blog_experiments , books , god , publishing , religion , writing
Just in time for the holidays, a little god-free fun...
The institute is pleased to announce the launch of Without Gods, a new blog by New York University journalism professor and media historian Mitchell Stephens that will serve as a public workshop and forum for the writing of his latest book. Mitch, whose previous works include A History of News and the rise of the image the fall of the word, is in the early stages of writing a narrative history of atheism, to be published in 2007 by Carroll and Graf. The book will tell the story of the human struggle to live without gods, focusing on those individuals, "from Greek philosophers to Romantic poets to formerly Islamic novelists," who have undertaken the cause of atheism - "a cause that promises no heavenly reward."
Without Gods will be a place for Mitch to think out loud and begin a substantive exchange with readers. Our hope is that the conversation will be joined, that ideas will be challenged, facts corrected, queries and probes answered; that lively and intelligent discussion will ensue. As Mitch says: "We expect that the book's acknowledgements will eventually include a number of individuals best known to me by email address."
Without Gods is the first in a series of blogs the institute is hosting to challenge the traditional relationship between authors and readers, to learn how the network might more directly inform the usually solitary business of authorship. We are interested to see how a partial exposure of the writing process might affect the eventual finished book, and at the same time to gently undermine the notion that a book can ever be entirely finished. We invite you to read Without Gods, to spread the word, and to take part in this experiment.
Posted by ben vershbow at 07:27 AM | Comments (0)
tags: Blogosphere , agnostic , atheism , atheist , blog , blogging , book-blog_experiments , books , history , philosophy , publishing , religion , writing
Mitch Stephens, NYU professor, was here for lunch today. when Ben and I met with him about a month ago about the academic bloggers/public intellectuals project, Mitch mentioned he had just signed a contract with Carroll & Graf to write a book on the history of atheism. today's lunch was to follow up a suggestion we made that he might consider starting a blog to parallel the research and writing of the book. i'm delighted to report that Mitch has enthusiastically taken up the idea. sometime in the next few weeks we'll launch a new blog, tentatively called Only Sky (shortened from the lyric of john lennon's Imagine ". . . Above us only sky"). it will be an experiment to see whether blogging can be useful to the process of writing a book. i expect Mitch will be thinking out loud and asking all sorts of interesting questions. i also think that readers will likely provide important insight as well as ask their own fascinating questions which will in turn suggest fruitful directions of inquiry. stay tuned.
Posted by bob stein at 05:01 PM | Comments (1)
tags: academic , academy , atheism , blog , blogging , blogs , book-blog_experiments , books , experiment , god , religion , research , writing