In an effort to more directly engage readers, two of America's most august daily newspapers are adding a subtle but potentially significant feature to their websites: author bylines directly linked to email forms. The Post's links are already active, but as of this writing the Times, which is supposedly kicking off the experiment today, only links to other articles by the same reporter. They may end up implementing this in a different way.
The email trial comes on the heels of two notoriously failed experiments by elite papers to pull readers into conversation: the LA Times' precipitous closure, after an initial 24-hour flood of obscenities and vandalism, of its "wikatorials" page, which invited readers to rewrite editorials alongside the official versions; and more recently, the Washington Post's shutting down of comments on its "post.blog" after experiencing a barrage of reader hate mail. The common thread? An aversion to floods, barrages, or any high-volume influx of unpredictable reader response. The email features, which presumably are moderated, seem to be the realistic compromise, favoring the trickle over the deluge.
In a way, though, hyperlinking bylines is a more profound development than the higher profile experiments that came before, which were more transparently about jumping aboard the wiki/blog bandwagon without bothering to think through the implications, or taking the time -- as successful blogs and wikis must always do -- to gradually build up an invested community of readers who will share the burden of moderating the discussion and keeping things reasonably clean. They wanted instant blog, instant wiki. But online social spaces are bottom-up enterprises: invite people into your home without any preexisting social bonds and shared values -- and add to that the easy target of being a mass media goliath -- and your home will inevitably get trashed as soon as word gets out.
Being able to email reporters, however, gets more at the root of the widely perceived credibility problem of newspapers, which have long strived to keep the human element safely insulated behind an objective tone of voice. It's certainly not the first time reporters' or columnists' email addresses have been made available, but usually they get tucked away toward the bottom. Having the name highlighted directly beneath the headline -- making the reporter an interactive feature of the article -- is more genuinely innovative than any tacked-on blog because it places an expectation on the writers as well as the readers. Some reporters will likely treat it as an annoying new constraint, relying on polite auto-reply messages to maintain a buffer between themselves and the public. Others may choose to engage, and that could be interesting.
Posted by ben vershbow at 12:56 PM | Comments (2)
tags: Publishing, Broadcast, and the Press , Social Software , blogs , email , journalism , media , new_york_times , newspapers , social_software , washington_post , wikis
We had a highly productive face to face meeting with Ken this afternoon to review the prior designs and to try and develop, collaboratively, a solution based on the questions that arose from those designs. We were aiming for a solution that provides a compelling interface for Ken's book and also encourages open-ended discussion of the themes and specific games treated in the book.
What we came up with was a prototype of a blog/book page that presents the entire text of GAM3R 7H30RY, and a discussion board based around the games covered in the book, each corresponding with a specific chapter. These are:



Allegory (on The Sims)


America (on Civilization III)


Analog (on Katamari Damarcy)


Atopia (on Vice City)


Battle (on Rez)


Boredom (on State of Emergency)


Complex (on Deus Ex)


Conclusions (on SimEarth)


Unlike the thousand of gaming forums that already exist throughout the web, this discussion space will invite personal and social points of view, rather than just walkthroughs and leveling up cheats.
We also discussed the fact that discussion boards tend towards opacity as they grow, and ways to alleviate that situation. Growth is good; it reflects a rich back and forth between board participants. Opacity is bad; it makes it harder for new voices to join the discussion. To make it easier for people to join the discussion, Ken envisioned an innovative gateway into the boards based on a shifting graph of topics ranked by post date (x-axis) and number of responses (y-axis). This solution was inspired in part by "The Pool" -- "a collaborative online environment for creating art, code, and texts" developed by Jon Ippolito at the University of Maine -- in which ideas and project proposals float in different regions of a two-dimensional graph depending on quantity and tenor of feedback from the collective.
Returning to the book view, to push the boundaries of the blog form, we introduced a presentation format that uniquely fits around McKenzie's book form—twenty-five regularly sized paragraphs in nine different chapters. Yes, each chapter has exactly 25 paragraphs, making mathematically consistent presentation possible (as an information designer I am elated at this systematic neatness). We decided on showing a cascade of five paragraphs, with one paragraph visible at a time, letting you navigate through chapters and then sets of five paragraphs within a chapter.
As a delightful aside, we started prototyping with a sheet of paper and index cards, but by some sideways luck we pulled out a deck of Brian Eno and Peter Schmidt's Oblique Strategies cards, which suited our needs perfectly. The resulting paper prototype (photo w/ wireframe cues photoshop'd in):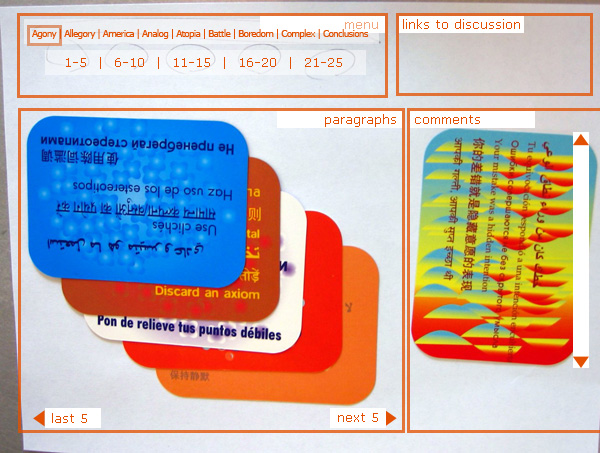 This project has already provided us with a rich discussion regarding authorship and feedback. As we develop the prototypes we will undoubtedly have more questions, but also, hopefully, more solutions that help us redefine the edges and forms of digital discourse.
Ben Vershbow contributed to this post.
Posted by jesse wilbur at 07:00 PM | Comments (7)
tags: GAM3R_7H30RY , Ken_Wark , authorship , blogs , book-blog_experiments , design , discussion_boards , feedback , gamer_theory , prototype , wireframe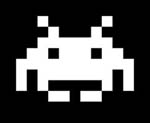 McKenzie Wark
I'm pleased to report that the institute is gearing up for another book-blog experiment to run alongside Mitchell Stephens' ongoing endeavor at Without Gods -- this one a collaboration with McKenzie Wark, professor of cultural and media studies at the New School and author most recently of A Hacker Manifesto. Ken's next book, Gamer Theory, is an examination of single-player video games that comes out of the analytic tradition of the Frankfurt School (among other influences). Unlike Mitch's project (a history of atheism), Ken's book is already written -- or a draft of it anyway -- so in putting together a public portal, we are faced with a very different set of challenges.
As with Hacker Manifesto, Ken has written Gamer Theory in numbered paragraphs, a modular structure that makes the text highly adaptable to different formats and distribution schemes -- be it RSS syndication, ebook, or print copy. We thought the obvious thing to do, then, would be to release the book serially, chunk by chunk, and to gather commentary and feedback from readers as it progressed. The trouble is that if you do only this -- that is, syndicate the book and gather feedback -- you forfeit the possibility of a more free-flowing discussion, which could end up being just as valuable (or more) as the direct critique of the book. After all, the point of this experiment is to expose the book to the collective knowledge, experience and multiple viewpoints of the network. If new ideas are to be brought to light, then there ought to be ways for readers to contribute, not just in direct response to material the author has put forth, but in their own terms (this returns us to the tricky proprietary nature of blogs that Dan discussed on Monday).
So for the past couple of weeks, we've been hashing out a fairly ambitious design for a web site -- a blog, but a little more complicated -- that attempts to solve (or at least begin to solve) some of the problems outlined above. Our first aim was to infuse the single-author book/blog with the democratic, free-fire discussion of list servers -- a feat, of course, that is far easier said than done. Another concern, simply from an interface standpoint, was to find ways of organizing the real estate of the screen that are more intuitive for reading.
Another thing we've lamented about blogs, and web sites in general, is their overwhelming verticality. Vertical scrolling fields -- an artifact of supercomputer terminals and the long spools of code they spit out -- are taken for granted as the standard way to read online. But nowhere was this ordained as the ideal interface -- in fact it is designed more for machines than for humans, yet humans are the users on the front end. Text does admittedly flow down, but we read left to right, and its easier to move your eye across a text that is fixed than one that is constantly moving. A site we've often admired is The International Herald Tribune, which arranges its articles in elegant, fixed plates that flip horizontally from one to the next. With these things in mind, we set it as a challenge for ourselves to try for some kind of horizontally oriented design for Ken's blog.
There's been a fairly rigorous back and forth on email over the past two weeks in which we've wrestled with these questions, and in the interest of working in the open, we've posted the exchange below (most of it anyway) with the thought that it might actually shed some light on what happens -- from design and conceptual standpoints -- when you try to mash up two inherently different forms, the blog and the book. Jesse has been the main creative force behind the design, and he's put together a lovely annotated page explaining the various mockups we've developed over the past week. If you read the emails (which are can be found directly below this paragraph) you will see that we are still very much in the midst of figuring this out. Feedback would be much appreciated. (See also GAM3R 7H30RY: part 2).
This exchange began after a week of sketching and discussion following an initial brainstorm session with Ken in mid-January...

Thu, Jan 26, 2006 at 3:45 PM
Ben Vershbow
To: Ken Wark
Cc: Bob Stein, Jesse Wilbur
Subject: a start
Hi Ken,
So here's the challenge as we see it.
We need to create a single site that:
- combines the best of blogs with the best of list-servers
- is structured to progressively reveal the draft of a book and gather commentary
I'm pleased to report that we've cooked up something that comes pretty close -- a Word Press blog re-jiggered to solve all the world's ills. You can view an html mock-up here:

(wide screenshot of the initial HTML mockup - eventually rejected)
Rather than explain how it works, why don't you just take a look and see how clearly things come across. Not quite everything is there yet, and obviously, it hasn't been tied in to Word Press yet, which will be a bit tricky. But we're pretty confident we can get it to work (when I say we, I mean Jesse, who is the one responsible for building this and who put together the lovely mock-up).
Keep in mind that this is only a sketch and that everything is negotiable. But I think this is a good start.
Let us know how this strikes you fire away with questions.
Best,
Ben et al.

Thu, Jan 26, 2006 at 3:51 PM
Ken Wark
To: Ben Vershbow
Cc: Jesse Wilbur, Bob Stein
Subject: Re: a start
a really impressive start. I kinda imagined it going left to right,
rather than right to left. I think it should also have a sort of free
fire zone where people can comment and discuss without it being tied to particular parts of the book.
In place of the proprietary Mario image, may be a space invader.
(hence: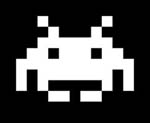 )
k

Thu, Jan 26, 2006 at 3:52 PM
Ken Wark
To: Ben Vershbow
Cc: Jesse Wilbur, Bob Stein
Subject: Re: a start
-- and if the columns could be a bit wider or the text a bit more
compressed (less leading, maybe) to try and get the whole paragraph on
the screen. The longest are 250 words (or if they're not, i'm cutting
them down).
... if i wanted to update the text, how could that work?

Thu, Jan 26, 2006 at 4:22 PM
Ben Vershbow
To: Ken Wark
Cc: Jesse Wilbur, Bob Stein
Subject: Re: a start
Ken said:
>I kinda imagined it going left to right, rather than right to left.
We debated the left-right right-left thing. The problem with left to right is that the more of the book you release, the further down (or over, I should say) the new paragraphs are. Our thought was that it's better to have the most recent first, as in a normal blog, in the interest of keeping the thing as a living exchange. You don't want readers to have to do tons of scrolling to get to the latest installment. It's reverse linear, I realize, but the book hieararchy to the side will allow readers to see an archive view of the book that goes 1-200 in the proper order. There are ways we could make that clearer, like inviting visitors to "read from the beginning" or something.
Ken said:
>I think it should also have a sort of free fire zone where people can comment and discuss without it being tied to particular parts of the book.
This is certainly something we should consider. You'll notice that the "binary thinking for humans" post was made by another user. This is our gesture toward the democracy of list-serves. We figure that there are three ways a user can interact with this site:
1. They simply read it (and later are moved to buy your book, or change the world)
2. They read it and sometimes post comments
3. They read it, sometimes post comments, and even sometimes post top-level threads (like the "binary thinking" one).
1 and 2 are obviously open and unrestricted (though we might need some moderation once the spammers find us). Number 3, however, would require a guest account, so we're working out a way to allow users to create logins. In the spirit of the game, they would be allowed to choose an icon from classic game culture (that's just something we're toying with, let us know what you think). Mario for you was a purely arbitrary choice. You can be a space invader, Metroid, Yoshi or whoever.
Anyway, this allows people to start threads of their own, though they are, as you point out, interspersed within the set structure of the book according to the time they were posted. If you want something that is freer of the book's structure, we would need something like a free fire zone.
Regarding your second comments:
>-- and if the columns could be a bit wider or the text a bit more
>compressed (less leading, maybe) to try and get the whole paragraph
>on the screen. The longest are 250 words (or if they're not, i'm
>cutting them down).
>
>... if i wanted to update the text, how could that work?
We can certainly tweak the formatting. Our goal is to have two full sections visible and a third cut off, giving the visual clue that there is more content to the side.
As for updating text, that's a very good question. Jesse, any ideas?
We could color code additions and deletions - like a track changes function. We could also work revised paragraphs into the main stream, though this could quickly get confusing. If you see 84, 83, some dude's post, 82, then 41 with all kinds of markings on it, then 81, it might be a little disorienting.
Anyway, let's keep talking this through. Remember to copy everyone so we're all part of the discussion.
- Ben

Thu, Jan 26, 2006 at 5:08 PM
Jesse Wilbur
To: Ben Vershbow
Cc: Ken Wark, Bob Stein
Subject: Re: a start
Ken,
I think coded additions and deletions are probably the best way to
handle, for the reasons that ben noted. Getting that info into the
stream of the posts does pose a little bit of a problem. My first
reaction is to have some area of the screen dedicated to the "latest
updates" which would be unrestricted to the flow of the chapters.
Possibly in the upper right corner, as a list of small text links.
To help get all of a paragraph on the screen, I can 1) reduce the
leading, 2) move the icon to the left hand side, return address style.
It will still serve the purpose of visually marking a post as belonging to a particular author, but reduce some of the stacking.
-jdw

Thu, Jan 26, 2006 at 5:28 PM
Ben Vershbow
To: Jesse Wilbur
Cc: Ken Wark, Bob Stein
Subject: Re: a start
The question of revisions is important and very tricky. Tracking changes would have to be done by hand, which could get burdensome. Ideally, each entry would have a revision history. But that's simply not something Word Press is built to do. We'll look into ways that we can mess with it, but we're pushing it nearly to breaking point as it is.
There's also the question of how soon we want to get this thing up. I say the sooner the better (initially I was thinking in the next two weeks), but if we want to get revisions right, it might take longer.
We're going to confer on this and weigh our options.
We'll be at a conference tomorrow so may have less time to work on this. But let's keep talking about anything and everything we want to add/remove/change on the current design.
- Ben

Thu, Jan 26, 2006 at 7:32 PM
Ken Wark
To: Ben Vershbow, Jesse Wilbur
Cc: Bob Stein
Subject: Re: a start
revisions need not be a big deal. It would be useful to be able to take a chunk of text out and put another one in. That the pars are numbered makes that easy.
k

We then hunkered down for the next few days and came up with some new mockups.

Wed, Feb 1, 2006 at 2:02 PM
Ben Vershbow
To: Ken Wark, Jesse Wilbur, Bob Stein
Subject: Site Draft(s) 2
Hi Ken,
So we've made a second stab at a design. Several stabs, actually, which leaves us a little more confused than before, but I think productively confused. I do believe we're getting somewhere.
Go to http://www.futureofthebook.org/mckenziewark and you will see a menu of three new mockups (just graphics, not interactive). Three and a half, to be precise (one of them has two views). These are rough, and are missing some important elements, but we wanted to keep you in on the discussion. So here they are, warts and all.
But before you look at these sketches, I'll briefly summarize how we got from what we had the other day to what we have today. So. The initial design had two major problems. One you pointed out, namely that the interspersing of visitor posts among book paragraphs (a bloggish gesture toward the democracy of list servers) did not meaningfully subtract from the primacy of the author in the flow of discussion. This was problem number one, and it led us to give up on trying to fully integrate free-fire discussion with the syndicated book. After all, this project is inescapably about the primacy of the author. Sure, we're poking at it, gently undermining it -- suggesting that a book is as much about process as product -- but it's still your book, your name. We decided that the design should embrace this fact, while also providing alternative venues for more equitable exchange.
The second problem was one we realized only after getting over the "oh, how cool this looks" stage of analysis, namely that horizontal scrolling, lovely as it is, runs into difficulties when you are working with such a large amount of content, much of it coming in at inpredictable intervals and in varying amounts (i.e. comments). It's a question of real estate. We have only so much space on the screen (keeping in mind the smallest standard browser window) and since we want comments to be visible in the main view, we've got an awful lot of material to get organized. If you look at the original mockup, you'll see how this necessitates a combination of vertical and horizontal scrolling. The result is that when you come to the page, instead of a clearly defined website, you see something that looks more like the upper-left corner of a map -- not well formatted for a browser. Seeing as the browser is the reading tool of choice, this won't do at all.
Having both horizontal and vertical scrolling emphasizes the disadvantages of both and the advantages of neither. The Herald Tribune site works nicely because it is dealing with set amounts of text that it can flow cleanly into successive horizontal plates. If we were dealing only with the book, sans comments or discussion, we could do something similarly elegant. But there are more variables in play here, and like it or not, a dynamic work such as this, given the tools currently available, strongly tends toward a vertical display.
Still, as you'll see in our first new mockup, we've still struggled to make the horizontal work. In this one, the paragraphs flow vertically, but the comments flow horizontally. In this case, the horizontal is more intuitive, since we naturally read left to right and the comments are ordered chronologically in the same way. But we still run into the real estate problem described earlier and the reader ends up having to scroll in multiple directions. You'll notice also a menu on the sidebar pointing to discussion topics in a free-fire forum. This is not at all the way this would look, it's just a crude marker. It would lead to a page of topics that anyone could post. We're also thinking of a way to allow readers to post a comment simultaneously under a paragraph and as its own forum thread.
The second mockup keeps the comments to the right, but arranges them vertically. This isn't so bad, except that when you have a lot of comments, and you open them up, it starts to seriously push the next post down, which looks awkward. But maybe this is not such a problem.
The third reflects our attempt to keep the free-fire discussion on the main page next to the book flow. The problem with this is that, though the two streams are clearly related, there is no mechanism provided with which to draw specific connection points. In other words, this design implicitly promises something it cannot deliver, and will come off seeming arbitrary and not well thought out.
The other big thing to throw into the mix, but which is not yet reflected in these sketches, is the question of versioning. We've figured out some reasonably simple ways to incorporate versioning into the design and feel that, given the goals of the project, this is one of the most important ingredients to include. The kind of versioning we're imagining would include a sort of "track changes" function and would automatically archive all past incarnations of a paragraph.
So to sum up, I think what we're moving toward is something that combines elements of all three sketches and throws in the element of versioning. We may have to let go of the idea of horizontal scrolling, but we're confident that we'll still be presenting comments in an interesting way. The free-fire discussion element will be there, but in a different space, yet we will advertise it prominently on the front page and try to find a simple but effective way to connect it to the book-centered comments.
And having said all that (sorry it was so long-winded), we'd like to hear from you which, among the elements we've laid out, you think are most important to include in the final design, and in what proportions. What works and what doesn't work? What are things we are obsessing about that need not be obsessed about? What are things we're still missing?
With a little more work, I think we can have something ready to go in the next week or two.
- Ben

Wed, Feb 1, 2006 at 2:19 PM
Ken Wark
To: Bob Stein, Ben Vershbow, Jesse Wilbur
Subject: Re: Site Draft(s) 2
wow, that's a lot to think about, but its an interesting set of
problems. I'll have a think about it, but maybe it would be best to meet
and kick it around. How's Friday?
k

Wed, Feb 1, 2006 at 2:48 PM

Ben Vershbow
To: Ken Wark, Jesse Wilbur, Bob Stein
Subject: Re: Site Draft(s) 2
Meeting face to face is a good idea and Friday works well.

Wed, Feb 1, 2006 at 3:26 PM
Subject: Re: Site Draft(s) 2
Ben Vershbow
To: Ken Wark
Cc: Jesse Wilbur, Bob Stein
Hey Ken,
One other thing...
Here at the institute we're generally trying to find ways we can do our work more in the open, and thinking about it, our email exchange about the site design have actually turned out to be pretty interesting, maybe even interesting enough for people to want to read them on our blog.
This project poses some big questions about the work of ideas in the network of ideas, and our little back-and-forth is turning into an intriguing little document at the intersection of theory and practice.
How would you feel about us posting it?
- Ben

Wed, Feb 1, 2006 at 4:16 PM
Ken Wark
To: Ben Vershbow
Cc: Jesse Wilbur, Bob Stein
Subject: Re: Site Draft(s) 2
sure, let's start a public thread on it
i'm starting to wonder if it ought not to feature the book too centrally at all. What if the front of the site was about the games that the book is about? (I've pasted in the contents below). The architecture for commenting on the book could be a layer, but in front of that could be a more conventional set of forums about particular games.
Allegory (on The Sims) 25
America (on Civilization III) 47
Analog (on Katamari Damarcy) 66
Atopia (on Vice City) 83
Battle (on Rez) 104
Boredom (on State of Emergency) 124
Complex (on Deus Ex) 147
Conclusions (on SimEarth) 162

see you fri
k

...which just about brings us up to the present moment. If you have any thoughts/questions/comments, we're all ears.
Posted by ben vershbow at 12:35 PM | Comments (5)
tags: Games , blogging , blogs , book-blog_experiments , books , design , frankfurt_school , gaming , hacker , interface , marx , mckenzie_wark , philosophy , reading , video_games , writing
The disclaimer on the editorial page of The Onion reads:
"The Onion neither publishes nor accepts letters from its readers. It is The Onion's editorial policy that the readers should have no voice whatsoever and that The Onion newspaper shall be solely a one-way conduit of information. The editorial page is reserved for the exclusive use of the newspaper staff to advance whatever opinion or agenda it sees fit, or, in certain cases, for paid advertorials by the business community."
—Passed by a majority of the editorial board, March 17, 1873.
They've had this policy for a long time, though perhaps not since 1873. I remember seeing it (or something very similar) in the first copies of The Onion I saw, picked up during high school trips to Madison in the early 1990s. I liked the text enough to crib it for my first webpage, which has (thankfully) long since dissipated into the mists of the Internet.
I thought it was funny then, and I still do. And at the risk of tearing roses to pieces to find what makes them smell that way: it's funny, I think, because it's true. Usually, the mission statement on a newspaper's editorial page bends over backward to declare that the editorial pages belong in some sense to the readers of the newspapers as well as the editors. But really, a newspaper's editorial page – or, for that matter, the newspaper – is a one-way conduit for information: the editors, not the reader, choose what appears on it. The Onion's statement is bluntly honest about who really controls the press: the owners.
Declaring a website in 1995 to be a "one-way conduit of information" was also true, by and large, although I certainly wasn't trying to make a grand statement about communication. At that point in time, a website was something that could be read; to make a website that readers could change, you needed to know something about scripting languages. Being, by and large, the same sort of dilettante I remain, I knew nothing about such things.
Ten years on the web allows much more direct two-way communication. Anyone can start a blog, post things, and have readers comment on them. Nobody involved in the process needs even a cursory knowledge of HTML for this to happen – it helps, of course, but it's not strictly necessary. This is an advance, but I don't need to say that at this point in time: the year of the blog was 2004.
At the Institute, we've been talking with McKenzie Wark, author of A Hacker Manifesto about doing a book-in-process blog, like we've been doing with Mitchell Stephens. Over lunch with Wark a couple months back, we asked him why he, very much a man of technology, didn't have a blog already – everybody else does. His answer was interesting: he prefers the give-and-take of discussions on a list server to the post and response of the blog format. But what most stuck in my mind was his qualification for this: blogs, he suggested, are too proprietary, as they always belong to someone. This inhibits equitable discussion: somebody's already in charge because they own the discussion forum.
There's something to Wark's idea. If I have a blog and post something on it, the text of my post resides somewhere on my server (it's probably somebody's else's server, but it's still my account). In most blogs, visitor can post comments. But: usually comments have to be approved by a moderator, if only to block spam. And: successful blogs even tend to disable comments entirely , at which point discourse is functionally back at the level of The Onion's editorial page. (One might note the recent experience of The Washington Post.) The authority over who is allowed to speak, and the manner in which they speak, belongs to the blog owner, who is usually not a disinterested party, being (generally) part of the conversation.
When you think about this process in terms of conversation, you realize how strange it is. Imagine David and Freddy having a conversation: David speaks freely, but for Freddy to say anything, he has to write it down and submit it to David for his approval before he can actually say it. If anyone else wanted to join the conversation, they'd also have to submit to Freddy's authority. David's policy of refusal might vary – he might refuse everything any one else says, he might allow anyone to say anything. But he's still in charge of the conversation.
A quick navel gazing moment: you might imagine that our blog is an exception to this, as it's a group blog, and a number of us regularly post on it. We've also given people outside of the Institute posting authority – during our discussion of his book, for example, we let Steven Johnson post rather than just having him comment on our posts. But the problem of authority can't be avoided. You can see it in my words: we've "given", we "let". It's ours in a sense.(1) We control who's given a login. As much as we like you, dear readers, the form in which we're conversing in enforces a distinction between you & us. Sorry.
The list server model, which Wark prefers, works differently. While there might still be a moderator, the moderator's usually not part of the conversation being moderated. If David and Freddy are having a conversation, they have to submit what they're saying to Linda before they can say it. It's still mediated – and a very odd way to have a conversation! – but it's not inherently weighted towards one party of the conversation, unless your moderator goes bad. And more importantly: the message is sent to everyone on the list. Everyone gets their own copy: the text can't be said to belong to any one recipient in particular.
List servers, however more democratic a form they might be than blogs, never took off like blogs.(2) There has never been a Year of the List Server, and one suspects there might never be one. The list server, being email based, tends to be somewhat private; some aren't even publicly accessible.
Blogs comparatively trumpet themselves: they're an easy way to announce yourself to the world. This is necessary, useful, and a good part of the reason that they've caught on. But what happens once you've announced yourself? One would like to believe that when we start blogs, we're aspiring to conversation, but the form itself would seem to discourage it.
The question remains: how can we have equitable conversations online?
* * * * *
1. This same sense of ownership is usefully articulated – if elaborated to the point of absurdity – in Donald Barthelme's short story "Some of Us Had Been Threatening Our Friend Colby" which is predicated on the idea that since Colby is the narrators' friend, he belongs to them, and they have the right to do with him as they like – in this particular case, hanging him: ". . . although hanging Colby was almost certainly against the law, we had a perfect moral right to do so because he was our friend, belonged to us in various important senses, and he had after all gone too far."
2. A similar argument might be made for the style of newsgroups, which largely flourished before blogs and even the WWW. I suspect at this point newsgroup usage is considerably below that of list servers; however, it might be useful to examine the success and failures of newsgroups as a venue for communication some other time.
Posted by dan visel at 01:05 PM | Comments (2)
tags: authority , blogs , communication , equity , listservers , newsgroups , onion
It appears that Amazon is going to start hosting blogs for authors. Sort of. Amazon Connect, a new free service designed to boost sales and readership, will host what are essentially stripped-down blogs where registered authors can post announcements, news and general musings.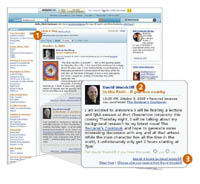 Eventually, customers can keep track of individual writers by subscribing to bulletins that collect in an aggregated "plog" stream on their Amazon home page. But comments and RSS feeds -- two of the most popular features of blogs -- will not be supported. Engagement with readers will be strictly one-way, and connection to the larger blogosphere basically nil. A missed opportunity if you ask me.
Then again, Amazon probably figured it would be a misapplication of resources to establish a whole new province of blogland. This is more like the special events department of a book store -- arranging readings, book singings and the like. There has on occasion, however, been some entertaining author-public interaction in Amazon's reader reviews, most famously Anne Rice's lashing out at readers for their chilly reception of her novel Blood Canticle (link - scroll down to first review). But evidently Connect blogs are not aimed at sparking this sort of exchange. Genuine literary commotion will have to occur in the nooks and crannies of Amazon's architecture.
It's interesting, though, to see this happening just as our own book-blog experiment, Without Gods, is getting underway. Over the past few weeks, Mitchell Stephens has been writing a blog (hosted by the institute) as a way of publicly stoking the fire of his latest book project, a narrative history of atheism to be published next year by Carroll and Graf. While Amazon's blogs are mainly for PR purposes, our project seeks to foster a more substantive relationship between Mitch and his readers (though, naturally, Mitch and his publisher hope it will have a favorable effect on sales as well). We announced Without Gods a little over two weeks ago and already it has collected well over 100 comments, a high percentage of which are thoughtful and useful.
We are curious to learn how blogging will impact the process of writing the book. By working partially in the open, Mitch in effect raises the stakes of his research -- assumptions will be challenged and theses tested. Our hunch isn't so much that this procedure would be ideal for all books or authors, but that for certain ones it might yield some tangible benefit, whether due to the nature or breadth of their subject, the stage they're at in their thinking, or simply a desire to try something new.
An example. This past week, Mitch posted a very thinking-out-loud sort of entry on "a positive idea of atheism" in which he wrestles with Nietzsche and the concepts of void and nothingness. This led to a brief exchange in the comment stream where a reader recommended that Mitch investigate the writings of Gora, a self-avowed atheist and figure in the Indian independence movement in the 30s. Apparently, Gora wrote what sounds like a very intriguing memoir of his meeting with Gandhi (whom he greatly admired) and his various struggles with the religious component of the great leader's philosophy. Mitch had not previously been acquainted with Gora or his writings, but thanks to the blog and the community that has begun to form around it, he now knows to take a look.
What's more, Mitch is currently traveling in India, so this could not have come at a more appropriate time. It's possible that the commenter had noted this from a previous post, which may have helped trigger the Gora association in his mind. Regardless, these are the sorts of the serendipitous discoveries one craves while writing book. I'm thrilled to see the blog making connections where none previously existed.
Posted by ben vershbow at 08:36 AM | Comments (3)
tags: Blogosphere , Publishing, Broadcast, and the Press , amazon , amazon_connect , atheism , blogging , blogs , book-blog_experiments , books , god , publishing , religion , writing
Does anyone know of a good way to search for old blog entries on the web? I've just been looking at some of the available blog search resources and few of them appear to provide any serious advanced search options. The couple of major ones I've found that do (after an admittedly cursory look) are Google and Ice Rocket. Both, however, appear to be broken, at least when it comes to dates. I've tried them on three different browsers, on Mac and PC, and in each case the date menus seem to be frozen. It's very weird. They give you the option of entering a specific time range but won't accept the actual dates. Maybe I'm just having a bad tech day, but it's as if there's some conceptual glitch across the web vis a vis blogs and time.
Most blog search engines are geared toward searching the current blogosphere, but there should be a way to research older content. My first thought was that blog search engines crawl RSS feeds, most of which do not transmit the entirety of a blog's content, just the more recent. That would pose a problem for archival search.
Does anyone know what would be the best way to go about finding, say, old blog entries containing the keywords "new orleans superdome" from late August to late September 2005? Is it best to just stick with general web search and painstakingly comb through for blogs? If we agree that blogs have become an important kind of cultural document, than surely there should be a way to find them more than a month after they've been written.
Posted by ben vershbow at 08:17 AM | Comments (5)
tags: Blogosphere , Libraries, Search and the Web , archives , blog_search , blogging , blogs , history , research , search
explosion 11.22.2005, 2:10 PM

A Nov. 18 post on Adam Green's Darwinian Web makes the claim that the web will "explode" (does he mean implode?) over the next year. According to Green, RSS feeds will render many websites obsolete:
The explosion I am talking about is the shifting of a website's content from internal to external. Instead of a website being a "place" where data "is" and other sites "point" to, a website will be a source of data that is in many external databases, including Google. Why "go" to a website when all of its content has already been absorbed and remixed into the collective datastream.
Does anyone agree with Green? Will feeds bring about the restructuring of "the way content is distributed, valued and consumed?" More on this here.
Posted by lisa lynch at 02:10 PM | Comments (5)
tags: Libraries, Search and the Web , Online , Publishing, Broadcast, and the Press , RSS , blogging , blogs , darwin , darwinism , google , internet , singularity , syndication , web , xml
Slate goes to college this week with a series of articles on higher education in America, among them a good piece by Robert S. Boynton that makes the case for academic blogging:
"...academic blogging represents the fruition, not a betrayal, of the university's ideals. One might argue that blogging is in fact the very embodiment of what the political philosopher Michael Oakshott once called "The Conversation of Mankind"—an endless, thoroughly democratic dialogue about the best ideas and artifacts of our culture.

...might blogging be subversive precisely because it makes real the very vision of intellectual life that the university has never managed to achieve?"
The idea of blogging as a kind of service or outreach is just beginning (maybe) to gain traction. But what about blogging as scholarship? Most professor-bloggers I've spoken with consider blogging an invaluable tool for working through ideas, for facilitating exchange within and across disciplines. But it's all decidedly casual. And that's part of what makes it such fun. But to gain acceptance in the academy, there have to be standards. There have to be barriers to entry. Traditionally, that's what peer review has been for. Can there be some sort of peer review system for blogs?
Boynton has a few ideas about how something like this could work (we're also wrestling with these questions on our back porch blog, Sidebar, with the eventual aim of making some sort of formal proposal). Whatever the technicalities, the approach should be to establish a middle path, something like peer review, but not a literal transposition. Some way to gauge and recognize the intellectual rigor of academic blogs without compromising their refreshing immediacy and individuality -- without crashing the party as it were.
There's already a sort of peer review going on among blog carnivals, the periodicals of the blogosphere. Carnivals are rotating showcases of exemplary blog writing in specific disciplines -- history, philosophy, science, education, and many, many more, some quite eccentric. Like blogs, carnivals suffer from an unfortunate coinage. But even with a snootier name -- blog symposiums maybe -- you would never in a million years confuse them with an official-looking peer review journal. Yet the carnivals practice peer review in its most essential form: the gathering of one's fellows (in this case academics and non-scholar enthusiasts alike) to collectively evaluate (ok, perhaps "savor" is more appropriate) a range of intellectual labors in a given area. Boynton:
In the end, peer review is just that: review by one's peers. Any particular system should be judged by its efficiency and efficacy, and not by the perceived prestige of the publication in which the work appears.

If anything, blog-influenced practices like these might reclaim for intellectuals the true spirit of peer review, which, as Harvard University Press editor Lindsay Waters has argued, has been all but outsourced to prestigious university presses and journals. Experimenting with open-source methods of judgment—whether of straight scholarship or academic blogs—might actually revitalize academic writing.
It's unfortunate that the accepted avenues of academic publishing -- peer-reviewed journals and monographs -- purchase prestige and job security usually at the expense of readership. It suggests an institutional bias in the academy against public intellectualism and in favor of kind of monastic seclusion (no doubt part of the legacy of this last great medieval institution). Nowhere is this more apparent than in the language of academic writing: opaque, convoluted, studded with jargon, its remoteness from ordinary human speech the surest sign of the author's membership in the academic elite.
This crisis of clarity is paired with a crisis of opportunity, as severe financial pressures on university presses are reducing the number of options for professors to get published in the approved ways. What's needed is an alternative outlet alongside traditional scholarly publishing, something between a casual, off-the-cuff web diary and a polished academic journal. Carnivals probably aren't the solution, but something descended from them might well be.
It will be to the benefit of society if blogging can be claimed, sharpened and leveraged as a recognized scholarly practice, a way to merge the academy with the traffic of the real world. The university shouldn't keep its talents locked up within a faltering publishing system that narrows rather than expands their scope. That's not to say professors shouldn't keep writing papers, books and monographs, shouldn't continue to deepen the well of knowledge. On the contrary, blogging should be viewed only as a complement to research and teaching, not a replacement. But as such, it has the potential to breathe new life into the scholarly enterprise as a whole, just as Boynton describes.
Things move quickly -- too quickly -- in the media-saturated society. To remain vital, the academy needs to stick its neck out into the current, with the confidence that it won't be swept away. What's theory, after all, without practice? It's always been publish or perish inside the academy, but these days on the outside, it's more about self-publish. A small but growing group of academics have grasped this and are now in the process of inventing the future of their profession.
Posted by ben vershbow at 03:27 PM | Comments (3)
tags: Education , academic , academy , authority , blogging , blogs , higher_ed , higher_education , peer_review , publishing , scholar , teaching , tenure , university
Mitch Stephens, NYU professor, was here for lunch today. when Ben and I met with him about a month ago about the academic bloggers/public intellectuals project, Mitch mentioned he had just signed a contract with Carroll & Graf to write a book on the history of atheism. today's lunch was to follow up a suggestion we made that he might consider starting a blog to parallel the research and writing of the book. i'm delighted to report that Mitch has enthusiastically taken up the idea. sometime in the next few weeks we'll launch a new blog, tentatively called Only Sky (shortened from the lyric of john lennon's Imagine ". . . Above us only sky"). it will be an experiment to see whether blogging can be useful to the process of writing a book. i expect Mitch will be thinking out loud and asking all sorts of interesting questions. i also think that readers will likely provide important insight as well as ask their own fascinating questions which will in turn suggest fruitful directions of inquiry. stay tuned.
Posted by bob stein at 05:01 PM | Comments (1)
tags: academic , academy , atheism , blog , blogging , blogs , book-blog_experiments , books , experiment , god , religion , research , writing
Gawker Media, the Conde Nast of the blogosphere, has just sold distribution rights for five of its blogs to Yahoo. Selected posts from Gawker, Wonkette, Gizmodo, Lifehacker and Defamer will soon appear daily on the Yahoo news portal.
Not so worrisome (or surprising) to see blogs like these going corporate. From the beginning, they've sort of pitched themselves as commodities -- the tabloids and gadget rags of the blogosphere. But when blogging comes fully front and center as the next hip business strategy -- that authentic unfiltered element with which to adorn your comapany's image (hang some humans on the doorpost) -- then we may see a massive rush to rake up the brighter talents with lucrative little hosting deals. I'd hate to see bloggers foresake their independence like this. Then again, it might clear the way for a whole new generation of authentic voices.
Posted by ben vershbow at 07:11 AM | Comments (1)
tags: Blogosphere , blogging , blogs , gawker , media , news , search , syndication , yahoo , yahoo!
The Chronicle of Higher Education has published a positive piece on blogging in academia, a first person account by Rebecca Goetz, one of the first academic bloggers, of how blogging can actually enhance scholarly life, foster trans-disciplinary communication, and connect the academy to the public sphere.
The timing of Goetz's article is auspicious, as the institute is currently grappling with these very issues, gearing up for a grant proposal to do something big. Last week, about to dash out the door for the airport, I mentioned this project we're cooking up to encourage, promote and organize academic blogging with the aim of raising its status as a scholarly activity. Well, last Friday in Los Angeles we assembled a cadre of over a dozen blog-oriented professors, grad students, and journalism profs, along with a radical blogger-librarian, a grassroots media producer, and a sociologist, for a day of stimulating discussion about what can happen when you put blogs in the hands of people who really know something about something.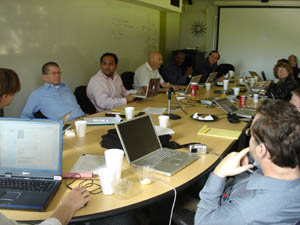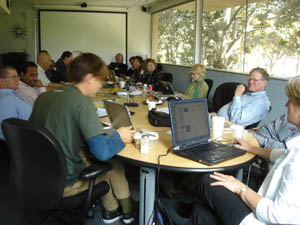 We're still sifting through notes and thoughts from the meeting, and for anyone who's interested we've devoted an entire blog to continuing the discussion. I guess you could say we've formed a little community dedicated to answering the big questions -- chiefly, how the blogging medium might serve as a bridge between the world of scholarly knowledge and the world at large -- and to helping us form the proposal for a project -- a website? a network? a new sort of blog? -- that will address some of these questions.
John Mohr, the afore-mentioned sociologist, described it as a matter of "marshaling and re-deploying intellectual capital," which I think brilliantly and succinctly captures the possibilities of blogs both for making the academy more transparent and for helping it reach the general public, shining the light of knowledge, as it were, on the complexity of human affairs. The power of blogs is that they exist in a space all their own, not entirely within the academy and not (at least not yet) within the economic and editorial structures of mass media. Because of this, bloggers are able to maintain what McKenzie Wark calls "a slight angle of difference" from both sides. We here at the institute, from our not-quite-inside-not-quite-outside-the-academy vantage, are interested in simultaneously protecting that angle and boosting its stature.
Back in May, I saw Wark speak at a conference on new media education at CUNY called "Share, Share Widely." He talked about how the academy should position itself in the media-saturated society and how it can employ new media tools (like blogging) to penetrate, and even redefine, the public sphere. I was mulling this over leading up to the meeting and it seems even more dead-on now:
"This tension between dialogue and discourse might not be unrelated to that between education and knowledge. Certainly what the new media technologies offer is a way of constructing new possibilities for the dialogic, ones which escape the boundaries of discipline, even of the university itself. New media is not interdisciplinary or transdisciplinary. It is antidisciplinary -- although one might be careful where and to whom we break this news. Its acid with which to eat away at the ossified structure of discourse -- with the aim of constructing a new structure of discourse. One that might bring closer together the university with its outside. Not to erase the precious interiority of the university, but to make it porous. To actually apply all that 'theory' we learned to our own institutions."

"Imagine a political refugee, fleeing one country for another, jotting down his thoughts on the run, sharing them with his friends. I'm talking about Marx, writing the 1844 manuscripts. I think critical theory was always connected to new media practices. I think it was always about rethinking the discourse in which dialogue is possible. I think it was always knowledge escaping from the institutions of education. Think of Gramsci editing New Order, negotiating between metropolitan and subaltern languages. Think of Benjamin's One Way Street, a pamphlet with bold typographic experiments. Or Brecht's experiments in cinema. Or Debord's last -- amazing -- TV program. Broadcast only once so you had to set your vcr. Or the Frankfurt School and Birmingham Schools, which broke down the intellectual division of labor. Or the autonomous studio Meilville built for Godard."

"We need to do a 'history of the present' as Foucault would say, and recover the institutional aspect of knowledge as an object of critique. But of more than critique as well. Let's not just talk about the 'public sphere'. Let's build some! We have the tools. We know wiki and blogging and podcasting. Let's build new relations between theory and practice. No more theory without practice -- but no more practice without theory either. Let's work at slight angle of difference from the institution. Not against it -- that won't get you tenure -- but not capitulating to it either. That won't make any difference or be interesting to anybody."
Posted by ben vershbow at 05:36 PM | Comments (1)
tags: Education , academia , academy , blogger , blogging , blogs , marx , scholarship , university
Thought it would be appropriate today to talk about what's going on with military blogging. Last August, John Hockenberry explored the world of war blogging (or milblogging) at length in a Wired article, The Blogs of War. Hockenberry noted that war bloggers are not just recording events — rather, "they engage in the 21st-century contact sport called punditry, and like their civilian counterparts, follow few rules of engagement. They mobilize sympathizers to ship body armor to reserve units in combat, raise funds for families of wounded soldiers, deliver shoes to barefoot Afghani kids, and even take aim at media big shots." He also drew a connection between the influence and prominence of milblogs and the few restrictions imposed on them by the military: what's radical about milblogs is that "anyone can publicly post a dispatch, and if the Pentagon reads these accounts at all, it's at the same time as the rest of us." Still, Hockenberry added, even the bloggers themselves were feeling like the freedom they enjoyed wouldn't last.
How right he was. Only a week after the article ran, the Army issued a memo to all personnel saying they were going to crack down on the milbloggers. It's probably not a stretch to imagine that the Wired piece and a similar article in the Washington Post caught the eye of someone in the Public Relations office. According to an NPR story on the topic, some soldiers felt like the crackdown had a less to do with security than with the fact that some military bloggers were becoming increasingly sour about the war. Since the new regulations were released in October, several influential milblogs have been "vanished" from the web by the Army. One notable recent example is Daniel Goetz's All The King's Horses, a eloquently written blog by a patriotic but disenchanted soldier in Iraq. Goetz's final post, on October 22, was a creepily Orwellian retraction (literally, since he titled it Double Plus Ungood) of what he'd been blogging in his final weeks:
"For the record, I am officially a supporter of the administration and of her policies. I am a proponent for the war against terror and I believe in the mission in Iraq...Furthermore, I have the utmost confidence in the leadership of my chain of command, including (but not limited to) the president George Bush and the honorable secretary of defense Rumsfeld. If I have ever written anything on this site or on others that lead the reader to believe otherwise, please consider this a full and complete retraction. I apologize for any misunderstandings that might understandably arise from this. Should you continue to have questions, please feel free to contact me through e-mail. I promise to respond personally to each, but it may take some time; my internet access has become restricted."
There's been a great deal of discussion of David's fate in the blogosphere. Daniel's girlfriend, who has been blogging herself in Daniel's absence, posted his entired deleted blog on her own site.
Posted by lisa lynch at 02:20 PM | Comments (3)
tags: army , blogging , blogs , bush , iraq , military , rumsfeld , terror , veterans_day
Hi there, this is Lisa Lynch. I'm new to the Institute and I've introduced myself over on the Institute's Next/Text site, where I'll be spending much of my time. Come on by!
Just in time for Friday's conference, this article from Inside Higher Ed describes a Nov. 2 blogspat that may adversely impact the academic career of one of the bloggers. According to Inside Higher Ed, the trouble began after Paul Deignan —a 41-year-old mechanical engineering Ph.D. candidate at Purduewho writes a blog called Info Theory — posted comments attacking the pro-choice posts of blogger Bitch PhD, a junior professor who won't disclose the name of her university. Bitch Ph.D. deleted his comments:(according to a policy stated clearly on her site, she deletes rude comments and will ban the IP addresses of trolls. Before the posts were deleted, however, they attracted the attention of University of Northern Iowa history professor Wallace Hettle, who decided to report Deignan to his Ph.D. committee for unethical behavior.
Now Deignan wants to sue BOTH Hettle and Bitch Ph.D. for libel — Hettle for reporting him, and Bitch Ph.D for suggesting on her site that Deignan might have tried IP spoofing to suss out her identity.
This episode is troubling on many levels, but for me the most sinister aspect is the suggestion that this might represent the dark side of academic debate on blogs; increasingly, academics (and other folks, of course) may start to see one another as lawsuit fodder and will begin squirreling away blog entries as material evidence.
As much as I admire a knight in shining armor, I'm also troubled by Hettle's actions. Deignan's posts were really none of his Ph.D. committees' business. If Deignan was really IP spoofing, than his behavior was criminal, not simply unethical, and Bitch Ph.D. could have pursued legal options. If he wasn't spoofing? Academics consider themselves accountable to certain ethical standards, but (alas) politeness is usually not one of them. Apparently, Deignan's advisors asked him to refrain from "exceeding his bounds on a private site." But should they have? Is there a slippery slope here between reining in Deignan and establishing a policy banning blogging and/or commenting on blogs in academe?
Posted by lisa lynch at 03:50 PM | Comments (1)
tags: abortion , academy , blogging , blogs , ethics , lawsuit
Yesterday on Talking Points Memo, Josh Marshall drew back momentarily from the relentless news cycle to air a few meta thoughts on blogs and blogging, fleshing out some of the ideas behind his TPM Cafe venture (a multi-blog hub on politics and society) and his recent hiring notice for a "reporter-blogger" to cover Capitol Hill.
Marshall's ruminations tie in nicely with a meeting the institute is holding tomorrow (I'm running to the airport shortly) at our institutional digs at the University of Southern California in Los Angeles to discuss possible futures of the blogging medium, particularly in regard to the academy and the role of public intellectual. Gathering around the table for a full day of discussion will be a number of blogger-professors and doctoral students, several journalists and journalism profs, and a few interesting miscellaneous spoons to help stir the pot. We've set up a blog (very much resembling this one) as a planning stage for the meeting. Feel free to take a look and comment on the agenda and the list of participants.
The meeting is a sort of brainstorm session for a project the institute is hatching that aims to encourage academics with expert knowledge and a distinctive voice to use blogs and other internet-based vehicles to step beyond the boundaries of the academy to reach out to a broader public audience. Issues/questions/problems we hope to address include the individual voice in conflict with (or in complement to) mainstream media. How the individual voice establishes and maintains integrity on the web. How several voices could be aggregated in a way that expands both the audience and the interaction with readers without sacrificing the independence of the individual voices. Blogging as a bridge medium between the academy and the world at large. Blogging as a bridge medium between disciplines in the academy in a way that sheds holistic light on issues of importance to a larger public. And strengths and weaknesses of the blog form itself.
This last point has been on our minds a lot lately and I hope it will get amply discussed at the meeting. A year or two ago, the word "blog" didn't mean anything to most people. Now it is all but fully embraced as the medium of the web. But exciting as the change has been, it shouldn't be assumed that blogs are the ideal tool for all kinds of discourse. In fact, what's interesting about blogs right now, especially the more intellectually ambitious ones, is how much they are doing in so limiting a form. With its ruthlessly temporal structure and swift burial of anything more than 48 hours old, blogs work great for sites like TPM whose raison d'être is to comment on the news cycle, or sites like Boing Boing, Gawker, or Fark.com serving up oddities, gossip and boredom cures for the daily grind. But if, god forbid, you want ideas and discussion to unfold over time, and for writing to enjoy a more ample window of relevance, blogs are frustratingly limited.
Even Josh Marshall, a politics blogger who is served well by the form, wishes it could go deeper:
...the stories that interest me right now are a) the interconnected web of corruption scandals bubbling up out the reining Washington political machine and b) the upcoming mid-term elections.

I cover a little of both. And I've particularly tried to give some overview of the Abramoff story. But I'm never able to dig deeply enough into the stories or for a sustained enough period of time or to keep track of how all the different ones fit together. That's a site I'd like to read every day -- one that pieced together these different threads of public corruption for me, showed me how the different ones fit together (Abramoff with DeLay with Rove with the shenanigans at PBS and crony-fied bureaucracies like the one Michael Brown was overseeing at FEMA) and kept tabs on how they're all playing in different congressional elections around the country.

That's a site I'd like to read because I'm never able to keep up with all of it myself. So we're going to try to create it.
I'm excited to hear from folks at tomorrow's meeting where they'd like blogging to go. I'd like to think that we're groping toward a new web genre, perhaps an extension of blogs, that is less temporal and more thematic -- where ideas, not time, are the primary organizing factor. This question of form goes hand in hand with the content question that our meeting will hopefully address: how do we get more people with big ideas and expertise to start engaging the world in a serious way through these burgeoning forms? I could say more, but I've got a plane to catch.
Posted by ben vershbow at 06:01 AM | Comments (0)
tags: Online , academy , blogging , blogs , internet , journalism , social_software , web
A week after the May 9 debut of The Huffington Post, Nikki Finke delivered this bitter assessment in LA Weekly:
Judging from Monday's horrific debut of the humongously pre-hyped celebrity blog the Huffington Post, the Madonna of the mediapolitic world has undergone one reinvention too many. She has now made an online ass of herself. What her bizarre guru-cult association, 180-degree right-to-left conversion, and failed run in the California gubernatorial-recall race couldn't accomplish, her blog has now done: She is finally played out publicly. This website venture is the sort of failure that is simply unsurvivable. Her blog is such a bomb that it's the movie equivalent of Gigli, Ishtar and Heaven's Gate rolled into one. In magazine terms, it's the disastrous clone of Tina Brown's Talk, JFK Jr.'s George or Maer Roshan's Radar.
Finke was not alone in her prediction of disaster. And at the time, it wasn't so unreasonable to suspect Arianna Huffington's experiment with celebrity group blogging might crash and burn spectacularly (The Guardian ran a very funny satire in anticipation). But by now it's clear that not only are reports of Huffington's death greatly exaggerated, but that something of value has been created.
The site is getting a load of traffic (a million and a half a month as of September, probably significantly more by now). As expected, it is snarky, eclectic and irreverant. What's surprising is that Huffington's rolodex of 250-plus occasional bloggers has managed to fill it with serious, thoughtful discussion. Many of the biggest names have failed to make much use of their soapbox (Norman Mailer has posted twice, Ellen Degeneres only once (about horses), both at the beginning of the run). What has built the site into a popular daily destination is not the promise of star-spun wisdom, but the insight provided by the more dedicated bloggers, many of them lesser-known figures with a great deal of expertise in a given area. What you end up with is a nice mix of opinion, satire, gossip, and serious analysis of current events -- a kind of heightened public square.
In yesterday's Washington Post, against the steady hum of online intrigue about Judy "run-amok" Miller, and the sound of millions of nails being gnawed in anticipation of what hopes to be a major league indictment of Rove and/or Libby, the afore-mentioned Tina Brown observed:
For Arianna Huffington, the Miller story has been to her newly birthed blog, the Huffington Post, a miniature version of what O.J. Simpson was to cable news.
And she's right. Over this past week, something seems to have crystallized. Amidst all the head-scratching following the Times' marathon coverage of the Judith Miller imbroglio this Sunday, the bloggers, not the press, have done the better job of cutting through the fog, or at the very least, of keeping our sights on the big picture. The Huffington Post has been particularly on the ball, with Arianna leading the way.
The big picture, of course, is that we are at war. And that The New York Times -- the supposed "paper of record" -- allowed itself to become part of the propaganda campaign that put us there. It's the story of an entire news organization that, through one misguided reporter, got too "embedded" with its sources and totally lost its perspective. This is not the self-contained sort of scandal we saw with Jayson Blair. Nor is it really about some high-minded cause: the right to maintain confidentiality of sources. This is about the lies that led to war.
Unfortunately, we probably know less now about what happened with Judith Miller than we did before she delivered her mystifying testimonial on Sunday (aspens! clusters!). But the rigorous work-through the story has received around the blogosphere, and from a handful of columnists in the mainstream press, has defined the larger moral frame, keeping the democratic stakes appropriately high (hopes that the Democrats themselves might do the same will almost surely be disappointed).
In an interview with Wired last month, Huffington described what she sees as the problem with cable and online news coverage (increasingly one in the same):
The problem isn't that the stories I care about aren't being covered, it's that they aren't being covered in the obsessive way that breaks through the din of our 500-channel universe. Because those 500 channels don't mean we get 500 times the examination and investigation of worthy news stories. It often means we get the same narrow, conventional-wisdom wrap-ups repeated 500 times. Paradoxically, in these days of instant communication and 24-hour news channels, it's actually easier to miss information we might otherwise pay attention to. That's why we need stories to be covered and re-covered and re-re-covered and covered again -- until they filter up enough to become part of the cultural bloodstream.
The Judygate re-re-coverage on H. Post and throughout the blogosphere emphasizes the redefinition of the news as a two-way medium. The readers are now a major part of the process. What Huffington has done is to aggregate some of the more interesting readers.
Posted by ben vershbow at 08:18 AM | Comments (0)
tags: NYTimes , blogging , blogs , huffington , huffingtonpost , iraq , journalism , judith_miller , media , plamegate
Speaking of aggregating blog commentary on the Judy Miller intrigue, Open Source's Monday podcast, "Getting Judith Miller" (listen), aggregates the bloggers themselves in a rigorous discussion of the "inexplicable gaps" in the Times' self-investigation, placing it in the larger context of the war, the state of journalism, and American democracy in crisis. Guests include Jay Rosen (Press Think), Ariana Huffington (Huffington Post), Josh Marshall (Talking Points Memo, TPM Cafe), and Kevin Drum (Political Animal). A great example of the kind of triangulation Bob was talking about earlier, in this case, a radio show, drawing its material and voices from the web like a hurricane pulls its fury from a warm ocean.
(Drawing from the web to discuss the world is what Open Source is all about. Highly recommended.)
Posted by ben vershbow at 08:58 PM | Comments (0)
tags: blogging , blogs , democracy , huffington , journalism , judith_miller , media , podcast , radio
Take a look at this: the Times has put up a page with links to prominent posts around the blogosphere that analyze its reporting on the Judith Miller story.
Bob was thinking about this the other day:
"perhaps it would be a good thought experiment to try to come up with interesting ideas of how to organize references on the web to the judith miller situation. how would you present an overview of the references?"
Doing it themselves, I guess the Times figures it can soften the blow. Gutsier, though, would be to place the links directly alongside the article. The Washington Post does this with all its stories in a little Technorati-powered "Who's Blogging?" window.
Posted by ben vershbow at 07:31 AM | Comments (0)
tags: Blogosphere , Publishing, Broadcast, and the Press , blogging , blogs , journalism , judith_miller , media , ny_times
it looks like one hundred years from now history may record that 2005 was the year that big (news) media gave way to the individual voice. the intersection of the ny times/judy miller debacle with the increasing influence of the blogosphere has made us conscious of the major change taking place -- RIGHT NOW.
congressman john conyers wrote today that "I find I learn more reading Arianna, Murray Waas and Lawrence O'Donnell than the New York Times or Washington Post."
wow!
Posted by bob stein at 06:50 PM | Comments (1)
tags: 2005 , Blogosphere , NYTimes , Publishing, Broadcast, and the Press , blog , blogging , blogs , huffington , huffington_post , journalism , judith_miller , media , msm , new_york_times , news , newspaper , social_software
Nicholas Carr, who writes about business and technology and formerly was an editor of the Harvard Business Review, has published an interesting though problematic piece on "the amorality of web 2.0". I was drawn to the piece because it seemed to be questioning the giddy optimism surrounding "web 2.0", specifically Kevin Kelly's rapturous late-summer retrospective on ten years of the world wide web, from Netscape IPO to now. While he does poke some much-needed holes in the carnival floats, Carr fails to adequately address the new media practices on their own terms and ends up bashing Wikipedia with some highly selective quotes.
Carr is skeptical that the collectivist paradigms of the web can lead to the creation of high-quality, authoritative work (encyclopedias, journalism etc.). Forced to choose, he'd take the professionals over the amateurs. But put this way it's a Hobson's choice. Flawed as it is, Wikipedia is in its infancy and is probably not going away. Whereas the future of Britannica is less sure. And it's not just amateurs that are participating in new forms of discourse (take as an example the new law faculty blog at U. Chicago). Anyway, here's Carr:
The Internet is changing the economics of creative work - or, to put it more broadly, the economics of culture - and it's doing it in a way that may well restrict rather than expand our choices. Wikipedia might be a pale shadow of the Britannica, but because it's created by amateurs rather than professionals, it's free. And free trumps quality all the time. So what happens to those poor saps who write encyclopedias for a living? They wither and die. The same thing happens when blogs and other free on-line content go up against old-fashioned newspapers and magazines. Of course the mainstream media sees the blogosphere as a competitor. It is a competitor. And, given the economics of the competition, it may well turn out to be a superior competitor. The layoffs we've recently seen at major newspapers may just be the beginning, and those layoffs should be cause not for self-satisfied snickering but for despair. Implicit in the ecstatic visions of Web 2.0 is the hegemony of the amateur. I for one can't imagine anything more frightening.
He then has a nice follow-up in which he republishes a letter from an administrator at Wikipedia, which responds to the above.
Encyclopedia Britannica is an amazing work. It's of consistent high quality, it's one of the great books in the English language and it's doomed. Brilliant but pricey has difficulty competing economically with free and apparently adequate....

...So if we want a good encyclopedia in ten years, it's going to have to be a good Wikipedia. So those who care about getting a good encyclopedia are going to have to work out how to make Wikipedia better, or there won't be anything.
Let's discuss.
Posted by ben vershbow at 09:00 AM | Comments (5)
tags: Libraries, Search and the Web , OS , Online , Publishing, Broadcast, and the Press , Social Software , Web2.0 , amateur , blog , blogging , blogs , book , books , britannica , collective , encyclopedia , encyclopedia_britannica , internet , journalism , mainstream_media , media , msm , open_content , open_source , publishing , web , web_2.0 , wiki , wikipedia
these thoughts came immediately after reading the NY Times' sad attempt to explain how the "newspaper of record" managed to lose its integrity.
1. looks to me as if the media (ny times) has become the news and the blogging community are functioning as the real journalists. can anyone reading this blog, who has been following the judith miller situation say they didn't go to the blogosphere today to get a decent handle on how to parse what the Times just did to "cover the Judith Miller" story.
2. i want a juan cole equivalent for the judy miller story; someone who specializes in the working of behind-the-scenes washington and who knows enough about law and history to put each day's events in perpective. at the very least i want someone to present me with the ten most useful accounts on the web so that i can triangulate the problem.
3. perhaps it would be a good thought experiment to try to come up with interesting ideas of how to organize references on the web to the judith miller situation. how would you present an overview of the references?
Posted by bob stein at 09:23 PM | Comments (3)
tags: Blogosphere , NYTimes , Publishing, Broadcast, and the Press , blog , blogging , blogs , bush , journalism , judith_miller , judithmiller , leak , media , new_york_times , newspaper , newyorktimes , plame , rove , valerie_plame
We've officially and permanently shut off the trackback function on if:book. We're sad to do it. The idea of trackback is such a good one -- a way to send signals (pings) to other blogs alerting them that one of their posts is being discussed on your site. It ties the blogosphere together, fosters conversations across the web. It was a beautiful dream, but spammers killed it.
Tom Coates pronounced trackback dead back in April, but if:book was only a few months old at the time, still green and optimistic. We were also less known, so spam was only coming in a light sprinkle. Now it's been a month since our last legitimate ping, and the daily dose of spam has grown so large (and so filthy) that it hardly seems worth it to keep the door open. Fewer bloggers are tracking back now anyway since most have accepted that it is a dying practice, or perhaps haven't even heard of it at all.
So trackback is done. I just want to say a few goodbyes...
Goodbye, diet pills.
Goodbye, discount sneakers.
Goodbye, ringtones.
Goodbye, hentai comics.
Goodbye, cheap loans (spelled lones).
Goodbye, online pharmacy.
Goodbye, online casino.
Goodbye, texas holdem.
Goodbye, arbitrage sports betting.
Goodbye, free nude black jack.
Goodbye, rape fantasies.
Goodbye, incest stories.
Goodbye, shemale porn.
Goodbye, animal sex.
Goodbye, gay erotica.
Goodbye, tranny surprise.
Goodbye, sex grannies.
A big middle finger to all of you.
Posted by ben vershbow at 01:20 AM | Comments (0)
tags: Online , blog , blogging , blogs , elegy , internet , movable_type , ping , social_software , socialsoftware , spam , spammer , spamming , trackback , trust , web
Law professors at the University of Chicago have launched an experimental faculty blog to connect with students, the legal community, and the world at large. They've chosen a good moment to jump into the public sphere, when the Supreme Court is in flux. I wouldn't be surprised if this spurred similar developments at other universities.
The University of Chicago School of Law has always been a place about ideas. We love talking about them, writing about them, and refining them through open, often lively conversation. This blog is just a natural extension of that tradition. Our hope is to use the blog as a forum in which to exchange nascent ideas with each other and also a wider audience, and to hear feedback about which ideas are compelling and which could use some re-tooling.
Though a growing number of scholars have embraced blogging, the academy as a whole has been loathe to take treat it as anything more than a dalliance. But a few more high profile moves like the one in Chicago and university boards may start clamoring to jump in. Perhaps then there can begin a serious discussion about legitimizing blogging as a form of scholarly production, and even as a kind of peer review. It's not that all academics should be expected (or should want) to become high-profile public intellectuals. Fundamentally, academic blogging should be considered as an extension of "office hours," a way to extend the dialogue with students and other faculty.
But there's a definite benefit for the public when authoritative voices start blogging about what they know best. It's refreshing to read sober, deeply informed reflections on the Miers nomination and surrounding questions of judicial philosophy written by people who know what they're talking about. It helps us to parse the news and to tune out some of the more worthless punditry that goes on, both in mainstream media and in the blogosphere. Less noise, more signal.
Of course, experts can get noisy too. I was thrilled when Paul Krugman began writing his column for the NY Times -- here was someone with a deep grasp of economics and a talent for explaining it in a political context. But as Krugman's audience has grown, so has his propensity to blow off partisan steam. To me at least, his value as a public intellect has waned.
Posted by ben vershbow at 01:07 PM | Comments (0)
tags: Education , academia , academic , academy , blog , blogger , blogging , blogs , chicago , culture , faculty , intellectual , judicial , law , legal , miers , pedagogy , politics , publishing , schools , supreme_court , university
Yahoo's revamped news search will present news and blogs side by side on the same page. In addition, the site will feature related images from Flickr, the social photo-sharing site that Yahoo purchased earlier this year, as well as user-contributed links from My Web (a feature that allows you to save and store web pages, and share them with others).
As before, the front news page will promote only stories from mainstream media sources, while the blog-news combo appears on a second-tier page that you arrive at when you conduct a specific search, or click for more details or more stories. No doubt, this was done, at least in part, to mollify angry news outlets who will likely call foul for making hard news share space with blogs. Still, the webscape has changed. All but the most cursory glance at the headlines will yield a richly confusing array of mainstream and grassroots sources.
(thoughtful analysis from Tim Porter)
Posted by ben vershbow at 10:19 AM | Comments (1)
tags: Publishing, Broadcast, and the Press , RSS , aggregation , blog , blogging , blogs , citizen_journalism , journalism , media , msm , news , newspaper , portal , search , syndication , yahoo , yahoo!
The Chronicle of Higher Education ran a good piece last week by Henry Farrell -- "The Blogosphere As A Carnival of Ideas" -- looking at the small but growing minority of scholars who have become bloggers. Farrell is a poli sci professor at George Washington, and a contributor to the popular group blog Crooked Timber. He argues from experience how blogs have invigorated scholarly exchange within and across fields, allowing for a more relaxed discourse, free of the jargon and stuffy manner of journals. In some cases, blogs have enabled previously obscure academics to break beyond the ivory tower to connect with a large general readership hungry for their insight and expertise.
What Farrell neglects to mention -- which is surprising given the title of the piece -- is the phenomenon of the "blog carnival," an interesting subculture of the web that has been adopted in certain academic, or semi-academic, circles. A blog carnival is like a roving journal, a rotating showcase of interesting writing from around the blogosphere within a particular discipline. Individual bloggers volunteer to host a carnival on their personal blog, acting as chief editor for that edition. It falls to them to collect noteworthy items, and to sort through suggestions from the community, many of which are direct submissions from authors. On the appointed date (carnivals generally keep to a regular schedule) the carnival gets published and the community is treated to a richly annotated feast of new writing in the field.
Granted, not all participating bloggers are academics. Some are students, some simply enthusiasts. Anyone with a serious interest in the given area is usually welcome. Among the more active blog carnivals are Tangled Bank, a science carnival currently in its 38th edition, the Philosophers' Carnival, whose 20th edition was just posted this past Sunday, and the History Carnival, currently in its 17th edition.
Here's a small taste from the most recent offering at History Carnival, hosted by The Apocalyptic Historian:
New Deal liberalism has been on the minds of politicians lately. Hiram Hover posts about the recent talk of New Deal analogies from politicians in deciding how to help the victims of Katrina in "Responding to Katrina: Is History Any Guide?" Caleb McDaniel at Mode for Caleb draws a startling historical parallel between the 1793 yellow fever epidemic in Phildelphia and New Orleans after Katrina in 2005.

In a comparison of another of Bush's crises in the making, Jim MacDonald revisits the history of the Sepoy Rebellion with comments on the current situation in Iraq. Meanwhile Sepoy contributes to a recent attempt to compile the views Westerners have about Islam at Chapati Mystery.

How many times have humans believed the world was coming to an end? Natalie Bennett reviews a recent work on the Anabaptist takeover of Münster in 1534, when the belief in the impending apocalypse sent that city into chaos.
Most carnivals have a central site that indexes links to past editions and provides a schedule of upcoming ones, but the posts themselves exist on the various blogs that comprise the community. Hence the "carnival" -- a traveling festival of ideas, a party that moves from house to house. Participating blogs generally display a badge on their sidebar signaling their affiliation with a particular collective.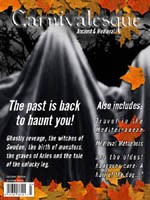 Though carnivals keep to a strict schedule, but there is no mandated format or style. Host bloggers can organize the material however they choose, putting their own personal spin or filter on the current round -- just as long as they stick to the overall topic. The latest issue of Carnivalesque, a monthly circuit on medieval and early modern history, shows how far some hosts will go -- styled as a full magazine, the October issue is complete with a mock cover, a letter from the editor, and links organized by section.
The concept of the carnival seems to have originated in 2002 with "The Carnival of the Vanities," which for a while served as a venue for bloggers to promote their best writing -- a way of fighting the swift sinking of words in a sea of rapidly updating blogs. It's not surprising that the idea was then taken up by academic types, since the carnival model, in its essence, rather jives with the main warranting mechanism of all scholarly publication: peer review. It's a looser, less formal peer review to be sure, but still operates according to the ethos of the self-evaluating collective.
It's worth paying attention to how these carnivals work because they provide at least part of the answer to a larger concern about the web: how to maintain quality and authority in a flood of amateur self-publishing. In the cycle of the carnival, blogging becomes a kind of open application process where your best work is dangled in the path of roving editors. You might say all bloggers are roving editors, but these ones represent an authoritative collective, one with a self-sustaining focus.
So the idea of the carnival, refined and sharpened by academics and lifelong learners, might in fact have broader application for electronic publishing. It happily incorporates the de-centralized nature of the web, thriving through collaborative labor, and yet it retains the primacy of individual voices and editorial sensibilities. Again, you might point out that its formula is far from unique, that this is in fact the procedure of just about any blog: find interesting stuff on the web and link to it with a few original comments. But the carnival focuses this practice into a regular, more durable form, providing an authoritative context that can be counted on week after week, even year after year. Sounds sort of like a magazine doesn't it? But its offices are constantly in flux, its editorial chair a rotating one. I'm interested to see how it evolves. If blogs in cyberspace are like the single-cell organism in the primordial porridge, might the carnival be a form of multi-cell life?
Posted by ben vershbow at 07:18 AM | Comments (7)
tags: Education , academia , academic , academy , aggregation , blog , blog_carnival , blogging , blogs , carnival , early_modern , history , journal , medieval , peer_review , philosophy , publishing , reading , science , university , writing
We were talking yesterday (and Bob earlier) about how to better organize content on if:book - how to highlight active discussion threads, or draw attention to our various categories. Something more dynamic than a list of links on the sidebar, or a bunch of hot threads advertised at the top. A significant problem with blogs is the tyranny of the vertical column, where new entries call out for attention on a stack of rapidly forgotten material, much of which might still be worth reading even though it was posted back in the dark ages (i.e. three days ago). Some of the posts that get buried still have active discussions stemming from them. Just today, "ways of seeing, ways of writing" - posted nearly two weeks ago - received another comment. The conversation is still going. (See also Dan's "blog reading: what's left behind".)
This points to another thorny problem, still unsolved nearly 15 years into the world wide web, and several years into the blogging craze: how to visualize asynchronous conversations - that is, conversations in which time lapses between remarks. If the conversation is between only two people, a simple chronological column works fine - it's a basic back-and-forth. But consider the place where some of the most dynamic multi-person asynchronous conversations are going on: in the comment streams of blog entries. Here you have multiple forking paths, hopping back and forth between earlier and later remarks, people sticking close to the thread, people dropping in and out. But again, you have the tyranny of the vertical column.
We're using an open source platform called Drupal for our Next\Text project, which has a blog as its central element but can be expanded with modular units to do much more than we're able to do here. The way Drupal handles comments is nice. You have the usual column arranged chronologically, with comments streaming downward, but readers have the option of replying to specific comments, not just to the parent post. Replies to specific comments are indented slightly, creating a sort of sub-stream, and the the fork can keep on going indefinitely, indenting rightward.
This handles forks and leaps fairly well, but offers at best only a partial solution. We're still working with a print paradigm: the outline. Headers, sub-headers, bullet points. These distinguish areas in a linear stream, but they don't handle the non-linear character of complex conversations. There is always the linear element of time, but this is extremely limiting as an organizing principle. Interesting conversations make loops. They tangle. They soar. They sag. They connect to other conversations.
But the web has so far been dominated by time as an organizing principle, new at the top and old at the bottom (or vice versa), and this is one the most-repeated complaints people have about it. The web favors the new, the hot, the immediate. But we're dealing with a medium than can also handle space, or at least the perception of space. We need not be bound to lists and outlines, we need not plod along in chronological order. We could be looking at conversations as terrains, as topographies.
The electronic word finds itself in an increasingly social context. We need to design a better way to capture this - something that gives the sense of the whole (the big picture), but allows one to dive directly into the details. This would be a great challenge to drop into a design class. Warren Sack developed a "conversation map" for news groups in the late 90s. From what I can tell, it's a little overwhelming. I'm talking about something that draws people right in and gets them talking. Let's look around.
Posted by ben vershbow at 02:09 PM | Comments (4)
tags: Online , blog , blogging , blogs , comment , comments , content , conversation , design , design_curmudgeonry , dialogue , display , drupal , flow , graphical , graphics , infoviz , internet , layout , metadata , movable_type , platform , publishing , software , space , time , visualization , viz , web
i've been without an internet connection for a few days. was catching up on if:book posts and finding myself delighted by the wonderful range of interesting posts my colleagues had managed in just a few days. which made me want to send a note to lots of friends and acquaintances urging them to check out our blog. but then my more nervous, modest side took over and convinced me that urging people to sample a blog as wide-ranging as if:book is a dicey proposition since sampling one day's posts doesn't necessarily indicate the extent of our interests. the structure of blogs favors the chronology of entry; thematic categories are listed on the side but without much fanfare. wonder if we could re-arrange the "front page" to be more magazine like, where for example "recent posts" would be one feature among many.
Posted by bob stein at 09:56 AM | Comments (1)
tags: blog , blogger , blogging , blogs , design , design_curmudgeonry , interesting , layout , magazine , publishing
on sunday one of my colleagues, kim white, posted a short essay on if:book, Losing America, which eloquently stated her horror at realizing how far america has slipped from its oft-stated ideals of equality and justice. as kim said "I thought America (even under the current administration) had something to do with being civilized, humane and fair. I don't anymore."
kim ended her piece with a parenthetical statement:
(The above has nothing and everything to do with the future of the book.)
the four of us met around a table in the institute's new williamsburg digs yesterday and discussed why we thought kim's statement did or didn't belong on if:book. the result -- a resounding YES.
if you've been reading if:book for awhile you've probably encountered the phrase, "we use the word book to refer to the vehicle humans use to move big ideas around society." of course many, if not most books are about entertainment or personal improvement, but still the most important social role of books (and their close dead-tree cousins, newspapers, magazines etc.) has been to enable a conversation across space and time about the crucial issues facing society.
we realize that for the institute to make a difference we need to be asking more the right questions.although our blog covers a wide-range of technical developments relating to the evolution of communication as it goes digital, we've tried hard not to be simple cheerleaders for gee-whiz technology. the acid-test is not whether something is "cool" but whether and in what ways it might change the human condition.
which is why kim's post seems so pertinent. for us it was a wake-up call reinforcing our notion that what we do exists in a social, not a technological context. what good will it be if we come up with nifty new technology for communication if the context for the communication is increasingly divorced from a caring and just social contract. Kim's post made us realize that we have been underemphasizing the social context of our work.
as we discuss the implications of all this, we'll try as much as possible to make these discussions "public" and to invite everyone to think it through with us.
Posted by bob stein at 04:04 PM | Comments (2)
tags: blog , blogging , blogs , book , books , democracy , digital , ebook , hurricanekatrina , katrina , neworleans , politics , publishing , technology
Someone is blogging Kafka's diaries, from 1910 to 1923. They're still in the first year. Either it started recently, or lost steam early at some undetermined date (the editor has opted to remove datelines from posts). Any dates added by Kafka himself are of course retained. Archives are organized by year within the span of the diaries.
I subscribed to the feed to see if it keeps updating (they're using a recent version of Movable Type - more recent than ours - so I bet things are active). It could be a nice way to read these.
There's also a blog of the diary of Samuel Pepys, which seems to have been chugging along for about two years. A nice touch is that instead of comments they have "annotations." A quick glance reveals that quite a number of people are participating in this reading.
update: Another good book blogging experiment worth checking out is Bryan Alexander's Dracula Blogged - "Bram Stoker's vampire novel, published by its own calendar" - which will conclude sometime in November. A particularly clever choice, since Dracula is largely written in letters and journal entries.
Posted by ben vershbow at 05:30 PM | Comments (0)
tags: blog , blogging , blogs , book , books , diaries , diary , franzkafka , kafka , lit , literature , pepys , reading , samuelpepys
Google's new blog search engine reminds me of how far we still have to go with blog search. The engine works much the same way as Google's general web search - with keywords and page ranking - only here it's searching RSS feeds. Recent posts with keyword matches fill the column, and a few links to related blogs come up at the top. But there's the rub. These so-called "related" blogs are only related by direct keyword matches in their title tagline. I just searched "poetry" and came up with only three related blogs. C'mon. A search for "gossip" turns up only one related blog - "Starbucks Gossip". There has to be some kind of promotion going on here, though their "about" page mentions nothing of the kind.
A good engine would be capable of searching blogs by their subject, their preoccupation, their obsession. Many blogs could be considered "general," but just as many have a special focus, and readers are often searching with a particular theme in mind. They don't just want a list of transient posts, but whole sites that might potentially become regular destinations. Many blogs are valuable publications that prove themselves day after day. But blog search hasn't yet grown beyond the trendy "what's the latest chatter on the blogosphere" mode.
I do have to give credit to Technorati. Glitchy as it is, they're trying to think of creative ways - tagging, author-determined keywords - to help readers find interesting blogs and authors their audience. Then again, my greatest finds have usually been from other blogs. Humans will always be the smartest aggregators.
People out there, what do you use?
Posted by ben vershbow at 05:01 PM | Comments (2)
tags: RSS , blog , blogger , blogging , blogs , blogsearch , feeds , feedster , googlblogsearch , google , pubsub , search , technorati , xml
Writing and the Digital Life, a brand new weblog with interests very similar to ours, just went live today and has kindly named us among five blogs for "blogday." I look forward to reading their site.
Posted by ben vershbow at 06:19 PM | Comments (1)
tags: blogday , blogging , blogs , digital , ebook , writing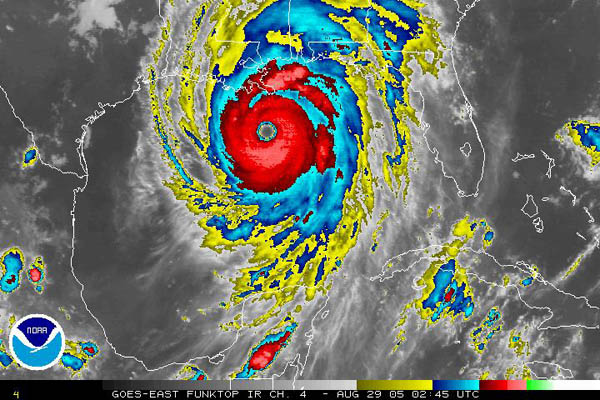 As Katrina has blasted the Gulf Coast beyond recognition, a number of blogs have maintained a steady stream of reportage and personal testimony, in some cases serving as bulletin boards for the names of the missing. Given the extent of the destruction to communications infrastructure, it's not surprising that it has primarily been the media blogs that have managed to stay active.
Here are a few I've come across (Poynter Online has been an invaluable resource for exploring the online response to Katrina):
Eyes on Katrina: A South Mississippi hurricane journal (from The Sun Herald) - a combination of brief news updates, community bulletin board, and advance runs of Sun Herald stories on Katrina.
Tuesday, 2:23 pm:
This from staff writer Geoff Pender, who is calling in reports from Hattiesburg. If you are thinking about getting in the car and coming back to South Mississippi, don't. The Mississippi Emergency Management Agency is telling people who have evacuated to stay away until the roads have been cleared and the National Guard is in place. If we get word when that happens, we'll pass it along.

On a different note, we have a report that portions of U.S. 90 are under seven feet of water.
NOLA View: a weblog by Jon Donley - for nola.com, a news and culture portal from The New Orleans Times-Picayune. Posting survival stories from readers.
From reader Lynne Bernard (today), on trying to survive in Talahassee, FL:
Story: We are stranded in Tallahassee. There is absolutely no compassion here whatsoever. The Hampton Inn in Tallahasse is pretty much throwing us out because of a football game. We are running out of money with no way of getting more out of the bank. We cannot use debit cards and our credit cards are maxed out. I thought I would encounter a little compassion and understanding here in Florida seeing they have been through similar situations. There is none. People here and the manager of this motel are very cold and uncaring. If anyone out there has any suggestions please email me asap. I cannot get in touch with red cross or fema. Cell phones don't work. Can't get hold of any family member for help. Please help!!!!
CNN: Miles O'Brien's Hurricane Blog - direct from Louisiana.
Monday, 6:54 am:
Louisiana State University Hurricane Center's Ivor van Heerden just said a real concern is coffins that would be swept away by the floodwaters -- which themselves will be laced with a witches' brew of industrial chemicals. Horrifying image.
Metroblogging New Orleans - group blog with frequent, first-hand reports.
12:54 pm today, from Craig Giesecke:
Being refugees has forced us to confront new realities and possibilities, particularly since it might be a while before we'll actually be able to return to stay. I'm self-employed in a food business that was just beginning to take off and fly a bit on its own when this storm struck. To wit...

1) when we actually go home, what shape will my production facility be in? Since it's in Mid-City, I'm assuming it's already full of water.

2) Even if I can get the equipment operating again someplace else, 75 percent of my business is done in metro New Orleans. Lord knows how long it might be (2006?) before any local clients will be able to start placing orders again.

3) So far, our house seems to be dry. But when we get back in, how long will it be before anything else is around us? The neighbors will return, but how long before any of us can start earning a paycheck again? I mean -- earning a paycheck ANYwhere?
Storm Central from al.com ("everything alabama") - news updates and reader email.
Paula Baker from Houston, TX:
I am trying to find out about my brother. Stayed in Pascagoula. House on Sunfish Dr. 5 Blocks from beach
This is just a selection - by no means comprehensive. Let us know if you find anything else of interest.
Posted by ben vershbow at 12:32 PM | Comments (2)
tags: alabama , blog , blogger , blogging , blogs , gulfcoast , hurricane , hurricane_katrina , journalism , katrina , louisiana , media , mississippi , press , storm
An excellent essay in last month's Common-Place, "Blogging in the Early Republic" by W. Caleb McDaniel, examines the historical antecedents of the present blogging craze, looking not to the usual suspects - world shakers like Martin Luther and Thomas Paine - but to an obscure 19th century abolitionist named Henry Clarke Wright. Wright was a prolific writer and tireless lecturer on a variety of liberal causes. He was also "an inveterate journal keeper," filling over a hundred diaries through the course of his life. And on top of that, he was an avid reader, the diaries serving as a record of his voluminous consumption. McDaniel writes: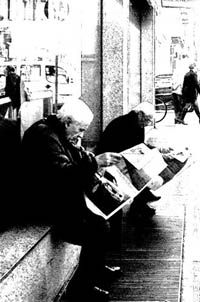 While private, the journals were also public. Wright mailed pages and even whole volumes to his friends or read them excerpts from the diaries, and many pages were later published in his numerous books. Thus, as his biographer Lewis Perry notes, in the case of Wright, "distinctions between private and public, between diaries and published writings, meant little."
Wright's journaling habit is interesting not for any noticeable impact it had on the politics or public discourse of his day; nor (at least for our purposes) for anything particularly memorable he may have written. Nor is it interesting for the fact that he was an active journal-keeper, since the practice was widespread in his time. Wright's case is worth revisiting because it is typical -- typical not just of his time, but of ours. It tells a strikingly familiar story: the story of a reader awash in a flood of information.
Wright, in his lifetime, experienced an incredible proliferation of printed materials, especially newspapers. The print revolution begun in Germany 400 years before had suddenly gone into overdrive.
The growth of the empire of newspapers had two related effects on the practices of American readers. First, the new surplus of print meant that there was more to read. Whereas readers in the colonial period had been intensive readers of selected texts like the Bible and devotional literature, by 1850 they were extensive readers, who could browse and choose from a staggering array of reading choices. Second, the shift from deference to democratization encouraged individual readers to indulge their own preferences for particular kinds of reading, preferences that were exploited and targeted by antebellum publishers. In short, readers had more printed materials to choose from, more freedom to choose, and more printed materials that were tailored to their choices.
Wright's journaling was his way of metabolizing this deluge of print, and his story draws attention to a key aspect of blogging that is often overshadowed by the more popular narrative - that of the latter-day pamphleteer, the lone political blogger chipping away at mainstream media hegemony. The fact is that most blogs are not political. The star pundits that have risen to prominence in recent years are by no means representative of the world's roughly 15 million bloggers. Yet there is one crucial characteristic that is shared by all of them - by the knitting bloggers, the dog bloggers, the macrobiotic cooking bloggers, along with the Instapundits and Daily Koses: they are all records of reading.
The blog provides a means of processing and selecting from an overwhelming abundance of written matter, and of publishing that record, with commentary, for anyone who cares to read it. In some cases, these "readings" become influential in themselves, and multiple readers engage in conversations across blogs. But treating blogging first as a reading practice, and second as its own genre of writing, political or otherwise, is useful in forming a more complete picture of this new/old phenomenon. To be sure, today's abundance makes the surge in 18th century printing look like a light sprinkle. But the fundamental problem for readers is no different. Fortunately, blogs provide us with that much more power to record and annotate our readings in a way that can be shared with others. We return to Bob's observation that something profound is happening to our media consumption patterns.
As McDaniel puts it:
...readers, in a culture of abundant reading material, regularly seek out other readers, either by becoming writers themselves or by sharing their records of reading with others. That process, of course, requires cultural conditions that value democratic rather than deferential ideals of authority. But to explain how new habits of reading and writing develop, those cultural conditions matter as much—perhaps more—than economic or technological innovations. As Tocqueville knew, the explosion of newspapers in America was not just a result of their cheapness or their means of production, any more than the explosion of blogging is just a result of the fact that free and user-friendly software like Blogger is available. Perhaps, instead, blogging is the literate person's new outlet for an old need. In Wright's words, it is the need "to see more of what is going on around me." And in print cultures where there is more to see, it takes reading, writing, and association in order to see more.
(image: "old men reading" by nobody, via Flickr)
Posted by ben vershbow at 02:11 PM | Comments (1)
tags: Publishing, Broadcast, and the Press , Transliteracies , article , blog , blogging , blogs , book , books , diary , ebook , essay , journal , journalism , media , newspaper , pamphleteer , paperless , print , reading , thomas_paine
Bob talks about the book as metaphor. It is the thing that does the heavy lifting, a technology that allows us to convey our thoughts through a concrete vehicle. This site looks at how that vehicle is changing as a new electronic means of conveying written information begins to come of age.
When asked to imagine a metaphor for "the book," we come up with something more organic, a lumbering behemoth with a hundred arms, waving anemone-like through the air to catch out particles of human discourse. The creature has some kind of hair or fur entangled with innumerable flotsam and jetsam. It is buzzing with attendant parasitical organisms, and encrusted with barnacles. To ask if the behemoth has a future is not the right question because the book, as we are picturing it in this analogy, is an immortal. The electronic incarnation of the book does not kill the old behemoth, but rather becomes part of it.
In his afterword to "the Future of the Book," Umberto Eco noted that:
"In the history of culture it has never happened that something has killed something else, something has profoundly changed something else." We are interested in the nature of this change as it relates to the book and its evolution.
To examine this heavy lifting device, to define and to understand this aggregate behemoth is the project of our "future of the book" blog. To begin, we have initiated a few thought experiments and put forth several questions that we hope will engender productive discourse. We welcome ideas and suggestions for future experiments.
Go to Thought Experiment #1: Three Books That Influenced Your Worldview
Posted by Kim White at 10:33 AM | Comments (0)
tags: Blogosphere , General , Thought Experiments , blogs , book , books , ebook , ebooks , history_of_the_book , the_form_of_the_book , the_networked_book