It probably won't be until mid to late March that we finally roll out McKenzie Wark's GAM3R 7H30RY Version 10.1, but substantial progress is being made. Here's a snapshot:
After debating (part 1) our way to a final design concept (part 2), we're now focused (well, mainly Jesse at this point) on hammering the thing together. We're using all open source software and placing the book under a Creative Commons Attribution-NonCommercial-ShareAlike 2.0 license. Half the site will consist of a digital edition of the book in Word Press with a custom-built card shuffling interface. As mentioned earlier, Ken has given us an incredibly modular structure to work with (a designer's dream): nine chapters (so far), each consisting of 25 paragraphs. Each chapter will contain five five-paragraph stacks with comments popping up to the side for whichever card is on top. No scrolling is involved except in the comment field, and only then if there is a substantial number of replies.
The graphic above shows the color scale we're thinking of for the different chapters. As they progress, each five-card stack will move from light to dark within the color of its parent chapter. Floating below the color spectrum is the proud parent of the born-digital book: McKenzie Wark, Space Invader (an image that will appear in some fashion throughout the site). Right now he's a fairly mean-looking space invader -- on a bombing run or something. But we're thinking of shuffling a few pixels to give him a friendlier appearance.
You are also welcome to view an interactive mock-up of the card view (click on the image below):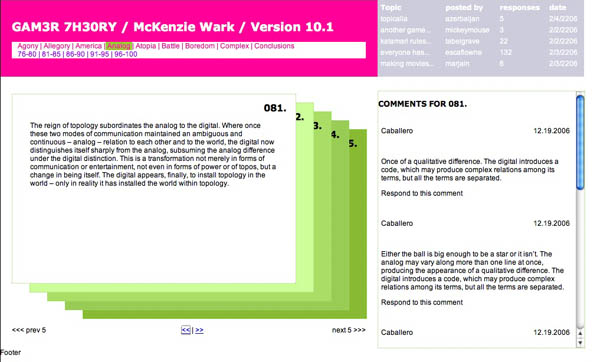 The other half of the site will be a discussion forum set up in PHP Bulletin Board. Actually, it'll be a collection of nine discussion forums: one for each chapter of the book, each focusing (except for the first, which is more of an introduction) on a specific video game. Here's how it breaks down:
* Allegory (on The Sims)
* America (on Civilization III)
* Analog (on Katamari Damarcy)
* Atopia (on Vice City)
* Battle (on Rez)
* Boredom (on State of Emergency)
* Complex (on Deus Ex)
* Conclusions (on SimEarth)
The gateway to each forum will be a two-dimensional topic graph where forum threads float in an x-y matrix. Their position in the graph will be determined by the time they were posted and the number of comments they've accumulated so far. Thus, hot topics will rise toward the top while simultaneously being dragged to the left (and eventually off the chart) by the progression of time. Something like this: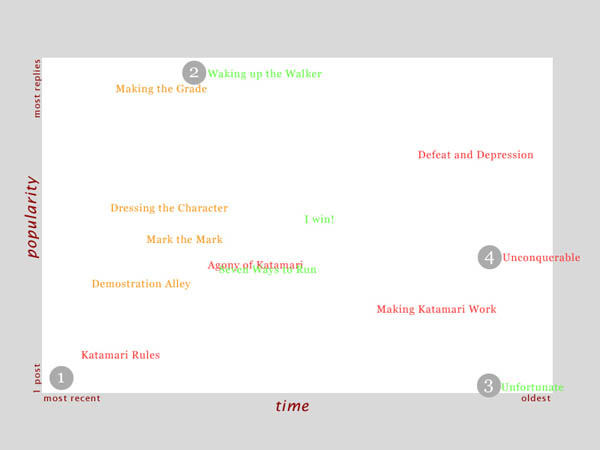 At this point there's no way of knowing for sure which part of the site will be more successful. The book view is designed to gather commentary, and Ken is sincerely interested in reader feedback as he writes and rewrites. There will also be the option of syndicating the book to be digested serially in an RSS reader. We're very curious to see how readers interact with the text and hope we've designed a compelling environment in which to do so.
Excited as we are about the book interface, our hunch is that the discussion forum component has the potential to become the more vital half of the endeavor. The forum will be quite different from the thousands of gaming sites already active on the web in that it will be less utilitarian and more meditative in its focus. This won't be a place for posting cheats and walk-throughs but rather a reflective space for talking about the experience of gaming and what players take games to mean. Our hope is that people will have quite a bit to say about this -- some of which may end up finding its way into the book.
Although there's still a ways to go, the process of developing this site has been incredibly illuminating in our thinking about the role of the book in the network. We're coming to understand how the book might be reinvented as social software while still retaining its cohesion and authorial vision. Stay tuned for further developments.
Posted by ben vershbow at 04:42 PM | Comments (0) | TrackBack
tags: Blogosphere , blogging , book-blog_experiments , creative_commons , design , ebook , gaming , phpbb , video_games , word_press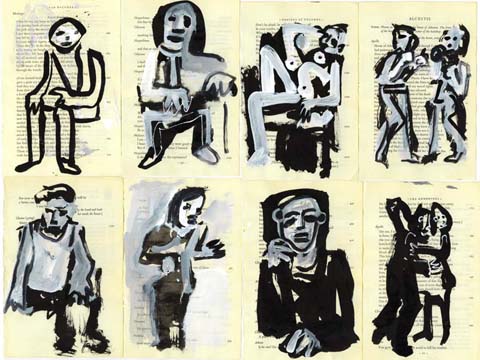 last spring we invited Alex Itin to be our first artist-in-residence at the institute. i first met Alex in the fall of 2000, during an art festival in Dumbo. he was set-up in a gallery painting portraits on pages of used books. i quite liked the paintings and got the perverse idea that it would be interesting to encourage someone who was using books in this way to work on an electronic book. i was working at Night Kitchen at the time. we had just released the beta version of TK3, the software we made for authoring and reading media rich electronic books. we lent Alex a Mac and he made his first electronic piece, Zoodoo - a series of paintings done on paperback pages which accompanied a beautiful Amiri Baraka poem. (if you first install the free TK3 Reader you can download Zoodoo from this page.) Alex kept experimenting and over time began animating the surface of his scanned-in paintings. while there has been a long history of filmmakers who painted on the surface of film, Alex was perhaps one of the first painters to integrate video into his paintings.
From "Self Portait" by Alex Itin
as a condition of his artist-in-residency we asked Alex to keep a blog in which we hoped he would write about his work as he did it. we were amazed after a few days to realize that alex was beginning to use the blog not as a way to talk about his work, but rather it was just another venue for his work. at first Alex posted paintings, drawings and photos sometimes with a text commentary. after a while he started to include animated gifs and sound. although the artist-in-residency ended almost a year ago, alex has been keeping up the blog. in fact, he's been on a creative tear the past few weeks. check out the last two entries -- the "thousand year crane" (be sure to start the music track) and the Chinese new year tree.
(disclaimer: i've been collecting Alex's work for six years now, so my interest in his success is not purely altruistic)
Posted by bob stein at 11:50 AM | Comments (6)
tags: Blogosphere , GIF , animation , art , blogging , brakhage , film , multimedia , net_art , painting
It appears that Amazon is going to start hosting blogs for authors. Sort of. Amazon Connect, a new free service designed to boost sales and readership, will host what are essentially stripped-down blogs where registered authors can post announcements, news and general musings.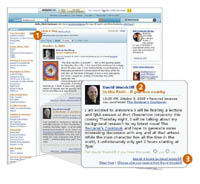 Eventually, customers can keep track of individual writers by subscribing to bulletins that collect in an aggregated "plog" stream on their Amazon home page. But comments and RSS feeds -- two of the most popular features of blogs -- will not be supported. Engagement with readers will be strictly one-way, and connection to the larger blogosphere basically nil. A missed opportunity if you ask me.
Then again, Amazon probably figured it would be a misapplication of resources to establish a whole new province of blogland. This is more like the special events department of a book store -- arranging readings, book singings and the like. There has on occasion, however, been some entertaining author-public interaction in Amazon's reader reviews, most famously Anne Rice's lashing out at readers for their chilly reception of her novel Blood Canticle (link - scroll down to first review). But evidently Connect blogs are not aimed at sparking this sort of exchange. Genuine literary commotion will have to occur in the nooks and crannies of Amazon's architecture.
It's interesting, though, to see this happening just as our own book-blog experiment, Without Gods, is getting underway. Over the past few weeks, Mitchell Stephens has been writing a blog (hosted by the institute) as a way of publicly stoking the fire of his latest book project, a narrative history of atheism to be published next year by Carroll and Graf. While Amazon's blogs are mainly for PR purposes, our project seeks to foster a more substantive relationship between Mitch and his readers (though, naturally, Mitch and his publisher hope it will have a favorable effect on sales as well). We announced Without Gods a little over two weeks ago and already it has collected well over 100 comments, a high percentage of which are thoughtful and useful.
We are curious to learn how blogging will impact the process of writing the book. By working partially in the open, Mitch in effect raises the stakes of his research -- assumptions will be challenged and theses tested. Our hunch isn't so much that this procedure would be ideal for all books or authors, but that for certain ones it might yield some tangible benefit, whether due to the nature or breadth of their subject, the stage they're at in their thinking, or simply a desire to try something new.
An example. This past week, Mitch posted a very thinking-out-loud sort of entry on "a positive idea of atheism" in which he wrestles with Nietzsche and the concepts of void and nothingness. This led to a brief exchange in the comment stream where a reader recommended that Mitch investigate the writings of Gora, a self-avowed atheist and figure in the Indian independence movement in the 30s. Apparently, Gora wrote what sounds like a very intriguing memoir of his meeting with Gandhi (whom he greatly admired) and his various struggles with the religious component of the great leader's philosophy. Mitch had not previously been acquainted with Gora or his writings, but thanks to the blog and the community that has begun to form around it, he now knows to take a look.
What's more, Mitch is currently traveling in India, so this could not have come at a more appropriate time. It's possible that the commenter had noted this from a previous post, which may have helped trigger the Gora association in his mind. Regardless, these are the sorts of the serendipitous discoveries one craves while writing book. I'm thrilled to see the blog making connections where none previously existed.
Posted by ben vershbow at 08:36 AM | Comments (3)
tags: Blogosphere , Publishing, Broadcast, and the Press , amazon , amazon_connect , atheism , blogging , blogs , book-blog_experiments , books , god , publishing , religion , writing
Does anyone know of a good way to search for old blog entries on the web? I've just been looking at some of the available blog search resources and few of them appear to provide any serious advanced search options. The couple of major ones I've found that do (after an admittedly cursory look) are Google and Ice Rocket. Both, however, appear to be broken, at least when it comes to dates. I've tried them on three different browsers, on Mac and PC, and in each case the date menus seem to be frozen. It's very weird. They give you the option of entering a specific time range but won't accept the actual dates. Maybe I'm just having a bad tech day, but it's as if there's some conceptual glitch across the web vis a vis blogs and time.
Most blog search engines are geared toward searching the current blogosphere, but there should be a way to research older content. My first thought was that blog search engines crawl RSS feeds, most of which do not transmit the entirety of a blog's content, just the more recent. That would pose a problem for archival search.
Does anyone know what would be the best way to go about finding, say, old blog entries containing the keywords "new orleans superdome" from late August to late September 2005? Is it best to just stick with general web search and painstakingly comb through for blogs? If we agree that blogs have become an important kind of cultural document, than surely there should be a way to find them more than a month after they've been written.
Posted by ben vershbow at 08:17 AM | Comments (5)
tags: Blogosphere , Libraries, Search and the Web , archives , blog_search , blogging , blogs , history , research , search
I spent several hours last night and this morning looking over all the posts since we started if:book last december. It's been a remarkably interesting experience working with my colleagues, exploring and defining the boundaries of our interests and effort. Here are a few posts i picked out for one reason or another. On monday we'll post a new revised mission statement for the institute .
1. Three Books That Influenced Your Worldview: The List
we launched the site with the results of our first though experiment in which we asked people to name the three books that most influenced their world view. the results were very interesting. check out the exchange with Alan Kay too.
2. networked book/book as network
kim wrote this first if:book post which mentioned the concept of a "networked book" — a subject that we keep coming back to and find increasingly exciting.
3. genre-busting books
sol gaitan was our most frequent guest blogger. the breadth of her cultural knowledge and her constant reminder that the boundaries of our world extend beyond the hyper-connected coasts of the U.S. are a crucial and welcome contribution.
4. from the nouveau roman to the nouveau romance
one of a dozen or so long posts from Dan who took a seemingly obscure subject and wove it into a deliciously interesting discussion completely relevant to our effort to understand the shifting landscape of intellectual discourse. a more recent one
5. contagious media: symptom of what's to come?
first time we experimented with making our work open and transparent. this idea grew over time and is now in the draft of our new mission statement which says, Academic institutes arose in the age of print, which informed the structure and rhythm of their work. The Institute for the Future of the Book was born in the digital era, and we seek to conduct our work in ways appropriate to the emerging modes of communication and rhythms of the networked world. Freed from the traditional print publishing cycles and hierarchies of authority, the Institute seeks to conduct its activities as much as possible in the open and in real time.
6. ted nelson & the ideologies of documents
a brilliant post by Dan about the importance of (much-maligned visionary) Ted Nelson's views on the way we choose to structure and represent knowledge.
7. it seems to be happening before our eyes, Pt 1 and Pt2
2005 is likely to be remembered as the year that we started to pay more attention to individual voices in the blogosphere than the mainstream media. The NY Times and Washington Post may never recover from the exposures that showed they were in cahoots with the Bush administration over Plamegate and the admission of wholesale unauthorized wire-tapping.
8. blog reading: what's left behind
dan wrote this post about the deficiencies of the structure of blogs. it's a recurring theme at the institute and you'll see a lot more about it in the coming year.
9. transliteracies: research in the technological, social, & cultural practices of online reading
ben re-posted this interesting discussion by Alan Liu on the changing nature of reading and browsing in an online context.
10. flushing the net down the tubes
ben's first post on the crucial subject of the coming battle in which the telcos and cable companies will try to turn the web into a broadcast medium favoring the big media companies over individual voices.
11. sober thoughts on google: privatization and privacy
thanks to ben's thougtful posts, the institute has gained a reputation for developing an even-handed view of Google book scanning and searching project.
12. the "talk to me" crew talks with the institute
now that we've got our cool new offices in williamsburg (brooklyn), we've been inviting an interesting group of folks to lunch. Liz and Bill were two of our favorite visitors, written up in a nice post by Ray. Other interesting visitors were Ken Wark, Tom De Zengotita and Mitchelll Stephens.
13. the future of the book: korea, 13th century
couldn't resist including ben's write-up to a buddhist monastery in korea — both because it has the most beautiful photo that appeared in the blog and for one of my favorite images . . . the whole monastery a kind of computer, the monks running routines to and from the database.
Posted by bob stein at 03:16 PM | Comments (1)
tags: 2005 , Blogosphere , blogging , books , ebooks
Just in time for the holidays, a little god-free fun...
The institute is pleased to announce the launch of Without Gods, a new blog by New York University journalism professor and media historian Mitchell Stephens that will serve as a public workshop and forum for the writing of his latest book. Mitch, whose previous works include A History of News and the rise of the image the fall of the word, is in the early stages of writing a narrative history of atheism, to be published in 2007 by Carroll and Graf. The book will tell the story of the human struggle to live without gods, focusing on those individuals, "from Greek philosophers to Romantic poets to formerly Islamic novelists," who have undertaken the cause of atheism - "a cause that promises no heavenly reward."
Without Gods will be a place for Mitch to think out loud and begin a substantive exchange with readers. Our hope is that the conversation will be joined, that ideas will be challenged, facts corrected, queries and probes answered; that lively and intelligent discussion will ensue. As Mitch says: "We expect that the book's acknowledgements will eventually include a number of individuals best known to me by email address."
Without Gods is the first in a series of blogs the institute is hosting to challenge the traditional relationship between authors and readers, to learn how the network might more directly inform the usually solitary business of authorship. We are interested to see how a partial exposure of the writing process might affect the eventual finished book, and at the same time to gently undermine the notion that a book can ever be entirely finished. We invite you to read Without Gods, to spread the word, and to take part in this experiment.
Posted by ben vershbow at 07:27 AM | Comments (0)
tags: Blogosphere , agnostic , atheism , atheist , blog , blogging , book-blog_experiments , books , history , philosophy , publishing , religion , writing
Alex Itin, friend and former institute artist-in-residence, continues to reinvent the blog as an art form over at IT IN place. Lately, Alex has been experimenting with that much-maligned motif of the early web, the animated GIF. Above: "My Bridge of Words."
Posted by ben vershbow at 12:45 PM | Comments (0)
tags: Blogosphere , GIF , animation , art , blog , blogging , multimedia , net_art , painting , typography
Gawker Media, the Conde Nast of the blogosphere, has just sold distribution rights for five of its blogs to Yahoo. Selected posts from Gawker, Wonkette, Gizmodo, Lifehacker and Defamer will soon appear daily on the Yahoo news portal.
Not so worrisome (or surprising) to see blogs like these going corporate. From the beginning, they've sort of pitched themselves as commodities -- the tabloids and gadget rags of the blogosphere. But when blogging comes fully front and center as the next hip business strategy -- that authentic unfiltered element with which to adorn your comapany's image (hang some humans on the doorpost) -- then we may see a massive rush to rake up the brighter talents with lucrative little hosting deals. I'd hate to see bloggers foresake their independence like this. Then again, it might clear the way for a whole new generation of authentic voices.
Posted by ben vershbow at 07:11 AM | Comments (1)
tags: Blogosphere , blogging , blogs , gawker , media , news , search , syndication , yahoo , yahoo!
Take a look at this: the Times has put up a page with links to prominent posts around the blogosphere that analyze its reporting on the Judith Miller story.
Bob was thinking about this the other day:
"perhaps it would be a good thought experiment to try to come up with interesting ideas of how to organize references on the web to the judith miller situation. how would you present an overview of the references?"
Doing it themselves, I guess the Times figures it can soften the blow. Gutsier, though, would be to place the links directly alongside the article. The Washington Post does this with all its stories in a little Technorati-powered "Who's Blogging?" window.
Posted by ben vershbow at 07:31 AM | Comments (0)
tags: Blogosphere , Publishing, Broadcast, and the Press , blogging , blogs , journalism , judith_miller , media , ny_times
it looks like one hundred years from now history may record that 2005 was the year that big (news) media gave way to the individual voice. the intersection of the ny times/judy miller debacle with the increasing influence of the blogosphere has made us conscious of the major change taking place -- RIGHT NOW.
congressman john conyers wrote today that "I find I learn more reading Arianna, Murray Waas and Lawrence O'Donnell than the New York Times or Washington Post."
wow!
Posted by bob stein at 06:50 PM | Comments (1)
tags: 2005 , Blogosphere , NYTimes , Publishing, Broadcast, and the Press , blog , blogging , blogs , huffington , huffington_post , journalism , judith_miller , media , msm , new_york_times , news , newspaper , social_software
these thoughts came immediately after reading the NY Times' sad attempt to explain how the "newspaper of record" managed to lose its integrity.
1. looks to me as if the media (ny times) has become the news and the blogging community are functioning as the real journalists. can anyone reading this blog, who has been following the judith miller situation say they didn't go to the blogosphere today to get a decent handle on how to parse what the Times just did to "cover the Judith Miller" story.
2. i want a juan cole equivalent for the judy miller story; someone who specializes in the working of behind-the-scenes washington and who knows enough about law and history to put each day's events in perpective. at the very least i want someone to present me with the ten most useful accounts on the web so that i can triangulate the problem.
3. perhaps it would be a good thought experiment to try to come up with interesting ideas of how to organize references on the web to the judith miller situation. how would you present an overview of the references?
Posted by bob stein at 09:23 PM | Comments (3)
tags: Blogosphere , NYTimes , Publishing, Broadcast, and the Press , blog , blogging , blogs , bush , journalism , judith_miller , judithmiller , leak , media , new_york_times , newspaper , newyorktimes , plame , rove , valerie_plame
Deleting my way through our daily torrent of spam, I came across a bizarre item that is, if not interesting, at least slightly amusing. The MSN-run site for one of Japan's major newspapers, Mainichi Daily News, trackbacked to my post from yesterday about japanese cell phone comics. They planted a link to a story about a part-time employee at a Nathan's Hot Dog stand in a popular Japanese comics market. Apparently, the employee made some disparaging comments on his personal blog about obsessed comic book fans (known as "otakus"), creating a small uproar and leading Nathan's Japan franchisees to issue a public apology.
Unless this is all some joke (it can be hard to tell), they seem to have found my post based on the keywords "japan" and "comics." Whether it was a robot scouring the web or a Japanese editorial sub-sub with poor english, I'm not sure. But it's disturbing that a major newspaper might be resorting to spam to promote itself. That's usually the province of online poker and penis enlargement (oh god, the robots just perked up, I'm sure).
In a way, the trackback does indirectly support my post, in so far as the Nathan's Hot Dog incident underscores the significance of comics in Japanese culture. But, c'mon Mainichi...
Posted by ben vershbow at 01:25 PM | Comments (0)
tags: Blogosphere
Talkr, a new online software, transforms your favorite blogs from text to spoken word and provides downloadable podcasts for your mp3 player. I listened to a few free samples provided on their site and was pleasantly surprised by the non-robotic voice. I love this software not only for the convenience, but also for the accessibility it will offer to sight-impaired users.

Posted by Kim White at 11:57 AM | Comments (2) | TrackBack
tags: Blogosphere
An excellent essay in last month's Common-Place, "Blogging in the Early Republic" by W. Caleb McDaniel, examines the historical antecedents of the present blogging craze, looking not to the usual suspects - world shakers like Martin Luther and Thomas Paine - but to an obscure 19th century abolitionist named Henry Clarke Wright. Wright was a prolific writer and tireless lecturer on a variety of liberal causes. He was also "an inveterate journal keeper," filling over a hundred diaries through the course of his life. On top of that, he was an avid reader, and the diaries served as a record of his voluminous consumption. McDaniel writes: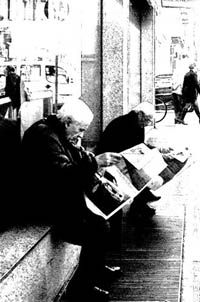 While private, the journals were also public. Wright mailed pages and even whole volumes to his friends or read them excerpts from the diaries, and many pages were later published in his numerous books. Thus, as his biographer Lewis Perry notes, in the case of Wright, "distinctions between private and public, between diaries and published writings, meant little."
Wright's journaling habit is intriguing not because of any noticeable impact it had on the politics or public discourse of his day - nor for anything memorable that he may or may not have said in the diaries themselves. Nor is it interesting for the fact that he was an active journal-keeper, for the practice was widespread in his age. Rather Wright's case is noteworthy because it is typical, typical not just of his time, but of ours. The story it tells is strikingly familiar: the story of a reader awash in a flood of information.
Wright, in his lifetime, experienced an incredible proliferation of printed materials, especially newspapers. The print revolution begun in Germany 400 years before had suddenly gone into overdrive.
The growth of the empire of newspapers had two related effects on the practices of American readers. First, the new surplus of print meant that there was more to read. Whereas readers in the colonial period had been intensive readers of selected texts like the Bible and devotional literature, by 1850 they were extensive readers, who could browse and choose from a staggering array of reading choices. Second, the shift from deference to democratization encouraged individual readers to indulge their own preferences for particular kinds of reading, preferences that were exploited and targeted by antebellum publishers. In short, readers had more printed materials to choose from, more freedom to choose, and more printed materials that were tailored to their choices.
Wright's journaling was his way of metabolizing this deluge of print, and his story draws attention to a key aspect of blogging that is often overshadowed by the more popular narrative - that of the latter-day pamphleteer, the lone political blogger chipping away at mainstream media hegemony. The fact is that most blogs are not political. The star pundits that have risen to prominence in recent years are by no means representative of the world's roughly 15 million bloggers. Yet there is one crucial characteristic that is shared by all of them - by the knitting bloggers, the dog-lover bloggers, the macrobiotic cooking bloggers, along with the Instapundits and Daily Koses: they are all records of reading.
The blog provides a means of processing and selecting from an overwhelming abundance of written matter, and of publishing that record, with commentary, for anyone who cares to read it. In some cases, these "readings" become influential in themselves, and multiple readers engage in conversations across blogs. But treating blogging first as a reading practice, and second as its own genre of writing, political or otherwise, is useful in forming a more complete picture of this new/old phenomenon. To be sure, today's abundance makes the surge in 18th century printing look like a light sprinkle. But the fundamental problem for readers is no different. Fortunately, blogs provide us with that much more power to record and annotate our readings in a way that can be shared with others. We return to Bob's observation that something profound is happening to our media consumption patterns.
As McDaniel puts it:
...readers, in a culture of abundant reading material, regularly seek out other readers, either by becoming writers themselves or by sharing their records of reading with others. That process, of course, requires cultural conditions that value democratic rather than deferential ideals of authority. But to explain how new habits of reading and writing develop, those cultural conditions matter as much—perhaps more—than economic or technological innovations. As Tocqueville knew, the explosion of newspapers in America was not just a result of their cheapness or their means of production, any more than the explosion of blogging is just a result of the fact that free and user-friendly software like Blogger is available. Perhaps, instead, blogging is the literate person's new outlet for an old need. In Wright's words, it is the need "to see more of what is going on around me." And in print cultures where there is more to see, it takes reading, writing, and association in order to see more.
(image: "old men reading" by nobody, via Flickr)
Posted by ben vershbow at 02:11 PM | Comments (1)
tags: Blogosphere , Publishing, Broadcast, and the Press , Transliteracies
This is truly strange. A pair of young American entrepreneurs is outsourcing work to China - blogging work. 25 Chinese bloggers are being hired to maintain, under anglo-american names and personae, a fleet of 500 "unrelated" blogs, whose sole purpose is to harvest advertising revenue and generate buzz for client sites (story). They call this technique "astroturfing." For it to work, they will have to train their team of low-wage, foreign scribes to adopt a voice that is convincing to Western audiences - more than that familiar character from the world of outsourcing, the cheerful lady on the tech support line introducing herself, in a suspiciously Bengali accent, as Mary Beth.
To march these sweatshop bloggers across the cultural divide, the company is undertaking a bizarre experiment in remote socialization, inundating their staff with Western music and movies, honing their pop culture instincts, and assigning lists of topics for them to master. Such a weird, morally cockeyed scheme could only be devised up by someone in the grip of severe boredom (though there is a faint whiff of cultural revolution). Sure enough, "Blogoriented," as the venture is punningly called, seems to have been conceived as a fanciful escape for two cogs (named Steve and Jeff) from the stultification of office existence. On their blog, Steve describes the genesis of the project, as well as his reservations:
My problem with this venture is that we are exploiting a once pure medium and diluting the blogosphere with what are basically lies. To Jeff this is a non-issue. He spent the last few years as a software engineer in China coordinating projects between american programmers and their outsourced counterparts. He trained the chinese programmers so well he was no longer needed and was offered a reduced salary or the door. To him this venture is his way to tap into a hot economic trend and avoid working for someone else his whole life. For me this is a way out of the cubicle. I've spent the last few years watching the clock as a financial analyst for a large credit card firm. Finding the best ways to maximize the number of clients that carry a balance was just too depressing for me. Blogs are intrinsically a blend of fact and artistry. Our product really won't be that different.
Reading the intro, it's clear that Steve has appointed himself as the troubled conscience of the team. He begins with a quote from Matthew - "For what is a man profited, if he shall gain the whole world, and lose his own soul?" (16:26) - and goes on to describe their business strategy, intermittently bemoaning the hellfire he fears will greet their bastardization of the blog form. But dreams of big bucks brush aside concerns for the immortal soul. Whether or not this questionable caper succeeds, their personal blog of Steve and Jeff promises to be an entertaining read.
Posted by ben vershbow at 01:13 PM | Comments (0) | TrackBack
tags: Blogosphere
The fifth installment of Technorati's "state of the blogosphere" round-up studies the impact of blogs on mainstream media. Data shows that the most influential sites are still the mass media heavyweights: NY Times, Washington Post, BBC etc. But the most popular blogs are not far behind. In looking at the graph below, it's important to bear in mind that what's being measured is number of links, not page hits. Technorati gauges the influence of a site by the number of other sites that reference it.
Posted by ben vershbow at 01:58 PM | Comments (0)
tags: Blogosphere
More interesting findings from Technorati's "state of the blogosphere" report. This installment focuses on "posting volume," or how active the active 55% of the world's 14.4 million blogs really is. The study shows a clear and steady increase in the average posting rate across the blogosphere. The graph below shows how volume has spiked in response to certain events, from Howard Dean's infamous scream following the Iowa primary to the July 7 London bombings.
Posted by ben vershbow at 06:22 PM | Comments (0)
tags: Blogosphere
There's a good "state of the blogosphere" post up on Technorati. According to the latest analysis, there are approximately 14.4 million blogs, and that number is on track to double every 5.5 months, with a new blog created each second. A noteworthy statistic, and one that has remained constant for at least a year, is that approximately 55% of blogs are active. So, high rate of birth, and high rate of stagnation. That's the web.
Posted by ben vershbow at 04:58 PM | Comments (0)
tags: Blogosphere
"when blogs band together - a new hybrid form" - examining the phenomenon of multi-blog publications

Launched this May by Mark Sarvas, author of Elegant Variation, the litblog co-op unites 21 literary weblogs "for the purpose of drawing attention to the best of contemporary fiction, authors and presses that are struggling to be noticed in a flooded marketplace." The LBC blog devotes its energies, and intermittent posting, to "Read This!" - a quarterly endorsement of an obscure or undeservedly ignored book, intended to expose important works that the mainstream press has ignored.
For as long as it has existed, the lit blogging community has sought to countervail the steadily shrinking coverage of books in the media, but it's not at all clear whether their impact is felt beyond limited circles. "Read This!" seeks to amplify the strongest recommendations, resolving the bloggers' voices into one crystalline note of praise that, hopefully, people will be unable to ignore.
The first volume to receive the LBC imprimatur is Kate Atkinson's "Case Histories," a literary riff on the traditional crime novel. The choice was by no means unanimous. Some complained that the book was not sufficiently needy of promotion, seeing as Atkinson's previous novel, "Behind the Scenes at the Museum," won the Whitbread award, and "Case Histories" is published by Little, Brown - not exactly a fringe press. But in the end, the opposing camps were reconciled (allowing the "minority opinion" to vent itself) and agreed to throw their collective weight behind Atkinson's book. We have yet to see whether the endorsement will have any affect on the book's sales (inclusion in Forbes' "Best of the Web" certainly won't hurt), but when enough influential voices start talking about the same thing, someone is bound to listen.
Posted by ben vershbow at 04:17 PM | Comments (0)
tags: Blogosphere
"when blogs band together - a new hybrid form" - examining the phenomenon of multi-blog publications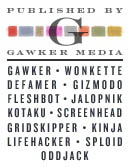 Few media outfits have ridden the blog phenomenon quite as cleverly as Gawker Media, the three-year-old brainchild of publisher Nick Denton. Gawker Media "takes the weblog format and applies the business model of a traditional magazine," bringing together some of the web's most popular rags, including Gizmodo, Lifehacker, Wonkette, and Fleshbot. With some of the highest traffic figures on the web (and the ad revenue that comes with them) it's not a stretch to say that Gawker Media has become the Condé Nast of the blogosphere.
But unlike that goliath of the magazine world, Denton's fledgling empire deals almost exclusively in second-hand material, and its staff is made up entirely of editors with not a writer to be found. Gawker blogs are of the pointer variety, directing readers to juicy finds around the world wide web with a splash of wit or snarky commentary. Of course, this is the formula for millions of weblogs - a couple of links with a bit of context. Denton's coup has been to identify the best curatorial talents and collect them under a single umbrella.
The network's flagship is, of course, Gawker, the addictive Manhattan gossip sheet, considered a must-read by society-watchers and scandal junkies. Defamer is its L.A. counterpart. Gawker Media bloggers actually receive a modest annual salary and are required to hit a minimum number of posts per day. Currently, there are 13 blogs in the Gawker tent, but the network is sure to expand. There's even a Gawker observer blog, Gawkerist, whose author's calculated ploy to capture Denton's attention recently succeeded in securing him the editorship of Gawker's urban travel blog, Gridskipper.
Gawker Media's rise indicates that there is a broad demand for savvy, charismatic guides through the information blitz of the web. Success does not depend on getting readers to spend long stretches of time on one of the 13 sites, only on getting them to visit briefly, catching an ad or two in their peripheral vision, before getting bounced somewhere else. Gawker Media is a trampoline. It's where people come to get bounced. This suggests that, though the author may enjoy primacy in the world of print, on the web it is more often the editor that counts.
Posted by ben vershbow at 02:58 PM | Comments (0)
tags: Blogosphere
"when blogs band together - a new hybrid form" - examining the phenomenon of multi-blog publications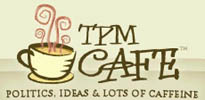 TPM Café is a new site from Joshua Micah Marshall, author of the immensely popular Talking Points Memo. Building on the success of his personal site, Marshall has set up a veritable fleet of weblogs by an impressive roster of writers, thinkers and activists - both established and first-time bloggers - in what he hopes to become a focal point for liberal political energies.
On the main page, you'll find the Coffee House, a 13-author blog covering "issues ranging from public policy to the arts, books, science and religion" - the lead stories, as it were. To the side is a list of the cafe's other blogs. The recently launched TPM Café Book Club will devote a rotating discussion space to a popular book, giving the author the opportunity to expand upon their work and engage with readers (there's currently an interesting little spar between famed liberal activist Todd Gitlin and "What's the Matter With Kansas?" author Thomas Frank). America Abroad brings together foreign affairs heavyweights like G. John Ikenberry, Ivo Daalder and Anne-Marie Slaughter to engage the whirlwind of American foreign policy. House of Labor is about "the future of the American labor movement," while Warren Reports examines the American Middle Class. And there are several other blogs, including an open venue for registered readers, as well as a variety of discussion forums.
TPM Café seems to be off to a good start. It will be interesting to watch how Marshall makes the transition from blogger to editor.
Posted by ben vershbow at 03:34 PM | Comments (0)
tags: Blogosphere
A million voices in the wilderness singing solo.
Most regular blog readers would agree that without aggregators like Bloglines or Newsgator, sifting through the day's postings would be exceedingly tiresome, if not impossible. Why manage dozens of bookmarks, and plod through page after page, when a free aggregating service will keep all your favorite sites in one place, allowing for quick scanning of headlines to determine where you'd like to spend more time reading?
It's like a newsstand stocked with publications that you yourself have syndicated. Different themes can be organized in different folders: here are my political feeds, here are my arts feeds, here are my tech feeds etc. These folders are like your daily magazines. Then there is Technorati, the web's premier blog indexer, where readers can search over 13 million blogs by tag, keyword and prestige (number of incoming links).
Bloggers, too, have ways of tying each other together. Shout outs, quotes, comments, trackbacks, link lists - all of these serve to interweave, and this is in large part how the blogosphere has grown. Over time, certain blogs come to be associated with one another, and coherent communities emerge.
But what happens when blogs choose to aggregate themselves under a single masthead? What happens when the voices decide to group together in a chorus? Do they then become a newspaper? A magazine? A union? A league? A society? It may not yet have a name, but some blogs have in fact started banding together to form a new kind of hybrid publication that is difficult to define.
Part cocktail party, part basement pamphlet press. It's looser than a magazine, and more conversational. It is a sort of union, but its dues are purely in the form of a blogger's personal payload - their insight, their charisma, their dedication to certain issues, their unique voice. They are presided over by an editorial authority, but not one that gets in between the writers' lines or sets a word limit. These are still very much blogs, and authors retain almost total autonomy. Their only obligation is to keep the good stuff coming. Over the next few days, I'll be profiling a few of these sites. This is by no means a comprehensive list, so please don't hesitate to recommend others that in some way fit the bill.
1. TPM Café
2. Gawker Media
Posted by ben vershbow at 02:32 PM | Comments (0)
tags: Blogosphere
Since Ben's on vacation (you may have noticed the crickets chirping in his absence), I've been in charge of pruning the comment- and trackback-spam that if:book and the rest of our website generates. Hopefully, you haven't noticed much of this around here, but it arrives in ever-increasing volume: lately, we've been getting upwards of twenty comment-spams per day. They've become increasingly less coherent: while once they attempted to cajole our visitors to try out dubious sexual aids or patronize online casinos, the latest batch have been streams of random letters linking to websites that don't seem to exist.
To combat the problem (which I imagine is much the same at any blog), we've installed a Movable Type plugin that filters comments and trackbacks. It does a pretty good job: like a spam filter in a mail program, it can guess what spam is, and it learns quickly. One curious piece of its method, however, might have wider repercussions for how we read & use blogs: it automatically suspects comments made on older posts to be comment spam. This is, by and large, correct: there aren't a lot of people finding our old posts and leaving comments on them. But this does feel like we're increasingly killing off old discussions. This ties into my musings from two weeks back, when I wondered how well blogs function as an archive.
A discussion at Slashdot zooms out to look at the ever decreasing signal-to-noise ratio from the soi-disantblogosphere as a whole. Spam blogs – often created to drive up Google rankings, for example – are becoming ever more common; just as it's simple for you to create a blog, it's simple for a robot to create a thousand. At what point does the sheer volume of spam start turning users away?
A decent guess, if the history of forms on the web is any indicator, is that something new will arise. Mentioned in the Slashdot discussion is Usenet, the newsgroup-based discussion system. Spam first reared its ugly head on Usenet, and by the late 1990s had almost consumed it. As the level of spam rose, users departed - some, undoubtedly, to the comparatively safer environs of the blogosphere. What comes after blogs?
While on the history of blogs: Matt Sharkey has an interesting history of suck.com (here helpfully archived by its creator, Carl Steadman). Suck wasn't a blog as we know them (readers could email the author, but not directly leave comments for others to see), but it did premiere (in 1995) what would become a key concept of the blog, having fresh concept daily. It also brought snarky semi-anonymous commentators to the Web, and the idea of using hyperlinks for humor. They did get in five solid years, though, and the site is arguably an important milestone in the history of how we read online. Browsing through Steadman's archive provides food for thought about archives on the web: while it's still entertaining, you quickly notice that almost every one of the links is broken. Nothing lasts forever.
Posted by dan visel at 06:37 PM | Comments (5)
tags: Blogosphere
People sometimes wonder what would have happened if the Soviet Union had survived long enough to experience the internet. It's a delicious "what if" scenario to contemplate. The USSR was quite skilled at using broadcast and print media to achieve total message discipline (the Bush administration can only dream), but what would have happened if a totally decentralized medium like the web (a control freak's nightmare) sprung up right under the Kremlin's boots? Would the dissidents have bubbled over into cyberspace in a surging tide too powerful to control? Or would the the government have cracked down brutally, or cut off the emerging technology before it could develop, drawing the iron curtain still further over the information commons? Someone should write a novel (à la Thomas Harris, Philip Roth)..
But look to China today, and we can get at least some idea of what might have happened. Granted, China is now a booming frontier of global capitalism, having all but abandoned the communist economic model. But the regime is still quite Soviet in its attitudes toward the media (which it totally controls) and toward expressions of political dissent (which it forbids and punishes). The internet presents a particularly devilish challenge.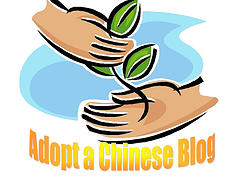 In response, the government has set up a "Great Firewall" blocking off certain sections of the web (anything from Google News to Human Rights Watch) that it would rather its citizens didn't see. Not wanting to get shut out of the world's biggest emerging market, American corporations like Yahoo, Google, and most recently Microsoft, have complied with state demands that certain services, and even certain terms like "democracy," "freedom" or "human rights," are blocked in Chinese versions of their web applications. In addition, the government recently passed legislation requiring all websites to be registered. Anything deemed inappropriate gets taken off its server. A hundred flowers may bloom on the internet, but not if the government cuts them off at the root.
It's estimated there are about 1 million Chinese blogs, and that number is sure to increase ten, twenty a hundred fold. Who knows? If it gets to that point, the government probably won't be able to keep up. But for now, bloggers with even slightly controversial politics are in danger of getting shut down. This is why some Chinese bloggers are moving their sites abroad, seeking political haven on western servers. Isaac Mao, a venture capitalist in Shanghai for internet startups, self-professed "meta idea" generator, and one of the first Chinese bloggers, has set up an "adopt-a-blog" program that matches up fellow bloggers with foreigners willing to make a little extra room on their servers. It's a great idea, and a chance for the blogosphere to come together as a global community.
Additional links:
More about Isaac Mao in Wired: "Chinese Blogger Slams Microsoft"
Someone found a way to circumvent Microsoft's block on "freedom," "democracy" etc.: "Loophole lets 'Freedom' ring in Chinese MSN blogs" (with complete instructions here)
Posted by ben vershbow at 12:57 PM | Comments (1)
tags: Blogosphere , Network_Freedom
The basement of the Harvard Bookstore in Cambridge sells used books. There's an enormous market for used books in Cambridge, and anything interesting that winds up there tends to be immediately snapped up. The past few times I've gone to look at the fiction shelves, I've been struck by a big color-coded section in the middle that doesn't change - a dozen or so books from Jerry Jenkins &Tim LaHaye's phenomenally popular Left Behind series, a shotgun wedding of Tom Clancy and the Book of Revelation carried out over thirteen volumes (so far). About half the books on the shelf are the first volume. None of them look like they've been read. They're quite cheap.
Since the books started coming out (in 1996), there's been an almost complete absence of discussion of the books in the mainstream media, save the occasional outburst about this lack of discussion ("These books have sold 60,000,000 copies! And nobody we know reads them!"). I suspect my attitude towards the books is similar to that of many blue-state readers: we know these books are enormously popular in the middle of the country, and it's clearly our cultural/political duty to find out why . . . but flipping through the first one in the basement of the Harvard Bookstore, I'm stricken by the wooden prose. I can't read this. Also, there's the matter of time: I still haven't finished Proust. The same sort of thing seems to happen to other civic-minded would-be readers.
And then, on the Internet, Fred Clark's blog Slacktivist gallops in to save the day. For the past year and a half, Mr. Clark has been engaged in a close reading of the series, explicating the text and the issues it raises in an increasingly fundamentalist America. This project isn't a full-time project; his blog has other commentary, but once a week, he stops to analyze a few pages of Left Behind. It helps that Mr. Clark is a fine writer; his commentary is funny, personal - recollections from a Christian childhood pop up from time to time - and he has enough of a theological background to elucidate telling details and the history behind Jenkins & LaHaye's particular brand of end-times fever.
It's an admirable project as well because of the shear magnitude of it. In his first year and a half, he's made it through 105 pages, working at the rate of roughly six days a page. By my calculations, it will take him eighty more years to finish the 4900 pages of the series, though additional prequels have been declared, which will take the total up somewhere over a century. Lengthwise, he seems to be running about neck-and-neck, though it's hard to tell on the screen. This can't help but remind one of "On Exactitude in Science", the parable by Jorge Luis Borges & Adolfo Bioy Casares about the map that became the size of the territory it set out to survey. And of course, when a map gets this big, you're going to have issues with organization.
How do we start reading something like this? I was forwarded a link to the blog itself - http://slacktivist.typepad.com - and found the top entry dealing with Left Behind. Not all of Slacktivist deals with Left Behind - but enough of it does that Mr. Clark has made a separate category for it, http://slacktivist.typepad.com/slacktivist/left_behind. Clicking on that gets you a single page with all of the Left Behind posts, from newest to oldest. Being interested (and a fast reader) I decided to read the whole thing. To do this, you have to start at the bottom, scroll down a little bit (these are long posts), and then scroll up to get to the next chronological post. This does become, at length, tiring.
One point that's important to remember here: the Left Behind component of Slacktivist differs from the majority of blogs in that its information is not especially time-sensitive. While there are references to ongoing current events (the Iraq war, for example, not without relevance to the text under discussion), these references don't need to be read in real time. A reader could start reading his close reading at any time without much loss. (Granted, there is the question of relevance: it would be nice if in ten years nobody remembered Left Behind, but that probably won't be the case: Clark points out Hal Lindsay's The Late Great Planet Earth from the 1970s as prefiguring the series - and, it's worth noting, it still sells frighteningly well.)
A further complication for the would-be reader: Mr. Clark's posts, while they form the spine of his creation, are not the whole of it: his writing has attracted an enormous number of comments from his readers - somewhere over thirty comments for each of his recent posts, occasionally more than sixty. These comments, as you might expect, are all over the place - some are brilliant glosses, some are from confused Left Behind followers who have stumbled in, some declare the confused Left Behind followers to be idiots, and there's the inevitable comment-spam, scourge of the blog-age. Some have fantastic archived conversations of their own. Some are referenced in later posts by Mr. Clark, and become part of the main text. It's almost impossible to read all the comments because there are so many of them; it's hard to tell from the "Comments (33)" link if the thirty-three comments are worth reading. It's also much more difficult to read the comments chronologically: some older posts are still, a year later, generating comments, becoming weird zombie conversations.
What can be done to make this a more pleasant reading experience? Because blogs keep their entries in a database, it shouldn't be that hard to make a front end webpage that displays the entries in chronological order. It also wouldn't be hard to paginate the entries so that Mr. Clark's more than 50,000 words are in more digestible chunks. I'm not sure what could be done about the comments, though. Seventy-five posts have generated 1738 comments, scattered in time. Here's a rough diagram of how everything is connected:
The bottom row of blue dots represent Mr. Clark's posts over time (from earliest to most recent). One post leads linearly to the next. The rows above represent comments: the first red row are comments on the first post (an arrow which leads to the first), which are frequent at first and then tail off. This pattern is followed by all the other comments on posts. Comments tend to influence following comments (although this isn't necessarily true). But, unless you have eagle-eyed commentators who make sure to click on every comment link every day, different comment streams will probably not be influencing each other over time. The conversation has forked, and will continue forking.
A recent study seems to indicate that the success of a blog (as measured by advertising) is directly related to the feeling of community engendered, in no small part, by the ability to comment and discuss. But that ability to comment and discuss seems to get lost with time. What's happening here might be an inherent limitation in the form of the blog: while they're not strictly time-sensitive, they end up being that way. This could perhaps be changed if there were better ways into the archives, or if notifications were sent to the author and commentators on posts as new comments were posted. But: especially when dealing with an enormous volume of comments, as is the case at Slacktivist, the dialogue becomes increasingly asynchronous as time goes on.
We don't think of physical books as having this problem because we assume that we can't directly interact with the author and don't expect to be able to do so. With electronic media, the boundaries are still unclear: we expect more.
Posted by dan visel at 05:29 PM | Comments (0)
tags: Blogosphere , Transliteracies
You may have noticed a new line of metadata at the bottom of posts on if:book - Technorati tags. Technorati is perhaps the most dynamic blog-tracking site on the web, scanning over 10 million weblogs and ranking their authority according to the number of links they receive from around the blogosphere. Technorati tags are socially constructed classification terms - keywords or categories that authors apply to their entries so that they show up in Technorati searches. Taken together, these thousands of tags are what make up the Technorati folksonomy - a taxonomic system created by users from the bottom-up, instead of by an information architect (like a librarian) from the top-down. Folksonomies are less rigid than shelf-based hierarchies (see "the only group that can organize everything is everybody"). They can cope with subtle but crucial differences between synonyms like movies, films, flicks, and cinema - or devlish distinctions like art versus entertainment. Tags can help bloggers reach small niche areas of interest, trickling content down into the hard-to-reach corners. But being highly idiosyncratic, folksonomic tags tend to proliferate rapidly. Most are too obscure or particularly worded to become widely adopted points of reference. Right now, sites like Technorati or Flickr deal with this problem by ranking. The irony is that, for all the promise of personal expression through folksonomy, the tags that make it to the top of the pile tend to be pretty conventional. Less formal than a library catalogue, to be sure, but nothing terribly colorful (nuance fares better in personal bookmarking systems like del.icio.us). And again, we are struck with this problem, endemic on the web, of authority meaning simply who's popular. In that regard, the web is still a lot like high school.
(Mechanics: we're able to ping specific tags with the great Technorati Tag plugin for Movable Type)
Posted by ben vershbow at 01:41 PM | Comments (0)
tags: Blogosphere
A couple of interesting experiments going on with blogs and books..
Dave Munger is taking the blog on a test drive as an ebook reader, putting together what he calls a "blook." To show he means business, he's chosen Moby Dick as the pilot text (but before starting, he's working out formatting issues with Melville's short story Bartleby, the Scrivener). I'm intrigued by the idea of using the blog form to generate discussion of a text - breaking it up into serial posts, jotting notes and analysis in the comment stream. It could make for a nice communal reading experience, as in a lit class, or virtual book club. It's a game: drop the book in the blog and it ripples; different subjective worlds (of the readers) converge and collide. It's very suggestive to combine this most conversational of media with the frozen, linear novel. For solitary reading, however, I'm not convinced that this would be a useful format.
Spark Armada, a "digital lifestyle, social software, creativity and science fiction conversation hub" in Israel, recently kicked off the "Keyboard" project, inviting bloggers to post stories on their sites that will be considered for inclusion in a print anthology. The idea seems to be to use the blogosphere's mode of interwoven conversation as a way to generate creative work. The endpoint may be a conventional printed object, but Keyboard is interested in taking a different route in getting there.
Posted by ben vershbow at 05:46 PM | Comments (3) | TrackBack
tags: Blogosphere

"Baghdad Burning" collects roughly a year's worth of posts from the blogger known as Riverbend, the 25-year-old Iraqi woman who has been electrifying western readers with her regular reports from the tumultuous heart of the American occupation. But do blogs necessarily stack up as books? Conversational Reading points to a San Francisco Chronicle review that says they don't, just as binding a stack of news articles does not make a coherent work of history: "'Baghdad Burning' fails because the characters and anecdotes are too varied to establish a compelling narrative." Riverbend may very well have a good book to write, but "Baghdad Burning" just seems like slick packaging, reminding us that a book is much more than just a vessel. As a blog, Riverbend soars. As a book, it clatters around like nuts and bolts.
Posted by ben vershbow at 05:58 PM | Comments (0)
tags: Blogosphere
Juan Cole elaborates upon the differences between blogging and the mainstream media (MSM), underscoring the danger of a Murdoch move into that sphere (see just posted: "blog on a leash").
"...we are independent actors, not part of a small set of multi-billion dollar corporations. The difference is that we are not under the constraints of making a 15% profit. The difference is that we are a distributed information system, whereas MSM is like a set of stand-alone mainframes. The difference is that we can say what we damn well please."
and later..
"Blogs operate in a different political economy than does mainstream media. Bloggers' "editors" are the readers and the Daily Kos and Eschaton commentators who use collective intelligence to improve them. Their motive is not the profit motive for the most part. Most bloggers are hobbyists."
People sneer at blogs as amateur, as just the "demos" blowing off steam. But what's a democracy without the demos? That "collective intelligence" is what one hopes for in a truly participatory democracy. Independent voices. In conversation. It seems inevitable that some blogs will become commercialized, or will leash themselves to mainstream media. The cover story in the latest issue of Business Week focuses on how "blogs will change your business." But these moves will not be about the collective intelligence Juan Cole is talking about.
I've also been thinking lately about blogs as a learning tool. Writing for an audience, whether in the dozens or in the thousands, helps hone writing and thinking. Let's discuss this further..
Posted by ben vershbow at 05:41 PM | Comments (0)
tags: Blogosphere
How much longer will print newspapers be around? Earlier this month, in a speech to the American Society of Newspaper Editors, Rupert Murdoch gave a shockingly clear-eyed appraisal of print journalism in the digital age, calling for an end to complacency in the face of "a revolution in the way young people are accessing news."
"They don't want to rely on the morning paper for their up-to-date information. They don't want to rely on a god-like figure from above to tell them what's important. And to carry the religion analogy a bit further, they certainly don't want news presented as gospel. Instead, they want their news on demand, when it works for them. They want control over their media, instead of being controlled by it."
Murdoch clearly understands the forces at work and is keen to adapt in times of change. Print is still important, he says, but less so by the day. We should not take for granted that the traditional broadsheet will still be in use even one generation from now. We must focus on improving the way news is presented on the web. He talks about the inevitable shift to web advertising, hybrid forms for web content combining text and video (simply a merging of two of his empires), and bringing blogs into the news apparatus.
It is this last point about blogs that made me wary... especially in terms of the "control over the media" that he articulates in the quote above. The founder of Fox News understands that control can go two ways... Control can be construed simply as more choice for the viewer - more formats, more frequency, but also the power to choose the kind of spin, or presumed shared values that come with your news. This has been the success of Fox, with its trademark blend of hard news and hyper-politicized slant. But Fox is billed as serious news and is relied on by millions as a primary source of information. How much are they thinking about that as a choice? Here we get into control of a different kind. It's not hard to imagine a few key blogs getting hitched up to a newspaper as a sort of web-based O'Reilly Factor or Hannity and Colmes. Many newspapers are already experimenting with bringing blogs into the fold, but there's still a fairly clear line between news and commentary. What if blogs, or something descended from blogs, became the news?
Everyone is wondering where the blog phenomenon might lead. Is it a transitional medium that will eventually lose steam? Or will blogs get co-opted by big media and join the spectacle of punditry that so dominates television and radio? Say what you will about bloggers today - that they are hacks, windbags, amateurs - but it's hard to argue that they aren't independent, that they don't function in their own sphere. What's been so impressive is how they've expanded the domain of the op-ed and letters-to-the-editor pages, actually emphasizing the line between opinion and news. Blogs can break stories too, and often act as a corrective to the mainstream media. But take away professional reporting altogether and you remove the foil that defines their existence. There's a new kind of media diversity coming into being on the web: new kinds of journalism, the evolution of an in-between class of citizen journalists, and of course, blogs. How does one weave it all together to form a view of the world? Murdoch seems to have some ideas. What's scary is that he might be dreaming of a world in which all news comes in a sort of bloggish wrapping - the Foxification of web news.
Other useful reading on the uncertain future of newspapers:
- "Abandoning the News" - report from the Carnegie Corporation about news-reading habits of 18 to 34-year-olds
- good comment on the Carnegie report
- good post on PressThink: "Laying the Newspaper Gently Down to Die"
- from the Economist: "Yesterday's Papers"
- from American Journalism Review: "Reversing the Slide" - on the Washington Post's efforts to counter a recent sharp decline in circulation
Posted by ben vershbow at 03:31 PM | Comments (0)
tags: Blogosphere
The blogosphere population has topped 8 million!
see PubSub tracking
Posted by ben vershbow at 10:45 AM | Comments (1)
tags: Blogosphere
Bob talks about the book as metaphor. It is the thing that does the heavy lifting, a technology that allows us to convey our thoughts through a concrete vehicle. This site looks at how that vehicle is changing as a new electronic means of conveying written information begins to come of age.
When asked to imagine a metaphor for "the book," we come up with something more organic, a lumbering behemoth with a hundred arms, waving anemone-like through the air to catch out particles of human discourse. The creature has some kind of hair or fur entangled with innumerable flotsam and jetsam. It is buzzing with attendant parasitical organisms, and encrusted with barnacles. To ask if the behemoth has a future is not the right question because the book, as we are picturing it in this analogy, is an immortal. The electronic incarnation of the book does not kill the old behemoth, but rather becomes part of it.
In his afterword to "the Future of the Book," Umberto Eco noted that:
"In the history of culture it has never happened that something has killed something else, something has profoundly changed something else." We are interested in the nature of this change as it relates to the book and its evolution.
To examine this heavy lifting device, to define and to understand this aggregate behemoth is the project of our "future of the book" blog. To begin, we have initiated a few thought experiments and put forth several questions that we hope will engender productive discourse. We welcome ideas and suggestions for future experiments.
Go to Thought Experiment #1: Three Books That Influenced Your Worldview
Posted by Kim White at 10:33 AM | Comments (0)
tags: Blogosphere , General , Thought Experiments , blogs , book , books , ebook , ebooks , history_of_the_book , the_form_of_the_book , the_networked_book