Listing entries tagged with video
1 | 2 | 3 | 4
Alex Itin just cross-posted a wonderful new piece on his blog, and Vimeo.
I watched it on Vimeo and was struck by the terrific back and forth discussion between Alex and the people who are looking at his work. It's gone beyond "cool video dude" and "you rock" to include rather thoughtful sharing of feelings and riffs on ideas for new work. By engaging with his "readers" in the way that he is, Alex is building a community around his work. He is inventing a new medium and unconsciously taking on the role of "author in a networked environment" that we talk about so often on these pages.
Check out this exchange on Vimeo about the video: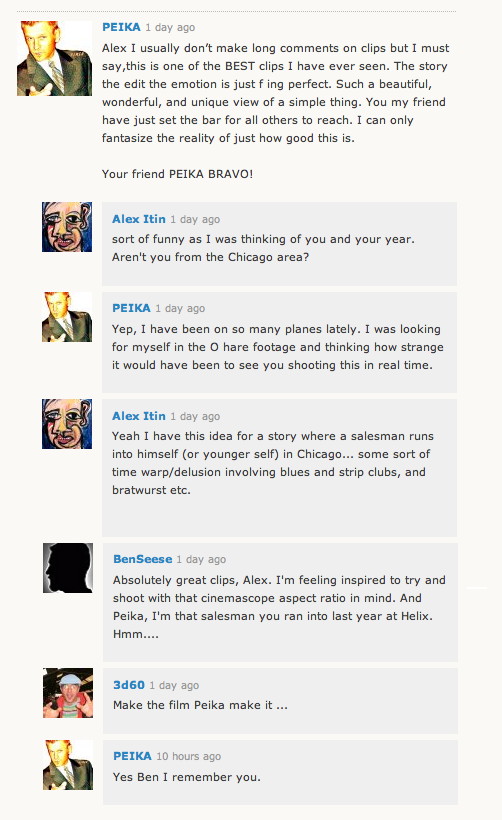 I am struck by the compromise Alex has to make as an artist in order to build a community around his work. When we first met, Alex was making brilliant multi-modal works combining his paintings, video and audio mash-ups. While on the one hand he had complete control over how the elements appeared and combined it was done in proprietary software which created standalone documents which seriously limited the size of his potential audience. In 2005 he became the institute's first artist in residence and we made a blog for him where he started posting a continuous stream of individual works. Moving onto the web provided a much larger audience, but the blog format meant that he lost the ability to make complex layered works. Alex's big web breakthrough came when he started to post his paintings to Flickr and his videos to Vimeo. This allowed him to begin a dialog with his audience and even to begin a series of exciting collaborations with other artists. But at the expense of having to put his paintings on one site and his videos on another.
The balkanization of art works (video here, photos there, and audio in yet another space) in the web 2.0 environment is frustrating, but i completely understand why it's better to show your work in a place which fosters a dynamic and lively back and forth. I look forward to the day when artists won't have to make a trade-off between form/content and community.
Sophie 1.0 is being released next week and Alex is the first artist we're giving it to. Sophie documents don't display in a web page (yet) but they do have an online component which enables people to have a conversation about the work in the "margin" of the work itself. Stay tuned, we'll put an announcement up here of Alex's first Sophie.
Posted by bob stein at 2:13 PM | Comments (0)
tags: Sophie , Web2.0 , art , video
read this 01.16.2008, 1:27 PM
An interesting experiment on Vimeo. See what's going on?
Via IT IN place.
Posted by ben vershbow at 1:27 PM | Comments (1)
tags: animation , reading , video
Last week there was a wave of takedowns on YouTube of copyright-infringing material — mostly clips from television and movies. MediaCommons, the nascent media studies network we help to run, felt this rather acutely. In Media Res, an area of the site where media scholars post and comment on video clips, uses YouTube and other free hosting sites like Veoh and blip.tv to stream its video. The upside of this is that it's convenient, free and fast. The downside is that it leaves In Media Res, which is quickly becoming a valuable archive of critically annotated media artifacts, vulnerable to the copyright purges that periodically sweep fan-driven media sites, YouTube especially.
In this latest episode, a full 27 posts on In Media Res suddenly found themselves with gaping holes where video clips once had been. The biggest single takedown we've yet experienced. Fortunately, since we regard these sorts of media quotations as fair use, we make it a policy to rip backups of every externally hosted clip so that we can remount them on our own server in the event of a takedown. And so, with a little work, nearly everything was restored — there were a few clips that for various reasons we had failed to back up. We're still trying to scrounge up other copies.
The MediaCommons fair use statement reads as follows:
MediaCommons is a strong advocate for the right of media scholars to quote from the materials they analyze, as protected by the principle of "fair use." If such quotation is necessary to a scholar's argument, if the quotation serves to support a scholar's original analysis or pedagogical purpose, and if the quotation does not harm the market value of the original text -- but rather, and on the contrary, enhances it -- we must defend the scholar's right to quote from the media texts under study.
The good news is that In Media Res carries on relatively unruffled, but these recent events serve as a sobering reminder of the fragility of the media ecology we are collectively building, of the importance of the all too infrequently invoked right of fair use in non-textual media contexts, and of the need for more robust, legally insulated media archives. They also supply us with a handy moral: keep backups of everything. Without a practical contingency plan, fair use is just a bunch of words.
Incidentally, some of these questions were raised in a good In Media Res post last August by Sharon Shahaf of the University of Texas, Austin: The Promises and Challenges of Fan-Based On-Line Archives for Global Television.
Posted by ben vershbow at 2:18 PM | Comments (2)
tags: Education , academic , copyright , fairuse , fanculture , mediacommons , video , youtube
The New York Times continues to do quality interactive work online. Take a look at this recent feature that allows you to delve through video and transcript from the final Democratic presidential candidate debate in Iowa (Dec. 13, '07). It begins with a lovely navigation tool that allows you to jump through the video topic by topic. Clicking text in the transcript (center column) or a topic from the list (right column) jumps you directly to the corresponding place in the video.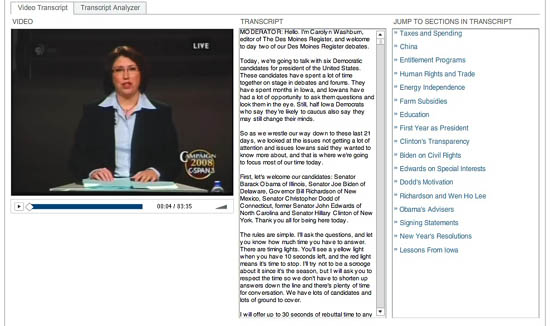 The second part is a "transcript analyzer," which gives a visual overview of the debate. The text is laid out in miniature in a simple, clean schematic, navigable by speaker. Click a name in the left column and the speaker's remarks are highlighted on the schematic. Hover over any block of text and that detail of the transcript pops up for you to read. You can also search the debate by keyword and see word counts and speaking times for each candidate.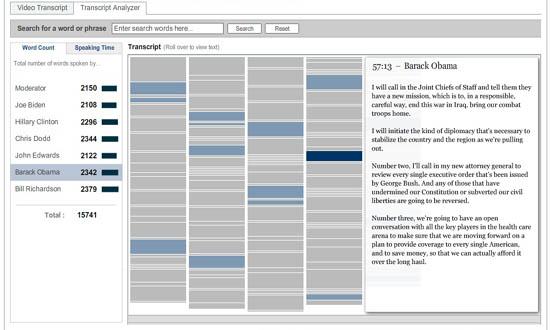 These are fantastic tools — if only they were more widely available. These would be amazing extensions to CommentPress.
Posted by ben vershbow at 1:16 AM | Comments (1)
tags: NYTimes , commentpress , debate , politics , reading , video , visualization
Random House Canada underwrote a series of short videos riffing on Douglas Coupland's new novel The Gum Thief produced by the slick Toronto studio Crush Inc. These were forwarded to me by Alex Itin, who described watching them as a kind of "cinematic reading." Watch, you'll see what he means. There are three basic storylines, each consisting of three clips. This one, from the "Glove Pond" sequence, is particularly clever in its use of old magazines:
All the videos are available here at Crush Inc. Or on Coupland's YouTube page.
Posted by ben vershbow at 8:36 AM | Comments (0)
tags: animation , books , booktrailers , publishing , reading , video
I've never been a fan of book trailers, but this disturbing six-minute agitprop piece promoting Naomi Klein's new book The Shock Doctrine: The Rise of Disaster Capitalism is genre-transcending. It doesn't hurt that Klein teamed up with Mexican director Alfonso Cuarón, who made what was for my money the best major release picture of last year, "Children of Men." Here, Klein and Cuarón are co-writers, Cuarón's son Jonás directs and edits, and Klein provides narration over a melange of chilling footage and animation that sets up her central thesis and metaphor: that free market capitalist reforms are generally advanced, undemocratically, through breaches in the social psyche created by political, economic, environmental or military shocks. It's a shocking little video. Make you wanna read the book?
Posted by ben vershbow at 6:48 PM | Comments (7)
tags: alfonsocuaron , books , booktrailers , film , globalization , naomiklein , video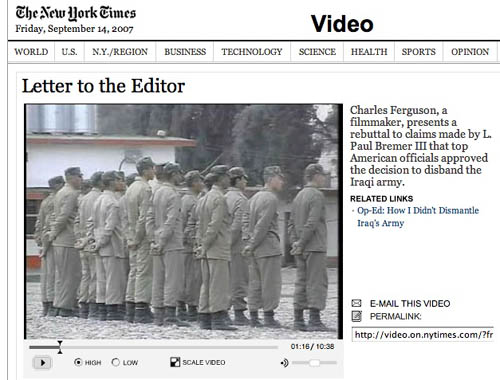 The Times has published its first video "letter to the editor," a 10-minute mini-documentary by Charles Ferguson on the decision by L. Paul Bremer and other US officials to disband the Iraqi army shortly after the US occupation began. The video is posted as a rebuttal to a recent op-ed by Bremer that tried to redistribute some of the blame for that catastrophic blunder that arguably gave birth to the Sunni insurgency.
This is no doubt a milestone for the paper, although calling it a letter to the editor is slightly disingenuous. Ferguson isn't just your average concerned reader, he's a highly respected filmmaker and author who has made a full length doc about Iraq, "No End in Sight," from which much of this video's material is taken.
Moreover, at ten minutes, and meticulously edited and produced, filled with interviews with top military brass and gov't officials, the clip is more on par (at the very least) with a full op-ed. The main opinion page even features it as such—under op-ed contributors—rather than placing it down among the letters. Will we eventually see actual ad hoc video letters to the editor from "readers" at large? That could be interesting.
Nomenclature aside, though, this is a fantastic broadening of the Times' editorial output. Once again, they prove themselves to be one of the more innovative digital publishers around.
Posted by ben vershbow at 12:02 AM | Comments (1)
tags: iraq , journalism , multimedia , newspaper , newyorktimes , video
Alex Juhasz, a prof at Pitzer College and member of the MediaCommons community, has just kicked off an exciting experimental media studies course, "Learning From YouTube," which will be conducted on and through the online video site. The NY Times/AP reports.
The class will be largely student-driven, developed on the fly through the methods of self-organization and viral production that are the MO of YouTube. In Juhasz's intro to the course (which you can watch below), she expresses skepticism about the corporate video-sharing behemoth as a viable "model for democratic media," but, in the spirit of merging theory with practice, offers this class as an opportunity to open up new critical conversations about the YouTube phenomenon, and perhaps to devise more "radical possibilities."
Over on the MediaCommons blog, Avi Santo provides a little context:
...this initiative is part of a long history of distance learning efforts, though taken to another level, both because of the melding of subject matter and delivery options, but also the ways this class blurs classroom boundaries physically and conceptually. We need to acknowledge this history, both innovative and failed, if we want to see Juhasz's efforts as more than an interesting experiment, but as one emerging out of a long tradition of redefining how learning happens. As media scholars, we are on the forefront of this redefinition, able to both teach about and through these technologies and able to use our efforts to both critique and acknowledge their uses and limitations...
Posted by ben vershbow at 12:20 PM | Comments (1)
tags: Education , mediacommons , video , youtube
Sorry to sink for a moment into celebrity gossipsville, but this video had me utterly mesmerized for the past four minutes. Basically, this guy's arguing that Britney Spears' sub-par performance at the VMAs this weekend was do to a broken heel on one of her boots, and he goes to pretty serious lengths to prove his thesis. I repost it here simply as an example of how incredibly pliable and reinterpretable media objects have become through digital editing tools and distribution platforms like YouTube. The minute precision of the editing, the frequent rewinds and replays, and the tweaky stop/start pacing of the inserted commentaries transform the tawdry, played-to-death Britney clip into a fascinating work of obsession.
Heads up: Viacom has taken the video down. No great loss, but we now have a broken post, a tiny monument to the web's impermanence.
(via Ann Bartow on Sivacracy)
Posted by ben vershbow at 12:09 PM | Comments (3)
tags: Remix , editing , video , writing , youtube
Via Slashdot, I just came across what could be a major innovation in science publishing. The National Science Foundation, the Public Library of Science and the San Diego Supercomputing Center have joined forces to launch, SciVee, an experimental media sharing platform that allows scientists to synch short video lectures with paper outlines:
SciVee, created for scientists, by scientists, moves science beyond the printed word and lecture theater taking advantage of the internet as a communication medium where scientists young and old have a place and a voice.
The site is in alpha and has only a handful of community submissions, but it's enough to give a sense of how profoundly useful this could become. Video entries can be navigated internally by topic segments, and are accompanied by a link to the full paper, jpegs of figures, tags, a reader rating system and a comment area.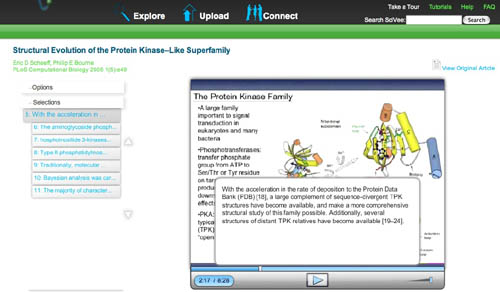 Peer networking functions are supposedly also in the works, although this seems geared solely as a dissimenation and access tool for already vetted papers, not a peer-to-peer review forum. It would be great within this model to open submissions to material other than papers such as documentaries, simulations, teaching modules etc. It has the potential to grow into a resource not just for research but for pedagogy and open access curriculum building.
It's very encouraging to see web video technologies evolving beyond the generalized, distractoid culture of YouTube and being adapted to the needs of particular communities. Scholars in the humanities, film and media studies especially, should take note. Imagine a more advanced version of the In Media Res feature we have running over at MediaCommons, where in addition to basic blog-like commenting you could have audio narration of clips, video annotation with time code precision, football commentator-style drawing over the action, editing tools and easy mashup capabilities—all of it built on robust archival infrastructure of the kind that underlies SciVee.
Posted by ben vershbow at 2:25 PM | Comments (0) | TrackBack
tags: academic , publishing , science , video
Two major preservation and access initiatives just reported by Peter Brantley over at O'Reilly Radar (1 and 2):
1. Reframe (set to launch in September '07)
The Reframe project is a new initiative of Renew Media in partnership with Amazon and with major support from the John D. & Catherine T. MacArthur Foundation, which promises to offer exciting solutions for the dissemination of important media arts and the preservation and accessibility of our visual heritage.

The Reframe project will help connect audiences of independent media to a robust collection of media arts via an integrated, resourceful website. Reframe will aggregate content from individual filmmakers, broadcasters, distributors, public media resources, archives, libraries and other sources of independent and alternative media. Serving as a both an aggregator of content and a powerful marketing tool, Reframe enables content-holders to digitize, disseminate and make available their content to a vast potential audience via a powerful online resource.

Renew Media will create a specialized Reframe website, which will interact with the Amazon storefront, to assist institutions (universities, libraries or museums) and consumers of niche content in browsing, finding, purchasing or renting Reframe content. Reframe website visitors will find it easy to locate relevant content through a rich menu of search and retrieval tools, including conventional search, recommender systems, social networking tools and curated lists. Reframe will allow individual viewers to rate and discuss the films they have seen and to sort titles according to their popularity among users with similar interests.
2. Library of Congress awards to preserve digitized and born-digital works
The Library of Congress, through its National Digital Information Infrastructure and Preservation Program (NDIIPP), today announced eight partnerships as part of its new Preserving Creative America initiative to address the long-term preservation of creative content in digital form. These partners will target preservation issues across a broad range of creative works, including digital photographs, cartoons, motion pictures, sound recordings and even video games. The work will be conducted by a combination of industry trade associations, private sector companies and nonprofits, as well as cultural heritage institutions.

Several of the projects will involve developing standardized approaches to content formats and metadata (the information that makes electronic content discoverable by search engines), which are expected to increase greatly the chances that the digital content of today will survive to become America's cultural patrimony tomorrow. Although many of the creative content industries have begun to look seriously at what will be needed to sustain digital content over time, the $2.15 million being awarded to the Preserving Creative America projects will provide added impetus for collaborations within and across industries, as well as with libraries and archives.
Partners include the Academy of Motion Picture Arts and Sciences, the American Society of Media Photographers, ARTstor and others. Go here and scroll down part way to see the full list.
One project that caught my and Peter's eye is an effort by the University of Illinois at Urbana-Champaign to address a particularly vexing problem: how to preserve virtual environments and other complex interactive media:
Interactive media are highly complex and at high risk for loss as technologies rapidly become obsolete. The Preserving Virtual Worlds project will explore methods for preserving digital games and interactive fiction. Major activities will include developing basic standards for metadata and content representation and conducting a series of archiving case studies for early video games, electronic literature and Second Life, an interactive multiplayer game. Second Life content participants include Life to the Second Power, Democracy Island and the International Spaceflight Museum. Partners: University of Maryland, Stanford University, Rochester Institute of Technology and Linden Lab.
Posted by ben vershbow at 6:45 PM | Comments (0) | TrackBack
tags: LOC , Remix , archives , digitization , film , library , preservation , video
There's a good piece in Slate by Nick Douglas, a writer and video blogger out of San Francisco, that casts YouTube as the Hollywood of web video—purveyor of bite-sized crap with mass appeal, while the smaller, more innovative "independents" (the Groupers, Vimeos and blip.tvs) struggle in its shadow. YouTube's dominance, Douglas argues, leads viewers to expect less of a fledgeling cultural arena that could become the leading edge of filmmaking but instead has been made synonymous with shallow, momentary titillation.
Douglas' critique is on target, and it's vital to keep questioning the so-called diversity of the mega-aggregators who increasingly dominate the Web, but I wonder whether serious video producers really ought to be looking to YouTube and its competitors as the ultimate venue. As promotional and browsing sites they work well, but a networked, non-Web video client like Miro could be a better forum for challenging work.
Posted by ben vershbow at 11:50 AM | Comments (0) | TrackBack
tags: film , socialmedia , video , youtube
I got an email the other day from the fellow who made this: an interesting proposal and, incidentally, a clever use of Google SketchUp for modeling gadgets.
The central thesis is that, unlike the Sony Librie or other tablets currently available, a dual-screen reader with a dock for the iPod is the most viable design for a) popularizing the use of an ebook reader and b) streamlining the use of an ebook store.
He's interested in getting feedback so leave your two cents.
Posted by ben vershbow at 2:43 AM | Comments (6) | TrackBack
tags: apple , design , ebook , ipod , reader , reading , screenreading , sketchup , video
A quick post to note that there's an interesting article at the Brooklyn Rail by Dara Greenwald on the early history of video collectives. I know next to nothing about the history of video, but it's a fascinating piece & her description of the way video collectives worked in the early 1970s is eye-opening. In particular, the model of interactivity they espoused resonates strongly with the way media works across the network today. An excerpt:
Many of the 1970s groups worked in a style termed "street tapes," interviewing passersby on the streets, in their homes, or on doorsteps. As Deirdre Boyle writes in Subject to Change: Guerrilla Television Revisited (1997), the goal of street tapes was to create an "interactive information loop" with the subject in order to contest the one-way communication model of network television. One collective, The People's Video Theater, were specifically interested in the social possibilities of video. On the streets of NYC, they would interview people and then invite them back to their loft to watch the tapes that night. This fit into the theoretical framework that groups were working with at the time, the idea of feedback. Feedback was considered both a technological and social idea. As already stated, they saw a danger in the one-way communication structure of mainstream television, and street tapes allowed for direct people-to-people communications. Some media makers were also interested in feeding back the medium itself in the way that musicians have experimented with amp feedback; jamming communication and creating interference or noise in the communications structures.

Video was also used to mediate between groups in disagreement or in social conflict. Instead of talking back to the television, some groups attempted to talk through it. One example of video's use as a mediation tool in the early 70s was a project of the students at the Media Co-op at NYU. They taped interviews with squatters and disgruntled neighbors and then had each party view the other's tape for better understanding. The students believed they were encouraging a more "real" dialogue than a face-to-face encounter would allow because the conflicting parties had an easier time expressing their position and communicating when the other was not in the same room.
Is YouTube being used this way? The tools the video collectives were using are now widely available; I'm sure there are efforts like this out there, but I don't know of them.
Greenwald's piece also appears in Realizing the Impossible: Art Against Authority, a collection edited by Josh MacPhee and Erik Reuland which looks worthwhile.
Posted by dan visel at 3:05 PM | Comments (0) | TrackBack
tags: history , newmedia , the_networked_book , video