Listing entries tagged with the_networked_book
1 | 2 | 3 | 4 | 5 | 6 | 7 | 8 | 9 | 10 | 11 | 12 | 13 | 14 | 15 | 16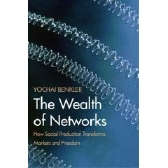 I was lucky enough to have a chance to be at The Wealth of Networks: How Social Production Transforms Markets and Freedom book launch at Eyebeam in NYC last week. After a short introduction by Jonah Peretti, Yochai Benkler got up and gave us his presentation. The talk was really interesting, covering the basic ideas in his book and delivered with the energy and clarity of a true believer. We are, he says, in a transitional period, during which we have the opportunity to shape our information culture and policies, and thereby the future of our society. From the introduction:
This book is offered, then, as a challenge to contemporary legal democracies. We are in the midst of a technological, economic and organizational transformation that allows us to renegotiate the terms of freedom, justice, and productivity in the information society. How we shall live in this new environment will in some significant measure depend on policy choices that we make over the next decade or so. To be able to understand these choices, to be able to make them well, we must recognize that they are part of what is fundamentally a social and political choice—a choice about how to be free, equal, productive human beings under a new set of technological and economic conditions.
During the talk Benkler claimed an optimism for the future, with full faith in the strength of individuals and loose networks to increasingly contribute to our culture and, in certain areas, replace the moneyed interests that exist now. This is the long-held promise of the Internet, open-source technology, and the infomation commons. But what I'm looking forward to, treated at length in his book, is the analysis of the struggle between the contemporary economic and political structure and the unstructured groups enabled by technology. In one corner there is the system of markets in which individuals, government, mass media, and corporations currently try to control various parts of our cultural galaxy. In the other corner there are individuals, non-profits, and social networks sharing with each other through non-market transactions, motivated by uniquely human emotions (community, self-gratification, etc.) rather than profit. Benkler's claim is that current and future technologies enable richer non-market, public good oriented development of intellectual and cultural products. He also claims that this does not preclude the development of marketable products from these public ideas. In fact, he sees an economic incentive for corporations to support and contribute to the open-source/non-profit sphere. He points to IBM's Global Services division: the largest part of IBM's income is based off of consulting fees collected from services related to open-source software implementations. [I have not verified whether this is an accurate portrayal of IBM's Global Services, but this article suggests that it is. Anecdotally, as a former IBM co-op, I can say that Benkler's idea has been widely adopted within the organization.]
Further discussion of book will have to wait until I've read more of it. As an interesting addition, Benkler put up a wiki to accompany his book. Kathleen Fitzpatrick has just posted about this. She brings up a valid criticism of the wiki: why isn't the text of the book included on the page? Yes, you can download the pdf, but the texts are in essentially the same environment—yet they are not together. This is one of the things we were trying to overcome with the Gamer Theory design. This separation highlights a larger issue, and one that we are preoccupied with at the institute: how can we shape technology to allow us handle text collaboratively and socially, yet still maintain an author's unique voice?
Posted by jesse wilbur at 9:02 AM | Comments (3) | TrackBack
tags: IBM , benkler , book , book_launch , collaboration , commons , economics , eyebeam , internet , open_content , open_source , politics , public , publishing_broadcast_and_the_press , the_networked_book , wealth_of_networks , wiki
Farrar, Straus and Giroux have ventured into waters pretty much uncharted by a big commercial publisher, putting the entire text of one of their latest titles online in a form designed to be read inside a browser. "Pulse," a sweeping, multi-disciplinary survey by Robert Frenay of "the new biology" -- "the coming age of systems and machines inspired by living things" -- is now available to readers serially via blog, RSS or email: two installments per day and once per day on weekends.

Naturally, our ears pricked up when we heard they were calling the thing a "networked book" -- a concept we've been developing for the past year and a half, starting with Kim White's original post here on "networked book/book as network." Apparently, the site's producer, Antony Van Couvering, had never come across if:book and our mad theories before another blogger drew the connection following Pulse's launch last week. So this would seem to be a case of happy synergy. Let a hundred networked books bloom.
The site is nicely done, employing most of the standard blogger's toolkit to wire the book into the online discourse: comments, outbound links (embedded by an official "linkologist"), tie-ins to social bookmarking sites, a linkroll to relevant blog carnivals etc. There are also a number of useful tools for exploring the book on-site: a tag cloud, a five-star rating system for individual entries, a full-text concordance, and various ways to filter posts by topic and popularity.
My one major criticism of the Pulse site is that the site is perhaps a little over-accessorized, the design informed less by the book's inherent structure and themes than by a general enthusiasm for Web 2.0 tools. Pulse clearly was not written for serialization and does not always break down well into self-contained units, so is a blog the ideal reading environment or just the reading environment most readily at hand? Does the abundance of tools perhaps overcrowd the text and intimidate the reader? There has been very little reader commenting or rating activity so far.
But this could all be interpreted as a clever gambit: perhaps FSG is embracing the web with a good faith experiment in sharing and openness, and at the same time relying on the web's present limitations as a reading interface (and the dribbling pace of syndication -- they'll be rolling this out until November 6) to ultimately drive readers back to the familiar print commodity. We'll see if it works. In any event, this is an encouraging sign that publishers are beginning to broaden their horizons -- light years ahead of what Harper Collins half-heartedly attempted a few months back with one of its more beleaguered titles.
I also applaud FSG for undertaking an experiment like this at a time when the most aggressive movements into online publishing have issued not from publishers but from the likes of Google and Amazon. No doubt, Googlezon's encroachment into electronic publishing had something to do with FSG's decision to go ahead with Pulse. Van Couvering urges publishers to take matters into their own hands and start making networked books:
Why get listed in a secondary index when you can be indexed in the primary search results page? Google has been pressuring publishers to make their books available through the Google Books program, arguing (basically) that they'll get more play if people can search them. Fine, except Google may be getting the play. If you're producing the content, better do it yourself (before someone else does it).
I hope tht Pulse is not just the lone canary in the coal mine but the first of many such exploratory projects.
Here's something even more interesting. In a note to readers, Frenay talks about what he'd eventually like to do: make an "open source" version of the book online (incidentally, Yochai Benkler has just done something sort of along these lines with his new book, "The Wealth of Networks" -- more on that soon):
At some point I'd like to experiment with putting the full text of Pulse online in a form that anyone can link into and modify, possibly with parallel texts or even by changing or adding to the wording of mine. I like the idea of collaborative texts. I also feel there's value in the structure and insight that a single, deeply committed author can bring to a subject. So what I want to do is offer my text as an anchor for something that then grows to become its own unique creature. I like to imagine Pulse not just as the book I've worked so hard to write, but as a dynamic text that can continue expanding and updating in all directions, to encompass every aspect of this subject (which is also growing so rapidly).
This would come much closer to the networked book as we at the institute have imagined it: a book that evolves over time. It also chimes with Frenay's theme of modeling technology after nature, repurposing the book as its own intellectual ecosystem. By contrast, the current serialized web version of Pulse is still very much a pre-network kind of book, its structure and substance frozen and non-negotiable; more an experiment in viral marketing than a genuine rethinking of the book model. Whether the open source phase of Pulse ever happens, we have yet to see.
But taking the book for a spin in cyberspace -- attracting readers, generating buzz, injecting it into the conversation -- is not at all a bad idea, especially in these transitional times when we are continually shifting back and forth between on and offline reading. This is not unlike what we are attempting to do with McKenzie Wark's "Gamer Theory," the latest draft of which we are publishing online next month. The web edition of Gamer Theory is designed to gather feedback and to record the conversations of readers, all of which could potentially influence and alter subsequent drafts. Like Pulse, Gamer Theory will eventually be a shelf-based book, but with our experiment we hope to make this networked draft a major stage in its growth, and to suggest what might lie ahead when the networked element is no longer just a version or a stage, but the book itself.
Posted by ben vershbow at 10:34 AM | Comments (12) | TrackBack
tags: Blogosphere , FSG , Robert_Frenay , biology , book-blog_experiments , books , design , ebooks , gamer_theory , mckenzie_wark , publishing , pulse , reading , the_networked_book
We've moved past the design stage with the GAM3R 7H30RY blog and forum. We're releasing the book in two formats: all at once (date to be soon decided), in the page card format, and through RSS syndication. We're collecting user input and feedback in two ways: from comments submitted through the page-card interface, and in user posts in the forum.
The idea is to nest Ken's work in the social network that surrounds it, made visible in the number of comments and topics posted. This accomplishes something fairly radical, shifting the focus from an author's work towards the contributions of a work's readers. The integration between the blog and forums, and the position of the comments in relation to the author's work emphasizes this shift. We're hoping that the use of color as an integrating device will further collapse the usual distance between the author and his reading (and writing) public.
To review all the stages that this project has been through before it arrived at this, check out Part I, Part II, and Part III. The design changes show the evolution of our thought and the recognition of the different problems we were facing: screen real estate, reading environment, maintaining the author's voice but introducing the public, and making it fun. The basic interaction design emerged from those constraints. The page card concept arose from both the form of Ken's book—a regimented number of paragraphs with limited length—and the constraints of screen real estate (1024x768). The overlapping arose from the physical handling of the 'Oblique Strategies' cards, and helps to present all the information on a single screen. The count of pages (five per section, five sections per chapter) is a further expression of the structure that Ken wrote into the book. Comments were lifted from their usual inglorious spot under the writer's post to be right beside the work. It lends them some additional weight.
We've also reimagined the entry point for the forums with the topic pool. It provides a dynamic view of the forums, raising the traditional list into the realm of something energetic, more accurately reflecting the feeling of live conversation. It also helps clarify the direction of the topic discussion with a first post/last post view (visible in the mouseover state below). This simple preview will let users know whether or not a discussion has kept tightly to the subject or spun out of control into trivialities.
We've been careful with the niceties: the forum indicator bars turned on their sides to resemble video game power ups; the top of the comments sitting at the same height as the top of their associated page card; the icons representing comments and replies (thanks to famfamfam).
Each of the designed pages changed several times. The page cards have been the most drastically and frequently changed, but the home page went through a significant series of edits in a matter of a few days. As with many things related to design, I took several missteps before alighting on something which seems, in retrospect, perfectly obvious. Although the 'table of contents' is traditionally an integrated part of a bound volume, I tried (and failed) to create a different alignment and layout with it. I'm not sure why—it seemed like a good idea at the time. I also wanted to include a hint of the pages to come—unfortunately it just made it difficult for your eye move smoothly across the page. Finally I settled on a simpler concept, one that harmonized with the other layouts, and it all snapped into place.
With that we began the production stage, and we're making it all real. Next update will be a pre-launch announcement.
Posted by jesse wilbur at 5:51 PM | Comments (1) | TrackBack
tags: GAM3R_7H30RY , Games , book-blog_experiments , design , ebook , mckenzie_wark , reading , the_networked_book

Momus is a Scottish pop musician, based in Berlin, who writes smart and original things about art and technology. He blogs a wonderful blog called Click Opera -- some of the best reading on the web. He wears an eye patch. And he is currently doing a stint as an "unreliable tour guide" at the Whitney Biennial, roving through the galleries, sneaking up behind museum-goers with a bullhorn.
A couple of weeks ago, Dan had the bright idea of inviting Momus -- seeing as he is currently captive in New York and interested, like us, in the human migration from analog to digital -- to visit the institute. Knowing almost nothing about who we are or what we do, he bravely accepted the offer and came over to Brooklyn on one of the Whitney's dark days and lunched at our table on the customary menu of falafel and babaganoush. Yesterday, he blogged some thoughts about our meeting.
Early on, as happens with most guests, Momus asked something along the lines of: "so what do you mean by 'future of the book?'" Always an interesting moment, in a generally blue-sky, thinky endeavor such as ours, when you're forced to pin down some specifics (though in other areas, like Sophie, it's all about specifics). "Well," (some clearing of throats) "what we mean is..." "Well, you see, the thing you have to understand is..." ...and once again we launch into a conversation that seems to lap at the edges of our table with tide-like regularity. Overheard:
"Well, we don't mean books in the literal sense..."
"The book at its most essential: an instrument for moving big ideas."
"A sustained chunk of thought."
And so it goes... In the end, though, it seems that Momus figured out what we were up to, picking up on our obsession with the relationship between books and conversation:
It seems they're assuming that the book itself is already over, and that it will survive now as a metaphor for intelligent conversation in networks.
It's always interesting (and helpful) to hear our operation described by an outside observer. Momus grasped (though I don't think totally agreed with) how the idea of "the book" might be a useful tool for posing some big questions about where we're headed -- a metaphorical vessel for charting a sea of unknowns. And yet also a concrete form that is being reinvented.
Another choice tidbit from Momus' report -- the hapless traveler's first encounter with the institute:
I found myself in a kitchen overlooking the sandy back courtyard of a plain clapperboard building on North 7th Street. There were about six men sitting around a kidney-shaped table. One of them was older than the others and looked like a delicate Vulcan. "I expect you're wondering why you're here?" he said. "Yes, I've been very trusting," I replied, wondering if I was about to be held hostage by a resistance movement of some kind.

Well, it turned out that the Vulcan was none other than Bob Stein, who founded the amazing Voyager multi-media company, the reference for intelligent CD-ROM publishing in the 90s.
He took this lovely picture of the office: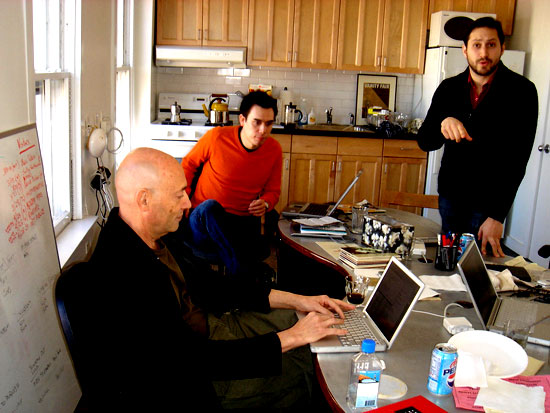 Interestingly, Momus splices his thoughts on us with some musings on "blooks" (books that began as blogs), commenting on the recently announced winners of lulu.com's annual Blooker Prize:
What is a blook? It's a blog that turns into a book, the way, in evolution, mammals went back into the sea and became fish again. Except they didn't really do that, although undoubtedly some of us still enjoy a good swim.
And expanding upon this in a comment further down:
...the cunning thing about the concept of the blook is that it posits the book as coming after the blog, not before it, as some evolutionist of media forms would probably do. In this reading, blogs are the past of the book, not its future.
To be that evolutionist for a moment, the "blook" is indeed a curious species, falling somewhere under the genus "networked book," but at the same time resisting cozy classification, wriggling off the taxonomic hook by virtue of its seemingly regressive character: moving from bits back to atoms; live continuous feedback back to inert bindings and glue. I suspect that "the blook" will be looked back upon as an intriguing artifact of a transitional period, a time when the great apes began sprouting gills.
If we are in fact becoming "post-book," might this be a regression? A return to an aquatic state of culture, free-flowing and gradually accreting like oral tradition, away from the solid land of paper, print and books? Are we living, then, in an age of amphibians? Hopping in and out of the water, equally at home in both? Is the blog that tentative dip in the water and the blook the return to terra firma?
But I thought the theory of evolution had broken free of this kind of directionality: the Enlightenment idea of progress, the great chain gang of being. Isn't it all just a long meander, full of forks, leaps and mutations? And so isn't the future of the book also its past? Might we move beyond the book and yet also stay with it, whether as some defined form or an actual thing in our (webbed) hands? No progress, no regress, just one long continuous motion? Sounds sort of like a conversation...
Posted by ben vershbow at 1:44 AM | Comments (1) | TrackBack
tags: amphibian , blogs , blooks , books , brooklyn , evolution , momus , reading , the_networked_book , writing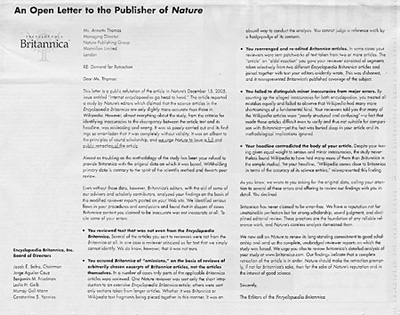 The Encyclopedia Britannica versus Wikipedia saga continues. As Ben has recently posted, Britannica has been confronting Nature on its article which found that the two encyclopedias were fairly equal in the accuracy of their science articles. Today, the editors and the board of directors of Encyclopedia Britannica, have taken out a half page ad in today New York Times (A19) to present an open letter to Nature which requests for a public reaction of the article.
Several interesting things are going on here. Because Britannica chose to place an ad in the Times, it shifted the argument and debate away from the peer review / editorial context into one of rhetoric and public relations. Further, their conscious move to take the argument to the "public" or the "masses" with an open letter is ironic because the New York TImes does not display its print ads online, therefore access of the letter is limited to the Time's print readership. (Not to mention, the letter is addressed to the Nature Publishing Group located in London. If anyone knows that a similar letter was printed in the UK, please let us know.) Readers here can click on the thumbnail image to read the entire text of the letter. Ben raised an interesting question here today, asking where one might post a similar open letter on the Internet.
Britannica cites many important criticisms of Nature's article, including: using text not from Britannica, using excerpts out of context, giving equal weight to minor and major errors, and writing a misleading headline. If their accusations are true, then Nature should redo the study. However, to harp upon Nature's methods is to miss the point. Britannica cannot do anything to stop Wikipedia, except to try to discredit to this study. Disproving Nature's methodology will have a limited effect on the growth of Wikipedia. People do not mind that Wikipedia is not perfect. The JKF assassination / Seigenthaler episode showed that. Britannica's efforts will only lead to more studies, which will inevitably will show errors in both encyclopedias. They acknowledge in today's letter that, "Britannica has never claimed to be error-free." Therefore, they are undermining their own authority, as people who never thought about the accuracy of Britannica are doing just that now. Perhaps, people will not mind that Britannica contains errors as well. In their determination to show the world that of the two encyclopedias which both content flaws, they are also advertising that of the two, the free one has some-what more errors.
In the end, I agree with Ben's previous post that the Nature article in question has a marginal relevance to the bigger picture. The main point is that Wikipedia works amazingly well and contains articles that Britannica never will. It is a revolutionary way to collaboratively share knowledge. That we should give consideration to the source of our information we encounter, be it the Encyclopedia Britannica, Wikipedia, Nature or the New York Time, is nothing new.
Posted by ray cha at 4:38 PM | Comments (2) | TrackBack
tags: authority , britannica , encyclopedia , nature , new_york_time , open_source , science , the_networked_book , wikipedia
One of the most exciting things about Sophie, the open-source software the institute is currently developing, is that it will enable readers and writers to have conversations inside of books -- both live chats and asynchronous exchanges through comments and social annotation. I touched on this idea of books as social software in my most recent "The Book is Reading You" post, and we're exploring it right now through our networked book experiments with authors Mitch Stephens, and soon, McKenzie Wark, both of whom are writing books and opening up the process (with a little help from us) to readers. It's a big part of our thinking here at the institute.
Catching up with some backlogged blog reading, I came across a little something from David Weinberger that suggests he shares our enthusiasm:
I can't wait until we're all reading on e-books. Because they'll be networked, reading will become social. Book clubs will be continuous, global, ubiquitous, and as diverse as the Web.

And just think of being an author who gets to see which sections readers are underlining and scribbling next to. Just think of being an author given permission to reply.

I can't wait.
Of course, ebooks as currently envisioned by Google and Amazon, bolted into restrictive IP enclosures, won't allow for this kind of exchange. That's why we need to be thinking hard right now about an alternative electronic publishing system. It may seem premature to say this -- now, when electronic books are a marginal form -- but before we know it, these companies will be the main purveyors of all media, including books, and we'll wonder what the hell happened.
Posted by ben vershbow at 7:28 PM | Comments (1) | TrackBack
tags: DRM , amazon , books , conversation , copyright , david_weinberger , ebooks , google , google_book_search , publishing , reading , social_software , the_networked_book , writing