Engagdet points to an award winning Australian student design for an e-book reader that combines the gesture-based "multi-touch" interface of the iPhone with the e-ink display of the Kindle.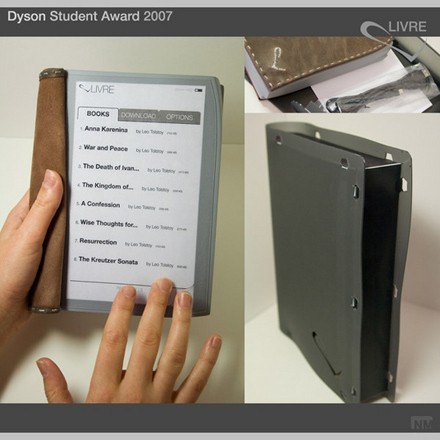 LIVRE design concept — Nedzad Mujcinovic, Monash University
"Interaction happens via a thin capacitive touch screen mounted on top of an electronic paper screen ('eINK'). Browsing pages happens by striking the screen from right bottom corner towards the centre of page to go forward or from the left hand corner to go backwards. Doing that using one finger will browse one page, two will browse ten pages and three will browse fifty pages at a time."
If simple reenactment of basic black-and-white, illustration-light print reading is your goal, I'd say that this is a far more viable proposition than Amazon's clunky gadget. (Thanks, Peter Brantley, for the link!)
Posted by ben vershbow at 06:02 PM | Comments (1)
tags: design , ebooks , hardware , kindle , reading , screenreading