Listing entries tagged with conferences_excursions


Access to knowledge means that the right policies for information and knowledge production can increase both the total production of information and knowledge goods, and can distribute them in a more equitable fashion.

—

Jack Balkin

, from opening plenary
I'm back from the A2K conference. The conference focused on intellectual property regimes and international development issues associated with access to medical, health, science, and technology information. Many of the plenary panels dealt specifically with the international IP regime, currently enshrined in several treaties: WIPO, TRIPS, Berne Convention, (and a few more. More from Ray on those). But many others, instead of relying on the language in the treaties, focused developing new language for advocacy, based on human rights: access to knowledge as an issue of justice and human dignity, not just an issue of intellectual property or infrastructure. The Institute is an advocate of open access, transparency, and sharing, so we have the same mentality as most of the participants, even if we choose to assail the status quo from a grassroots level, rather than the high halls of policy. Most of the discussions and presentations about international IP law were generally outside of the scope of our work, but many of the smaller panels dealt with issues that, for me, illuminated our work in a new light.
In the Peer Production and Education panel, two organizations caught my attention: Taking IT Global and the International Institute for Communication and Development (IICD). Taking IT Global is an international youth community site, notable for its success with cross-cultural projects, and for the fact that it has been translated into seven languages—by volunteers. The IICD trains trainers in Africa. These trainers then go on to help others learn the technological skills necessary to obtain basic information and to empower them to participate in creating information to share.
"What I'm talking about is the fact that 'global peripheries' are using technologies to produce their own cultural products and become completely independent from 'cultural industries.'"
—Ronaldo Lemos
The ideology of empowerment ran thick in the plenary panels. Ronaldo Lemos, in the Political Economy of A2K, dropped a few figures that showed just how powerful communities outside the scope and target of traditional development can be. He talked about communities at the edge, peripheries, that are using technology to transform cultural production. He dropped a few figures that staggered the crowd: last year Hollywood produced 611 films. But Nigeria, a country with only ONE movie theater (in the whole nation!) released 1200 films. To answer the question of how? No copyright law, inexpensive technology, and low budgets (to say the least). He also mentioned the music industry in Brazil, where cultural production through mainstream corporations is about 52 CDs of Brazilian artists in all genres. In the favelas they are releasing about 400 albums a year. It's cheaper, and it's what they want to hear (mostly baile funk).
We also heard the empowerment theme and A2K as "a demand of justice" from Jack Balkin, Yochai Benkler, Nagla Rizk, from Egypt, and from John Howkins, who framed the A2K movement as primarily an issue of freedom to be creative.
The panel on Wireless ICT's (and the accompanying wiki page) made it abundantly obvious that access isn't only abut IP law and treaties: it's also about physical access, computing capacity, and training. This was a continuation of the Network Neutrality panel, and carried through later with a rousing presentation by Onno W. Purbo, on how he has been teaching people to "steal" the last mile infrastructure from the frequencies in the air.
Finally, I went to the Role of Libraries in A2K panel. The panelists spoke on several different topics which were familiar territory for us at the Institute: the role of commercialized information intermediaries (Google, Amazon), fair use exemptions for digital media (including video and audio), the need for Open Access (we only have 15% of peer-reviewed journals available openly), ways to advocate for increased access, better archiving, and enabling A2K in developing countries through libraries.
Human rights call on us to ensure that everyone can create, access, use and share information and knowledge, enabling individuals, communities and societies to achieve their full potential.
—
The Adelphi Charter
The name of the movement, Access to Knowledge, was chosen because, at the highest levels of international politics, it was the one phrase that everyone supported and no one opposed. It is an undeniable umbrella movement, under which different channels of activism, across multiple disciplines, can marshal their strength. The panelists raised important issues about development and capacity, but with a focus on human rights, justice, and dignity through participation. It was challenging, but reinvigorating, to hear some of our own rhetoric at the Institute repeated in the context of this much larger movement. We at the Institute are concerned with the uses of technology whether that is in the US or internationally, and we'll continue, in our own way, to embrace development with the goal of creating a future where technology serves to enable human dignity, creativity, and participation.
Posted by jesse wilbur at 09:35 AM | Comments (0) | TrackBack
tags: Education , IP , a2k , amazon , conferences_excursions , culture , google , human_rights , law , libraries , open_access , peer_to_peer , treaty , wireless , yale
Jesse and I have just arrived at the Yale University to police barricades, blocked of streets, bus loads of demonstrators, and general confusion. I wish I could say that it was in support of protecting open and accessible knowledge, as we are here to attend the Access 2 Knowledge conference. However, the crowds of Falun Gong supporters (with a few Free Tibet activists in the mix) were protesting the arrival of President Hu Jintao from China. Wandering the streets of New Haven to find an unblocked entrance to the law school, Jesse and I reflected a bit on the irony of the difficulty of physically "accessing" the building where we will hear current thinking and planning on the making knowledge accessible.
The conference's stated goal is to "bring together leading thinkers and activists on access to knowledge policy from North and South, in order to generate concrete research agendas and policy solutions for the next decade...The A2K Conference aims to help build an intellectual framework that will protect access to knowledge both as the basis for sustainable human development and to safeguard human rights." Sessions will cover peer production, economics of a2k, copyright, access to science and medicine, network neutrality and privacy.
We very excited to be here, as presenters include some of our favorite IP / Copyright / Open Content thinkers: Yochai Benkler, Eric Von Hippel, Susan Crawford, and Terry Fisher. We're sure that by Sunday, we'll have more to add to the list.
Stay tuned for more.
Posted by ray cha at 01:22 PM | Comments (0) | TrackBack
tags: Eric_Von_Hippel , IP , Susan_Crawford , Terry_Fisher , Yochai_Benkler , a2k , access , conferences_excursions , copyright , open_content
Ten years ago, the web just a screaming infant in its cradle, Duke law scholar James Boyle proposed "cultural environmentalism" as an overarching metaphor, modeled on the successes of the green movement, that might raise awareness of the need for a balanced and just intellectual property regime for the information age. A decade on, I think it's safe to say that a movement did emerge (at least on the digital front), drawing on prior efforts like the General Public License for software and giving birth to a range of public interest groups like the Electronic Frontier Foundation and Creative Commons. More recently, new threats to cultural freedom and innovation have been identified in the lobbying by internet service providers for greater control of network infrastructure. Where do we go from here? Last month, writing in the Financial Times, Boyle looked back at the genesis of his idea: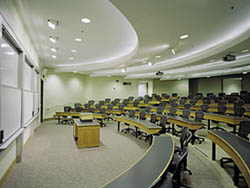 We're in this room...
We were writing the ground rules of the information age, rules that had dramatic effects on speech, innovation, science and culture, and no one - except the affected industries - was paying attention.

My analogy was to the environmental movement which had quite brilliantly made visible the effects of social decisions on ecology, bringing democratic and scholarly scrutiny to a set of issues that until then had been handled by a few insiders with little oversight or evidence. We needed an environmentalism of the mind, a politics of the information age.
Might the idea of conservation -- of water, air, forests and wild spaces -- be applied to culture? To the public domain? To the millions of "orphan" works that are in copyright but out of print, or with no contactable creator? Might the internet itself be considered a kind of reserve (one that must be kept neutral) -- a place where cultural wildlife are free to live, toil, fight and ride upon the backs of one another? What are the dangers and fallacies contained in this metaphor?
Ray and I have just set up shop at a fascinating two-day symposium -- Cultural Environmentalism at 10 -- hosted at Stanford Law School by Boyle and Lawrence Lessig where leading intellectual property thinkers have converged to celebrate Boyle's contributions and to collectively assess the opportunities and potential pitfalls of his metaphor. Impressions and notes soon to follow.
Posted by ben vershbow at 03:49 PM | Comments (0) | TrackBack
tags: IP , Online , conference , conferences_excursions , copyright , copyright_and_copyleft , culture , ecology , environment , intellectual_property , internet , james_boyle , lessig , network_freedom , open_source