The other day a fellow named Nate Stearns posted a remark on the recent post about using CommentPress in classroom situations.
This is a great idea for AP Language and Comp classes where we naturally and habitually pick apart a wide variety of essays, histories, and journalism....I could imagine whole networks of overworked high school APers tearing apart, say, Thoreau's Walden or King's Letter from Birmingham jail.
As a test, I quickly threw together an edition of MLK's famous epistle, throwing in also as an appendix the statement by eight Alabama clergyman to which it was responding.
I'm repeating now our offer to repost, by request, this or any other available text on a unique CommentPress site dedicated to your high school or college class. It's up to you whether we password-protect the site or leave it open. There's a strong case to be made for insulating class discussion from public scrutiny, or worse, abuse -? especially in a high school context. In a collegiate setting, though, I can see why it might make sense to raise the stakes a bit, as Daniel Anderson suggested in another comment:
In teaching there is real leverage in having a group in place with motivation--the problem is that is extrinsic motivation in many case--grades. So, adding the public layer is really helpful in that it brings a complementary sense of creating something for others and, hopefully, internal motivation.
So there it is. We're VERY eager to see CommentPress in action and so are offering this modest service of setting up installations. School is back in session, or will be any day now, so if you'd like us to set something up to kick off the year, drop us a note in the comments here, or email me at ben@futureofthebook.org. (Nate, just say the word and we'll happily reproduce the MLK text for you.) Feel free to pick off the list we threw together last week, but by no means feel limited to that.
Incidentally, it was an interesting exercise breaking up King's text into pages. The letter has no formally delineated sections but it does have about six distinct rhetorical "movements," which I did my best to draw out here. If you request a CommentPress edition from us, feel free to be incredibly explicit as to how you'd like the text broken up and how you'd like the sections titled. For the Letter, I simply used quotations from the first sentence of paragraph of that section, which seems to do a decent job of indicating the essence of each of King's arguments and hopefully to draw the reader in with the sound of his voice. Speaking of voice, there's no free recording of King reading the whole Letter, but if there had been we could have easily included it as an optional audio track. If any of you have an audio version of the text you want to use, or images for that matter, point us to it/them and we might be able to work those in.
Posted by ben vershbow at 12:18 AM | Comments (4) | TrackBack
tags: Education , commentpress , mlk , reading
A very entertaining podcast by SF writer, Net activist, and uber-blogger Cory Doctorow covering copyright, concentration, print-on-demand, the future of the codex and more. The problem with electronic books, he suggests, is in part that they are extremely good at distracting you - you need 'monkish, iron self-discipline' to read a long work online. Hence he suggests, one of the best things about the codex is precisely that it isn't electronic - it can't distract you with emails, phone calls, IMs, RSS and all the rest, and is therefore the best tool available to help a reader concentrate on a sustained piece of writing.
He also talks about his new Creative Commons-licensed novel - though frustratingly he doesn't go further into his thoughts around giving away free fiction.
Definitely worth a listen.
Posted by sebastian mary at 4:19 PM | Comments (1) | TrackBack
tags: attention , corydoctorow , ebooks , reading
So CommentPress is out in the world and continues to develop in small ways (version 1.3 was put out last week), but there are still only a few observable cases apart from our own projects in which it's been put to use. One thing we'd like to do with it is to set up a small library of public domain short stories, essays and poems for use in high school or college classes - ?CP is best geared for close readings and we're very curious to see how this might come into play in a pedagogical context. We'd offer this as a free service to any teacher who was interested in trying it out: basically, set up a dedicated installation with the desired text and give it to their class as its own social edition. Note: when I posted this earlier today I had said only high school. This idea is still in gestation and all our conversations up to this point had focused, somewhat arbitrarily, on a high school scenario, but commenters rightly pointed out that this should be open to both primary and higher ed, and so it would be.
We threw together a short list of possible texts which you'll find below. We can also see this being done with video clips where basically you break up a movie into small commentable chunks and embed them in place of a text. Granted, there are a variety of new video annotation tools hitting the web these days but nothing I've yet come across that does a good job of integrating comments by multiple viewers (anyone seen anything along these lines?).
Please shout out other appropriate titles and if you're a teacher who'd be interested in experimenting with this, or know teachers who might be, please forward this along. Also, if you have ideas or suggestions for how this service ought to work, we're all ears. This is just an initial floating out of the idea.
Swift, A Modest Proposal
US Constitution, Bill of Rights
The Magna Carta
MLK, Letter from Birmingham Jail (maybe not PD)
Lincoln, Gettsyburg Address
Harriet Ann Jacobs, Incidents in the Life of a Slave Girl
Paine, Common Sense
Emerson, Self-Reliance
Thoreau, Civil Disobedience
Plato, Apology/Phaedo/Crito
Montaigne, Of Friendship
Joyce, The Dead
Melville, Bartleby the Scrivener
Wharton, Roman Fever
Hawthorne, Young Goodman Brown
Perkins Gilman, The Yellow Wallpaper
O'Henry, The Gift of the Magi
Jack London, To Build a Fire
Ambrose Bierce, Occurrence at Owl Creek Bridge
Stephen Crane, The Open Boat
Poe, The Tell-Tale Heart, Fall of the House of Usher
Washington Irving, Sleepy Hollow
Arthur Conan Doyle, various
Kafka, The Judgement
Tolstoy, Death of Ivan Ilych
Emily Dickinson, selection
Whitman, selection
Poe, The Raven
Blake, Songs of Innocence/Experience, selection
Wordsworth, selection
Donne, selection
Robert Frost, from Boy's Will/North of Boston
Shakespeare sonnets, selection
(With poetry it would make sense to put comments on each line. I can imagine a nice edition of Shakespeare's sonnets working this way.)
Posted by ben vershbow at 10:00 AM | Comments (9) | TrackBack
tags: Education , commentpress , reading
Live Ink is an alternative approach to presenting texts in screen environments, arranging them in series of cascading phrases to increase readability (I saw this a couple of years ago at an educational publishing conference but it was brought to my attention again on Information Aesthetics). Live Ink was developed by brothers Stan and Randall Walker, both medical doctors (Stan an ophthalmologist), who over time became interested in the problems, especially among the young, of reading from computer displays. In their words:
Here'a screenshot of their sample reader with chapter 1 of Moby-Dick:
Thoughts?
Posted by ben vershbow at 12:06 PM | Comments (4) | TrackBack
tags: design , interface , reading , screenreading
I got an email the other day from the fellow who made this: an interesting proposal and, incidentally, a clever use of Google SketchUp for modeling gadgets.
The central thesis is that, unlike the Sony Librie or other tablets currently available, a dual-screen reader with a dock for the iPod is the most viable design for a) popularizing the use of an ebook reader and b) streamlining the use of an ebook store.
He's interested in getting feedback so leave your two cents.
Posted by ben vershbow at 2:43 AM | Comments (7) | TrackBack
tags: apple , design , ebook , ipod , reader , reading , screenreading , sketchup , video
Over at Teleread, David Rothman has a pair of posts about Google's new desktop RSS reader and a couple of new technologies for creating "offline web applications" (Google Gears and Adobe Apollo), tying them all together into an interesting speculation about the possibility of offline networked books. This would mean media-rich, hypertextual books that could cache some or all of their remote elements and be experienced whole (or close to whole) without a network connection, leveraging the local power of the desktop. Sophie already does this to a limited degree, caching remote movies for a brief period after unplugging.
Electronic reading is usually prey to a million distractions and digressions, but David's idea suggests an interesting alternative: you take a chunk of the network offline with you for a more sustained, "bounded" engagement. We already do this with desktop email clients and RSS readers, which allow us to browse networked content offline. This could be expanded into a whole new way of reading (and writing) networked books. Having your own copy of a networked document. Seems this should be a basic requirement for any dedicated e-reader worth its salt, to be able to run rich web applications with an "offline" option.
Posted by ben vershbow at 1:02 AM | Comments (3) | TrackBack
tags: RSS , Sophie , books , google , reading , the_networked_book , web_applications
...is officially live! Check it out. Spread the word.
I want to draw special attention to the Gamer Theory TextArc in the visualization gallery - a graphical rendering of the book that reveals (quite beautifully) some of the text's underlying structures.
TextArc was created by Brad Paley, a brilliant interaction designer based in New York. A few weeks ago, he and Ken Wark came over to the Institute to play around with the Gamer Theory in TextArc on a wall display: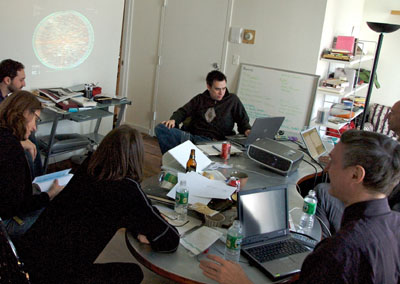 Ken jotted down some of his thoughts on the experience: "Brad put it up on the screen and it was like seeing a diagram of my own writing brain..." Read more here (then scroll down partway).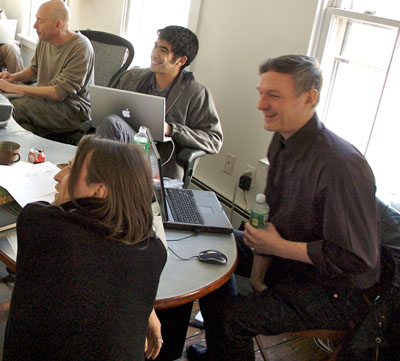 starting bottom-left, counter-clockwise: Ken, Brad, Eddie, Bob
More thoughts about all of this to come. I've spent the past two days running around like a madman at the Digital Library Federation Spring Forum in Pasadena, presenting our work (MediaCommons in particular), ducking in and out of sessions, chatting with interesting folks, and pounding away at the Gamer site -- inserting footnote links, writing copy, generally polishing. I'm looking forward to regrouping in New York and processing all of this.
Thanks, Florian Brody for the photos.
Oh, and here is the "official" press/blogosphere release. Circulate freely:
The Institute for the Future of the Book is pleased to announce a new edition of the "networked book" Gamer Theory by McKenzie Wark. Last year, the Institute published a draft of Wark's path-breaking critical study of video games in an experimental web format designed to bring readers into conversation around a work in progress. In the months that followed, hundreds of comments poured in from gamers, students, scholars, artists and the generally curious, at times turning into a full-blown conversation in the manuscript's margins. Based on the many thoughtful contributions he received, Wark revised the book and has now published a print edition through Harvard University Press, which contains an edited selection of comments from the original website. In conjunction with the Harvard release, the Institute for the Future of the Book has launched a new Creative Commons-licensed, social web edition of Gamer Theory, along with a gallery of data visualizations of the text submitted by leading interaction designers, artists and hackers. This constellation of formats -- read, read/write, visualize -- offers the reader multiple ways of discovering and building upon Gamer Theory. A multi-mediated approach to the book in the digital age.
http://web.futureofthebook.org/mckenziewark/
More about the book:
Ever get the feeling that life's a game with changing rules and no clear sides, one you are compelled to play yet cannot win? Welcome to gamespace. Gamespace is where and how we live today. It is everywhere and nowhere: the main chance, the best shot, the big leagues, the only game in town. In a world thus configured, McKenzie Wark contends, digital computer games are the emergent cultural form of the times. Where others argue obsessively over violence in games, Wark approaches them as a utopian version of the world in which we actually live. Playing against the machine on a game console, we enjoy the only truly level playing field--where we get ahead on our strengths or not at all.
Gamer Theory uncovers the significance of games in the gap between the near-perfection of actual games and the highly imperfect gamespace of everyday life in the rat race of free-market society. The book depicts a world becoming an inescapable series of less and less perfect games. This world gives rise to a new persona. In place of the subject or citizen stands the gamer. As all previous such personae had their breviaries and manuals, Gamer Theory seeks to offer guidance for thinking within this new character. Neither a strategy guide nor a cheat sheet for improving one's score or skills, the book is instead a primer in thinking about a world made over as a gamespace, recast as an imperfect copy of the game.
-------------------
The Institute for the Future of the Book is a small New York-based think tank dedicated to inventing new forms of discourse for the network age. Other recent publishing experiments include an annotated online edition of the Iraq Study Group Report (with Lapham's Quarterly), Without Gods: Toward a History of Disbelief (with Mitchell Stephens, NYU), and MediaCommons, a digital scholarly network in media studies. Read the Institute's blog, if:book. Inquiries: curator [at] futureofthebook [dot] org
McKenzie Wark teaches media and cultural studies at the New School for Social Research and Eugene Lang College in New York City. He is the author of several books, most recently A Hacker Manifesto (Harvard University Press) and Dispositions (Salt Publishing).
Posted by ben vershbow at 10:09 AM | Comments (3) | TrackBack
tags: GAM3R_7H30RY , books , gamertheory , publishing , reading , the_networked_book , visualization
That's what Hewlett-Packard is hoping to do. The NYT explains.
HP recently acquired a small online photo-printing company named Tabblo, which has been developing software that will automatically reformat any web page, in any layout, to be easily printable. HP's goal is to use this technology to create a browser plugin, as ubiquitous as Flash and Java, that could become "the printing engine of the web." Let's hope, for the sake of the world's forests, that a decent electronic reader comes out first.
(Thanks, Peter Brantley.)
Posted by ben vershbow at 12:01 AM | Comments (5) | TrackBack
tags: HP , print , reading , web
Peter Brantley relates the frustrating experience of trying to hunt down a particular passage in a book and his subsequent painful collision with the cold economic realities of publishing. The story involves a $58 paperback, a moment of outrage, and a venting session with an anonymous friend in publishing. As it happens, the venting turned into some pretty fascinating speculative musing on the future of books, some of which Peter has reproduced on his blog. Well worth a read.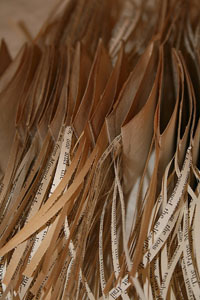 A particularly interesting section (quoted further down) is on the implications for publishers of on-demand disaggregated book content: buying or accessing selected sections of books instead of entire volumes. There are numerous signs that this will be at least one wave of the future in publishing, and should probably prod folks in the business to reevaluate why they publish certain things as books in the first place.
Amazon already provides a by-the-page or by-the-chapter option for certain titles through its "Pages" program. Google presumably will hammer out some deals with publishers and offer a similar service before too long. Peter Osnos' Caravan Project includes individual chapter downloads and print-on-demand as part of the five-prong distribution standard it is promoting throughout the industry. If this catches on, it will open up a plethora of options for readers but it might also unvravel the very notion of what a book is. Could we be headed for a replay of the mp3's assault on the album?
The wholeness of the book has to some extent always been illusory, and reading far more fragmentary than we tend to admit. A number of things have clouded our view: the economic imperative to publish whole volumes (it's more cost-effective to produce good aggregations of content than to publish lots of individual options, or to allow readers to build their own); romantic notions of deep, cover-to-cover reading; and more recently, the guilty conscience of the harried book consumer (when we buy a book we like to think that we'll read the whole thing, yet our shelves are packed with unfinished adventures).
But think of all the books that you value just for a few particular nuggets, or the books that could have been longish essays but were puffed up and padded to qualify as $24.95 commodities (so many!). Any academic will tell you that it is not only appropriate but vital to a researcher's survival to hone in on the parts of a book one needs and not waste time on the rest (I've received several tutorials from professors and graduate students on the fine art of fileting a monograph). Not all thoughts are book-sized and not all reading goes in a straight line. Selective reading is probably as old as reading itself.
Unbundling the book has the potential to allow various forms of knowledge to find the shapes and sizes that fit them best. And when all the pieces are interconnected in the network, and subject to social discovery tools like tagging, RSS and APIs, readers could begin to assume a role traditionally played by publishers, editors and librarians -- the role of piecing things together. Here's the bit of Peter's conversation that goes into this:
Peter: ...the Google- empowered vision of the "network of books" which is itself partially a romantic, academic notion that might actually be a distinctly net minus for publishers. Potentially great for academics and readers, but potentially deadly for publishers (not to mention librarians). As opposed to the simple first order advantage of having the books discoverable in the first place - but the extent to which books are mined and then inter-connected - that is an interesting and very difficult challenge for publishers.

Am I missing something...?

Friend: If you mean, are book publishers as we know them doomed? Then the answer is "probably yes." But it isn't Google's connecting everything together that's doing it. If people still want books, all this promotion of discovery will obviously help. But if they want nuggets of information, it won't. Obviously, a big part of the consumer market that book publishers have owned for 200 years want the nuggets, not a narrative. They're going, going, gone. The skills of a "publisher" -- developing content and connecting it to markets -- will have to be applied in different ways.

Peter: I agree that it is not the mechanical act of interconnection that is to blame but the demand side preference for chunks of texts. And the demand is probably extremely high, I agree.

The challenge you describe for publishers - analogous in its own way to that for libraries - is so fundamentally huge as to mystify the mind. In my own library domain, I find it hard to imagine profoundly differently enough to capture a glimpse of this future. We tinker with fabrics and dyes and stitches but have not yet imagined a whole new manner of clothing.

Friend: Well, the aggregation and then parceling out of printed information has evolved since Gutenberg and is now quite sophisticated. Every aspect of how it is organized is pretty much entirely an anachronism. There's a lot of inertia to preserve current forms: most people aren't of a frame of mind to start assembling their own reading material and the tools aren't really there for it anyway.

Peter: They will be there. Arguably, when you look at things like RSS and Yahoo Pipes and things like that - it's getting closer to what people need.

And really, it is not always about assembling pieces from many different places. I might just want the pieces, not the assemblage. That's the big difference, it seems to me. That's what breaks the current picture.

Friend: Yes, but those who DO want an assemblage will be able to create their own. And the other thing I think we're pointed at, but haven't arrived at yet, is the ability of any people to simply collect by themselves with whatever they like best in all available media. You like the Civil War? Well, by 2020, you'll have battle reenactments in virtual reality along with an unlimited number of bios of every character tied to the movies etc. etc. etc. I see a big intellectual change; a balkanization of society along lines of interest. A continuation of the breakdown of the 3-television network (CBS, NBC, ABC) social consensus.
Posted by ben vershbow at 12:48 PM | Comments (2) | TrackBack
tags: POD , books , disaggregation , ebooks , libraries , publishing , reading , the_networked_book