News broke quietly a little over a week ago that Google will begin selling full digital book editions from participating publishers. This will not, Google makes clear, extend to books from its Library Project -- still a bone of contention between Google and the industry groups that have brought suit against it for scanning in-copyright works (75% of which -- it boggles the mind -- are out of print).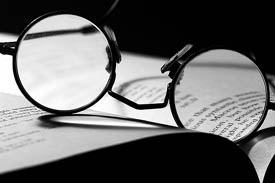 Let's be clear: when they say book, they mean it in a pretty impoverished sense. Google's ebooks will not be full digital editions, at least not in the way we would want: with attention paid to design and the reading experience in general. All you'll get is the right to access the full scanned edition online.
Much like Amazon's projected Upgrade program, you're not so much buying a book as a searchable digital companion to the print version. The book will not be downloadable, printable or shareable in any way, save for inviting a friend to sit beside you and read it on your screen. Fine, so it will be useful to have fully searchable texts, but what value is there other than this? And what might this suggest about the future of publishing as envisioned by companies like Google and Amazon, not to mention the future of our right to read?
About a month ago, Cory Doctorow wrote a long essay on Boing Boing exhorting publishers to wake up to the golden opportunities of Book Search. Not only should they not be contesting Google's fair use claim, he argued, but they should be sending fruit baskets to express their gratitude. Allowing books to dwell in greater numbers on the internet saves them from falling off the digital train of progress and from losing relevance in people's lives. Doctorow isn't talking about a bookstore (he wrote this before the ebook announcement), or a full-fledged digital library, but simply a searchable index -- something that will make books at least partially functional within the social sphere of the net.
This idea of the social life of books is crucial. To Doctorow it's quite plain that books -- as entertainment, as a diversion, as a place to stick your head for a while -- are losing ground in a major way not only to electronic media like movies, TV and video games (that's been happening for a while), but to new social rituals developing on the net and on portable networked devices.
Though print will always offer inimitable pleasures, the social life of media is moving to the network. That's why we here at if:book care so much about issues, tangential as they may seem to the future of the book, like network neutrality, copyright and privacy. These issues are of great concern because they make up the environment for the future of reading and writing. We believe that a free, neutral network, a progressive intellectual property system, and robust safeguards for privacy are essential conditions for an enlightened digital age.
We also believe in understanding the essence of the new medium we are in the process of inventing, and about understanding the essential nature of books. The networked book is not a block on a shelf -- it is a piece of social software. A web of revisions, interactions, annotations and references. "A piece of intellectual territory." It can't be measured in copies. Yet publishers want electronic books to behave like physical objects because physical objects can be controlled. Sales can be recorded, money counted. That's why the electronic book market hasn't materialized. Partly because people aren't quite ready to begin reading books on screens, but also because publishers have been so half-hearted about publishing electronically.
They can't even begin to imagine how books might be enhanced and expanded in a digital environment, so terrified are they of their entire industry being flushed down the internet drain -- with hackers and pirates cannibalizing the literary system. To them, electronic publishing is grit your teeth and wait for the pain. A book is a PDF, some DRM and a prayer. Which is why they've reacted so heavy-handedly to Google's book project. If they lose even a sliver of control, so they are convinced, all hell could break loose.
But wait! Google and Amazon are here to save the day. They understand the internet (naturally -- they helped invent it). They understand the social dimension of online spaces. They know how to harness network effects and how to read the embedded desires of readers in the terms and titles for which they search. So they understand the social life of books on the network, right? And surely they will come up with a vision for electronic publishing that is both profitable for the creators and every bit as rich as the print culture that preceded it. Surely the future of the book lies with them?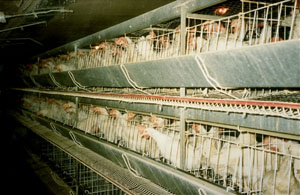 Sadly, judging by their initial moves into electronic books, we should hope it does not. Understanding the social aspect of the internet also enables you to cunningly restrict it, more cunningly than any print publishers could figure out how to do.
Yes, they'll give you the option of buying a book that lives its life on line, but like a chicken in a poultry plant, packed in a dark crate stuffed with feed tubes, it's not much of a life. Or better, let's evaluate it in the terms of a social space -- say, a seminar room or book discussion group. In a Google/Amazon ebook you will not be allowed to:
- discuss
- quote
- share
- make notes
- make reference
- build upon
This is the book as antisocial software. Reading is done in solitary confinement, closely monitored by the network overseers. Google and Amazon's ebooks are essentially, as David Rothman puts it on Teleread, "in a glass case in a museum." Get too close to the art and motion sensors trigger the alarm.
So ultimately we can't rely on the big technology companies to make the right decisions for our future. Google's "fair use" claim for building its books database may be bold and progressive, but its idea of ebooks clearly is not. Even looking solely at the searchable database component of the project, let's not forget that Google's ranking system (as Siva Vaidhyanathan has repeatedly reminded us) is non-transparent. In other words, when we do a search on Google Books, we don't know why the results come up in the order that they do. It's non-transparent librarianship. Information mystery rather than information science. What secret algorithmic processes are reordering our knowledge and, over time, reordering our minds? And are they immune to commercial interests? And shouldn't this be of concern to the libraries who have so blithely outsourced the task of digitization? I repeat: Google will make the right choices only when it is in its interest to do so. Its recent actions in China should leave no doubt.
Perhaps someday soon they'll ease up a bit and let you download a copy, but that would only be because the hardware we are using at that point will be fitted with a "trusted computing" module, which which will monitor what media you use on your machine and how you use it. At that point, copyright will quite literally be the system. Enforcement will be unnecessary since every potential transgression will be preempted through hardwired code. Surveillance will be complete. Control total. Your rights surrendered simply by logging on.
Posted by ben vershbow at 7:24 AM | Comments (4) | TrackBack
tags: Copyright and Copyleft , DRM , books , copyright , ebooks , google , google_book_search , privacy , publishing , reading , search , social_software , the_networked_book , trusted_computing
Though we haven't talked much about it here, the Institute is dedicated to practice in addition to the theory we regularly spout here. In July, the Institute will release Sophie, our first piece of software. Sophie is an open-source platform for creating and reading electronic books for the networked environment. It will facilitate the construction of documents that use multimedia and time in ways that are currently difficult, if not impossible, with today's software. We spend a fair amount of time talking about what electronic books and documents should do on this blog. Hopefully, many of these ideas will be realized in Sophie.
A beta release for Sophie will be upon us before we know it, and readers of this blog will be hearing (and seeing) more about it in the future. We're excited about what we've seen Sophie do so far; soon you'll be able to see too. Until then, we can offer you this 13-page PDF that attempts to explain exactly what Sophie is, the problems that it was created to solve, and what it will do. An HTML version of this will be arriving shortly, and there will soon be a Sophie version. There's also, should you be especially curious, a second 5-page PDF that explains Sophie's pedigree: a quick history of some of the ideas and software that informed Sophie's design.
Posted by dan visel at 5:09 PM | Comments (39) | TrackBack
tags: Sophie , books , ebook , open_source , reading , software , writing
Thinking about blogging: where's it's been and where it's going. Recently I found food for thought in a smart but ultimately misguided essay by Trevor Butterworth in the Financial Times. In it, he decries blogging as a parasitic binge:
...blogging in the US is not reflective of the kind of deep social and political change that lay behind the alternative press in the 1960s. Instead, its dependency on old media for its material brings to mind Swift's fleas sucking upon other fleas "ad infinitum": somewhere there has to be a host for feeding to begin. That blogs will one day rule the media world is a triumph of optimism over parasitism.
While his critique is not without merit, Butterworth ultimately misses the forest for the fleas, fixating on the extremes of the phenomenon -- the tiny tier of popular "establishment" bloggers and the millions of obscure hacks endlessly recycling news and gossip -- while overlooking the thousands of mid-level blogs devoted to specialized or esoteric subjects not adequately covered -- or not covered at all -- by the press. Technorati founder David Sifry recently dubbed this the "magic middle" of the blogosphere -- that group of roughly 150,000 sites falling somewhere between the short head and the long tail of the popularity graph. Notable as the establishment bloggers are, I would argue that it's the middle stratum that has done the most in advancing serious discourse online. Here we are not talking about antagonism between big and small media, but rather a filling out of the media ecosystem -- where a proliferation of niches, like pixels on a screen, improves the resolution of our image of the world.
from On Poetry: A Rhapsody (1733)

So, naturalists observe, a flea
Hath smaller fleas that on him prey;
And these have smaller still to bite 'em;
And so proceed ad infinitum.
Thus every poet, in his kind,
Is bit by him that comes behind.

—Jonathan Swift
At their worst, bloggers -- like Swift's reiterative fleas -- bounce ineffectually off the press's opacities. But sometimes the collective feeding frenzy can expose flaws in the system. Moreover, there are some out there that have the knowledge and insight to decode what the press reports yet fails to adequately analyze. And there others still who are not tied so inexorably to the news cycle but follow their own daemon.
To me, Swift's satire, while humorously portraying the endless cycle of literary derivation, also suggests a healthier notion of process -- less parasitic and more cumulative. At best transformative. The natural accretion over time of ideas and tradition. It's only natural that poets build -- or feed -- on the past. They feel the nip at their behinds. They channel and reinvent. As do scholars and philosophers.
But having some expertise and knowing how to craft a sentence does not necessarily mean one is meant to blog. In an amusing passage, Butterfield speculates on how things might how gone horribly awry had George Orwell (oft hailed as a proto-blogger) been given the opportunity to maintain a daily journal online (think tedious rambling on the virtues of English cuisine). Good blogging requires not only a voice, but a special commitment -- a compulsion even -- to air one's thinking in real time. A relish for working through ideas in the open, often before they're fully baked.
But evidently Butterfield hasn't considered the merits of blogging as a process. He remains terminally hung up on the product, concluding that blogging "renders the word even more evanescent than journalism" and is "the closest literary culture has come to instant obsolescence." Fine. Blogging is in many ways a vaporous pursuit, but then so is conversation -- so is theatre. Blogging, in its essence, is about discussion and about working through ideas. And, I would argue, it is as much about reading as it is about writing.
Back in August, I wrote about this notion of the blog as a record of reading -- an idea to which I still hold fast. The blog is a tool (for writers and readers alike) for dealing with information overload -- for processing an unmanageable abundance of reading material. Most bloggers, the good ones anyway, not only point to links (though the good pointer sites like Arts & Letters Daily are invaluable), they comment upon them (as I am doing here), glossing them for their readers, often quoting at length. The blog captures that wave of energy emitted by the reader's mind upon contact with an idea or story.
I do think blogging goes a significant ways toward the Enlightenment ideal of a reading public, even if only one percent of that public is worth reading. Hemingway famously said that he wrote 99 pages of crap for every one page of masterpiece. We should apply a similar math to blogs, and hope the tools for filtering out that 99 percent improve over time. After all, one percent of 28 million is no small number (about the population of Buffalo, NY). I'm confident that, in aggregate, this small democratic layer illumines more than it obscures, blazing trails of readings and fostering conversation. And this, I would venture -- when combined and balanced with more traditional media sources -- offers a more balanced reading diet.
Posted by ben vershbow at 7:53 AM | Comments (8) | TrackBack
tags: Blogosphere , Online , blogging , blogs , hemingway , jonathan_swift , journalism , media , orwell , parasite , publishing , reading , technorati
After enduring a weeks-long PR pummeling for its dealings in China, Google is hard at work to improve its image in the world, racking up some points for good after slipping briefly into evil. Recently they launched Google.org: a website for the Google Foundation, the corporation's philanthropic arm and central office of evil mitigation. Paying a visit to the site, the disillusioned among us will be pleased to find that the foundation is already sponsoring a handful of worthy initiatives, along with a grants program that donates free web advertising to nonprofit organizations. And just in case we were concerned that Google might not apply its techno-capitalist wizardry to altruism as zealously as to making profit, they just announced today they've named a new director for the foundation by the name of -- no joke -- Dr. Brilliant. So it seems the world is in capable hands.
One project in particular caught my eye in light of recent discussions about screen-based reading and genre-blending visions of the book. Planet Read is an organization that promotes literacy in India through Same Language Subtitling -- a simple but apparently effective technique for building basic reading skills, taking popular visual entertainment like Bollywood movies and adding subtitles in English and Hindi along the bottom of the screen. A number of samples (sadly no Bollywood, just videos or photo montages set to Indian folk songs) can be found on Google Video. Here's one that I particularly liked:
Watching the video -- managing the interplay between moving text and moving pictures -- I began to wonder whether there are possibly some clues to be mined here about the future of reading. Yes, Planet Read is designed first and foremost to train basic alphabetic literacy, turning a captive audience into a captive classroom. But in doing so, might it not also be nurturing another kind of literacy?
The problem with contemporary discussions about the future of the book is that they are mired -- for cultural and economic reasons -- in a highly inflexible conception of what a book can be. People who grew up with print tend to assume that going digital is simply a matter of switching containers (with a few enhancements thrown in the mix), failing to consider how the actual content of books might change, or how the act of reading -- which increasingly takes place in a dyanamic visual context -- may eventually demand a more dynamic kind of text.
Blurring the lines between text and visual media naturally makes us uneasy because it points to a future that quite literally (for us dinosaurs at least) could be unreadable. But kids growing up today, in India or here in the States, are already highly accustomed to reading in screen-based environments, and so they probably have a somewhat different idea of what reading is. For them, text is likely just one ingredient in a complex combinatory medium.
Another example: Nochnoi Dozor (translated "Night Watch") is a film that has widely been credited as the first Russian blockbuster of the post-Soviet era -- an adrenaline-pumping, special effects-infused, sci-fi vampire epic made entirely by Russians, on Russian soil and on Russian themes (it's based on a popular trilogy of novels). When it was released about a year and a half ago it shattered domestic box office records previously held by Western hits like Titanic and Lord of the Rings. Just about a month ago, the sequel "Day Watch" shattered the records set by "Night Watch."
While highly derivative of western action movies, Nochnoi Dozor is moody, raucous and darkly gorgeous, giving a good, gritty feel of contemporary Moscow. Its plot grows rickety in places, and sometimes things are downright incomprehensible (even, I'm told, with fluent Russian), so I'm skeptical about its prospects on this side of the globe. But goshdarnit, Russians can't seem to get enough of it -- so in an effort to lure American audiences over to this uniquely Russian gothic thriller, start building a brand out of the projected trilogy (and presumably pave the way for the eventual crossover to Hollywood of director Timur Bekmambetov), Fox Searchlight just last week rolled the film out in the U.S. on a very limited release.
What could this possibly have to do with the future of reading? Well, naturally the film is subtitled, and we all know how subtitles are the kiss of death for a film in the U.S. market (Passion of the Christ notwithstanding). But the marketers at Fox are trying something new with Nochnoi Dozor. No, they weren't foolish enough to dub it, which would have robbed the film of the scratchy, smoke-scarred Moscow voices that give it so much of its texture. What they've done is played with the subtitles themselves, making them more active and responsive to the action in the film (sounds like some Flash programmer had a field day...). Here's a description from an article in the NY Times (unfortunately now behind pay wall):
...[the words] change color and position on the screen, simulate dripping blood, stutter in emulation of a fearful query, or dissolve into red vapor to emulate a character's gasping breaths.
And this from Anthony Lane's review in the latest New Yorker:
...the subtitles, for instance, are the best I have encountered. Far from palely loitering at the foot of the screen, they lurk in odd corners of the frame and, at one point, glow scarlet and then spool away, like blood in water. I trust that this will start a technical trend and that, from here on, no respectable French actress will dream of removing her clothes unless at least three lines of dialogue can be made to unwind across her midriff.
It might seem strange to think of subtitling of foreign films as a harbinger of future reading practices. But then, with the increasing popularity of Asian cinema, and continued cross-pollination between comics and film, it's not crazy to suspect that we'll be seeing more of this kind of textual-visual fusion in the future.
Most significant is the idea that the text can itself be an actor in a perfomance: a frontier that has only barely been explored -- though typography enthusiasts will likely pillory me for saying so.
Posted by ben vershbow at 6:57 PM | Comments (7) | TrackBack
tags: animation , books , cinema , digital_literature , ebooks , film , flash , google , google_video , india , language , literacy , reading , russia , subtitles , translation , typography , video
The bible has long been a driver of innovation in book design, and this latest is no exception: an ad I saw today on TV for the complete King James Bible on DVD. Not a film, mind you, but an interactive edition of the old and new testaments built around a graphical rendering of an old bible open on a lectern that the reader, uh viewer, uh... reader controls. Each page is synched up to a full-text narration in the "crystal clear, mellow baritone" of Emmy-winning Bible reader Stephen Johnston, along with assorted other actors and dramatic sound effects bringing the stories to life.
There's the ad to the right (though when I saw it on BET the family was black). You can also download an actual demo (Real format) here. It's interesting to see the interactivity of the DVD used to mimic a physical book -- even the package is designed to suggest the embossed leather of an old bible, opening up to the incongruous sight of a pair of shiny CDs. More than a few analogies could be drawn to the British Library's manuscript-mimicking "Turning the Pages," which Sally profiled here last week, though here the pages replace each other with much less fidelity to the real.
There's no shortage of movie dramatizations aimed at making the bible more accessible to churchgoers and families in the age of TV and the net. What the makers of this DVD seem to have figured out is how to combine the couch potato ritual of television with the much older practice of group scriptural reading. Whether or not you'd prefer to read the bible in this way, with remote control in hand, you can't deny that it keeps the focus on the text.
Last week, Jesse argued that it's not technology that's causing a decline in book-reading, but rather a lack of new technologies that make books readable in the new communications environment. He was talking about books online, but the DVD bible serves just as well to illustrate how a text (a text that, to say the least, is still in high demand) might be repurposed in the context of newer media.
Another great driver of innovation in DVDs: pornography. No other genre has made more creative use of the multiple camera views options that can be offered simulataneously on a single film in the DVD format (I don't have to spell out what for). They say that necessity is the mother of invention, and what greater necessities than sex and god? You won't necessarily find the world's most elegant design, but it's good to keep track of these uniquely high-demand areas as they are consistently ahead of the curve.
Posted by ben vershbow at 5:50 PM | Comments (16)
tags: DVD , The Performing Book , bible , books , christianity , ebook , ebooks , god , interface , literacy , porn , pornography , reading , religion , scripture , television
The following post comes from my friend Sally Northmore, a writer and designer based in New York who lately has been interested in things like animation, video game theory, and (right up our alley) the materiality of books and their transition to a virtual environment. A couple of weeks ago we were talking about the British Library's rare manuscript digitization project, "Turning the Pages" -- something I'd been meaning to discuss here but never gotten around to doing. It turns out Sally had some interesting thoughts about this so I persuaded her to do a brief write-up of the project for if:book. Which is what follows below. Come to think of it, this is especially interesting when juxtaposed with Bob's post earlier this week on Jefferson Han's amazing gestural interface design. Here's Sally... - Ben
The British Library's collaboration with multimedia impresarios at Armadillo Systems has led to an impressive publishing enterprise, making available electronic 3-D facsimiles of their rare manuscript collection.
"Turning the Pages", available in CD-ROM, online, and kiosk format, presents the digital incarnation of these treasured texts, allowing the reader to virtually "turn" the pages with a touch and drag function, "pore over" texts with a magnification function, and in some cases, access extras such as supplementary notes, textual secrets, and audio accompaniment.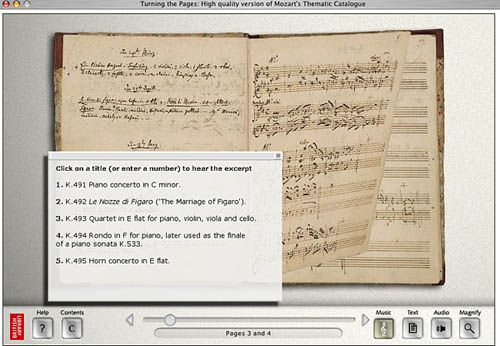 Pages from Mozart's thematic catalogue -- a composition notebook from the last seven years of his life. Allows the reader to listen to works being discussed.
The designers ambitiously mimicked various characteristics of each work in their 3-D computer models. For instance, the shape of a page of velum turning differs from the shape of a page of paper. It falls at a unique speed according to its weight; it casts a unique shadow. The simulation even allows for a discrepancy in how a page would turn depending on what corner of the page you decide to peel from.
Online visitors can download a library of manuscripts in Shockwave although these versions are a bit clunkier and don't provide the flashier thrills of the enormous touch screen kiosks the British Library now houses.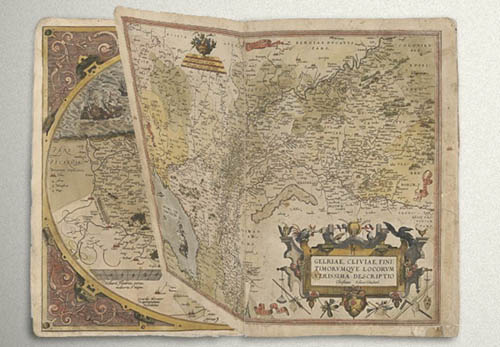 Mercator's first atlas of Europe - 1570s
Online, the "Turning the Pages" application forces you to adapt to the nature of its embodiment--to physically re-learn how to use a book. A hand cursor invites the reader to turn each page with a click-and-drag maneuver of the mouse. Sounds simple enough, but I struggled to get the momentum of the drag just right so that the page actually turned. In a few failed attempts, the page lifted just so... only to fall back into place again. Apparently, if you can master the Carpal Tunnel-inducing rhythm, you can learn to manipulate the page-turning function even further, grabbing multiple of pages at once for a faster, abridged read.
The value of providing high resolution scans of rare editions of texts for the general public to experience, a public that otherwise wouldn't necessarily ever "touch" say, the Lindisfarne Gospels, doesn't go without kudos. Hey, democratic right? Armadillo Systems provides a list of compelling raisons d'être on their site to this effect. But the content of these texts is already available in reprintable (democratic!) form. Is the virtual page-turning function really necessary for greater understanding of these works, or a game of academic scratch-n-sniff?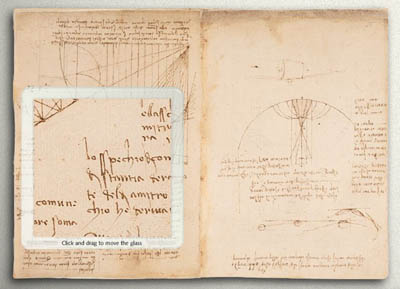 The "enlarge" function even allows readers to reverse the famous mirror writing in Leonardo da Vinci's notebooks
At the MLA conference in D.C. this past December, where the British Library had set up a demonstration of "Turning the Pages", this was the question most frequently asked of the BL's representative. Who really needs to turn the pages? I learned from the rep's response that, well, nobody does! Scholars are typically more interested studying the page, and the turning function hasn't proven to enhance or revive scholarly exploration. And surely, the Library enjoyed plenty of biblio-clout and tourist traffic before this program?
But the lure of new, sexy technology can't be underestimated. From what I understood, the techno-factor is an excellent beacon for attracting investors and funding in multimedia technology. Armadillo's web site provides an interesting sales pitch:
By converting your manuscripts to "Turning the Pages" applications you can attract visitors, increase website traffic and add a revenue stream - at the same time as broadening access to your collection and informing and entertaining your audience.
The program reveals itself to be a peculiar exercise, tangled in its insistence on fetishizing aspects of the material body of the text--the weight of velum, the karat of gold used to illuminate, the shape of the binding. Such detail and love for each material manuscript went into this project to recreate, as best possible, the "feel" of handling these manuscripts.
Under ideal circumstances, what would the minds behind "Turning the Pages" prefer to create? The original form of the text--the "alpha" manuscript--or the virtual incarnation? Does technological advancement seduce us into valuing the near-perfect simulation over the original? Are we more impressed by the clone, the "Dolly" of hoary manuscripts? And, would one argue that "Turning the Pages" is the best proxy for the real thing, or, another "thing" entirely?
Posted by sally northmore at 6:16 PM | Comments (6)
tags: Libraries, Search and the Web , book_craft , books , design , design_curmudgeonry , digitization , interface , library , manuscript , museum , preservation , reading , turning_the_pages , user_interface