Listing entries tagged with Publishing, Broadcast, and the Press
1 | 2 | 3 | 4 | 5 | 6 | 7 | 8 | 9
We are fast approaching a point when there will be as many cameras as there are points of view. Everyone is an eye with a record button - embedded, as it were, in the trenches of everyday life. In the week that has passed since the bombs rocked London, major newspapers and television networks have run images and grainy video clips captured by ordinary people on their cellphones and digital cameras. Flickr has become a clearinghouse for July 7 terror blast images. Technorati has tracked the commentary and condolences that have flowed through the blogosphere. The Wikipedia community has mounted a detailed page, through thousands of edits, that combines the most up-to-date developments of the news with the useful contextual evidence and historical background that one would expect from an encyclopedia. But it's the images and video that have made the greatest penetration into the mainstream media. From "London Bombing Pictures Mark New Role for Camera Phones" in National Geographic News:
The BBC said it received around 30 video clips from members of the public and more than 300 e-mails containing an average of three images each on the day of the attacks. TV news channels, meanwhile, aired cell phone video footage within half an hour of the explosions.
These are probably the two most reproduced images: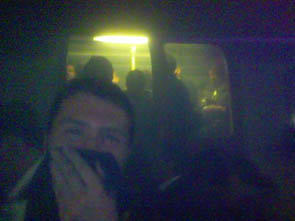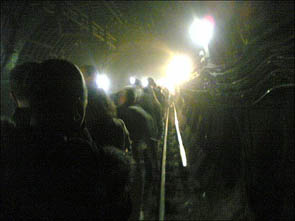 From a column in Digital Journalist on "citizen shutterbugs":
Many times these images are sent to family members first and then later find their way into the river of data that becomes public information. At times, some of these images are "picked up" by the mainstream media and disseminated as "real" news, which of course they can be.
The same goes for the photos from Abu Ghraib, first distributed among friends as perverse trophies from the land of occupation. I wonder about this impulse to record one's life in such fine-grained detail - it seems the new technologies turn us into auto-voyeurs. The soldiers record their crimes and end up implicating themselves. Similarly, the victims of the London bombings record their evacuation march through the tunnels, bearing witness to their own trauma. Then there are the onlookers, the passersby, who happen to be near the chaos.
Were the London bombings the tipping point? A local news cameraman meditates on the imminent decline of his profession:
Now, a new revolution is about to be televised. Tiny lenses are popping in the most unlikely of devices, powerful editing is just a laptop away and personal websites are racing towards critical mass. How long before my oversized fancy-cam looks like an early 80's bag phone? About the same time the six o clock news begins looking like it was shot by a hopped-up junkie with a twitchy digital, I'm guessing. The next ten years promise to feature a rapid breakdown of my chosen craft. Whatever new paradigm takes hold, it's a safe bet the two-person news crew is an endangered species, driven to oblivion by technology and methods that are faster and cheaper, but not necessarily better. Hopefully by that time, I'll have found more fulfilling ways to make a difference and a paycheck. Until then, I'll be here in the media pack, one eye buried in a viewfinder, the other one keeping steady watch over a nation of digital interlopers.
Other relevant items:
From Newsweek: "History's New First Draft"
From the BBC: "Mobiles Capture Blast Aftermath"
Posted by ben vershbow at 12:25 PM | Comments (0)
tags: Publishing, Broadcast, and the Press
Ross Mayfield from Many 2 Many was dismayed when the LA Times hurriedly cancelled its "wikatorials" experiment after a single, unpleasant spate of vandalism:
I'm still a bit irked that the LA Times Editors shut down the Wikitorials community. I started to become engaged in the community and saw promise. They shut it down without warning and without thinking things through to begin with.
So he's leading the charge on a community-penned letter to the editor on (you guessed it) a wiki, to perhaps breathe a little warmth into cold feet.
Posted by ben vershbow at 7:52 AM | Comments (0)
tags: Publishing, Broadcast, and the Press
The Eleventh Annual Euro RSCG Magnet and Columbia University Survey of Media found that 51% of journalists use blogs, many of them for work, though few are actually writing their own. The study also found that, although more than half admit to using blogs, only 1% find them to be credible. Hmmm... From Business Wire:
The study found that blogs have become a large -- and arguably, increasingly integral -- part of how journalists do their jobs. Indeed, 70% of journalists who use blogs do so for work-related tasks. Most often, those work-related tasks involve finding story ideas, with 53% of journalist respondents reporting using blogs for such purposes. But respondents also turn to blogs for other uses, including researching and referencing facts (43%) and finding sources (36%). Most notable, fully 33% of journalists say they use blogs as a way of uncovering breaking news or scandals. Few blog-using journalists are engaging with this new medium by posting to blogs or publishing their own; such activities might be seen as compromising objectivity and thus credibility.
Posted by ben vershbow at 12:48 PM | Comments (0)
tags: Publishing, Broadcast, and the Press
The LA Times has temporarily shelved its plans for running "wikatorials" - editorials that any reader can edit - due to a flood of "inappropriate material." The whole experiement with wikis was a risky move for a well-established newspaper to take, and it's not surprising that they immediately panicked once the riff raff showed up. It's hard to establish an open, collaborative environment from the top-down. Whereas, if you start from a point of low stakes, with little prestige on the line (as Wikipedia did), then the enterprise can evolve slowly, embarrassing missteps, spam and all.
Someone should start an experiment: dump the LA Times content in a non-affiliated wiki and try the wikatorials there. Give it time, let the community build, work out the hiccups, and then give the LA Times a call.
Posted by ben vershbow at 10:24 AM | Comments (1)
tags: Publishing, Broadcast, and the Press , the_networked_book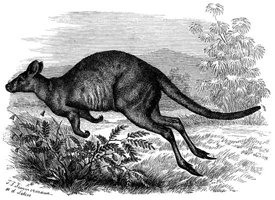 The other day, I came across an interesting experiment with a new model of distribution and ownership on the web, something that writers, publishers and journalists should pay attention to. KeepMedia charges $4.95 a month for unlimited access to 200 mainstream periodicals (see list) spanning the last 12 years up to the present day. That's significantly less than what I pay annually for my handful of print periodical subscriptions, and gives me access to much more material (kind of like LexisNexis for the masses). Plus, you do get to "keep" - that's part of how it works (indeed, their logo is a kangaroo with a stack of magazines stuffed in her pouch). KeepMedia allows you to attach notes to articles and to store away "clippings." It also makes it easy to track subjects across publications, and has automated recommendations for related stories. I assume that stored articles will get caged off if you stop subscribing. That's what makes me nervous about the pay-for-the-service model. You don't actually get to keep anything for the long haul, unless you print it out. But KeepMedia suggests one way that newspapers and publishers might adapt to the digital age.
Right now, publishers are still stuck on the idea of individual "copies." The web - an enormous, interconnected copying machine - is inherently hostile to this idea. So publishers generally insist on digital rights management (DRM) - coded controls that restrict what you can do with a piece of media. This, almost invariably, is infuriating, and ends up unfairly punishing people who have willingly paid a fair price for an item. Pay-for-the-service models won't solve the problem entirely, but they do get away from the idea of "copies." On the web, copies are cheap, or free. But access to a library or database is valuable. It's not about how many copies are sold, it's about how many people are reading. So charge at the gate. Once people are inside, it's all you can eat. This is nothing new. People play a flat rate for cable television, which is essentially a list of publications. You pay extra for premium channels, or pay-per-view special features, but your basic access is assured. What and how much you watch is up to you. Yahoo! is trying this right now for music. Why not do the same for newspapers, or for books? The web is combining publishing with broadcasting. Publishers and broadcasters need to adapt.
Related posts:
"web news as gated community"
"self-destructing books"

Posted by ben vershbow at 12:51 PM | Comments (0) | TrackBack
tags: Copyright and Copyleft , Publishing, Broadcast, and the Press
Next week, as part of a general reworking of its editorial page, the LA Times is staring "wikatorials" - "an online feature that will empower you to rewrite Los Angeles Times editorials."
(via Dan Gillmor)
UPDATE: "Upheaval on Los Angeles Time Editorial Pages" in NY Times.
Posted by ben vershbow at 10:52 AM | Comments (0)
tags: Publishing, Broadcast, and the Press
Just found out about this on diglet.. Launched in April, The National Digital Newspaper Program (NDNP) is a joint effort of the Library of Congress and the National Endowment of the Humanities to create a comprehensive web archive of the nation's public domain newspapers.
Ultimately, over a period of approximately 20 years, NDNP will create a national, digital resource of historically significant newspapers from all the states and U.S. territories published between 1836 and 1922. This searchable database will be permanently maintained at the Library of Congress (LC) and be freely accessible via the Internet.
(A similar project is getting underway in France.)
It's frustrating that this online collection will stop at 1922. Ordinary libraries maintain up-to-date periodical archives and make them available to anyone if they're willing to make the trip. But if they put those collections on the web, they'll be sued. Archives are one of the few ways newspapers have figured out to make money on the web, so they're not about to let libraries put their microfilm and periodical reading rooms online. The paradigm has flipped.. in print, you pay for the current day's edition, but the following day it ends up in the trash, or wrapping a fish. The passage of 24 hours makes it worthless. On the web, most news is free. It's the fish wrap that costs you.
The web has utterly changed what things are worth. For most people, when a news site asks them to pay, they high tail it out of there and never look back. Even being asked to register is enough to deter many readers. But come September, the New York Times will start charging a $50 annual fee for what it considers its most unique commodities - editorials, op-eds, and selected other features. Is a full subscription site not far off? With their prestige and vast readership, the Times might be able to pull it off. But smaller papers are afraid to start charging, even as they watch their print circulation numbers plummet. If one paper puts up a tollbooth, they instantly become irrelevant to millions of readers. There will always be a public highway somewhere nearby.
A friend at the Columbia School of Journalism told me that the only way newspapers can be profitable on the web is if they all join together in some sort of league and charge bulk subscription fees for universal access. If there's a wholesale move to the pay model, then readers will have no choice but to shell out. It will be like paying for cable service, where each newspaper is a separate channel. The only time you register is when you pay the initial fee. From then on, it's clear sailing.
It's a compelling idea, but could just be collective suicide for the newspapers. There will always be free news on offer somewhere. Indian and Chinese wire services might claim the market while the prestigious western press withers away. Or people will turn to state-funded media like the BBC or Xinhua. Then again, people might be willing to pay if it means unfettered access to high quality, independent journalism. And with newspapers finally making money on web subscriptions, maybe they'd start loosening up about their archives.
Posted by ben vershbow at 10:25 AM | Comments (0)
tags: Copyright and Copyleft , Libraries, Search and the Web , Publishing, Broadcast, and the Press
There's been an explosion of creative tinkering since the BBC opened up its API (applications programming interface) last month. An API is a window into a site's code and content allowing techie types to build new applications with BBC material. It's really worth going over to the BBC Backstage blog to take a look at the first batch of prototypes and demos. The majority are clever splicings of BBC data - news, traffic reports, images etc. - with Google Maps (everyone's favorite lately), not unlike chicagocrime.org. Other notable examples: an RSS feed of BBC complaints; a feature that allows you to tag articles and read tags left by other readers; and a nice "tag soup" visualization of financial news.
Correction: A reader kindly pointed out that BBC Backstage hasn't actually released APIs yet (though they intend to soon). The projects I've referenced use BBC feeds, or have scraped content directly from the BBC site. APIs are to follow soon (more info here). When they do, the scaping process will become much cleaner. For now, the BBC welcomes projects that "use our stuff to build your stuff" the rough-and-tumble way, and is happy to showcase them on the Backstage site.
The API is becoming a powerful tool for creative reinvention of the web. Back in April, I wrote about Dan Gillmor's piece on "Web 3.0".. Web 1.0 was the early web, a place you went to read - a series of interconnected brochures. Web 2.0 is the "read-write" web - it's a place you go to interact. Web 3.0 is where we start weaving the disparate pieces into new forms. APIs let you do this. You take one application and design a new front end that shows your point of view. Or you take two applications and mix them together, creating something new and illuminating. Right now, Web 2.0 is pretty well in place. The tools for self-expression and interaction are pretty accessible - email, chat, blogs, etc. But the weaving tools required for 3.0 are available only to advanced users. We'll see if that changes.
Here are grabs from four of the map prototypes at BBC Backstage: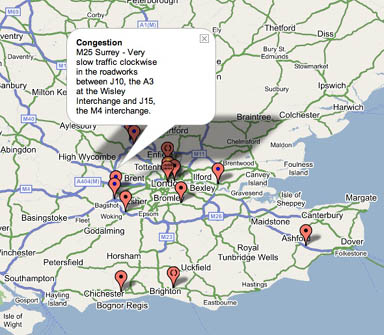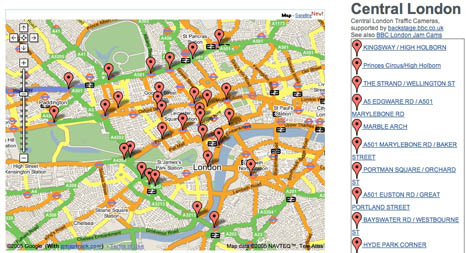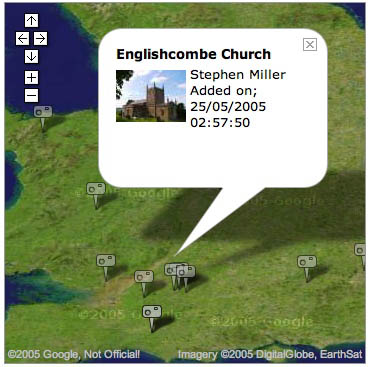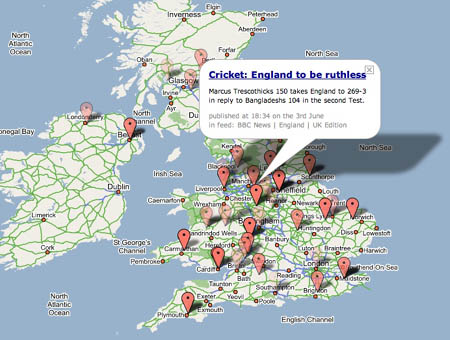 For more analysis, check out this article on O'Reilly Radar.
Posted by ben vershbow at 5:07 PM | Comments (1) | TrackBack
tags: Publishing, Broadcast, and the Press , Remix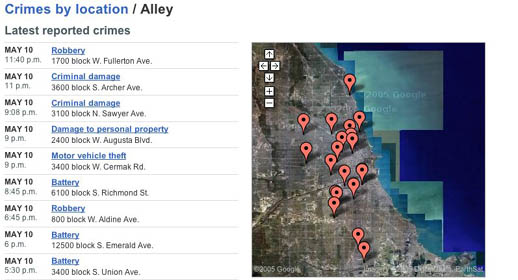 chicagocrime.org, the best use of Google Maps I've seen to date, has been making the web rounds over the past week. It generates maps using information scraped from Citizen ICAM, a public portal to the Chicago Police Department's database of reported crime. You can view by type of crime, street, date, police district, location type (i.e. alley, ATM, residence etc.), or a map of the whole city.
This is the latest in a series of living documents that have sprung up recently - web spaces tied by a thousand strings to real, physical places. I can imagine chicagocrime being integrated into a larger Chicago area web hub, or aggregator. Ideally, these hubs (see here and here) will combine the conviviality of the blog, the utility of craigslist, the diversity of Flickr or ourmedia, and the collective vigilance of citizen journalism. Other recently launched intitiatives of note are Bayosphere ("...of, by and for the Bay Area) and mnspeak.com ("twin cities: all day, all night"). The more people participate, the truer the picture of that place at that time. Are we moving past the primacy of the editor? Or will editors prove more important than ever before?
Posted by ben vershbow at 4:06 PM | Comments (0)
tags: Publishing, Broadcast, and the Press , the_networked_book
In Wired yesterday, Cory Doctorow sums up recent brave efforts by the BBC to adapt to a changing world: BBC Backstage, the Creative Archive, and reader-contributed photos.
"America's entertainment industry is committing slow, spectacular suicide, while one of Europe's biggest broadcasters -- the BBC -- is rushing headlong to the future, embracing innovation rather than fighting it. Unlike Hollywood, the BBC is eager and willing to work with a burgeoning group of content providers whose interests are aligned with its own: its audience."
Above is a clip from a 1913 silent film version of Hamlet, downloadable for free from the British Film Institute under the aegis of the Creative Archive - one of the few bits of free content made available so far. It feels good to make a video quotation with total impunity. Perhaps others will be inspired to take a page from BBC's book.
Here also is Rick Prelinger's speech to the Creative Archive Seminar in April. Prelinger is one of America's great activist archivists.
Posted by ben vershbow at 10:15 AM | Comments (1)
tags: Copyright and Copyleft , Publishing, Broadcast, and the Press
Starting in September, the NY Times will charge an annual subscription fee for a "Select" service, including editorials, op-eds, and archives. Basic news content will remain free. Times chair Arthur Sulzberger Jr remarked that though online advertising is undergoing exponential growth, it is just a matter of time until it flattens out and assumes regular cycles, like in print advertising. Is the free content joyride gradually coming to an end? Or is the Times pounding nails into its own coffin?
Posted by ben vershbow at 11:40 AM | Comments (1)
tags: Publishing, Broadcast, and the Press
Facing slipping circulation and massive migration to the web by younger news consumers, a number of top tier newspapers are switching from the traditional broadsheet format to the more handy tabloid, including the European and Asian editions of the Wall Street Journal.
But is this enough? One British advertiser remarks: "We want newspapers to come up with a solution to the threat of marginalization in a digitalized world. But they have to do more than just play around with the size of paper they're printed on."
The International Herald Tribune ran this story yesterday. I've plugged it before, but the IHT is noteworthy as one of the few online newspapers to eschew vertical scrolling for the layout of articles. Instead, they have simple, attractive (and I would argue, much more readable) horizontal scrolling across fixed, three-column plates. With its long vertical fields, you might say that web news, too, is stuck in the broadsheet model. The problem is that, unlike a print newspaper, a computer screen can't be folded to improve readability, or to isolate a desired area of the page.
Posted by ben vershbow at 5:42 PM | Comments (0) | TrackBack
tags: Publishing, Broadcast, and the Press , the_form_of_the_book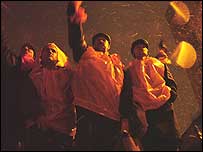 "If you find yourself in the right place at the right time, if an event is unfolding before your eyes and you capture it on a camera or mobile phone, either as a photograph or video, then please send it to BBC News."
The BBC has just made a bold move into user-generated, or rather user-augmented, news. If anyone thinks that a community-built media is only being explored on a smaller, local scale (see here and here), then think again. The world is in a frenzied state of self-documentation - laying down a vast mosaic of images, video, graphics and text on top of every inch of reality. If the mainstream media is to keep up, it will have to a certain extent "employ" everyone as stringers. To put a slight spin on Shirky's formulation: the only group that can record everything is everybody.
(image: Andrew Vorobyov's photo of the "orange revolution" in Ukraine)
Posted by ben vershbow at 10:54 AM | Comments (2)
tags: Publishing, Broadcast, and the Press
Newspapers continue their slide.. From an article in WSJ (a rare free feature):
"Rather than simply trying to halt the decline, which can be done readily through discounts and promotions, they're being forced to try to "manage" their circulation in new ways. Some publishers are deliberately cutting circulation in the hope of selling advertisers on the quality of their subscribers. Others are expanding into new markets to make up for losses in their core markets. Some are switching to a tabloid format or giving away papers to try to attract younger readers. Others are pouring money into television and radio advertising and expensive face-to-face sales pitches to potential subscribers."
You'd think some of this desperate energy could be channeled into making newspapers live more fully on the web.
Posted by ben vershbow at 8:23 AM | Comments (0)
tags: Publishing, Broadcast, and the Press
Google has patented a system that will rank news search results by quality and credibility, instead of simply by date and relevance to keywords. See article "Google searches for quality not quantity" in NewScientist. This recalls questions recently raised by Kim in "is the information any good?...don't ask Google."
People have a hard time agreeing on which news is credible, but I'm hesitant to believe that machines and algorithms can do better. I worry that smaller or alternative sources will get unfairly buried in the listings. Perhaps they should try ranking for neutrality...
Posted by ben vershbow at 8:21 AM | Comments (0)
tags: Publishing, Broadcast, and the Press
Barely 24 hours after being selected as the 265th Pope, Cardinal Joseph Ratzinger, now Benedict XVI, has his own Wikipedia article. Actually, Ratzinger did previously have his own page, but it was moved yesterday to the new Benedict XVI address and has since undergone a massive overhaul.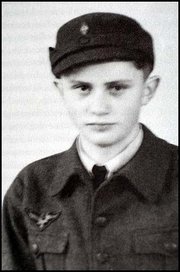 The revision history, already quite long, captures in miniature the stormy debate that has raged across the world since the news broke. Early on in the history, you see the tireless Wikipedians wrestling over passages dealing with the pontiff's early years in Germany, where he was a member of the Hitler Youth (membership was compulsory). One finds evidence of a virtual tug-of-war waged over a photograph of Ratzinger as a boy, wearing what appears to be the crisp uniform and official pin of the Hitlerjugend. The photo was eventually scrapped amid doubts about its veracity and copyright status.
Scanning across the revision history, it's hard not be to impressed by the vigilance, passion and sheer fussiness that go into the building of a Wikipedia article. Like referees, the writers are constantly throwing down flags for excessive "editorializing" or "POV," challenging each other on accuracy, grammar, and structure. There are also frequent acts of vandalism to deal with (all the more so, I imagine, with an article like this). Earlier today, for instance, some teenager replaced the Pope's headshot with a picture of himself. But within a minute, it was changed back. The strength of the Wikipedia is the size of its community - illustrating the "group-forming networks law" that Kim discusses in the previous post, "the web is like high school."
Not long ago, I posted about a new visualization tool that depicts Wikipedia revision histories over time, showing the shape of an article as it grows and the various users that impact it. For articles on controversial subjects - like popes - it would be fascinating to see these histories depicted as conversations, for that is, in essence, what they are. Any conversation that involves more than two parties cannot be accurately portrayed by a linear stream. There are multiple forks, circles, revolutions, and returns that cannot be captured by a straight line. Often, we are responding to something further up (or down) in the stream, but everything appears sequentially according to the time it was posted. We are still struggling on the web to find a better way to visualize conversations.
It's also strange to think of an encyclopedia article as news. But that's definitely what's happening here, and that's why Dan Gillmor calls attention to the article on his blog ("How the Community Can Work, Fast"). If newspapers are the "rough draft of history" and encyclopedias are the stable, authoritative version, it seems Wikipedia is somewhere in the middle.
This image sums it up well. It appears at the top of the Benedict XVI page, or above any other article that is similarly au courant.

Posted by ben vershbow at 1:57 PM | Comments (0)
tags: Publishing, Broadcast, and the Press , the_networked_book
hub media 04.13.2005, 8:34 AM
Another grassroots media experiment has sprung up in the hinterlands: YourHub.com, a cluster of community portals in the greater Denver metropolitan area that, like Bluffton Today, invites users to forge their own local news from submitted stories, images, ads and events listings. And like its South Carolina counterpart, YourHub is being launched by a larger media company, The Rocky Mountain News.
(via Dan Gillmor)
Posted by ben vershbow at 8:34 AM | Comments (0)
tags: Publishing, Broadcast, and the Press , the_networked_book