Listing entries tagged with politics
1 | 2
The New York Times continues to do quality interactive work online. Take a look at this recent feature that allows you to delve through video and transcript from the final Democratic presidential candidate debate in Iowa (Dec. 13, '07). It begins with a lovely navigation tool that allows you to jump through the video topic by topic. Clicking text in the transcript (center column) or a topic from the list (right column) jumps you directly to the corresponding place in the video.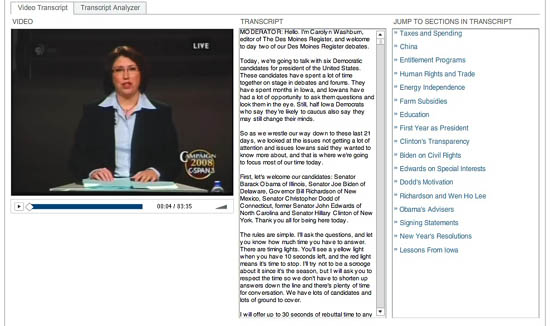 The second part is a "transcript analyzer," which gives a visual overview of the debate. The text is laid out in miniature in a simple, clean schematic, navigable by speaker. Click a name in the left column and the speaker's remarks are highlighted on the schematic. Hover over any block of text and that detail of the transcript pops up for you to read. You can also search the debate by keyword and see word counts and speaking times for each candidate.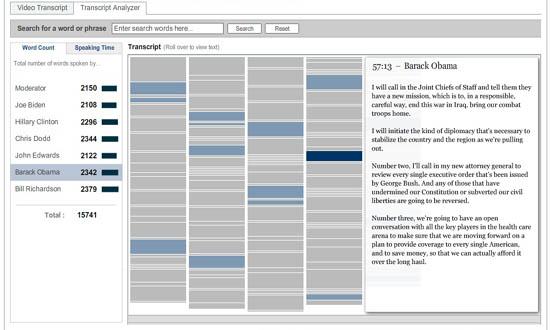 These are fantastic tools — if only they were more widely available. These would be amazing extensions to CommentPress.
Posted by ben vershbow at 01:16 AM | Comments (1)
tags: NYTimes , commentpress , debate , politics , reading , video , visualization
I was at the "Democratization and the Networked Public Sphere" panel on Friday night in a room full of flagrantly well-read attendees. But it was the panelists who shone. They fully grasped the challenges facing the network as it emerges as the newest theater in the political and social struggle for a democratic society. It was the best panel I've seen in a long time, with a full spectrum of views represented: Ethan Zuckerman self-deprecatingly described himself as "one of those evil capitalists," whose stance clearly reflected the values of market liberalism. On the opposite side, Trebor Scholz raised a red flag in warning against the spectre of capitalism that hovers over the 'user-generated content' movement. In between (literally—she sat between them), Danah Boyd spoke eloquently about the characteristics of a networked social space, and the problems traditional social interaction models face when superimposed on the network.
Danah spoke first, contrasting the characteristics of online and offline public spaces, and continuing on to describe the need for public space at a time when we seem obsessed with privacy. The problem with limiting ourselves to discussions of privacy, she said, is that we forget that public space only exists when we are using it. She then went on to talk about her travels and encounters with the isolation of exurban life—empty sidewalks, the physical distances separating teens from their social peers, the privatization of social space (malls). Her point was that with all this privacy and private space, the public space is being neglected. What is important though is to recognize how networked spaces are becoming a space for public life. Even more important: these new public spaces are under threat as much as the real life publics that have been stripped away by suburban isolation.
Ethan Zuckerman began with a presentation of the now infamous 1984 Mac ad, remixed to star Hillary Clinton. He then pointed out that a strikingly similar remix had been made in 2004 by the media artist Astrubal, featuring Tunisian dictator Zine el-Abidine Ben Ali. Zuckerman was excited because it pointed to the power of the remix, and the network as an alternative vector for dissent in a regime with a highly controlled press. While the ad is a deadly serious matter in Tunisia, in America it is just smear. The Hillary ad seems to be a turning point in media representations on the network in the US. Zuckerman asserted that 21st century political campaigns will be different than 20th century campaigns precisely because of the power of citizen generated media combined with the distributive power of the network.
Trebor Scholz warned that unbridled enthusiasm for user-generated content may mask an undercurrent of capitalist exploitation, even though most rhetoric about user-generated content proposes exactly the opposite. In most descriptions, user-generated content is an act of personal expression, and has value as such: Scholz referenced Yochai Benkler's notion that people gain agency as they express themselves as speakers, and that this characteristic may transfer to the real world, encouraging a politically active citizenry. But Trebor's main point was that the majority of time spent on self-expression finds its way onto a small number of sites—YouTube and MySpace in particular. He had some staggering numbers for MySpace: 12% of all time spent online in America is dedicated to MySpace alone. The dirty secret is that someone owns MySpace, and it isn't the content producers. It's Rupert Murdoch. Google, of course, owns YouTube. And therein lies the crux of Trebor's argument: someone else is getting rich off a user's personal expression, and the creators cannot claim ownership of their own work. They produce content that nets only social capital, while the owners take in millions of dollars.
It's a tricky point to make, since Boyd noted that most producers are using these services expressly to gain social capital—monetary concerns don't enter the equation. I have a vague sense of discomfort in taking a stance that is ultimately patronizing to producers, saying "You shouldn't do this for fear of enriching someone else." But I can't get away from the idea that Trebor is right —users are locked in to a site by their social ties, and the companies hold a great deal of power over them. Further, that power is not just social but also legal: the companies own the content.

On the other hand, users have a great deal of power over the companies, a fact made plain by the recent protest against the 'News Feed' feature added to Facebook. The feature caused a huge uproar in the Facebook community and a call for boycotting Facebook spread—ironically—using the News Feed feature. Facebook removed the feature. responded by allowing users to control what went in the feeds. [updated 4.17.07. thanks to andrew s.]
This discussion spun off into another one: what does it mean that 700,000 users found it in their willpower to protest a feature on Facebook, when only a portion of those would be as active in any other public sphere? Boyd claims that this is a signal that networked public spaces are a viable arena for public participation. Zuckerman would agree—the network can activate a community response in the real world. Dissidents working against repressive governments have used the network to amplify their voices and illuminate the plight of people and nations ignored by the mainstream media. This is reason for optimism. In America we've recently seen national and regional politics embracing networked spaces (see Obama in MySpace). Let's hope they do so in good faith, and also embrace the spirit of openness and collaboration that is an essential part of the network.
I have hope, but I am also circumspect. The networked public space can serve the needs of a democracy, but it can also devolve into venality. There is a difference between using the network to further human freedom and the lesson that I take away from the Facebook uprising. What happened on Facebook is not a triumph of a civil polity; it's more like the plaintive cry in a theater when the projector breaks. Public outcry over a trivial action doesn't improve our democracy—it just shows how far into triviality we have fallen.

Ethan Zuckerman's follow up to the event
Trebor's presentation and follow up to the event

Posted by jdwilbur at 02:06 AM | Comments (3) | TrackBack
tags: capitalism , danah_boyd , democracy , ethan_zuckerman , hillary_ad , myspace , networked_publics , panel , politics , trebor_scholz , user_generated_content , youtube
An excellent piece in the LA Times this weekend looks at how Josh Marshall's little Talking Points Memo blog network led the journalistic charge that helped bring the US attorneys scandal to light. As the article details, TPM's persistent muckraking was also instrumental in bringing national attention to the 2002 racial gaffe that cost Trent Lott his Senate leadership, to the Jack Abramoff lobbying scandals, and to the initially underappreciated public opposition to Bush's plan to privatize social security. Truly a force to be reckoned with. And most important, it was all achieved through sustained collaboration with its readership:
The bloggers used the usual tools of good journalists everywhere -- determination, insight, ingenuity -- plus a powerful new force that was not available to reporters until blogging came along: the ability to communicate almost instantaneously with readers via the Internet and to deputize those readers as editorial researchers, in effect multiplying the reporting power by an order of magnitude.

In December, Josh Marshall, who owns and runs TPM , posted a short item linking to a news report in the Arkansas Democrat-Gazette about the firing of the U.S. attorney for that state. Marshall later followed up, adding that several U.S. attorneys were apparently being replaced and asked his 100,000 or so daily readers to write in if they knew anything about U.S. attorneys being fired in their areas.

For the two months that followed, Talking Points Memo and one of its sister sites, TPM Muckraker, accumulated evidence from around the country on who the axed prosecutors were, and why politics might be behind the firings. The cause was taken up among Democrats in Congress. One senior Justice Department official has resigned, and Atty. Gen. Alberto R. Gonzales is now in the media crosshairs.
This is precisely what Jeff Jarvis means by "networked journalism": a more nuanced notion than "citizens journalism" in that it doesn't insist on a strict distinction between professional and amateur. The emphasis instead is on a productive blurring of that boundary through collaboration and distribution of labor. There's no doubt that what we're seeing here is a democratization of the journalistic process, but this bottom-up movement doesn't mean the end of hierarchy. Marshall and his small staff are clearly the leaders here, a new breed of editors coordinating complex chains of effort.
Posted by ben vershbow at 02:48 AM | Comments (0) | TrackBack
tags: Blogosphere , journalism , media , networked_journalism , politics
The term "political art" has implications that might well deter people from viewing it, especially here where the political is regarded as unaesthetic. It is sad that when an American artist makes "political art" it becomes news. This has been the case with the presence of political films in Cannes, as chronicled by A. O. Scott in the New York Times. He makes a parallel with the 60's as a golden age of filmmaking, and in particular the 1968 Cannes Film Festival, where the artistic and the political were absolutely interconnected. To say that the problems we are facing today are less significant than those of the 60's is to exchange lack of hope for the authentic belief in change that permeated that era.
The big difference today is that communications are immediate and indispensable, but that their ubiquity has also numbed us. War and catastrophe as spectacle have always fed the public imagination, but today fiction and fact, reality and artifice, have collapsed into yet another consumer product. On the other hand, the availability of affordable technology has made photography, video and filmmaking accessible to many. Now, it is possible to see interesting and good quality pieces from places far away from the established centers of film production. Cannes is still the favorite showplace of international cinema, but it doesn't mean that many movies that make it there ever go beyond the art houses. So, the presence of Al Gore's "An Inconvenient Truth," Richard Linklater and Eric Schlosser's "Fast Food Nation" or Linklater's "A Scanner Darkly" and Richard Kelly's "Southland Tales" are news not because they are represented in Cannes but because they tell stories based on present circumstances without fear of being "political."
Holland Cotter the art critic of The New York Times reviews some current exhibitions that make political commentary noting that in 21st-century America political art is not "protest art" but a mirror. But, what else is art, past and present, than a mirror that uncannily shows political realities? The fact that many artists insist on looking at their belly buttons instead of at the world, is in itself a political commentary of the times. Cotter reviews Harrell Fletcher's http://www.harrellfletcher.com/# show at White Columns, images from a museum in Ho Chi Minh City, as a horrific document of the Vietnam War. Jenny Holzer at Cheim and Read shows a series of silk screens of declassified documents related to Abu Ghraib, which are faithful to each official word with the exception of their magnification, thus becoming a commentary on our nation's violence.
Coco Fusco's video, "Operation Atropos," documenting the training on interrogation and resistance program she and six women went through in the woods of the Poconos, offers a political glance at the methods of physical and mental persuasion. Apart from the obviously political, the viewer realizes that this program, run by former members of the CIA, has been conceived for the private sector.
Cotter concludes his article asking, "So what kind of political art is this? It isn't moralizing or accusatory. It's art for a time when play-acting and politics seem to be all but indistinguishable." They are.
It is always enormously refreshing to visit the art galleries, and to be reminded that many artists in many places, perhaps because they are faced with stark realities on a daily basis, have indeed a lot to comment. The Asian Contemporary Art Week (5/22-5/27) was one of those occasions (and still is since many galleries will continue displaying Asian art for a few more weeks.) Shilpa Gupta's interactive video environments at Bose Pacia offer a comment on power, militarism and imperialism. In one of the pieces the viewer sees a bucolic landscape in Kashmir and as s/he touches the screen military guards appear. Truth is indeed a fragile and many times deceiving construction.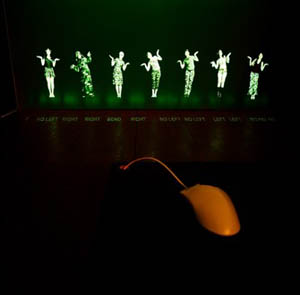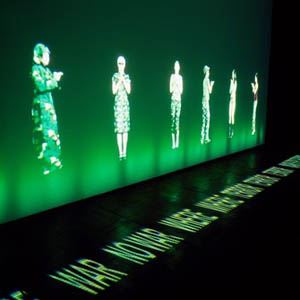 Untitled, 2005 -- Shilpa Gupta
Tejal Shah's video installation at Thomas Erben presents the transgender community in India from within, a reality that is equally painful and celebratory. At the Sculpture Center, as part of the Grey Flags exhibition, there is a film by Apichatpong Weerasethakul the Thai filmmaker whose fresh approach to reality has taken him to use non-professional actors and improvised dialogue, offering a sober and supetcharged vision of reality in Thailand. Tilton Gallery brings together 34 contemporary Chinese artists entitled "Jiang Hu" whose literal meaning is "rivers and lakes" but that metaphorically means a place removed from the mainstream. In medieval literature it means a realm inhabited by outsiders, monks, fortune-tellers and artists who had magical powers. In the context of this exhibit that shows an interesting and disparate group, "Jiang Hu" evokes a complex reality: China an outsider within the global world.
Posted by sol gaitan at 06:57 PM | Comments (0) | TrackBack
tags: art , cannes , film , gallery , politics , protest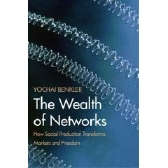 I was lucky enough to have a chance to be at The Wealth of Networks: How Social Production Transforms Markets and Freedom book launch at Eyebeam in NYC last week. After a short introduction by Jonah Peretti, Yochai Benkler got up and gave us his presentation. The talk was really interesting, covering the basic ideas in his book and delivered with the energy and clarity of a true believer. We are, he says, in a transitional period, during which we have the opportunity to shape our information culture and policies, and thereby the future of our society. From the introduction:
This book is offered, then, as a challenge to contemporary legal democracies. We are in the midst of a technological, economic and organizational transformation that allows us to renegotiate the terms of freedom, justice, and productivity in the information society. How we shall live in this new environment will in some significant measure depend on policy choices that we make over the next decade or so. To be able to understand these choices, to be able to make them well, we must recognize that they are part of what is fundamentally a social and political choice—a choice about how to be free, equal, productive human beings under a new set of technological and economic conditions.
During the talk Benkler claimed an optimism for the future, with full faith in the strength of individuals and loose networks to increasingly contribute to our culture and, in certain areas, replace the moneyed interests that exist now. This is the long-held promise of the Internet, open-source technology, and the infomation commons. But what I'm looking forward to, treated at length in his book, is the analysis of the struggle between the contemporary economic and political structure and the unstructured groups enabled by technology. In one corner there is the system of markets in which individuals, government, mass media, and corporations currently try to control various parts of our cultural galaxy. In the other corner there are individuals, non-profits, and social networks sharing with each other through non-market transactions, motivated by uniquely human emotions (community, self-gratification, etc.) rather than profit. Benkler's claim is that current and future technologies enable richer non-market, public good oriented development of intellectual and cultural products. He also claims that this does not preclude the development of marketable products from these public ideas. In fact, he sees an economic incentive for corporations to support and contribute to the open-source/non-profit sphere. He points to IBM's Global Services division: the largest part of IBM's income is based off of consulting fees collected from services related to open-source software implementations. [I have not verified whether this is an accurate portrayal of IBM's Global Services, but this article suggests that it is. Anecdotally, as a former IBM co-op, I can say that Benkler's idea has been widely adopted within the organization.]
Further discussion of book will have to wait until I've read more of it. As an interesting addition, Benkler put up a wiki to accompany his book. Kathleen Fitzpatrick has just posted about this. She brings up a valid criticism of the wiki: why isn't the text of the book included on the page? Yes, you can download the pdf, but the texts are in essentially the same environment—yet they are not together. This is one of the things we were trying to overcome with the Gamer Theory design. This separation highlights a larger issue, and one that we are preoccupied with at the institute: how can we shape technology to allow us handle text collaboratively and socially, yet still maintain an author's unique voice?
Posted by jesse wilbur at 09:02 AM | Comments (3) | TrackBack
tags: IBM , benkler , book , book_launch , collaboration , commons , economics , eyebeam , internet , open_content , open_source , politics , public , publishing_broadcast_and_the_press , the_networked_book , wealth_of_networks , wiki
Banning books may be easy, but banning blogs is an exhausting game of Whack-a-Mole for politically repressive regimes like China and Iran.

Farid Pouya, recapping recent noteworthy posts from the Iranian blogosphere last week on Global Voices, refers to one blogger's observations on the chilled information climate under president Mahmoud Ahmadinejad:
Andishe No (means New Thought) fears that country was pushed back to pre Khatami's period concerning censorship. He believes that even if many books get banned in twenty first century, government can not stop people getting information. Government wants to control weblogs in Iran and put them in a guideline.
Unlike the fleas that swarm American media and politics, Iran's cyber-dissidents frequently are the sole conduit for uncensored information -- an underground army of chiseler's, typing away at the barricades. Here we see the blog as a building block for civil society. Electronic samizdat. Basic life forms in a free media ecology, instilling new habits in both writers and readers: habits of questioning, of digging deeper. Individual sites may get shut down, individual bloggers may be jailed but the information finds a way.
Though the situation in Iran is far from enviable, there is something attractive about the moral clarity of its dissident blogging. If one wants the truth, one must find alternatives -- it's that simple. But with alternative media in the United States -- where the media ecology is highly developed and corruption more subtle -- it's hard to separate the wheat from the chaff. Political blogs in America may resound with outrage and indignation, but it's the kind that comes from a life of abundance. All too often, political discourse is not something that points toward action, but an idle picking at the carcass of liberty.
Sure, we've seen blogs make a difference in politics (Swift Boats, Rathergate, Trent Lott -- 2004 was the "year of the blog"), but generally as a furtherance of partisan aims -- a way of mobilizing the groundtroops within a core constituency that has already decided what it believes.
When one looks at this map (admittedly a year old) of the American political blogosphere, one notes with dismay that there are in fact two spheres, mapping out all too cleanly to the polarized reality on the ground. One begins to suspect that America's political blogs are merely a pressure valve for a population that, though ill at ease, is still ultimately paralyzed.
Posted by ben vershbow at 11:13 AM | Comments (0) | TrackBack
tags: Ahmadinejad , Blogosphere , Transliteracies , blogging , blogs , democracy , enlightenment , iran , journalism , media , media_ecology , opposition , politics , samizdat