(Jeff Drouin is in the English Ph.D. Program at The Graduate Center of the City University of New York)
About three weeks ago I had lunch with Ben, Eddie, Dan, and Jesse to talk about starting a community with one of my projects, the Ecclesiastical Proust Archive. I heard of the Institute for the Future of the Book some time ago in a seminar meeting (I think) and began reading the blog regularly last Summer, when I noticed the archive was mentioned in a comment on Sarah Northmore's post regarding Hurricane Katrina and print publishing infrastructure. The Institute is on the forefront of textual theory and criticism (among many other things), and if:book is a great model for the kind of discourse I want to happen at the Proust archive. When I finally started thinking about how to make my project collaborative I decided to contact the Institute, since we're all in Brooklyn, to see if we could meet. I had an absolute blast and left their place swimming in ideas!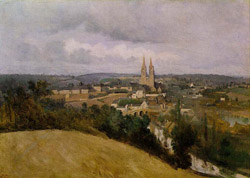 While my main interest was in starting a community, I had other ideas — about making the archive more editable by readers — that I thought would form a separate discussion. But once we started talking I was surprised by how intimately the two were bound together.
For those who might not know, The Ecclesiastical Proust Archive is an online tool for the analysis and discussion of à la recherche du temps perdu (In Search of Lost Time). It's a searchable database pairing all 336 church-related passages in the (translated) novel with images depicting the original churches or related scenes. The search results also provide paratextual information about the pagination (it's tied to a specific print edition), the story context (since the passages are violently decontextualized), and a set of associations (concepts, themes, important details, like tags in a blog) for each passage. My purpose in making it was to perform a meditation on the church motif in the Recherche as well as a study on the nature of narrative.
I think the archive could be a fertile space for collaborative discourse on Proust, narratology, technology, the future of the humanities, and other topics related to its mission. A brief example of that kind of discussion can be seen in this forum exchange on the classification of associations. Also, the church motif — which some might think too narrow — actually forms the central metaphor for the construction of the Recherche itself and has an almost universal valence within it. (More on that topic in this recent post on the archive blog).
Following the if:book model, the archive could also be a spawning pool for other scholars' projects, where they can present and hone ideas in a concentrated, collaborative environment. Sort of like what the Institute did with Mitchell Stephens' Without Gods and Holy of Holies, a move away from the 'lone scholar in the archive' model that still persists in academic humanities today.
One of the recurring points in our conversation at the Institute was that the Ecclesiastical Proust Archive, as currently constructed around the church motif, is "my reading" of Proust. It might be difficult to get others on board if their readings — on gender, phenomenology, synaesthesia, or whatever else — would have little impact on the archive itself (as opposed to the discussion spaces). This complex topic and its practical ramifications were treated more fully in this recent post on the archive blog.
I'm really struck by the notion of a "reading" as not just a private experience or a public writing about a text, but also the building of a dynamic thing. This is certainly an advantage offered by social software and networked media, and I think the humanities should be exploring this kind of research practice in earnest. Most digital archives in my field provide material but go no further. That's a good thing, of course, because many of them are immensely useful and important, such as the Kolb-Proust Archive for Research at the University of Illinois, Urbana-Champaign. Some archives — such as the NINES project — also allow readers to upload and tag content (subject to peer review). The Ecclesiastical Proust Archive differs from these in that it applies the archival model to perform criticism on a particular literary text, to document a single category of lexia for the experience and articulation of textuality.
If the Ecclesiastical Proust Archive widens to enable readers to add passages according to their own readings (let's pretend for the moment that copyright infringement doesn't exist), to tag passages, add images, add video or music, and so on, it would eventually become a sprawling, unwieldy, and probably unbalanced mess. That is the very nature of an Archive. Fine. But then the original purpose of the project — doing focused literary criticism and a study of narrative — might be lost.
If the archive continues to be built along the church motif, there might be enough work to interest collaborators. The enhancements I currently envision include a French version of the search engine, the translation of some of the site into French, rewriting the search engine in PHP/MySQL, creating a folksonomic functionality for passages and images, and creating commentary space within the search results (and making that searchable). That's some heavy work, and a grant would probably go a long way toward attracting collaborators.
So my sense is that the Proust archive could become one of two things, or two separate things. It could continue along its current ecclesiastical path as a focused and led project with more-or-less particular roles, which might be sufficient to allow collaborators a sense of ownership. Or it could become more encyclopedic (dare I say catholic?) like a wiki. Either way, the organizational and logistical practices would need to be carefully planned. Both ways offer different levels of open-endedness. And both ways dovetail with the very interesting discussion that has been happening around Ben's recent post on the million penguins collaborative wiki-novel.
Right now I'm trying to get feedback on the archive in order to develop the best plan possible. I'll be demonstrating it and raising similar questions at the Society for Textual Scholarship conference at NYU in mid-March. So please feel free to mention the archive to anyone who might be interested and encourage them to contact me at jdrouin@gc.cuny.edu. And please feel free to offer thoughts, comments, questions, criticism, etc. The discussion forum and blog are there to document the archive's development as well.
Thanks for reading this very long post. It's difficult to do anything small-scale with Proust!
Posted by jeff drouin at 7:46 AM | Comments (2) | TrackBack
tags: Online , academia , archive , blogs , books , digital , encyclopedia , folksonomy , hypertext , literature , multimedia , narrative , network , novel , open_access , pedagogy , peer_review , photography , publishing , reading , search , social_software , tagging , technology , textuality , university , web , wiki , writing
First Monday has published findings from an "empirical examination of Wikipedia's credibility" conducted by Thomas Chesney, a Lecturer in Information Systems at the Nottingham University Business School. Chesney divided participants in the study -- 69 PhD students, research fellows and research assistants -- into "expert" and "non-expert" groups. This meant that roughly half were asked to evaluate an article from their field of expertise while the others were given one chosen at random (short "stub" articles excluded). The surprise finding of the study is that the experts rated their articles higher than the non-experts. Ars Technica reported this as the latest shocker in the debate over Wikipedia's accuracy, hearkening back to the controversial Nature study comparing science articles with equivalent Britannica entries.
At a first glance, the findings are indeed counterintuitive but it's unclear what, if anything, they reveal. It's natural that academics would be more guarded about topics outside their area of specialty. The "non-experts" in this group were put on less solid ground, confronted at random by the overwhelming eclecticism of Wikipedia -- it's not surprising that their appraisal was more reserved. Chesney acknowledges this, and cautions readers not to take this as anything approaching definitive proof of Wikipedia's overall quality. Still, one wonders if this is even the right debate to be having.
Accuracy will continue to be a focal point in the Wikipedia discussion, and other studies will no doubt be brought forth that add fuel to this or that side. But the bigger question, especially for scholars, concerns the pedagogical implications of the wiki model itself. Wikipedia is not an encyclopedia in the Britannica sense, it's a project about knowledge creation -- a civic arena in which experts and non-experts alike can collectively assemble information. What then should be the scholar's approach and/or involvement? What guidelines should they draw up for students? How might they use it as a teaching tool?
A side note: One has to ask whether the experts group in Chesney's study leaned more toward the sciences or the humanities -- no small question since in Wikipedia it's the latter that tends to be the locus of controversy. It has been generally acknowledged that science, technology (and pop culture) are Wikipedia's strengths while the more subjective fields of history, literature, philosophy -- not to mention contemporary socio-cultural topics -- are a mixed bag. Chesney does never tells us how broad or narrow a cross section of academic disciplines is represented in his very small sample of experts -- the one example given is "a member of the Fungal Biology and Genetics Research Group (in the Institute of Genetics at Nottingham University)."
Returning to the question of pedagogy, and binding it up with the concern over quality of Wikipedia's coverage of humanities subjects, I turn to Roy Rosenzweig, who has done some of the most cogent thinking on what academics -- historians in particular -- ought to do with Wikipedia. From "Can History be Open Source? Wikipedia and the Future of the Past":
Professional historians have things to learn not only from the open and democratic distribution model of Wikipedia but also from its open and democratic production model. Although Wikipedia as a product is problematic as a sole source of information, the process of creating Wikipedia fosters an appreciation of the very skills that historians try to teach...

Participants in the editing process also often learn a more complex lesson about history writing--namely that the "facts" of the past and the way those facts are arranged and reported are often highly contested...

Thus, those who create Wikipedia's articles and debate their contents are involved in an astonishingly intense and widespread process of democratic self-education. Wikipedia, observes one Wikipedia activist, "teaches both contributors and the readers. By empowering contributors to inform others, it gives them incentive to learn how to do so effectively, and how to write well and neutrally." The classicist James O'Donnell has argued that the benefit of Wikipedia may be greater for its active participants than for its readers: "A community that finds a way to talk in this way is creating education and online discourse at a higher level."...

Should those who write history for a living join such popular history makers in writing history in Wikipedia? My own tentative answer is yes. If Wikipedia is becoming the family encyclopedia for the twenty-first century, historians probably have a professional obligation to make it as good as possible. And if every member of the Organization of American Historians devoted just one day to improving the entries in her or his areas of expertise, it would not only significantly raise the quality of Wikipedia, it would also enhance popular historical literacy. Historians could similarly play a role by participating in the populist peer review process that certifies contributions as featured articles.
Posted by ben vershbow at 1:56 PM | Comments (6) | TrackBack
tags: Education , academic , open_source , pedagogy , roy_rosenzweig , study , wiki , wikipedia
Bob and I have been impressed with what we've been reading on a series of sites maintained by Joyce Valenza, a teacher-Librarian at the Springfield Township High School Library in Erdenheim, Pennsylvania. Of particular interest is a chart she's put together entitled "30 Years of Information and Educational Change: How should our practice respond?" which records the dramatic technological shifts that have taken place since she began studying library science nearly three decades ago, and how her thinking has evolved:
I graduated with an MLS in 1977 and had to return and redo most of the credits in 1987/1988 to get education credentials. While I learned programming the first time around and personal computer applications the second time around, the rate of change has dramatically altered the landscape.

I see an urgent need for librarians to retool. We cannot expect to assume a leadership role in information technology and instruction, we cannot claim any credibility with students, faculty, or administrators if we do not recognize and thoughtfully exploit the paradigm shift of the past two years. Retooling is essential for the survival of the profession.
The role of the librarian has traditionally to guide the user into a dense grove of knowledge, instructing them how best to penetrate, navigate and reference a relatively stable corpus. But with the explosion of personal computers and networks comes the explosion of the library. The librarian becomes a strategic advisor at the gateway to a much larger and continually shifting array of resources and tools that extends well beyond the physical boundaries of the library. The user no longer needs to be guided inward, but guided outward, and in multiple directions. The librarian in an academic or school setting must help students and scholars to match up the right materials with the right modes of communication, while also fostering a critical and ethical outlook in a world awash in information. The librarian is more crucial than ever.
The physical space of the library is still vital too, Valenza argues, and nowhere is this better conveyed than in this charming "virtual library" page she has constructed for the library's home page (that's her standing by the reference desk):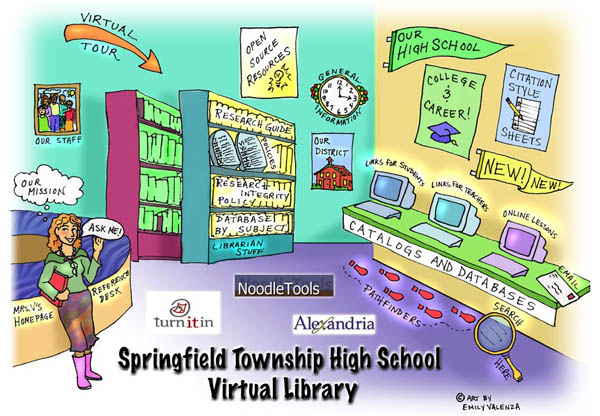 It seems almost too obvious to use the physical library as an interface, but I was immediately struck by how intuitive and useful this page is, and how, so simply and with such spirit, it creates an almost visceral link between the physical library and its online dimensions.
(Also check out Valenza's blog, NeverEnding Search.)
Posted by ben vershbow at 12:54 AM | Comments (2) | TrackBack
tags: libraries , library , pedagogy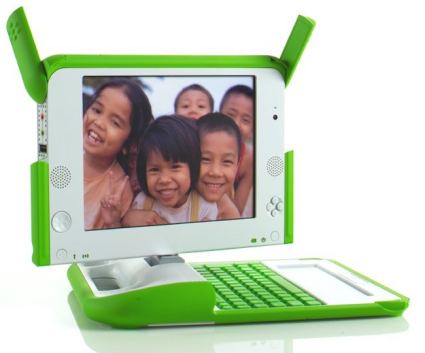 That's now the name of the $100 laptop, or one laptop per child. Fits up to six children inside.
Why is it that the publicity images of these machines are always like this? Ghostly showroom white and all the kids crammed inside. What might it mean? I get the feeling that we're looking at the developers' fantasy. All this well-intentioned industry and aspiration poured into these little day-glo machines. But totally decontextualized, in a vacuum.

This ealier one was supposed to show poor, brown hands reaching for the stars, but it looked more to me like children sinking in quicksand.
Indian Education Secretary Sudeep Banerjee, explaining last month why his country would not be placing an order for Negroponte's machines, put it more bluntly. He called the laptops "pedagogically suspect."
ADDENDUM
An exhange in the comments below made me want to clarify my position here. Bleak humor aside, I really hope that the laptop project succeeds. From the little I've heard, it appears that the developers have some really interesting ideas about the kind of software that'll go into these things.
Dan, still reeling from three days of Wikimania earlier this month, as well as other meetings concerning OLPC, relayed the fact that the word processing software being bundled into the laptops will all be wiki-based, putting the focus on student collaboration over mesh networks. This may not sound like such a big deal, but just take a moment to ponder the implications of having all class writing assignments being carried out wikis. The different sorts of skills and attitudes that collaborating on everything might nurture. There a million things that could go wrong with the One Laptop Per Child project, but you can't accuse its developers of lacking bold ideas about education.
Still, I'm skeptical that those ideas will connect successfully to real classroom situations. For instance, we're not really hearing anything about teacher training. One hopes that community groups will spring into action to help develop and implement new pedagogical strategies that put the Children's Machines to good use. But can we count on this happening? I'm afraid this might be the fatal gap in this otherwise brilliant project.
Posted by ben vershbow at 7:27 AM | Comments (4) | TrackBack
tags: $100_laptop , Education , MIT , Negroponte , digital_divide , india , laptop , olpc , open_source , pedagogy
Ed note: John McClymer of Assumption College, MA is a teacher and scholar of American History, who attended our next\text history meeting last spring.
The string of adjectives in my title comes from Kathleen Fitzpatrick's fascinating "Introducing MediaCommons" of July 17, 2006. Fitzpatrick uses them to describe the "new scholarship" MediaCommons can help promote. They apply with equal force to the teaching this new environment can foster, as Avi Santo's post on revised pedagogies demonstrates. He sets forth the goals we need to pursue. My task is to explore a specific set of pedagogies suited to teaching history.
Ever since I attended my first workshop on the internet, I have been groping towards such a pedagogy. I think that I am now coming within hailing distance. So I extend an invitation to peers to take a look at what I will be seeking to do in an upper-level course on the history of the Gilded Age and Progressive Era this fall.
First I need to say a few words about history as a field of study. It is what some cognitive psychologists call "ill-structured." Chemistry, for example, is well-structured. There is nothing equivalent to the Periodic Table in history. There are no formulae, no model problems. Nothing is reproducible. The historian never can isolate a particular phenomenon. We can never measure anything precisely. The evidence we need to make sense of comes in a wide array of forms, ranging from sermons to furniture, from battle plans to cartoons. No matter what the topic, furthermore, we know there are crucial missing pieces. Some we can someday discover. The rest is simply lost forever. As a result, say the cognitive specialists, history as a discipline requires a very high degree of intellectual flexibility.
Because it does, it is especially ill-served by what we can call pedagogies of scarcity. Consider the standard U.S. survey textbook. Despite its bulk, its authors have had to make innumerable painful choices about what to leave out. There is exciting new scholarship about, let us say, women in the antebellum South. If that is going to be included in a new edition, something of equal length must come out because the overall size of the text is fixed. So is the number of illustrations. Authors and editors must choose one painting to represent the Ash Can School. They must select one way of explaining the abolition movement. They must pretend, in short, that history is a well-structured field.
This necessarily carries over to the tasks we assign students to undertake. "Discuss the rise of imperialism in late nineteenth-century America" we ask. What is wrong with such a question? It is bogus. Students CAN solve for x; they CAN prove that two geometrical figures are congruent. They CANNOT "discuss" the rise of imperialism. They can only demonstrate that they know the version of the story found in their textbook or that they transcribed in their notes. Scarcity routinely leads historians to ask inauthentic questions. One proof is that we ask students to write an in-class essay on the rise of imperialism but caution the same student that the topic, as phrased, is too broad for a term paper.
History as a discipline does not admit of closure. We can prove theorems. We cannot state definitively the significance of race in American history. Yet we routinely pretend that we "cover" topics in our lectures. And we make students pretend that they understand topics whose mysteries continue to perplex us. All the adjectives in my title are antonyms for such inauthentic learning.
The course site contains a discussion of what authentic means in history, so I will not rehearse that here. Instead I will discuss why I approach the course in the ways I do. I will also highlight questions that continue to bedevil me as I continue to work on this course.
Creating a Community of Learners In and Outside the Classroom
My course builds upon work done over a number of semesters in an American Studies course at the University of Virginia that uses an online version of Alan Trachtenberg's classic The Incorporation of America: Culture and Society in the Gilded Age. Over several semesters students in that course have created web sites that explore Trachtenberg's ideas. My students and I, therefore, will be joining an existing scholarly community, albeit unbeknownst to the large majority of its members whose work of semesters past we will use. Their work provides us with models as well as information and ideas. Our work, we hope, will do as much for other classes on other campuses.
We will work as a community in class as well. All of us will read Trachtenberg's chapters and hold a preliminary discussion for each. Then participants will pick among an array of resources relevant to a particular chapter. They will report their findings, first to me an hour before class via email. Then they will report them to each other. I insert myself here in the process for several reasons. One is quality control. I have no desire to encourage class discussion for its own sake. The format I've adopted guarantees that students will do the great majority of the talking. What I need to insure is that the most interesting ideas get a full and fair hearing. As a result, I need to know in advance who has what to say.
I take the best posts and create a web page. I do not hesitate to edit student notes, usually by deleting extraneous material. It is not uncommon for a student post running a page or more in length to show up on the course page as a paragraph or sometimes a sentence. All of this provides immediate feedback to the students. Some of it is negative, at least by implication. But the overall message is positive. Whenever I ask a student to contribute it is because I know that she has something worthwhile to add to the discussion. This means that students can relax.
Providing Multiple Points of Entry
Because they choose the materials they will work on, students can play to their strengths and their interests. This is, in fact, how practicing historians choose their own projects. Sometimes students rue specific choices, but most of the time they are enthusiastic about what they selected to work on. Further, they learn from each other in a non-competitive setting. The student reporting on the trial of "Big Bill" Haywood is not in competition with the one reporting on the "Uprising of the 20,000." Instead both are puzzling over the labor movement in the early twentieth century. Each gains from the quality of the other's work.
Structuring Access to Abundance
On line resources grow richer every day. We live in a world of intellectual abundance. Unfortunately this is daunting as well as liberating. Perhaps the key challenge in developing appropriate pedagogies for this new era is to figure out how to provide structured access to this abundance. Here the fact that University of Virginia students have already worked over some of the resources is an enormous plus. Even so, I have to group resources in clusters that are intellectually coherent, that offer diverse approaches to some central topic, and do not overwhelm the students seeking to use them. In its current form, I am reasonably satisfied that I have met the first two challenges for the course. I have not begun to meet the last. I will have to break out subsets of materials in each of the clusters I have set up. And I welcome all the help I can get in doing so.
Producing as well as Consuming Educational Resources
The goal of any pedagogy of abundance is to empower students to produce as well as consume knowledge. Currently the student-as-consumer model rules American education. My college, for example, has just hired a new vice president in charge of student recruitment and retention. The position was created on the advice of the marketing firm that carried out an extensive survey of how we should best position ourselves. I file no brief against any of this. I merely observe that the same set of notions shapes the academic as well as the other aspects of student life. And students act like consumers. Tuition is expensive and becoming more so every year. They want their money's worth.
In some areas they are informed consumers. They know what the recreation centers and dorms are like at other schools, for example. In the classroom, on the other hand, they do not know nearly so much. Course evaluation forms often ask if the professor made reference to the most recent research in the relevant field. Few are the students capable of answering that question. And they understand even less of pedagogy. They know that they have been in classes where they learned a lot. They know they have been bored to tears on occasion. They have not had the opportunity to think about how specific disciplines impose specific constraints and provide specific intellectual challenges.
If they were more informed, history students would demand to be more active. Most students in most history courses spend their time listening to lectures, taking notes, and highlighting things in the textbook they suspect may show up on a quiz or exam. Most do not appreciate what a travesty of historical learning this is. Historians puzzle over evidence that is partial, contradictory, various, and fascinating. That is what they should be doing as well. Historians realize that, however exhaustive their research, they will never have the last word on anything. They also realize that their research can nonetheless contribute something lasting. Students need to be able to make the same claims about their work.
This raises a critically important question for which I have only very tentative answers: What are the appropriate student projects in an interactive, mediated world of abundance?
The student web sites at the University of Virginia provide one model. 1896, created by Rebecca Edwards and several of her students at Vassar, provides another. 1896 is a collaborative project of the students in History 276, "A House Divided: The United States, 1830-1890" taught by Professor Edwards. It contains a wealth of resources about the 1896 election along with suggestions by her on how to use the site in the classroom.
Both are final projects. Are there meaningful intermediate products students can produce and share? What might those look like? One idea I am currently playing with derives from the Women and Social Movements on line journal, http://www.alexanderstreet6.com/wasm/. The journal publishes documentary projects. All collect relevant primary sources around a question such as "From Wollstonecraft to Mill: What British and European Ideas and Social Movements Influenced the Emergence of Feminism in the Atlantic World, 1792-1869?" Some of the authors are recognized experts. Nancy Hewitt, for example, did "From Wollstonecraft to Mill." Others are Ph.D. candidates drawing upon dissertation research. So my undergraduates will not be able to produce projects of the same scope or professionalism. But they can collect half a dozen primary sources bearing upon a topic, write a 750-1000 word overview, and provide a head note for each source. I can then post their work on the college's server or, perhaps, in an appropriate MediaCommons node. I would be most interested in getting reactions to this idea, and I would love to hear of other ideas for authentic student projects.

Posted by john mcclymer at 8:55 AM | Comments (1) | TrackBack
tags: Education , glided_age , history , mediacommons , next\text , pedagogy