Listing entries tagged with newyorktimes
1 | 2
A few good readings to inject into recent conversation here about a post-copyright world (1, 2, 3), and in light of the death of Times Select and the ripple effect that is likely to have across the Web. First, a two-year-old post by Jeff Jarvis, "Who Wants to Own Content?", ruminating on the supreme value of trust and conversation in a post-scarcity publishing ecology:
But in this new age, you don't want to own the content or the pipe that delivers it. You want to participate in what people want to do on their own. You don't want to extract value. You want to add value. You don't want to build walls or fences or gardens to keep people from doing what they want to do without you. You want to enable them to do it. You want to join in.

And once you get your head around that, you will see that you can grow so much bigger so much faster with so much less cost and risk.

So don't own the content. Help people make and find and remake and recommend and save the content they want. Don't own the distribution. Gain the trust of the people to help them use whatever distribution and medium they like to find what they want.

In these new economics, you want to stand back and interfere and restrict as little as possible. You want to reduce costs to the minimum. You want to join in wherever you are welcome.

So in the content world, it is better help enable and be part of fluid networks of content than it is to create and own content...It is better to find new efficiencies than new blockbusters...It is better to gather than create...It is better to share trust than to horde it.
Whatever the media business models of tomorrow may be, they will almost certainly not revolve around owning content. It will be about, as Jay Rosen says in his Times Select obit, "weaving yourself into the Web":
...that's the decision in Web court the New York Times is accepting. Consent decree with the open web. Dismisses all courses of action against Google. Times agrees to drop Times Select, which was a barrier to Google—and the blogosphere—working the right way.

The decision says you can try to charge, and some people will pay, but there is more money and a brighter future in the open flow of Web traffic, a lot of which is coming sideways into your content stack because Google sends tons of users in that way, not through your pearly gates of news, also called a home page. RSS sends stuff from the middle of the stack out.

When every barrier you create to their participation with your product weakens your revenue stream, which is tied to openness, you're in the world of the consent decree. Advertising tied to search means open gates for all users. It means link rot cut to zero, playing for the long haul in Web memory and more blogs because they are Web-sticky.
Now back to Jarvis, who in a new post predicts among other things that the Times' decision will likely be the first domino in a chain of paywall demolitions: Wall Street Journal, Economist, Financial Times. He picks up the thread from his older piece:
It's the relationship that is valuable. It's the relationship that is profitable, not the control of the content or the distribution. That is the essential media moral of the internet story. It has taken 13 years of internet history for media companies to learn that, to give up the idea that they control something scarce they can charge consumers for, but they've finally learned it. That is the lesson of the death of TimesSelect.
Posted by ben vershbow at 10:32 AM | Comments (2)
tags: copyright , journalism , networks , newspaper , newyorktimes , publishing , trust
Placing a long-term bet on online advertising and the power of search engines, the New York Times will, effective tomorrow, close down its two-year-old "Select" subscription service (which was actually making money for the paper) and opened up access to columnists, Select blogs, and archives from 1987 to the present, and 1851 to 1922. Nice!
From PaidContent, quoting the Times' own coverage:
The change is because of what's happened in the internet in the past two years—particularly the power of search." She [Vivian Schiller, senior vp and general manager of nytimes.com] added later: "Think about this recipe—millions and millions of new documents, all seo'd [search engine optimized], double-digit advertising growth." The Times expects "the scale and the power of the revenue that would come from that over time" to replace the subscriptions revenue and then some.
Posted by ben vershbow at 12:15 AM | Comments (1)
tags: advertising , journalism , newspaper , newyorktimes , search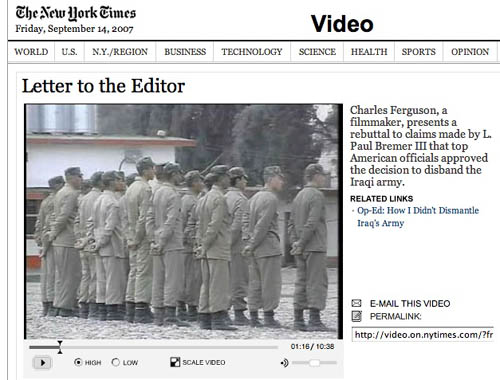 The Times has published its first video "letter to the editor," a 10-minute mini-documentary by Charles Ferguson on the decision by L. Paul Bremer and other US officials to disband the Iraqi army shortly after the US occupation began. The video is posted as a rebuttal to a recent op-ed by Bremer that tried to redistribute some of the blame for that catastrophic blunder that arguably gave birth to the Sunni insurgency.
This is no doubt a milestone for the paper, although calling it a letter to the editor is slightly disingenuous. Ferguson isn't just your average concerned reader, he's a highly respected filmmaker and author who has made a full length doc about Iraq, "No End in Sight," from which much of this video's material is taken.
Moreover, at ten minutes, and meticulously edited and produced, filled with interviews with top military brass and gov't officials, the clip is more on par (at the very least) with a full op-ed. The main opinion page even features it as such—under op-ed contributors—rather than placing it down among the letters. Will we eventually see actual ad hoc video letters to the editor from "readers" at large? That could be interesting.
Nomenclature aside, though, this is a fantastic broadening of the Times' editorial output. Once again, they prove themselves to be one of the more innovative digital publishers around.
Posted by ben vershbow at 12:02 AM | Comments (1)
tags: iraq , journalism , multimedia , newspaper , newyorktimes , video
Here's a great item from last week that slipped through the cracks... A rare peek into the mind of New York Times publisher Arthur Sulzberger, which grew out of a casual conversation with Haaretz's Eytan Avriel at the World Economic Forum in Davos. A couple of choice sections follow...
On moving beyond print:
Given the constant erosion of the printed press, do you see the New York Times still being printed in five years?

"I really don't know whether we'll be printing the Times in five years, and you know what? I don't care either," he says....."The Internet is a wonderful place to be, and we're leading there," he points out.

The Times, in fact, has doubled its online readership to 1.5 million a day to go along with its 1.1 million subscribers for the print edition.

Sulzberger says the New York Times is on a journey that will conclude the day the company decides to stop printing the paper. That will mark the end of the transition. It's a long journey, and there will be bumps on the road, says the man at the driving wheel, but he doesn't see a black void ahead.
On the persistent need for editors -- Sulzberger talks about newspapers reinventing themselves as "curators of news":
In the age of bloggers, what is the future of online newspapers and the profession in general? There are millions of bloggers out there, and if the Times forgets who and what they are, it will lose the war, and rightly so, according to Sulzberger. "We are curators, curators of news. People don't click onto the New York Times to read blogs. They want reliable news that they can trust," he says.

"We aren't ignoring what's happening. We understand that the newspaper is not the focal point of city life as it was 10 years ago.

"Once upon a time, people had to read the paper to find out what was going on in theater. Today there are hundreds of forums and sites with that information," he says. "But the paper can integrate material from bloggers and external writers. We need to be part of that community and to have dialogue with the online world."
Posted by ben vershbow at 08:10 AM | Comments (1) | TrackBack
tags: Sulzberger , editor , journalism , newspaper , newyorktimes , publishing
Reading Christine Boese's anticipatory critique of the new NY Times Reader, I was reminded of something I saw last winter in Seoul at Chosun Ilbo, which is pretty much the Korean equivalent of The New York Times. Off the main lobby, the newspaper has set up an exhibition space called the "Media Lab," where the latest prototypes from the paper's digital technology wing are on public display. A sneak peak at the future of news.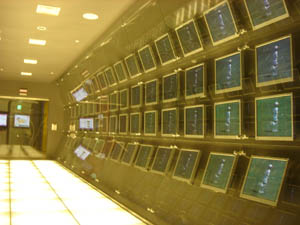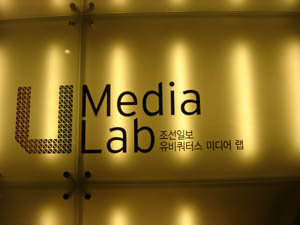 While there, I taped a demo that shows a new reading interface they've developed called "T-Paper," which was supposedly slated for release this year (though I haven't heard anything about it since). Strolling through the gallery, I found it running across a range of devices, from large flat-screen televisions to laptops, to Sony PSPs, to tiny pocket assistants. Here's the wall display:
My first reaction was much like Chris's: "a 'horseless carriage' retrenchment" -- porting the artifact of the broadsheet newspaper into a digital environment. I have to admit, though, that I was slightly seduced by the zoom interface, which reminded me of this proof of a similar concept by the late interface pioneer Jef Raskin. It's especially impressive to see it done with video. Though the Times Reader doesn't sport anything as fancy as this, a commenter named Kevin (who I can only assume works for the Times -- or Microsoft) insists that it will have much of the reader-driven functionality we would hope for (including the ability to share comments and annotations with other readers), in spite of the fact that it will be, as Chris puts it, "a walled garden."
Kevin also refers to usability studies that suggest the Times Reader helps users "retain more information and read for longer periods." I'll buy longer periods -- I always read more of the paper when I have it in print, and this new device certainly replicates much of the experience of print reading, while incorporating some nice new features. But still, are these proprietary, bound devices really going to replace newspapers? It seems doubtful when news consumption is such a multi-sourced affair these days (though to some extent that's an illusion). A device that allows readers to design their news menu seems more the ticket. Maybe the Times should be thinking more in terms of branded software than proprietary hardware. Make the best news reader on the web, prominently featuring Times content, but allowing users to customize their reading experience. Keep it open and plugged in. Let the Times be your gateway to more than just the Times.
Chosun Ilbo's vision seemed similarly constrained. As much as they tried to create a futuristic atmosphere with their Media Lab, much of the technology on display seemed, like the Times Reader, to be stuck in old mindsets -- fixated more on the digital apotheosis of their product than on really grappling with the realities of the new media environment.
T-Paper also reminded of another museum piece, the British Museum's "Turning the Pages," which remounts famous old manuscripts like DaVinci's journals in a fancy page-turning interface. A while back, Sally Northmore wrote a nice piece for if:book pondering this strange print-digital artifact, and what it means to electronically replicate the turning of a page. All of this recalls Marshall McLuhan's famous observation in The Medium is the Massage:
"When faced with a totally new situation, we tend always to attach ourselves to the objects, to the flavor of the most recent past. We look at the present through a rear-view mirror. We march backwards into the future..."
Much of the disoreintation I felt while in Korea came from this feeling of time pulling in different directions. A society saturated in technology, far more wired than ours, Korea rushes headlong into the future, yet at the same time digs its heels obstinately into the past. At the end of the Korean War, Seoul was a bombed-out pit of some half million people. Now it's a sprawling megalopolis of over 20 million, and though many centuries-old, it feels streamlined and new. There's no "old city" in any real sense. Shiny glass towers and enormous shopping centers loom over the streets, pedestrian shopping lanes explode into jungles of neon, tiny alleys teem with life like fissures in a coral reef, and a vast network of subways rumbles beneath. And yet this dynamic scene -- the swirl of steaming tripe vendors and blinking electronics -- is periodically interrupted by a medieval gate or pagoda, a historic remainder sitting tranquilly amid the churn of modern life.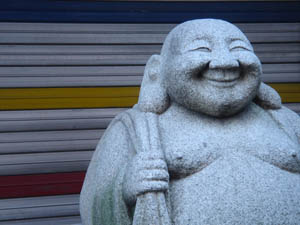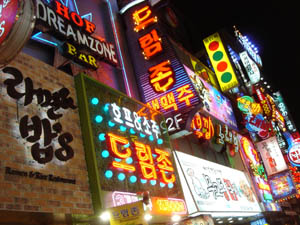 Spend an afternoon walking through Seoul and you'll see the full pageant of the local techno-culture. Cell phones are clearly several generations further evolved than anything we have here in the States. People seem to be doing just about everything with their mobile devices: playing games, watching TV, surfing the web. I even saw one woman on a train using her phone's video camera as a pocket mirror to fix her make-up. Young men spend hours tucked away in smoky, windowless internet cafes known as "PC Bangs," playing multi-player online games that involve a quarter of the citizenry. At the same time, you are frequently reminded of Korea's abiding infatuation with printing, paper crafts and calligraphy: stores sumptuously arrayed with handmade paper hung on racks, prodigiously plumed ink brushes hanging like icicles from the ceiling, and delicate little rice paper journals piled neatly on the shelves.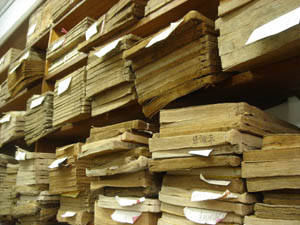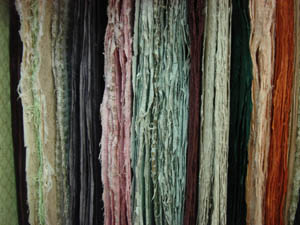 Mountains also serve to anchor swift-moving Seoul in time. 70 percent of the Korean peninsula is mountainous and the Seoul region is no exception. Sitting in the heart of downtown is the petite Namsan peak, surrounded by one of the city's best-loved parks and sporting at its summit Seoul's most recognizable landmark, Seoul Tower, a rocket ship awaiting blastoff. Facing Namsan, the snow-streaked Bugaksan peak rises over one of Seoul's central boulevards, an avenue running through what feels like the Korean equivalent of Rockefeller Plaza, past City Hall, the big newspaper offices, the Ubiquitous Dream Hall and the Ministry of Reunification, leading to the Gyeongbok Palace, and beyond that the Presidential "Blue House," nestled in Bugaksan's shade.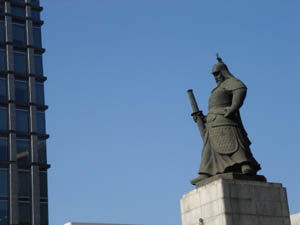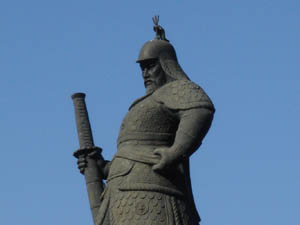 Framed by the mountain, presiding over the unending traffic of Hyundais, Kias, Daewoos, and Samsungs, is an imposing statue of Admiral Yi, the famous military leader who in the late 16th century dealt a humiliating blow to the Japanese navy with the most advanced technology of his time: a fleet of armor-plated, smoke-breathing "turtle boats."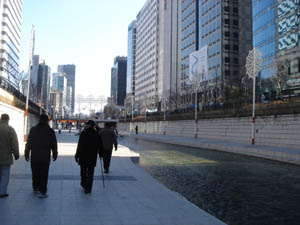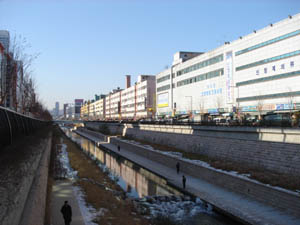 Much of Seoul's past lies beneath the modern streets, and occasionally something is unearthed and restored (or reinvented). Announced by a waterfall perpendicular to the grand boulevard is the Cheonggyecheon, an ancient stream running through the heart of the city into the countryside beyond, and which until very recently was covered over by an elevated highway. Last year, the city demolished the roadway, uncovered the stream and built a lovely sunken path alongside it cutting quietly through six miles of the city's bustle. If you've ever been to Paris and walked directly along the Seine on the lower walkways, you can sort of picture this, though the Cheonggyecheon is no Seine -- a small stream and a fairly narrow trench. But walking there, with the tops of buildings peeking over, an improbable calm steals over you in the heart of town.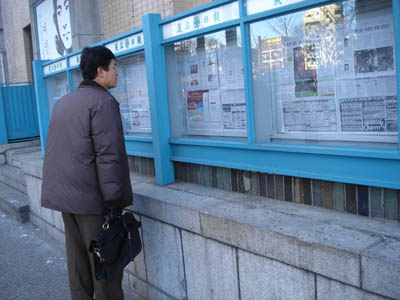 And because this reminiscence began with newspapers, take a look at these pictures. A few blocks from the waterfalls that reintroduce the Cheonggyecheon to the city after all these years, the very same newspapers that pride themselves on publishing at the cutting edge of technology still mount their daily editions, page by page, in glass cases on the street for all to read.
Posted by ben vershbow at 12:02 AM | Comments (1) | TrackBack
tags: TimesReader , interface , journalism , korea , mcluhan , newspaper , newyorktimes , nostalgia , raskin , reading , seoul
Wikipedia is on the front page of the New York Times today, presumably for the first time. The article surveys recent changes to the site's governance structure, most significantly the decision to allow administrators (community leaders nominated by their peers) to freeze edits on controversial pages. These "protection" and "semi-protection" measures have been criticized by some as being against the spirit of Wikipedia, but have generally been embraced as a necessary step in the growth of a collective endeavor that has become increasingly vast and increasingly scrutinized.
Browsing through a few of the protected articles -- pages that have been temporarily frozen to allow time for hot disputes to cool down -- I was totally floored by the complexity of the negotiations that inform the construction of a page on, say, the Moscow Metro. I attempted to penetrate the dense "talk" page for this temporarily frozen article, and it appears that the dispute centered around the arcane question of whether numbers of train lines should be listed to the left of a color-coded route table. Tempers flared and things apparently reached an impasse, so the article was frozen on June 10th by its administrator -- a user by the name of Ezhiki (Russian for hedgehogs), who appears to be taking a break from her editing duties until the 20th (whether it is in connection to the recent metro war is unclear).
Look at Ezhiki's profile page and you'll see a column of her qualifications and ranks stacked neatly like merit badges. Little rotating star .gifs denote awards of distinction bestowed by the Wikipedia community. A row of tiny flag thumbnails at the bottom tells you where in the world Ezhiki has traveled. There's something touching about the page's cub scout aesthetic, and the obvious idealism with which it is infused. Many have criticized Wikipedia for a "hive mind" mentality, but here I see a smart individual with distinct talents (and a level head for conflict management), who has pitched herself into a collective effort for the greater good. And all this obsessive, financially uncompensated striving -- all the heated "edit wars" and "revert wars" -- for the production of something as prosaic as an encyclopedia, a mere doormat on the threshold of real knowledge.
But reworking the doormat is a project of massive proportions, and one that carries great political and social significance. Who should produce these basic knowledge resources and how should the kernel of knowledge be managed? These are the questions that Wikipedia has advanced to the front page of the newspaper of record. The mention of WIkipedia on the front of the Times signifies its crucial place in the cultural moment, and provides much-needed balance to the usual focus in the news on giant commercial players like Google and Microsoft. In a time of uncontrolled media oligopoly and efforts by powerful interests to mould the decentralized structure of the Internet into a more efficient architecture of profit, Wikipedia is using the new technologies to fuel a great humanistic enterprise. Wikipedia has taken the model of open source software and applied it to general knowledge. The addition of a few governance measures only serves to demonstrate the increasing maturity of the project.
Posted by ben vershbow at 01:56 PM | Comments (1) | TrackBack
tags: newyorktimes , opensource , wikipedia
In the New York Times own book discussion forum, one rirutsky opines eloquently on the problems with Kelly's punch-drunk corporate optimism:
...what I find particularly problematic is the way that Kelly's "analysis"--as well as most of the discussion of it--omits any serious mention of what is actually at stake in the utopian scheme of a universal library (which Borges, by the way, does not promote, but debunks). It has little to do with enabling creativity, but rather, with enabling greater corporate profits. Kelly is actually most close to the mark when [he] characterizes the conflict over digital books as a conflict between two business models. Of course, one gets the impression from some of Kelly's writings that for him business and creativity are more or less the same thing....

....A more serious consideration of these issues would move away from the "old" binary antagonisms that Kelly outlines (surely, these are a relic of a pre-digital age) and think seriously about how society at large is changed by digital technologies and techniques. Who has the right to copy or to make use of data and who does not? In a world of such vast informational clutter, doesn't power accrue to those who can afford to advertise? It is worth remembering, too, that searching is not, after all, a value-free operation. Who ultimately will control the searching and indexing of digital information? Should the government--or private corporations--be allowed to data mine the searches that people make? In short, who benefits and who loses from these technological changes? Where, precisely, is power consolidated?

Kelly does not even begin to deal with these sorts of serious social issues.
And from a typically immense Slashdot thread (from highlights conveniently collected by Branko Collin at Teleread) -- this comes back to the "book is reading you" question:
Will all these books and articles require we login to view them first? I think having every book, article, movie, song, etc available for use anytime is a great idea and important for society but I don't want to have to login and leave a paper trail of everything I'm looking at.
And we have our own little thread going here.
Posted by ben vershbow at 03:40 PM | Comments (1) | TrackBack
tags: Borges , books , digitization , google , google_book_search , kevin_kelly , newyorktimes , privacy , privatization , search , the_networked_book
In his op-ed piece today, NY Times columnist, Paul Krugman, quotes from the Wikipedia to define conspiracy theory:
A conspiracy theory, says Wikipedia, "attempts to explain the cause of an event as a secret, and often deceptive, plot by a covert alliance."
This is the first time I've seen the Wikipedia used as an authoritative reference in the Times or any other major media outlet.
Posted by bob stein at 07:10 AM | Comments (1) | TrackBack
tags: authority , journalism , krugman , media , newyorktimes , wikipedia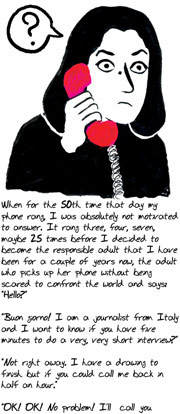 Everyone (and that includes us) has spent a lot of time complaining about Times Select, the paid online access to the New York Times editorial content. As I still subscribe to the paper version & thus get free access, I haven't complained so much. One thing that seems not to have been noticed in the debate is that Times Select coverage isn't exactly the same as the print version: increasingly, they've been creating dedicated web content which wouldn't work on the paper version at all. The most notable web-only content so far has been that they've given Marjane Satrapi, her own blog, titled An Iranian in Paris. Satrapi's a Persian graphic novelist; her Persepolis beautifully illustrates her experience growing up in Iran before, during, and after the revolution.
Her blog's worth a look – get someone else's account info, if you don't have an account. It reminds me not a little of the blog of Alex Itin, our artist in perpetual residence, who continues to fill his blog with pictures, some moving, with occasional dollops of text. Satrapi's work here feels astonishingly human and casual, thanks in no small part to the handwriting fonts used for the text. It's interesting to me that they've chosen to put this on the web: it's decidedly paper-based art. But the Web lets her be a bit more expansive than her usual black and white work: consider this image, where she seems to have scanned her passport, than drawn over its image, which would be difficult with electronic technology.
She's posted three (extended) entries so far, and the Times has given no indication of how long they intend to keep this up – or, really, any explanation of what they're trying to do here – leading one to hope that this is an open-ended series. Is this worth shelling out money for Times Select? Maybe not by itself. But if they keep providing this sort of web-dedicated content, naysayers might think about reconsidering.
Posted by dan visel at 10:39 AM | Comments (2)
tags: Publishing, Broadcast, and the Press , blog , iran , itin , itinplace , marjane , new , newyorktimes , paris , satrapi , times , timesselect , york