Listing entries tagged with Libraries, Search and the Web
1 | 2 | 3 | 4 | 5 | 6 | 7 | 8 | 9
Google Print now has its own exclusive search page. But make no mistake, this is not a library. Google makes it very clear in a paragraph intended to reassure nervous publishers:
Google Print is a book marketing program, not an online library, and as such your entire book will not be made available online unless you expressly permit it.
If you reach your limit of permitted pages you get this:

(Technorati Tags: Google, ebook, Library)
Posted by ben vershbow at 11:04 AM | Comments (0)
tags: Libraries, Search and the Web
In January I bought my first ebook (ISBN: B0000E68Z2), which is published by Wiley. I have one copy on my laptop and a backup on my external harddrive. Last week, I downloaded and installed Adobe Professional (writer 6.0) from our company network (Norwegian School of Management, BI) - during the installation some files from the Adobe version that I downloaded and installed when I bought the ebook (from Amazon.com UK) were deleted. Since then, I have not been able to access my ebook - I have tried to get help from our computer staff but they have not been able to help me.

Adobe thinks that I'm using another computer, while I'm not - and it didn't help to activate the computer through some Adobe DRM Activator stuff. Now I have spent at least 10 hours trying to access my ebook - hope you can help...
Boing Boing points to this story illustrating the fundamental flaws of digital rights management (DRM) - about a Norwegian prof who paid $172 for an ebook on Amazon UK only to have it turn to unreadable code jibberish after updating his Acrobat software. He made several pleas for help - to Acrobat, to Wiley (the publisher), and to Amazon. All were in vain. It turns out that after reading the story in Boing Boing (in the past 24 hours, I guess), Wiley finally sent a replacement copy. But the problem of built-in obsolescence in ebooks goes unaddressed.
I'm convinced that encrypting single "copies" is lunacy. For everything we gain with electronic texts - search, multimedia, connection to the network etc. - we lose much in the way of permanence and tactility. DRM software only makes the loss more painful. Publishers need to get away from the idea of selling "copies" and start experimenting with charging for access to a library of titles. You pay for the service, not for the copy. Digital books are immaterial - so the idea of the "copy" has to be revised.
Another example of old thinking with new media is the New York Public Library's ebook collection. That "copies" of electronic titles are set to expire after 21 days is not surprising. The "copy" is "returned" automatically and you sweep the expired file like a husk into the trash. What's incredible is that the library only allows one "copy" to be checked out a time, entirely defeating one of the primary virtues of electronic books: they can always be in circulation. Clearly terrified by the implications of the new medium (or of the retribution of publishers), the NYPL keeps ebooks on an even tighter tether than they do their print books. As a result, they've set up a service that's too frustrating to use. They should rethink this idea of the single "copy" and save everyone the "quote" marks.
Posted by ben vershbow at 11:07 AM | Comments (1) | TrackBack
tags: Copyright and Copyleft , Libraries, Search and the Web
Last Friday, the Association of American University Presses (AAUP) sent Google a long letter expressing concern over what might amount to "systematic infringement of copyright on a massive scale" in its library project. BusinessWeek reports. The AAUP letter can be read here. Much of it asks Google to clarify its position on a number of points - to provide, as it were, the fine print on Google Print. Here's a great item:
Snippet is used so consistently in describing Google Print for Libraries that it's taking on the status of a technical term, and thus requires a specific definition. How long is a "snippet?"
Google defends its mass digitization project on the grounds of "fair use" (Section 107 of the US Copyright Act). In other words, it asserts the right to copy copyrighted materials and make them browseable on the web for research purposes as long as they restrict the amount that can be seen for free. Any commercial use of the text will take place only in the context of a publisher agreement. Publishers have the right to opt out, and apparently a couple already have, though most are holding their breath and waiting to see if they might be able to profit from Google's project. The tricky question is, can a book that has been withheld from the publisher program be included in the library program?
You could say that the web is one enormous copying machine. And so fair use questions are more important than ever before. Will Google be the juggernaut that breaks down the door into a more permissive fair use era for all? Or will they use their power to establish an exclusive, Google-only, fair use zone, and set up a cartel with publishers? Or will a few well aimed law suits sink the project before it gets off the ground?
Posted by ben vershbow at 12:37 PM | Comments (0)
tags: Libraries, Search and the Web
"We librarians flatter ourselves that we know a thing or two about organizing information. It's time we stepped up and contributed to Wikipedia: not just to its content but to its structures and technologies. This project page is intended to provide a rallying point for these activities."
Posted by ben vershbow at 7:04 AM | Comments (0)
tags: Libraries, Search and the Web
There's a nice article in yesterday's NY Times on how some university libraries are rethinking how they arrange their space - moving, or redistributing print collections to make way for an "electronic information commons." It's not about abandoning the books, or relegating them to a lesser status. It's more about re-positioning them as a sort of physical database. If a library is a big computer, than the database exists toward the back end. These days, digging through the stacks, even if it results in a paper return, is generally done digitally. That's the front end, or the interface, and this is what smart libraries are seeking to improve. Research and scholarly production may be going digital, but the social, conversational space of the university, and in turn, the library, is still vital. The strategy for the libraries, then, is to restructure and expand that space as a compelling social software environment - one that is both physical and virtual. Sounds good in theory, but I'm not sure that's how these facilities will actually be used. Turning libraries into a hi-tech rec center might be sacrificing more than it saves.
The article focuses on reorganization efforts at the University of Texas at Austin. Press release here concerning the transformation of the Flawn Academic Center (likely a more durable link than the Times story).
(image: Perry-Castañeda Library at UT Austin)
Posted by ben vershbow at 2:01 PM | Comments (0)
tags: Libraries, Search and the Web
Google is riding high. With nearly 50 percent market share, it is the most widely used search engine on the web. It is even beginning to act suspiciously like a portal (notice the "login" link tucked discretely in the upper right corner?), handling your mail, hosting your blog, helping you find files on your desktop, and even storing a history of all your web searches. (No doubt, Google's expansion into web-based applications has Microsoft scared - they've always considered software their turf.) Google recently patented a system that ranks news searches by the quality and credibility of the source. Gorgeous satellite maps have put the surface of the earth in our web browser and left people breathless (see the Google Sightseeing blog, or the memorymap tag on Flickr as examples of sheer exultation in seeing the world through Google maps). Late last year, Google announced plans to digitize and put online major portions of the libraries of Stanford, U. Michigan, Harvard, Oxford and the NY Public Library. And on top of all this, its stock has continued to soar. Already this year, the newly public company shattered predictions, earning $369.1 million in the first quarter alone, more than covering the cost of the projected 10-year library scanning project. It seems there is no limit to what Google might do.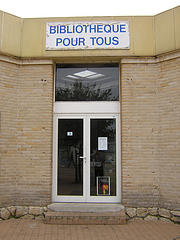 That is precisely what has Europeans so worried. Across the Atlantic, Google is coming to be seen as yet another symbol of American cultural hegemony, bestriding the web like a colossus. And the library project touches a particularly sensitive nerve, raising questions of cultural heritage - and cultural destiny. If the future of libraries is solely in Google's hands, what will be left out in the process? Will English become the lingua franca not only for politics and commerce, but for all intellectual discourse? Not content simply to ask questions, Europe has responded. In February, Jean-Noel Jeanneney, chief librarian of the Bibliothè que Nationale de France, warned that Google Print would effectively anglicize the world's knowledge, and called for a French digitization effort to beat back the surging english tide. Less than a month later, President Jacques Chirac gave Jeanneney's proposal the green light. Then, last week, nineteen national libraries, evidently moved by France's determination, signed a joint motion urging the creation of a giant pan-European digital library to counterbalance the nascent Googlian stacks. A couple days ago, 16 EU culture ministers, several heads of state, and over 800 artists and intellectuals met in Paris to close the deal, issuing a strong, continent-wide directive to preserve and promote culture, beginning with the digitization of European library collections.
More serious digitization projects are undoubtedly a good thing. The European effort, being a more purely civic enterprise, might in fact turn out far better than Google Print, which clearly has a large commercial dimension (deals with publishers, advertising etc.). The Euro initiative might produce bona fide electronic editions, not just searchable scans - fully structured, annotated and perhaps employing other scholarly resources (but let's not hold our breath). To be fair, Google has never said it wants to be the only gig in town. Rather, they hope to act as a catalyst for other digitization efforts. And judging by Europe's reaction, it seems to be working. Looking at this latest transatlantic folly, it's funny to think of the Bush administration trying to undercut European unity, splitting the continent into "old" and "new" in the hope of fishing out support for the Iraq war. We've seen where that kind of destructive diplomacy has led us. But quite wonderfully, Google appears to have achieved the opposite, galvanizing a united Europe with a big, visionary idea. If the Euro library project exists for no other reason than the perceived imperialism of Google, then so be it. It will result in a great gift for all. If only our foreign policy were so deft.
(image by libraryman via Flickr)
Posted by ben vershbow at 9:21 AM | Comments (0)
tags: Libraries, Search and the Web
Joy Weese Moll, a soon-to-be graduate of the School of Information Science and Learning Technologies at the University of Missouri, and author of the blog Wanderings of a Student Librarian, has written a useful overview of Google's Print and Scholar initiatives - actually a session report from the Association of College & Research Libraries conference earlier this month. Summarized by Moll are suprisingly harmonious remarks by Adam Smith, product manager for Google's library-related projects, and John Price Wilkin, a top librarian at the University of Michigan (and one of Google's pilot partners).
"Smith made it very clear that this project is in its infancy. Google considers itself to be an international company and intends to participate in digitization projects in other countries and other languages. Smith acknowledged that Google cannot digitize everything. Rather, Google wants to be a catalyst for digitization efforts, not the only game in town. Google's digitization project will help them build tools that will improve the searching of digital libraries created by universities, governments, and other organizations."
Among other things, Wilkin points out that the mass digitization library collections "has already proven to be a factor in driving clarification of intellectual property rights, including the orphan copyright issue."
Published in Cites and Insights. Link via Bibliotheke.
Posted by ben vershbow at 10:32 AM | Comments (0)
tags: Copyright and Copyleft , Libraries, Search and the Web
Some more thoughts on Clay Shirky's keynote lecture on "folksonomies" at the Interactive Multimedia Culture Expo this past weekend in New York (see earlier post, "as u like it - a networked bibliography").
Shirky talks about the classification systems of libraries - think card catalogues. Each card provides taxonomical directions for locating a book on a library's shelves. And like shelves, the taxonomies are rigid, hierarchical - "cleaving nature at the joints," in his words. The rigidity of the shelf tends to fossilize cultural biases, and makes it difficult to adjust to changing political realities. The Library of Congress, for instance, devotes the same taxonomic space to the history of Switzerland and the Balkan Peninsula as it does to the history of all Africa and Asia. See the table below (source: Wikipedia).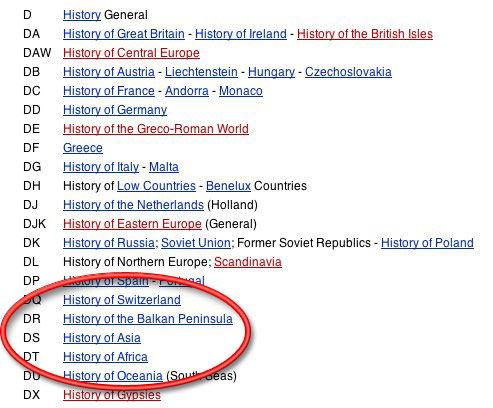 Or take the end of the Cold War.. When the Soviet Union disintegrated, the world re-arranged itself. An old order was smashed. Dozens of political and cultural identities poured out of stasis. Imagine the re-shelving effort that was required! Librarians shuddered, knowing this was a task that far exceeded their physical and temporal resources. And so they opted to keep the books where they were, changing the section's header to "the former Soviet Union." Problem solved. Well, sort of.
When communication and transportation were slower, libraries had a chance of keeping up with the world. But the management of humanity's paper memory has become too cumbersome and complex - too heavy - to register every nuance, shock, and twist of history and human thought. Now, with the web becoming our library, there is, quoting Shirky again, "no shelf," and it's possible to have more fluid, more flexible ways of classifying knowledge. But the web has been slow to realize this. Look at Yahoo!, which, since first appearing on the scene, has organized its content under dozens of categories, imposing the old shelf-based model. As a result, their home page is the very picture of information overload. Google, on the other hand, decided not to impose these hierarchies, hence their famously spartan portal. Given the speed and frequency with which we can document every moment of our lives in every corner of the world, in every conceivable media - and considering that this will only continue to increase - there is no way that the job of organizing it all can be left solely to professional classifiers. Shirky puts it succinctly: "the only group that can organize everything is everybody."
That's where folksonomy comes in - user-generated taxonomy built with metadata, such as tags. Everybody can apply tags that reflect their sense of how things should be organized - their own personal Dewey Decimal System. There is no "top level." There are no folders. There is no shelf. Categories can overlap endlessly, like a sea of Venn diagrams. The question is, how do we prevent things from becoming incoherent? If there are as many classifications as there are footsteps through the world, then knowledge ceases to be a tool we can use. And though folksonomy frees us from the rigid, top-down hierarchies of the shelf, it subjects us to the brutal hierarchy of the web, which is time.
The web tends to privilege content that is new or recently updated. And tagging systems, in their present stage of development, are no different. Like blogs, tag searches place new content at the top, while the old stuff gets swiftly buried. As of this writing, there are nearly 24,000 photos on Flickr tagged with "China" (and this with Flickr barely a year old). You get the recent uploads first and must dig for anything older. Sure, you can run advanced searches on multiple tags to narrow the field, but how can you be sure you've entered the right tags to find everything that you're looking for? With Flickr, it is by and large the photographers themselves that apply the tags, so we have to be mind readers to guess the more nuanced classifications. Clearly, we'll need better tools if this is all going to work. Far from becoming obsolete, librarians may in fact become the most important people of all. It's not difficult to imagine their role shifting from the management of paper archives to the management of tags. They are, after all, the original masters of metadata. Different schools of tagging could emerge and we would subscribe to the ones we most trust, or that mesh best with our own view of things. Librarians could become the sages of the web.
It's easy to get preoccupied with the volume of information we're dealing with today. But the issue of time, which I raised earlier, should also be foremost in our minds. If libraries were to shake as violently and often as the world, they would crumble. They are not newsrooms. They are not bazaars. Like writing, libraries create stable, legible forms out of swirling passions. They provide refuge. Their cool, peaceful depths enable analysis and abstraction. They provide an environment in which the world can appear at a distance, spread out on literate strands that may be read in calm and quiet. As a library, the web feels more like the real world - sometimes too much so. It throbs with life, with momentary desires, with sudden outbursts. It is hypersensitive to change. But things pile up, or vanish altogether. I may have the smartest, most intuitive tags in the world, but in a year they might become nothing more than headstones for dead links. It is ironic that with greater access to more knowledge than ever before, we tend to live in a perpetual present. If folksonomies are truly where we're headed, then we must find ways to overcome the awful forgetfulness of the web. Otherwise, we may regret leaving the old, stubborn, but dependable shelf behind.
Posted by ben vershbow at 4:33 PM | Comments (2)
tags: Libraries, Search and the Web
This past weekend I attended some of the keynote lectures at the Interactive Multimedia Culture Expo at the Chelsea Art Museum in New York. Among the speakers was Clay Shirky, who gave a quick, energetic talk on "folksonomies" - user-generated taxonomies (i.e. tags) - and how they are changing, from the bottom up, the way we organize information. Folksonomies are still in an infant stage of development, and it remains to be seen how they will develop and refine themselves. Already, it is getting to be a bit confusing and overwhelming. We are in the process of building, collectively, one tag at a time, a massive library. Clearly, we need tools that will help us navigate it.

Something to watch is how folksonomies are converging with social software platforms like Flickr. What's interesting is how communities form around specific interests - photos, for instance - and develop shared vocabularies. You also have the bookmarking model pioneered by del.icio.us, which essentially empowers each individual web user as a curator of links. People can link to your page, or subscribe with a feed reader. Eventually, word might spread of particular "editors" with particularly valuable content, organized particularly well. New forms of authority are thereby engendered.
Shirky mentioned an interesting site that is sort of a cross between these two models. CiteULike takes the tag-based bookmark classification system of del.icio.us and applies it exclusively to papers in academic journals, thereby carving out a defined community of interest, like Flickr.
"CiteULike is a free service to help academics to share, store, and organise the academic papers they are reading. When you see a paper on the web that interests you, you can click one button and have it added to your personal library. CiteULike automatically extracts the citation details, so there's no need to type them in yourself. It all works from within your web browser. There's no need to install any special software."
Essentially, CiteULike is an enormous networked bibliography. On the first page, recently posted papers are listed under the header, "everyone's library." To the right is an array of the most popular tags, varying in size according to popularity (like in Flickr). Each tag page has an RSS feed that you can syndicate. You can also form or join groups around a specific subject area. As of this writing, there are articles bookmarked from 6,498 journals, primarily in biology in medicine, "but there is no reason why, say, history or philosophy bibliographies should not be equally prevalent." So says Richard Cameron, who wrote the site this past November and is its sole operator. Citations are automatically extracted for bookmarked articles, but only if they come from a source that CiteULike supports (list here, scroll down). You can enter metadata manually if you are are not submitting from a vetted source, but your link will appear only on your personal bookmarks page, not on the homepage or in tag searches. This is to maintain a peer review standard for all submitted links, and to guard against "lunatics." CiteULike says it is looking to steadily expand its pool of supported sources.
CiteULike might eventually fizzle out. Or it might mushroom into something massively popular (it's already running in five additional languages). Perhaps it will merge with other social software platforms into a more comprehensive folksonomic universe. Perhaps Google will buy it up. It's impossible to predict. But CiteULike is a valuable experiment in harnessing the power of focused communities, and in creating the tools for navigating our nascent library. It might also solve some of the problems put forth in Kim's post, "weaving textbooks into the web." Worth keeping an eye on.
Posted by ben vershbow at 12:05 PM | Comments (0) | TrackBack
tags: Libraries, Search and the Web , the_networked_book
That's the slogan for the just-launched Creative Archive License Group - a DRM-free audio/video/still image repository maintained by the BBC to provide "fuel for the creative nation." Other members include Channel 4, Open University, and the British Film Institute (bfi). Imagine if the big three US networks, PBS, NPR and the MOMA film archive were to do such a thing...
Posted by ben vershbow at 8:14 AM | Comments (0)
tags: Copyright and Copyleft , Libraries, Search and the Web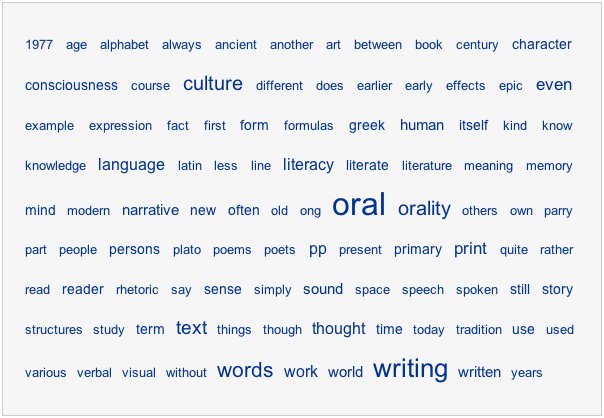 Sometime in the last few days, Amazon.com unveiled three new features for its Inside the Book search: "books on related topics," a "100 most frequently used" concordance (above is the concordance for Orality and Literacy by Walter J. Ong), and "text stats." The stats are pretty funny - in addition to page, word and character count, they measure a book's "complexity" as well as its "readability" according to three established indexes, including the famous and amusingly named "Fog Index" (as though it rated the density of mental fog between a reader and a book). It also includes so-called "fun stats" like words per dollar and words per ounce.
Some of these features seem a little trivial, but there's no denying that Amazon is moving surely and steadily toward a comprehensive semantic browsing system (other recent innovations are Statistically Improbable Phrases (SIPS) and Citations). Though still crude compared to what it might eventually become, you can begin to glimpse the pleasures and uses it will afford. Amazon can never replace the social and tactile pleasures of browsing a physical bookstore, but it's doing a good job at making the virtual bookstore a more exciting place.
Posted by ben vershbow at 5:08 PM | Comments (0) | TrackBack
tags: Libraries, Search and the Web
Looking for simple facts on the web can be a frustrating business. Over time, we bookmark sites that reliably deliver the goods - things like basic geographical data, conversion scales for measurements, biographical summaries, or anything else that we need to quickly grab, plug in, and move on. But it all takes much longer than it should, and in looking for such things, we're plagued as much by the nuance of internet search as by its imprecision. It's all part of learning how to deal with this massive web we've created, and the state of blindness to which it reduces us. Search engines are really the only tool we have for groping through a pitch black sea of information, where the ineluctable modality is meaning, not the visible (for more on this, read Steven Pemberton's talk from the Decade of Web Design conference, which if:book attended this January in Amsterdam).
Well Google has helped us to see, just a little bit better, the little nuggets and factual crystals that we so often sift for in our blindness - by unveiling a new Q&A feature for basic web search (article via Bibliotheke). Plug in a search like "earth distance sun," or "copernicus date of death," and you get exactly what you're looking for right above the stack of general results:


or

It's the kind of small, thoughtful innovation that makes you appreciate Google's attention to detail and sensitivity to the problem of blindness. Other search engines like Ask Jeeves offer a similar feature, but Google includes the information's source (a source they've vetted and deemed reliable) and a link to that page. For example, in the case of basic geography and demographics, the link might be to the CIA's World Factbook. Even if you just grab the fact and run, it's comforting to have seen a trustworthy citation, though some might grumble about the CIA.
It would be fantastic if this kind of quick fact extraction could be tailored to different search needs. Imagine a "writer's search toolbox" combining every conceivable reference resource that an author might need. Enter "synonym for think" and right at the top you get an entire thesaurus search result: "analyze, appraise, appreciate, brood, cerebrate, chew, cogitate, comprehend, conceive...." Enter "idiom with humble" and you get "eat humble pie," "Be it ever so humble, there's no place like home," etc. Or search for rhymes, poetic forms, grammar guidelines, literary terms, writer bios, quotes, etymologies - anything. It's good news that search is being refined in this way, and competition among giants seems, in the end, to be good for the average web browser. Whatever helps us spend less time scouring and more time on the things that are important to us.
Posted by ben vershbow at 4:57 PM | Comments (0)
tags: Libraries, Search and the Web