Listing entries tagged with Libraries, Search and the Web
1 | 2 | 3 | 4 | 5 | 6 | 7 | 8 | 9
The Washington Post has run a pair of op-eds, one from each side of the Google Print dispute. Neither says anything particularly new. Moreover, they enforce the perception that there can be only two positions on the subject -- an endemic problem in newspaper opinion pages with their addiction to binaries, where two cardboard boxers are allotted their space to throw a persuasive punch. So you're either for Google or against it? That's awfully close to you're either for technology -- for progress -- or against it. Unfortunately, like technology's impact, the Google book-scanning project is a little trickier to figure out, and a more nuanced conversation is probably in order.
The first piece, "Riches We Must Share...", is submitted in support of Google by University of Michigan President Sue Coleman (a partner in the Google library project). She argues that opening up the elitist vaults of the world's great (english) research libraries will constitute a democratic revolution. "We believe the result can be a widening of human conversation comparable to the emergence of mass literacy itself." She goes on to deliver some boilerplate about the "Net Generation" -- too impatient to look for books unless they're online etc. etc. (great to see a major university president being led by the students instead of leading herself).
Coleman then devotes a couple of paragraphs to the copyright question, failing to tackle any of its controversial elements:
Universities are no strangers to the responsible management of complex copyright, permission and security issues; we deal with them every day in our classrooms, libraries, laboratories and performance halls. We will continue to work within the current criteria for fair use as we move ahead with digitization.
The problem is, Google is stretching the current criteria of fair use, possibly to the breaking point. Coleman does not acknowledge or address this. She does, however, remind the plaintiffs that copyright is not only about the owners:
The protections of copyright are designed to balance the rights of the creator with the rights of the public. At its core is the most important principle of all: to facilitate the sharing of knowledge, not to stifle such exchange.
All in all a rather bland statement in support of open access. It fails to weigh in on the fair use question -- something about which the academy should have a few things to say -- and does not indicate any larger concern about what Google might do with its books database down the road.
The opposing view, "...But Not at Writers' Expense", comes from Nick Taylor, writer, and president of the Authors' Guild (which sued Google last month). Taylor asserts that mega-rich Google is tramping on the dignity of working writers. But a couple of paragraphs in, he gets a little mixed up about contemporary publishing:
Except for a few big-name authors, publishers roll the dice and hope that a book's sales will return their investment. Because of this, readers have a wealth of wonderful books to choose from.
A dubious assessment, since publishing conglomerates are not exactly enthusiastic dice rollers. I would counter that risk-averse corporate publishing has steadily shrunk the number of available titles, counting on a handful of blockbusters to drive the market. Taylor goes on to defend not just the publishing status quo, but the legal one:
Now that the Authors Guild has objected, in the form of a lawsuit, to Google's appropriation of our books, we're getting heat for standing in the way of progress, again for thoughtlessly wanting to be paid. It's been tradition in this country to believe in property rights. When did we decide that socialism was the way to run the Internet?
First of all, it's funny to think of the huge corporations that dominate the web as socialist. Second, this talk about being paid for appropriating books for a search database is revealing of the two totally different worldviews that are at odds in this struggle. The authors say that any use of their book requires a payment. Google sees including the books in the database as a kind of payment in itself. No one with a web page expects Google to pay them for indexing their site. They are grateful that they do! Otherwise, they are totally invisible. This is the unspoken compact that underpins web search. Google assumed the same would apply with books. Taylor says not so fast.
Here's Taylor on fair use:
Google contends that the portions of books it will make available to searchers amount to "fair use," the provision under copyright that allows limited use of protected works without seeking permission. That makes a private company, which is profiting from the access it provides, the arbiter of a legal concept it has no right to interpret. And they're scanning the entire books, with who knows what result in the future.
Actually, Google is not doing all the interpreting. There is a legal precedent for Google's reading of fair use established in the 2003 9th Circuit Court decision Kelly v. Arriba Soft. In the case, Kelly, a photographer, sued Arriba Soft, an online image search system, for indexing several of his photographs in their database. Kelly believed that his intellectual property had been stolen, but the court ruled that Arriba's indexing of thumbnail-sized copies of images (which always linked to their source sites) was fair use: "Arriba's use of the images serves a different function than Kelly's use - improving access to information on the internet versus artistic expression." Still, Taylor's "with who knows what result in the future" concern is valid.
So on the one hand we have many writers and most publishers trying to defend their architecture of revenue (or, as Taylor would have it, their dignity). But I can't imagine how Google Print would really be damaging that architecture, at least not in the foreseeable future. Rather it leverages it by placing it within the frame of another architecture: web search. The irony for the authors is that the current architecture doesn't seem to be serving them terribly well. With print-on-demand gaining in quality and legitimacy, online book search could totally re-define what is an acceptable risk to publishers, and maybe more non-blockbuster authors would get published.
On the other hand we have the universities and libraries participating in Google's program, delivering the good news of accessibility. But they are not sufficiently questioning what Google might do with its database down the road, or the implications of a private technology company becoming the principal gatekeeper of the world's corpus.
If only this debate could be framed in a subtler way, rather than the for-Google-or-against-it paradigm we have now. I'm cautiously optimistic about the effect of having books searchable on the web. And I tend to believe it will be beneficial to authors and publishers. But I have other, deep reservations about the direction in which Google is heading, and feel that a number of things could go wrong. We think the cencorship of the marketplace is bad now in the age of publishing conglomerates. What if one company has total control of everything? And is keeping track of every book, every page, that you read. And is reading you while you read, throwing ads into your peripheral vision. I'm curious to hear from readers what they feel could be the hazards of Google Print.
Posted by ben vershbow at 5:53 PM | Comments (4)
tags: Libraries, Search and the Web , Publishing, Broadcast, and the Press , academy , books , copyright , google , google_print , michigan , publishing , writing
This time by publishers. Penguin Group USA, McGraw-Hill, Pearson Education, Simon & Schuster and John Wiley & Sons. The gripe is the same as with the Authors' Guild, which filed suit last month alleging "massive copyright infringement." Publishers fear a dangerous precedent is set by Google's scanning of books to construct what amounts to a giant card catalogue on the web. Google claims "fair use" (see rationale), again pointing out that for copyrighted works only tiny "snippets" of text are displayed around keywords (though perhaps this is not yet fully in effect - I was searching around in this book and was able to look at quite a lot).
Google calls the publishers' suit "near-sighted." And it probably is. The benefit to readers and researchers will be tremendous, as will (Google is eager to point out) the exposure for authors and publishers. But Google Print is undoubtedly an earth-shaking program. Look at the reaction in Europe, where alarm bells rung by France warned of cultural imperialism, an english-drenched web. Heads of state and culture convened and initial plans for a European digital library have been drawn up.
What the transatlantic flap makes clear is that Google's book scanning touches a deep nerve, and the argument over intellectual property, signficant though it is, distracts from a more profound human anxiety -- an anxiety about the form of culture and the shape of thoughts. If we try to grope back through the millennia, we can find find an analogy in the invention of writing.
The shift from oral to written language froze speech into stable strings that could be transmitted and stored over distance and time. This change not only affected the modes of communication, it dramatically refigured the cognitive makeup of human beings (as McLuhan, Ong and others have described). We are currently going through another such shift. The digital takes the freezing medium of text and throws it back into fluidity. Like the melting of polar ice caps, it unsettles equilibriums, changes weather patterns. It is a lot to adjust to, and we wonder if our great-great-grandchildren will literally think differently from us.
But in spite of this disorienting new fluidity, we still have print, we still have the book. And actually, Google Print in many ways affirms this since its search returns will point to print retailers and brick-and-mortar libraries. Yet the fact remains that the canon is being scanned, with implications we can't fully perceive, and future uses we can't fully predict, and so it is understandable that many are unnerved. The ice is really beginning to melt.
In Phaedrus, Plato expresses a similar anxiety about the invention of writing. He tells the tale of Theuth, an Egyptian deity who goes around spreading the new technology, and one day encounters a skeptic in King Thamus:
...you who are the father of letters, from a paternal love of your own children have been led to attribute to them a power opposite to that which they in fact possess. For this discovery of yours will create forgetfulness in the minds of those who learn to use it; they will not exercise their memories, but, trusting in external, foreign marks, they will not bring things to remembrance from within themselves. You have discovered a remedy not for memory, but for reminding. You offer your students the appearance of wisdom, not true wisdom. They will be hearers of many things and will have learned nothing; they will appear to be omniscient and will generally know nothing; they will be tiresome company, having the show of wisdom without the reality.
As I type, I'm exhibiting wisdom without the reality. I've read Plato, but nowhere near exhaustively. Yet I can slash and weave texts on the web in seconds, throw together a blog entry and send it screeching into the commons. And with Google Print I can get the quote I need and let the rest of the book rot behind the security fence. This fluidity is dangerous because it makes connections so easy. Do we know what we are connecting?
Posted by ben vershbow at 8:08 AM | Comments (5)
tags: Copyright and Copyleft , Libraries, Search and the Web , Transliteracies , copyright , google , literacy , mcluhan , ong , plato , publishing , search , web
This week Google will be paying a visit to the Frankfurt Book Fair to talk with European publishers and chief librarians (including arch nemesis Jean-Nöel Jeanneney) about eight new local incarnations of Google Print. (more)
Posted by ben vershbow at 8:56 AM | Comments (0)
tags: Libraries, Search and the Web , Online , books , copyright , ebook , europe , frankfurt , google , internet , library , publishing , search , web
Nicholas Carr, who writes about business and technology and formerly was an editor of the Harvard Business Review, has published an interesting though problematic piece on "the amorality of web 2.0". I was drawn to the piece because it seemed to be questioning the giddy optimism surrounding "web 2.0", specifically Kevin Kelly's rapturous late-summer retrospective on ten years of the world wide web, from Netscape IPO to now. While he does poke some much-needed holes in the carnival floats, Carr fails to adequately address the new media practices on their own terms and ends up bashing Wikipedia with some highly selective quotes.
Carr is skeptical that the collectivist paradigms of the web can lead to the creation of high-quality, authoritative work (encyclopedias, journalism etc.). Forced to choose, he'd take the professionals over the amateurs. But put this way it's a Hobson's choice. Flawed as it is, Wikipedia is in its infancy and is probably not going away. Whereas the future of Britannica is less sure. And it's not just amateurs that are participating in new forms of discourse (take as an example the new law faculty blog at U. Chicago). Anyway, here's Carr:
The Internet is changing the economics of creative work - or, to put it more broadly, the economics of culture - and it's doing it in a way that may well restrict rather than expand our choices. Wikipedia might be a pale shadow of the Britannica, but because it's created by amateurs rather than professionals, it's free. And free trumps quality all the time. So what happens to those poor saps who write encyclopedias for a living? They wither and die. The same thing happens when blogs and other free on-line content go up against old-fashioned newspapers and magazines. Of course the mainstream media sees the blogosphere as a competitor. It is a competitor. And, given the economics of the competition, it may well turn out to be a superior competitor. The layoffs we've recently seen at major newspapers may just be the beginning, and those layoffs should be cause not for self-satisfied snickering but for despair. Implicit in the ecstatic visions of Web 2.0 is the hegemony of the amateur. I for one can't imagine anything more frightening.
He then has a nice follow-up in which he republishes a letter from an administrator at Wikipedia, which responds to the above.
Encyclopedia Britannica is an amazing work. It's of consistent high quality, it's one of the great books in the English language and it's doomed. Brilliant but pricey has difficulty competing economically with free and apparently adequate....

...So if we want a good encyclopedia in ten years, it's going to have to be a good Wikipedia. So those who care about getting a good encyclopedia are going to have to work out how to make Wikipedia better, or there won't be anything.
Let's discuss.
Posted by ben vershbow at 9:00 AM | Comments (5)
tags: Libraries, Search and the Web , OS , Online , Publishing, Broadcast, and the Press , Social Software , Web2.0 , amateur , blog , blogging , blogs , book , books , britannica , collective , encyclopedia , encyclopedia_britannica , internet , journalism , mainstream_media , media , msm , open_content , open_source , publishing , web , web_2.0 , wiki , wikipedia
Google as big brother: "Op-Art" by Randy Siegel from today's NY Times.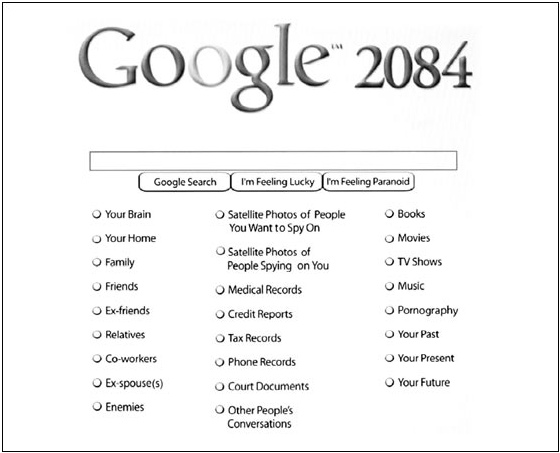 Posted by ben vershbow at 10:06 AM | Comments (10)
tags: 1984 , 2084 , Libraries, Search and the Web , NYTimes , Online , algorithm , art , cartoon , dystopia , editorial , google , information , internet , newspaper , orwell , paranoia , privacy , satire , search , technology , web
The following was posted by Gary Frost as a comment to our post on Neil Postman's "Building a Bridge to the 18th Century." Gary recently returned from the Mississippi coast where he was part of a team helping to assess library and museum damage after Katrina.
The mystic advise that we walk into the darkness. Postman's only qualification is that we do futurism with the right gear. But we cannot wander off into the future with enough AA batteries. An archeologist at the storm damaged Jefferson Davis presidential library greeted me saying; "Welcome to the19th century." He was not kidding. No water, no electricity, no gas, no groceries. He was digging up the same artifacts for the second time in the immense debris fields left by Katrina.
We were driven to a manuscript era and we were invigorated to do our best. Strangely the cell phones worked and we talked to Washington from the 19th century. We asked if the Nation was still interested in the culture of the deep south. Not really, Transformers were at work and in our mobile society the evacuees had left for good. The army trucks were building new roads over the unmarked gravesites of 3000 Confederate veterans, who in their old age, came to Jeff Davis' home to die.
We were left hanging about the future and technologies were a sidebar. It wasn't really important that the 19th century had invented instantaneous communication, digital encoding or photographic representation or that the 21st century was taking the credit for its exploitation of these accomplishments. The gist was that the future deserved to be informed and not deluded. The gist was that the future would be fulfilled as a measure of its use of the accomplishments of a much longer past.
Posted by ben vershbow at 12:30 AM | Comments (1)
tags: Libraries, Search and the Web , archive , book , books , confederacy , confederate , digital , gulf , gulf_coast , history , hurricane , hurricane_katrina , jefferson_davis , katrina , library , literature , mississippi , paper , preservation , progress , reading , rescue , south , technology
It's nice to see that UbuWeb, the great public web library of the avant garde, is back online after "a long summer of rebuilding." At times when the web feels depressingly shallow, Ubu can be the perfect medecine. Among the many masterworks you will find is Samuel Beckett's "Film" (1965), starring a very old Buster Keaton. It's wonderful that anyone can watch this online (I've just spent half an hour in its thrall).


Also worth checking out are /ubu Editions - handsomely designed electronic texts ranging across an interesting selection of poetry, prose and theatre, including Ron Silliman's "The Chinese Notebook," which Dan blogged about a couple weeks back. These, like everything else on Ubu, are free.
Posted by ben vershbow at 1:21 AM | Comments (1)
tags: Libraries, Search and the Web , Online , avant_garde , avantgarde , beckett , buster_keaton , curated , ebook , experimental , fiction , film , gallery , internet , keaton , library , media , museum , music , poetry , samuel_beckett , silliman , theatre , ubu , ubuweb , web
Yahoo, in collaboration with The Internet Archive, Adobe, O'Reilly Media, Hewlett Packard Labs, the University of California, the University of Toronto, The National Archives of England, and others, will be participating in The Open Content Alliance, a book and media archiving project that will greatly enlarge the body of knowledge available online. At first glance, it appears the program will focus primarily on public domain works, and in the case of copyrighted books, will seek to leverage the Creative Commons.
Google Print, on the other hand, is more self-consciously a marketing program for publishers and authors (although large portions of the public domain will be represented as well). Google aims to make money off its indexing of books through keyword advertising and click-throughs to book vendors. Yahoo throwing its weight behind the "open content" movement seems on the surface to be more of a philanthropic move, but clearly expresses a concern over being outmaneuvered in the search wars. But having this stuff available online is clearly a win for the world at large.
The Alliance was conceived in large part by Brewster Kahle of the Internet Archive. He announced the project on Yahoo's blog:
To kick this off, Internet Archive will host the material and sometimes helps with digitization, Yahoo will index the content and is also funding the digitization of an initial corpus of American literature collection that the University of California system is selecting, Adobe and HP are helping with the processing software, University of Toronto and O'Reilly are adding books, Prelinger Archives and the National Archives of the UK are adding movies, etc. We hope to add more institutions and fine tune the principles of working together.

Initial digitized material will be available by the end of the year.
More in:
NY Times
Chronicle of Higher Ed.
Posted by ben vershbow at 2:00 PM | Comments (0)
tags: Libraries, Search and the Web , archive , book , books , brewster_kahle , digital , digitize , ebook , google , google_print , googleprint , internet_archive , kahle , library , literature , reading , scanning , yahoo , yahoo!
The University of Maryland's Robert H. Smith School of Business is building an archive of primary source documents related to the dot com boom and bust. The Business Plan Archive contains business plans, marketing plans, venture presentations and other business documents from thousands of failed and successful Internet start-ups. In the upcoming second phase of the project, the archive's creator, assistant professor David A. Kirsch, will collect oral histories from investors, entrepreneurs, and workers, in order to create a complete picture of the so-called internet bubble.
With support from the Alfred P. Sloan Foundation, The Library of Congress, and Maryland's business school, Mr. Kirsch is creating a teaching tool as well as an historical archive. Students in his management and organization courses at Maryland's School of Business, must choose a company from the archive and analyze what went wrong (or right). Scholars and students at other institutions are also using it for course assignments and research.
An article in the Chronicle of Higher Education, Creating an Archive of Failed Dot-Coms, points out that Mr. Kirsch won't profit much, despite the success of the archive.
Mr. Kirsch concedes that spending his time building an online archive might not be the best marketing strategy for an assistant professor who would like to earn tenure and a promotion. Online scholarship, he says, does not always generate the same respect in academic circles that publishing hardcover books does.

"My database has 39,000 registered users from 70 countries," he says. "If that were my book sales, it would be the best-selling academic book of the year."

Even so, Mr. Kirsch believes, the archive fills an important role in preserving firsthand materials.

"Archivists and scholars normally wait around for the records of the past to cascade down through various hands to the netherworld of historical archives," he says. "With digital records, we can't afford to wait."
Posted by kim white at 11:37 AM | Comments (0)
tags: Libraries, Search and the Web , archive , business , businessplan , dotcom , history_of_interactive_media , internet , primarysource
A nice companion piece to the "database of intentions" is George Legrady's new installation, "Making Visible the Invisible," at the Rem Koolhaas-designed Seattle Central Library. Six large LED display panels suspended above the "mixing chamber" on the library's fifth floor display a series of visualizations depicting the circulation of library books and other media across time and classification area, providing "a real-time living picture of what the community is thinking."
KeyWord Map Attack


Legrady described the project at the Transliteracies conference this past June in Santa Barbara. At that time, Bob blogged:
the pinpoint accuracy of computer-searches, leaves those of us lucky enough to have spent time in library stacks, nostalgic for the unexpected discovery of something we didn't know we were looking for but which just happened, serendipitously, to be on a nearby shelf. George Legrady, artist and prof at UC Santa Barbara, just showed a project he is working on for the new public library in Seattle that gave the first glimpse of serendipity in online library searching which lets you see all the books that have recently been checked out on a particular subject. Beautiful and Exciting.
Vital Statistics


Floating Titles

Dot Matrix Rain



Other observations:
"New piece for Central Library pushes art to the technical edge" in Seattle Post Intelligencer

Information Aesthetics profile
Posted by ben vershbow at 6:37 PM | Comments (0)
tags: Libraries, Search and the Web , architecture , art , book , books , circulation , datavisualization , georgelegrady , infovis , infoviz , installation , koolhaas , legrady , library , public , reading , remkoolhaas , sculpture , seattle , visualization