Listing entries tagged with Libraries, Search and the Web
1 | 2 | 3 | 4 | 5 | 6 | 7 | 8 | 9

A number of influential folks around the blogosphere are reluctantly endorsing Google's decision to play by China's censorship rules on its new Google.cn service -- what one local commentator calls a "eunuch version" of Google.com. Here's a sampler of opinions:
Ethan Zuckerman ("Google in China: Cause For Any Hope?"):
It's a compromise that doesn't make me happy, that probably doesn't make most of the people who work for Google very happy, but which has been carefully thought through...

In launching Google.cn, Google made an interesting decision - they did not launch versions of Gmail or Blogger, both services where users create content. This helps Google escape situations like the one Yahoo faced when the Chinese government asked for information on Shi Tao, or when MSN pulled Michael Anti's blog. This suggests to me that Google's willing to sacrifice revenue and market share in exchange for minimizing situations where they're asked to put Chinese users at risk of arrest or detention... This, in turn, gives me some cause for hope.
Rebecca MacKinnon ("Google in China: Degrees of Evil"):
At the end of the day, this compromise puts Google a little lower on the evil scale than many other internet companies in China. But is this compromise something Google should be proud of? No. They have put a foot further into the mud. Now let's see whether they get sucked in deeper or whether they end up holding their ground.
David Weinberger ("Google in China"):
If forced to choose -- as Google has been -- I'd probably do what Google is doing. It sucks, it stinks, but how would an information embargo help? It wouldn't apply pressure on the Chinese government. Chinese citizens would not be any more likely to rise up against the government because they don't have access to Google. Staying out of China would not lead to a more free China.
Doc Searls ("Doing Less Evil, Possibly"):
I believe constant engagement -- conversation, if you will -- with the Chinese government, beats picking up one's very large marbles and going home. Which seems to be the alternative.
Much as I hate to say it, this does seem to be the sensible position -- not unlike opposing America's embargo of Cuba. The logic goes that isolating Castro only serves to further isolate the Cuban people, whereas exposure to the rest of the world -- even restricted and filtered -- might, over time, loosen the state's monopoly on civic life. Of course, you might say that trading Castro for globalization is merely an exchange of one tyranny for another. But what is perhaps more interesting to ponder right now, in the wake of Google's decision, is the palpable melancholy felt in the comments above. What does it reveal about what we assume -- or used to assume -- about the internet and its relationship to politics and geography?
A favorite "what if" of recent history is what might have happened in the Soviet Union had it lasted into the internet age. Would the Kremlin have managed to secure its virtual borders? Or censor and filter the net into a state-controlled intranet -- a Union of Soviet Socialist Networks? Or would the decentralized nature of the technology, mixed with the cultural stirrings of glasnost, have toppled the totalitarian state from beneath?
Ten years ago, in the heady early days of the internet, most would probably have placed their bets against the Soviets. The Cold War was over. Some even speculated that history itself had ended, that free-market capitalism and democracy, on the wings of the information revolution, would usher in a long era of prosperity and peace. No borders. No limits.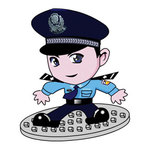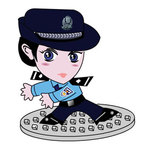 "Jingjing" and "Chacha." Internet police officers from the city of Shenzhen who float over web pages and monitor the cyber-traffic of local users.
It's interesting now to see how exactly the opposite has occurred. Bubbles burst. Towers fell. History, as we now realize, did not end, it was merely on vacation; while the utopian vision of the internet -- as a placeless place removed from the inequities of the physical world -- has all but evaporated. We realize now that geography matters. Concrete features have begun to crystallize on this massive information plain: ports, gateways and customs houses erected, borders drawn. With each passing year, the internet comes more and more to resemble a map of the world.
Those of us tickled by the "what if" of the Soviet net now have ourselves a plausible answer in China, who, through a stunning feat of pipe control -- a combination of censoring filters, on-the-ground enforcement, and general peering over the shoulders of its citizens -- has managed to create a heavily restricted local net in its own image. Barely a decade after the fall of the Iron Curtain, we have the Great Firewall of China.
And as we've seen this week, and in several highly publicized instances over the past year, the virtual hand of the Chinese government has been substantially strengthened by Western technology companies willing to play by local rules so as not to be shut out of the explosive Chinese market. Tech giants like Google, Yahoo! , and Cisco Systems have proved only too willing to abide by China's censorship policies, blocking certain search returns and politically sensitive terms like "Taiwanese democracy," "multi-party elections" or "Falun Gong". They also specialize in precision bombing, sometimes removing the pages of specific users at the government's bidding. The most recent incident came just after New Year's when Microsoft acquiesced to government requests to shut down the My Space site of popular muckraking blogger Zhao Jing, aka Michael Anti.

One of many angry responses that circulated the non-Chinese net in the days that followed.
We tend to forget that the virtual is built of physical stuff: wires, cable, fiber -- the pipes. Whoever controls those pipes, be it governments or telecomms, has the potential to control what passes through them. The result is that the internet comes in many flavors, depending in large part on where you are logging in. As Jack Goldsmith and Timothy Wu explain in an excellent article in Legal Affairs (adapted from their forthcoming book Who Controls the Internet? : Illusions of a Borderless World), China, far from being the boxed-in exception to an otherwise borderless net, is actually just the uglier side of a global reality. The net has been mapped out geographically into "a collection of nation-state networks," each with its own politics, social mores, and consumer appetites. The very same technology that enables Chinese authorities to write the rules of their local net enables companies around the world to target advertising and gear services toward local markets. Goldsmith and Wu:
...information does not want to be free. It wants to be labeled, organized, and filtered so that it can be searched, cross-referenced, and consumed....Geography turns out to be one of the most important ways to organize information on this medium that was supposed to destroy geography.
Who knows? When networked devices truly are ubiquitous and can pinpoint our location wherever we roam, the internet could be censored or tailored right down to the individual level (like the empire in Borges' fable that commissions a one-to-one map of its territory that upon completion perfectly covers every corresponding inch of land like a quilt).
The case of Google, while by no means unique, serves well to illustrate how threadbare the illusion of the borderless world has become. The company's famous credo, "don't be evil," just doesn't hold up in the messy, complicated real world. "Choose the lesser evil" might be more appropriate. Also crumbling upon contact with air is Google's famous mission, "to make the world's information universally accessible and useful," since, as we've learned, Google will actually vary the world's information depending on where in the world it operates.
Google may be behaving responsibly for a corporation, but it's still a corporation, and corporations, in spite of well-intentioned employees, some of whom may go to great lengths to steer their company onto the righteous path, are still ultimately built to do one thing: get ahead. Last week in the States, the get-ahead impulse happened to be consonant with our values. Not wanting to spook American users, Google chose to refuse a Dept. of Justice request for search records to aid its anti-pornography crackdown. But this week, not wanting to ruffle the Chinese government, Google compromised and became an agent of political repression. "Degrees of evil," as Rebecca MacKinnon put it.
The great irony is that technologies we romanticized as inherently anti-tyrannical have turned out to be powerful instruments of control, highly adaptable to local political realities, be they state or market-driven. Not only does the Chinese government use these technologies to suppress democracy, it does so with the help of its former Cold War adversary, America -- or rather, the corporations that in a globalized world are the de facto co-authors of American foreign policy. The internet is coming of age and with that comes the inevitable fall from innocence. Part of us desperately wanted to believe Google's silly slogans because they said something about the utopian promise of the net. But the net is part of the world, and the world is not so simple.
Posted by ben vershbow at 3:57 PM | Comments (3)
tags: ISP , Libraries, Search and the Web , Network_Freedom , broadband , capitalism , china , cyberspace , democracy , evil , falun_gong , free_speech , geography , globalization , glocalization , good , google , human_rights , search , spectrum , technology
For the next two days, Ray and I are attending what hopes to be a fascinating conference in Cambridge, MA -- The Economics of Open Content -- co-hosted by Intelligent Television and MIT Open CourseWare.
This project is a systematic study of why and how it makes sense for commercial companies and noncommercial institutions active in culture, education, and media to make certain materials widely available for free--and also how free services are morphing into commercial companies while retaining their peer-to-peer quality.
They've assembled an excellent cross-section of people from the emerging open access movement, business, law, the academy, the tech sector and from virtually every media industry to address one of the most important (and counter-intuitive) questions of our age: how do you make money by giving things away for free?
Rather than continue, in an age of information abundance, to embrace economic models predicated on information scarcity, we need to look ahead to new models for sustainability and creative production. I look forward to hearing from some of the visionaries gathered in this room.
More to come...
Posted by ben vershbow at 9:31 AM | Comments (0)
tags: Copyright and Copyleft , Education , Libraries, Search and the Web , academia , conferences_and_excursions , copyleft , copyright , free_software , gift_economy , library , open_access , open_content , publishing , scholarship
(this is a follow-up to ben's recent post "the book is reading you."
i rarely read Maureen Dowd but the headline of her column in today's New York Times, "Googling past the Graveyard," caught my attention. Dowd calls Dick Cheney on the carpet for asking Google to release the search records of U.S. citizens. while i'm horrified that the govt. would even consider asking for such information, i'm concerned that the way this particular issue is playing out, Google is being portrayed as the poor beleaguered neutral entity caught between an over-reaching bureaucracy and its citizens. Cheney will expire eventually. in the meantime Google will collect even more data. Google is a very big corporation, who's power will grow over time. in the long run, why aren't people outraged that this information is in Google's hands in the first place. shouldn't we be?
Posted by bob stein at 6:27 PM | Comments (5)
tags: Libraries, Search and the Web , cheney , google , government , privacy
I just noticed that Google Book Search requires users to be logged in on a Google account to view pages of copyrighted works.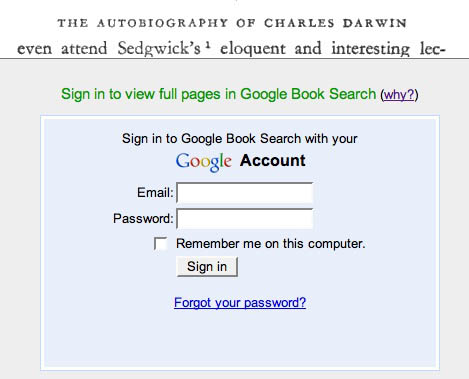 They provide the following explanation:
Why do I have to log in to see certain pages?

Because many of the books in Google Book Search are still under copyright, we limit the amount of a book that a user can see. In order to enforce these limits, we make some pages available only after you log in to an existing Google Account (such as a Gmail account) or create a new one. The aim of Google Book Search is to help you discover books, not read them cover to cover, so you may not be able to see every page you're interested in.
So they're tracking how much we've looked at and capping our number of page views. Presumably a bone tossed to publishers, who I'm sure will continue suing Google all the same (more on this here). There's also the possibility that publishers have requested information on who's looking at their books -- geographical breakdowns and stats on click-throughs to retailers and libraries. I doubt, though, that Google would share this sort of user data. Substantial privacy issues aside, that's valuable information they want to keep for themselves.
That's because "the aim of Google Book Search" is also to discover who you are. It's capturing your clickstreams, analyzing what you've searched and the terms you've used to get there. The book is reading you. Substantial privacy issues aside, (it seems more and more that's where we'll be leaving them) Google will use this data to refine Google's search algorithms and, who knows, might even develop some sort of personalized recommendation system similar to Amazon's -- you know, where the computer lists other titles that might interest you based on what you've read, bought or browsed in the past (a system that works only if you are logged in). It's possible Google is thinking of Book Search as the cornerstone of a larger venture that could compete with Amazon.
There are many ways Google could eventually capitalize on its books database -- that is, beyond the contextual advertising that is currently its main source of revenue. It might turn the scanned texts into readable editions, hammer out licensing agreements with publishers, and become the world's biggest ebook store. It could start a print-on-demand service -- a Xerox machine on steroids (and the return of Google Print?). It could work out deals with publishers to sell access to complete online editions -- a searchable text to go along with the physical book -- as Amazon announced it will do with its Upgrade service. Or it could start selling sections of books -- individual pages, chapters etc. -- as Amazon has also planned to do with its Pages program.
Amazon has long served as a valuable research tool for books in print, so much so that some university library systems are now emulating it. Recent additions to the Search Inside the Book program such as concordances, interlinked citations, and statistically improbable phrases (where distinctive terms in the book act as machine-generated tags) are especially fun to play with. Although first and foremost a retailer, Amazon feels more and more like a search system every day (and its A9 engine, though seemingly always on the back burner, is also developing some interesting features). On the flip side Google, though a search system, could start feeling more like a retailer. In either case, you'll have to log in first.
Posted by ben vershbow at 1:42 PM | Comments (5)
tags: Copyright and Copyleft , Libraries, Search and the Web , POD , amazon , books , e-commerce , e-publishing , ebooks , google , google_book_search , google_print , internet , print_on_demand , privacy , publishing , search , web
Susan Crawford recently floated the idea of the internet network (see comments 1 and 2) as a public trust that, like America's national parks or seashore, requires the protection of the state against the undue influence of private interests.
...it's fine to build special services and make them available online. But broadband access companies that cover the waterfront (literally -- are interfering with our navigation online) should be confronted with the power of the state to protect entry into this self-owned commons, the internet. And the state may not abdicate its duty to take on this battle.
Others argue that a strong government hand will create as many problems as it fixes, and that only true competition between private, municipal and grassroots parties -- across not just broadband, but multiple platforms like wireless mesh networks and satellite -- can guarantee a free net open to corporations and individuals in equal measure.
Discussing this around the table today, Ray raised the important issue of open content: freely available knowledge resources like textbooks, reference works, scholarly journals, media databases and archives. What are the implications of having these resources reside on a network that increasingly is subject to control by phone and cable companies -- companies that would like to transform the net from a many-to-many public square into a few-to-many entertainment distribution system? How open is the content when the network is in danger of becoming distinctly less open?
Posted by ben vershbow at 5:15 PM | Comments (12)
tags: ISP , Libraries, Search and the Web , Network_Freedom , broadband , internet , open_access , open_content
The notion of expert review has been tossed around in the open-content community for a long time. Philosophically, those who lean towards openness tend to sneer at the idea of formalized expert review, trusting in the multiplied consciousness of the community to maintain high standards through less formal processes. Wikipedia is obviously the most successful project in this mode.The informal process has the benefit of speed, and avoids bureaucracy—something which raises the barrier to entry, and keeps out people who just don't have the time to deal with 'process.'
The other side of that coin is the belief that experts and editors encourage civil discourse at a high level; without them you'll end up with mob rule and lowest common denominator content. Editors encourage higher quality writing and thinking. Thinking and writing better than others is, in a way, the definition of expert. In addition, editors and experts tend to have a professional interest in the subject matter, as well as access to better resources. These are exactly the kind of people who are not discouraged by higher barriers to entry, and they are, by extension, the people that you want to create content on your site.
Larry Sanger thinks that, anyway. A Wikipedia co-founder, he gave an interview on news.com about a project that plans to create a better Wikipedia, using a combination of open content development and editorial review: The Digital Universe.
You can think of the Digital Universe as a set of portals, each defined by a topic, such as the planet Mars. And from each portal, there will be links to the best resources on the Web, including a lot of resources of different kinds that are prepared by experts and the general public under the management of experts. This will include an encyclopedia, as well as public domain books, participatory journalism, forums of various kinds and so forth. We'll build a community of experts and an online collaborative network of independent organizations, each of which has authority over its own discipline to select material and to build resources that are together displayed through a single free-information platform.
I have experience with the editor model from my time at About.com. The About.com model is based on 'guides'—nominal (and sometimes actual) experts on a chosen topic (say NASCAR, or anesthesiology)—who scour the internet, find good resources, and write articles and newsletters to facilitate understanding and keep communities up to date. The guides were overseen by a bevy of editors, who tended mostly to enforce the quotas for newsletters and set the line on quality. About.com has its problems, but it was novel and successful during its time.
The Digital Universe model is an improvement on the single guide model; it encourages a multitude of people to contribute to a reservoir of content. Measured by available resources, the Digital Universe model wins, hands down. As with all large, open systems, emergent behaviors will add even more to the system in ways than we cannot predict. The Digitial Universe will have it's own identity and quality, which, according to the blueprint, will be further enhanced by expert editors, shaping the development of a topic and polishing it to a high gloss.
Full disclosure: I find the idea of experts "managing the public" somehow distasteful, but I am compelled by the argument that this will bring about a better product. Sanger's essay on eliminating anti-elitism from Wikipedia clearly demonstrates his belief in the 'expert' methodology. I am willing to go along, mindful that we should be creating material that not only leads people to the best resources, but also allows them to engage more critically with the content. This is what experts do best. However, I'm pessimistic about experts mixing it up with the public. There are strong, and as I see it, opposing forces in play: an expert's reputation vs. public participation, industry cant vs. plain speech, and one expert opinion vs. another.
The difference between Wikipedia and the Digital Universe comes down, fundamentally, to the importance placed on authority. We'll see what shape the Digital Universe takes as the stresses of maintaining an authoritative process clashes with the anarchy of the online public. I think we'll see that adopting authority as your rallying cry is a volatile position in a world of empowered authorship and a universe of alternative viewpoints.
Posted by jesse wilbur at 5:09 PM | Comments (3)
tags: About.com , Libraries, Search and the Web , authority , authors , digital_universe , editors , experts , open_content , trust , wikipedia
Does anyone know of a good way to search for old blog entries on the web? I've just been looking at some of the available blog search resources and few of them appear to provide any serious advanced search options. The couple of major ones I've found that do (after an admittedly cursory look) are Google and Ice Rocket. Both, however, appear to be broken, at least when it comes to dates. I've tried them on three different browsers, on Mac and PC, and in each case the date menus seem to be frozen. It's very weird. They give you the option of entering a specific time range but won't accept the actual dates. Maybe I'm just having a bad tech day, but it's as if there's some conceptual glitch across the web vis a vis blogs and time.
Most blog search engines are geared toward searching the current blogosphere, but there should be a way to research older content. My first thought was that blog search engines crawl RSS feeds, most of which do not transmit the entirety of a blog's content, just the more recent. That would pose a problem for archival search.
Does anyone know what would be the best way to go about finding, say, old blog entries containing the keywords "new orleans superdome" from late August to late September 2005? Is it best to just stick with general web search and painstakingly comb through for blogs? If we agree that blogs have become an important kind of cultural document, than surely there should be a way to find them more than a month after they've been written.
Posted by ben vershbow at 8:17 AM | Comments (5)
tags: Blogosphere , Libraries, Search and the Web , archives , blog_search , blogging , blogs , history , research , search
Just read a Dec. 16th Wired article about a Canadian Hugh McGuire's brilliant new venture Librivox. Librivox is creating and distributing free audiobooks by asking volunteers to create audio files of works of literature in the public domain. The files are hosted on the Internet Archive and are available in MP3 and OGG formats.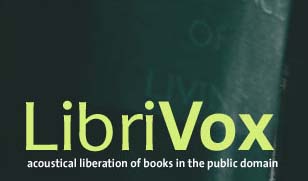 Thus far, Librivox -- which has only been up for a few months -- has recorded about 30 titles, relying on dozens of volunteers. The website promotes the project as the "acoustical liberation of the public domain" and claims that the ultimate goal is to liberate all public domain works of literature. For now, titles cataloged on the website include L Frank Baum's The Wizard of Oz, Joseph Conrad's The Secret Agent and the U.S. Constitution.
Using Librivox couldn't be easier: clicking on an entry will bring you to a screen which allows you to select a Wikipedia entry on the book in question, the e-Gutenberg file of the book, an alternate Zip file of the book, and the Librivox audio version, available chapter by chapter with the names of each volunteer reader noted prominently next to the chapter information.
I listened to parts of about a half-dozen book chapters to get a sense of the quality of the recordings, and I was impressed. The volunteers have obviously chosen books they are passionate about, and the recordings are lively, quite clear and easy to listen to. As a regular audiobook listener, I was struck by the fact that while most literary audiobooks are read by authors who tend to work hard at conveying a sense of character, the Librivox selections seemed to convey, more than anything, the reader's passion for the text itself; ie, for the written word. Here at the Institute we've been spending a fair amount of time trying to figure out when a book loses it's book-ness, and I'd argue that while some audiobooks blur the boundary between book and performance, the Librivox books remind us that a book reduced to a stream of digitally produced sound can still be very much a book.
The site's definitely worth a visit, and, if you've got a decent voice and a few spare hours, there's information about how to become a volunteer reader yourself. And finally, don't miss the list of other audiolit projects on the lower right-hand corner of the homepage: there are many voices out there, reading many books -- including Japanese Classical Literature For Bedtime, if you're so inclined.
Posted by lisa lynch at 9:26 AM | Comments (1)
tags: Libraries, Search and the Web , audiobooks , domain , librivox , public