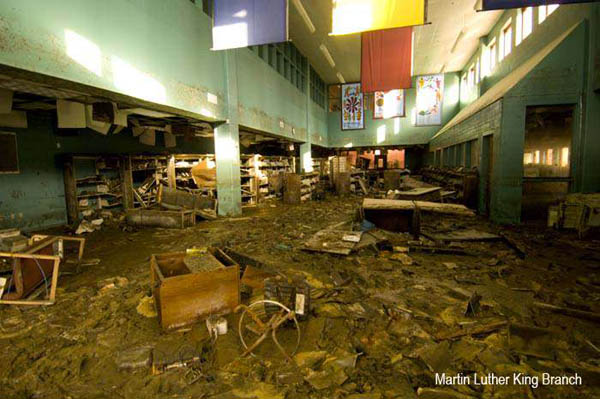 Recently in New Orleans, I was working at AAUP's annual meeting of university presses. At the opening banquet, Times-Picayune editor Jim Amoss brought a large audience of publishing folk through a blow-by-blow of New Orleans' storm last fall. What I found particularly resonant in his recount, beyond his staff's stamina in the face of "the big one", was the Big Bang phenomena that occured in tandem with the flooding, instantly expanding the relationship between their print and internet editions.
Their print infrastructure wrecked, The Times-Picayune immediately turned to the internet to broadcast the crisis that was flooding in around them. Even the more troglodytic staffers familiarized themselves with blogging and online publishing. By the time some of their print had arrived from offsite and reporters were using it as currency to get through military checkpoints, their staff had adapted to web publishing technologies and now, Amoss told me, they all use it on a daily basis.
If the Times-Picayune, a daily publication of considerable city-paper bulk, can adapt within a week to the web, what is taking university presses so long? Surely, we shouldn't wait for a crisis of Noah's Ark proportions to push academe to leap into the future present. What I think Amoss's talk subtly arrived at was a reassessment of *crisis* for the constituency of scholarly publishing that sat before him.
"Part of the problem is that much of this new technology wasn't developed within the publishing houses," a director mentioned to me in response to my wonderings. "So there's a general feeling of this technology pushing in on the presses from the outside."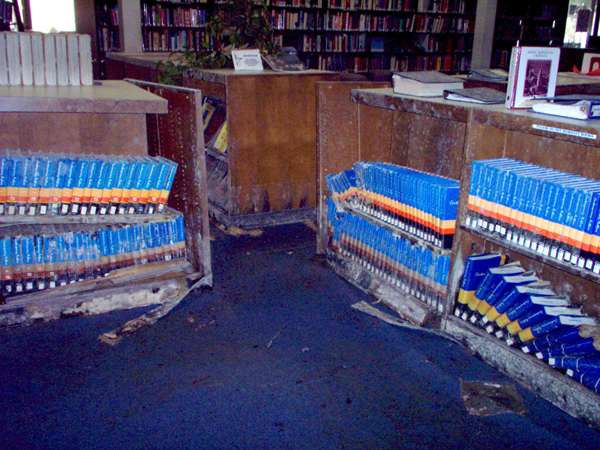 East New Orleans Regional Branch
But "general feeling" belies what were substantially disparate opinions among attendees. Frustration emanated from the more tech-adventurous on the failure of traditional and un-tech'd folks to "get with the program," whereas those unschooled on wikis and Web 2.0 tried to wrap their brains around the publishing "crisis" as they saw it: outdating their business models, scrambling their workflow charts and threatening to render their print operations obsolete.
That said, cutting through this noise were some promising talks on developments. A handful of presses have established e-publishing initiatives, many of which were conceived of with their university libraries. By piggybacking on the techno-knowledge and skill of librarians who are already digitizing their collections and acquiring digital titles (librarians whose acquisitions budgets far surpass those of many university presses,) presses have brought forth inventive virtual nodes of scholarship. Interestingly, these joint digital endeavors often explore disciplines that now have difficulty making their way to print.
Some projects to look at:
MITH (Maryland); NINES (scholar driven open-access project); Martha Nell Smith's Dickinson Electronic Archives Project; Rotunda (Virginia); DART (Columbia); Anthrosource (California: Their member portal has communities of interest establishing in various fields, which may evolve into new journals.)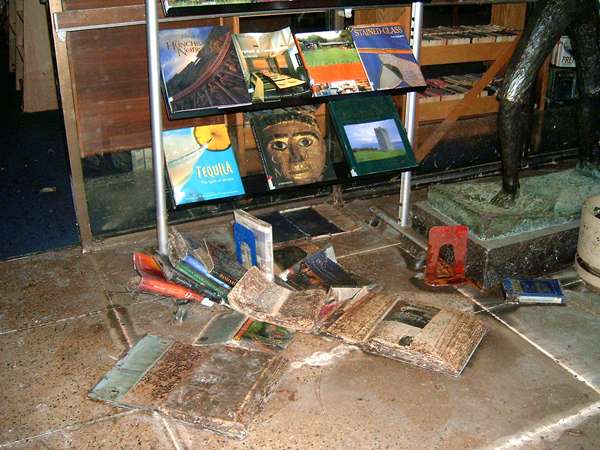 East New Orleans Regional Branch
While the marriage of the university library and press serves to reify their shared mandate to disseminate scholarship, compatibility issues arise in the accessibility and custody of projects. Libraries would like content to be open, and university presses prefer to focus on revenue generating subscribership.
One Digital Publishing session shed light on more theoretical concerns of presses. As MLA reviews the tenure system, partly in response to the decline of monograph publication opportunities, some argued that the nature of the monograph (sustained argument and narrative) doesn't lend itself well to online reading. But, as the monograph will stay, how do presses publish them economically?
On the peer review front, another concern critiqued the web's predominantly fact-based interaction: "The web seems to be pushing us back from an emphasis on ideas and synthesis/analysis to focus on facts."
Access to facts opens up opportunities for creative presentation of information, but scholarly presses are struggling with how interpretive work can be built on that digitally. A UVA respondant noted, "Librarians say people are looking for info on the web, but then moving to print for the interpretation; at Rotunda, the experience is that you have to put up the mass of information allowing the user to find the raw information, but what to do next is lacking online."
Promising comments came from Peter Brantley (California Digital Library) on the journal side: peer review isn't everything and avenues already exist to evaluate content and comment on work (linkages, citation analysis, etc.) To my relief, he suggested folks look at the Institute for the Future of the Book, who are exploring new forms of narrative and participatory material, and Nature's experiments in peer review.
Sure, at this point, there lacks a concrete theoretical underpinning of how the Internet should provide information, and which kinds. But most of us view this flux as its strength. For university presses, crises arise when what scholar Martha Nell Smith dubs the "priestly voice" of scholarship and authoritative texts, is challenged. Fortifying against the evolution and burgeoning pluralism won't work. Unstifled, collaborative exploration amongst a range of key players will reveal the possiblities of the terrain, and ease the press out of rising waters.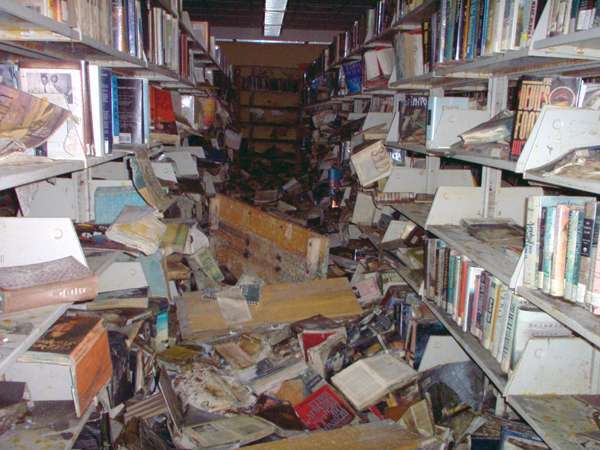 Robert E. Smith Regional Branch
All images from New Orleans Public Library
Posted by sarah northmore at 10:46 AM | Comments (5) | TrackBack
tags: academic , katrina , library , neworleans , peer_review , preservation , publishing
Online news is now fair game for all fourteen journalism categories of the Pulitzer Prize (previously only the Public Service category accepted online entries). However, online portions of prize submissions must be text-based, and the only web-exclusive content accepted will be in the breaking news reporting and breaking news photography categories.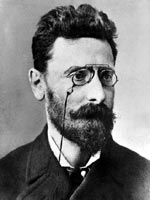 But this presumably opens the door to some Katrina-related Pulitzers this April. I would put my bets on nola.com, the New Orleans Times-Picayune site that kept reports flying online throughout the hurricane.
Of course, the significance of this is mainly symbolic. When the super-prestigious Pulitzer (that's him to the right) starts to re-align its operations, you know there are bigger plate tectonics at work. This would seem to herald an eventual embrace of blogs, most obviously in the areas of commentary, beat reporting, community service, and explanatory reporting (though investigative reporting may not be far off). The committee would do well to consider adding a "news analysis" category for all the fantastic websites, many of them blogs, that help readers make sense of the news and act as a collective watchdog for the press.
Also, while the Pulitzer changes evince a clear preference for the written word, it seems inevitable that inter-media journalism will continue to gain in both quality and legitimacy. We'll probably look back on all the Katrina coverage as the watershed moment. Newspapers (some of them anyway) will figure out that to stay relevant, and distinctive enough not to be pulled apart by aggregators like Google or Yahoo news search, they will have to weave a richer tapestry of traditional reporting, commentary, features, and rich multimedia: a unique window to the world.
Nola.com didn't just provide good, constant coverage, it saved lives. It was an indispensible, unique portal that could not be matched by any aggregator (though harnessing the power of aggregation is part of what made it successful). The crisis of the hurricane put in relief what could be a more everyday strategy for newspapers. The NY Times currently is experimenting with this, developing a range of multimedia features and cordoning off premium content behind its Select pay wall. While I don't think they've yet figured out the right combination of premium content to attract large numbers of paying web subscribers, their efforts shouldn't necessarily be dismissed.
Discussions on the future of the news industry usually center around business models and the problem of solvency with a web-based model. These questions are by no means trivial, but what they tend to leave out is how the evolving forms of journalism might affect what readers consider valuable. And value is, after all, what you can charge for. It's fatalistic to assume that the web's entropic power will just continue to wear down news institutions until they vanish. The tendency on the web toward fragmentation is indeed strong, but I wouldn't underestimate the attraction of a quality product.
A couple of years ago, file sharing seemed to spell doom for the music industry, but today online music retailers are outselling most physical stores. Perhaps there is a way for news as well, but the news will have to change. Dan Gillmor is someone who has understood this for quite some time, and I quote from a rather prescient opinion piece he wrote back in 1997 when the Pulitzers were just beginning to wonder what to do about all this new media (this came up today on the Poynter Online-News list):
When we take journalism into the digital realm, media distinctions lose their meaning. My newspaper is creating multimedia journalism, including video reports, for our Web site. We strongly believe that the online component of our work augments what we sometimes call the "dead-tree" edition, the newspaper itself. Meanwhile, CNN is running text articles on its Web site, adding context to video reports.

So you have to ask a simple question or two: Online, what's a newspaper? What's a broadcaster?

Suppose CNN posts a particularly fine video report on its Web site, augmented by old-fashioned text and graphics. If the Pulitzer Prizes are o pen to online content, the CNN report should be just as valid an entry as, say, a newspaper series posted online and augmented with video.

And what about the occasionally exceptional journalism we're seeing from Web sites (or on CD-ROMs) produced by magazines, newsletters, online-only companies or even self-appointed gadflies? Corporate propaganda obviously will fail the Pulitzer test, but is a Microsoft-sponsored expose of venality by a competitor automatically invalid when it's posted on the Microsoft Network news site or MSNBC? Drawing these lines will take serious wisdom, unless the Pulitzer people decide simply to ignore trends and keep the prizes the way they are, in which case the awards will become quaint - or worse, irrelevant.
I'm also intrigued by another change made by the Pulitzer committee (from the A.P.):
In a separate change, the upcoming Pulitzer guidelines for the feature writing category will give ''prime consideration to quality of writing, originality and concision.'' The previous guidelines gave ''prime consideration to high literary quality and originality.''
Drop the "literary" and add "concision." A move to brevity and a more colloquial character are already greatly in evidence in the blogosphere and it's beginning to feed back into the establishment press. Employing once again the trusty old Pulitzer as barometer, this suggests that that most basic of journalistic forms -- "the story" -- is changing.
Posted by ben vershbow at 04:45 PM | Comments (0)
tags: Publishing, Broadcast, and the Press , aggregation , journalism , katrina , media , multimedia , news , newspaper , pulitzer
The Internet Archive has just established an archive dedicated to preserving the online response to the Katrina catastrophe. According to the Archive:
The Internet Archive and many individual contributors worked together to put together a comprehensive list of websites to create a historical record of the devastation caused by Hurricane Katrina and the massive relief effort which followed. This collection has over 25 million unique pages, all text searchable, from over 1500 sites. The web archive commenced on September 4th.
If you try to link to the Internet Archive today, you might not get through, because everyone is on the site talking about the Grateful Dead's decision to allow free downloading
Posted by lisa lynch at 02:26 PM | Comments (0)
tags: Libraries, Search and the Web , archive , internet , katrina
Craigslist founder Craig Newmark has announced he will launch a major citizen journalism site within the next three months. As quoted in The Guardian:
The American public has lost a lot of trust in conventional newspaper mechanisms. Mechanisms are now being developed online to correct that.

...It was King Henry II who said: 'Won't someone rid me of that turbulent priest?' We have seen a modern manifestation of that in the US with the instances of plausible deniability, the latest example of that has been the Valerie Plame case and that has caused damage.
Can a Craiglist approach work for Washington politics? It's hard to imagine a million worker ants distributed across the nation cracking Plamegate. You're more likely to get results from good old investigative reporting, but combined with a canny postmodern sense of spin (and we're not just talking about the Bush administration's spin, but Judith Miller's spin, The New York Times' spin) and the ability to make that part of the story. Combine the best of professional journalism with the best of the independent blogosphere. Can this be done?
Josh Marshall of Talking Points Memo fame wants to bridge the gap with a new breed of "reporter-blogger," currently looking to fill two such positions -- paid positions -- for a new muckraking blog that will provide "wall-to-wall coverage of corruption, self-dealing, and betrayals of the public trust in today's Washington" (NY Sun has details). While other high-profile bloggers sign deals with big media, Marshall clings fast to his independence, but recognizes the limitations of not being on the ground, in the muck, as it were. He's banking that his new cyborgs might be able to shake up the stagnant Washington press corps from the inside, or at least offer readers a less compromised view (though perhaps down the road fledgeling media empires like Marshall's will become the new media establishment).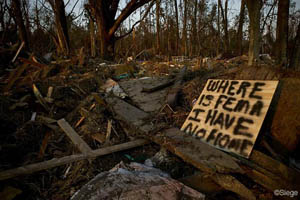 That's not to say that the Craigslist approach will not be interesting, and possibly important. It was dazzling to witness the grassroots information network that sprung up on the web during Hurricane Katrina, including on the Craigslist New Orleans site, which became a clearinghouse for news on missing persons and a housing directory for the displaced. For sprawling catastrophes like this it's impossible to have enough people on the ground. Unless the people on the ground start reporting themselves.
Citizen journalists also pick up on small stories that slip through the cracks. You could say the guy who taped the Rodney King beating was a "citizen journalist." You could say this video (taken surreptitiously on a cellphone) of a teacher in a New Jersey high school flipping out at a student for refusing to stand for the national anthem is "citizen journalism." Some clips speak for themselves, but more often you need context, you need to know how to frame it. The interesting thing is how grassroots journalism can work with a different model for contextualization. The New Jersey video made the rounds on the web and soon became a story in the press. One person slaps up some footage and everyone else comments, re-blogs and links out. The story is told collectively.
Posted by ben vershbow at 02:26 PM | Comments (4)
tags: CitJ , Publishing, Broadcast, and the Press , Social Software , citizen_journalism , craig_newmark , craigslist , grassroots , journalism , katrina , media , news , politics , press , talkingpointsmemo , washington
The following was posted by Gary Frost as a comment to our post on Neil Postman's "Building a Bridge to the 18th Century." Gary recently returned from the Mississippi coast where he was part of a team helping to assess library and museum damage after Katrina.
The mystic advise that we walk into the darkness. Postman's only qualification is that we do futurism with the right gear. But we cannot wander off into the future with enough AA batteries. An archeologist at the storm damaged Jefferson Davis presidential library greeted me saying; "Welcome to the19th century." He was not kidding. No water, no electricity, no gas, no groceries. He was digging up the same artifacts for the second time in the immense debris fields left by Katrina.
We were driven to a manuscript era and we were invigorated to do our best. Strangely the cell phones worked and we talked to Washington from the 19th century. We asked if the Nation was still interested in the culture of the deep south. Not really, Transformers were at work and in our mobile society the evacuees had left for good. The army trucks were building new roads over the unmarked gravesites of 3000 Confederate veterans, who in their old age, came to Jeff Davis' home to die.
We were left hanging about the future and technologies were a sidebar. It wasn't really important that the 19th century had invented instantaneous communication, digital encoding or photographic representation or that the 21st century was taking the credit for its exploitation of these accomplishments. The gist was that the future deserved to be informed and not deluded. The gist was that the future would be fulfilled as a measure of its use of the accomplishments of a much longer past.
Posted by ben vershbow at 12:30 AM | Comments (1)
tags: Libraries, Search and the Web , archive , book , books , confederacy , confederate , digital , gulf , gulf_coast , history , hurricane , hurricane_katrina , jefferson_davis , katrina , library , literature , mississippi , paper , preservation , progress , reading , rescue , south , technology
on sunday one of my colleagues, kim white, posted a short essay on if:book, Losing America, which eloquently stated her horror at realizing how far america has slipped from its oft-stated ideals of equality and justice. as kim said "I thought America (even under the current administration) had something to do with being civilized, humane and fair. I don't anymore."
kim ended her piece with a parenthetical statement:
(The above has nothing and everything to do with the future of the book.)
the four of us met around a table in the institute's new williamsburg digs yesterday and discussed why we thought kim's statement did or didn't belong on if:book. the result -- a resounding YES.
if you've been reading if:book for awhile you've probably encountered the phrase, "we use the word book to refer to the vehicle humans use to move big ideas around society." of course many, if not most books are about entertainment or personal improvement, but still the most important social role of books (and their close dead-tree cousins, newspapers, magazines etc.) has been to enable a conversation across space and time about the crucial issues facing society.
we realize that for the institute to make a difference we need to be asking more the right questions.although our blog covers a wide-range of technical developments relating to the evolution of communication as it goes digital, we've tried hard not to be simple cheerleaders for gee-whiz technology. the acid-test is not whether something is "cool" but whether and in what ways it might change the human condition.
which is why kim's post seems so pertinent. for us it was a wake-up call reinforcing our notion that what we do exists in a social, not a technological context. what good will it be if we come up with nifty new technology for communication if the context for the communication is increasingly divorced from a caring and just social contract. Kim's post made us realize that we have been underemphasizing the social context of our work.
as we discuss the implications of all this, we'll try as much as possible to make these discussions "public" and to invite everyone to think it through with us.
Posted by bob stein at 04:04 PM | Comments (2)
tags: blog , blogging , blogs , book , books , democracy , digital , ebook , hurricanekatrina , katrina , neworleans , politics , publishing , technology
I still have my husband's visitor pass for 2 World Trade Center. He had clients on the 34th floor, so he visited frequently. On the morning of September 11, 2001, after the first plane hit, he called to tell me he was safe in his midtown office. He stayed on the phone with me as I sat on the front porch of our Brooklyn apartment to watch, helplessly, as the Trade Center Towers burned and fell. In the weeks following, I walked around in a daze, overwhelmed by the grief I felt for people I did not even know and for the city itself, which seemed strangely animate in the wake of the disaster; like a wounded giant. That the nation rushed to our aid and poured out its heart to us made things easier, but not many outside the city understood how bad it was. (To get a sense of what things were like in New Orleans in the days following the hurricane, I recommend this incredible First Person Katrina Account published on "Democratic Underground.")
In that context, I've been trying to understand the enormity of the devastation wrought by Hurricane Katrina, but I can't even begin to. September 11 seems small by comparison. We didn't lose our homes. Our city didn't drown. Our citizens were not abandoned, starved, mistreated, and driven to despair. My heart goes out to these victims whose suffering is exacerbated by leaders who are failing them so profoundly and, in some cases, so willfully. Attempts to deliver food, water, and much-needed relief to stranded survivors were purposely thwarted by armed authorities including the National Guard. (see Boing Boing's September 9th article Katrina: Authorities bar Red Cross from NOLA; Blackwater gets carte blanche). The Red Cross Disaster FAQ page also has this answer to the question: Hurricane Katrina: Why is the Red Cross not in New Orleans?
• Access to New Orleans is controlled by the National Guard and local authorities and while we are in constant contact with them, we simply cannot enter New Orleans against their orders.
• The state Homeland Security Department had requested--and continues to request--that the American Red Cross not come back into New Orleans following the hurricane. Our presence would keep people from evacuating and encourage others to come into the city.
• The Red Cross shares the nation's anguish over the worsening situation inside the city. We will continue to work under the direction of the military, state and local authorities and to focus all our efforts on our lifesaving mission of feeding and sheltering.
• The Red Cross does not conduct search and rescue operations. We are an organization of civilian volunteers and cannot get relief aid into any location until the local authorities say it is safe and provide us with security and access.
The hero worship of 9/11 victims and relief workers, which bolstered morale and lent some humanity to the crisis, is almost entirely absent from the Hurricane Katrina "spin". Katrina victims suffer the added humiliation of insensitive, uninformed, or blatently racist remarks made by elected officials who are trying to minimize the tragedy, shift blame to the victims, and deny responsibility. These quotes were selected from about.com's 25 Mind-Numbingly Stupid Quotes About Hurricane Katrina And Its Aftermath
"I have not heard a report of thousands of people in the convention center who don't have food and water." -Homeland Security Secretary Michael Chertoff, on NPR's "All Things Considered," Sept. 1, 2005

"I mean, you have people who don't heed those warnings and then put people at risk as a result of not heeding those warnings. There may be a need to look at tougher penalties on those who decide to ride it out and understand that there are consequences to not leaving." -Sen. Rick Santorum (R-PA), Sept. 6, 2005

"I don't make judgments about why people chose not to leave but, you know, there was a mandatory evacuation of New Orleans." -FEMA Director Michael Brown, arguing that the victims bear some responsibility, CNN interview, Sept.
1, 2005

"Now tell me the truth boys, is this kind of fun?" -House Majority Leader Tom Delay (R-TX), to three young hurricane evacuees from New Orleans at the Astrodome in Houston

We finally cleaned up public housing in New Orleans. We couldn't do it, but God did." -Rep. Richard Baker (R-LA) to lobbyists, as quoted in the Wall Street Journal

"I also want to encourage anybody who was affected by Hurricane Corina to make sure their children are in school." -First Lady Laura Bush, twice referring to a "Hurricane Corina" while speaking to children and parents in South Haven, Mississippi, Sept. 8, 2005
And this from the Louisiana Senator:
"Thank President Clinton and former President Bush for their strong statements of support and comfort today. I thank all the leaders that are coming to Louisiana, and Mississippi and Alabama to our help and rescue. We are grateful for the military assets that are being brought to bear. I want to thank Senator Frist and Senator Reid for their extraordinary efforts. Anderson, tonight, I don't know if you've heard - maybe you all have announced it -- but Congress is going to an unprecedented session to pass a $10 billion supplemental bill tonight to keep FEMA and the Red Cross up and operating." -Sen. Mary Landrieu (D-LA), to CNN's Anderson Cooper, Aug. 31, 2005, to which Cooper responded:

"I haven't heard that, because, for the last four days, I've been seeing dead bodies in the streets here in Mississippi. And to listen to politicians thanking each other and complimenting each other, you know, I got to tell you, there are a lot of people here who are very upset, and very angry, and very frustrated. And when they hear politicians slap - you know, thanking one another, it just, you know, it kind of cuts them the wrong way right now, because literally there was a body on the streets of this town yesterday being eaten by rats because this woman had been laying in the street for 48 hours. And there's not enough facilities to take her up. Do you get the anger that is out here?"
I can sympathize with the incredulity expressed by the writer of yesterday's post on Daily Kos "The Conscious Decision to Let People Die". I'm not naíve, I know that poor and middle class people are at the mercy of the rich and powerful and that if the rich don't feel like helping, nobody can make them. But I was under the impression that some things are sacred, and that in America we don't take food and water away from starving thirsty people. We don't abandon our people to certain death, and we don't sneer at those who are suffering. The way I understood it, American Freedom (with a capital F) had to do with the powerless having at least enough power to demand fair and humane treatment. I thought it meant that the hardworking tax-paying public could expect help in a time of dire crisis. I thought our Democracy had checks and balances to minimize corruption and incompetance. I thought America (even under the current administration) had something to do with being civilized, humane and fair.
I don't anymore.
(The above has nothing and everything to do with the future of the book.)
Posted by kim white at 03:18 PM | Comments (2)
tags: 9/11 , aftermath , america , freedom , hurricane , katrina , victims
New Orleans DoubleQuotes by Charles Cameron plays with juxtaposition, cleverly pairing bits of text in ways that illuminate Katrina and all that flows from it:
Think of these paired quotes as twin thoughts dropped into the mind-pond -- not so much for their own sakes as for the sake of the ripples and resonances between them. I invite you to read these DoubleQuotes one pair at a time, slowly, slowly, so that the multiples ironies and quiet nuances that have come together in the weaving of this tragedy have room to breathe.
(thanks, Bryan Alexander of Infocult)
Posted by ben vershbow at 11:18 AM | Comments (0)
tags: Games , hurricanekatrina , interesting , intertextual , intertextuality , juxtaposition , katrina , louisiana , neworleans , quotes , text , txt