digitalculturebooks, a collaborative imprint of the University of Michigan press and library, publishes an annual anthology of the year's best technology writing. The nominating process is open to the public and they're giving people until January 31st to suggest exemplary articles on "any and every technology topic--biotech, information technology, gadgetry, tech policy, Silicon Valley, and software engineering" etc.
The 2007 collection is being edited by Clive Thompson. Last year's was Steven Levy. When complete, the collection is published as a trade paperback and put in its entirety online in clean, fully searchable HTML editions, so head over and help build what will become a terrific open access resource.
Posted by ben vershbow at 8:44 AM | Comments (0)
tags: academic , books , ebooks , journalism , library , openaccess , publishing
In the wake of Techmeme's new top 100 Leaderboard site listing, IP Democracy wonders where have all the blogs gone?
Not only does the list include many old media mainstays such as the Wall Street Journal and New York Times, along with top trade publications such as Computerworld, but it is also heavily tilted toward new media "brands" formerly known as blogs such as GigaOm, TechCrunch and Engadget.

....All of these sites -- TechCrunch, GigaOm, Engadget, and paidcontent.org, plus many others -- are big deal media concerns, albeit still in their earliest stages of development, backed by venture capital and staffed by professional writers, editors, graphic designers and sales people. Nothing about them says "blogs," if by blog you mean a true web log that reflects an individual's take on a particular topic, or just life in general.

These guys are go-for-broke publishing concerns that face the same issues (staffing, accounting controls, growth strategies, compensation policies, editorial expertise, ad sales and so forth) as any bona fide media business. Robert Scoble, in a post that he entitled "TechMeme List Heralds Death of Blogging," counted a mere 12 blogs in Techmeme's leaderboard.

While the actual number of blogs on the list is probably higher than that, the point is: blogging seems to have been (and might still be) a mere waystation along the road to becoming a true publishing company and not quite the democratizing force in publishing that it once promised to be. Om and Rafat and TechCrunch's Mike Arrington and everybody else used the rise of blogging software to inexpensively launch publications, just like any other publisher, and are now legitimate publishers.
I'd say independent blogging is still alive and well in the vast middle tier, but it's true that things have become increasingly institutionalized at the top. But it's not like we haven't seen this before. Today's newspapers are evolved from the 19th century upstart penny presses and pamphleteers who were the bloggers of their day... so it's not particularly surprising that today's top blogs are collectively becoming "the media" (history doesn't repeat itself, but it rhymes). Also, best not to look at certain parts of the media ecology in isolation. The Leaderboard oligarchy sits atop a richly tangled bank of medium-trafficked and tiny niche sites, and millions of participating/linking/suggesting/commenting readers. Everything feeding everything else.
What's most interesting to me is how blogs can develop their own imprints that start publishing well beyond the individual voice or voices that started them. if:book is becoming a sort of imprint in that way.
Posted by ben vershbow at 4:49 PM | Comments (0)
tags: Blogosphere , journalism , newspaper , publishing
A few good readings to inject into recent conversation here about a post-copyright world (1, 2, 3), and in light of the death of Times Select and the ripple effect that is likely to have across the Web. First, a two-year-old post by Jeff Jarvis, "Who Wants to Own Content?", ruminating on the supreme value of trust and conversation in a post-scarcity publishing ecology:
But in this new age, you don't want to own the content or the pipe that delivers it. You want to participate in what people want to do on their own. You don't want to extract value. You want to add value. You don't want to build walls or fences or gardens to keep people from doing what they want to do without you. You want to enable them to do it. You want to join in.

And once you get your head around that, you will see that you can grow so much bigger so much faster with so much less cost and risk.

So don't own the content. Help people make and find and remake and recommend and save the content they want. Don't own the distribution. Gain the trust of the people to help them use whatever distribution and medium they like to find what they want.

In these new economics, you want to stand back and interfere and restrict as little as possible. You want to reduce costs to the minimum. You want to join in wherever you are welcome.

So in the content world, it is better help enable and be part of fluid networks of content than it is to create and own content...It is better to find new efficiencies than new blockbusters...It is better to gather than create...It is better to share trust than to horde it.
Whatever the media business models of tomorrow may be, they will almost certainly not revolve around owning content. It will be about, as Jay Rosen says in his Times Select obit, "weaving yourself into the Web":
...that's the decision in Web court the New York Times is accepting. Consent decree with the open web. Dismisses all courses of action against Google. Times agrees to drop Times Select, which was a barrier to Google—and the blogosphere—working the right way.

The decision says you can try to charge, and some people will pay, but there is more money and a brighter future in the open flow of Web traffic, a lot of which is coming sideways into your content stack because Google sends tons of users in that way, not through your pearly gates of news, also called a home page. RSS sends stuff from the middle of the stack out.

When every barrier you create to their participation with your product weakens your revenue stream, which is tied to openness, you're in the world of the consent decree. Advertising tied to search means open gates for all users. It means link rot cut to zero, playing for the long haul in Web memory and more blogs because they are Web-sticky.
Now back to Jarvis, who in a new post predicts among other things that the Times' decision will likely be the first domino in a chain of paywall demolitions: Wall Street Journal, Economist, Financial Times. He picks up the thread from his older piece:
It's the relationship that is valuable. It's the relationship that is profitable, not the control of the content or the distribution. That is the essential media moral of the internet story. It has taken 13 years of internet history for media companies to learn that, to give up the idea that they control something scarce they can charge consumers for, but they've finally learned it. That is the lesson of the death of TimesSelect.
Posted by ben vershbow at 10:32 AM | Comments (2)
tags: copyright , journalism , networks , newspaper , newyorktimes , publishing , trust
Placing a long-term bet on online advertising and the power of search engines, the New York Times will, effective tomorrow, close down its two-year-old "Select" subscription service (which was actually making money for the paper) and opened up access to columnists, Select blogs, and archives from 1987 to the present, and 1851 to 1922. Nice!
From PaidContent, quoting the Times' own coverage:
The change is because of what's happened in the internet in the past two years—particularly the power of search." She [Vivian Schiller, senior vp and general manager of nytimes.com] added later: "Think about this recipe—millions and millions of new documents, all seo'd [search engine optimized], double-digit advertising growth." The Times expects "the scale and the power of the revenue that would come from that over time" to replace the subscriptions revenue and then some.
Posted by ben vershbow at 12:15 AM | Comments (1)
tags: advertising , journalism , newspaper , newyorktimes , search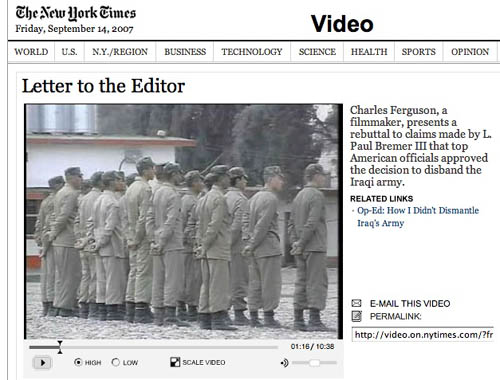 The Times has published its first video "letter to the editor," a 10-minute mini-documentary by Charles Ferguson on the decision by L. Paul Bremer and other US officials to disband the Iraqi army shortly after the US occupation began. The video is posted as a rebuttal to a recent op-ed by Bremer that tried to redistribute some of the blame for that catastrophic blunder that arguably gave birth to the Sunni insurgency.
This is no doubt a milestone for the paper, although calling it a letter to the editor is slightly disingenuous. Ferguson isn't just your average concerned reader, he's a highly respected filmmaker and author who has made a full length doc about Iraq, "No End in Sight," from which much of this video's material is taken.
Moreover, at ten minutes, and meticulously edited and produced, filled with interviews with top military brass and gov't officials, the clip is more on par (at the very least) with a full op-ed. The main opinion page even features it as such—under op-ed contributors—rather than placing it down among the letters. Will we eventually see actual ad hoc video letters to the editor from "readers" at large? That could be interesting.
Nomenclature aside, though, this is a fantastic broadening of the Times' editorial output. Once again, they prove themselves to be one of the more innovative digital publishers around.
Posted by ben vershbow at 12:02 AM | Comments (1)
tags: iraq , journalism , multimedia , newspaper , newyorktimes , video
Facing a far from certain future, the New York Times continues to innovate impressively, announcing yesterday a new venture in distance learning with six initial partner universities: the New York Times Knowledge Network. Among other things, this could help pave the way to a long overdue rethinking of textbooks.
Selected passages from Scott Jaschik in Inside Higher Ed:
Some of the online courses will also make use of Times content that is a centerpiece of the services being offered to colleges, on enrollment-based subscription plans. These packages will provide access to special packages of content — summaries of articles, interactive maps, video, audio, graphs — on a wide range of topics (the European Union, nanotechnology and so forth). Professors at institutions that subscribe would be able to make customized course Web pages, with their own content alongside these content packages. For the many topics covered on which there are updates, professors can elect to have material updated automatically or at the end of the semester.

...

Robert L. Caret, president of Towson [one of the universities participating in the Times network], said he sees the materials providing "a broader, richer educational experience to students." He said he saw this as something Towson could do at minimal cost. The university plans to charge students the equivalent of a laboratory fee, maybe $100 to $150, for access to the Times materials. But he said student costs should not go up because he sees the online resources replacing some textbooks, and replacing them with material that is more current and more interactive.

...

Nudelman [NYT director of education] said that the Times did not view its new offerings as course-management systems in competition with Blackboard or others, but as complements to those systems. Nudelman said that the target audience for the Times for these services would be every higher education institution. "This is an absolute fit. We've been doing work in education for over 70 years, and this fits in with our ability to partner with the universities, colleges, and K-12, to work on distribution of information, news and entertainment, and to convene communities around credible content," she said.
And in a comment on the IHE piece, Michael P. Lambert, Executive Director at Distance Education and Training Council, points out that the Times' new effort falls in a long line of continuing education programs through newspapers:
The Times entry to the distance learning field is a continuation of a tradition of "courses by newspaper" first launched in the U.S. by the Editor of the Mining Herald in Scranton, PA, in 1890. Thomas J. Foster started investigating coal mine accidents in his newspaper, and this led to a series of "instructional articles" in mine safety. His "course by newspaper" hit a nerve with the public. Soon, Foster was getting mail from around the world on the topic of mine safety, and from this editorial platform, he launched the International Correspondence Schools (ICS). By 1895, ICS had enrolled over 10,000 people in his correspondence programs, and by 1910, over 1.3 million, by 1945, over 5 million, and by 2007, over 13 million have enrolled. Today, ICS' pioneering work in "continuing education for everyone" is carried on faithfully by Penn Foster College of Scranton, a DETC accredited distance learning institution. So there is a long and noble tradition of newspapers in bringing learning opportunities to the world, and the New York Times is a welcome entry to this tradition.
Posted by ben vershbow at 3:47 PM | Comments (5) | TrackBack
tags: Education , NYTimes , journalism , newspapers , publishing , textbook
Starting this week, Google News will publish comments alongside linked stories from "a special subset of readers: those people or organizations who were actual participants in the story in question."
John Murrell and Steve Rubel have good analyses of why moving beyond pure aggregation is a risky move for Google, whose relationship with news content owners is already tense to say the least.
Posted by ben vershbow at 9:19 AM | Comments (0) | TrackBack
tags: copyright , editorial , google , journalism , search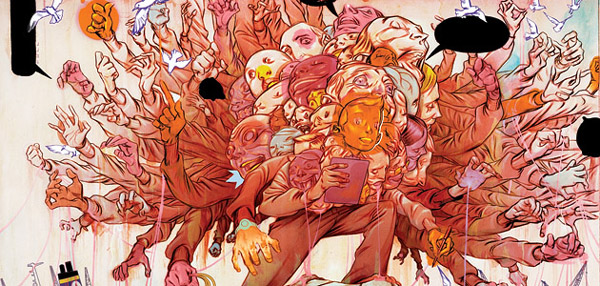 Assignment Zero, an experimental news site that brings professional journalists together with volunteer researcher-reporters to collaboratively write stories, has kicked off its tenure at Wired News by doing an extended investigation of "crowdsourcing." Crowdsourcing is the latest internet parlance used to describe work traditionally carried out by one or a few persons being distributed among many people. I've always found something objectionable about the term, which is more suggestive of a business model than a creative strategy and sidesteps the numerous ethical questions about peer production and corporate exploitation that are inevitably bound up in it. But it's certainly a subject that could use a bit of scrutiny, and who better to do it than a journalistic team composed of the so-called crowd?
It is in this self-reflexive spirt that Jay Rosen, a exceedingly sharp thinker on the future of journalism and executive editor of Assignment Zero (and the related NewAssignment.net), presents an interesting series of features assembled by his "pro-am" team that look at a wide variety of online collaboration forms. This package has been in development for several months (many of the pieces contain links back to the original "assignments" and you can see how they evolved) and there's a lot there: 80 Q&A's, essays and stories (mostly Q&A's) looking at innovative practices and practitioners across media types and cultural/commercial arenas. From an initial sifting, it's less an analysis than just a big collection of perspectives, but this is valuable I think, if for no other reason than as a jumping-off point for further research.
There are many of the usual suspects like Benkler, Lessig, Jarvis, Shirky, Surowiecki, Wales etc., but as many or more of the pieces venture off the beaten track. There's a thought-provoking interview with Douglas Rushkoff on open source as a cultural paradigm, some stuff on the Wu Ming fiction collective (which is fascinating), a piece about Sydney Poore, a Wikipedia "super-contributor," and some coverage of our work, an interview with McKenzie Wark about Gamer Theory and collaborative writing. There's also an essay by one of the Assignment Zero contributors, Kristin Gorski, synthesizing some of the material gathered on the latter subject: "Creative Crowdwriting: The Open Book."
All in all this seems like a successful test drive for an experimental group that is still inventing its process. I'm interested to see how it develops with other less "wired" subjects.
Posted by ben vershbow at 10:53 AM | Comments (0) | TrackBack
tags: collaboration , crowdsourcing , jay_rosen , journalism , opensource
Harper's has a new web concept designed by Paul Ford of F Train. History bears heavily on the refurbished site, almost overwhelmingly -- especially compared to the stripped-down affair that preceded it. But considering that Harper's has a more than ordinary amount of history to cart around -- at 157 years, it's the oldest general interest monthly in the United States -- it makes sense that Ford and the editors had time on the brain. A journal that has published continuously since before the Civil War, on through Reconstruction, the Gilded Age, WWI, the Great Depression, WWII, civil rights, the 60s, the Cold War, right up to the present carries a hefty chunk of the national memory -- and a lot of baggage, good and bad. So it's fitting that the new design is packed with dates, inviting readers to dig into the past while also surveying the present. I can't think of another news site in which the archives mingle so promiscuously with the front page spread. The result is a site that feels as much like a library as a periodical.

Directly beneath the title banner and above stories from the current issue is a highly compressed archive navigation, three rows tall. On the top row, Harper's 16 decades fan out from left to right. Below them are the ten years of a given decade. Below that, the twelve months of a given year. Thus, every issue of Harper's ever printed is just three clicks away. Of course, you need a subscription to view most of the content. (A hint, though: articles between the 1850 debut issue and 1899 are all available for free at the website of Cornell's Making of America project, which undertook the task of scanning the first half-century's worth of Harper's.)
Clearly, the editors have been thinking a great deal about how to use the web to bring Harper's' long, winding paper trail into the light and into use. The new design may be a little over-freighted, but shine light it does. By placing current events in such close proximity with the past, things are nested in a historical context -- a refreshing expansion of scope next to the perpetual present of the 24-hour news cycle. Already there are a few features that help connect the dots. One is "topic pages" that allow readers to track particular subjects through the archive. Take a look, for example, at this trail of links for "South Africa":
4 Images from 1983 to 2001
67 Articles from 1850 to 2007
2 Cartoons from 1985
44 Events from 2000 to 2007
10 Facts from 1999 to 2006
4 Stories from 1888 to 1983
2 Jokes from 1881 to 1912
4 Photographs from 1987 to 2001
1 Poem from 1883
6 Reviews from 1887 to 2005
A smart next step would be to let readers trace, tag and document their own research trails and share those with other readers. This could be an added incentive for a new generation of Harper's subscribers: access not only to an invaluable historical archive but to a social architecture in which communities and individuals could interpret that archive and bring it into conversation with the contemporary.
Posted by ben vershbow at 3:02 AM | Comments (2) | TrackBack
tags: archive , harpers , history , journalism , library , magazine
From Editor&Publisher (via Print is Dead): The Poynter Institute just released findings from a study in which eye-tracking sensors were used to analyze the behavior of 600 readers across print and online news sources. The resulting data clashes with the usual assumptions:
When readers chose to read an online story, they usually read an average of 77% of the story, compared to 62% in broadsheets and 57% in tabloids...

The study looked at two tabloids, the Rocky Mountain News and Philadelphia Daily News; two broadsheets, the St. Petersburg Times and The Star-Tribune of Minneapolis; and two newspaper Web sites, at the Times and Star-Tribune.
Considering the increasingly disaggregated nature of people's news-sifting, is "two newspaper websites" really the right test bed for gauging online reading habits? Still, this is a pretty interesting, myth-busting find, though in a way not at all surprising.
This takes us back to the discussion around Cory Doctorow's recent piece betting on the long-term persistence of print for certain kinds of reading. Print reading, he says, tends toward the sustained and immersive, the long-form linear narrative. Computer reading, on the other hand, is multi-tasky -- distracted, social, bite-sized, multidirectional. One could poke a lot of holes in these characterizations, but generally speaking, they do sum up the way in which many of us divide our reading labor (and leisure) across "platforms." Contrary to popular belief, Doctorow argues, people do like reading on screens. But they also like reading from printed pages. It's not either/or -- the different modes of reading reinforce the different modes of conveyance, paper and PC.
I've tended to agree, but many of the folks in the comments here didn't. They insisted that it's only a matter of time before we'll be doing the vast majority of our reading on screens -- even the linear, immersive reading that seems most resistant to digital migration. Getting past my own deep attachment to print, and reckoning with how far into daily practice electronic reading has already penetrated in so little time, I have to admit that this is probably true, though I imagine print will likely persist for at least a few more generations, and will always have its uses (and will hopefully be kept as a contingency reserve in case the lights go out).
Ultimately, this is a boring game, betting on which technology will win out. But it's interesting sometimes to analyze what motivates certain big cultural actors to wager the way they do.
If you think about it, it makes a lot of sense that Doctorow, generally an advocate for new technologies, wants to see print survive, and why despite his progressive edge, he's a bit of a traditionalist. As a novelist, Doctorow is deeply invested in the economic model of print. That's the way he actually sells books (and probably the way he likes to read them). And yet he grasps the Internet's potential to leverage print -- his career as a writer took off at precisely the moment when these two worlds entered into a complex symbiosis. As such, he has long been evangelizing the practice of giving away e-books to sell more print books, pointing to his own great success as proof of the hybrid concept.
At the surreal Google conference I attended at the New York Public Library in January, Doctorow took the stage as mollifier-in-chief, soothing the gathered representatives of the publishing industry with assurances that print is here to stay, is in fact reinforced by new online discovery tools like Google Book Search and free e-versions (which he suggests are used primarily for browsing or "market research"). All of this is right and true -- for now -- and Doctorow's advice to publishers to loosen up and embrace the Web as a gateway toward offline reading experiences, and as a way to socially situate their texts on the network is good advice, but it doesn't necessarily shed light on the longer term. The Poynter study, in its crude way, does.
Net-native writing will always be for a distracted audience, print for a captivated one, says Doctorow. He's comfortable with that split. And I guess I've been too, suggesting as it does two sorts of knowledge, neither of which we'd want to lose. But the gap will almost certainly narrow, and figuring out the consequences of that is certainly one of our biggest challenges.
Posted by ben vershbow at 9:53 AM | Comments (16) | TrackBack
tags: books , doctorow , ebooks , journalism , publishing , reading , screenreading