Listing entries tagged with intertextuality

New Orleans DoubleQuotes by Charles Cameron plays with juxtaposition, cleverly pairing bits of text in ways that illuminate Katrina and all that flows from it:
Think of these paired quotes as twin thoughts dropped into the mind-pond -- not so much for their own sakes as for the sake of the ripples and resonances between them. I invite you to read these DoubleQuotes one pair at a time, slowly, slowly, so that the multiples ironies and quiet nuances that have come together in the weaving of this tragedy have room to breathe.
(thanks, Bryan Alexander of Infocult)
Posted by ben vershbow at 11:18 AM | Comments (0)
tags: Games , hurricanekatrina , interesting , intertextual , intertextuality , juxtaposition , katrina , louisiana , neworleans , quotes , text , txt

Varda Books, in collaboration with The Jewish Publication Society, has over the last few years been publishing a series of electronic editions of sacred Jewish texts, commentaries, historical studies, and critical resources, all leveraging the dynamic analytic capabilities of digital media. Popular on Varda's online retail site, ebookshuk, are book "bundles" - collections of sacred texts and critical commentaries that enable nimble and complex intertextual analysis, or, as described for the "JPS Digital Torah Library," serve as the "cornerstone of one's personal, open-standards, inter-linked, cross-file-searchable, digital Jewish library." Other bundles include "Judaic Scholar Digital Reference Library I" and "The Rabbinic Bookshelf."
Jewish scriptural study and the Talmud have often been cited as among the earliest great hypertext traditions. Layered interpretations and non-linear modes of reading have long been central to this tradition, which continues to evolve into digital space.
Posted by ben vershbow at 04:28 PM | Comments (0)
tags: bible , hypertext , intertextuality , jewish , publishing , religion , talmud , torah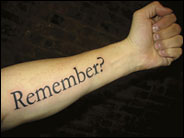 When I read about Shelly Jackson's new project--to "publish" a story by tattooing each of its 2,095 words onto the body of a different person--I thought what a great idea, and I wondered if it might actually be telling us something about the direction books are going. As the digital book begins to emerge--glorious, ephemeral, and electric--are we going to feel compelled to make something even more intimate and rarified as counterpoint?
Posted by kim white at 09:58 PM | Comments (0)
tags: experimental , hypertext , intertextuality , jackson , literature , narrative , publishing , story , tattoo