Listing entries tagged with Games
1 | 2 | 3 | 4 | 5 | 6
"Fuel prices jumped this week, led by gasoline which gained over a dollar a gallon on average. Oil distributors pointed to several "renegotiated" delivery contracts as proof that a long-rumored shortfall in the supply of U.S. oil has finally arrived. Oil producers were tight-lipped about the adjusted contracts, and as I write this it's still unclear how extensive the shortfall will turn out to be."
And thus the stage is set for World Without Oil, the social consciousness-raising ARG (alternate reality game) launched today by Jane McGonigal and associates. I'm already in flagrant violation of the "this is not a game" convention that governs all ARGs, but since this something I and others here at the Institute aim to follow closely in the coming weeks and months, we'll have to treat the curtain between fact and fiction as semi-transparent.
From the perspective of our research here, I'm deeply intrigued because the ARG is an entirely net-native storytelling genre, employing forms as diverse and scattered as the media landscape we live in today. ARGs don't rely on a specific software application, game system or OS, rather they treat the entire Internet as their platform. Players typically employ a whole battery of information technologies -- email, chat, blogs, search engines, message boards, wikis, social media sites, cell phones -- in pursuit of an elusive narrative thread.
The story is usually spun through cryptic clues and half-disclosures, one bread crumb at a time, by the game's authors, or "puppetmasters." To have any hope of success, players must work together, sharing clues and pooling information as they go. The whole point is to make the story into a group obsession -- to mobilize players into problem-solving collectives where they can debate and test different hypotheses as a smart mob. It's sort of like surfing an alternate version of the net, using all the social search tactics of the real one.
Of course, the net is a murky territory, full of conspiracy theories, identity traps and misinformation. ARGs take this uncertainty and make it their idiom. The game (remember, it's not a game) might involve websites that to the casual observer look perfectly real -- a corporate home page, a personal blog -- but that are in fact a part of the fiction. ARGs use the playbook of spammers, phishers and social reality hackers like the Yes Men to create a fictional universe that blends seamlessly with the real.
But we're not just talking about an alternate net here, we're talking about an alternative world. ARGs frequently assign tasks that pull players away from their computers and propel them into their physical environment (the phenomenally popular I Love Bees had people running all over San Francisco answering pay phones). This couldn't be more unlike the whole Second Life phenomenon (which, as you may have noticed, we've barely covered here). Instead of building a one-to-one simulacrum of the actual world (yeah yeah, you can fly, big whoop), this takes the actual world and tilts it -- reinterprets it. There's imagination happening here.
World Without Oil takes this in a new direction. McGonigal has been talking for some time now about using ARGs for more than just pure play. She believes they could be harnessed to solve real world problems (for more about this, read this recent long piece in SF Weekly by Eliza Strickland). Hence the premise of oil shocks. The WWO website was set up by ten friends who met in the chaos of the Denver Airport during the blizzards this past December. During that time, they bonded and got to talking about citizen journalism and the potential of the web for organizing masses of people to deal with crises without having to rely solely on big media and big government. A weird tip about an impending oil crisis on April 30th got their paranoid wheels turning and they decided to set up a central hub for netizens to send reportage and personal testimonies about life during the shocks. Today is April 30 and lo and behold: the shocks have arrived!
The idea is to collectively imagine a reality that could very likely come to pass, and to share information and ideas -- alternative energy innovations, new forms of transport, new forms of community -- that could help us get through it. It's an opportunity for self-reeducation and perhaps the forging of some real-world relationships. There's even a page for teachers to guide students through this collaborative hallucination, and to learn something about energy geopolitics as they do it.
As an entry to the serious games movement, this has to be one of the most innovative efforts out there. But I find myself wondering whether simply getting everyone to report from their corner of the crisis -- postcards from the apocalypse --will be enough to create a full-blown ARG phenomenon. Is this participatory in quite the right way? While I ecstatically applaud the intention here of repurposing a form that to date has been employed mainly as a viral marketing tool (the first ARG was built around Spielberg's "A.I." in 2001), I worry that the WWO construct seems to have been shorn of most of the usual mystery elements -- the codes, clues and crumbs -- that make ARGs so addictive. There's a whiff of homework here, something perhaps a little too earnest, that could prevent it from gaining traction. I sincerely hope I'm wrong.
Still, even if this fails to take off, I think this is an important milestone and will be important to study as it unfolds. WWO suggests what could be the ideal dystopian form for the cultural moment: a mode of storytelling that taps directly into the present human condition of networked information blitz and tries to channel it toward real-world awareness, or even action. The ARG adopts tactics long employed in military war games and conflict exercises and turns them (at least potentially) toward grassroots activism. WWO is trying to rouse, as Sebastian Mary put it in a previous post, our "democratic imagination. In SF Weekly piece I link to above, McGonigal puts it this way:
"When you start projecting that out to bigger scales, that's when these games start to look like a real way to achieve, if not world peace, then some kind of world-benevolent conspiracy, where we feel like we are all playing the same game."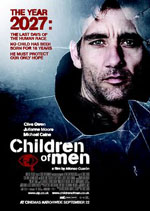 Many people I know loved the film "Children of Men" by Alfonso Cuarón because they felt that it showed them, with the cutting clarity of allegory, the way the world really is. The premise, that the human race has lost the ability to reproduce itself (a dying world, without children, slowly self-destructing), was of course implausible, but all the same it felt like a layer was being peeled away to reveal a terrible truth. Probably the most unsettling moment for me was the lights rose at the end and we exited the theater into the street. Everything looked different, fragile, like something awful was being hidden just beneath the surface. But the feeling soon faded and I filed the experience away: "Children of Men"; a brilliant film; one of the year's best; shamefully overlooked at the Oscars.
What would "Children of Men" look like as an ARG? What would a networked tactic bring to this story? Would it be simply dispatches from a dying world, or could we do something more constructive? Could the darkened theater and the streets outside somehow be merged?
Our first stories were oral stories. When we were children our parents read to us aloud stories that we listened to over and over again until they were embedded in our unconscious. We knew the stories inside and out, backwards and forwards. Reading became a ritual of call and response: a physical act. In the classroom too, teachers read aloud to us. We knew the stories inside and out, backwards and forwards. Call and response. At recess we ran out into the playground and re-eanacted the stories -- replayed them, spun new ones. Those early experiences hearken back to earlier cultures -- oral, pre-literate ones where the word was less the realm of contemplation and more the realm of action. ARGs seem to tap into this power of the oral story -- the spark of the imagination and then the dash, together, into the playground.
Posted by ben vershbow at 10:38 AM | Comments (0) | TrackBack
tags: ARG , Games , collaboration , dystopia , environment , fiction , jane_mcgonigal , worldwithoutoil
Gamer Theory 2.0 is nearly there, we're just taking a few extra few days to apply the finishing touches and to get a few last visualizations mounted in the gallery. The print edition from Harvard is available now.
For those of you in the city, there's a great Gamer Theory event planned for tonight at the New School followed by drinks in Brooklyn at Barcade -- a bar (as the name suggests) fitted out as a retro video game arcade (have a pint and play a round of Rampage, Gauntlet or Frogger). Here's more info:
what: McKenzie Wark will present, and lead a discussion of his new book Gamer Theory (Harvard University Press). Jaeho Kang (Sociology, The New School for Social Reseach) will act as the respondent.
where: Wolff Conference Room, 2nd floor, 65 5th avenue (between 14th and 13th streets)
when: 6-8PM, Wednesday 18th April 2007
then: drinks & games at Barcade, 388 Union Ave Williamsburg (L train to Lorrimer st, take Union exit)
Posted by ben vershbow at 9:04 AM | Comments (0) | TrackBack
tags: GAM3R_7H30RY , Games , books , events , gamertheory , publishing
Jesse's post yesterday pondering the possibility of networked comics reminded me of an interesting little piece I came across last month on the Guardian Gamesblog by Aleks Krotoski on networked collaboration -- or rather, the conspicuous lack thereof -- in games. The post was a lament really, sparked by Krotoski's admiration of the Million Penguins project, which for her threw into stark relief the game industry's troubling retentiveness regarding the means of game production:
Meanwhile in gameland, where non-linearity is the ideal, we're at odds with the power of games as the world's most compelling medium and the industry's desperate attempts to integrate with the so-called worthy (yet linear) media. And ironically, we've been lapped by books. How embarrassing. If anyone should have pushed the user-generated boat out, it should have been the games industry.

...Sure, there are a few new outlets for budding designers to reap the kudos or the ridicule of their peers, but there's not a WikiGame in sight. Until platform owners have the courage to open their consoles to players, a million penguins will go elsewhere. And so will gamers.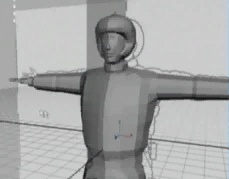 Well I just came across a very intriguing UK-based project that might qualify as a wiki-game, or more or less the equivalent. It's called "spring_alpha" and is by all indications a game world that is openly rewritable on both the narrative and code level. What's particularly interesting is that the participatory element is deeply entwined with the game's political impulses -- it's an experiment in rewriting the rules of a repressive society. As described by the organizers:
"spring_alpha" is a networked game system set in an industrialised council estate whose inhabitants are attempting to create their own autonomous society in contrast to that of the regime in which they live. The game serves as a "sketch pad" for testing out alternative forms of social practice at both the "narrative" level, in terms of the game story, and at a "code" level, as players are able to re-write the code that runs the simulated world.

...'spring_alpha' is a game in permanent alpha state, always open to revision and re-versioning. Re-writing spring_alpha is not only an option available to coders however. Much of the focus of the project lies in using game development itself as a vehicle for social enquiry and speculation; the issues involved in re-designing the game draw parallels with those involved in re-thinking social structures.
My first thought is that, unlike A Million Penguins, "spring_alpha" provides a robust armature for collaboration: a fully developed backstory/setting as well as an established visual aesthetic (both derived from artist Chad McCail's 1998 work "Spring"). That strikes me as a recipe for success. In the graphics, sound and controls department, "spring_alpha" doesn't appear particularly cutting edge (it looks a bit like Google SketchUp, though that may have just been in the development modules I saw), but its sense of distributed creativity and of the political possibilities of games seem quite advanced.
Can anyone point to other examples of collaboratively built games? Does Second Life count?
Posted by ben vershbow at 2:13 AM | Comments (3) | TrackBack
tags: Games , collaboration , opensource , wiki
Alex Itin commenting on this video:
". . . it's great that video games involve the body. It is in this way that new media will pass literature. I quit writing for painting, because I couldn't stand the loss of the physical that went into writing novels.... but in painting it is hard keep the intellectual (so much good about painting is metaphysical and physical and theory and ideas seem to get in the way of the act)...The reason I keep beating my head against the new media wall is that I sense it will allow me to have my cake and eat it too."
Posted by bob stein at 10:44 AM | Comments (0) | TrackBack
tags: Games , art , nintendo , painting , reading , wii
Yes, it's coming. The official pub date is April 15, 2007 from Harvard University Press, and the Institute will be producing a new online edition in conjunction with the print release. Pre-order now!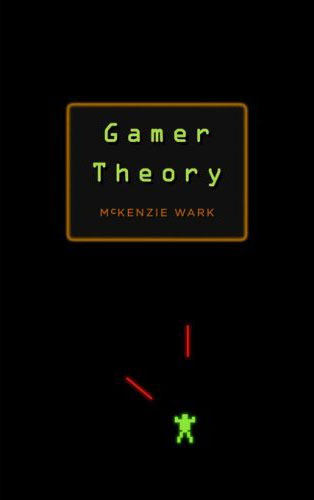 You'll notice Ken's dropped the L33T for the print title. He explains in a recent interview in RealTime:
For the website version I put the title in L33T [leet or gaming speak], partly in tribute to the early MUDs, but also to have a unique search string to put in Google or Technorati to track who was talking about it and where.
Smart. Also in that piece, a nice description of what we did:
As a critical engagement with the concepts of authorship, writing and intellectual property, GAM3R 7H30RY is a book written out of the social software fabric of blogs and wikis, Flickr, YouTube, Wikipedia and CiteULike. In other words, it represents a new writing practice that actively decentralizes the text as an object and disseminates it as an ongoing multi-channel conversation.
Posted by ben vershbow at 12:53 AM | Comments (0) | TrackBack
tags: GAM3R_7H30RY , Games , amazon , books , publishing
This interview with McKenzie Wark was conducted inside an online version of the Halo 2 video game as part of the upcoming fourth episode of This Spartan Life, "a talk show in gamespace." Many thanks to Chris Burke and the TSL team for doing such a fantastic job. Click the image to play (it's a little under 14 minutes):
From the interview, here's McKenzie on collaborating with readers inside his book:
"It sort of brings out what writing always is anyway, which is that, in a sense, you're always the DJ of other people's thoughts and ideas, and this just makes that manifest."
Also see this interesting thread in the GAM3R 7H30RY forum from a while back -- a discussion between McKenzie and Chris about "glitching" and other forms of trifling or hacking within the game (the bread and butter of machinima filmmakers), and whether this can lead to real freedom. There's a moment later on in the video where the debate gets wonderfully concretized in the physical landscape of the game world.
We "shot" the footage back in August at Chris's studio in Brooklyn. I managed to snap a couple of hazy pictures with my camera phone: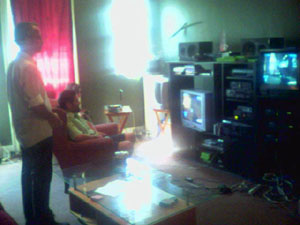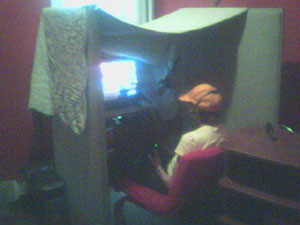 On the left you see the room where Chris and the two camera operators have their consoles. On the right is McKenzie in his own little cave. Everything is recorded through video feeds running out of the Xboxes. Ken and Chris talk over headsets and move around the game environment while the two "cameras" follow behind (the cameras are just the perspectives of the other two gamers). The chaos during Ken's reading at the end is the work of other online gamers from around the country -- TSL groupies who like helping out with shoots and generally raising hell. Seeing Chris try to coordinate this rambunctious crew long distance was highly entertaining.
(If you haven't seen it, also check out This Spartan Life's interview with Bob from their first episode. A real treat.)
Posted by ben vershbow at 3:16 AM | Comments (9) | TrackBack
tags: GAM3R_7H30RY , Games , halo , interview , machinima , the_networked_book , video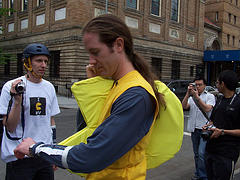 Urban gaming is growing in popularity in correlation with the ascendance of mobile devices. Many current games depend on an email or text messaging enabled phone; some of the latest are digital scavenger hunts where the camera phone is the weapon of choice. This weekend at the Come Out & Play Festival, hosted by EyeBeam, you'll have a chance to play some of the newest games in your own back alley. While not all urban games require tech—some are just about taking advantage of the unique density of the urban environment—the games at CO&P are almost uniformly tech enabled, using mobile phones or projectors or even visits to Second Life as aspects of gameplay.
The Come Out & Play Festival is a street games fesitval dedicated to exploring new styles of games and play.The festival will feature games from the creators of I love bees, PacManhattan, Conqwest, Big Urban Game and more.From massive multi-player walk-in events to scavenger hunts to public play performances, the festival will give players and the public the chance to take part in a variety of different games. Come rediscover the city around you through play.Why street games? Why a street games festival, you ask? Fair questions. Well, we like innovative use of public space. We like games which make people interact in new ways. We like games that alter your perception of your surroundings. But most importantly, we think games are great way to have fun.
Like the Conflux Festival, Come Out & Play encourages us to use our shared urban spaces differently, unlimited by the conventions of that space. But rather than approach it from the perspective of an individual remaking the rules of public engagement, CO&P encourages a game mentality, where the individual (or team) works within a different set of highly prescriptive rules. These rules aren't the usual rules of public space, which is what makes it fun. But they are the rules of the game, and they cannot be broken if you want to continue to participate. Urban gaming has some root in the thinking of the Situationists—particularly the notion of public, anarchic play—so it seems especially ironic that the play is so structured. Still, I anticipate all the regulations in the world won't kill the fun this weekend, and the faint whiff of activism will add a pleasant flavor to the proceedings. I'm especially looking forward to Cruel 2 B Kind (if I can just figure out how to get my phone to use email), and the enormous Space Invaders projection (it uses the side of a building as the screen and your body as the defender ship).
Posted by jesse wilbur at 3:41 PM | Comments (0) | TrackBack
tags: Games , comeoutandplay , conflux , eyebeam , festival , urban_gaming
This apparently made the blog rounds recently, but I just saw it for the first time tonight in a movie theater and was mighty impressed:
And a twist on this: check out this Washington Post article on live ads in video games.
Posted by ben vershbow at 12:35 AM | Comments (0) | TrackBack
tags: Games , advertising , coke , grand_theft_auto , parody , video_games
Steven Shaviro (of Wayne State University) has written a terrific review of GAM3R 7H30RY on his blog, The Pinnochio Theory, enacting what can only be described as spontaneous, open peer review. This is the first major article to seriously engage with the ideas and arguments of the book itself, rather than the more general story of Wark's experiment with open, collaborative publishing (for example, see here and here). Anyone looking for a good encapsulation of McKenzie's ideas would do well to read this. Here, as a taste, is Shaviro's explanation of "a world...made over as an imperfect copy of the game":
Computer games clarify the inner logic of social control at work in the world. Games give an outline of what actually happens in much messier and less totalized ways. Thereby, however, games point up the ways in which social control is precisely directed towards creating game-like clarities and firm outlines, at the expense of our freedoms.
Now, I think it's worth pointing out the one gap in this otherwise exceptional piece. That is that, while exhibiting acute insight into the book's theoretical dimensions, Shaviro does not discuss the form in which these theories are delivered, apart from brief mention of the numbered paragraph scheme and the alphabetically ordered chapter titles. Though he does link to the website, at no point does he mention the open web format and the reader discussion areas, nor the fact that he read the book online, with the comments of readers sitting plainly in the margins. If you were to read only this review, you would assume Shaviro was referring to a vetted, published book from a university press, when actually he is discussing a networked book that is 1.1 -- a.k.a. still in development. Shaviro treats the text as though it is fully cooked (naturally, this is how we are used to dealing with scholarly works). But what happens when there's a GAM3R 7H30RY 1.2, or a 2.0? Will Shaviro's review correspondingly update? Does an open-ended book require a more open-ended critique? This is not so much a criticism of Shaviro as an observation of a tricky problem yet to be solved.
Regardless, this a valuable contribution to the surrounding literature. It's very exciting to see leading scholars building a discourse outside the conventional publishing channels: Wark, through his pre-publication with the Institute, and Shaviro with his unsolicited blog review. This is an excellent sign.
Posted by ben vershbow at 7:26 AM | Comments (0) | TrackBack
tags: GAM3R_7H30RY , Games , academic , peer_review , publishing , reading , the_networked_book