(Jeff Drouin is in the English Ph.D. Program at The Graduate Center of the City University of New York)
About three weeks ago I had lunch with Ben, Eddie, Dan, and Jesse to talk about starting a community with one of my projects, the Ecclesiastical Proust Archive. I heard of the Institute for the Future of the Book some time ago in a seminar meeting (I think) and began reading the blog regularly last Summer, when I noticed the archive was mentioned in a comment on Sarah Northmore's post regarding Hurricane Katrina and print publishing infrastructure. The Institute is on the forefront of textual theory and criticism (among many other things), and if:book is a great model for the kind of discourse I want to happen at the Proust archive. When I finally started thinking about how to make my project collaborative I decided to contact the Institute, since we're all in Brooklyn, to see if we could meet. I had an absolute blast and left their place swimming in ideas!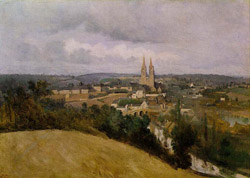 While my main interest was in starting a community, I had other ideas — about making the archive more editable by readers — that I thought would form a separate discussion. But once we started talking I was surprised by how intimately the two were bound together.
For those who might not know, The Ecclesiastical Proust Archive is an online tool for the analysis and discussion of à la recherche du temps perdu (In Search of Lost Time). It's a searchable database pairing all 336 church-related passages in the (translated) novel with images depicting the original churches or related scenes. The search results also provide paratextual information about the pagination (it's tied to a specific print edition), the story context (since the passages are violently decontextualized), and a set of associations (concepts, themes, important details, like tags in a blog) for each passage. My purpose in making it was to perform a meditation on the church motif in the Recherche as well as a study on the nature of narrative.
I think the archive could be a fertile space for collaborative discourse on Proust, narratology, technology, the future of the humanities, and other topics related to its mission. A brief example of that kind of discussion can be seen in this forum exchange on the classification of associations. Also, the church motif — which some might think too narrow — actually forms the central metaphor for the construction of the Recherche itself and has an almost universal valence within it. (More on that topic in this recent post on the archive blog).
Following the if:book model, the archive could also be a spawning pool for other scholars' projects, where they can present and hone ideas in a concentrated, collaborative environment. Sort of like what the Institute did with Mitchell Stephens' Without Gods and Holy of Holies, a move away from the 'lone scholar in the archive' model that still persists in academic humanities today.
One of the recurring points in our conversation at the Institute was that the Ecclesiastical Proust Archive, as currently constructed around the church motif, is "my reading" of Proust. It might be difficult to get others on board if their readings — on gender, phenomenology, synaesthesia, or whatever else — would have little impact on the archive itself (as opposed to the discussion spaces). This complex topic and its practical ramifications were treated more fully in this recent post on the archive blog.
I'm really struck by the notion of a "reading" as not just a private experience or a public writing about a text, but also the building of a dynamic thing. This is certainly an advantage offered by social software and networked media, and I think the humanities should be exploring this kind of research practice in earnest. Most digital archives in my field provide material but go no further. That's a good thing, of course, because many of them are immensely useful and important, such as the Kolb-Proust Archive for Research at the University of Illinois, Urbana-Champaign. Some archives — such as the NINES project — also allow readers to upload and tag content (subject to peer review). The Ecclesiastical Proust Archive differs from these in that it applies the archival model to perform criticism on a particular literary text, to document a single category of lexia for the experience and articulation of textuality.
If the Ecclesiastical Proust Archive widens to enable readers to add passages according to their own readings (let's pretend for the moment that copyright infringement doesn't exist), to tag passages, add images, add video or music, and so on, it would eventually become a sprawling, unwieldy, and probably unbalanced mess. That is the very nature of an Archive. Fine. But then the original purpose of the project — doing focused literary criticism and a study of narrative — might be lost.
If the archive continues to be built along the church motif, there might be enough work to interest collaborators. The enhancements I currently envision include a French version of the search engine, the translation of some of the site into French, rewriting the search engine in PHP/MySQL, creating a folksonomic functionality for passages and images, and creating commentary space within the search results (and making that searchable). That's some heavy work, and a grant would probably go a long way toward attracting collaborators.
So my sense is that the Proust archive could become one of two things, or two separate things. It could continue along its current ecclesiastical path as a focused and led project with more-or-less particular roles, which might be sufficient to allow collaborators a sense of ownership. Or it could become more encyclopedic (dare I say catholic?) like a wiki. Either way, the organizational and logistical practices would need to be carefully planned. Both ways offer different levels of open-endedness. And both ways dovetail with the very interesting discussion that has been happening around Ben's recent post on the million penguins collaborative wiki-novel.
Right now I'm trying to get feedback on the archive in order to develop the best plan possible. I'll be demonstrating it and raising similar questions at the Society for Textual Scholarship conference at NYU in mid-March. So please feel free to mention the archive to anyone who might be interested and encourage them to contact me at jdrouin@gc.cuny.edu. And please feel free to offer thoughts, comments, questions, criticism, etc. The discussion forum and blog are there to document the archive's development as well.
Thanks for reading this very long post. It's difficult to do anything small-scale with Proust!
Posted by jeff drouin at 7:46 AM | Comments (2) | TrackBack
tags: Online , academia , archive , blogs , books , digital , encyclopedia , folksonomy , hypertext , literature , multimedia , narrative , network , novel , open_access , pedagogy , peer_review , photography , publishing , reading , search , social_software , tagging , technology , textuality , university , web , wiki , writing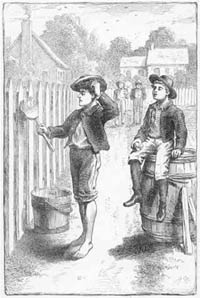 Ars Technica reports that Google has begun outsourcing, or "crowdsourcing," the task of tagging its image database by asking people to play a simple picture labeling game. The game pairs you with a randomly selected online partner, then, for 90 seconds, runs you through a sequence of thumbnail images, asking you to add as many labels as come to mind. Images advance whenever you and your partner hit upon a match (an agreed-upon tag), or when you agree to take a pass.
I played a few rounds but quickly grew tired of the bland consensus that the game encourages. Matches tend to be banal, basic descriptors, while anything tricky usually results in a pass. In other words, all the pleasure of folksonomies -- splicing one's own idiosyncratic sense of things with the usually staid task of classification -- is removed here. I don't see why they don't open the database up to much broader tagging. Integrate it with the image search and harvest a bigger crop of metadata.
Right now, it's more like Tom Sawyer tricking the other boys into whitewashing the fence. Only, I don't think many will fall for this one because there's no real incentive to participation beyond a halfhearted points system. For every matched tag, you and your partner score points, which accumulate in your Google account the more you play. As far as I can tell, though, points don't actually earn you anything apart from a shot at ranking in the top five labelers, which Google lists at the end of each game. Whitewash, anyone?
In some ways, this reminded me of Amazon's Mechanical Turk, an "artificial artificial intelligence" service where anyone can take a stab at various HIT's (human intelligence tasks) that other users have posted. Tasks include anything from checking business hours on restaurant web sites against info in an online directory, to transcribing podcasts (there are a lot of these). "Typically these tasks are extraordinarily difficult for computers, but simple for humans to answer," the site explains. In contrast to the Google image game, with the Mechanical Turk, you can actually get paid. Fees per HIT range from a single penny to several dollars.
I'm curious to see whether Google goes further with tagging. Flickr has fostered the creation of a sprawling user-generated taxonomy for its millions of images, but the incentives to tagging there are strong and inextricably tied to users' personal investment in the production and sharing of images, and the building of community. Amazon, for its part, throws money into the mix, which (however modest the sums at stake) makes Mechanical Turk an intriguing, and possibly entertaining, business experiment, not to mention a place to make a few extra bucks. Google's experiment offers neither, so it's not clear to me why people should invest.
Posted by ben vershbow at 6:17 AM | Comments (3) | TrackBack
tags: AI , crowdsourcing , database , folksonomy , google , library , mechanical_turk , metadata , photography , search , social_software , tagging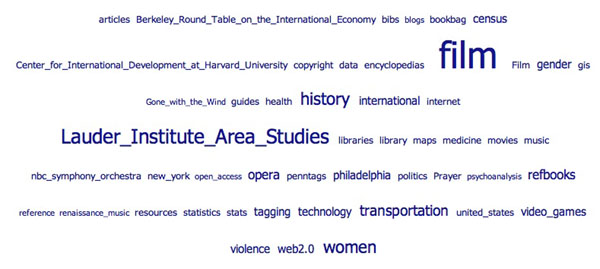 The ever-innovative University of Pennsylvania library is piloting a new social bookmarking system (like del.icio.us or CiteULike), in which the Penn community can tag resources and catalog items within its library system, as well as general sites from around the web. There's also the option of grouping links thematically into "projects," which reminds me of Amazon's "listmania," where readers compile public book lists on specific topics to guide other customers. It's very exciting to see a library experimenting with folksonomies: exploring how top-down classification systems can productively collide with grassroots organization.
Posted by ben vershbow at 6:09 PM | Comments (2) | TrackBack
tags: academic , folksonomy , library , tagging
Few would disagree that Presidents' Day, though in theory a celebration of the nation's highest office, is actually one of our blandest holidays -- not so much about history as the resuscitation of commerce from the post-holiday slump. Yesterday, however, brought a refreshing change.
Spending the afternoon at the institute was Holly Shulman, a historian from the University of Virginia well known among digital scholarship circles as the force behind the Dolley Madison Project -- a comprehensive online portal to the life, letters and times of one of the great figures of the early American republic. So, for once we actually talked about presidential history on Presidents' Day -- only, in this case from the fascinating and chronically under-studied spousal perspective.
Shulman came to discuss possible collaboration on a web-based history project that would piece together the world of America's founding period -- specifically, as experienced and influenced by its leading women. The question, in terms of form, was how to break out of the mould of traditional web archives, which tend to be static and exceedingly hierarchical, and tap more fully into the energies of the network? We're talking about something you might call open source scholarship -- new collaborative methods that take cues from popular social software experiments like Wikipedia, Flickr and del.icio.us yet add new layers and structures that would better ensure high standards of scholarship. In other words: the best of both worlds.
Shulman lamented that the current generation of historians are highly resistant to the idea of electronic publication as anything more than supplemental to print. Even harder to swallow is the open ethos of Wikipedia, commonly regarded as a threat to the hierarchical authority and medieval insularity of academia.
Again, we're reminded of how fatally behind the times the academy is in terms of communication -- both communication among scholars and with the larger world. Shulman's eyes lit up as we described the recent surge on the web of social software and bottom-up organizational systems like tagging that could potentially create new and unexpected avenues into history.
A small example that recurred in our discussion: Dolley Madison wrote eloquently on grief, mourning and widowhood, yet few would know to seek out her perspective on these matters. Think of how something like tagging, still in an infant stage of development, could begin to solve such a problem, helping scholars, students and general readers unlock the multiple facets of complex historical figures like Madison, and deepening our collective knowledge of subjects -- like death and war -- that have historically been dominated by men's accounts. It's a small example, but points toward something grand.
Posted by ben vershbow at 7:33 AM | Comments (2)
tags: Social Software , archives , authority , dolley_madison , folksonomy , history , madison , open_access , open_source , president , social_software , tagging , wikipedia
In developed nations, and in the US in particular, high-speed wireless access to the Internet is a given for the affluent and an achievable possibility for most. In the rest of the world, owning a computer is a dream for a community, and a fantasy for the individual. At this moment, away in the central mountains of Colombia, I am virtually disconnected from the world, though quite connected to the splendor of nature. I'm writing this relying on uncertain electricity that, if it fails, will be backed up by a gas generator that will keep food fresh and beer cold, the hell with the laptop. Reading one of last week's Medellín's newspapers, I was surprised to see news of the advent of the BlueBerry as a technological advance that will reach the city in early 2006. Medellín is a booming, sophisticated Third World city of more than 3.5 million people. This piece of news made clearer for me, more than ever, how in the US we take technology for granted when, in fact, it is the domain of only a small minority of the world. This doesn't mean that the rest don't need connectivity, it means that if they are being pushed to play in the global monopoly game, they must have it. From that perspective, I bring the New York Times Magazine's fifth edition of The Year in Ideas" (12/11/2005.) As always, it examines a number of trends and fads that, in a way or another, were markers of the year. Considering the year at the Institute and its pursuit of the meaningful among myriad innovations, I'll review some of the ideas the Times chose, that meet the ones the Institute brought to the front throughout the year. Beyond the noteworthy technological inventions, it is the human contribution, the users' innovative ways of dealing with what already exists in the Internet, which make them worth reflecting upon.
The political power of the blogosphere is an accepted fact, but it is the media infrastructure that passes on what is said on blogs what has given the conservatives the upper hand. Even though Howard Dean's campaign epitomized the power of the liberal blogosphere, the so called "Net roots" continue to be regarded as the terrain of young people with the time in their hands to participate in virtual dialogue. The liberal's approach blogs as a forum to air ideas and to criticize not only their opponents but also each other, differs greatly from that of the conservatives'. They are not particularly interested in introspection and use the Web to support their issues and to induce emotional responses from their base. But, it is their connection to a network of local and national talk-radio and TV shows what has given exposure and credibility to the conservative blogs. Here, we have a sad, but true, example of how it is the coalescence of different media what matters, not their insular existence.

The news media increasingly have been using the Web both as an enhancer and as a way to achieve two-way communications with the public. An exciting example of the meeting of journalism and the blog is the New Orleans Times-Picayune. Before Katrina hit the city, they set up a page on their Web site called "Hurricane Katrina Weblog." Its original function was supplemental. However, when the flood came and the printed edition was shut down, the blog became the newspaper. Even though the paper's staff kept compiling a daily edition as a download, the blog was brimming with posts appearing throughout the day and readership grew exponentially, getting 20 to 30 million page views per day. The paper continued posting carefully edited stories interspersed with short dispatches phoned or e-mailed to the newspaper's new headquarters in Baton Rouge. In the words of Paul Tough, "what resulted was exciting and engrossing and new, a stream-of-consciousness hybrid that combined the immediacy and scattershot quality of a blog with the authority and on-the-scene journalism of a major daily newspaper."
Joshua M. Marshall, editor of the blog Talkingpointsmemo.com, decided to ask his readers to share their knowledge of the ever spreading Washington scandals in an effort to keep abreast of news. He called his experiment "open-source investigative reporting." Marshall's blog has about 100,000 readers a day and he saw in them the potential to gather news in a nationwide basis. For instance, he relied on his readers' expertise with Congressional ethics code in order to determine if Jack Abramoff's gifts were violations. What Marshall has come up with is a very large news-gathering and fact-checking network, a healthy alternative to traditional journalism.
Podcasting has become another alternative to broadcasting which provides the ability to access audio and video programs as soon as they're delivered to your computer, or to pile them up as you do with written media. Now, through iTunes, we are experiencing the advent of homemade video postcasts. Some of them have already thousands of viewers. Potentially, this could become the next step of community access television.
The mash-up of data from different web sites has gained thousands of adepts. One of the first ones was Adrian Holovaty's Chicagocrime.org, a street map of Chicago from Google overlaid with crime statistics from the Chicago Police online database. Following this, many people started to make annotated maps, organizing all sorts of information geographically from real-estate listings to memory maps. The social possibilities of this personal cartography are enormous. The Times brings Matthew Haughey's "My Childhood, Seen by Google Maps," as an example of an elegant and evocative project. If we think of the illuminated maps that expanded the world and ignited the imagination of many explorers, this new form of cartography brings a similar human dimension to the perfect satellite maps.
Thomas Vander Wal has called "folksonomy" to tagging taken to the level of taxonomy. The labeling of people's photos, on Flicker for instance, gets richer by the additions of others who tag the same photos for their own use. Daniel H. Pink claims, "The cumulative force of all the individual tags can produce a bottom-up, self organized system for classifying mountains of digital material." In an interesting twist, several institutions that are part of the Art Museum Community Cataloging Project, including the San Francisco Museum of Modern Art and the Guggenheim, are taking a folksonomic approach to their online collections by allowing patrons to supplement the annotations done by curators, making them more accessible and useful to people.
The effort of Nicholas Negroponte, chairman of the MIT's Media Lab, to raise the funds to have a group of his colleagues design a no-frills, durable, and cheap computer for the children of the world is a terrific one. Having laptops equipped with a hand crank, in absence of electricity, and using wireless peer-to-peer connections to create a local network will make it easier to access the Internet from economically challenged areas of the world, notwithstanding the difficulties this presents. The detractors of Negroponte's effort claim that children in Africa, for instance, will not benefit from having access to the libraries of the world if they don't understand foreign languages; that children with little exposure to modern civilization will suddenly have access to pornography and commercialism; and that wealthy donors should concentrate on malaria eradication before giving an e-mail address to every child. Negroponte, as Jeffrey Sachs, Bono, Kofi Annan, and many others, know that education along with connectivity, are key to bring the next generation out of the poverty cycle to which they have been condemned by foreign powers interested in the resources of their countries, and by every corrupt local regime that has worked along the lines of those powers. The $100 laptop, accompanied by a sound and humane program to use them will bring enormous benefits.
A. O. Scott's review of the documentary as a genre that supplies satisfaction not from Hollywood formulas but from the real world, reminded me of Bob Stein's quest for thrills beyond technologically enhanced reality. A factor of the postmodern condition is the unprecedented immediate accessibility to the application of scientific knowledge that technology brings, accessibility that has permeated our relationships with and towards everything. Knowledge has acquired an unsettling superficiality because it has become an economic product. Technology is used and abused, forced upon the consumer in all sorts of ways and Hollywood's productions are the obvious example. 2005 was the year of the documentary, and I suspect this has to do with a yearning for the human, for the real, for the immediate, for the unmediated. A. O. Scott eloquently traces that line when he praises Luc Jacquet's "March of the Penguins" as the documentary that hits it all; epic journey, humor, tenderness and suspense, as well as "an occasion for culture-war skirmishing. In short it provided everything you'd want from a night at the movies, without stars or special effects. It's almost too good to be true." With that I greet 2006.
Posted by sol gaitan at 11:17 PM | Comments (0)
tags: Negroponte , Nicholas , Publishing, Broadcast, and the Press , documentary , folksonomy , media , podcasting
New York University's Interactive Telecommunications Program recently had its Winter 2005 show. As always, the show was packed with numerous projects and visitors. Some of the work touched upon ideas we think about at the institute.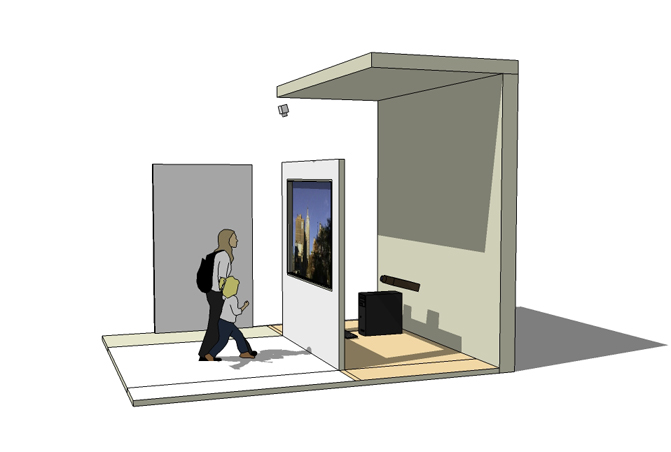 A few projects explored new ways to mediate New York. Leif Mangelsen and Jung Oh, in Time Scanned, created static panoramic images by stitching together slivers of digital video to document New York over time and space. Moving beyond the traditional guide book and map, the augmented reality project, DataCity looked at how we navigate New York. In this case, Shagun Singh, Jon Kirchherr and Saranont Limpananont proposed to layer contextual information on an interactive display system to enhance the experience of traveling through the city.
Saiyanthan Sriskandarajah created, The Wasteland, a digital representation of T.S. Eliot's poem. Each letter is encoded into a binary format and then printed with a large format printer. The end result is an abstracted digital representation of a literary work.
Joshua Knowles, Adam Asarnow, Charles Pratt, and Rocio Barcia created Itp.licio.us which was a new twist to the facebook, and explored folksonomy, privacy, and social networks by asking fellow first year students to tag each other. The successful end result (students received an average of 29.4 tags) also addressed issues of internet mediated social interaction and making public the personal information of what classmates think of others.
Although, the twice a year itp shows can be a bit of an overwhelming experience, they offer a glimpse (albeit scaled down) of emerging applications of technology which are often just around the corner for mainstream use.
Posted by ray cha at 11:48 AM | Comments (0)
tags: 2005 , abstraction , folksonomy , itp , mediated , new_york , privacy , social_networking , text , video_capture , wasteland , winter
The NY Times reports on new web-based services at university libraries that are incorporating features such as personalized recommendations, browsing histories, and email alerts, the sort of thing developed by online retailers like Amazon and Netflix to recreate some of the experience of browsing a physical store. Remember Ranganathan's fourth law of library science: "save the time of the reader." The reader and the customer are perhaps becoming one in the same.
It would be interesting if a social software system were emerging for libraries that allowed students and researchers to work alongside librarians in organizing the stacks. Automated recommendations are just the beginning. I'm talking more about value added by the readers themselves (Amazon has does this with reader reviews, Listmania, and So You'd Like To...). A social card catalogue with a tagging system and other reader-supplied metadata where readers could leave comments and bread crumb trails between books. Each card catalogue entry with its own blog and wiki to create a context for the book. Books are not just surrounded by other volumes on the shelves, they are surrounded by people, other points of view, affinities -- the kinds of thing that up to this point were too vaporous to collect. This goes back to David Weinberger's comment on metadata and Google Book Search.
Posted by ben vershbow at 12:07 PM | Comments (3)
tags: Libraries, Search and the Web , Social Software , books , folksonomy , librarian , library , metadata , reading , social_software , tagging , taxonomy
In this weekend's Boston Globe, David Weinberger delivers the metadata angle on Google Print:
...despite the present focus on who owns the digitized content of books, the more critical battle for readers will be over how we manage the information about that content-information that's known technically as metadata.

...we're going to need massive collections of metadata about each book. Some of this metadata will come from the publishers. But much of it will come from users who write reviews, add comments and annotations to the digital text, and draw connections between, for example, chapters in two different books.

As the digital revolution continues, and as we generate more and more ways of organizing and linking books-integrating information from publishers, libraries and, most radically, other readers-all this metadata will not only let us find books, it will provide the context within which we read them.
The book in the network is a barnacled spirit, carrying with it the sum of its various accretions. Each book is also its own library by virtue not only of what it links to itself, but of what its readers are linking to, of what its readers are reading. Each book is also a milk crate of earlier drafts. It carries its versions with it. A lot of weight for something physically weightless.
Posted by ben vershbow at 6:42 PM | Comments (0)
tags: ISBN , Libraries, Search and the Web , books , ebook , electronic_literature , folksonomy , google , google_print , hypertext , library , literature , marginalia , metadata , social_software , tagging , weinberger