Listing entries tagged with DRM
1 | 2 | 3
Chatting with someone from Random House's digital division on the day of the Kindle release, I suggested that dramatic price cuts on e-editions -? in other words, finally acknowledging that digital copies aren't worth as much (especially when they come corseted in DRM) as physical hard copies -? might be the crucial adjustment needed to at last blow open the digital book market. It seemed like a no-brainer to me that Amazon was charging way too much for its e-books (not to mention the Kindle itself). But upon closer inspection, it clearly doesn't add up that way. Tim O'Reilly explains why:
...the idea that there's sufficient unmet demand to justify radical price cuts is totally wrongheaded. Unlike music, which is quickly consumed (a song takes 3 to 4 minutes to listen to, and price elasticity does have an impact on whether you try a new song or listen to an old one again), many types of books require a substantial time commitment, and having more books available more cheaply doesn't mean any more books read. Regular readers already often have huge piles of unread books, as we end up buying more than we have time for. Time, not price, is the limiting factor.
Even assuming the rosiest of scenarios, Kindle readers are going to be a subset of an already limited audience for books. Unless some hitherto untapped reader demographic comes out of the woodwork, gets excited about e-books, buys Kindles, and then significantly surpasses the average human capacity for book consumption, I fail to see how enough books could be sold to recoup costs and still keep prices low. And without lower prices, I don't see a huge number of people going the Kindle route in the first place. And there's the rub.
Even if you were to go as far as selling books like songs on iTunes at 99 cents a pop, it seems highly unlikely that people would be induced to buy a significantly greater number of books than they already are. There's only so much a person can read. The iPod solved a problem for music listeners: carrying around all that music to play on your Disc or Walkman was a major pain. So a hard drive with earphones made a great deal of sense. It shouldn't be assumed that readers have the same problem (spine-crushing textbook-stuffed backpacks notwithstanding). Do we really need an iPod for books?
UPDATE: Through subsequent discussion both here and off the blog, I've since come around 360 back to my original hunch. See comment.
We might, maybe (putting aside for the moment objections to the ultra-proprietary nature of the Kindle), if Amazon were to abandon the per copy idea altogether and go for a subscription model. (I'm just thinking out loud here -? tell me how you'd adjust this.) Let's say 40 bucks a month for full online access to the entire Amazon digital library, along with every major newspaper, magazine and blog. You'd have the basic cable option: all books accessible and searchable in full, as well as popular feedback functions like reviews and Listmania. If you want to mark a book up, share notes with other readers, clip quotes, save an offline copy, you could go "premium" for a buck or two per title (not unlike the current Upgrade option, although cheaper). Certain blockbuster titles or fancy multimedia pieces (once the Kindle's screen improves) might be premium access only -? like HBO or Showtime. Amazon could market other services such as book groups, networked classroom editions, book disaggregation for custom assembled print-on-demand editions or course packs.
This approach reconceives books as services, or channels, rather than as objects. The Kindle would be a gateway into a vast library that you can roam about freely, with access not only to books but to all the useful contextual material contributed by readers. Piracy isn't a problem since the system is totally locked down and you can only access it on a Kindle through Amazon's Whispernet. Revenues could be shared with publishers proportionately to traffic on individual titles. DRM and all the other insults that go hand in hand with trying to manage digital media like physical objects simply melt away.
* * * * *
On a related note, Nick Carr talks about how the Kindle, despite its many flaws, suggests a post-Web2.0 paradigm for hardware:
If the Kindle is flawed as a window onto literature, it offers a pretty clear view onto the future of appliances. It shows that we're rapidly approaching the time when centrally stored and managed software and data are seamlessly integrated into consumer appliances - all sorts of appliances.

The problem with "Web 2.0," as a concept, is that it constrains innovation by perpetuating the assumption that the web is accessed through computing devices, whether PCs or smartphones or game consoles. As broadband, storage, and computing get ever cheaper, that assumption will be rendered obsolete. The internet won't be so much a destination as a feature, incorporated into all sorts of different goods in all sorts of different ways. The next great wave in internet innovation, in other words, won't be about creating sites on the World Wide Web; it will be about figuring out creative ways to deploy the capabilities of the World Wide Computer through both traditional and new physical products, with, from the user's point of view, "no computer or special software required."
That the Kindle even suggests these ideas signals a major advance over its competitors -? the doomed Sony Reader and the parade of failed devices that came before. What Amazon ought to be shooting for, however, (and almost is) is not an iPod for reading -? a digital knapsack stuffed with individual e-books -? but rather an interface to a networked library.
Posted by ben vershbow at 9:19 AM | Comments (18)
tags: DRM , amazon , books , copyright , ebooks , kindle , library , publishing , reading , textbook , the_networked_book
A couple more small items for the "content is free, networks are valuable" meme... these w/r/t television. First, this LA Times piece on CBS's "new internet strategy":
The idea is to let their online material be promiscuous: Instead of limiting their shows and other online video to CBS.com, the network is letting them couple with any website that people might visit.

"CBS is all about open, nonexclusive, multiple partnerships," said Quincy Smith, president of CBS Interactive.
A big part of this strategy is building an "audience network," and to this end the newly revamped CBS site provides a variety of fora - ?message boards, wikis, and user-generated media galleries - ?to try to capture some of the energy of its various fan communities. It's a fine line to tread, since fan culture is almost by definition self-organizing and thrives on a sort of semi-autonomy. But perhaps this only because the broadcasters have hitherto kept their distance (the occasional self-defeating lawsuit notwithstanding). It's an interesting (and somewhat yucky) question, and one that applies well beyond TV: to what extent can community be branded?
Compare this with NBC's more retentive move toward quasi-openness, post-iTunes, with NBC Direct, a service that offers free downloads of shows with auto-destruct DRM that wipes files after a week. I don't think either network's got it yet, but these are interesting experiments to watch.
In light of this, it's worth revisiting Mark Pesce's 2005 talk, "Piracy is Good?", available here on Google Video.
Posted by ben vershbow at 2:07 PM | Comments (0)
tags: CBS , DRM , community , copyright , fanculture , nbc , networks , television
Yesterday Adobe announced the release of their Digital Editions software. The software's been available in a beta format for a while; I downloaded it back then & didn't think it was interesting enough to write about. I've spent the past two days playing with the new release. I'm still not sure that it's worth attention, but I'll try to explain why it's not interesting.
What is Digital Editions? It's still a bit hard to tell. When I downloaded the beta version, it seemed to be a lightweight remake of Adobe Reader (née Acrobat Reader), Adobe's PDF viewer. The full release expands the capabilities of Digital Editions: in addition to being a PDF viewer, it's also a viewer for the new EPUB format. It also seems to be a front end for future web-based electronic book sellers, like Apple's iTunes for music. I'll go through each of these three uses in turn, but first a few notes on how Digital Editions works.
Digital Editions looks more like a web application than a desktop application. There are no menu bars to speak of, and its interface borrows nothing from the operating system. This is nice in that it feels like it's a reading environment: the interface is black-on-black, which should block out the distractions rampant on the desktop. Certainly there's none of the excess frippery that comes with Acrobat. However, the minimalism may be a bit excessive: it can be difficult to find black buttons and sliders to turn pages. (I'd be curious to see a review of the application from someone interested in accessibility for the disabled.) And some controls don't behave the way a user might expect: given a scrollbar along the right edge of a page, I expect to be able to click at a point where the slider isn't to move the slider. No such luck. Nor can you drag-select to change which part of the page is visible when the page is larger than the window, or drag a file into the window to open it.
Many of my problems with it stem from it not behaving like Mac software; I suspect a PC user would have similar complaints about it not behaving like PC software. This wouldn't matter if the interface were an improvement over the operating systems – in both there's plenty of room for improvement – but it's not a noticeable improvement. It's simply different, and that slows users down.
1. as a PDF reader
As mentioned above, Digital Editions initially seemed to be a remake of Adobe Reader, which has become hideously bloated with time. The current OS X version of the software is 108Mb; it's a slow program. While I look at a fair number of PDFs on a daily basis, I've long since stopped using Acrobat in any of its forms if I don't have to; Apple's Preview application is much faster and delivers almost all the functionality that I want out of a PDF reader. I suspect most other Mac users do the same. Acrobat can be useful if you're doing print pre-press work or working with forms, but neither of those are things I do that often.
Digital Editions does work as a PDF viewer. It's based around a library concept, so every time you open a PDF in DE, an image of the front page is saved in the library; you can click on this image to open it. Once you have a PDF, you can look at it as a single page, as a double page (even if the PDF hasn't been set up for this), at the width of the screen, or with a zoom widget that lets you use 18 levels of zoom from 87% to 919%. Here's how a PDF from /ubu editions looks:
Digital Editions is clearly built around a different PDF rendering engine than the rest of Adobe's software. (The FAQ explains that this engine was designed to be used on cellphones.) Image quality is noticeably worse than in Acrobat or Preview. Text is poorly aliased, and spacing between characters seems to be off for some fonts at some zoom levels. Graphics are notably grainy, and weird rendering artifacts sometimes show up. (In the image above, for example, note that there's a light blue rectangle under the text on the left. This doesn't show up in any other PDF viewer.) Some PDFs have extras that shouldn't have been there, blocks of background color, for example. One illustration of the color picker in the Sophie help PDF I made a couple weeks back turns a lovely shade of purple: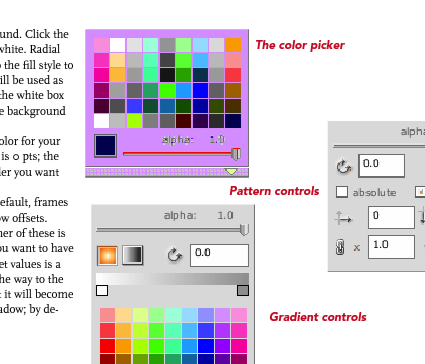 This is frustrating: one of Adobe's chief selling points of PDF as a format has been that a PDF will look the same on every machine in every viewer. Not this one. Adobe offers sample PDFs for download at their Digital Editions website (see below), which are similarly perplexing. Although these appear to be ordinary PDFs (with no restrictions), they don't behave like regular PDFs. They can't be opened in any PDF viewer that's not Digital Editions. Preview shows only blank pages; opening them in the current Adobe Reader takes you to a webpage where you can download Digital Editions; and opening them in an older version of Acrobat brings up a message asking whether I'd like to learn more about documents protected with Adobe DRM. Clicking yes takes me to a pre-Digital Editions Adobe ebooks page. PDFs have become popular because they can be used in a variety of ways across a variety of platforms. This seems like a significant step backwards for Adobe: interoperability is taking a back seat to DRM.
2. as an EPUB reader
But Digital Editions isn't only a PDF viewer; it's also a viewer for EPUB format. EPUB is the work of the IDPF; it's essentially an XHTML format for ebooks. You can get sample EPUBs from Adobe's website. If you have the latest version of Adobe InDesign, you can make them yourself (more about that in a bit). Here's the front page of their edition of Alice's Adventures in Wonderland:
Perhaps not surprisingly for an XHTML format, the experience of reading an EPUB in Digital Editions is similar to reading a web page. The text becomes as wide as the Digital Editions window; if the window is wide enough, the text may reflow into more columns. When this happens is unclear to me: in some books, the text column is much too wide to read well before the text is reflowed: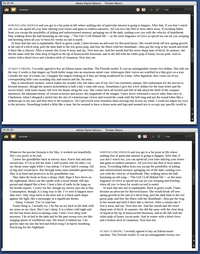 You can choose between 4 different font sizes; you can't change the fonts. (Some EPUB books include their own fonts; some use system fonts.) As in the Digital Editions PDF viewer, there's some bookmarking capability: you can select text and click "Add bookmark" to add a note at a particular point in the text. Books have tables of contents; there's a search function. You can print books (or, on a Mac, convert them to PDFs); this seems to be in two columns by default.
That seems to be all you can do with these books. The books that Adobe provides are noticeably ugly: most of the graphics included are low resolution. Text looks weirdly bad: in the default font, the italic text seems to actually be slanted roman characters, which you'd think Adobe would be embarrassed about. To my eye, the text looks much better in Safari or even Firefox. You can make this comparison if you rename the .epub file .zip and unzip it; in the resulting folder, you'll find a bunch of HTML pages, the images used, and fonts, if they're included.
Adobe trumpets the one-click creation of EPUB files in the new version of InDesign. So I fired up InDesign and made some EPUBs to see how those worked in Digital Editions. Try for yourself: here is a version of the Sophie help PDF in EPUB format. The results are a bit disappointing: all the graphics have been dumped at the end of the document, much of the formatting has been lost, and the table of contents I laboriously set up for PDF export has been eliminated. One-click conversion evidently doesn't allow exporting the fonts the document uses; and even though I have the Avenir and Scala fonts on my machine, it displays in the default Digital Editions font. The graphics do display in their real color, which is more than you can say for the way Digital Editions handles the PDF, though many of them do seem to have been converted to JPEGs in a lossy way.
As a whim, I fed InDesign's converter some foreign-language poetry to see how it would handle Unicode text. French came through okay. Lithuanian was mangled beyond recognition. Some Chinese poetry didn't work at all:
It's clear that this needs a lot of work before it can be taken seriously.
3. as a store
From Adobe's press release, it's clear that the main impetus behind Digital Editions is to provide a local front end for web-based selling of ebooks. The model that Adobe is working on becomes apparent when you open it up: the program maintains a library of all the PDF files you look at, in the same way that iTunes maintains a library of the MP3s on your computer:
Categories of books (on the left in the above screenshot) include "Borrowed" and "Purchased". The iTunes model of incorporating a store in software isn't necessarily a bad one: Linotype has embedded a font store in their free font management software, with some degree of success. It's hard to tell how well Adobe's integration will work. They've tried selling ebooks before with little success; I have a couple of PDFs bought from Amazon that I've long since despaired of ever opening again. (Some progress may be reported: clicking on these now now opens DigitalEditions, where I get a different cryptic error than I did before in Acrobat.) The same sort of problems are likely with ebooks designed for DigitalEditions; it does worry me that even PDFs without DRM can't be opened outside of the software.
DRM are probably the logical place to end this overlong review. One of the major reasons that we haven't spent much time covering the efforts of the IDPF is that it's devoted to standards that satisfy producers rather than consumers; many producers are concerned with locking down their products as thoroughly as possible. It may be a reasonable position from their perspective, but it's resulted in products that aren't particularly useful to consumers. DigitalEditions looks like it might be a big piece in the puzzle for DRM-focused producers. Unfortunately, readers are being neglected.
Posted by dan visel at 1:44 PM | Comments (13) | TrackBack
tags: DRM , adobe , digitaleditions , epub , pdf , reader , software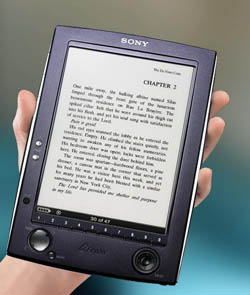 What to say about this thing? After multiple delays, it's finally out, and in time for the holidays. David Rothman, as usual, has provided exhaustive and entertaining coverage over at Teleread (here, here and here), and points to noteworthy reviews elsewhere.
It's no secret that our focus here at the Institute isn't on the kind of ebooks that simply transfer printed texts to the screen. We're much more interested in the new kinds of reading and writing that become possible in a digital, network environment. But even measuring Sony's new device against its own rather pedestrian goals -- replicating the print reading experience for the screen with digital enhancements -- I still have to say that the Reader fails. Here are the main reasons why:
1) Replicating the print reading experience?
E-ink is definitely different than reading off of an LCD screen. The page looks much more organic and is very gentle on the eyes, though the resolution is still nowhere near that of ink on paper. Still, e-ink is undeniably an advance and it's exciting to imagine where it might lead.
Other elements of print reading are conjured less successfully, most significantly, the book as a "random access" medium. Random access means that the reader has control over their place in the book, and over the rate and direction at which they move through it. The Sony Reader greatly diminishes this control. Though it does allow you to leave bookmarks, it's very difficult to jump from place to place unless those places have been intentionally marked. The numbered buttons (1 through 10) directly below the screen offer offer only the crudest browsing capability, allowing you to jump 10, 20, 30 percent etc. through the text.
Another thing affecting readability is that action of flipping pages is slowed down significantly by the rearrangement of the e-ink particles, producing a brief but disorienting flash every time you change your place. Another important element of print reading is the ability to make annotations, and on the Sony Reader this is disabled entirely. In fact, there are no inputs on the device at all -- no keyboard, no stylus -- apart from the basic navigation buttons. So, to sum up, the Sony Reader is really only intended for straight-ahead reading. Browsing, flipping and note-taking, which, if you ask me, are pretty important parts of reading a book, are disadvantaged.
2) Digital enhancements?
Ok, so the Sony Reader doesn't do such a great job at replicating print reading, but the benefits of having your books in digital form more than make up for that, right? Sadly, wrong. The most obvious advantage of going digital is storage capacity, the ability to store an entire library on a single device. But the Sony Reader comes with a piddling 64 megabytes of memory. 64! It seems a manufacturer would have to go out of its way these days to make a card that small. The new iPod Shuffle is barely bigger than a quarter and they start at one gigabyte. Sony says that 64 MB will store approximately 80 books, but throw a few images and audio files in there, and this will dramatically decrease.
So, storage stinks, but electronic text has other advantages. Searchability, for example. True! But the Sony Reader software doesn't allow you to search texts (!!!). I'd guess that this is due to the afore-mentioned time lags of turning pages in e-ink, and how that would slow down browsing through search results. And again, there's the matter of no inputs -- keyboard or stylus -- to enter the search queries in the first place.
Fine. Then how about internet connectivity? Sorry. There's none. Well then what about pulling syndicated content from the web for offline reading, i.e. RSS? You can do this, but only barely. Right now on the Sony Connect store, there are feeds available from about ten popular blogs and news sources. Why so few? Well, they plan to expand that soon, but apparently there are tricky issues with reformatting the feeds for the Reader, so they're building up this service piecemeal, without letting web publishers post their feeds directly. Last night, I attended a press event that Sony held at the W Hotel at Union Square, NYC, where I got to play around with one of the devices hooked up to the online store. I loaded a couple of news feeds onto my Reader and took a look. Pretty ghastly. Everything is dumped into one big, barely formatted file, where it's not terribly clear where one entry ends and another begins. Unrendered characters float here and there. They've got a long way to go on this one.
Which leads us to the fundamental problem with the Sony Reader, or with any roughly equivalent specialized e-reading device: the system is proprietary. Read David Rothman's post for the technical nuances of this, but the basic fact is that the Sony Reader will only allow you to read ebooks that have been formatted and DRMed specifically for the Sony Reader. To be fair, it will let you upload Microsoft Word documents and unencrypted PDFs, but for any more complex, consciously designed electronic book, you've got to go through Sony via the Sony Connect store. Sony not only thinks that it can get away with this lock-in strategy but that, taking its cue from the iPod/iTunes dynamo, this is precisely the formula for success. But the iPod analogy is wrong for a number of reasons, biggest among them that books and music are very different things. I'll address this in another post shortly.
I've said it before and I'll say it again: ebooks are a dead end. Will it be convenient some day to be able to read print books digitally? Certainly. Will the Sony Reader find a niche? Maybe (but Sony Ericsson's phones look far more dynamic than this feeble device). Is this the future of reading and writing? I don't think so. Ebooks and their specialized hardware are a red herring in a much bigger and more mysterious plot that is still unfolding.
See also:
- phony reader 2: the ipod fallacy
- phony bookstore
- an open letter to claire israel

Posted by ben vershbow at 3:53 PM | Comments (5) | TrackBack
tags: DRM , e-ink , ebook , ipod , publishing , reading , sony , sonyreader
A couple of weeks ago, Sun Microsystems released specifications and source code for DReaM, an open-source, "royalty-free digital rights management standard" designed to operate on any certified device, licensing rights to the user rather than to any particular piece of hardware. DReaM (Digital Rights Management -- everywhere availble) is the centerpiece of Sun's Open Media Commons initiative, announced late last summer as an alternative to Microsoft, Apple and other content protection systems. Yesterday, it was the subject of Eliot Van Buskirk's column in Wired:
Sun is talking about a sea change on the scale of the switch from the barter system to paper money. Like money, this standardized DRM system would have to be acknowledged universally, and its rules would have to be easily converted to other systems (the way U.S. dollars are officially used only in America but can be easily converted into other currency). Consumers would no longer have to negotiate separate deals with each provider in order to access the same catalog (more or less). Instead, you -- the person, not your device -- would have the right to listen to songs, and those rights would follow you around, as long as you're using an approved device.
The OMC promises to "promote both intellectual property protection and user privacy," and certainly DReaM, with its focus on interoperability, does seem less draconian than today's prevailing systems. Even Larry Lessig has endorsed it, pointing with satisfaction to a "fair use" mechanism that is built into the architecture, ensuring that certain uses like quotation, parody, or copying for the classroom are not circumvented. Van Buskirk points out, however, that the fair use protection is optional and left to the discretion of the publisher (not a promising sign). Interestingly, the debate over DReaM has caused a rift among copyright progressives. Van Buskirk points to an August statement from the Electronic Frontier Foundation criticizing DReaM for not going far enough to safeguard fair use, and for falsely donning the mantle of openness:
Using "commons" in the name is unfortunate, because it suggests an online community committed to sharing creative works. DRM systems are about restricting access and use of creative works.
True. As terms like "commons" and "open source" seep into the popular discourse, we should be increasingly on guard against their co-option. Yet I applaud Sun for trying to tackle the interoperability problem, shifting control from the manufacturers to an independent standards body. But shouldn't mandatory fair use provisions be a baseline standard for any progressive rights scheme? DReaM certainly looks like less of a nightmare than plain old DRM but does it go far enough?
Posted by ben vershbow at 1:04 AM | Comments (1) | TrackBack
tags: Copyright and Copyleft , DRM , copyright , creative_commons , dream , fair_use , lessig , open_source , privacy , sun , trust
One of the most exciting things about Sophie, the open-source software the institute is currently developing, is that it will enable readers and writers to have conversations inside of books -- both live chats and asynchronous exchanges through comments and social annotation. I touched on this idea of books as social software in my most recent "The Book is Reading You" post, and we're exploring it right now through our networked book experiments with authors Mitch Stephens, and soon, McKenzie Wark, both of whom are writing books and opening up the process (with a little help from us) to readers. It's a big part of our thinking here at the institute.
Catching up with some backlogged blog reading, I came across a little something from David Weinberger that suggests he shares our enthusiasm:
I can't wait until we're all reading on e-books. Because they'll be networked, reading will become social. Book clubs will be continuous, global, ubiquitous, and as diverse as the Web.

And just think of being an author who gets to see which sections readers are underlining and scribbling next to. Just think of being an author given permission to reply.

I can't wait.
Of course, ebooks as currently envisioned by Google and Amazon, bolted into restrictive IP enclosures, won't allow for this kind of exchange. That's why we need to be thinking hard right now about an alternative electronic publishing system. It may seem premature to say this -- now, when electronic books are a marginal form -- but before we know it, these companies will be the main purveyors of all media, including books, and we'll wonder what the hell happened.
Posted by ben vershbow at 7:28 PM | Comments (1) | TrackBack
tags: DRM , amazon , books , conversation , copyright , david_weinberger , ebooks , google , google_book_search , publishing , reading , social_software , the_networked_book , writing