I was at the "Democratization and the Networked Public Sphere" panel on Friday night in a room full of flagrantly well-read attendees. But it was the panelists who shone. They fully grasped the challenges facing the network as it emerges as the newest theater in the political and social struggle for a democratic society. It was the best panel I've seen in a long time, with a full spectrum of views represented: Ethan Zuckerman self-deprecatingly described himself as "one of those evil capitalists," whose stance clearly reflected the values of market liberalism. On the opposite side, Trebor Scholz raised a red flag in warning against the spectre of capitalism that hovers over the 'user-generated content' movement. In between (literally—she sat between them), Danah Boyd spoke eloquently about the characteristics of a networked social space, and the problems traditional social interaction models face when superimposed on the network.
Danah spoke first, contrasting the characteristics of online and offline public spaces, and continuing on to describe the need for public space at a time when we seem obsessed with privacy. The problem with limiting ourselves to discussions of privacy, she said, is that we forget that public space only exists when we are using it. She then went on to talk about her travels and encounters with the isolation of exurban life—empty sidewalks, the physical distances separating teens from their social peers, the privatization of social space (malls). Her point was that with all this privacy and private space, the public space is being neglected. What is important though is to recognize how networked spaces are becoming a space for public life. Even more important: these new public spaces are under threat as much as the real life publics that have been stripped away by suburban isolation.
Ethan Zuckerman began with a presentation of the now infamous 1984 Mac ad, remixed to star Hillary Clinton. He then pointed out that a strikingly similar remix had been made in 2004 by the media artist Astrubal, featuring Tunisian dictator Zine el-Abidine Ben Ali. Zuckerman was excited because it pointed to the power of the remix, and the network as an alternative vector for dissent in a regime with a highly controlled press. While the ad is a deadly serious matter in Tunisia, in America it is just smear. The Hillary ad seems to be a turning point in media representations on the network in the US. Zuckerman asserted that 21st century political campaigns will be different than 20th century campaigns precisely because of the power of citizen generated media combined with the distributive power of the network.
Trebor Scholz warned that unbridled enthusiasm for user-generated content may mask an undercurrent of capitalist exploitation, even though most rhetoric about user-generated content proposes exactly the opposite. In most descriptions, user-generated content is an act of personal expression, and has value as such: Scholz referenced Yochai Benkler's notion that people gain agency as they express themselves as speakers, and that this characteristic may transfer to the real world, encouraging a politically active citizenry. But Trebor's main point was that the majority of time spent on self-expression finds its way onto a small number of sites—YouTube and MySpace in particular. He had some staggering numbers for MySpace: 12% of all time spent online in America is dedicated to MySpace alone. The dirty secret is that someone owns MySpace, and it isn't the content producers. It's Rupert Murdoch. Google, of course, owns YouTube. And therein lies the crux of Trebor's argument: someone else is getting rich off a user's personal expression, and the creators cannot claim ownership of their own work. They produce content that nets only social capital, while the owners take in millions of dollars.
It's a tricky point to make, since Boyd noted that most producers are using these services expressly to gain social capital—monetary concerns don't enter the equation. I have a vague sense of discomfort in taking a stance that is ultimately patronizing to producers, saying "You shouldn't do this for fear of enriching someone else." But I can't get away from the idea that Trebor is right —users are locked in to a site by their social ties, and the companies hold a great deal of power over them. Further, that power is not just social but also legal: the companies own the content.

On the other hand, users have a great deal of power over the companies, a fact made plain by the recent protest against the 'News Feed' feature added to Facebook. The feature caused a huge uproar in the Facebook community and a call for boycotting Facebook spread—ironically—using the News Feed feature. Facebook removed the feature. responded by allowing users to control what went in the feeds. [updated 4.17.07. thanks to andrew s.]
This discussion spun off into another one: what does it mean that 700,000 users found it in their willpower to protest a feature on Facebook, when only a portion of those would be as active in any other public sphere? Boyd claims that this is a signal that networked public spaces are a viable arena for public participation. Zuckerman would agree—the network can activate a community response in the real world. Dissidents working against repressive governments have used the network to amplify their voices and illuminate the plight of people and nations ignored by the mainstream media. This is reason for optimism. In America we've recently seen national and regional politics embracing networked spaces (see Obama in MySpace). Let's hope they do so in good faith, and also embrace the spirit of openness and collaboration that is an essential part of the network.
I have hope, but I am also circumspect. The networked public space can serve the needs of a democracy, but it can also devolve into venality. There is a difference between using the network to further human freedom and the lesson that I take away from the Facebook uprising. What happened on Facebook is not a triumph of a civil polity; it's more like the plaintive cry in a theater when the projector breaks. Public outcry over a trivial action doesn't improve our democracy—it just shows how far into triviality we have fallen.

Ethan Zuckerman's follow up to the event
Trebor's presentation and follow up to the event

Posted by jdwilbur at 02:06 AM | Comments (3) | TrackBack
tags: capitalism , danah_boyd , democracy , ethan_zuckerman , hillary_ad , myspace , networked_publics , panel , politics , trebor_scholz , user_generated_content , youtube
New Yorkers take note! This just came in from Trebor Scholz at the Institute for Distributed Creativity: a terrific-sounding event next Friday evening at The New School. Really wish I could attend but I'll be doing this in London. Details below.
Democratization and the Networked Public Sphere
* Panel Discussion with dana boyd, Trebor Scholz, and Ethan Zuckerman
Friday, April 13, 2007, 6:30 - 8:30 p.m.
The New School, Theresa Lang Community and Student Center
55 West 13th Street, 2nd floor
New York City
Admission: $8, free for all students, New School faculty, staff, and alumni with valid ID
This evening at the Vera List Center for Art & Politics will discuss the potential of sociable media such as weblogs and social networking sites to democratize society through emerging cultures of broad participation.
danah boyd will argue four points. 1) Networked publics are changing the way public life is organized. 2) Our understandings of public/private are being radically altered 3) Participation in public life is critical to the functioning of democracy. 4) We have destroyed youths' access to unmediated public life. Why are we now destroying their access to mediated public life? What consequences does this have for democracy?
Trebor Scholz will present the paradox of affective immaterial labor. Content generated by networked publics was the main reason for the fact that the top ten sites on the World Wide Web accounted for most Internet traffic last year. Community is the commodity, worth billions. The very few get even richer building on the backs of the immaterial labor of very very many. Net publics comment, tag, rank, forward, read, subscribe, re-post, link, moderate, remix, share, collaborate, favorite, write. They flirt, work, play, chat, gossip, discuss, learn and by doing so they gain much: the pleasure of creation, knowledge, micro-fame, a "home," friendships, and dates. They share their life experiences and archive their memories while context-providing businesses get value from their attention, time, and uploaded content. Scholz will argue against this naturalized "factory without walls" and will demand for net publics to control their own contributions.
Ethan Zuckerman will present his work on issues of media and the developing world, especially citizen media, and the technical, legal, speech, and digital divide issues that go alongside it. Starting out with a critique of cyberutopianism, Zuckerman will address citizen media and activism in developing nations, their potential for democratic change, the ways that governments (and sometimes corporations) are pushing back on their ability to democratize.
For more information about the panelists go here.
Posted by ben vershbow at 02:05 PM | Comments (0) | TrackBack
tags: democracy , event , network , newyork , socialweb
I've written a couple of times recently about alternate reality gaming as an emergent genre of Web-native storytelling. But one of the things that's puzzled and frustrated me is the fact that the stories played out in most of these games tend to revolve around sinister cults, reborn gods, out-of-control AIs, government conspiracies and suchlike: the bread-and-butter paranoias that permeate the Web. No criticism here, I should add. Asking 'What if all this were true?' can kick-start a very entertaining daydream.
But in exploring these games, and reading around them, it becomes clear that the way these stories are told is as interesting as their content. In particular, there is a tendency (see this paper by academic and game designer Jane McGonigal for example) for ARG-style collaborative problem-solving to escape the boundaries of gaming and become a real-world way for distributed groups of people to address a problem they cannot fix by themselves.
In addition, the founding dramatic convention is "This Is Not A Game." That is, the games are supposed to leak out into players' lives. And this, combined with a chance to practice widespread collaborative problem-solving, is a phenomenally powerful and intriguingly democratic artistic form. So why, I wanted to know, is no-one using it to address contemporary politics?
No sooner do I formulate the thought than I discover that McGonigal's latest project, trailed in a talk she gave at the 2007 San Francisco game developers' conference , is an ARG called World Without Oil. Its central characters believe that an oil crisis is approaching on April 30 - the game's launch date - and are trying to spread the word. Or are they...? Who is trying to stop them...? And we're off.
I'll be following this one closely. Rather than taking a fantastical theme, it invites players to think seriously about a situation which is increasingly imaginable in the near future. And it seems that people are ready to engage: since its appearance yesterday, the the Unfiction discussion thread about the game is already many pages long, and mixes discussion of the game with serious musings about the very real possibility of a world without oil.
It also looks as though it's going to go way beyond asking its players to solve ROT-13 encryption for the next clue. In this Gamasutra interview McGonigal explains her ideas about collective intelligence and gaming, and outlines the way in which World Without Oil will be not just a game but a collaborative storytelling process. Along with the narrative of the main fictional characters, players will be invited to create blogs detailing - as if it were happening - the problems they would face in a (so far) fictional world without oil. And the game will respond. So, in effect, it will invite players to take part in a huge collaborative exercise in imagining a very possible future.
Looking at this game, I was reminded of the RSA's response to the Stern report on climate change, where it was pointed out that reactions to climate change and the like often lurch between optimism and pessimism without progressing beyond high emotion to imaginative or practical engagement with the situation. On a similar tack, Dougald Hine wrote an article recently for opendemocracy discussing climate change as a challenge to the democratic imagination: "Whether or not we succeed technically in mitigating its effects, it is all too easy to envisage the result as a more or less unpleasant authoritarian future. The task is to imagine and bring about a future which can accommodate both austerity and autonomy."
It may be too soon to tell. But if it goes well, I have some hope that World Without Oil may manage to engage not just collective fear but a collective and collaborative imagination to address some increasingly urgent questions.
Posted by sebastian mary at 06:57 AM | Comments (1) | TrackBack
tags: ARG , collaboration , democracy , environment , fiction , net_native
Banning books may be easy, but banning blogs is an exhausting game of Whack-a-Mole for politically repressive regimes like China and Iran.

Farid Pouya, recapping recent noteworthy posts from the Iranian blogosphere last week on Global Voices, refers to one blogger's observations on the chilled information climate under president Mahmoud Ahmadinejad:
Andishe No (means New Thought) fears that country was pushed back to pre Khatami's period concerning censorship. He believes that even if many books get banned in twenty first century, government can not stop people getting information. Government wants to control weblogs in Iran and put them in a guideline.
Unlike the fleas that swarm American media and politics, Iran's cyber-dissidents frequently are the sole conduit for uncensored information -- an underground army of chiseler's, typing away at the barricades. Here we see the blog as a building block for civil society. Electronic samizdat. Basic life forms in a free media ecology, instilling new habits in both writers and readers: habits of questioning, of digging deeper. Individual sites may get shut down, individual bloggers may be jailed but the information finds a way.
Though the situation in Iran is far from enviable, there is something attractive about the moral clarity of its dissident blogging. If one wants the truth, one must find alternatives -- it's that simple. But with alternative media in the United States -- where the media ecology is highly developed and corruption more subtle -- it's hard to separate the wheat from the chaff. Political blogs in America may resound with outrage and indignation, but it's the kind that comes from a life of abundance. All too often, political discourse is not something that points toward action, but an idle picking at the carcass of liberty.
Sure, we've seen blogs make a difference in politics (Swift Boats, Rathergate, Trent Lott -- 2004 was the "year of the blog"), but generally as a furtherance of partisan aims -- a way of mobilizing the groundtroops within a core constituency that has already decided what it believes.
When one looks at this map (admittedly a year old) of the American political blogosphere, one notes with dismay that there are in fact two spheres, mapping out all too cleanly to the polarized reality on the ground. One begins to suspect that America's political blogs are merely a pressure valve for a population that, though ill at ease, is still ultimately paralyzed.
Posted by ben vershbow at 11:13 AM | Comments (0) | TrackBack
tags: Ahmadinejad , Blogosphere , Transliteracies , blogging , blogs , democracy , enlightenment , iran , journalism , media , media_ecology , opposition , politics , samizdat

A number of influential folks around the blogosphere are reluctantly endorsing Google's decision to play by China's censorship rules on its new Google.cn service -- what one local commentator calls a "eunuch version" of Google.com. Here's a sampler of opinions:
Ethan Zuckerman ("Google in China: Cause For Any Hope?"):
It's a compromise that doesn't make me happy, that probably doesn't make most of the people who work for Google very happy, but which has been carefully thought through...

In launching Google.cn, Google made an interesting decision - they did not launch versions of Gmail or Blogger, both services where users create content. This helps Google escape situations like the one Yahoo faced when the Chinese government asked for information on Shi Tao, or when MSN pulled Michael Anti's blog. This suggests to me that Google's willing to sacrifice revenue and market share in exchange for minimizing situations where they're asked to put Chinese users at risk of arrest or detention... This, in turn, gives me some cause for hope.
Rebecca MacKinnon ("Google in China: Degrees of Evil"):
At the end of the day, this compromise puts Google a little lower on the evil scale than many other internet companies in China. But is this compromise something Google should be proud of? No. They have put a foot further into the mud. Now let's see whether they get sucked in deeper or whether they end up holding their ground.
David Weinberger ("Google in China"):
If forced to choose -- as Google has been -- I'd probably do what Google is doing. It sucks, it stinks, but how would an information embargo help? It wouldn't apply pressure on the Chinese government. Chinese citizens would not be any more likely to rise up against the government because they don't have access to Google. Staying out of China would not lead to a more free China.
Doc Searls ("Doing Less Evil, Possibly"):
I believe constant engagement -- conversation, if you will -- with the Chinese government, beats picking up one's very large marbles and going home. Which seems to be the alternative.
Much as I hate to say it, this does seem to be the sensible position -- not unlike opposing America's embargo of Cuba. The logic goes that isolating Castro only serves to further isolate the Cuban people, whereas exposure to the rest of the world -- even restricted and filtered -- might, over time, loosen the state's monopoly on civic life. Of course, you might say that trading Castro for globalization is merely an exchange of one tyranny for another. But what is perhaps more interesting to ponder right now, in the wake of Google's decision, is the palpable melancholy felt in the comments above. What does it reveal about what we assume -- or used to assume -- about the internet and its relationship to politics and geography?
A favorite "what if" of recent history is what might have happened in the Soviet Union had it lasted into the internet age. Would the Kremlin have managed to secure its virtual borders? Or censor and filter the net into a state-controlled intranet -- a Union of Soviet Socialist Networks? Or would the decentralized nature of the technology, mixed with the cultural stirrings of glasnost, have toppled the totalitarian state from beneath?
Ten years ago, in the heady early days of the internet, most would probably have placed their bets against the Soviets. The Cold War was over. Some even speculated that history itself had ended, that free-market capitalism and democracy, on the wings of the information revolution, would usher in a long era of prosperity and peace. No borders. No limits.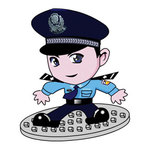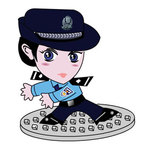 "Jingjing" and "Chacha." Internet police officers from the city of Shenzhen who float over web pages and monitor the cyber-traffic of local users.
It's interesting now to see how exactly the opposite has occurred. Bubbles burst. Towers fell. History, as we now realize, did not end, it was merely on vacation; while the utopian vision of the internet -- as a placeless place removed from the inequities of the physical world -- has all but evaporated. We realize now that geography matters. Concrete features have begun to crystallize on this massive information plain: ports, gateways and customs houses erected, borders drawn. With each passing year, the internet comes more and more to resemble a map of the world.
Those of us tickled by the "what if" of the Soviet net now have ourselves a plausible answer in China, who, through a stunning feat of pipe control -- a combination of censoring filters, on-the-ground enforcement, and general peering over the shoulders of its citizens -- has managed to create a heavily restricted local net in its own image. Barely a decade after the fall of the Iron Curtain, we have the Great Firewall of China.
And as we've seen this week, and in several highly publicized instances over the past year, the virtual hand of the Chinese government has been substantially strengthened by Western technology companies willing to play by local rules so as not to be shut out of the explosive Chinese market. Tech giants like Google, Yahoo! , and Cisco Systems have proved only too willing to abide by China's censorship policies, blocking certain search returns and politically sensitive terms like "Taiwanese democracy," "multi-party elections" or "Falun Gong". They also specialize in precision bombing, sometimes removing the pages of specific users at the government's bidding. The most recent incident came just after New Year's when Microsoft acquiesced to government requests to shut down the My Space site of popular muckraking blogger Zhao Jing, aka Michael Anti.

One of many angry responses that circulated the non-Chinese net in the days that followed.
We tend to forget that the virtual is built of physical stuff: wires, cable, fiber -- the pipes. Whoever controls those pipes, be it governments or telecomms, has the potential to control what passes through them. The result is that the internet comes in many flavors, depending in large part on where you are logging in. As Jack Goldsmith and Timothy Wu explain in an excellent article in Legal Affairs (adapted from their forthcoming book Who Controls the Internet? : Illusions of a Borderless World), China, far from being the boxed-in exception to an otherwise borderless net, is actually just the uglier side of a global reality. The net has been mapped out geographically into "a collection of nation-state networks," each with its own politics, social mores, and consumer appetites. The very same technology that enables Chinese authorities to write the rules of their local net enables companies around the world to target advertising and gear services toward local markets. Goldsmith and Wu:
...information does not want to be free. It wants to be labeled, organized, and filtered so that it can be searched, cross-referenced, and consumed....Geography turns out to be one of the most important ways to organize information on this medium that was supposed to destroy geography.
Who knows? When networked devices truly are ubiquitous and can pinpoint our location wherever we roam, the internet could be censored or tailored right down to the individual level (like the empire in Borges' fable that commissions a one-to-one map of its territory that upon completion perfectly covers every corresponding inch of land like a quilt).
The case of Google, while by no means unique, serves well to illustrate how threadbare the illusion of the borderless world has become. The company's famous credo, "don't be evil," just doesn't hold up in the messy, complicated real world. "Choose the lesser evil" might be more appropriate. Also crumbling upon contact with air is Google's famous mission, "to make the world's information universally accessible and useful," since, as we've learned, Google will actually vary the world's information depending on where in the world it operates.
Google may be behaving responsibly for a corporation, but it's still a corporation, and corporations, in spite of well-intentioned employees, some of whom may go to great lengths to steer their company onto the righteous path, are still ultimately built to do one thing: get ahead. Last week in the States, the get-ahead impulse happened to be consonant with our values. Not wanting to spook American users, Google chose to refuse a Dept. of Justice request for search records to aid its anti-pornography crackdown. But this week, not wanting to ruffle the Chinese government, Google compromised and became an agent of political repression. "Degrees of evil," as Rebecca MacKinnon put it.
The great irony is that technologies we romanticized as inherently anti-tyrannical have turned out to be powerful instruments of control, highly adaptable to local political realities, be they state or market-driven. Not only does the Chinese government use these technologies to suppress democracy, it does so with the help of its former Cold War adversary, America -- or rather, the corporations that in a globalized world are the de facto co-authors of American foreign policy. The internet is coming of age and with that comes the inevitable fall from innocence. Part of us desperately wanted to believe Google's silly slogans because they said something about the utopian promise of the net. But the net is part of the world, and the world is not so simple.
Posted by ben vershbow at 03:57 PM | Comments (3)
tags: ISP , Libraries, Search and the Web , Network_Freedom , broadband , capitalism , china , cyberspace , democracy , evil , falun_gong , free_speech , geography , globalization , glocalization , good , google , human_rights , search , spectrum , technology