Listing entries tagged with Copyright and Copyleft
1 | 2 | 3 | 4 | 5 | 6
A couple of weeks ago, Sun Microsystems released specifications and source code for DReaM, an open-source, "royalty-free digital rights management standard" designed to operate on any certified device, licensing rights to the user rather than to any particular piece of hardware. DReaM (Digital Rights Management -- everywhere availble) is the centerpiece of Sun's Open Media Commons initiative, announced late last summer as an alternative to Microsoft, Apple and other content protection systems. Yesterday, it was the subject of Eliot Van Buskirk's column in Wired:
Sun is talking about a sea change on the scale of the switch from the barter system to paper money. Like money, this standardized DRM system would have to be acknowledged universally, and its rules would have to be easily converted to other systems (the way U.S. dollars are officially used only in America but can be easily converted into other currency). Consumers would no longer have to negotiate separate deals with each provider in order to access the same catalog (more or less). Instead, you -- the person, not your device -- would have the right to listen to songs, and those rights would follow you around, as long as you're using an approved device.
The OMC promises to "promote both intellectual property protection and user privacy," and certainly DReaM, with its focus on interoperability, does seem less draconian than today's prevailing systems. Even Larry Lessig has endorsed it, pointing with satisfaction to a "fair use" mechanism that is built into the architecture, ensuring that certain uses like quotation, parody, or copying for the classroom are not circumvented. Van Buskirk points out, however, that the fair use protection is optional and left to the discretion of the publisher (not a promising sign). Interestingly, the debate over DReaM has caused a rift among copyright progressives. Van Buskirk points to an August statement from the Electronic Frontier Foundation criticizing DReaM for not going far enough to safeguard fair use, and for falsely donning the mantle of openness:
Using "commons" in the name is unfortunate, because it suggests an online community committed to sharing creative works. DRM systems are about restricting access and use of creative works.
True. As terms like "commons" and "open source" seep into the popular discourse, we should be increasingly on guard against their co-option. Yet I applaud Sun for trying to tackle the interoperability problem, shifting control from the manufacturers to an independent standards body. But shouldn't mandatory fair use provisions be a baseline standard for any progressive rights scheme? DReaM certainly looks like less of a nightmare than plain old DRM but does it go far enough?
Posted by ben vershbow at 1:04 AM | Comments (1) | TrackBack
tags: Copyright and Copyleft , DRM , copyright , creative_commons , dream , fair_use , lessig , open_source , privacy , sun , trust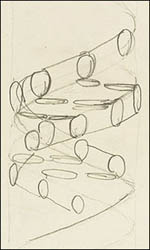 Quite surprisingly, Michael Crichton has an excellent op-ed in the Sunday Times on the insane overreach of US patent law, the limits of which are to be tested today before the Supreme Court. In dispute is the increasingly common practice of pharmaceutical companies, research labs and individual scientists of patenting specific medical procedures or tests. Today's case deals specifically with a basic diagnostic procedure patented by three doctors in 1990 that helps spot deficiency in a certain kind of Vitamin B by testing a patient's folic acid levels.
Under current laws, a small royalty must be paid not only to perform the test, but to even mention it. That's right, writing it down or even saying it out loud requires payment. Which means that I am in violation simply for describing it above. As is the AP reporter whose story filled me in on the details of the case. And also Michael Crighton for describing the test in his column (an absurdity acknowledged in his title: "This Essay Breaks the Law"). Need I (or may I) say more?
And patents can reach far beyond medical procedures that prevent diseases. They can be applied to the diseases themselves, even to individual genes. Crichton:
...the human genome exists in every one of us, and is therefore our shared heritage and an undoubted fact of nature. Nevertheless 20 percent of the genome is now privately owned. The gene for diabetes is owned, and its owner has something to say about any research you do, and what it will cost you. The entire genome of the hepatitis C virus is owned by a biotech company. Royalty costs now influence the direction of research in basic diseases, and often even the testing for diseases. Such barriers to medical testing and research are not in the public interest. Do you want to be told by your doctor, "Oh, nobody studies your disease any more because the owner of the gene/enzyme/correlation has made it too expensive to do research?"
It seems everything -- even "laws of nature, natural phenomena and abstract ideas" (AP) -- is information that someone can own. It goes far beyond the digital frontiers we usually talk about here. Yet the expansion of the laws of ownership -- what McKenzie Wark calls "the relentless abstraction of the world" -- essentially digitizes everything, and everyone.
Posted by ben vershbow at 7:28 AM | Comments (1) | TrackBack
tags: Copyright and Copyleft , IP , copyright , genome , ideas , nature , patents , supreme_court
News broke quietly a little over a week ago that Google will begin selling full digital book editions from participating publishers. This will not, Google makes clear, extend to books from its Library Project -- still a bone of contention between Google and the industry groups that have brought suit against it for scanning in-copyright works (75% of which -- it boggles the mind -- are out of print).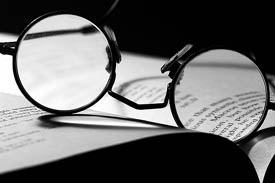 Let's be clear: when they say book, they mean it in a pretty impoverished sense. Google's ebooks will not be full digital editions, at least not in the way we would want: with attention paid to design and the reading experience in general. All you'll get is the right to access the full scanned edition online.
Much like Amazon's projected Upgrade program, you're not so much buying a book as a searchable digital companion to the print version. The book will not be downloadable, printable or shareable in any way, save for inviting a friend to sit beside you and read it on your screen. Fine, so it will be useful to have fully searchable texts, but what value is there other than this? And what might this suggest about the future of publishing as envisioned by companies like Google and Amazon, not to mention the future of our right to read?
About a month ago, Cory Doctorow wrote a long essay on Boing Boing exhorting publishers to wake up to the golden opportunities of Book Search. Not only should they not be contesting Google's fair use claim, he argued, but they should be sending fruit baskets to express their gratitude. Allowing books to dwell in greater numbers on the internet saves them from falling off the digital train of progress and from losing relevance in people's lives. Doctorow isn't talking about a bookstore (he wrote this before the ebook announcement), or a full-fledged digital library, but simply a searchable index -- something that will make books at least partially functional within the social sphere of the net.
This idea of the social life of books is crucial. To Doctorow it's quite plain that books -- as entertainment, as a diversion, as a place to stick your head for a while -- are losing ground in a major way not only to electronic media like movies, TV and video games (that's been happening for a while), but to new social rituals developing on the net and on portable networked devices.
Though print will always offer inimitable pleasures, the social life of media is moving to the network. That's why we here at if:book care so much about issues, tangential as they may seem to the future of the book, like network neutrality, copyright and privacy. These issues are of great concern because they make up the environment for the future of reading and writing. We believe that a free, neutral network, a progressive intellectual property system, and robust safeguards for privacy are essential conditions for an enlightened digital age.
We also believe in understanding the essence of the new medium we are in the process of inventing, and about understanding the essential nature of books. The networked book is not a block on a shelf -- it is a piece of social software. A web of revisions, interactions, annotations and references. "A piece of intellectual territory." It can't be measured in copies. Yet publishers want electronic books to behave like physical objects because physical objects can be controlled. Sales can be recorded, money counted. That's why the electronic book market hasn't materialized. Partly because people aren't quite ready to begin reading books on screens, but also because publishers have been so half-hearted about publishing electronically.
They can't even begin to imagine how books might be enhanced and expanded in a digital environment, so terrified are they of their entire industry being flushed down the internet drain -- with hackers and pirates cannibalizing the literary system. To them, electronic publishing is grit your teeth and wait for the pain. A book is a PDF, some DRM and a prayer. Which is why they've reacted so heavy-handedly to Google's book project. If they lose even a sliver of control, so they are convinced, all hell could break loose.
But wait! Google and Amazon are here to save the day. They understand the internet (naturally -- they helped invent it). They understand the social dimension of online spaces. They know how to harness network effects and how to read the embedded desires of readers in the terms and titles for which they search. So they understand the social life of books on the network, right? And surely they will come up with a vision for electronic publishing that is both profitable for the creators and every bit as rich as the print culture that preceded it. Surely the future of the book lies with them?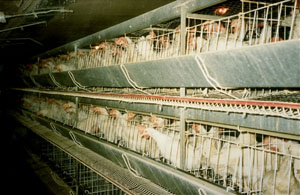 Sadly, judging by their initial moves into electronic books, we should hope it does not. Understanding the social aspect of the internet also enables you to cunningly restrict it, more cunningly than any print publishers could figure out how to do.
Yes, they'll give you the option of buying a book that lives its life on line, but like a chicken in a poultry plant, packed in a dark crate stuffed with feed tubes, it's not much of a life. Or better, let's evaluate it in the terms of a social space -- say, a seminar room or book discussion group. In a Google/Amazon ebook you will not be allowed to:
- discuss
- quote
- share
- make notes
- make reference
- build upon
This is the book as antisocial software. Reading is done in solitary confinement, closely monitored by the network overseers. Google and Amazon's ebooks are essentially, as David Rothman puts it on Teleread, "in a glass case in a museum." Get too close to the art and motion sensors trigger the alarm.
So ultimately we can't rely on the big technology companies to make the right decisions for our future. Google's "fair use" claim for building its books database may be bold and progressive, but its idea of ebooks clearly is not. Even looking solely at the searchable database component of the project, let's not forget that Google's ranking system (as Siva Vaidhyanathan has repeatedly reminded us) is non-transparent. In other words, when we do a search on Google Books, we don't know why the results come up in the order that they do. It's non-transparent librarianship. Information mystery rather than information science. What secret algorithmic processes are reordering our knowledge and, over time, reordering our minds? And are they immune to commercial interests? And shouldn't this be of concern to the libraries who have so blithely outsourced the task of digitization? I repeat: Google will make the right choices only when it is in its interest to do so. Its recent actions in China should leave no doubt.
Perhaps someday soon they'll ease up a bit and let you download a copy, but that would only be because the hardware we are using at that point will be fitted with a "trusted computing" module, which which will monitor what media you use on your machine and how you use it. At that point, copyright will quite literally be the system. Enforcement will be unnecessary since every potential transgression will be preempted through hardwired code. Surveillance will be complete. Control total. Your rights surrendered simply by logging on.
Posted by ben vershbow at 7:24 AM | Comments (4) | TrackBack
tags: Copyright and Copyleft , DRM , books , copyright , ebooks , google , google_book_search , privacy , publishing , reading , search , social_software , the_networked_book , trusted_computing
In Ben's recent post, he noted that Larry Lessig worries about the trend toward a read-only internet, the harbinger of which is iTunes. Apple's latest (academic) venture is iTunes U, a project begun at Duke and piloted by seven universities -- Stanford, it appears, has been most active.
Since they are looking for a large scale roll out of iTunes U for 2006-07, and since we have many podcasting faculty here at USC, a group of us met with Apple reps yesterday.
Initially I was very skeptical about Apple's further insinuation into the academy and yet, what iTunes U offers is a repository for instructors to store podcasts, with several components similar to courseware such as Blackboard. Apple stores the content on its servers but the university retains ownership. The service is fairly customizable--you can store audio, video with audio, slides with audio (aka enhanced podcasts) and text (but only in pdf). Then you populate the class via university course rosters, which are password protected.
There are also open access levels on which the university (or, say, the alumni association) can add podcasts of vodcasts of events. And it is free. At least for now -- the rep got a little cagey when asked about how long this would be the case.
The point is to allow students to capture lectures and such on their iPods (or MP3 players) for the purposes of study and review. The rationale is that students are already extremely familiar with the technology so there is less of a learning curve (well, at least privileged students such as those at my institution are familiar).
What seems particularly interesting is that students can then either speed up the talk of the lecture without changing pitch (and lord knows there are some whose speaking I would love to accelerate) or, say, in the case of an ESL student, slow it down for better comprehension. Finally, there is space for students to upload their own work --- podcasting has been assigned to some of our students already.
Part of me is concerned at further academic incorporation, but a lot more parts of me are thinking this is not only a chance to help less tech savvy profs employ the technology (the ease of collecting and distributing assets is germane here) while also really pushing the envelope in terms of copyright, educational use, fair use, etc. Apple wants to only use materials that are in the public domain or creative commons initially, but undoubtedly some of the more muddy digital use issues will arise and it would be nice to have academics involved in the process.
Posted by virginia kuhn at 8:02 AM | Comments (1)
tags: Copyright and Copyleft , Education , Publishing, Broadcast, and the Press , apple , copyright , elearning , fair_use , ipod , itunes , itunes_u , podcast , read/write_web , stanford , university
In an important speech to the Open Source Business Conference in San Francisco, Lawrence Lessig warned that decreased regulation of network infrastructure could fundamentally throw off the balance of the "read/write" internet, gearing the medium toward commercial consumption and away from creative production by everyday people. Interestingly, he cites Apple's iTunes music store, generally praised as the shining example of enlightened digital media commerce, as an example of what a "read-only" internet might look like: a site where you load up your plate and then go off to eat alone.
Lessig is drawing an important connection between the question of regulation and the question of copyright. Initially, copyright was conceived as a way to stimulate creative expression -- for the immediate benefit of the author, but for the overall benefit of society. But over the past few decades, copyright has been twisted by powerful interests to mean the protection of media industry business models, which are now treated like a sacred, inviolable trust. Lessig argues that it's time for a values check -- time to return to the original spirit of copyright:
It's never been the policy of the U.S. government to choose business models, but to protect the authors and artists... I'm sure there is a way for [new models to emerge] that will let artists succeed. I'm not sure we should care if the record companies survive. They care, but I don't think the government should.
Big media have always lobbied for more control over how people use culture, but until now, it's largely been through changes to the copyright statutes. The distribution apparatus -- record stores, booksellers, movie theaters etc. -- was not a concern since it was secure and pretty much by definition "read-only." But when we're dealing with digital media, the distribution apparatus becomes a central concern, and that's because the apparatus is the internet, which at present, no single entity controls.
Which is where the issue of regulation comes in. The cable and phone companies believe that since it's through their physical infrastructure that the culture flows, that they should be able to control how it flows. They want the right to shape the flow of culture to best fit their ideal architecture of revenue. You can see, then, how if they had it their way, the internet would come to look much more like an on-demand broadcast service than the vibrant two-way medium we have today: simply because it's easier to make money from read-only than from read/write -- from broadcast than from public access."
Control over culture goes hand in hand with control over bandwidth -- one monopoly supporting the other. And unless more moderates like Lessig start lobbying for the public interest, I'm afraid our government will be seduced by this fanatical philosophy of control, which when aired among business-minded people, does have a certain logic: "It's our content! Our pipes! Why should we be bled dry?" It's time to remind the media industries that their business models are not synonymous with culture. To remind the phone and cable companies that they are nothing more than utility companies and that they should behave accordingly. And to remind the government who copyright and regulation are really meant to serve: the actual creators -- and the public.
Posted by ben vershbow at 1:51 PM | Comments (6)
tags: Copyright and Copyleft , DRM , Network_Freedom , broadband , copyleft , copyright , internet , lessig , media , network_freedom , network_neutrality , policy , read/write_web
The following is a response to a comment made by Karen Schneider on my Monday post on libraries and DRM. I originally wrote this as just another comment, but as you can see, it's kind of taken on a life of its own. At any rate, it seemed to make sense to give it its own space, if for no other reason than that it temporarily sidelined something else I was writing for today. It also has a few good quotes that might be of interest. So, Karen said:
I would turn back to you and ask how authors and publishers can continue to be compensated for their work if a library that would buy ten copies of a book could now buy one. I'm not being reactive, just asking the question--as a librarian, and as a writer.
This is a big question, perhaps the biggest since economics will define the parameters of much that is being discussed here. How do we move from an old economy of knowledge based on the trafficking of intellectual commodities to a new economy where value is placed not on individual copies of things that, as a result of new technologies are effortlessly copiable, but rather on access to networks of content and the quality of those networks? The question is brought into particularly stark relief when we talk about libraries, which (correct me if I'm wrong) have always been more concerned with the pure pursuit and dissemination of knowledge than with the economics of publishing.
Consider, as an example, the photocopier -- in many ways a predecessor of the world wide web in that it is designed to deconstruct and multiply documents. Photocopiers have been unbundling books in libraries long before there was any such thing as Google Book Search, helping users break through the commodified shell to get at the fruit within.
I know there are some countries in Europe that funnel a share of proceeds from library photocopiers back to the publishers, and this seems to be a reasonably fair compromise. But the role of the photocopier in most libraries of the world is more subversive, gently repudiating, with its low hum, sweeping light, and clackety trays, the idea that there can really be such a thing as intellectual property.
That being said, few would dispute the right of an author to benefit economically from his or her intellectual labor; we just have to ask whether the current system is really serving in the authors' interest, let alone the public interest. New technologies have released intellectual works from the restraints of tangible property, making them easily accessible, eminently exchangable and never out of print. This should, in principle, elicit a hallelujah from authors, or at least the many who have written works that, while possessed of intrinsic value, have not succeeded in their role as commodities.
But utopian visions of an intellecutal gift economy will ultimately fail to nourish writers who must survive in the here and now of a commercial market. Though peer-to-peer gift economies might turn out in the long run to be financially lucrative, and in unexpected ways, we can't realistically expect everyone to hold their breath and wait for that to happen. So we find ourselves at a crossroads where we must soon choose as a society either to clamp down (to preserve existing business models), liberalize (to clear the field for new ones), or compromise.
In her essay "Books in Time," Berkeley historian Carla Hesse gives a wonderful overview of a similar debate over intellectual property that took place in 18th Century France, when liberal-minded philosophes -- most notably Condorcet -- railed against the state-sanctioned Paris printing monopolies, demanding universal access to knowledge for all humanity. To Condorcet, freedom of the press meant not only freedom from censorship but freedom from commerce, since ideas arise not from men but through men from nature (how can you sell something that is universally owned?). Things finally settled down in France after the revolution and the country (and the West) embarked on a historic compromise that laid the foundations for what Hesse calls "the modern literary system":
The modern "civilization of the book" that emerged from the democratic revolutions of the eighteenth century was in effect a regulatory compromise among competing social ideals: the notion of the right-bearing and accountable individual author, the value of democratic access to useful knowledge, and faith in free market competition as the most effective mechanism of public exchange.
Barriers to knowledge were lowered. A system of limited intellectual property rights was put in place that incentivized production and elevated the status of writers. And by and large, the world of ideas flourished within a commercial market. But the question remains: can we reach an equivalent compromise today? And if so, what would it look like?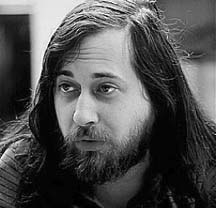 Creative Commons has begun to nibble around the edges of the problem, but love it as we may, it does not fundamentally alter the status quo, focusing as it does primarily on giving creators more options within the existing copyright system.
Which is why free software guru Richard Stallman announced in an interview the other day his unqualified opposition to the Creative Commons movement, explaining that while some of its licenses meet the standards of open source, others are overly conservative, rendering the project bunk as a whole. For Stallman, ever the iconoclast, it's all or nothing.
But returning to our theme of compromise, I'm struck again by this idea of a tax on photocopiers, which suggests a kind of micro-economy where payments are made automatically and seamlessly in proportion to a work's use. Someone who has done a great dealing of thinking about such a solution (though on a much more ambitious scale than library photocopiers) is Terry Fisher, an intellectual property scholar at Harvard who has written extensively on practicable alternative copyright models for the music and film industries (Ray and I first encountered Fisher's work when we heard him speak at the Economics of Open Content Symposium at MIT last month).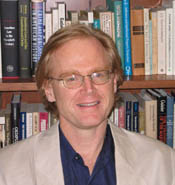 The following is an excerpt from Fisher's 2004 book, "Promises to Keep: Technology, Law, and the Future of Entertainment", that paints a relatively detailed picture of what one alternative copyright scheme might look like. It's a bit long, and as I mentioned, deals specifically with the recording and movie industries, but it's worth reading in light of this discussion since it seems it could just as easily apply to electronic books:
....we should consider a fundamental change in approach.... replace major portions of the copyright and encryption-reinforcement models with a variant of....a governmentally administered reward system. In brief, here's how such a system would work. A creator who wished to collect revenue when his or her song or film was heard or watched would register it with the Copyright Office. With registration would come a unique file name, which would be used to track transmissions of digital copies of the work. The government would raise, through taxes, sufficient money to compensate registrants for making their works available to the public. Using techniques pioneered by American and European performing rights organizations and television rating services, a government agency would estimate the frequency with which each song and film was heard or watched by consumers. Each registrant would then periodically be paid by the agency a share of the tax revenues proportional to the relative popularity of his or her creation. Once this system were in place, we would modify copyright law to eliminate most of the current prohibitions on unauthorized reproduction, distribution, adaptation, and performance of audio and video recordings. Music and films would thus be readily available, legally, for free.

Painting with a very broad brush...., here would be the advantages of such a system. Consumers would pay less for more entertainment. Artists would be fairly compensated. The set of artists who made their creations available to the world at large--and consequently the range of entertainment products available to consumers--would increase. Musicians would be less dependent on record companies, and filmmakers would be less dependent on studios, for the distribution of their creations. Both consumers and artists would enjoy greater freedom to modify and redistribute audio and video recordings. Although the prices of consumer electronic equipment and broadband access would increase somewhat, demand for them would rise, thus benefiting the suppliers of those goods and services. Finally, society at large would benefit from a sharp reduction in litigation and other transaction costs.
While I'm uncomfortable with the idea of any top-down, governmental solution, this certainly provides food for thought.
Posted by ben vershbow at 7:19 AM | Comments (8)
tags: Copyright and Copyleft , DRM , IP , Libraries, Search and the Web , Publishing, Broadcast, and the Press , condorcet , copyleft , copyright , creative_commons , enlightenment , france , free_software , intellectual_property , libraries , music , open_source , photocopy , printing , richar_stallman , xerox