The Millions has an interesting interview with the South African-born, New York-resident writer Barry Yourgrau, who recently published a collection of "keitai" (cell phone) fiction in Japan. Known for bite-sized surrealist fables (as here), the hyper-compression of the cell phone display seemed like a natural challenge for Yourgrau, and he is now, to my knowledge, the first foreign writer to write successfully in Japan for the tiny screen. You can read a number of his keitai stories (which average about 350 words) on his blog, and hear him give a reading of the delightfully malevolent "Houndstooth," which tells of a deadly fashion plague ravaging the Burberry-obsessed youth of Japan, on NPR.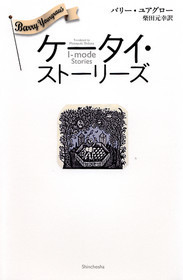 Yourgrau believes that the popularity of keitai fiction in Japan, especially among younger readers, is due primarily to the fact that most young Japanese access the Internet through their phones (which are a generation more advanced than what's available in the US) rather than on desktop computers. Kids don't have a lot of privacy in their homes, he explains further, so they spend most of their time out and about on the streets, using keitai for entertainment and social navigation.
And the fictions are as mobile as their users, migrating fluidly from one technological context to another. Many keitai novels, Yourgrau explains, frequently "emerge from pools of people on web pages" before migrating onto keitai screens. Upon scoring a success on phones, they then frequently make their way onto the bestseller list in print form (the image is the print edition of Yourgrau's recent keitai cycle). A few have even been made into films.
Western publishers would do well to study this free-flowing model. A story need not be bound to one particular delivery mechanism, be it a cell phone, web page (or book). In fact, the ecology of forms can make a more comprehensive narrative universe. This is not only the accepted wisdom of cross-media marketing franchisers and brand blizzardeers (Spiderman the comic, Spiderman the action figure, the lunchbox, the movie, the game, the Halloween costume etc.), but an age-old principle underlying the transmission of culture. The Arthurian legends, for instance, weren't spun in one single authoritative text, but in many different textual itertations over time, a plethora of visual depictions, oral storytelling, songs, objets d'art etc.

In the case of keitai fiction, there's seems to be a relation between compression of form and expansiveness of transmission. Interestingly, Yourgrau writes his phone stories longhand with a pencil, then types them up on a computer:
I write my fiction longhand first. I need the pencil/pen in hand to connect to emotions. I then type up. For the first several books I used a typewriter, now I'm (late) on computer. But I find the computer too suited to Flow, not the weight of the individual word. I've half a mind to switch back to a typewriter.....
There's an interesting paradox here: that the compression that makes for good Web or cell phone writing is not afforded by the actual tools of electronic composition, which much more favor a kind of verbal sprawl. With that in mind, it's not surprising that several of the most successful keitai novels were composed entirely on phones, one carpal tunnel syndrome-inducing keypad stroke at a time. To digress... one wonders whether the bloat of much contemporary fiction is a direct effect of word processors and the ease of Inernet research. That would support the broader observation that the net, far from killing off books, seems to have acted like a bellows, greatly boosting (at least for the time being) the number of pages produced in print.
In any case, I can readily imagine why Yourgrau's surreal miniatures fit so well in the keitai form, both as random time-fillers and as little social cherry bombs to detonate among friends — stories plucked out of the air. I'll conclude this not so compressed ramble with one of Yourgrau's concise keitai hauntings:
EDGAR ALLAN POE RICE BALL (MEDIEVAL LANDSCAPE)

Disease strikes a distant town. The victims develop loathsome sores all over their bodies; at the same time they're maddened by extreme lascivious impulses. Down street after street door after door is splashed with a crude red cross: inside, the lunatic disfigured coupling rages on nonstop—men, women, even children—until exhausted dawn, until death.

In the hills beyond town, a monk makes his way along a darkening road. He chews a stale rice ball for his supper as he goes, so as not to interrupt his march. His sandaled feet move one in front of the other inexorably. His staff leaves a trail of dots behind him in the dusty distances. At last he comes around the side of a hill and he stops. The prospect of the dim town spreads before him. A look of disturbance moves over his face, as he slowly chews the last of his rice ball. Even here the uneasy wind carries the grisly minglings of lamentation and carnal grunting The monk becomes watchful; he looks uneasily around him and grips his staff in both hands. Two figures are moving feverishly in the darkness ahead. They seem to prance toward him, half-naked, hideous, moaning hoarse endearments. The monk calls to his god as he raises his staff and prepares to meet them.
Posted by ben vershbow at 01:33 PM | Comments (3)
tags: cellphone , fiction , keitai , mobile , publishing , surrealism , writing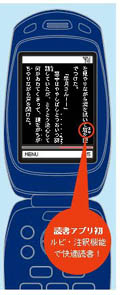 Peter Brantley points to an interesting WSJ piece (free) on the explosion of Japanese cellphone fiction. These are works, often the length of novels, composed specifically for consumption via the phone's tiny screen. In some cases, they are even written on the phone. Stories are written in terse, unadorned language, in chunks crafted specifically to fit on a single mobile screen. Dialog is favored heavily over narrative description, and from the short excerpts I've read, the aim seems to be to conjure cinematic imagery with the greatest economy of words. The WSJ reproduces this passage from Satomi Nakamura's "To Love You Again":
Kin Kon Kan Kon (sound of school bell ringing)
(space)
The school bell rang
(space)
"Sigh. We're missing class"
(space)
She said with an annoyed expression.
This novel clocks in at 200 pages, and was written entirely with Nakamura's thumb!
About seven years ago, some of these works started making their way into print, initially through self-publishing websites like Maho i-Land. But the popularity of mobile novels soon caught the attention of mainstream publishers and numerous titles have been made into bona fide hits in print, some selling into the millions, with film adaptations, the whole bit.
But if any industry lesson can be taken from this mini case study of Japanese cellphone fic, it's not the potential for crossover into print, but that emergent electronic literary forms will most likely find their economic model in services and subscriptions rather than in the sale of copies. The WSJ article suggests that the mobile lit genre exploded in Japan in no small part due to recent changes in service options from cellular providers.
About three years ago, phone companies began offering high-speed mobile Internet and affordable flat-rate plans for transmitting data. Users could then access the Internet as much as they wanted to for less than $50 a month.

The now-bustling Maho i-Land has six million members, and the number of mobile novels on its site has jumped, to more than a million today from about 300,000 before the flat-rate plans cut phone bills in half. According to industrywide data cited by Japan's largest cellphone operator NTT DoCoMo Inc., sales from mobile-book and comic-book services are expected to more than double, to more than $200 million from about $90 million last year.
This would suggest that at least part of the reason cellphone novels haven't taken off here in the States is the comparatively impoverished service we get from our mobile providers, and the often extortionist rates we pay. True, the mobile lit genre was already a phenomenon there before the rejiggering of service plans, which suggests there were preexisting cultural conditions that led to the emergence of the form: readers' already well developed appetites for serial comics perhaps, or the peculiar intensity of keitai fetishism. In other words, improved telcom services in the States wouldn't necessarily translate into a proliferation of cellphone novels, but other mobile media services would undoubtedly start to flourish. Broadband internet access is also pathetically slow in the US compared to countries in Europe and East Asia—the Japanese get service eight to 30 times faster than what we get over here. What other new media forms are being stifled by the crappiness of our connections?
Posted by ben vershbow at 10:13 AM | Comments (4)
tags: cellphone , fiction , japan , keitai , reading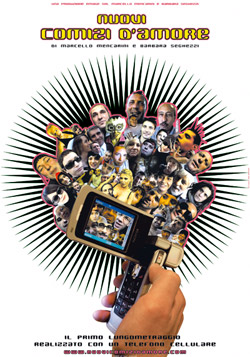 Leafing through my hardcopy of the September/October edition of Filmcomment, published by the Film Society of Lincoln Center, I came across a mini-review of "New Love Meetings," co-directed by Marcello Mencarini and Barbara Seghezzi. First featured in The Guardian Unlimited, this story was newsworthy because this film is reportedly the first feature (93 minutes) entirely shot with a cell phone. "New Love Meetings" was filmed in MPEG4 format using a Nokia N90, and follows on Pasolini's 1965 documentary "Love Meetings," in which he interviewed Italian men and women about their views on sex in postwar Italy. Mencarini and Seghezzi used cell phones to interview about 700 people at regular meeting places such as bars, markets, the beach, etc.
Cell-phone short movies have become ubiquitous in the Internet, and they have achieved some visibility in film festivals, but Mencarini and Seghezzi's premise is that even though they asked very much the same questions that Pasolini posed, the results of their film are marked by the medium they used to shoot it. The use of a cell phone, an instrument that belongs to people's daily lives, produced an intimacy absent in Pasolini's movie. In a way, the filmmakers were very much like normal people using their cell phones to preserve an instant. This leads people to be more spontaneous and open, making the dialogue more like a chat than an interview.
This technique underscores the fact that today, memories can be captured and disseminated instantly thanks to the nature of our networked world, and that the way we preserve them is not the realm of books, not even of traditional films. Memory is instant, intimacy is public, and we communicate more readily than ever before. People have used stone, scrolls, print, wax cylinders, film, and tape, to preserve and disseminate memories, "New Love Meetings" is yet another example of the permeability and plasticity of mediums within which we move today. We cannot apply traditional, orthodox aesthetic values to the hybrid products of the moment. Experimentation doesn't follow a master plan.
Posted by sol gaitan at 07:50 AM | Comments (2) | TrackBack
tags: cellphone , documentary , film , italy
A few weeks ago, Ben posted about The Bible Society of Australia's new "transl8tion" of the Bible into SMS--a shorthand system used primarily for sending text messages through mobile phones. Interesting to note that an organization like the Australian Bible Society, which believes the text of the Bible to be the very word of God, does not seem have a problem with the fact that the SMS version changes the voice of god from that of a wizened poet to that of a text-messaging teenager. Here's an example:
4 god so luvd da world
I'm all for reading on cellphones and other portable devices, and I understand using a shorthand language for keying in messages, but why does the published book need to look like an electronic stenographer's notepad? I realize that the form of the electronic "page" is changing the way we write, but I'll be more than a little disappointed if this is the direction we are going--toward a cutesy-looking shorthand that compromises the integrity of the text for the sake of expediency. The aesthetic beauty of words is no small thing. Great writers understand this. They know how to choose words that weave visual and aural subtext into their work. Consider, for a moment, whether those subtleties translate into SMS. Imagine a text messagable Gettysburg address: 4 scor & 7 yr.z ago... Or a shrunk-to-fit Dickens: it wz d best of tImz, it wz d worst of tImz.
Are you with me when I say that they jst dun hav d powR of d orignL txt.
Posted by kim white at 05:59 AM | Comments (5)
tags: SMS , bible , cellphone , mobile , text , text_messaging , texting , txt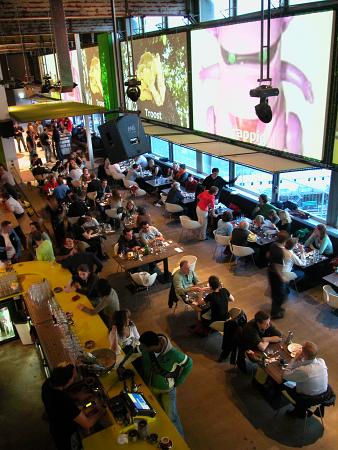 A wonderful hack of public space in Amsterdam. And on the top floor of the PostCS building no less, with breathtaking panoramic views of the city. Kim and I had the pleasure of spending two days there this past January at "A Decade of Web Design."
The diners in bar/restaurant/club 11 will be subjected to the wrath of fellow visitors SMSing whatever keyword they want to the installation that pulls photos from the online community flickr and projects them onto Restaurant 11's huge panoramic screens.
(via Smart Mobs)
Posted by ben vershbow at 01:41 PM | Comments (0)
tags: Games , SMS , amsterdam , cellphone , flickr , hack , keyword , mobile , photo , photography , postcs , publicart , socialsoftware , tagging , tags
Harper Collins Australia's new MobileReader service beams information about new titles and authors, and even book excerpts, to a cellphone. They're beginning with promotions of Dean Koontz, Paul Coelho and others.
(via textually)
Posted by ben vershbow at 05:25 PM | Comments (0)
tags: Microlit , Publishing, Broadcast, and the Press , advertising , book , books , cellphone , culture , ebook , gadget , harpercollins , literature , marketing , media , mobile , mobilecomputing , phone , publishing , reading , smartmobs , wireless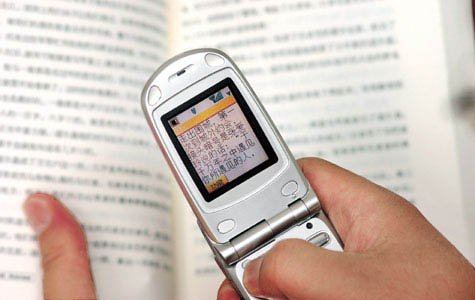 Shanghai Daily reports on a Chinese "mini novel" contest where writers submit bite-sized narratives (350 words or less) by text message.
Commenting on the contest, well-known writer Yu Hua says: "To hold the competition is like bringing 'karaoke' to literature. Before the invention of karaoke, there were only few people who could or would sing in public. Thanks to karaoke, anyone and everyone can sing in public whenever they feel like it. Now, thanks to the mobile phone, the same is true with writing.
The karaoke analogy is apt, and a bit scary.
(via textually)
Posted by ben vershbow at 03:47 PM | Comments (0)
tags: Microlit , book , books , cellphone , china , chinese , karaoke , lit , literature , mini , mobile , mobilelit , novel , phone , writing


The Motorola ROKR, a new iTunes-compatible cellphone developed for Apple, hits the stores today for Cingular subscribers. The phone will run for $249.99 and can load up to 100 songs from a computer through a USB wire. Sounds like a rip-off to me, but indicative of things to come. It also comes equipped with a camera. The cellphone is steadily swallowing up all personal media.
Apple also unveiled its newest iPod, the "nano," which uses solid flash memory (like in little USB memory sticks) rather than a hard drive with moving parts. It's roughly the size of a half dozen business cards stacked together, and can hold up to 1,000 songs.
Posted by ben vershbow at 08:10 AM | Comments (1)
tags: The Ideal Device? , The Performing Book , apple , cameraphone , cellphone , gadgets , ipod , itunes , media , mobile , motorola , music , nano , phone , podcast , rokr , technology
treasuremytext is a free British service that allows you to save text messages from your phone to the web on an anonymous, communal log, or "slog." Recent messages appear in a column on the main site where they can be read by all and sundry, subscribed to by feed, and even loaded onto an iPod as plain text files. jill/txt has a transcript from about two weeks back:
trying to convince myself that there was nothing there but i still find myself thinking about you
night nimet . . . . i miss you
How about sorting that taxi out for next week? For real?
Ok smart arse when you are there then! And then i will fix your issues for you, all of them!
U have beautifull eyes
Dont ring ill b down bout halfpast babes
Me to hes just arrived txt u l8r baby
Nite nite xxx
Nite nite fat sexy bum.Txt u tomoz nite nite xxxx
Not exactly prize-winning stuff, but has a nice dreamy flow of chatter plucked out of the air. Reminds me a bit of a game I played in elementary school where you go around a circle and improvise a story in broken-off pieces. Reading the site today, the entries seem to have taken on a smuttier tone. And a good number aren't in English. But an intriguing experiment nonetheless.
But it would be more interesting if the logs had some focus. Something like the City Chromosomes project, which is building a networked chronicle of the city of Antwerp, all by SMS.
Posted by ben vershbow at 02:58 PM | Comments (0)
tags: SMS , cellphone , collaborative , collective , ebook , mobile , phone , reading , text , txt , wireless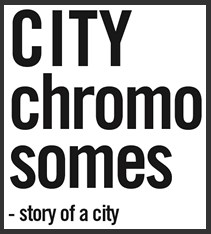 Found this on textually.org. The City Chromosomes project is a sort of scrapbook of the city of Antwerp made entirely from text messages beamed in from mobile phones. Further evidence of the new genres emerging from this technology. An english version has just been published under a Creative Commons license.
Also take a look at this sister project, CityPoems, from Leeds. Posts from the Leeds project are interspersed through the english version of "Chromosomes."
From the introduction to "City Chromosomes":
"The city of Antwerp is full of writers. And many of these writers describe their city, often in splendid stories, novels and poems that gain a wide readership. In this way, they determine a large part of our image of the city. But what about the people who only readers, or even those who do not care for reading, what do they think of the city? And would it not be possible to persuade them to write this down?
"This was the point of departure for the City Chromosomes project. We got the idea of gathering sms messages. Nearly everybody has a mobile phone. Everybody has a moment to spare to type in a message. This was the ideal way to make the project accessible to everybody. The people of Antwerp, and anyone else with something to say about city, could submit their impressions anonymously. We established 25 text sites across the city, and the contributors could indicate with a simple code to which part of the city their message applied. By means of posters, flyers and ads, we asked people for their impressions. The only restriction: the messages should not be longer than 160 characters."
Posted by ben vershbow at 01:29 PM | Comments (0)
tags: Microlit , SMS , Social Software , antwerp , cellphone , experiment , locative , mobile , text_messaging , the_networked_book , txt , ubiquitous_computing



We've been hearing more and more about the phenomenon of books downloaded to a cell phone screen, so much so that even the mainstream press has been talking about a resurgence of e-books - a topic they almost entirely dropped after the efforts of Microsoft and Gemstar failed to take off a couple years back. And people are doing more than simply reading books on their phones - they can surf the web, watch soap operas and, of course, play video games as they throttle through the subway or break for lunch.
Perhaps most interesting is that while many cell phone readers are downloading conventional print texts - novels, popular nonfiction etc. - there are many more, especially in Asia, who are downloading literature that is being written exclusively for this new medium, particularly serialized novels. These stories are intended for bite-sized consumption, peppered throughout the day, week or month. And they often employ the new technology as literary device - SMS romances, mysteries spun from a single errant text message. Once again, the medium proves to be the message..
It's hard to tell where this is going, but it's certainly more interesting than the prefab model promoted in the first generation of e-books. There is something totally original, totally native, about this new wave of digital reading.
Take a look at this piece from yesterday's New York Times...
Posted by ben vershbow at 08:28 AM | Comments (1)
tags: Microlit , SMS , cellphone , e-publishing , ebook , ebooks , keitai , publishing , reading , social_software , technology