"...the copyright system may in important respects be impeding, rather than stimulating, the production of new ideas and new scholarship in the humanities and social sciences."
"Existing legislation urgently needs to be updated, though the manner in which this is achieved has the potential to nurture or curtail the development of new kinds of creativity and new models of public and private sector value."

Posted by ben vershbow at 01:44 AM | Comments (0) | TrackBack
tags: academy , britain , copyright , libraries , library
A few months ago, Kathleen Fitzpatrick, a tenured professor of English and Media Studies at Pomona College, published an important statement at The Valve: On the Future of Academic Publishing, Peer Review, and Tenure Requirements. Not just another lament about the sorry state of scholarly publishing, Fitzpatrick's piece is a manifesto calling for the creation of an electronic press whose goal is nothing less than establishing born-digital electronic scholarship as an equal to print.
A meeting we held in november with a group of leading academic bloggers raised many of the problems that people face trying to gain respect for online scholarship. Since that meeting we've been trying to understand what role the institute might play in changing the landscape. Reading and discussing Fitzpatrick's manifesto catalyzed our thoughts.
We invited Kathleen to visit us in NY and proposed working with her to establish an electronic press that would be hosted by the Annenberg Center for Communication at USC (which is also the home of the Institute for the Future of the Book). Based on our preliminary discussions we think that the press should concentrate at first on work in the area of media studies. The projects themselves will take many different electronic forms - long, short; media-rich, text-only; linear, non-linear; etc. These projects will be subjected to strong peer-review, but we hope to develop a process that is tailored to the rhythms and structures of online publishing.
How might our conception of a press be updated for the networked age? How do we create a publishing ecology that supports discourse at all levels -- from blog to working paper to monograph -- focusing less on the products of scholarship and more on the process? In practical terms, how might this process make use of the linking, commenting, and versioning technologies developed by blogs and wikis in order to enrich the discrete and fixed scholarly text with an evolving, interactive network of discourse that encourages conversation, debate, reflection, and revision? How might peer review be reinvented as peer-to-peer review?
We've assembled a fantastic roster of over a dozen professors in english, media studies, film and the information sciences to gather for an ambitious one-day meeting in Los Angeles in late April at USC's Annenberg Center for Communication to begin answering these questions. The goal is to survey the current landscape of scholarly publishing, to evaluate and learn from existing innovative efforts, and to begin talking seriously about the establishment in the very near future of a groundbreaking electronic press. Since this is quite a lot to cover in a single day, we've set up a blog to get the conversation going in advance. Kathleen currently has a terrific post laying out some of the first-order questions, which we expect to evolve through feedback into a concrete meeting agenda. Her original Valve essay is also there.
There's still more than a month till folks gather in L.A., so in the meantime we'd like to invite anyone who's interested to take part in the discussion on the blog and to help lay the groundwork for what we hope will be a very important meeting.
Posted by ben vershbow at 06:37 PM | Comments (0) | TrackBack
tags: academy , blogging , ebooks , media_studies , peer_review , publishing , scholarship
Over the next few days I'll be sifting through notes, links, and assorted epiphanies crumpled up in my pocket from two packed, and at times profound, days at the Economics of Open Content symposium, hosted in Cambridge, MA by Intelligent Television and MIT Open CourseWare. For now, here are some initial impressions -- things I heard, both spoken in the room and ricocheting inside my head during and since. An oral history of the conference? Not exactly. More an attempt to jog the memory. Hopefully, though, something coherent will come across. I'll pick up some of these threads in greater detail over the next few days. I should add that this post owes a substantial debt in form to Eliot Weinberger's "What I Heard in Iraq" series (here and here).

Naturally, I heard a lot about "open content."
I heard that there are two kinds of "open." Open as in open access -- to knowledge, archives, medical information etc. (like Public Library of Science or Project Gutenberg). And open as in open process -- work that is out in the open, open to input, even open-ended (like Linux, Wikipedia or our experiment with MItch Stephens, Without Gods).
I heard that "content" is actually a demeaning term, treating works of authorship as filler for slots -- a commodity as opposed to a public good.
I heard that open content is not necessarily the same as free content. Both can be part of a business model, but the defining difference is control -- open content is often still controlled content.
I heard that for "open" to win real user investment that will feedback innovation and even result in profit, it has to be really open, not sort of open. Otherwise "open" will always be a burden.
I heard that if you build the open-access resources and demonstrate their value, the money will come later.
I heard that content should be given away for free and that the money is to be made talking about the content.
I heard that reputation and an audience are the most valuable currency anyway.
I heard that the academy's core mission -- education, research and public service -- makes it a moral imperative to have all scholarly knowledge fully accessible to the public.
I heard that if knowledge is not made widely available and usable then its status as knowledge is in question.
I heard that libraries may become the digital publishing centers of tomorrow through simple, open-access platforms, overhauling the print journal system and redefining how scholarship is disseminated throughout the world.

And I heard a lot about copyright...
I heard that probably about 50% of the production budget of an average documentary film goes toward rights clearances.
I heard that many of those clearances are for "underlying" rights to third-party materials appearing in the background or reproduced within reproduced footage. I heard that these are often things like incidental images, video or sound; or corporate logos or facades of buildings that happen to be caught on film.
I heard that there is basically no "fair use" space carved out for visual and aural media.
I heard that this all but paralyzes our ability as a culture to fully examine ourselves in terms of the media that surround us.
I heard that the various alternative copyright movements are not necessarily all pulling in the same direction.
I heard that there is an "inter-operability" problem between alternative licensing schemes -- that, for instance, Wikipedia's GNU Free Documentation License is not inter-operable with any Creative Commons licenses.
I heard that since the mass market content industries have such tremendous influence on policy, that a significant extension of existing copyright laws (in the United States, at least) is likely in the near future.
I heard one person go so far as to call this a "totalitarian" intellectual property regime -- a police state for content.
I heard that one possible benefit of this extension would be a general improvement of internet content distribution, and possibly greater freedom for creators to independently sell their work since they would have greater control over the flow of digital copies and be less reliant on infrastructure that today only big companies can provide.
I heard that another possible benefit of such control would be price discrimination -- i.e. a graduated pricing scale for content varying according to the means of individual consumers, which could result in fairer prices. Basically, a graduated cultural consumption tax imposed by media conglomerates
I heard, however, that such a system would be possible only through a substantial invasion of users' privacy: tracking users' consumption patterns in other markets (right down to their local grocery store), pinpointing of users' geographical location and analysis of their socioeconomic status.
I heard that this degree of control could be achieved only through persistent surveillance of the flow of content through codes and controls embedded in files, software and hardware.
I heard that such a wholesale compromise on privacy is all but inevitable -- is in fact already happening.
I heard that in an "information economy," user data is a major asset of companies -- an asset that, like financial or physical property assets, can be liquidated, traded or sold to other companies in the event of bankruptcy, merger or acquisition.
I heard that within such an over-extended (and personally intrusive) copyright system, there would still exist the possibility of less restrictive alternatives -- e.g. a peer-to-peer content cooperative where, for a single low fee, one can exchange and consume content without restriction; money is then distributed to content creators in proportion to the demand for and use of their content.
I heard that such an alternative could theoretically be implemented on the state level, with every citizen paying a single low tax (less than $10 per year) giving them unfettered access to all published media, and easily maintaining the profit margins of media industries.
I heard that, while such a scheme is highly unlikely to be implemented in the United States, a similar proposal is in early stages of debate in the French parliament.

And I heard a lot about peer-to-peer...
I heard that p2p is not just a way to exchange files or information, it is a paradigm shift that is totally changing the way societies communicate, trade, and build.
I heard that between 1840 and 1850 the first newspapers appeared in America that could be said to have mass circulation. I heard that as a result -- in the space of that single decade -- the cost of starting a print daily rose approximately %250.
I heard that modern democracies have basically always existed within a mass media system, a system that goes hand in hand with a centralized, mass-market capital structure.
I heard that we are now moving into a radically decentralized capital structure based on social modes of production in a peer-to-peer information commons, in what is essentially a new chapter for democratic societies.
I heard that the public sphere will never be the same again.
I heard that emerging practices of "remix culture" are in an apprentice stage focused on popular entertainment, but will soon begin manifesting in higher stakes arenas (as suggested by politically charged works like "The French Democracy" or this latest Black Lantern video about the Stanley Williams execution in California).
I heard that in a networked information commons the potential for political critique, free inquiry, and citizen action will be greatly increased.
I heard that whether we will live up to our potential is far from clear.
I heard that there is a battle over pipes, the outcome of which could have huge consequences for the health and wealth of p2p.
I heard that since the telecomm monopolies have such tremendous influence on policy, a radical deregulation of physical network infrastructure is likely in the near future.
I heard that this will entrench those monopolies, shifting the balance of the internet to consumption rather than production.
I heard this is because pre-p2p business models see one-way distribution with maximum control over individual copies, downloads and streams as the most profitable way to move content.
I heard also that policing works most effectively through top-down control over broadband.
I heard that the Chinese can attest to this.
I heard that what we need is an open spectrum commons, where connections to the network are as distributed, decentralized, and collaboratively load-sharing as the network itself.
I heard that there is nothing sacred about a business model -- that it is totally dependent on capital structures, which are constantly changing throughout history.
I heard that history is shifting in a big way.
I heard it is shifting to p2p.
I heard this is the most powerful mechanism for distributing material and intellectual wealth the world has ever seen.
I heard, however, that old business models will be radically clung to, as though they are sacred.
I heard that this will be painful.
Posted by ben vershbow at 09:47 AM | Comments (6)
tags: Copyright and Copyleft , Education , Network_Freedom , Publishing, Broadcast, and the Press , Remix , academia , academy , broadband , conferences_and_excursions , copyleft , copyright , creative_commons , cyberlaw , democracy , economics , economics_of_open_content , film , freedom , internet , media , monopoly , music , network , open_content , open_spectrum , p2p , politics , publishing , scholarship , technology , wikipedia
So, what happens when you put together a drama professor and a computer science one?
You get an entertainment technology program. In an article, in the NY Times, Seth Schiesel talks about the blossoming of academic programs devoted entirely to the study and development of video games, offering courses that range from basic game programming to contemporary culture studies.
Since first appearing about three decades ago, video games are well on their way to becoming the dominant medium of the 21st century. They are played across the world by people of all ages, from all walks of life. And in a time where everything is measured by the bottom line, they have in fact surpassed the movie industry in sales. The academy, therefore, no matter how conservative, cannot continue to ignore this phenomenon for long. So from The New School (which includes Parsons) to Carnegie Mellon, prestigious colleges and universities are beginning to offer programs in interactive media. In the last five years the number of universities offering game-related programs has gone from a mere handful to more than 100. This can hardly be described as widescale penetration of higher education, but the trend is unmistakable.
The video game industry has a stake in advancing these programs since they stand to benefit from a pool of smart, sophisticated young developers ready upon graduation to work on commercial games. Bing Gordon, CEO of Electronic Arts says that there is an over-production of cinema studies professionals but that the game industry still lacks the abundant in-flow of talent that the film industry enjoys. Considering the state of public education in this country, it seems that video game programs will continue flourishing only with the help of private funds.
The academy offers the possibility for multidisciplinary study to enrich students' technical and academic backgrounds, and to produce well-rounded talents for the professional world. In his article, Schiesel quotes Bing Gordon:
To create a video game project you need the art department and the computer science department and the design department and the literature or film department all contributing team members. And then there needs to be a leadership or faculty that can evaluate the work from the individual contributors but also evaluate the whole project.
These collaborations are possible now, in part, because technology has become an integral part of art production in the 21st century. It's no longer just for geeks. The contributions of new media artists are too prominent and sophisticated to be ignored. Therefore it seems quite natural that, for instance, an art department might collaborate with faculty in computer science.
Posted by sol gaitan at 10:36 AM | Comments (0)
tags: Education , Games , academia , academy , digital , gaming , new_media_arts , video_games
Slate goes to college this week with a series of articles on higher education in America, among them a good piece by Robert S. Boynton that makes the case for academic blogging:
"...academic blogging represents the fruition, not a betrayal, of the university's ideals. One might argue that blogging is in fact the very embodiment of what the political philosopher Michael Oakshott once called "The Conversation of Mankind"--an endless, thoroughly democratic dialogue about the best ideas and artifacts of our culture.

...might blogging be subversive precisely because it makes real the very vision of intellectual life that the university has never managed to achieve?"
The idea of blogging as a kind of service or outreach is just beginning (maybe) to gain traction. But what about blogging as scholarship? Most professor-bloggers I've spoken with consider blogging an invaluable tool for working through ideas, for facilitating exchange within and across disciplines. Some go so far as to say that it's redefined their lives as academics. But don't count on tenure committees to feel the same. Blogging is vaporous, they'll inevitably point out. Not edited, mixing the personal and the professional. How can you maintain standards and the appropriate barriers to entry? Traditionally, peer review has served this gatekeeping function, but can there be a peer review system for blogs? And if so, would we want one?
Boynton has a few ideas about how something like this could work (we're also wrestling with these questions on our back porch blog, Sidebar, with the eventual aim of making some sort of formal proposal). Whatever the technicalities, the approach should be to establish a middle path, something like peer review, but not a literal transposition. Some way to gauge and recognize the intellectual rigor of academic blogs without compromising their refreshing immediacy and individuality -- without crashing the party as it were.
There's already a sort of peer review going on among blog carnivals, the periodicals of the blogosphere. Carnivals are rotating showcases of exemplary blog writing in specific disciplines -- history, philosophy, science, education, and many, many more, some quite eccentric. Like blogs, carnivals suffer from an unfortunate coinage. But even with a snootier name -- blog symposiums maybe -- you would never in a million years confuse them with an official-looking peer review journal. Yet the carnivals practice peer review in its most essential form: the gathering of one's fellows (in this case academics and non-scholar enthusiasts alike) to collectively evaluate (ok, perhaps "savor" is more appropriate) a range of intellectual labors in a given area. Boynton:
In the end, peer review is just that: review by one's peers. Any particular system should be judged by its efficiency and efficacy, and not by the perceived prestige of the publication in which the work appears.

If anything, blog-influenced practices like these might reclaim for intellectuals the true spirit of peer review, which, as Harvard University Press editor Lindsay Waters has argued, has been all but outsourced to prestigious university presses and journals. Experimenting with open-source methods of judgment--whether of straight scholarship or academic blogs--might actually revitalize academic writing.
It's unfortunate that the accepted avenues of academic publishing -- peer-reviewed journals and monographs -- purchase prestige and job security usually at the expense of readership. It suggests an institutional bias in the academy against public intellectualism and in favor of kind of monastic seclusion (no doubt part of the legacy of this last great medieval institution). Nowhere is this more apparent than in the language of academic writing: opaque, convoluted, studded with jargon, its remoteness from ordinary human speech the surest sign of the author's membership in the academic elite.
This crisis of clarity is paired with a crisis of opportunity, as severe financial pressures on university presses are reducing the number of options for professors to get published in the approved ways. What's needed is an alternative outlet alongside traditional scholarly publishing, something between a casual, off-the-cuff web diary and a polished academic journal. Carnivals probably aren't the solution, but something descended from them might well be.
It will be to the benefit of society if blogging can be claimed, sharpened and leveraged as a recognized scholarly practice, a way to merge the academy with the traffic of the real world. The university shouldn't keep its talents locked up within a faltering publishing system that narrows rather than expands their scope. That's not to say professors shouldn't keep writing papers, books and monographs, shouldn't continue to deepen the well of knowledge. On the contrary, blogging should be viewed only as a complement to research and teaching, not a replacement. But as such, it has the potential to breathe new life into the scholarly enterprise as a whole, just as Boynton describes.
Things move quickly -- too quickly -- in the media-saturated society. To remain vital, the academy needs to stick its neck out into the current, with the confidence that it won't be swept away. What's theory, after all, without practice? It's always been publish or perish inside the academy, but these days on the outside, it's more about self-publish. A small but growing group of academics have grasped this and are now in the process of inventing the future of their profession.
Posted by ben vershbow at 03:27 PM | Comments (3)
tags: Education , academic , academy , blogging , blogs , higher_ed , higher_education , peer_review , publishing , scholar , teaching , tenure , university
Mitch Stephens, NYU professor, was here for lunch today. when Ben and I met with him about a month ago about the academic bloggers/public intellectuals project, Mitch mentioned he had just signed a contract with Carroll & Graf to write a book on the history of atheism. today's lunch was to follow up a suggestion we made that he might consider starting a blog to parallel the research and writing of the book. i'm delighted to report that Mitch has enthusiastically taken up the idea. sometime in the next few weeks we'll launch a new blog, tentatively called Only Sky (shortened from the lyric of john lennon's Imagine ". . . Above us only sky"). it will be an experiment to see whether blogging can be useful to the process of writing a book. i expect Mitch will be thinking out loud and asking all sorts of interesting questions. i also think that readers will likely provide important insight as well as ask their own fascinating questions which will in turn suggest fruitful directions of inquiry. stay tuned.
Posted by bob stein at 05:01 PM | Comments (1)
tags: academic , academy , atheism , blog , blogging , blogs , book-blog_experiments , books , experiment , god , religion , research , writing
The Chronicle of Higher Education has published a positive piece on blogging in academia, a first person account by Rebecca Goetz, one of the first academic bloggers, of how blogging can actually enhance scholarly life, foster trans-disciplinary communication, and connect the academy to the public sphere.
The timing of Goetz's article is auspicious, as the institute is currently grappling with these very issues, gearing up for a grant proposal to do something big. Last week, about to dash out the door for the airport, I mentioned this project we're cooking up to encourage, promote and organize academic blogging with the aim of raising its status as a scholarly activity. Well, last Friday in Los Angeles we assembled a cadre of over a dozen blog-oriented professors, grad students, and journalism profs, along with a radical blogger-librarian, a grassroots media producer, and a sociologist, for a day of stimulating discussion about what can happen when you put blogs in the hands of people who really know something about something.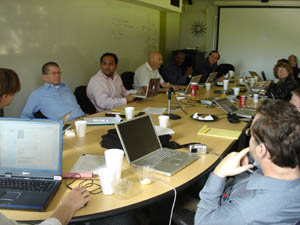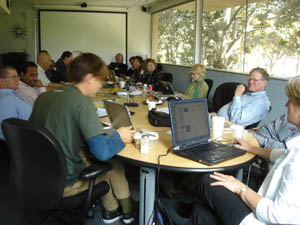 We're still sifting through notes and thoughts from the meeting, and for anyone who's interested we've devoted an entire blog to continuing the discussion. I guess you could say we've formed a little community dedicated to answering the big questions -- chiefly, how the blogging medium might serve as a bridge between the world of scholarly knowledge and the world at large -- and to helping us form the proposal for a project -- a website? a network? a new sort of blog? -- that will address some of these questions.
John Mohr, the afore-mentioned sociologist, described it as a matter of "marshaling and re-deploying intellectual capital," which I think brilliantly and succinctly captures the possibilities of blogs both for making the academy more transparent and for helping it reach the general public, shining the light of knowledge, as it were, on the complexity of human affairs. The power of blogs is that they exist in a space all their own, not entirely within the academy and not (at least not yet) within the economic and editorial structures of mass media. Because of this, bloggers are able to maintain what McKenzie Wark calls "a slight angle of difference" from both sides. We here at the institute, from our not-quite-inside-not-quite-outside-the-academy vantage, are interested in simultaneously protecting that angle and boosting its stature.
Back in May, I saw Wark speak at a conference on new media education at CUNY called "Share, Share Widely." He talked about how the academy should position itself in the media-saturated society and how it can employ new media tools (like blogging) to penetrate, and even redefine, the public sphere. I was mulling this over leading up to the meeting and it seems even more dead-on now:
"This tension between dialogue and discourse might not be unrelated to that between education and knowledge. Certainly what the new media technologies offer is a way of constructing new possibilities for the dialogic, ones which escape the boundaries of discipline, even of the university itself. New media is not interdisciplinary or transdisciplinary. It is antidisciplinary -- although one might be careful where and to whom we break this news. Its acid with which to eat away at the ossified structure of discourse -- with the aim of constructing a new structure of discourse. One that might bring closer together the university with its outside. Not to erase the precious interiority of the university, but to make it porous. To actually apply all that 'theory' we learned to our own institutions."

"Imagine a political refugee, fleeing one country for another, jotting down his thoughts on the run, sharing them with his friends. I'm talking about Marx, writing the 1844 manuscripts. I think critical theory was always connected to new media practices. I think it was always about rethinking the discourse in which dialogue is possible. I think it was always knowledge escaping from the institutions of education. Think of Gramsci editing New Order, negotiating between metropolitan and subaltern languages. Think of Benjamin's One Way Street, a pamphlet with bold typographic experiments. Or Brecht's experiments in cinema. Or Debord's last -- amazing -- TV program. Broadcast only once so you had to set your vcr. Or the Frankfurt School and Birmingham Schools, which broke down the intellectual division of labor. Or the autonomous studio Meilville built for Godard."

"We need to do a 'history of the present' as Foucault would say, and recover the institutional aspect of knowledge as an object of critique. But of more than critique as well. Let's not just talk about the 'public sphere'. Let's build some! We have the tools. We know wiki and blogging and podcasting. Let's build new relations between theory and practice. No more theory without practice -- but no more practice without theory either. Let's work at slight angle of difference from the institution. Not against it -- that won't get you tenure -- but not capitulating to it either. That won't make any difference or be interesting to anybody."
Posted by ben vershbow at 05:36 PM | Comments (1)
tags: Education , academia , academy , blogger , blogging , blogs , marx , scholarship , university
Hi there, this is Lisa Lynch. I'm new to the Institute and I've introduced myself over on the Institute's Next/Text site, where I'll be spending much of my time. Come on by!
Just in time for Friday's conference, this article from Inside Higher Ed describes a Nov. 2 blogspat that may adversely impact the academic career of one of the bloggers. According to Inside Higher Ed, the trouble began after Paul Deignan --a 41-year-old mechanical engineering Ph.D. candidate at Purduewho writes a blog called Info Theory -- posted comments attacking the pro-choice posts of blogger Bitch PhD, a junior professor who won't disclose the name of her university. Bitch Ph.D. deleted his comments:(according to a policy stated clearly on her site, she deletes rude comments and will ban the IP addresses of trolls. Before the posts were deleted, however, they attracted the attention of University of Northern Iowa history professor Wallace Hettle, who decided to report Deignan to his Ph.D. committee for unethical behavior.
Now Deignan wants to sue BOTH Hettle and Bitch Ph.D. for libel -- Hettle for reporting him, and Bitch Ph.D for suggesting on her site that Deignan might have tried IP spoofing to suss out her identity.
This episode is troubling on many levels, but for me the most sinister aspect is the suggestion that this might represent the dark side of academic debate on blogs; increasingly, academics (and other folks, of course) may start to see one another as lawsuit fodder and will begin squirreling away blog entries as material evidence.
As much as I admire a knight in shining armor, I'm also troubled by Hettle's actions. Deignan's posts were really none of his Ph.D. committees' business. If Deignan was really IP spoofing, than his behavior was criminal, not simply unethical, and Bitch Ph.D. could have pursued legal options. If he wasn't spoofing? Academics consider themselves accountable to certain ethical standards, but (alas) politeness is usually not one of them. Apparently, Deignan's advisors asked him to refrain from "exceeding his bounds on a private site." But should they have? Is there a slippery slope here between reining in Deignan and establishing a policy banning blogging and/or commenting on blogs in academe?
Posted by lisa lynch at 03:50 PM | Comments (1)
tags: abortion , academy , blogging , blogs , ethics , lawsuit