« an invitation | Main | On the Virtues of Preexisting Material: A Manifesto, By Rick Prelinger »
Instant fix 11.04.2008, 4:17 PM
posted by kirsten reach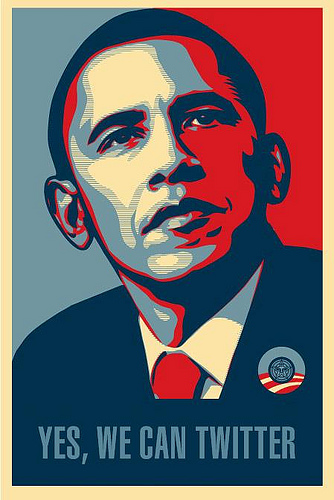 Image inspired by Shepard Fairey.
In case you prefer to get your news online, here are a variety of ways to follow the election coverage.
Predictably, Twitter is following every second of the election. If you're into Twitter, maybe you'll also want to leave comments or videos for the site, "What would you say to the president?"
Homemade videos are linked to a map on Youtube's Video Your Vote.
Google has created maps especially for the occasion. One nice pairing of video and maps allows you to track the locations of the candidates' speeches, then watch them through Youtube. Justin Ward has also created a gadget for live election coverage.
I particularly like the Every Moment Now graph of article references for each candidate. Of course, there's always FiveThirtyEight. You can also follow political headlines at Alltop. PBS's Newshour is also online. (More links are available through 10,000 Words.)
By the way - to those who have been focused on following each step of this election, what will you read when the battle is over? Will you still check the news feverishly, or are you looking forward to spending your time in other pursuits?
Posted by kirsten reach on November 4, 2008 4:17 PM
tags:
comments (2):


kathleen
on
November 4, 2008 9:12 PM
:
I'm a big fan of: http://isobamapresident.com/


sol gaitan
on
November 7, 2008 10:59 AM
:
A piece related, on NPR's "Morning Edition": "Election Addicts May Want to Go Cold Turkey"
http://www.npr.org/templates/story/story.php?storyId=96735201
(Because of spam troubles, first-time comments from unfamiliar addresses or containing multiple links might be held for moderation. If your comment isn't spam, we'll publish it very soon. Thanks in advance for your patience.)