« channel 4 goes cross-platform | Main | fight path »
student designer envisions a more credible kindle 02.27.2008, 6:02 PM
posted by ben vershbow
Engagdet points to an award winning Australian student design for an e-book reader that combines the gesture-based "multi-touch" interface of the iPhone with the e-ink display of the Kindle.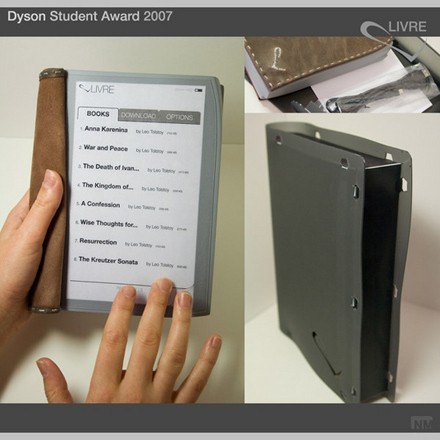 LIVRE design concept -? Nedzad Mujcinovic, Monash University
"Interaction happens via a thin capacitive touch screen mounted on top of an electronic paper screen ('eINK'). Browsing pages happens by striking the screen from right bottom corner towards the centre of page to go forward or from the left hand corner to go backwards. Doing that using one finger will browse one page, two will browse ten pages and three will browse fifty pages at a time."
If simple reenactment of basic black-and-white, illustration-light print reading is your goal, I'd say that this is a far more viable proposition than Amazon's clunky gadget. (Thanks, Peter Brantley, for the link!)
Posted by ben vershbow on February 27, 2008 6:02 PM
tags: design, ebooks, hardware, kindle, reading, screenreading
comments (1):


Nate
on
March 1, 2008 3:44 PM
:
Nice to have the multi-touch interface, that puts this thing way ahead of the other e-book readers. I wonder how much these things would cost though? I'll be happy when I see an e-book reader that costs $20, then we can start the One E-book Reader Per Child program right here in Brooklyn...
(Because of spam troubles, first-time comments from unfamiliar addresses or containing multiple links might be held for moderation. If your comment isn't spam, we'll publish it very soon. Thanks in advance for your patience.)