« new commentpress version available: plays well with latest wordpress! | Main | expressive processing: an experiment in blog-based peer review »
watch wikipedia happen 01.22.2008, 3:59 AM
posted by ben vershbow
Markers move around the map registering Wikipedia edits in close to real time. Weirdly compelling.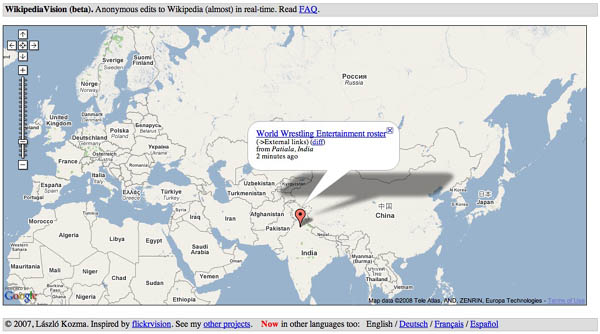 Posted by ben vershbow on January 22, 2008 3:59 AM
tags: maps, mashup, the_networked_book, visualization, wikipedia
comments (1):


David Niall Wilson
on
January 22, 2008 7:30 AM
:
I don't know if this is cool, or creepy. Having on occasion updated things on Wiki, I'm not entirely sure I like the idea that computers around the world are watching (and probably recording) where I was, and who I am, when I did it - or that topic stalkers could get my IP information from that page.
And what is the actual practical use of it?
DNW
(Because of spam troubles, first-time comments from unfamiliar addresses or containing multiple links might be held for moderation. If your comment isn't spam, we'll publish it very soon. Thanks in advance for your patience.)