« expressive processing meta | Main | the id of writing »
future boy 01.30.2008, 7:48 AM
posted by chris meade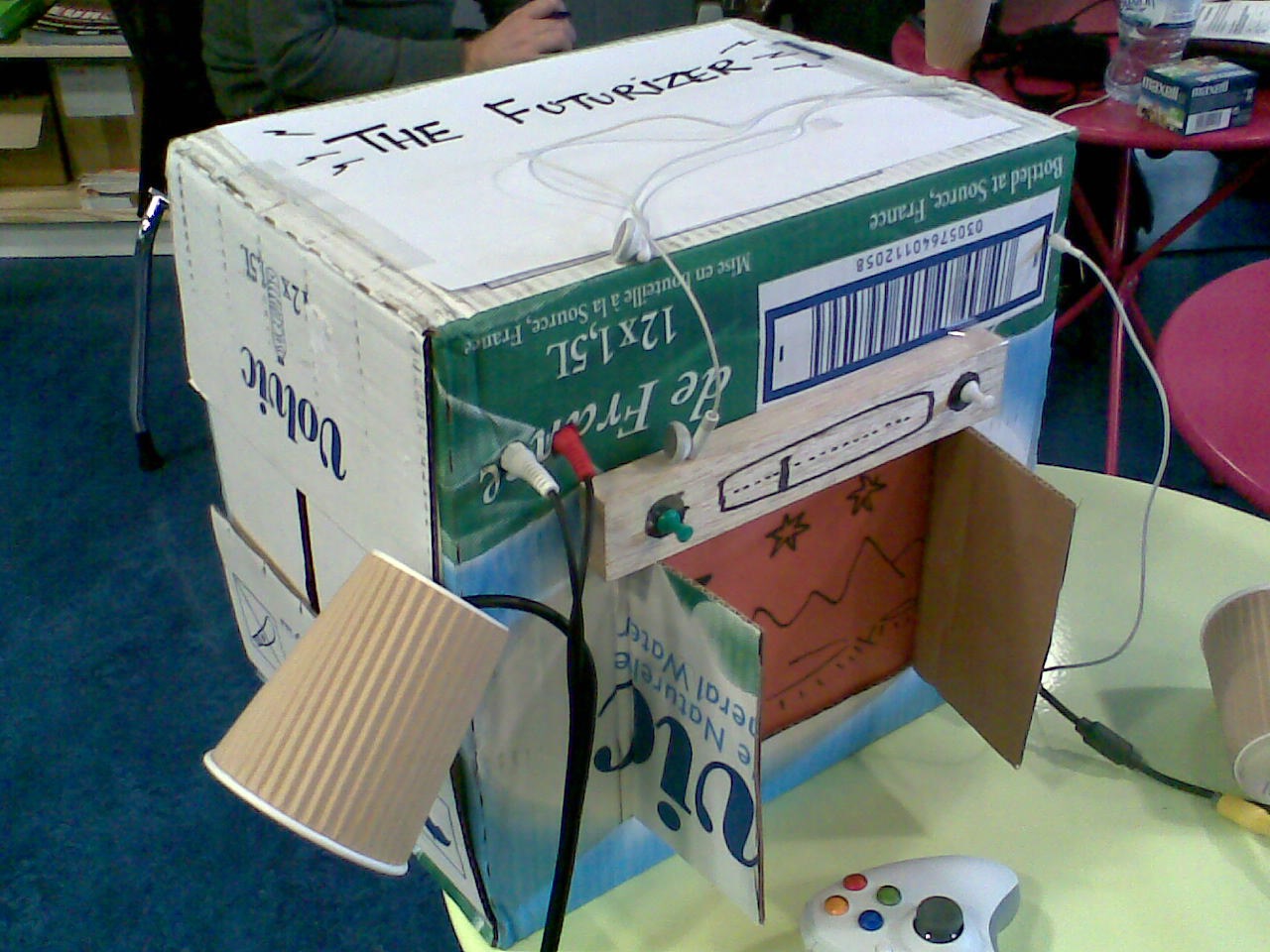 The picture is of a Futurizer, based on the kinds of contraption I built as a child from cardboard, balsa wood and string which allowed me to communicate with other planets and centuries. It was reconstructed by a group of us at a conference on Transliteracy at the Institute of Creative Technologies at De Montfort University, organised by PART. The aim of the day was to try to make some transliterate objects and in so doing consider if such things can, could or should exist. We had an enjoyable if inconclusive time grappling with this.

Plug headphones into an iPod or XBox and you will be able to listen to one of a large but finite range of sounds. Plug headphones into a cardboard box and you can (not) hear anything you can possibly imagine. Travelling back through the years to my childhood, these machines allowed me to think across time and space, out of the (cardboard) box. They were also a means of engaging with the TV I loved, in a bygone era when no adult expressed any interest in the way I read my TV21 comic or consumed Thunderbirds and The Man From Uncle.
Unlike those friends who screwed together bits of meccanno to build working bridges, or fiddled with circuit boards until bulbs lit up, my games were all about interfaces.
I never worried for a moment about how these things might actually work. Now a lot of inventiveness is once again going into cutting and sticking, playing with FaceBook applications and YouTube clips like we used Corn Flake packets and sticky-backed plastic. Isn't it great, living here in the future?
By the end of the day the Futurizer had been photographed and uploaded to Second Life. a fitting place for it to end up really: transmogrified, transliterated, futurized.
Posted by chris meade on January 30, 2008 7:48 AM
tags: future, transliteracy, uk
comments (2):


huysmans
on
January 30, 2008 7:32 PM
:
Imagination and childhood, two things I never want to lose, despite how old I get. I love the analogies with what bloggers are doing, though at times I wish bloggers were as creative as kids are. Why should links and videos actually have to exist, with imaginations we are able to blog about anything, and by that I mean the real open anything that is not limited to those things that only exist in our physically limited world.
This is a great post and has inspired me to go make my timechangeizerfying machine.
Huysmans,
http://bloggingliterature.wordpress.com


bowerbird
on
February 1, 2008 6:48 PM
:
> inconclusive
"inconclusive", you say? ridiculous! behold the
sheer magnificence of your creation, man! :+)
-bowerbird

(Because of spam troubles, first-time comments from unfamiliar addresses or containing multiple links might be held for moderation. If your comment isn't spam, we'll publish it very soon. Thanks in advance for your patience.)