« August 2007 | Main | October 2007 »

Moby Dick Chapter 55 or 9200 times E", 2004, graphite on hemp paper, 11 x 9"
In one of those odd, blogospheric delayed reactions, I just came across (via Information Aesthetics, via Kottke) a fabulous exhibit that took place this past March by an artist named Justin Quinn, who does beautiful, mysterious work with text. Quinn's Moby-Dick series is made up of obsessively detailed prints and graphite drawings composed entirely of the letter E. Each E corresponds to a letter in a chapter of Melville's book, so each piece is composed of literally thousands of characters. The effect is almost that of a mosaic or a concrete poem. This series was shown at MMGalleries in San Francisco and has since moved elsewhere (Miami possibly?), but there are still a number of images online (also here). Quinn explains his obsession with E:
The distance between reading and seeing has been an ongoing interest for me. Since 1998 I have been exploring this space through the use of letterforms, and have used the letter E as my primary starting point for the last two years. Since E is often found at the top of vision charts, I questioned what I saw as a familiar hierarchy. Was this letter more important than other letters? E is, after all, the most commonly used letter in the English language, it denotes a natural number (2.71828), and has a visual presence that interests me greatly. In my research E has become a surrogate for all letters in the alphabet. It now replaces the other letters and becomes a universal letter (or Letter), and a string of Es now becomes a generic language (or Language). This substitution denies written words their use as legible signifiers, allowing language to become a vacant parallel Language -? a basis for visual manufacture.

After months of compiling Es into abstract compositions through various systemic arrangements, I started recognizing my studio time as a quasi-monastic experience. There was something sublime about both the compositions that I was making and the solitude in which they were made. It was as if I were translating some great text like a subliterate medieval scribe would have years ago - ?with no direct understanding of the source material. The next logical step was to find a source. Herman Melville's novel Moby Dick, a story rich in theology, philosophy, and psychosis provides me with a roadmap for my work, but also with a series of underlying narratives. My drawings, prints, and collages continue to speak of language and the transferal of information, but now as a conduit to Melville's sublime narratives.
Gazing at these for a while (digital reproductions of course... and on my browser... and brought to my attention through technology blogs), I couldn't help but start to draw some connections between Quinn's work and computers. There's plenty of digital artwork and visualization programs that render text into complex visual formations, sometimes with the intention of discovering new meanings and relationships, other times purely to play with form. Every now and then, someone manages to achieve both. This is a detail from Brad Paley's rendering of Gamer Theory through his program Text Arc: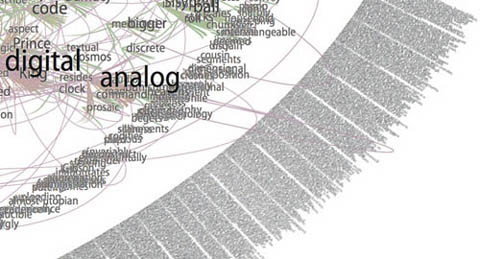 Others can be beautiful to handle, but are ultimately opaque, like Ben Fry's "Valence":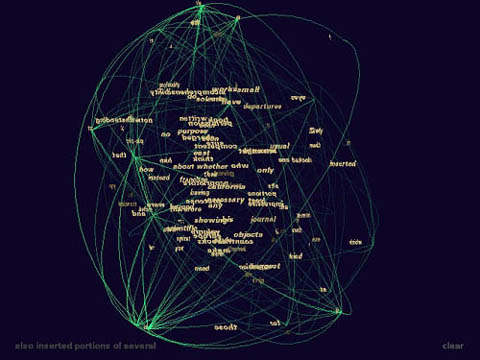 These two images are from another work submitted to our Gamer Theory visualization gallery, a map of nouns and verbs in Wark's text (first is full, second is a detail). It's pretty, but basically meaningless.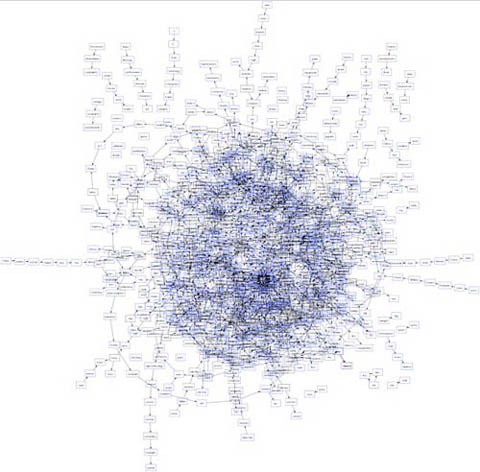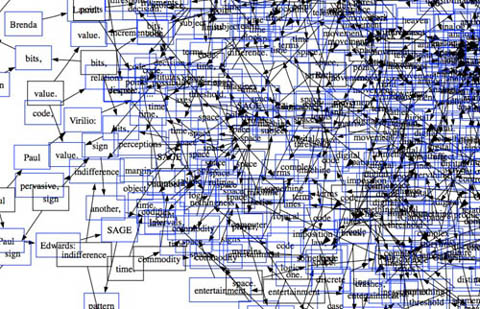 Quinn's work is also difficult to penetrate, but something about it holds my attention. I'm not sure how aware Quinn is of the digital work being done today, but viewing his pieces against the contemporary technological backdrop, and his own self-described feeling of being the "subliterate medieval scribe" as he makes his minute articulations, my mind runs off in a number of directions. Seeing that his work is in a way "pixelated" - ?his Es a "basis for visual manufacture" - ?I imagine him as a sort of human computer - ?a monastic machine - ?processing (or intuiting) the text by infintessimal degrees through his own inner algorithm.
After all, a computer's work is "subliterate." Algorithms must be designed with intelligence, but the actual running of the program is physical, mindless. Viewed this way, Quinn's work is like a dive into the mania of operations usually carried out with blazing speed by microprocessors. This is not to diminish it, or to call it cold and mechanical. Rather I'm pondering whether there is perhaps a spiritual dimension to the repetitive, sub-rational activities of our machines, which, if transposed to human scale, can become a sort of devotional exercise, like the routines of Buddhist monks, endlessly painting and carving Chinese characters in order to empty their minds (other links between monks and computers here and here).
What's particularly evocative to me about the work, however, is how it treads the line between that meditative quality and the obsessive. There is something frightening about them (or about any kind of fanatically detailed artwork, or about computers for that matter), like the reams of psychotic babble typed out ceaselessly by Jack Nicholson in "The Shining." Or is it Ahab's vengeance algorithm we're seeing, running on overdrive until the machine (or ship) crashes?
In the end, Quinn's images are mysterious, his algorithm inscrutable, although my mind immediately goes to work trying to link up Melville's themes and images to those endless strings of Es.
Here's that first image again with a quote from the source text that seemed to me to connect. Chapter 55, "Of the Monstrous Pictures of Whales":

Moby Dick Chapter 55 or 9200 times E", 2004, graphite on hemp paper, 11 x 9"
But these manifold mistakes in depicting the whale are not so very surprising after all. Consider! Most of the scientific drawings have been taken from the stranded fish; and these are about as correct as a drawing of a wrecked ship, with broken back, would correctly represent the noble animal itself in all its undashed pride of hull and spars. Though elephants have stood for their full-lengths, the living Leviathan has never yet fairly floated himself for his portrait. The living whale, in his full majesty and significance, is only to be seen at sea in unfathomable waters; and afloat the vast bulk of him is out of sight, like a launched line-of-battle ship; and out of that element it is a thing eternally impossible for mortal man to hoist him bodily into the air, so as to preserve all his mighty swells and undulations.
This one is of chapter 71, "The Jeroboam's Story" (I spoke briefly on the phone with one of the curators who told me that Quinn had explained this as an inverted halo, reflecting the anti-Christ-like character described in the chapter - ?I almost see an aerial view of a whale cutting through water):

Moby Dick Chapter 71 or 9,814 times E", 2006, mixed media, 11 x 15"
...but straightway upon the ship's getting out of sight of land, his insanity broke out in a freshet. He announced himself as the archangel Gabriel, and commanded the captain to jump overboard. He published his manifesto, whereby he set himself forth as the deliverer of the isles of the sea and vicar-general of all Oceanica. The unflinching earnestness with which he declared these things; - the dark, daring play of his sleepless, excited imagination, and all the preternatural terrors of real delirium, united to invest this Gabriel in the minds of the majority of the ignorant crew, with an atmosphere of sacredness. Moreover, they were afraid of him. As such a man, however, was not of much practical use in the ship, especially as he refused to work except when he pleased, the incredulous captain would fain have been rid of him; but apprised that that individual's intention was to land him in the first convenient port, the archangel forthwith opened all his seals and vials - devoting the ship and all hands to unconditional perdition, in case this intention was carried out. So strongly did he work upon his disciples among the crew, that at last in a body they went to the captain and told him if Gabriel was sent from the ship, not a man of them would remain.
Posted by ben vershbow at 11:04 AM | Comments (0)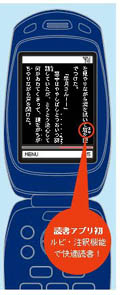 Peter Brantley points to an interesting WSJ piece (free) on the explosion of Japanese cellphone fiction. These are works, often the length of novels, composed specifically for consumption via the phone's tiny screen. In some cases, they are even written on the phone. Stories are written in terse, unadorned language, in chunks crafted specifically to fit on a single mobile screen. Dialog is favored heavily over narrative description, and from the short excerpts I've read, the aim seems to be to conjure cinematic imagery with the greatest economy of words. The WSJ reproduces this passage from Satomi Nakamura's "To Love You Again":
Kin Kon Kan Kon (sound of school bell ringing)
(space)
The school bell rang
(space)
"Sigh. We're missing class"
(space)
She said with an annoyed expression.
This novel clocks in at 200 pages, and was written entirely with Nakamura's thumb!
About seven years ago, some of these works started making their way into print, initially through self-publishing websites like Maho i-Land. But the popularity of mobile novels soon caught the attention of mainstream publishers and numerous titles have been made into bona fide hits in print, some selling into the millions, with film adaptations, the whole bit.
But if any industry lesson can be taken from this mini case study of Japanese cellphone fic, it's not the potential for crossover into print, but that emergent electronic literary forms will most likely find their economic model in services and subscriptions rather than in the sale of copies. The WSJ article suggests that the mobile lit genre exploded in Japan in no small part due to recent changes in service options from cellular providers.
About three years ago, phone companies began offering high-speed mobile Internet and affordable flat-rate plans for transmitting data. Users could then access the Internet as much as they wanted to for less than $50 a month.

The now-bustling Maho i-Land has six million members, and the number of mobile novels on its site has jumped, to more than a million today from about 300,000 before the flat-rate plans cut phone bills in half. According to industrywide data cited by Japan's largest cellphone operator NTT DoCoMo Inc., sales from mobile-book and comic-book services are expected to more than double, to more than $200 million from about $90 million last year.
This would suggest that at least part of the reason cellphone novels haven't taken off here in the States is the comparatively impoverished service we get from our mobile providers, and the often extortionist rates we pay. True, the mobile lit genre was already a phenomenon there before the rejiggering of service plans, which suggests there were preexisting cultural conditions that led to the emergence of the form: readers' already well developed appetites for serial comics perhaps, or the peculiar intensity of keitai fetishism. In other words, improved telcom services in the States wouldn't necessarily translate into a proliferation of cellphone novels, but other mobile media services would undoubtedly start to flourish. Broadband internet access is also pathetically slow in the US compared to countries in Europe and East Asia - ?the Japanese get service eight to 30 times faster than what we get over here. What other new media forms are being stifled by the crappiness of our connections?
Posted by ben vershbow at 10:13 AM | Comments (4)
There's a nice article about CommentPress this week in the Chronicle of Higher Education. Unfortunately, it's subscription only. Here's the link for those of you with access. I'm working on getting permission to offer a full PDF.
UPDATE: The Chronicle has kindly furnished us with a PDF. Help yourself.
Posted by ben vershbow at 1:18 PM | Comments (0)
We're very excited to announce that Siva's new Google book site, produced and hosted by the Institute, is now live! In addition to being the seed of what will likely be a very important book, I'll bet that over time this will become one of the best Google-focused blogs on the Web.
The Googlization of Everything: How One Company is Disrupting Culture, Commerce, and Community... and Why We Should Worry.
...a critical interpretation of the actions and intentions behind the cultural behemoth that is Google, Inc. The book will answer three key questions: What does the world look like through the lens of Google?; How is Google's ubiquity affecting the production and dissemination of knowledge?; and how has the corporation altered the rules and practices that govern other companies, institutions, and states?
I have never tried to write a book this way. Few have. Writing has been a lonely, selfish pursuit for my so far. I tend to wall myself off from the world (and my loved ones) for days at a time in fits and spurts when I get into a writing groove. I don't shave. I order pizza. I grumble. I ignore emails from my mother.

I tend to comb through and revise every sentence five or six times (although I am not sure that actually shows up in the quality of my prose). Only when I am sure that I have not embarrassed myself (or when the editor calls to threaten me with a cancelled contract - whichever comes first) do I show anyone what I have written. Now, this is not an uncommon process. Closed composition is the default among writers. We go to great lengths to develop trusted networks of readers and other writers with whom we can workshop - or as I prefer to call it because it's what the jazz musicians do, woodshed our work.

Well, I am going to do my best to woodshed in public. As I compose bits and pieces of work, I will post them here. They might be very brief bits. They might never make it into the manuscript. But they will be up here for you to rip up or smooth over.

That's the thing. For a number of years now I have made my bones in the intellectual world trumpeting the virtues of openness and the values of connectivity. I was an early proponent of applying "open source" models to scholarship, journalism, and lots of other things.

And, more to the point: One of my key concerns with Google is that it is a black box. Something that means so much to us reveals so little of itself.

So I would be a hypocrite if I wrote this book any other way. This book will not be a black box.
Posted by ben vershbow at 8:44 AM | Comments (0)
I'm delighted to be joining the team at the Institute. I'm not an academic but a deviser and manager of projects to promote creative reading, so thinking and doing go together for me. As Director of Booktrust for seven years and of the Poetry Society before that, I've been particularly interested in finding new ways to bring readers and writers together. At the Poetry Society we ran a scheme that put poets to work in community settings, opening up access to their work but also providing each writer with new networks of communication, communities of readers and sources of inspiration. Booktrust runs the amazing Bookstart scheme which gives books to babies and small children, seeding a love of words and pictures before literacy blooms. The web has become a vital tool in promoting all kinds of reading and one Booktrust site well worth exploring is STORY, the campaign to keep short fiction alive and thriving; it's an ideal form to read online.
But I've been struck recently by how so much reading promotion cuts literature off from other media, as if anyone still lives solely in a 'world of books'. We all exist in a multiculture now, and there's a need to look much harder at how we connect ideas gleaned from tv, websites, books and real life conversations to patch together our personal stances and narratives.
Conventional publishers and their authors wonder how they'll survive as industries converge and users generate. Working with if:book I'm keen to look hard at different means to bring quality writing - and in particular fiction - to new audiences, so that writers can afford to eat and readers can savour genuinely compelling writing on-line.
When I've told colleagues about my move from Booktrust to exploring the future of the book, I've had howls of outrage and alarm from some unexpected sources. People who spend their days at a computer and evenings watching TV screens are horrified that I might be out to deprive them of the pleasure of their paperbacks. Readers cling on tight to their tomes as if literature and stationary were inseparable; meanwhile the digital world has stretched the definition of book to include laptops and social networks. So in the era of MacBooks and FaceBook, what does the (paper)book represent to people? It's a constant in the flux of change; something worth concentrating on and keeping afterwards. Of course plenty of fiction and non-fiction published is transient crap, but research shows that people find it hard to throw away a piece of print if it's perfect bound.
So a future book should be using all the opportunities that new media affords, but without breathlessness. The kind of pointless interactivity that the BBC's Jeremy Paxman complained about at this year's Edinburgh TV Festival really isn't good enough. Whether we consume it via an e-reader, a mobile, laptop or a document printed on demand, a future book will need to be worth sticking with, the product of some serious thought and time, a carefully constructed whole. It will be rendered using the extended palette of multimedia possibilities open to makers, may be a team effort or the work of a solo author, may incorporate space for reader response and links to other sites, may use a range of delivery methods, be porous and evolving, but if it doesn't have the integrity and quality we expect from literature then something far more important than the nostalgic musty smell of old paperbacks will have been lost.
Where do literature and stories fit in our lives? That's the question I've always been most interested in. The answer changes all the time, and that's why the work of the Institute for the Future of the Book seems to me so important.

Posted by chris meade at 5:06 PM | Comments (19)
In the first 'Books and the man' post I took the example of Alexander Pope to argue that the idea of 'high' literature is inseparable from economic conditions that enable a writer to turn himself into a brand and sell copyrighted material to his readership. In this post I want to look at what happens to creative work in a medium whose very nature militates against copyright.
The internet encourages artists to give stuff away for free, and to capitalise (somehow) on abundance and reproducibility. Ben's recent roundup of copyright-related readings quotes Jeff Jarvis to this effect: "It has taken 13 years of internet history for media companies to learn that, to give up the idea that they control something scarce they can charge consumers for." So the answer, says Jay Rosen, is advertising: "Advertising tied to search means open gates for all users". But while this works just fine for regularly-updated information-type content, how are works of imagination to be funded? As media professor Tim Jackson pointed out some years ago in Towards A New Media Aesthetic, the infinite reproducibility of content on the web threatens the livelihood of artists and writers to a degree that critics such as Keen believe will bring about the collapse of civilization as we know it.
Keen's wrong. There were artists before there was copyright, and there will be afterwards. Leaving aside my speculations about experiments such as Meta-Markets, cultural forms are starting to emerge online that make use of the internet's mutability, endlessness, unreliability and infinitely-reproducible nature. But they're not 'high art', in the sense that Pope pioneered. Rather, they hark back to an earlier period of literature when aristocratic patronage was the norm, and there was little distinction between 'high' and 'low' art except in the sense of being calibrated to the tastes of the target audience.
I've written here previously about the ways in which alternate reality gaming is the first genuinely net-native storytelling form. I complained that this exciting form was emerging and was already being colonised by the advertising industry, through sponsorship and similar. Where and how, I wondered, would the 'independent' ARGs emerge?
I'd like to eat my words. Calling for 'independent' ARGs invoked the perspective of those cultural assumptions of 'independence' that both created and were created by the scarcity business model of copyright. In doing so, I ignored the fact that the internet doesn't use a scarcity model - and hence that the concept of 'independence' doesn't work in the same way. And internet users don't seem to care that much about it.
I asked Perplex City creator Dan Hon whether he thought there was a bias, or any qualitative difference, between 'independent' and sponsored ARGs. He told me that ARG enthusiasts don't reall care: "It's normally the execution of the game that will have the most impact."
So for enthusiasts of the internet's first native storytelling form, the issue of whether corporate sponsorship is acceptable (an idea which would beanathema to anyone raised in the modernist tradition of authorship) is completely meaningless. If anything, Dan reckons 'independence' counts against you: "There absolutely isn't any value-laden bias towards indie-ARGs - in fact, if anything there's a negative bias against them. Many players [...] are quite happy to give warnings that the indie args are liable to spontaneously implode just because the people behind them are "too indie". A quick nose around the 'ARGs with Potential' section on the Unfiction boards turns up enough 'This looks like a dodgy indie affair' style remarks to back up this statement.
So while the arts world "was divided between shock and hilarity" when Fay Weldon got jewellers Bulgari to pay an undisclosed amount for frequent mentions in a 2001 novel, there are no anxieties in the ARG community about seeing advertising converge with the arts. Perhaps one could argue that ARGers are typically computer gaming enthusiasts too, and if they can cope with expensive Playstation games they can cope with Playstation-sponsored stories.
But. Take a look at Where Are The Joneses?, a collaboratively-written, professionally-filmed and Creative Commons-licenced online sitcom devised by former Channel 4 new media schemer David Bausola. Not an ARG; but a near-perfect instance of bottom-up culture. Written by its community, quality-checked by the production team, funny, absorbing, released on open licence - and an advert for Ford Motors.
If you catch him in an expansive mood, David will tell you that the marketing industry will survive only if it stops trying to influence culture and just starts making it. The flip side of that is that vested interests will, increasingly, explicitly find their way into creative works produced online. And, in my view, that's not necessarily a bad thing.
A glance at some of the scions of the pre-eighteenth-century canon gives a hint at the role that aristocratic patronage played in the arts. To hear some of the anti-internet rearguard speak, one might think that To Penshurst was written independently of the relation between Sir Robert Sidney and Ben Jonson; one might think that the arts has always been unsullied by power; that the encroachment of the the latter (in the form of commerce) on the former is a sign of our imminent cultural disintegration.
But contrary to Keen's assertion that the mechanisms of copyright are indispensable to cultural dynamism, the English cultural renaissance that gave us Shakespeare, Bacon, Sidney, Donne, Marvell et al was largely driven by aristocratic patronage. Copyright hadn't been invented yet. And if the world of art and culture is to survive in a post-copyright environment, it may be time to look furthe back in the past than the eighteenth century, and re-examine previous models. Which means looking again at patronage, which in turn, today, makes a strong case for embracing the advert. With the distinctions between brand patronage and creative culture already collapsing, it may be time for artists to wake up to the power they could wield by embracing and negotiating with the vested interests of corporate sponsors. If they do, the result may yet be a digital Renaissance.
Posted by sebastian mary at 10:00 AM | Comments (9)
There are a couple of nice classroom implementations of CommentPress that I wanted to share, one that we set up by request, another done independently.
1. The first is an edition of Dante's Inferno (Longfellow translation) for a literature seminar at the Pacific Northwest College of Art, "The Seven Deadly Sins," taught by Trevor Dodge.
2. The second is "Man-Computer Symbiosis," a seminal text in the history of computing by J.C.R. Licklider for a Harvard History of Science course, "Introduction to the History of Software and Networks". This was brought to my attention by the teacher, Christopher Kelty, a professor of anthropology at Rice University, who is teaching this term at Harvard.
It's still early in the semester but you can already see a substantial amount of discussion unfolding on both sites (be sure to use the "Browse Comments" navigation on the right sidebar to get a sense of where in the document discussion is happening, and who is participating). Kelty in particular encourages other knowledgeable readers from around the Web to make use of the Licklider text.
Posted by ben vershbow at 2:20 PM | Comments (0)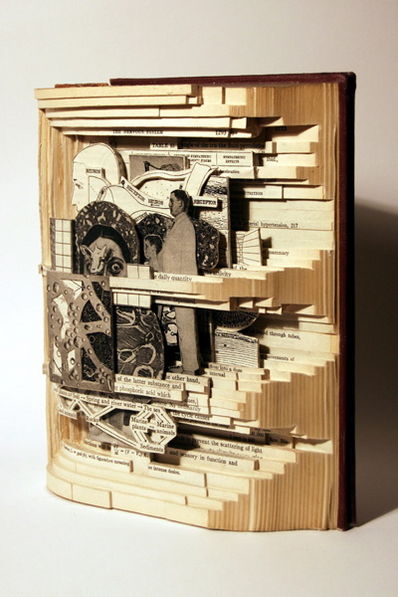 "The Physiological Basis of Medical Practice, 2006", Altered book, 9 x 7-1/2 x 3-1/4 inches.
By Brian Dettmer at Haydee Rovirosa Gallery, New York.
(via Ron Silliman)
Posted by ben vershbow at 11:12 AM | Comments (0)
A couple more small items for the "content is free, networks are valuable" meme... these w/r/t television. First, this LA Times piece on CBS's "new internet strategy":
The idea is to let their online material be promiscuous: Instead of limiting their shows and other online video to CBS.com, the network is letting them couple with any website that people might visit.

"CBS is all about open, nonexclusive, multiple partnerships," said Quincy Smith, president of CBS Interactive.
A big part of this strategy is building an "audience network," and to this end the newly revamped CBS site provides a variety of fora - ?message boards, wikis, and user-generated media galleries - ?to try to capture some of the energy of its various fan communities. It's a fine line to tread, since fan culture is almost by definition self-organizing and thrives on a sort of semi-autonomy. But perhaps this only because the broadcasters have hitherto kept their distance (the occasional self-defeating lawsuit notwithstanding). It's an interesting (and somewhat yucky) question, and one that applies well beyond TV: to what extent can community be branded?
Compare this with NBC's more retentive move toward quasi-openness, post-iTunes, with NBC Direct, a service that offers free downloads of shows with auto-destruct DRM that wipes files after a week. I don't think either network's got it yet, but these are interesting experiments to watch.
In light of this, it's worth revisiting Mark Pesce's 2005 talk, "Piracy is Good?", available here on Google Video.
Posted by ben vershbow at 2:07 PM | Comments (0)
A few good readings to inject into recent conversation here about a post-copyright world (1, 2, 3), and in light of the death of Times Select and the ripple effect that is likely to have across the Web. First, a two-year-old post by Jeff Jarvis, "Who Wants to Own Content?", ruminating on the supreme value of trust and conversation in a post-scarcity publishing ecology:
But in this new age, you don't want to own the content or the pipe that delivers it. You want to participate in what people want to do on their own. You don't want to extract value. You want to add value. You don't want to build walls or fences or gardens to keep people from doing what they want to do without you. You want to enable them to do it. You want to join in.

And once you get your head around that, you will see that you can grow so much bigger so much faster with so much less cost and risk.

So don't own the content. Help people make and find and remake and recommend and save the content they want. Don't own the distribution. Gain the trust of the people to help them use whatever distribution and medium they like to find what they want.

In these new economics, you want to stand back and interfere and restrict as little as possible. You want to reduce costs to the minimum. You want to join in wherever you are welcome.

So in the content world, it is better help enable and be part of fluid networks of content than it is to create and own content...It is better to find new efficiencies than new blockbusters...It is better to gather than create...It is better to share trust than to horde it.
Whatever the media business models of tomorrow may be, they will almost certainly not revolve around owning content. It will be about, as Jay Rosen says in his Times Select obit, "weaving yourself into the Web":
...that's the decision in Web court the New York Times is accepting. Consent decree with the open web. Dismisses all courses of action against Google. Times agrees to drop Times Select, which was a barrier to Google - ?and the blogosphere - ?working the right way.

The decision says you can try to charge, and some people will pay, but there is more money and a brighter future in the open flow of Web traffic, a lot of which is coming sideways into your content stack because Google sends tons of users in that way, not through your pearly gates of news, also called a home page. RSS sends stuff from the middle of the stack out.

When every barrier you create to their participation with your product weakens your revenue stream, which is tied to openness, you're in the world of the consent decree. Advertising tied to search means open gates for all users. It means link rot cut to zero, playing for the long haul in Web memory and more blogs because they are Web-sticky.
Now back to Jarvis, who in a new post predicts among other things that the Times' decision will likely be the first domino in a chain of paywall demolitions: Wall Street Journal, Economist, Financial Times. He picks up the thread from his older piece:
It's the relationship that is valuable. It's the relationship that is profitable, not the control of the content or the distribution. That is the essential media moral of the internet story. It has taken 13 years of internet history for media companies to learn that, to give up the idea that they control something scarce they can charge consumers for, but they've finally learned it. That is the lesson of the death of TimesSelect.
Posted by ben vershbow at 10:32 AM | Comments (2)
Beginning today, i'll be spending at least ten days per month in London where i'll be a senior fellow at the London School of Economics and also joining our new colleague, Chris Meade, with the intention of establishing a London base for the institute. Until recently Chris was the director of Booktrust, an organization which among other things gives a package of books to all children born in Britain at the time of their birth and when they start primary school. A year ago Chris signed up for the pioneering Creative Writing & New Media masters program at DeMontfort University and decided to make the leap into the future. He's landed here with us and will be the co-director of the institute, based in London.
Posted by bob stein at 10:51 AM | Comments (4)
So in my last post I compared the sentiments expressed in Pope's Dunciad to those of Andrew Keen's The Cult of The Amateur, and suggested some parallels between the eighteenth-century print boom and the explosion of user-generated content in web2.0. The point I wanted to make was that the model of content production championed by Keen is historically-specific and relies on an economic context where printed matter is common enough to be marketed to the general public, but still scarce enough to enable writers to make a living from selling units of content to their audiences.
I've been gnawing for some time at the question of what happens to creative writers - or artists in general - in a world where success of content is based not on its scarcity (the 'high art' model) but on ubiquity and infinite reproducibility. If copyright no longer exists, how can (already often cash-strapped) independent arts workers sell their work? And what will they do if they can't?
So I was intrigued to come across Meta-Markets, an experiment by MIT media artist Burak Arikan, currently in beta. In this 'marketplace', users can 'IPO' shares in del.icio.us links, Feedburner feeds, Flickr profile views and the like. It's pleasing in a surreal way to watch shares in 'you' going up and down - particularly as I'm trading from London and most of the others are based in NY, so the stocks go crazy at weird times of the day and night relative to me. But it also provokes some intriguing speculations around the potential to create an economic model for the arts online that is genuinely based on the internet's drive toward reproducibility rather than scarcity.
One of Arikan's stated aims with Meta-Markets is to explore ways in which creative types can leverage their immaterial labor as new kinds of 'currency' - in other words, to find a business model for trading cultural stuff online that isn't dependent on price per copyrighted unit. And it starts some intriguing trains of thought. In order to 'IPO' a link, you have to have been the first to bookmark it, and at least 10 others have to have bookmarked it after you. So it requires both some minimal popularity, and also a 'first claim' ownership. I was irked to find, for example, that I couldn't bookmark my own website and then sell stocks in it, because someone else already 'owns' that link.
So, I wondered, what if real money were involved? Supposing my website suddenly shot up the Alexa rankings, would I be in a position of watching someone else make a fortune on 'ownership' of my bookmarks? Or would the first thing to do after launching something online be to bookmark the URL so as to ensure you can trade on its popularity? Following that train of thought a little further, it's possible to imagine some folksonomic inversion of the centralised copyright law taking the place of the existing system. This might then enable artists and writers to claim a fuzzy, emergent 'ownership' of creative online work and thus to find ways of making a living from it.
But I think that's a long way off, if it ever happens at all. Meanwhile, we're a long way from having any consistently viable independent revenue model for online artists, who find themselves between starvation, corporate sponsorship and the sometimes rather stodgy world of public/philanthropic arts funding. But again, maybe that's not such a bad thing, of which more next time...
Posted by sebastian mary at 10:28 AM | Comments (1)
Placing a long-term bet on online advertising and the power of search engines, the New York Times will, effective tomorrow, close down its two-year-old "Select" subscription service (which was actually making money for the paper) and opened up access to columnists, Select blogs, and archives from 1987 to the present, and 1851 to 1922. Nice!
From PaidContent, quoting the Times' own coverage:
The change is because of what's happened in the internet in the past two years - ?particularly the power of search." She [Vivian Schiller, senior vp and general manager of nytimes.com] added later: "Think about this recipe - ?millions and millions of new documents, all seo'd [search engine optimized], double-digit advertising growth." The Times expects "the scale and the power of the revenue that would come from that over time" to replace the subscriptions revenue and then some.
Posted by ben vershbow at 12:15 AM | Comments (1)
I've never been a fan of book trailers, but this disturbing six-minute agitprop piece promoting Naomi Klein's new book The Shock Doctrine: The Rise of Disaster Capitalism is genre-transcending. It doesn't hurt that Klein teamed up with Mexican director Alfonso Cuarón, who made what was for my money the best major release picture of last year, "Children of Men." Here, Klein and Cuarón are co-writers, Cuarón's son Jonás directs and edits, and Klein provides narration over a melange of chilling footage and animation that sets up her central thesis and metaphor: that free market capitalist reforms are generally advanced, undemocratically, through breaches in the social psyche created by political, economic, environmental or military shocks. It's a shocking little video. Make you wanna read the book?
Posted by ben vershbow at 6:48 PM | Comments (7)
The indefatigable Carl Malamud of public.resource.org today sent out a public interest letter to the U.S. Copyright Office demanding that they provide bulk access over the Internet to the catalog of copyrighted monographs, documents and serials, a resource which to date has been accessible in full only through costly subscriptions and access fees to the tune of $86,625 (currently it's available for free only by individual record queries).
The copyright catalog of monographs, documents, and serials is not a product, it is fuel that makes the copyright system work. Anybody should be able to download the entire database to their desktop, write a better search application, or use this public domain information to research copyright questions.
It also makes the point that under U.S. copyright law, government publications are supposed to be automatically in the public domain, which makes this Library of Congress-sponsored priced access racket particularly hard to swallow. Read the full letter (co-signed by a good group including Peter Brantley and Rick Prelinger) here.
(via O'Reilly.)
Posted by ben vershbow at 6:40 PM | Comments (0)
The photographs of libraries in "Portugal," the current exhibition of Candida Höfer at Sonnabend, show libraries as venerable places where precious objects are stored.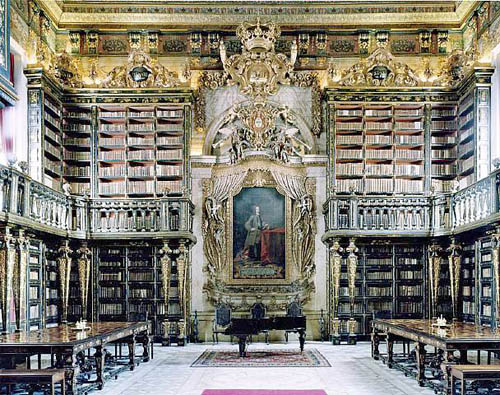 The large format that characterizes Höfer's photographs of public places, the absence of people, and the angle from which she composes them, invite the viewer "to enter" the rooms and observe. Photography is a silent medium and in Höfer's libraries this is magnified, creating that feeling of "temple of learning" with which libraries have often been identified. On the other hand, the meticulous attention to detail, hand-painted porcelain markers, ornately carved bookcases, murals, stained glass windows, gilt moldings, and precious tomes are an eloquent representation of libraries as palaces of learning for the privileged. In spite of that, and ever since libraries became public spaces, anyone, in theory, has access to books and the concept of gain or monetary value rarely enters the user's mind.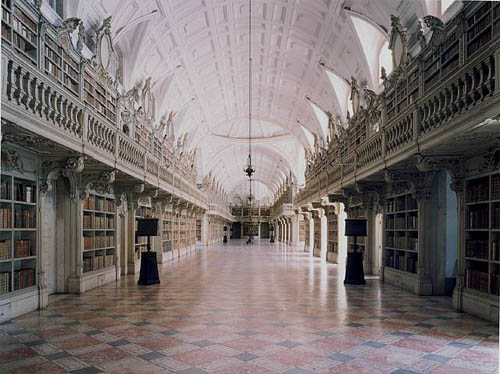 Libraries are a book lover's paradise, a physical compilation of human knowledge in all its labyrinthine intricacy. With digitization, libraries gain storage capacity and readers gain accessibility, but they lose both silence and awe. Even though in the digital context, the basic concept of the library as a place for the preservation of memory remains, for many "enlightened" readers the realization that human memory and knowledge are handled by for-profit enterprises such as Google, produces a feeling of merchants in the temple, a sense that the public interest has fallen, one more time, into private hands.
As we well know, the truly interesting development in the shift from print to digital is the networked environment and its effects on reading and writing. If, as Umberto Eco says, books "are machines that provoke further thoughts" then the born-digital book is a step toward the open text, and the "library" that eventually will hold it, a bird of different feather.
Posted by sol gaitan at 12:53 AM | Comments (2)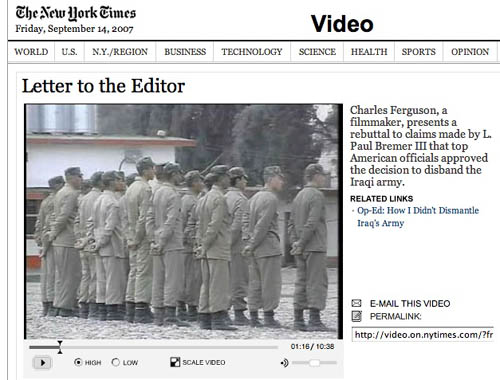 The Times has published its first video "letter to the editor," a 10-minute mini-documentary by Charles Ferguson on the decision by L. Paul Bremer and other US officials to disband the Iraqi army shortly after the US occupation began. The video is posted as a rebuttal to a recent op-ed by Bremer that tried to redistribute some of the blame for that catastrophic blunder that arguably gave birth to the Sunni insurgency.
This is no doubt a milestone for the paper, although calling it a letter to the editor is slightly disingenuous. Ferguson isn't just your average concerned reader, he's a highly respected filmmaker and author who has made a full length doc about Iraq, "No End in Sight," from which much of this video's material is taken.
Moreover, at ten minutes, and meticulously edited and produced, filled with interviews with top military brass and gov't officials, the clip is more on par (at the very least) with a full op-ed. The main opinion page even features it as such - ?under op-ed contributors - ?rather than placing it down among the letters. Will we eventually see actual ad hoc video letters to the editor from "readers" at large? That could be interesting.
Nomenclature aside, though, this is a fantastic broadening of the Times' editorial output. Once again, they prove themselves to be one of the more innovative digital publishers around.
Posted by ben vershbow at 12:02 AM | Comments (1)
Alex Juhasz, a prof at Pitzer College and member of the MediaCommons community, has just kicked off an exciting experimental media studies course, "Learning From YouTube," which will be conducted on and through the online video site. The NY Times/AP reports.
The class will be largely student-driven, developed on the fly through the methods of self-organization and viral production that are the MO of YouTube. In Juhasz's intro to the course (which you can watch below), she expresses skepticism about the corporate video-sharing behemoth as a viable "model for democratic media," but, in the spirit of merging theory with practice, offers this class as an opportunity to open up new critical conversations about the YouTube phenomenon, and perhaps to devise more "radical possibilities."
Over on the MediaCommons blog, Avi Santo provides a little context:
...this initiative is part of a long history of distance learning efforts, though taken to another level, both because of the melding of subject matter and delivery options, but also the ways this class blurs classroom boundaries physically and conceptually. We need to acknowledge this history, both innovative and failed, if we want to see Juhasz's efforts as more than an interesting experiment, but as one emerging out of a long tradition of redefining how learning happens. As media scholars, we are on the forefront of this redefinition, able to both teach about and through these technologies and able to use our efforts to both critique and acknowledge their uses and limitations...
Posted by ben vershbow at 12:20 PM | Comments (1)
I just came across oSkope, a snazzy new "visual search assistant" built by a Zurich/Berlin outfit that allows you to graphically browse items on Amazon, ebay, Flickr or YouTube. More than a demo or prototype, it's a fully functioning front end to the search engines of the afore-mentioned sites. I played around a bit in Amazon mode... below are some screenshots of a search for "Kafka" in Amazon's book category. Each search cluster can be displayed in five different configurations (grid, stack, pile, list and graph), re-scaled with a slide bar, or rearranged manually by dragging items around. Click any cover and a small info window pops up with a link to the Amazon page. You can also drag items down into a folder for future reference. Very smooth, very tactile.
Grid: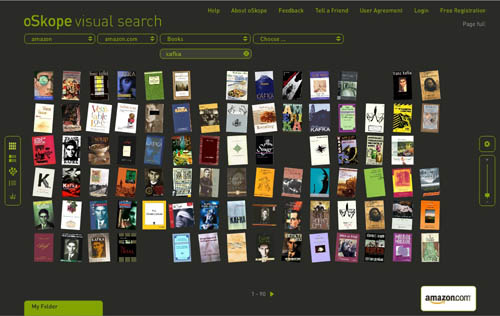 Stack: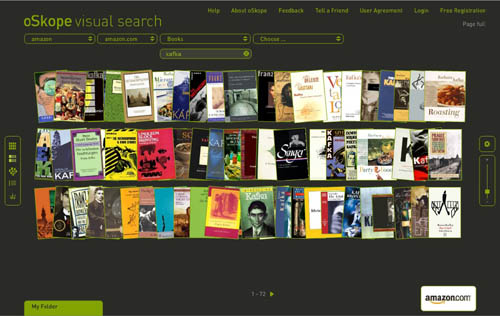 Pile: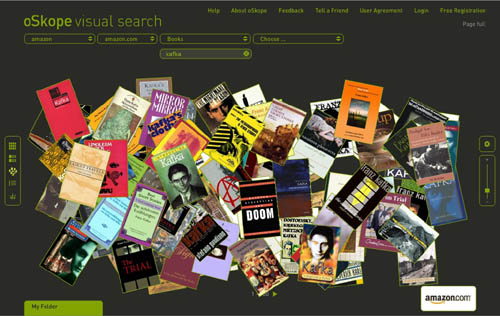 List:
Graph (arranges items along axes of price and sales rank):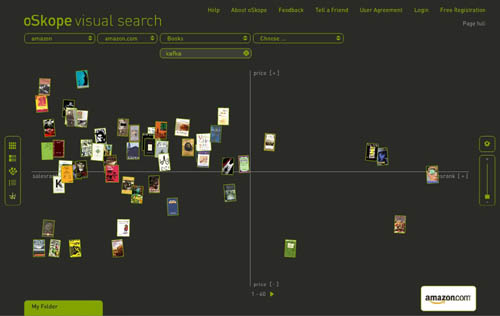 A few months back I linked to another visual Amazon browser from TouchGraph that arranges book clusters according to customer purchase patterns (the "people who purchased this also bought..."). I'm still waiting for someone to visualize the connections in the citation indexes: create a cross-referential map that shows the ligatures between texts (as pondered here). Each of these ideas is of course just an incremental step toward more advanced methods of getting the "big picture" view of digital collections.
oSkope, though it could still use some work (Flickr searching was unpredictable and didn't seem to turn up nearly as much as what I'm sure is in their system, Ebay wasn't working at all), is a relatively straightforward and useful contribution - ?more than just eye candy. It even helped me stumble upon something wonderful: a recently published study (appropriately, visual) of Kafka, a collab between comic artist R. Crumb and Kafka scholar David Mairowitz.
Browsing graphically is often more engaging than scanning a long list of results, and a crop of new tools - ?LibraryThing, Shelfari, Delicious Library, and now Google Books - ?have recently emerged to address this, all riffing in similar, somewhat nostalgic ways on the experience of shelves (Peter Brantley just blogged another idea in this vein). iTunes too has gotten in on this, its album cover flipper becoming a popular way to sift through one's music collection.
Perhaps it's telling, though, that these visual, shelf-inspired browsing tools are focused on old media: books, albums... all bounded objects. You couldn't simply graft this onto web search and get the same effect (although page previews, of the sort that Snap provides, are becoming increasingly popular). For vast, shifting collections of unbounded, evolving, recombining, and in many cases ephemeral media, different vizualization tools are most likely needed. What might those be?
(oSkope link via Information Aesthetics)
Posted by ben vershbow at 2:03 AM | Comments (1)
Sorry to sink for a moment into celebrity gossipsville, but this video had me utterly mesmerized for the past four minutes. Basically, this guy's arguing that Britney Spears' sub-par performance at the VMAs this weekend was do to a broken heel on one of her boots, and he goes to pretty serious lengths to prove his thesis. I repost it here simply as an example of how incredibly pliable and reinterpretable media objects have become through digital editing tools and distribution platforms like YouTube. The minute precision of the editing, the frequent rewinds and replays, and the tweaky stop/start pacing of the inserted commentaries transform the tawdry, played-to-death Britney clip into a fascinating work of obsession.
Heads up: Viacom has taken the video down. No great loss, but we now have a broken post, a tiny monument to the web's impermanence.
(via Ann Bartow on Sivacracy)
Posted by ben vershbow at 12:09 PM | Comments (3)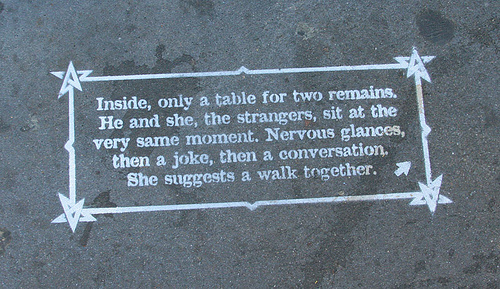 Not sure if it's been washed away yet, but folks in the Bay Area should keep an eye out for this charming urban hypertext:
The mission stencil story is an interactive, choose-your-own-adventure story that takes place on the sidewalks of the Mission district in San Francisco. It is told in a new medium of storytelling that uses spraypainted stencils connected to each other by arrows. The streetscape is used as sort of an illustration to accompany each piece of text.
More images and some press links on this Flickr photoset.
(Thanks sMary!)
Posted by ben vershbow at 1:31 PM | Comments (1) | TrackBack
We're just a couple of days away from launching what promises to be one of our most important projects to date, The Googlization of Everything, a weblog where Siva Vaidhyanathan (who's a fellow here) will publicly develop his new book, a major critical examination of the Google behemoth. As an appetizer, check out this First Monday podcast conversation with Siva on the subject of Google's book activities (mp3, transcript).
An excerpt:
Q: So what's the alternative? Who are the major players, what are the major policy points?

SIVA: I think this is an important enough project where we need to have a nationwide effort. We have to have a publicly funded effort. Guided, perhaps led by the Library of Congress, certainly a consortium of public university libraries could do just as well to do it.

We're willing to do these sorts of big projects in the sciences. Look at how individual states are rallying billions of dollars to fund stem cell research right now. Look at the ways the United States government, the French government, the Japanese government rallied billions of dollars for the Human Genome Project out of concern that all that essential information was going to be privatized and served in an inefficient and unwieldy way.

So those are the models that I would like to see us pursue. What saddens me about Google's initiative, is that it's let so many people off the hook. Essentially we've seen so many people say, "Great now we don't have to do the digital library projects we were planning to do." And many of these libraries involved in the Google project were in the process of producing their own digital libraries. We don't have to do that any more because Google will do it for us. We don't have to worry about things like quality because Google will take care of the quantity.

And so what I would like to see? I would like to see all the major public universities, public research universities, in the country gather together and raise the money or persuade Congress to deliver the money to do this sort of thing because it's in the public interest, not because it's in Google's interest. If it really is this important we should be able to mount a public campaign, a set of arguments and convince the people with the purse strings that this should be done right.
Posted by ben vershbow at 7:39 PM | Comments (3) | TrackBack
Facing a far from certain future, the New York Times continues to innovate impressively, announcing yesterday a new venture in distance learning with six initial partner universities: the New York Times Knowledge Network. Among other things, this could help pave the way to a long overdue rethinking of textbooks.
Selected passages from Scott Jaschik in Inside Higher Ed:
Some of the online courses will also make use of Times content that is a centerpiece of the services being offered to colleges, on enrollment-based subscription plans. These packages will provide access to special packages of content -? summaries of articles, interactive maps, video, audio, graphs -? on a wide range of topics (the European Union, nanotechnology and so forth). Professors at institutions that subscribe would be able to make customized course Web pages, with their own content alongside these content packages. For the many topics covered on which there are updates, professors can elect to have material updated automatically or at the end of the semester.

...

Robert L. Caret, president of Towson [one of the universities participating in the Times network], said he sees the materials providing "a broader, richer educational experience to students." He said he saw this as something Towson could do at minimal cost. The university plans to charge students the equivalent of a laboratory fee, maybe $100 to $150, for access to the Times materials. But he said student costs should not go up because he sees the online resources replacing some textbooks, and replacing them with material that is more current and more interactive.

...

Nudelman [NYT director of education] said that the Times did not view its new offerings as course-management systems in competition with Blackboard or others, but as complements to those systems. Nudelman said that the target audience for the Times for these services would be every higher education institution. "This is an absolute fit. We've been doing work in education for over 70 years, and this fits in with our ability to partner with the universities, colleges, and K-12, to work on distribution of information, news and entertainment, and to convene communities around credible content," she said.
And in a comment on the IHE piece, Michael P. Lambert, Executive Director at Distance Education and Training Council, points out that the Times' new effort falls in a long line of continuing education programs through newspapers:
The Times entry to the distance learning field is a continuation of a tradition of "courses by newspaper" first launched in the U.S. by the Editor of the Mining Herald in Scranton, PA, in 1890. Thomas J. Foster started investigating coal mine accidents in his newspaper, and this led to a series of "instructional articles" in mine safety. His "course by newspaper" hit a nerve with the public. Soon, Foster was getting mail from around the world on the topic of mine safety, and from this editorial platform, he launched the International Correspondence Schools (ICS). By 1895, ICS had enrolled over 10,000 people in his correspondence programs, and by 1910, over 1.3 million, by 1945, over 5 million, and by 2007, over 13 million have enrolled. Today, ICS' pioneering work in "continuing education for everyone" is carried on faithfully by Penn Foster College of Scranton, a DETC accredited distance learning institution. So there is a long and noble tradition of newspapers in bringing learning opportunities to the world, and the New York Times is a welcome entry to this tradition.
Posted by ben vershbow at 3:47 PM | Comments (5) | TrackBack
The NY Times reported yesterday that the Kindle, Amazon's much speculated-about e-book reading device, is due out next month. No one's seen it yet and Amazon has been tight-lipped about specs, but it presumably has an e-ink screen, a small keyboard and scroll wheel, and most significantly, wireless connectivity. This of course means that Amazon will have a direct pipeline between its store and its device, giving readers access an electronic library (and the Web) while on the go. If they'd just come down a bit on the price (the Times says it'll run between four and five hundred bucks), I can actually see this gaining more traction than past e-book devices, though I'm still not convinced by the idea of a dedicated book reader, especially when smart phones are edging ever closer toward being a credible reading environment. A big part of the problem with e-readers to date has been the missing internet connection and the lack of a good store. The wireless capability of the Kindle, coupled with a greater range of digital titles (not to mention news and blog feeds and other Web content) and the sophisticated browsing mechanisms of the Amazon library could add up to the first more-than-abortive entry into the e-book business. But it still strikes me as transitional - ?a red herring in the larger plot.
A big minus is that the Kindle uses a proprietary file format (based on Mobipocket), meaning that readers get locked into the Amazon system, much as iPod users got shackled to iTunes (before they started moving away from DRM). Of course this means that folks who bought the cheaper (and from what I can tell, inferior) Sony Reader won't be able to read Amazon e-books.
But blech... enough about ebook readers. The Times also reports (though does little to differentiate between the two rather dissimilar bits of news) on Google's plans to begin selling full online access to certain titles in Book Search. Works scanned from library collections, still the bone of contention in two major lawsuits, won't be included here. Only titles formally sanctioned through publisher deals. The implications here are rather different from the Amazon news since Google has no disclosed plans for developing its own reading hardware. The online access model seems to be geared more as a reference and research tool -? a powerful supplement to print reading.
But project forward a few years... this could develop into a huge money-maker for Google: paid access (licensed through publishers) not only on a per-title basis, but to the whole collection - ?all the world's books. Royalties could be distributed from subscription revenues in proportion to access. Each time a book is opened, a penny could drop in the cup of that publisher or author. By then a good reading device will almost certainly exist (more likely a next generation iPhone than a Kindle) and people may actually be reading books through this system, directly on the network. Google and Amazon will then in effect be the digital infrastructure for the publishing industry, perhaps even taking on what remains of the print market through on-demand services purveyed through their digital stores. What will publishers then be? Disembodied imprints, free-floating editorial organs, publicity directors...?
Recent attempts to develop their identities online through their own websites seem hopelessly misguided. A publisher's website is like their office building. Unless you have some direct stake in the industry, there's little reason to bother know where it is. Readers are interested in books not publishers. They go to a bookseller, on foot or online, and they certainly don't browse by publisher. Who really pays attention to who publishes the books they read anyway, especially in this corporatized era where the difference between imprints is increasingly cosmetic, like the range of brands, from dish soap to potato chips, under Proctor & Gamble's aegis? The digital storefront model needs serious rethinking.
The future of distribution channels (Googlezon) is ultimately less interesting than this last question of identity. How will today's publishers establish and maintain their authority as filterers and curators of the electronic word? Will they learn how to develop and nurture literate communities on the social Web? Will they be able to carry their distinguished imprints into a new terrain that operates under entirely different rules? So far, the legacy publishers have proved unable to grasp the way these things work in the new network culture and in the long run this could mean their downfall as nascent online communities (blog networks, webzines, political groups, activist networks, research portals, social media sites, list-servers, libraries, art collectives) emerge as the new imprints: publishing, filtering and linking in various forms and time signatures (books being only one) to highly activated, focused readerships.
The prospect of atomization here (a million publishing tribes and sub-tribes) is no doubt troubling, but the thought of renewed diversity in publishing after decades of shrinking horizons through corporate consolidation is just as, if not more, exciting. But the question of a mass audience does linger, and perhaps this is how certain of today's publishers will survive, as the purveyors of mass market fare. But with digital distribution and print on demand, the economies of scale rationale for big publishers' existence takes a big hit, and with self-publishing services like Amazon CreateSpace and Lulu.com, and the emergence of more accessible authoring tools like Sophie (still a ways away, but coming along), traditional publishers' services (designing, packaging, distributing) are suddenly less special. What will really be important in a chaotic jumble of niche publishers are the critics, filterers and the context-generating communities that reliably draw attention to the things of value and link them meaningfully to the rest of the network. These can be big companies or light-weight garage operations that work on the back of third-party infrastructure like Google, Amazon, YouTube or whatever else. These will be the new publishers, or perhaps its more accurate to say, since publishing is now so trivial an act, the new editors.
Of course social filtering and tastemaking is what's been happening on the Web for years, but over time it could actually supplant the publishing establishment as we currently know it, and not just the distribution channels, but the real heart of things: the imprimaturs, the filtering, the building of community. And I would guess that even as the digital business models sort themselves out (and it's worth keeping an eye on interesting experiments like Content Syndicate, covered here yesterday, and on subscription and ad-based models), that there will be a great deal of free content flying around, publishers having finally come to realize (or having gone extinct with their old conceits) that controlling content is a lost cause and out of synch with the way info naturally circulates on the net. Increasingly it will be the filtering, curating, archiving, linking, commenting and community-building -? in other words, the network around the content -? that will be the thing of value. Expect Amazon and Google (Google, btw, having recently rolled out a bunch of impressive new social tools for Book Search, about which more soon) to move into this area in a big way.
Posted by ben vershbow at 1:40 PM | Comments (17) | TrackBack
While Andrew Keen laments the decline of professionalised content production, and Publishing2.0 fuels the debate about whether there's a distinction between 'citizen journalism' and the old-fashioned sort, I've spent the morning at Seedcamp talking with a Dubai-based entrepreur who's blurring the distinction even further.
Content Syndicate is a distributed marketplace for buying, selling and commissioning content (By that they mean writing). Submitted content is quality-assessed first automatically and then by human editors, and can be translated by the company staff if required. They've grown since starting a year or so ago to 30 staff and a decent turnover.
This enterprise interests me because it picks up on some recurring themes around the the changes digitisation brings to what a writer is, and what he or she does. In some respects, this system commodifies content to an extent traditionalists will find horrifying - what writer, starting out (as many do) wanting to change the world, will feel happy having their work fed through a semiautomatic system in which they are a 'content producer'? But while it may be helping to dismantle - in practice - the distinction between professional and amateur writers, and thus risking helping us towards Keen's much-lamented mulch of unprofessionalised blah, but at least people are getting paid for their efforts. And you can rebut this last fear of unprofessionalised blah by saying that at least there's some quality control going on. (The nature of the quality control is interesting too, as it's a hybrid of automated assessment and human idiot-checking; this bears some thinking about as we consider the future of the book.)
So this enterprise points towards some ways in which we're learning to manage, filter and also monetise this world of increasingly-pervasive 'content everywhere', and suggests some of the realities in which writers increasingly work. I'll be interested to see how we adapt to this: will the erstwhile privileged position of 'writers' give way as these become mere grunts producing 'content' for the maw of the market? Or will some subtler and more nuanced bottom-up hierarchy of writing excellence emerge?
Posted by sebastian mary at 1:02 PM | Comments (1) | TrackBack
The other day a fellow named Nate Stearns posted a remark on the recent post about using CommentPress in classroom situations.
This is a great idea for AP Language and Comp classes where we naturally and habitually pick apart a wide variety of essays, histories, and journalism....I could imagine whole networks of overworked high school APers tearing apart, say, Thoreau's Walden or King's Letter from Birmingham jail.
As a test, I quickly threw together an edition of MLK's famous epistle, throwing in also as an appendix the statement by eight Alabama clergyman to which it was responding.
I'm repeating now our offer to repost, by request, this or any other available text on a unique CommentPress site dedicated to your high school or college class. It's up to you whether we password-protect the site or leave it open. There's a strong case to be made for insulating class discussion from public scrutiny, or worse, abuse -? especially in a high school context. In a collegiate setting, though, I can see why it might make sense to raise the stakes a bit, as Daniel Anderson suggested in another comment:
In teaching there is real leverage in having a group in place with motivation--the problem is that is extrinsic motivation in many case--grades. So, adding the public layer is really helpful in that it brings a complementary sense of creating something for others and, hopefully, internal motivation.
So there it is. We're VERY eager to see CommentPress in action and so are offering this modest service of setting up installations. School is back in session, or will be any day now, so if you'd like us to set something up to kick off the year, drop us a note in the comments here, or email me at ben@futureofthebook.org. (Nate, just say the word and we'll happily reproduce the MLK text for you.) Feel free to pick off the list we threw together last week, but by no means feel limited to that.
Incidentally, it was an interesting exercise breaking up King's text into pages. The letter has no formally delineated sections but it does have about six distinct rhetorical "movements," which I did my best to draw out here. If you request a CommentPress edition from us, feel free to be incredibly explicit as to how you'd like the text broken up and how you'd like the sections titled. For the Letter, I simply used quotations from the first sentence of paragraph of that section, which seems to do a decent job of indicating the essence of each of King's arguments and hopefully to draw the reader in with the sound of his voice. Speaking of voice, there's no free recording of King reading the whole Letter, but if there had been we could have easily included it as an optional audio track. If any of you have an audio version of the text you want to use, or images for that matter, point us to it/them and we might be able to work those in.
Posted by ben vershbow at 12:18 AM | Comments (4) | TrackBack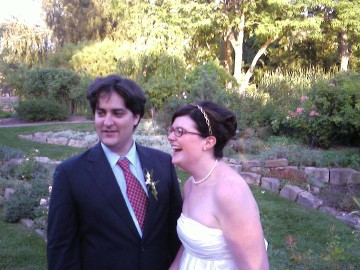 our colleague dan visel married kim beeman on saturday. the wedding in the Boise Botanical Gardens was one of the loveliest i've been to -? ever. if you're not familiar with dan's idiosyncratic genius, check out his recent post which began as a riff on the concept of tabs.
Posted by bob stein at 10:54 AM | Comments (1) | TrackBack
I've been reading failed Web1.0 entrepreneur Andrew Keen's The Cult of the Amateur. For those who haven't hurled it out of the window already, this is a vitriolic denouncement of the ways in which Web2.0 technology is supplanting 'expert' cultural agents with poor-quality 'amateur' content, and how this is destroying our culture.
In vehemence (if, perhaps, not in eloquence), Keen's philippic reminded me of Alexander Pope (1688-1744). Pope was one of the first writers to popularize the notion of a 'critic' - and also, significantly, one of the first to make an independent living through sales of his own copyrighted works. There are some intriguing similarities in their complaints.
In the Dunciad Variorum (1738), a lengthy poem responding to the recent print boom with parodies of poor writers, information overload and a babble of voices (sound familiar, anyone?) Pope writes of 'Martinus Scriblerus', the supposed author of the work
He lived in those days, when (after providence had permitted the Invention of Printing as a scourge for the Sins of the learned) Paper also became so cheap, and printers so numerous, that a deluge of authors cover'd the land: Whereby not only the peace of the honest unwriting subject was daily molested, but unmerciful demands were made of his applause, yea of his money, by such as would neither earn the one, or deserve the other.
The shattered 'peace of the honest unwriting subject', lamented by Pope in the eighteenth century when faced with a boom in printed words, is echoed by Keen when he complains that "the Web2.0 gives us is an infinitely fragmented culture in which we are hopelessly lost as to how to focus our attention and spend our limited time." Bemoaning our gullibility, Keen wants us to return to an imagined prelapsarian state in which we dutifully consume work that has been as "professionally selected, edited and published".
In Keen's ideal, this selection, editing and publication ought (one presumes) to left in the hands of 'proper' critics - whose aesthetic in many ways still owes much to (to name but a few) Pope's Essay On Criticism (1711), or the satirical work The Art of Sinking In Poetry (1727). But faith in these critics is collapsing. Instead, new tools that enable books to be linked give us "a hypertextual confusion of unedited, unreadable rubbish", while publish-on-demand services swamp us in "a tidal wave of amateurish work".
So what? you might ask. So the first explosion in the volume of published text created some of the same anxieties as this current one. But this isn't a narrative of relentless evolutionary progress towards a utopia where everything is written, linked and searchable. The two events don't exist on a linear trajectory; the links between Pope's critical writings and Keen's Canute-like protest against Web2.0 are more complex than that.
Pope's response to the print boom was not simply to wish things could return to their previous state; rather, he popularized a critical vocabulary that both helped others to deal with it, and also - conveniently - positioned himself at the tip of the writerly hierarchy. His extensive critical writings, promoting the notions of 'high' and 'low' quality writing and lambasting the less talented, served to position Pope himself as an expert. It is no coincidence that he was one of the first writers to break free of the literary patronage model and make a living out of selling his published works. The print boom that he critiqued so scatologically was the same boom that helped him to the economic independence that enabled him to criticize as he saw fit.
But where Pope's approach to the print boom was critical engagement, Keen offers only nostalgic blustering. Where Pope was crucial in developing a language with which to deal with the print boom, Keen wishes only to preserve Pope's approach. So, while you can choose to read the two voices, some three centuries apart, as part of a linear evolution, it's also possible to see them as bookends (ahem) to the beginning and end of a literary era.
This era is characterized by a conceptual and practical nexus that shackles together copyright, authorship and a homogenized discourse (or 'common high culture', as Keen has it), delivers it through top-down and semi-monopolistic channels, and proposes always a hierarchy therein whilst tending ever more towards proliferating mass culture. In this ecology, copyright, elitism and mass populism form inseparable aspects of the same activity: publications and, by extension, writers, all busy 'molesting' the 'peace of the honest unwriting subject' with competing demands on 'his applause, yea [on] his money'.
The grading of writing by quality - the invention of a 'high culture' not merely determined by whichever ruler chose to praise a piece - is inextricable from the birth of the literary marketplace, new opportunities as a writer to turn oneself into a brand. In a word, the notion of 'high culture' is intimately bound up in the until-recently-uncontested economics of survival as a writer.
Again, so what? Well, if Keen is right and the new Web2.0 is undermining 'high culture', it is interesting to speculate whether this is the case because it is undermining writers' established business model, or whether the business model is suffering because the 'high' concept is tottering. Either way, if Keen should be lambasted for anything it is not his puerile prose style, or for taking a stand against the often queasy techno-utopianism of some of Web2.0's champions, but because he has, to date, demonstrated little of Pope's nous in positioning himself to take advantage of the new economics of publishing.
Others have been more wily, though, in working out exactly what these economics might be. While researching this piece, I emailed Chris Anderson, Wired editor, Long Tail author, sometime sparring partner for Keen and vocal proponent of new, post-digital business models for writers. He told me that

"For what I do speaking is about 10x more lucrative than selling books [...]. For me, it would make sense to give away the book to market my personal appearances, much as bands give away their music on MySpace to market their concerts. Thus the title of my next book, FREE, which we will try to give away in every way possible."
Thus, for Anderson, there is life beyond copyright. It just doesn't work the same way. And while Keen claims that Web2.0 is turning us into "a nation so digitally fragmented it's no longer capable of informed debate" - or, in other words, that we have abandoned shared discourse and the respected authorities that arbitrate it in favor of a mulch of cultural white noise, it's worth noting that Anderson is an example of an authority that has emerged from within this white noise. And who is making a decent living as such.
Anderson did acknowledge, though, that this might not apply to every kind of writer - "it's just that my particular speaking niche is much in demand these days". Anderson's approach is all very well for 'Big Ideas' writers; but what, one wonders, is a poet supposed to do? A playwright? My previous post gives an example of just such a writer, though Doctorow's podcast touches only briefly on the economics of fiction in a free-distribution model. I've argued elsewhere that 'fiction' is a complex concept and severely in need of a rethink in the context of the Web; my hunch is that while for nonfiction writers the Web requires an adjustment of distribution channels and little more, or creative work - stories - the implications are much more drastic.
I have this suspicion that, for poets and storytellers, the price of leaving copyright behind is that 'high art' goes with it. And, further, that perhaps that's not as terrible as the Keens of this world might think. But that's another article.
Posted by sebastian mary at 6:36 PM | Comments (2) | TrackBack
A very entertaining podcast by SF writer, Net activist, and uber-blogger Cory Doctorow covering copyright, concentration, print-on-demand, the future of the codex and more. The problem with electronic books, he suggests, is in part that they are extremely good at distracting you - you need 'monkish, iron self-discipline' to read a long work online. Hence he suggests, one of the best things about the codex is precisely that it isn't electronic - it can't distract you with emails, phone calls, IMs, RSS and all the rest, and is therefore the best tool available to help a reader concentrate on a sustained piece of writing.
He also talks about his new Creative Commons-licensed novel - though frustratingly he doesn't go further into his thoughts around giving away free fiction.
Definitely worth a listen.
Posted by sebastian mary at 4:19 PM | Comments (1) | TrackBack