« time machine | Main | talk at brooklyn college library »
visual amazon browser 06.01.2007, 1:40 AM
posted by ben vershbow
The interface design firm TouchGraph recently released a free visual browsing tool for Amazon's books, movies, music and electronics inventories. My first thought was, aha, here's a tool that can generate an image of Bob's thought experiment, which reimagines The Communist Manifesto as a networked book, connected digitally to all the writings it has influenced and all the commentaries that have been written about it. Alas no.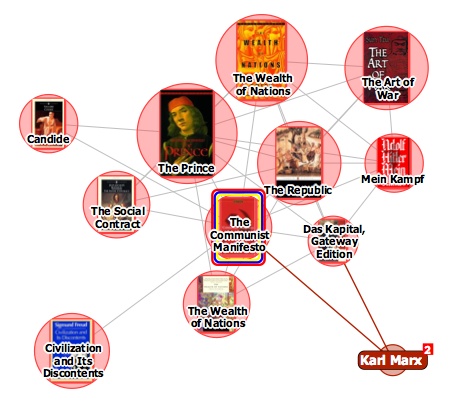 It turns out that relations between items in the TouchGraph clusters are based not on citations across texts but purely on customer purchase patterns, the data that generates the "customers who bought this item also bought" links on Amazon pages. The results, consequently, are a tad shallow. Above you see The Communist Manifesto situated in a small web of political philosophy heavyweights, an image that reveals more about Amazon's algorithmically derived recommendations than any actual networks of discourse.
TouchGraph has built a nice tool, and I'm sure with further investigation it might reveal interesting patterns in Amazon reading (and buying) behaviors (in the electronics category, it could also come in handy for comparison shopping). But I'd like to see a new verion that factors in citation indexes for books - data that Amazon already provides for many of its titles anyway. They could also look at user-supplied tags, Listmania lists, references from reader reviews etc. And perhaps with the option to view clusters across media types, not simply broken down into book, movie and music categories.
Posted by ben vershbow on June 1, 2007 1:40 AM
tags: amazon, books, browsing, infoviz, the_networked_book, visualization
comments (1):


Alex Shapiro
on
July 25, 2007 12:28 PM
:
Hi This is Alex Shapiro. I am the founder as well as head designer of TouchGraph.
I think the question of whether the Author's citations or Amazon book recommendations would produce more interesting/relevant results is a debatable.
Amazon's recommendations are based on *collective* behavior, many people have to buy both books for one to become a recommended purchace for the other. The Author's citations are the work of a *single individual*.
Amazon has a better view of how the book is relevant today, while the author is influenced by the transient events of his day. Also the author is subject to personal biases and obligations to cite to which the public is not.
As far as Amazon user tags, these are currently not that accurate. A different source that does provide excellent book tag data is http://www.librarything.com They don't currently have an API, but hopefully that's just a matter of time, and we at http://www.touchgraph.com are looking forward to doing a visual analysis of this data once that's up.

(Because of spam troubles, first-time comments from unfamiliar addresses or containing multiple links might be held for moderation. If your comment isn't spam, we'll publish it very soon. Thanks in advance for your patience.)