« it's multimedia, jim, but not as we know it | Main | texts over time »
monkeybook 2: an evening with brad paley 05.02.2007, 1:48 PM
posted by ben vershbow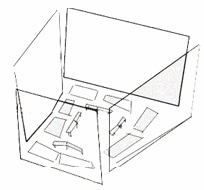 Monkeybook is an occasional series of new media evenings hosted by the Institute for the Future of the Book at Monkeytown, Brooklyn's premier video art venue. For our second event, we are thrilled to present brilliant interaction designer, friend and collaborator W. Bradford Paley, who will be giving a live tour of his work on four screens. Next Monday, May 7. New Yorkers, save the date!
Brad is one of those rare individuals: an artist who is also a world-class programmer. His work focuses on making elegant, intuitive visualizations of complex data, in projects ranging from TextArc, a dazzling visual concordance of a text (a version of which was presented with the new Gamer Theory edition), to a wireless handheld device used by traders at the New York Stock Exchange to keep up with the blitz of transactions. It's a crucial area of experimentation that addresses one of the fundamental problems of our time: how to make sense of too much information. And in a field frequently characterized by empty visual titillation, Brad's designs evince a rare lucidity and usefulness. They convey meaning beautifully - and beauty meaningfully.
Brad is always inspiring when talking about his stuff, which is going to look absolutely stunning in the Monkeytown space. If you're in the area, be sure not to miss this. For those of you who don't know it, Monkeytown is unique among film venues in New York -- an intimate room with a gigantic screen on each of its four walls, low comfy sofas and fantastic food. A strange and special place. If you think you can come, be sure to make a reservation ASAP as seating will be tight.
More info here.
Posted by ben vershbow on May 2, 2007 1:48 PM
tags: bradpaley, gam3r_7h3ory, gamertheory, infoviz, monkeybook, video, visualization
comments (1):


alex itin
on
May 3, 2007 1:15 PM
:
I'm glad you are continuing the series. Are you sending out invites too?
(Because of spam troubles, first-time comments from unfamiliar addresses or containing multiple links might be held for moderation. If your comment isn't spam, we'll publish it very soon. Thanks in advance for your patience.)